Visit Ivacy VPN Website!
Ivacy VPN

Review 2023: Before You Buy, Is It Worth It?
Ivacy VPN Overview April 2023
Ivacy VPN's low price and premium features make it an attractive option for new and experienced users. I decided to investigate whether Ivacy VPN can provide top value in comparison to other top VPN providers.
After rigorously testing Ivacy VPN, I'm impressed by its features, which include a large number of servers, optimized streaming, secure downloads, and a zero-log policy. However, Ivacy VPN lacks functionality for Mac users, and I'm concerned about it being headquartered in Singapore — a location with ties to Eyes Alliance countries.
Ultimately, Ivacy VPN is reliably fast and secure, but it could use some improvements to meet the same level of protection as the top VPN services. Fortunately, you can try Ivacy VPN risk-free as all of its plans are backed by a money-back guarantee — 7 days for a monthly plan or 30 days for a longer subscription.
Don't Have Time? Here's a 1-Minute Summary
Ivacy VPN Unblocks Netflix, BBC iPlayer, Hulu, and Kodi
Ivacy VPN can access multiple streaming services without issue, including:
| | | |
| --- | --- | --- |
| Netflix US | Hulu | TVNow |
| Hotstar | ESPN | …and more! |
In the app, Ivacy VPN has a dedicated menu of streaming servers (called "Streaming") that guarantee a connection to your chosen streaming service. I found this usually made my connections effortless. After clicking my streaming service, Ivacy VPN connected me to the best server and displayed a pop-up notification that would take me directly to the service website. I had a few problems when trying to access HBO Max and Disney + but eventually got them both working.
Netflix, BBC iPlayer, Hulu, and Kodi: Unblocked
I was pleasantly surprised by Ivacy VPN's ability to access multiple streaming platforms without issue. All of the connections were made using Ivacy VPN's optimized streaming servers.
The local optimized server could easily access Netflix US. It took almost a minute to load an episode of Stranger Things, but streaming was smooth and lag-free after a little buffering.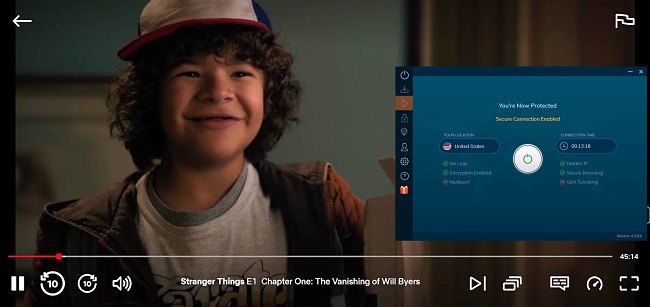 Ivacy VPN could also connect me to my BBC iPlayer account without triggering proxy detection errors. I could stream an episode of Killing Eve in HD quality, with only a few seconds of buffering.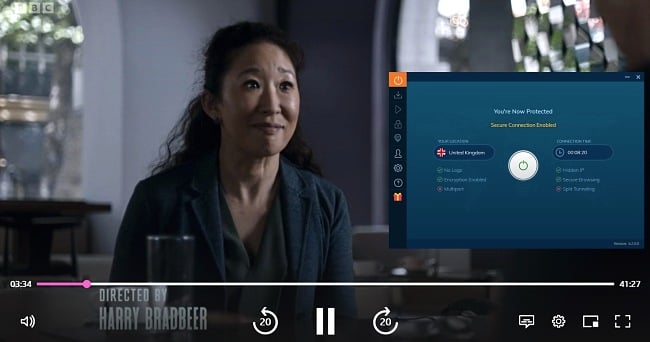 Hulu was quick and easy to access, with minimal website loading time. It started streaming almost instantly in HD quality.
I also tested Ivacy VPN with Kodi and could install add-ons and watch my favorite videos without lag time or connection loss. There's also a dedicated Ivacy VPN add-on you can download. Ivacy VPN's help website has several guides that explain how to set up Kodi on various devices and how to install Ivacy VPN on Kodi.
Stream Netflix and more with Ivacy VPN!
Disney + and HBO Max — Unblocks With Some Effort
Ivacy VPN's ability to unblock Disney + and HBO Max was inconsistent. The HBO Max-optimized server worked with some browsers sometimes, but not always. Although there's not an optimized server for Disney +, I found that the Netflix-optimized servers sometimes worked — but other times, the pages simply never loaded.
This was a little disappointing as there is a server specifically for HBO Max, and Ivacy VPN heavily promotes its streaming capabilities. You may want to look elsewhere if you're looking for a VPN that can reliably access any streaming site with any browser. I tested CyberGhost's streaming-optimized servers and found they work flawlessly every time.
Unable to Access Amazon Prime Video
Unfortunately, Ivacy VPN's optimized servers couldn't connect to Amazon Prime Video — my colleague in the US couldn't stream, only getting an error message that Amazon could detect the use of a VPN connection.

As Ivacy VPN is continually testing and adding servers, I recommend contacting customer service. A support agent might be able to suggest a server that works.
Reliably Fast Speeds On All Servers
Ivacy VPN provides relatively fast internet download speeds, with an average speed of 105Mbps on a 145Mbps internet connection. During my tests, I connected to several servers that consistently provided solid download speeds for smooth HD streaming and torrenting. However, I found that my upload speeds were inconsistent, which gave me issues with P2P file-sharing with others, video calling, and online gaming.
Speed Test Results
After conducting tests on multiple servers, I found that Ivacy VPN slowed my speeds by around 27% on average. My speeds never dropped below 76Mbps, which is more than fast enough for streaming and torrenting.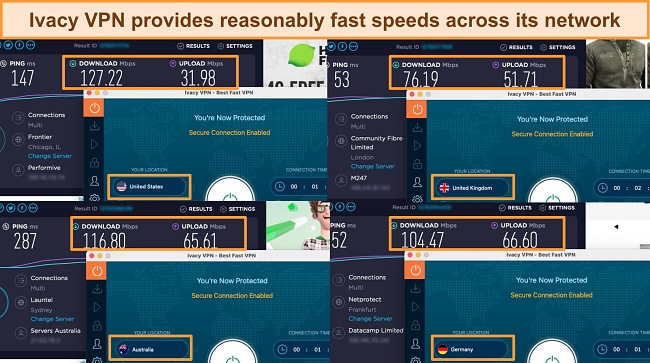 The only issue I had was with the inconsistency of upload speeds. For most servers, upload speeds were good — 30Mbps or more — but occasionally, my uploads would slow to just 3 or 4Mbps. These upload speeds meant I had difficulty uploading files, video calls would freeze or drop altogether, and my online games were slow and lagging.
The overall performance of Ivacy VPN was impressive for local and long-distance servers. Remember that VPN speeds can be quite subjective. It depends entirely on your connection and your geographical location. As a result, you may see different results in your speed test.
Gaming Speed — Good Gameplay Using Local Servers
As an avid gamer, I know how important it is that a VPN not only secures your data but maintains fast speeds for quick in-game responses. During my tests, Ivacy VPN performed well when I connected to local servers to play games online. My speeds were fast, and my latency (or ping) was around 50ms — anything less than 100ms is suitable for fast-paced online gaming.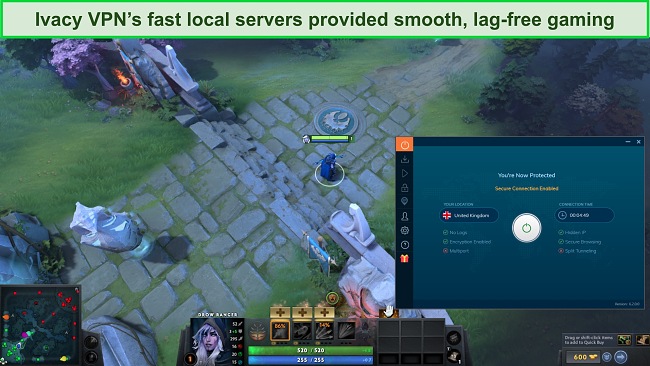 Distant servers slowed my connection more, which meant I occasionally had some lag when gaming. I noticed my upload speeds were inconsistent — I had to run tests before starting my game to ensure upload speeds were fast enough for quick server responses. If my upload speeds were too slow, I couldn't connect to the game server, so I had to change to a different Ivacy VPN server first.
If you want to play online games like Call of Duty: Warzone, League of Legends, and more with Ivacy VPN, I recommend connecting to local servers — you'll get the best speeds and in-game response times.
Why Most Speed Tests are Pointless & How We Correctly Test VPN Speeds
Speed determines how fast content uploads, so if you're torrenting or streaming, you want the speed to be somewhat identical to your regular internet speed. Since a VPN encrypts your data, it usually takes a bit longer to send your data back and forth, which can slow down your connection. However, if your ISP deliberately slows down your connection (also known as throttling) a VPN might increase your internet speed. Testing a VPN is somewhat pointless because new servers pop up and affect speed. Your speed can also differ according to your location, so your speed test might not match ours. Having said that, we tested the speed in numerous locations to provide you with the average.
Server Network — 5700+ Servers in over 100 Locations
Ivacy VPN has an impressive global network of over 5700+ servers in 100 countries. This is pretty good, given that the industry standard for server locations is around 30. Using a VPN with a large number of servers is an advantage as you're less likely to face slower speeds due to congestion at peak traffic times.
At first, I found it unusual that I could only access 57 server locations on my Android device, as most VPNs offer the same number of servers across all platforms. However, the Ivacy VPN Android app only supports the OpenVPN protocol, which is only available in 57 locations. If you're in need of a more robust server network on mobile, you could consider ExpressVPN, as it has a robust number of servers across all of its supported devices.
Range of Virtual Servers Increases Global Reach
I was impressed by the geographical distribution of the network, as there are servers available in Europe, North and South America, Asia Pacific, and Africa. Virtual servers account for about a quarter of the entire network of servers — these are marked with a "V" in the Ivacy VPN app.
A virtual VPN server is a server that is based outside of its advertised location. An example would be a VPN server with a German IP address but is physically located in France. Virtual VPN servers are generally not a security risk since most VPN providers build their own virtual machines using hardware they own or rent. This means they won't expose your device to any additional risks. Ivacy VPN claims to own its virtual servers with no third-party interference, adding security to the network.
Torrenting — Has All Servers Optimized for P2P Sharing
With optimized P2P servers (called "Secure Download") in more than 50 countries, Ivacy VPN is an excellent choice for torrenting. You can torrent with top-level security, including anti-virus and anti-malware protection, and have kill switch protection on all apps apart from iOS and Mac. In addition, Ivacy VPN does not collect any usage or connection logs, so your torrenting activity is always anonymous.
Ivacy VPN does not offer free SOCKS5 proxy servers, but it allows split tunneling on Windows and Android. I found this useful for encrypting my torrenting connection while also streaming on my local Netflix account.
As well as supporting popular torrent clients such as uTorrent and BitTorrent, Ivacy VPN unblocks torrent sites as well. My team and I do not condone illegal activities of any kind, so make sure you only torrent files that are in the public domain. Torrent activity is prohibited in some locations, so check your local laws and regulations before using Ivacy VPN to torrent.
Does Ivacy VPN Work in China? Maybe
Ivacy VPN sometimes works in China and other countries with limited internet access. To use Ivacy VPN in China, you have to configure Ivacy Prime using Tunnelblick. The process requires a few extra steps, but it's not difficult. You can find the installation files and setup guides for Windows, Android, and Mac on the website. You can always contact the 24/7 support team for help if you need assistance with the process.
While it doesn't have a 100% success rate, Ivacy Prime can often access blocked streaming sites and social networks, like Netflix and Facebook. Ivacy Prime doesn't have a kill switch and only uses the OpenVPN protocol.
Previous users have confirmed that Ivacy VPN occasionally works in China, but it's not always reliable. The best way to get Ivacy VPN to work is to switch between OpenVPN and L2TP, SSTP, or PPTP connections. Ivacy VPN's optimized "Unblocking" servers are also worth trying, as these are designed specifically for restrictive networks and blocked content. China blocks VPNs intermittently, so playing around with different settings is necessary to avoid restrictions.
Security — Military-Grade Security for Windows and Android
When it comes to security, Ivacy VPN offers top-of-the-line encryption and security functions:
256-bit AES encryption to make any hacking or spying efforts virtually impossible
A built-in kill switch prevents your IP address from accidentally leaking, disconnecting your internet whenever your VPN connection is lost — not available on Mac or iOS
Secure Downloading feature — an effective malware scanner and blocker
Split tunneling, which allows you to select which apps you want to exclude from the VPN connection
I was particularly impressed with Ivacy VPN's Secure Downloading. It helps to protect your devices from viruses that may be hiding in your downloads — useful if you torrent frequently. You'll have to enable the Secure Downloading feature in your app when you first install Ivacy VPN, but after that, it just runs in the background, so there's no need to activate it each time.
Ivacy VPN's split tunneling is also a valuable feature. Once switched on, a list appeared with the apps I could connect and disconnect from the VPN. Turning split tunneling on took under a minute, and the split tunneling worked perfectly. I excluded Netflix from the tunnel, which allowed faster speeds for streaming while I was still able to encrypt my browser activity.
Multiple Protocols Available
Ivacy VPN uses advanced tunneling protocols, such as OpenVPN, IKEv2, SSTP, and L2TP/IPSec, to protect your online communications against unauthorized access.
If you are running Windows, you can select OpenVPN (UDP), OpenVPN (TCP), L2TP/IPsec, and IKEv2 protocols. OpenVPN is the best solution because of its speed, reliability, and unbreakable nature. The open-source nature of the protocol makes this all possible, as it allows for constant updates to accommodate new developments.
You should note that OpenVPN (UDP and TCP) are only available in 57 server locations. However, these servers are spread out across the world, so you'll still have global connections.
The different protocols offer unique combinations of speed, encryption, stability, and device compatibility, so having various options makes your torrenting, streaming, and browsing experience more enjoyable.
Secure your devices with Ivacy VPN
Privacy — Zero Traffic Logs and Safe International HQ Location
Ivacy VPN offers a legitimate no-log VPN service, as stipulated in its privacy policy — it doesn't monitor or keep track of your connection or traffic. Ivacy VPN only collects its users' names, email addresses, and payment details. However, these details can't be linked back to any of your online activities in any way.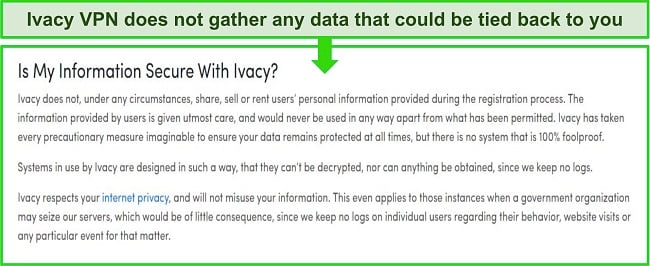 However, Ivacy VPN has yet to undergo an independent, third-party audit to check whether its no-log policy is genuine. I'd like to see Ivacy VPN voluntarily undergo an audit, as this would confirm that all connection data is totally secure and anonymous.
Solid Data Leak Protection Keeps Activity Secure and Anonymous
My tests revealed that Ivacy VPN easily secures my data as I found no leaks in IP, DNS, or WebRTC. After running multiple leak tests, I was satisfied that my data was kept within the encrypted tunnel and wasn't exposed to trackers, hackers, or anyone spying on my connection.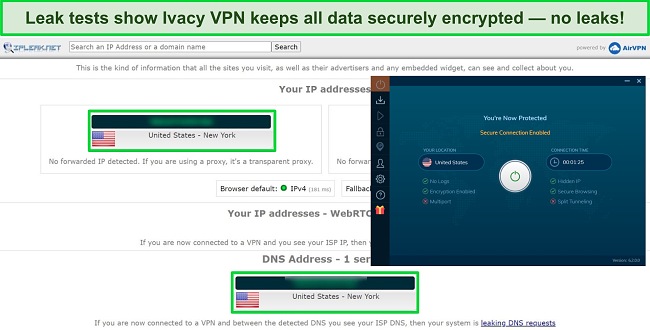 Ivacy VPN's DNS servers are in the same locations as the main servers, which is an advantage. Not only is your browsing data kept secure, but using a DNS and IP address from the same country gives you an additional layer of anonymity. In summary, Ivacy VPN has excellent protection for data and visited addresses.
Protect your data with Ivacy VPN
Based in Singapore — Privacy Haven, But Potential Ties to Eyes Alliance
The company's headquarters is in Singapore, which is a convenient location for a VPN to be based in. Singapore is not a member of the 5 Eyes, 9 Eyes, or 14 Eyes alliances, so it's not under any kind of surveillance jurisdiction.
However, you should be aware that Singapore is known to cooperate with the United States and the Five Eyes countries concerning intelligence gathering. Potentially, such information could contain sensitive data like your online activities. I contacted Ivacy VPN directly and received assurances that the information is merely an assumption and that there is no such policy.
Concerns About Secretive Company Ownership
While it's public knowledge that Ivacy VPN is owned by PGM Private Limited (also the parent company of PureVPN), it refuses to divulge who directly owns or runs the company.
Ivacy VPN's public relations manager outright said, "There is no ethical obligation to reveal who the people behind Ivacy are," which is concerning. There doesn't seem to be a reason why this information should be hidden, given that other top-tier VPNs are open about their ownership and operations.
This level of secrecy concerns me, as I expect a high level of transparency when I'm putting my online privacy in the hands of a VPN service.
Server Locations
Australia
France
South Korea
Spain
United Kingdom
United States
User Experience
- 8.0
/ 10
Simultaneous Device Connections — Connect up to 10 Devices at Once
Your Ivacy VPN subscription allows you to connect up to 10 devices simultaneously. There is currently no option to increase this limit, and there are no family plans available either.
Device Compatibility — Supported on All Main Platforms
Ivacy VPN has native apps for Windows, Android, Linux, macOS, iOS, Fire TV, Android TV, and browser extensions for Firefox, Edge, and Chrome. The website also contains detailed instructions so you can configure your VPN with your Smart TV, game console, router, and other supported platforms.
Ease of Setup & Installation — Straightforward Download and Setup
Ivacy VPN is easy to download and set up on your devices. From the website, you can directly download the app to your device with one click, and installation is automatic — it only takes a couple of minutes altogether. Once the app is installed, you can enter your login details and get connected in just a couple of clicks.
To install and set up Ivacy VPN:
Visit the Ivacy VPN website and download the app. You can sign up for a subscription risk-free or take advantage of the 24-hour free trial.


Run the setup file to install Ivacy VPN. The software will install automatically without you needing to do anything manually.
Try Ivacy VPN risk-free today!
User-Friendly Apps, but Needs Improving for Mac
Ivacy VPN is simple and intuitive to navigate, suitable for both beginner and advanced VPN users. All of Ivacy VPN's apps have a quick-access tool with all the options neatly categorized under various tabs. You can choose different setups for streaming, torrenting, and unblocking, depending on what you want to use the VPN for. You can also toggle IP and DNS leak protection on and off — I recommend keeping leak protection on at all times to secure your data.
Even though the app is user-friendly, there is room for improvement when it comes to being up to par with industry standards. For example, you must first disconnect from the server you are connected to in order to change locations. The same goes for any changes you want to make to the settings.
Like most VPN services, Ivacy VPN's Windows version offers a wide range of features, but its Mac client lacks advanced features like split tunneling and a kill switch. Most people would be fine without the former, but the latter is necessary to protect your IP and location in case the VPN is interrupted. Ivacy VPN's Mac app also has very limited customizability and only supports 1 protocol natively — IPSec.
However, there are a few workarounds. If you have a Mac with a silicone chip, you can use the iOS app, which lets you switch between different protocols. Alternatively, you can manually set up PPTP, L2TP, and IKEV connections using the network settings.
Ivacy VPN has a solid customer support system with multiple options, including 24/7 live chat, email ticketing, and an online support center with FAQs, setup guides, and troubleshooting tips.
The 24/7 live chat is the best way to get in touch with customer service. It's available to everyone, whether you have a subscription or not, and I connected to a support agent almost immediately. The agent was happy to answer multiple questions and gave detailed responses, ensuring I was satisfied before ending the chat. Some answers (like the response to my Singapore question) seemed to be copy-pasted, but it's good that the support staff can provide thorough answers quickly.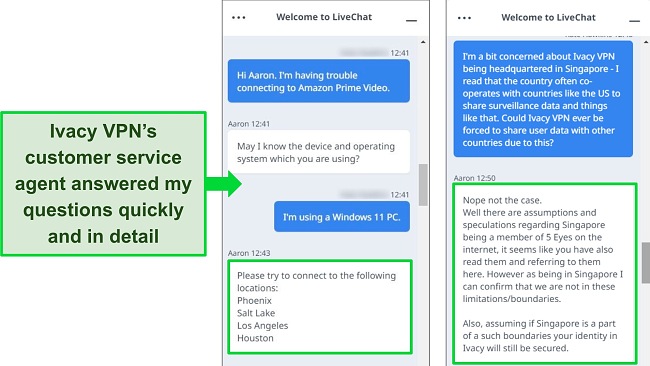 Email ticketing is only available for subscribers, and I found it less useful than live chat. I sent several emails asking about server connections and company jurisdiction and found that responses were lacking in detail and sometimes poorly written. Email responses also took a long time — several hours during the week, and an email sent on Friday afternoon GMT didn't get a response until midday Monday.
I also looked at Ivacy VPN's Support Center, which has articles, FAQs, and setup guides to help you with the VPN. While many were useful and informative, I noticed that most of the support site content hadn't been updated in 2 years or more. While some information doesn't require updating, it's important to keep topics like setup guides up-to-date, as there are frequent updates and changes to the VPN software.
How We Test Customer Support and Why Should You Care
We personally test the customer support team of every VPN we review. This means asking technical question through the live chat feature (where applicable) and measuring the response time for email questions. Whether you need to connect to a specific server, change your security protocol, or configure a VPN on your router, finding a VPN with quality customer support should be important to you.
Ivacy VPN has 3 different subscription options — monthly, yearly, and a 5-year plan. Most VPNs don't offer more than a 3-year plan, so I was surprised to see such a long subscription option.
When I looked in more detail, I discovered Ivacy VPN's 5-year plan is a shockingly good value. In total, a 5-year subscription to Ivacy VPN would cost you less than a 1-year plan with the top VPN services.
Ivacy VPN's 5-year plan also includes a free premium password manager. Shorter subscriptions are an okay value, but you won't get the password manager or such a big discount on the price. The monthly plan is quite pricey, and there are other premium VPNs with affordable monthly plans that I recommend instead. Ivacy VPN has a couple of paid extras you can add to your subscription, including a dedicated IP address in one of 7 locations and a port forwarding feature.
Ivacy VPN also has a free version, but it's very limited. You can only access 1 server location (the Netherlands) and change your connection protocol — the free plan doesn't even feature a kill switch. You can also opt for a very cheap 7-day subscription, which gives you full access to the service for a week. If you don't cancel, your subscription will continue at the regular monthly rate. Please note that the 7-day subscription is not eligible for a refund.
Money-Back Guarantee
Every plan is backed by a money-back guarantee. The monthly plan has a 7-day guarantee, while the 3-year and 5-year plans have a 30-day guarantee. This gives you ample time to test the service and make sure it's right for you.
Several payment methods are available, including debit or credit cards, PayPal, BitPay, Coingate, Perfect Money, Paymentwall, and more. However, if you pay using cryptocurrency, BitPay, Perfect Money, or Paymentwall, you are not eligible for the money-back guarantee.
Claiming a refund is simple — just email customer support (support@ivacy.com) with your VPN username and a reason for canceling your subscription. When I tested this, I simply said I no longer needed a VPN. I had a message back the same day acknowledging my request, and my refund was processed within 48 hours.
Ivacy VPN offers the following plans
Final Verdict
Affordable pricing, a very rich feature set, and ease of use make Ivacy VPN a good choice for both beginner and advanced users.
During my tests, I discovered that Ivacy VPN offers a range of features at a low price. Military-grade encryption, data leak protection, and a kill switch keep your data secure. Ivacy VPN also offers reliable speeds, unblocks geo-restricted websites, and is torrent-friendly.
As a downside, Apple users don't have access to a kill switch, and the WireGuard protocol isn't available at all. Plus, the apps for Mac and iOS are much more limited, with fewer features and customization options.
Overall, Ivacy VPN is a solid service you can try risk-free, thanks to its money-back guarantee. You can test every feature, and if you change your mind about subscribing, you can easily get a full refund.
Protect your data with Ivacy VPN
FAQs About Ivacy VPN
Is Ivacy VPN good?
Ivacy VPN is a good VPN, but it could use some improvements to make it even better. Ivacy VPN offers top-tier security and privacy, unblocks the top streaming platforms, and provides a 24/7 live chat window. However, it's not a great choice for Mac users as it has limited customizability, and its best subscription deal is only available on a 5-year plan. I'd recommend testing Ivacy VPN for yourself to see if it's the right choice for you.
Can I use Ivacy VPN for free?
Ivacy VPN does offer a very limited free plan, with only one server and no additional security features. However, Ivacy VPN offers a money-back guarantee, which means you can subscribe to any of its plans without risk.
Using a free VPN usually means compromising — limited server options, slower speeds, and limited privacy features. If you do want to give a free VPN a try, I recommend choosing one from this list of reliable free VPNs.
Is Ivacy VPN really safe?
Yes, Ivacy VPN is safe to use — it's designed to ensure that your entire online experience is private and secure. Ivacy VPN utilizes military-grade encryption along with leak protection, and doesn't keep any logs of user activity. It is worth noting, however, that its iOS and Mac version lacks a kill switch.