Black Friday is on! Save over 40% on Creative Cloud All Apps (Acrobat Pro DC included) for individuals, students, or business plan. Claim this deal now!
Adobe Acrobat Pro DC is the leading PDF software on the market. It has all the features needed to create, edit, collaborate, and digitally e-sign PDF documents. You can also convert a large selection of file formats to PDF or convert a PDF to other formats. All PDF documents are securely stored in the cloud, allowing easy access from anywhere and simplifying the process of sharing documents.
Acrobat Pro DC includes a large library of features that includes adding annotations, drawing, adding custom fonts, highlighting text, resizing images, and much more. The software is very easy to use and all the features are clearly labeled.
Follow the step by step guide below and I'll show you how to download your copy free for 7 days.
Try Adobe Acrobat Pro DC for Free!
How to Download and Install Adobe Acrobat Pro DC for Free
Go directly to the official Adobe Acrobat Pro DC download page.
Click the Free Trial button.

Adobe will show you two plans:

Download Acrobat Pro, which includes access on all platforms, Acrobat Sign, integrations with Microsoft, Google, Box, and more, plus 100 GB of cloud storage.
The complete Creative Cloud collection of 20+ apps, including Photoshop, Premiere Pro, InDesign, Lightroom, and more.
Once you make your selection, press the Continue button.

While you won't be charged during the free trial, you will need to enter your credit card, PayPal, or Google Pay information. Then click the Agree and Subscribe button.

If you have an Adobe account, you will need to log in. Otherwise, click on the Create Account link to register an account.
The Creative Cloud setup file will download to your computer after you log in.
When the file download is complete, open Creative Cloud, and the Acrobat Pro installation will begin.
Download Adobe Acrobat Pro for Free!
Adobe Acrobat Pro DC Overview
It shouldn't come as a surprise that Adobe has consistently developed the best PDF and PDF editing software for years. After all, the company literally invented the PDF file over 20 years ago.
While it was released as a public standard, Adobe continues to find ways to improve its functionality with the Adobe Acrobat Pro DC software. Acrobat Pro DC has improved UI, editing tools, import and export features, and much more with the latest update.
One noteworthy update is the inclusion of Adobe Pro DC in the Adobe Creative Cloud package. This integration greatly simplifies collaboration, file sharing, and convenient access to your files.
Adobe Acrobat Pro DC Features
The latest version of Acrobat Pro has been optimized for performance and reliability. It is now uses less memory and starts up faster than previous versions. Additionally, Acrobat DC includes a number of bug fixes and enhancements that improve the overall stability of the software.
Acrobat Pro DC is divided into three different sections:
Acrobat DC: Gives you access to multiple editing features and options from your computer, tablet, or smartphone.
Adobe Document Cloud: This is the action hub for creating and exporting PDFs. Once the file is ready, you can upload it to your cloud storage, share it with others, and accept digital signatures.
Acrobat Reader DC: A top-notch PDF reader that can open, read, and sign PDF files.
Now let's take a deeper look at the features that are included in each of these sections.
Edit PDF Files
Until recently, a PDF file was basically a photograph of a document or image. There was no good way to edit it or make any changes. Acrobat Pro DC has added the option to edit everything from texts to images. It comes with basic editor tools like automatic spell check and a "find and replace" search option, so you can make sweeping changes without having to read through the entire document.
I can adjust the editing tools to modify formatting, insert or rearrange images, correct any errors, and even resequence the pages within the document. These editing capabilities are also accessible through the Adobe mobile app, enabling you to work conveniently from any supported device, wherever you are.

If you're editing a PDF or just going over a team project, you can add comments, notes, and highlight text that you want. Other editing features include:
Rotating pages
Cropping pages
Adding pages
Deleting Pages
Changing the order of pages
Combining multiple PDFs
Add Drawings and Annotations on PDF Files
Acrobat DC includes a variety of drawing tools that can be used to annotate and mark up PDFs. These tools can be used to add notes, comments, and sketches to PDFs, and to highlight important information.
The drawing tools in Acrobat DC are easy to use and provide a variety of features, such as the ability to change the color, thickness, and opacity of lines, and to add different types of shapes and arrows. You can also use the drawing tools in Acrobat DC to create freehand drawings.
The drawing tools in Acrobat DC are helpful for a variety of tasks, such as reviewing contracts, collaborating on projects, and creating presentations.
Here are some tips for drawing on Acrobat Pro:
Press the Shift key to draw straight lines.
Press the Ctrl key to draw freehand lines.
Press the Alt key to draw shapes.
The Eraser tool can erase any unwanted drawings.
Convert just about any file to a PDF
You can create a PDF in 4 simple steps by converting files from their original format.
Click the Tools button on the Acrobat toolbar and then select Create PDF.
A dialogue box will open, select the file you want to convert to a PDF.
Press the Create or Next button (the text on the button varies depending on the file type).
Follow the on-screen instructions and select the folder you want to save your new file.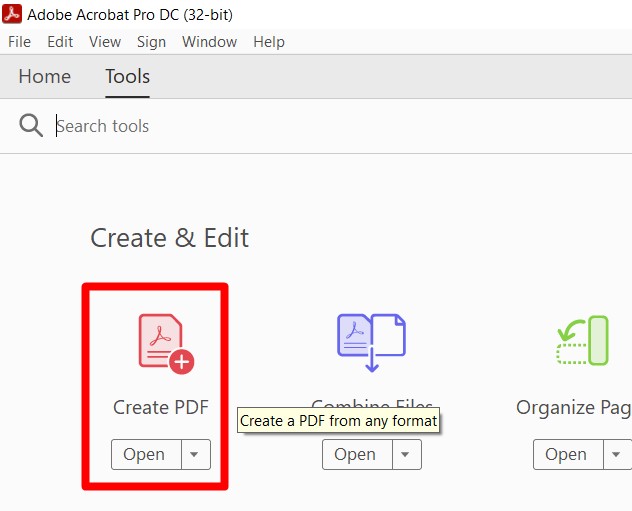 Here are just some of the file formats that are compatible with Acrobat Pro DC:
Microsoft 365: Word, Excel, and PowerPoint all have built-in options in their Save As sections for a PDF. These can all be opened, shared, and edited through Acrobat Pro and maintain the exact font, layout, and spacing on all devices.
Digital images to PDF: Whether you're scanning a document to your computer, or you need to save digital images with JPG, PNG, or TIFF formats, you can upload them to Acrobat Pro DC and save them as searchable PDFs.
HTML to PDF: This is a helpful tool if you're working on a website or doing QA and need to see exactly how it works and behaves. Acrobat Pro DC has the tools to convert the HTML code and save it as a PDF. It can even combine multiple websites in a single file. While the format is a PDF, the layout buttons and links work as if it's a website.
Convert PDF to other file formats
In addition to converting files to PDF, Acrobat works in the other direction as well. If you have a PDF that you need to edit or change the presentation style, you can export the file in a few simple steps.
Open the document in Acrobat and click on the Export PDF icon on the right-hand side.

Select the format you want.
Click the Export button. Acrobat Pro uses OCR (Optical Character Recognition) to ensure that the exported document is as similar to the original as possible.
Save the file to the folder of your choice.
Some of the export options are:
PDF to Word: The seamless conversion will maintain your fonts, tables, graphs, and layouts.
PDF to PowerPoint: PowerPoint will save your formatting options, making converting a single PDF into a beautiful presentation easy.
PDF to Excel: Excel will maintain the columns, formatting, and formulas from the PDF, so you won't have to waste time formatting or uploading the data.
PDF to Image: You can either choose to export each picture in the file or select specific images and convert them to high-quality JPEG, PNG, or TIFF files.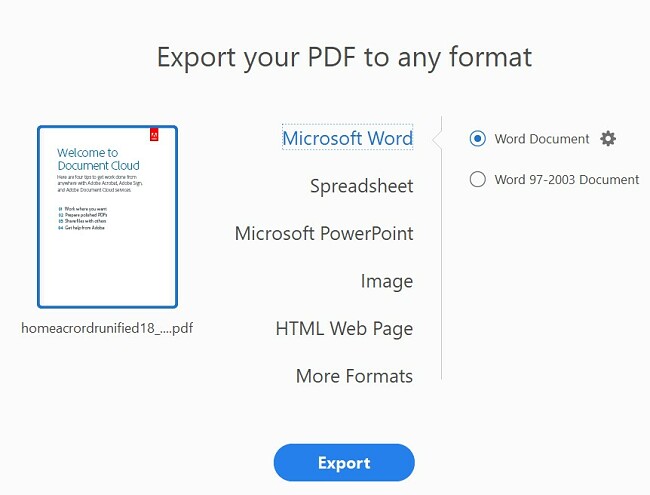 Merging and Splitting PDF files
Organize your files by combining multiple files or breaking a large file into smaller segments with the merge and split tools. The merge tool allows you to reorder and number pages, while the splitter lets you dictate the number of pages, maximum file sizes, or split by bookmarks.
Compress large PDF files
In my view, a highly underrated feature within Adobe is the file compression option. When dealing with large files that occupy excessive storage space or prove too cumbersome to email or share, this compression tool comes to the rescue, enabling significant space savings. With a simple selection from the drop-down menu, you can opt for file version compatibility, while ensuring that the document's quality remains unaffected by the compression process.
Add Custom Fonts
Acrobat DC allows you to add fonts to your PDFs. This can be useful for creating PDFs with a specific look and feel, or for embedding fonts in your PDFs so that they can be viewed and printed correctly on all devices.
To add a font to a PDF in Acrobat DC, you can either open the font file in Acrobat DC and then click the Embed button, or you can drag and drop the font file onto the PDF. Once a font has been embedded in a PDF, it will be available to all users who open the PDF, even if they do not have the font installed on their devices.
Adding fonts to your PDFs can be helpful for a variety of tasks, such as creating marketing materials, training documents, and legal documents.
Collaborate with others
Acrobat DC makes it easier to collaborate on PDFs with others in a variety of ways. Open your PDF in Acrobat Pro DC and go to the Share tab. Now, you can start a shared review of a PDF with others, which allows you to collect comments and feedback on a PDF in real time. Additionally, Acrobat DC includes a number of other collaboration features, such as the ability to track changes to PDFs, share PDFs with others for viewing and commenting, and create email notifications for when PDFs are updated.
This is helpful for doing things like reviewing contracts, collaborating on marketing materials, and editing training documents.
Digitally sign or request signatures
Long gone are the days where you have to print a PDF, sign it, scan it, and email it back. With the Adobe Fill & Sign feature, you can easily add your digital signature and initials to any document. There is also an option to add your personal information to an autofill collection, so you can save time when a form requires you to add your name, age, address, etc. Acrobat Pro DC also has tools that can help you organize documents that you send out for signatures. The document tracker will show you which files are still waiting for a signature, and then it will automatically store the document once it is signed.
Two helpful mobile apps
Acrobat Pro DC has two mobile apps for Android and iOS that allow you to stay connected from wherever you are. The first is the Acrobat Reader, which has nearly the same level of functionality as the desktop version. You can make edits, comments, share, sign, track documents, and access your files.
The second app is Adobe Scan. Use your camera to capture any document, receipt, or picture, and Adobe will upload it to your cloud storage. The scan app has some editing options, such as rotating, cropping, and straightening the image. It uses Adobe Sensei to enhance lines, handwriting, and printed text and removes unnecessary shadows and glares.
Improved Accessibility Options
With the improved accessibility features in Acrobat DC, you can make your PDFs more accessible to people with disabilities in a variety of ways. For example, you can create tagged PDFs, which allow screen readers to read the text and structure of the PDF aloud. You can also export PDFs to accessible formats, such as HTML and EPUB, which can be used with a variety of assistive technologies. Additionally, Acrobat DC includes a number of other accessibility features, such as the ability to add alternative text to images, create transcripts for videos, and set the tab order for elements on a page.
This is helpful for doing things like sharing PDFs with colleagues or customers who have disabilities, or submitting PDFs to government agencies that have accessibility requirements.
To use these features, you can open a PDF in Acrobat DC and go to the Accessibility tab. Here, you can find options for creating tagged PDFs, exporting to accessible formats, checking for accessibility errors, and using other accessibility features.
Advanced Security Features
Acrobat DC includes a number of advanced security features to protect your PDFs from unauthorized access and modification. These features can be used to protect sensitive information, such as financial data, medical records, and trade secrets.
Password protection
One of the most important security features in Acrobat DC is password protection. You can add passwords to your PDFs to prevent unauthorized users from opening them. Acrobat DC supports two types of passwords:
User password: This password is required to open the PDF.
Owner password: This password is required to make changes to the PDF, such as printing, copying, or editing.
You can also choose to encrypt your PDFs with a strong encryption algorithm, such as AES-256. Encryption makes it very difficult for unauthorized users to decrypt and view your PDFs.
Digital signatures
Another important security feature in Acrobat DC is digital signatures. Digital signatures can be used to verify the authenticity of a PDF and to prevent unauthorized changes to the PDF. Acrobat DC supports a variety of digital signature standards, including X.509 and PAdES.
To add a digital signature to a PDF, you need to have a digital certificate. A digital certificate is an electronic document that contains your identity information, such as your name and email address. You can obtain a digital certificate from a trusted certificate authority, such as Verisign or GoDaddy.
Once you have a digital certificate, you can use it to sign PDFs in Acrobat DC. To do this, simply open the PDF in Acrobat DC and click the Sign button. Then, select your digital certificate and click the Sign button again.
When you sign a PDF with a digital certificate, Acrobat DC creates a digital signature. The digital signature is attached to the PDF and contains information about the signer and the date and time that the PDF was signed.
Anyone who opens the PDF can verify the digital signature to ensure that the PDF has not been changed since it was signed. To do this, simply open the PDF in Acrobat DC and click the Verify Signature button.
Other security features
In addition to password protection and digital signatures, Acrobat DC also includes a number of other security features, such as:
Permissions: You can use permissions to restrict what users can do with your PDFs, such as printing, copying, and editing.
Watermarks: You can add watermarks to your PDFs to deter unauthorized use and distribution.
Redaction: You can use redaction to permanently remove sensitive information from your PDFs.
Sandboxing: Acrobat DC uses sandboxing to protect your computer from malicious PDFs.
Acrobat DC's advanced security features can be used to protect your PDFs from a wide range of threats. By using these features, you can ensure that your sensitive information is safe and secure.
The Acrobat Pro DC Interface
Acrobat Pro DC uses a modern tabbed interface that makes it easy to navigate and work on multiple files at once. To get started, go to the "Home" tab. This is where you see the most recently viewed documents and files uploaded from the Adobe Scan app. You can also quickly load documents that are stored on your computer, Adobe Document Cloud, or connect it with other cloud storage services like Google Drive, OneDrive, SharePoint, and Dropbox.
You can also open a tab to see which documents have been sent out and are still waiting for a signature. All files with new comments or notes can be easily found by opening a different tabbed section.
Open the Tools tab to see the complete list of PDF editing and sharing tools. The most popular tools are located on the right sidebar as well. You can customize your toolbar by dragging the icon from the Tool section to the sidebar.

They are organized by function:
Create & Edit
Share & Review
Forms & Signatures
Protect & Standardize
Customize
You can customize your view by selecting specific tools from each function, creating a shortcut that will display on the right-hand side.
Each file that you open will appear as a separate tab in the Document view. You can easily toggle between files, which I found to be easier than opening and closing files all day. On the top menu bar in Document view is the toolbar, where you can access some of the basic editing tools.
Ease of Use
Adobe did a great job with the latest updates to Acrobat Pro DC. I found it to be a time and money saver. My printer always seems to be out of ink, which caused me to leave plenty of documents unsigned. Now, I take advantage of the digital signature tool and get all forms back in on time.
The editing tools are very easy to use, and as long as you've worked with any type of word processing software, they won't cause you any trouble. What I found really cool is the OCR feature. It finds the font used in the PDF, so the edits look natural.
I tested out the conversion tools, converting files to PDF and exporting PDF files to different formats. It was quick and easy, with just a few clicks of the mouse or taps on the tablet, and within seconds I had the files in the format I needed.
While I found the features and tools to be fairly straightforward, I was happy to see that Adobe has an excellent help section. It goes through each tool, with both video and text tutorials, to ensure that all users will get the most out of each feature.
Compatibility
While the complete Acrobat Pro app is only available on PC and Mac, there are four PDF related mobile apps that  you can download for Android and iOS:
Acrobat Reader: Opens PDF files.
Adobe Scan: Scan documents and upload them to your Creative Cloud account.
Adobe Fill & Sign: A convenient app for signing PDF files.
Acrobat Sign: You can e-sign documents and prepare documents to be signed by adding different fields. When you send them out to be signed, Acrobat Sign will track any progress and send out reminders for unsigned documents.
Acrobat Pro System Requirements
Before downloading Adobe Acrobat Pro, make sure that your computer meets the system requirements.
Windows
Processor

Intel or AMD, and it must be at least 1.5GHz

OS

64-bit Windows 10, 11




32-bit Windows 7, 8, 10, 11

RAM

2 GB

Hard Disk

4.5 GB

Monitor Resolution

1024 x 768
macOS
| | |
| --- | --- |
| Processor | Intel or M1 Apple Silicon |
| OS | macOS 10.15 or later |
| RAM | 2 GB |
| Hard Disk | 2.75 GB |
| Monitor Resolution | 1024 x 768 |
Adobe Acrobat Pro DC Pricing and Plans
Adobe Acrobat Pro DC has three subscription options, so you can find something within your budget. Each option provides access to essential features and services for working with PDF documents, and they differ mainly in billing frequency and cancellation terms.
Monthly Subscription
Billed on a monthly basis, providing flexibility if you prefer a short-term commitment.
You can cancel this plan at any time by turning off recurring billing.
Yearly Subscription Billed Monthly
Billed annually but divided into monthly payments, making budgeting more manageable.
While the total price is the same as paying upfront, it allows you to spread payments over 12 months.
You can cancel the account within 14-days without any cancellation fee. This provides a safety net for users who may have second thoughts shortly after starting their subscription.
Yearly Subscription Billed Upfront
Billed annually with a single upfront payment for the entire year.
A good option if you prefer the convenience of a one-time annual payment.
This subscription also includes a 14-day money-back guarantee.
All three plans include all the advanced features of Adobe Acrobat, plus access to the following Adobe programs:
Adobe Reader (mobile): This versatile mobile application allows users to conveniently view and interact with PDF documents on their mobile devices.
Acrobat online services: These online services encompass a suite of tools for creating, editing, converting, and collaborating on PDF documents. Features may vary but generally include essential PDF manipulation capabilities.
Adobe Scan: A mobile application designed for capturing physical documents using your mobile device's camera and converting them into PDF format.
In addition to these subscription plans, you can download Adobe Acrobat Pro DC free for 7 days, giving you plenty of time to test it out before committing to one of the 3 plans.
Is Adobe Acrobat Pro DC Worth Buying?
When it comes to managing PDFs, many platforms offer built-in tools for basic viewing and annotation. So, is it necessary to invest in a specialized application like Adobe Acrobat Pro DC?
Acrobat Pro DC isn't just another PDF tool; it's a comprehensive solution for all your document needs. Beyond basic viewing, it offers advanced editing options to modify text and graphics. Its optical character recognition (OCR) is top-notch, transforming scanned documents into searchable and editable files. The software excels in security, with encryption, redaction, and specialized signing features. One distinguishing element is its seamless integration with Adobe Document Cloud, facilitating effortless sharing and editing on-the-go via Adobe's mobile apps.
If you frequently work with PDFs, require advanced editing and security features, or need reliable integration and cloud capabilities, Adobe Acrobat Pro DC can be a worthwhile investment. However, if your needs are basic, it might be worth exploring free or less expensive alternatives first.
How to Uninstall Adobe Acrobat Pro DC
There are two ways to uninstall the software from your device.
Using Apps and Features:
Open the Apps and Features window on your device. Select Adobe Acrobat Pro DC and click on Uninstall.

You will be prompted to confirm the action.
Select Uninstall and the software will be uninstalled from your device.
Using the Creative Cloud Desktop:
Open the Creative Cloud Desktop.
Click on More Actions and select Uninstall.

How to Cancel your Adobe Account
When you're done using Adobe Acrobat Pro DC, you can cancel your account to prevent extending your subscription beyond the free 7-day trial. It's a simple process, and you can do it through your Adobe account. Follow this step-by-step guide to cancel your account.
Log into your Adobe account.
Click on the Plans tab.
Select Manage Plan.
Select Cancel Plan.
You will then be asked to verify your identity and confirm the cancellation.
Additional Adobe Creative Cloud Apps
Adobe Photoshop: Get professional editing tools for all your graphic design needs. With Photoshop you can adjust facial features, change the sky, remove backgrounds, add text overlay, edit videos, and so much more.
Adobe InDesign: Create professional layouts for online and print media with Adobe InDesign. It has all the graphic design tools you need to help you bring your vision to life. It's an easy program to learn, and accessible for students and professionals alike.
Adobe PDF Reader: PDF Reader is a reliable and free solution that can be used to view, sign, comment, and share PDF documents. However, the editing features are limited.
FAQs
Bottom Line
Adobe Acrobat Pro DC is a versatile tool designed to simplify your experience with PDF documents. It offers a wide range of features, making it easier to work with PDFs efficiently. With Acrobat Pro DC, you can edit text and images in PDF files, convert documents into different formats, merge or split files, and even reduce the size of large PDFs. One of its standout features is the ability to sign documents electronically, which not only saves time but also contributes to a paperless, eco-friendly approach to document management. Its mobile app further enhance your productivity, allowing you to work on PDFs from anywhere.
The best part is that you can explore Adobe Acrobat Pro DC full potential without commitment, with Adobe's 7-day free trial. Give it a try and experience firsthand how it can streamline your PDF tasks, making them more accessible and efficient.
Read More