What are DNS, WebRTC, and IPV6 Leaks & How to Fix Them
Last Updated by Sayb Saad on January 05, 2023
As a privacy-obsessed user, I understand the risks of using a low-end VPN. I happened to use one and ended up leaking my data. Leaks may let third parties track you, or let hackers steal your data.
I thoroughly check a VPN's leak-prevention capabilities before using it. In this article, I'll identify the most common types of VPN leaks and how to test them. This will help you understand what features to look for in a VPN.
After testing 30+ popular VPNs, ExpressVPN topped my list of the best leak-free VPNs. Its TrustedServer technology renders servers incapable of storing your data, eliminating any threat of a leak. You can buy ExpressVPN in confidence as it's backed by a 30-day money-back guarantee — if you're not impressed, you can get a refund.
Prevent data leaks with ExpressVPN
Note: Use this IP leak test tool to ensure your VPN isn't revealing any of your sensitive data.
Quick Guide: Best VPNs to Stop Data Leaks
ExpressVPN — ExpressVPN is the #1 VPN to avoid data leaks. It uses private DNS on every server and has an IPv6 leak-prevention feature.
CyberGhost — Smart WiFi protection automatically turns the VPN on, but has had a privacy concern in the past.
Private Internet Access — MACE blocks trackers to prevent sites from tracking you, but PIA is based in the 5 Eyes Alliance territory
Prevent data leaks with ExpressVPN
What is a VPN Leak?
A VPN leak is when your real IP address becomes visible to snoopers. A VPN encrypts your internet data through a virtual tunnel, assigning you a different IP address. That way, you appear to be in another location or country and whatever you do online is encrypted and invisible.
However, an unsteady VPN connection may expose your real IP address. Therefore, choosing a reliable VPN is critical to ensuring it doesn't leak your data. Top VPNs have a kill switch that disconnects your device from the internet if the VPN server drops or becomes unstable. This keeps your data from leaking even in worst-case scenarios.
Common VPN Leaks
1. DNS Leaks
Domain Name System (DNS) is a global library of websites on the world wide web. When you visit a website, your device contacts your ISP to request that website's IP address. When using a VPN, your device contacts the VPN's DNS server.
If a security flaw or the VPN server drops, your DNS requests redirect to your ISP — this causes a DNS leak. It happens when a device sends an unencrypted DNS request outside the secure VPN tunnel, exposing its real IP address and browsing activities. The best way to prevent DNS leaks is to use a trusted VPN that uses its own no-logs DNS servers instead of outsourcing to third parties.
2. WebRTC Leaks
Web Real-Time Communication is an API built into web browsers like Safari, Chrome, and Firefox. It allows browser-to-browser communication via voice or video and P2P file sharing. At times, a browser may leak your data even if you're using a trustworthy VPN — these are called WebRTC leaks.
You can avoid WebRTC leaks by using a top VPN with a browser extension and WebRTC blocking features. But since this issue is browser-related you'll have to disable WebRTC manually in your browser settings in case a VPN extension doesn't work.
3. IP Leaks
IP leaks happen when a VPN fails to hide your real IP address behind a virtual one. When you connect to a VPN server, your data is routed through an encrypted tunnel, and you're assigned another IP address. This makes you practically invisible to prying eyes unless there's a leak.
There are 2 types of IP addresses — IPv4 and IPv6. The former is a numerical address with 4 fields separated by dots. Since all IPv4 4 billion combinations will get completely exhausted, the internet has been transitioning towards the next generation IPv6 alphanumeric protocol. However, this transition has been slow.
Most VPNs only handle IPv4 addresses and will ignore requests if you use IPv6, resulting in leaks. Your identity could also be exposed if a third party makes an IPv6 request. However, some VPNs block IPv6 traffic altogether to avoid this problem. Disabling IPv6 traffic on your device and router guarantees leak prevention. Alternatively, top VPNs like ExpressVPN include IPv6 leak prevention features to keep your data from being exposed.
4. HTML5 Geolocation Leaks
HTML5 geolocation leaks happen when a browser knows your real location with its "Location" feature. This can happen even if your VPN isn't leaking data. It does this by identifying cellular networks and local WiFi hotspots near you to determine your location.
To avoid geolocation leaks on Chrome, click the 3 vertical dots on the top-right, go to Settings > Site Settings > Location, and toggle on the "Ask before accessing" option. This will give you control over which sites can access your location. On top of that, you can use ExpressVPN's browser extension as it offers HTML5 geolocation leak protection.
5. Data Center IP Leaks
A data center IP address belongs to hosting and cloud companies like AWS or Microsoft Azure, not your ISP. VPNs generally use data center IPs owned by these companies. Although a data center IP leak won't expose your real IP address, it will inform the ISP that you're using a VPN service.
6. Torrent IP Leaks
A torrent IP leak occurs when a torrent client, such as uTorrent or BitTorrent, leaks your real IP address. This can be dangerous for users torrenting in countries where it's illegal. It can reveal private information about you and torrenting peers. A torrent leak can happen on 2 data transmission protocols — TCP and UDP. You can fix both of them with the following measures:
Restart the torrent client — At times, you may begin torrenting without connecting to a VPN server. In that case, remove the file, connect to the VPN, and re-add the file.
Disable IPv6 traffic — Enable IPv6 protection on your VPN. However, only a few VPNs like ExpressVPN provide IPv6 leak prevention.
Disable proxy settings — A BitTorrent client may use another device's unencrypted connection on your network with a proxy enabled. Always disable the proxy before torrenting.
Best VPNs to Avoid DNS, WebRTC, and IPv6 Leaks
Key Features:
3000+ servers in 94+ countries globally
TrustedServer network makes servers incapable of storing data, making you immune to leaks
256-bit encryption, a verified no-logs policy, and a kill switch provide solid leak protection
Connect up to 5 devices at the same time
30-day money-back guarantee
ExpressVPN runs a private, encrypted DNS on every server so your DNS requests are hidden from marketers, hackers, and other parties. Instead, requests are exclusively handled by ExpressVPN and can't be hijacked because they're encrypted. Even ExpressVPN can't access your data since it has a zero-logs policy verified by PwC and KPMG.
With ExpressVPN's TrustedServer network, you can rest assured that your data is 100% immune to leaks. It uses RAM-only servers physically incapable of storing your data. ExpressVPN didn't leak my data on my IP, DNS, and WebRTC tests. IPv6 addresses are the most common culprit behind IP leaks, but ExpressVPN's "Prevent IPv6 address detection" feature blocks such leaks.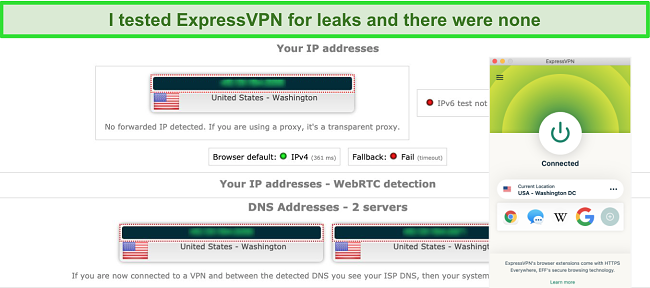 To guarantee 100% leak-proof surfing, ExpressVPN packs state-of-the-art security features that make it impossible for any leaks to occur. These include:
Military-grade encryption — Encrypts your internet traffic with a virtually impenetrable 256-bit cipher, ensuring that it's irretrievable by anyone but you
Kill switch — Disconnects your device from the internet if the VPN server becomes unsteady to prevent leaks
Threat Manager — Blocks trackers and malicious sites to keep your personal data secure on the web
Perfect Forward Secrecy — Changes your encryption key to make your data even harder to eavesdrop on
ExpressVPN has an impressive network of 3000 servers and constantly replaces blacklisted IP addresses from its library to ensure you don't use previously compromised servers to browse the web. As a result, it can easily unblock all geo-blocked platforms given its strict leak protection abilities.
One drawback of ExpressVPN is that it's more expensive than the competition. However, it's worth every penny because its comprehensive security and privacy features guarantee leak prevention. It also delivers excellent speeds for leak-free torrenting, even on distant servers. If you want a better price, ExpressVPN's 1-year + 3 months plan gives a discount of 49%. Alternatively, here are 10 cheap monthly VPN plans you can subscribe to.
You can buy ExpressVPN in confidence as it's backed by a 30-day money-back guarantee. You can get a refund if you're unsatisfied. I tested its refund policy by submitting my refund request via 24/7 live chat and got my money back in just 3 days.
Prevent data leaks with ExpressVPN
February 2023 Update! ExpressVPN has dropped prices for a limited time to a crazy $6.67 per month for the 1-year plan (you can save up to 49%) + 3 months free! This is a limited offer so be sure to grab it now before it's gone. See more information on this offer here.
Key Features:
Extensive network of 9736 servers in over 91 countries
In-house managed NoSpy servers provide state-of-the-art IP masking and encryption to prevent leaks
Dedicated IP addresses are stable and less prone to instability and leaking data
Supports 7 simultaneous device connections
45-day money-back guarantee
CyberGhost's WiFi protection automatically turns the VPN on before you start browsing the web. This can be a lifesaver if you forget to turn it on, accidentally exposing yourself to hackers. Simply go to the WiFi protection tab under "Smart Rules" and select how you want CyberGhost to behave when you connect to a secured or public WiFi network.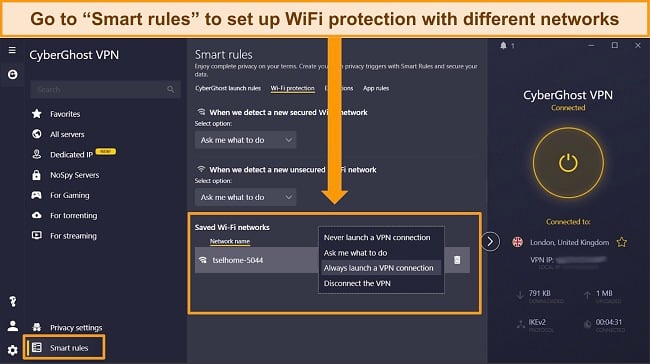 NoSpy servers further add to CyberGhost's excellent leak-prevention capabilities. These servers are privately owned and located in CyberGhost's data center in Romania, a country not bound by any data retention laws or surveillance. Since they're privately managed, CyberGhost ensures they're 100% leak-proof. Throughout my tests, CyberGhost didn't give me any DNS, IP, or WebRTC leaks.
The following security features make CyberGhost's leak prevention even tighter:
Dedicated IP address — Gives you an IP address exclusive to you for an extra cost, providing better connection stability and minimizing the chances for data leaks
Tracker blocker — Blocks sites and third-party advertisers from tracking you via cookies to protect your data from being used non-consensually
With over 9736 servers in its catalog, CyberGhost has excellent unblocking capabilities. It can access nearly all geo-blocked platforms without the risk of exposing a user's real location, which is a problem with most subpar VPNs. If your connection becomes unstable, the kill switch will disconnect you from the internet immediately before your real IP address becomes visible.
My only reservation with CyberGhost is a blemish in its past track record. It was bought by Crossrider in 2017, a company with a bad reputation for using ad injection with its software. Soon after, it was rebranded and acquired by Kape Technologies, an established name in the cybersecurity space. Its Deloitte-verified no-logs policy is testimony to that.
While it's not exactly cheap, you can get CyberGhost at an affordable price of $2.19 with its 2-year + 2 months plan. If subscribing to a long-term plan is making you anxious, you can test CyberGhost risk-free for 45 days with its money-back guarantee. I submitted my refund request via email support and got my money back 5 days after the confirmation.
Prevent data leaks with CyberGhost
February 2023 Update! You can subscribe to CyberGhost for as low as $2.19 per month + get extra 2 months free with the 2-year plan (save up to 83%)! This is a limited offer so grab it now before it's gone. See more information on this offer here.
Key Features:
More than 35000 servers in 84 countries
Obfuscation to add a proxy location before your VPN connection for extra leak protection
256-bit encryption and a verified no-logs policy to ensure your data remains safe
Works on 10 devices at a time
30-day money-back guarantee
Private Internet Access's MACE blocks ads, trackers, and data-stealing malware. It uses a database of servers containing malware and trackers to intercept them before they can load on your browser. MACE blocked sites from tracking my online searches and gave me an ad-free browsing experience.

PIA has a strong leak-prevention mechanism built into it. I connected to 50+ physical and virtual servers and found no leaks whatsoever. It kept my IP address hidden throughout, even when a long-distance VPN became a bit unsteady. PIA's kill switch immediately cut me from the internet to prevent any leaks. Additionally, it offers:
Multihop — Shadowsocks proxy gives you an additional hop to route your traffic through multiple locations simultaneously, providing an extra layer of security
Dedicated IP — You can get a dedicated IP which can make your connection more stable and less prone to leaks
Apart from having an extensive network of 35000 servers, PIA has virtual servers that let you route your connection using a geolocated server elsewhere. Both physical and virtual servers use military-grade 256-bit encryption to keep you safe from prying eyes. However, I suggest using physical ones for faster speeds.
My only reservation with PIA is that it's located in the United States, a core member of the 5 Eyes Alliance. However, it has a strict no-logs policy verified by Deloitte. I read the audit report and found that PIA's server configurations are not designed to identify users or store their browsing activities.
If you want to buy PIA, go with the 2-year + 2 months plan to get the best price of $2.19 per month. Although it doesn't have a free trial, you can try PIA risk-free with its 30-day money-back guarantee. If you're unsatisfied, submit your refund request via email. I got my refund 7 days after getting an email confirmation.
FAQ: VPN Leaks and How to Prevent Them
Do free VPNs leak DNS, WebRTC, or IP?
Not necessarily, but there's a high chance they do. I recommend using a premium VPN to be safe. I've picked the 3 most leak-proof VPNs after rigorous testing. Free VPNs lack the advanced security infrastructure to protect against leaks. For instance, they may not have a kill switch, so your IP address could be exposed if the VPN server drops for any reason. Still, you can use some good free VPNs without risking data leaks.
Is using a VPN legal?
Yes, it's legal in most countries. I don't condone breaking the law, so you should check the laws of your country before getting a VPN. If it's legal, I recommend getting ExpressVPN because it has private DNS on all its servers. That means all DNS requests are handled by ExpressVPN instead of your ISP, eliminating the risk of leaks altogether. Besides ExpressVPN, there are other good VPNs I can recommend for leak-proof browsing.
How do I fix a streaming service proxy error?
By using a premium VPN like CyberGhost. A streaming service proxy error is when you try to access a geo-blocked streaming service outside the country it's available in. The site uses your IP address to determine your location. However, a VPN can change your IP address to make it seem like you're in another country. Using a reliable VPN is the best way to fix a streaming service proxy error and access geo-blocked sites.
Prevent data leaks with ExpressVPN
Prevent DNS, WebRTC, IP Leaks, and More!
Most VPNs don't have advanced leak-proofing features and can expose your IP address. These leaks can compromise your online anonymity and put your data at serious risk. That's why choosing a reliable VPN is crucial for your online safety.
I tested dozens of VPNs to pick the best ones with advanced leak-prevention capabilities. The VPNs on my list have excellent leak protection and a kill switch to prevent your IP address from getting exposed in case the VPN server drops.
ExpressVPN has solid leak-proofing as it runs private DNS on all its servers. Your browsing data is inaccessible to third parties. You can buy ExpressVPN in confidence because it provides a 30-day money-back guarantee — if you don't like it, you can get a refund.
---
Summary: These Are The Best VPNs For Data Leak Prevention
Top Choice