How to Watch the New Live-Action Aladdin on Disney Plus in 2020
Last Updated by Kate Hawkins on October 01, 2020
You can now watch the live-action Aladdin remake on the Disney+ streaming service! However, Disney+ is only available for subscribers in 12 countries: the US, Ireland, Canada, the Netherlands, UK, Germany, Spain, Italy, Switzerland, Austria, Australia, and New Zealand.
That's where a reliable VPN can help. With a VPN, you can change your online location and stream Aladdin on Disney+ from anywhere. For example, if you're in Estonia, you can use a VPN to change your online location to the US and gain access to Disney+.
I'll show you how to watch Aladdin — plus other Disney shows and movies — from any country in the world with a VPN.
Watch Aladdin on Disney+ with ExpressVPN!
Quick Guide: 5 Easy Steps to Watch Aladdin on Disney Plus
Watch Aladdin on Disney+ with ExpressVPN!
How to Choose the Best VPN for Disney Plus
With hundreds of VPNs in the market, it can be tricky to know which provider is the best. That's why I made sure all of my top VPN recommendations have:
Many servers in every Disney+ country
Fast speeds for high-quality streaming and zero buffering
Advanced security and privacy features
24/7 customer support team
Money-back guarantee
Download the best VPN for Disney+
3 Best VPNs for Watching Aladdin on Disney Plus
1. ExpressVPN — Fast and Reliable Streaming Speeds for Disney Plus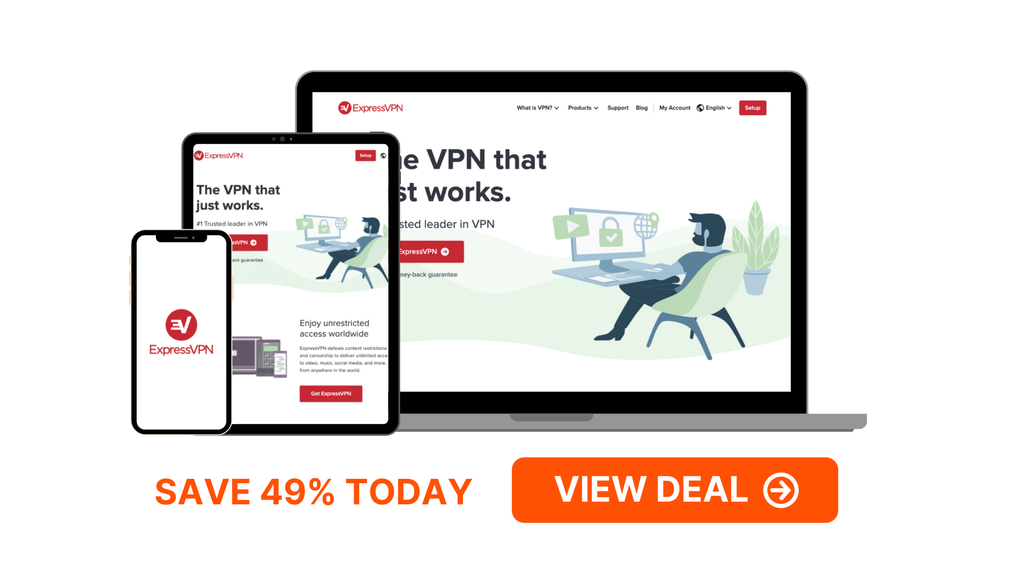 Key Features:
3,000+ servers in 94 countries
Unlimited bandwidth for extremely fast streaming
Best-in-class encryption and DNS leak protection
24/7 customer service available
30-day money-back guarantee
ExpressVPN is the best VPN for watching Disney+ due to its fast streaming speeds and reliable network of global servers.
During my tests, I successfully accessed Disney+ on each server I tried in a Disney+ location, like Germany, the Netherlands, the US, Canada, Australia, and New Zealand. I didn't encounter any loading or timeout errors.
I was even more impressed by ExpressVPN's fast streaming speeds on every server, no matter how far the country was from my location in the UK. My speeds were fast whether I was connected to servers in the Netherlands (average speed was 40Mbps) or New Zealand (average speed was 36Mbps).
Every time I started streaming Aladdin, I waited less than 5 seconds for the movie to load. During the film itself, there was zero buffing and I could watch in HD quality.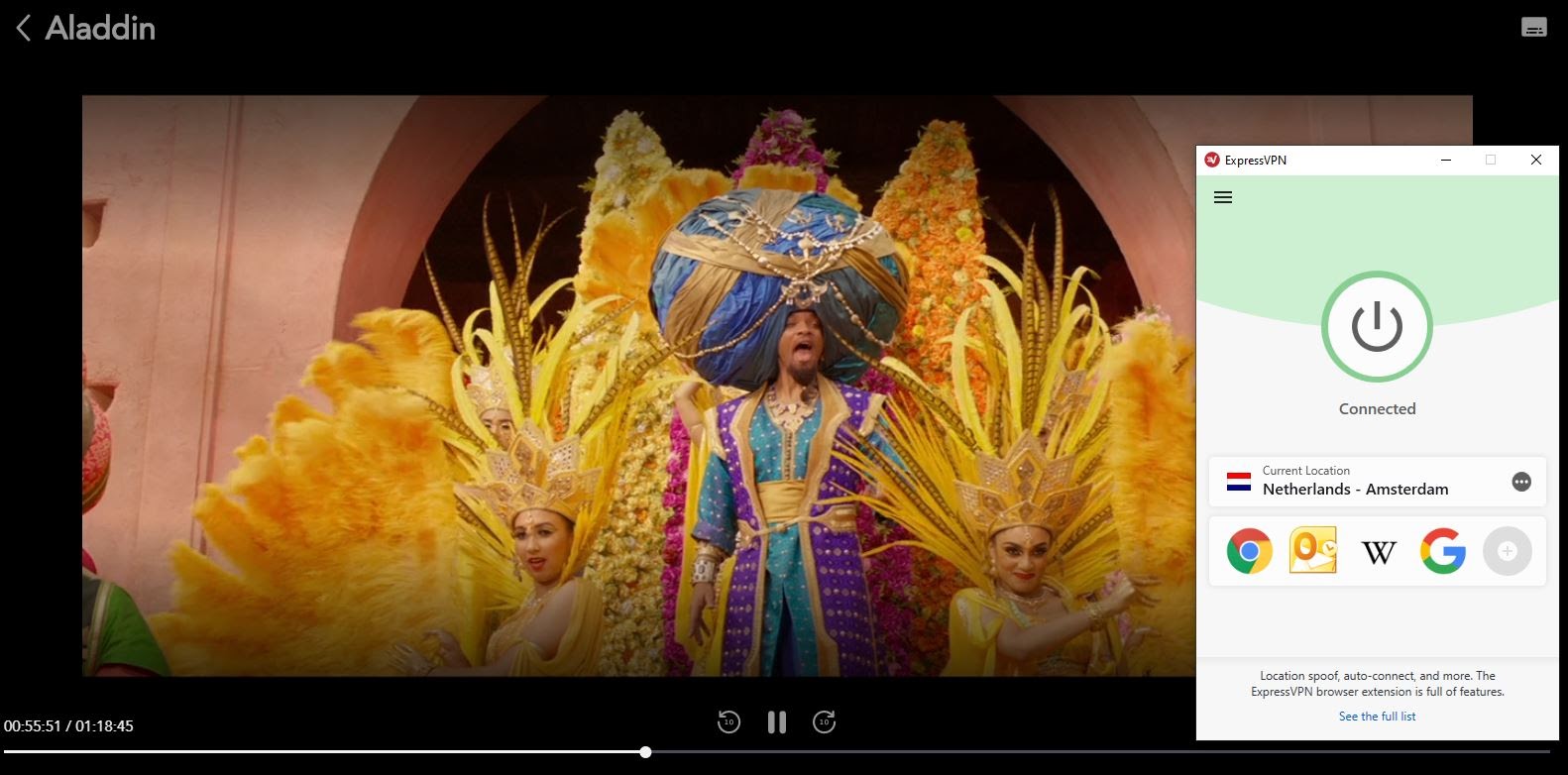 If you ever need assistance with ExpressVPN, you can contact the customer support team via its 24/7 live chat. I found the customer support team very helpful — the representative even suggested the best Disney+ servers for my location.
ExpressVPN offers a 30-day money-back guarantee for new users, so you can sign up without any risk. I tested this myself and got a refund within 3 working days.
Watch Aladdin with ExpressVPN today!
2. NordVPN — 2,500+ Fast Servers in All Countries With Disney Plus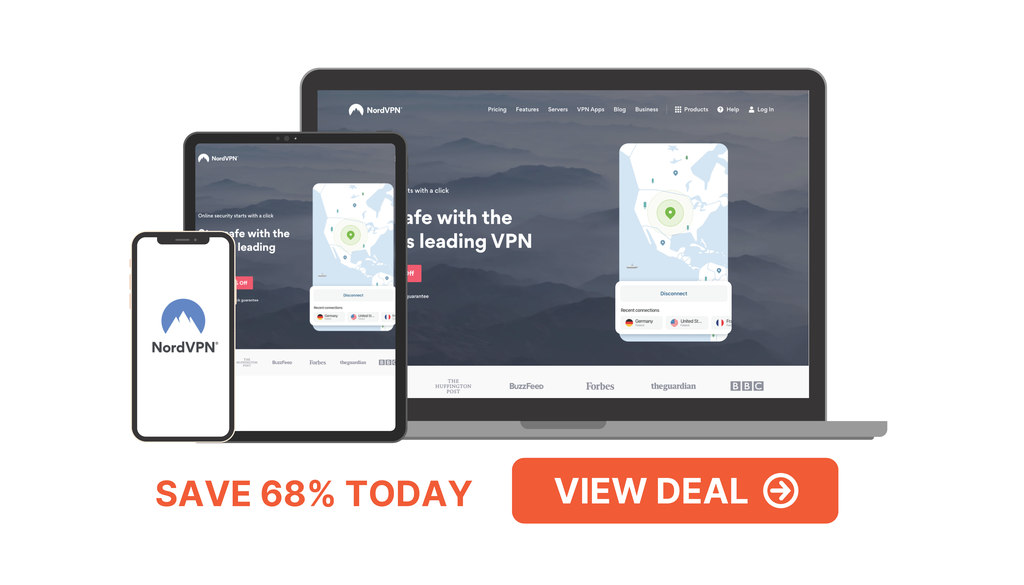 Key Features:
5,200+ servers in 59 countries
Great streaming speeds with minimal buffering
Military-grade encryption and DNS leak protection
24/7 customer service available
30-day money-back guarantee
NordVPN has a global network of servers so it's perfect for accessing Disney+ from any country you choose. In the US alone, it has over 1,600 servers to choose from.
I tested multiple servers in all 12 Disney+ locations. Unfortunately, some US servers couldn't unblock Disney+ so I had to reconnect to a working server. However, it was easy and quick to find another server — I either clicked on the "Quick connect" button or randomly selected another US server from the list.
All working servers were fast and I could watch Aladdin with no buffering. I averaged 36Mbps across every country, with the fastest server in the Netherlands (40Mbps) and the slowest in New Zealand (28Mbps).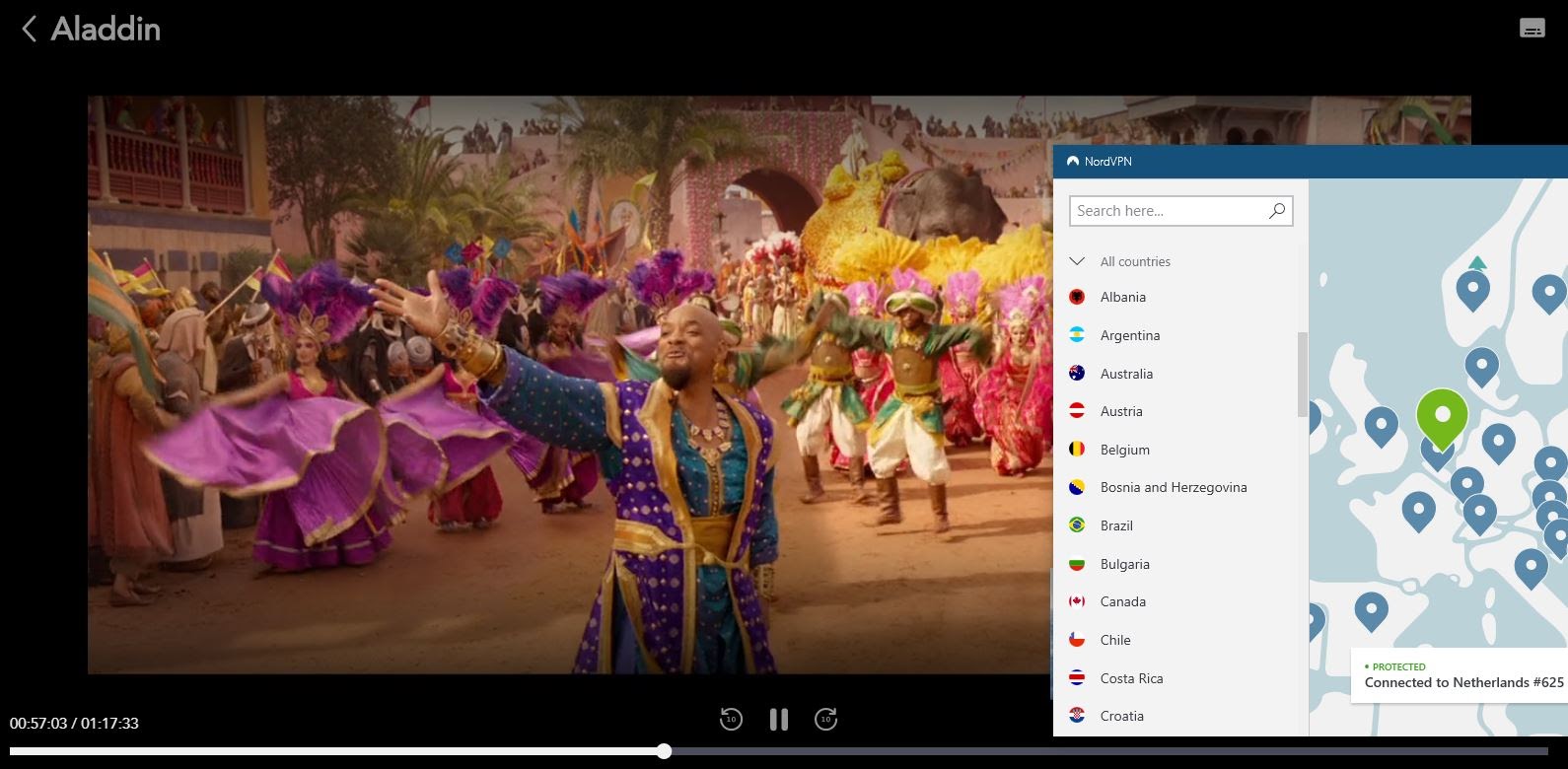 NordVPN has 24/7 live chat available for any questions and a guide for watching Disney+ on its site.
You can try NordVPN for a month with its 30-day money-back guarantee.
Download NordVPN now and watch Aladdin!
3. CyberGhost — Optimized Disney Plus Server for Smooth Streaming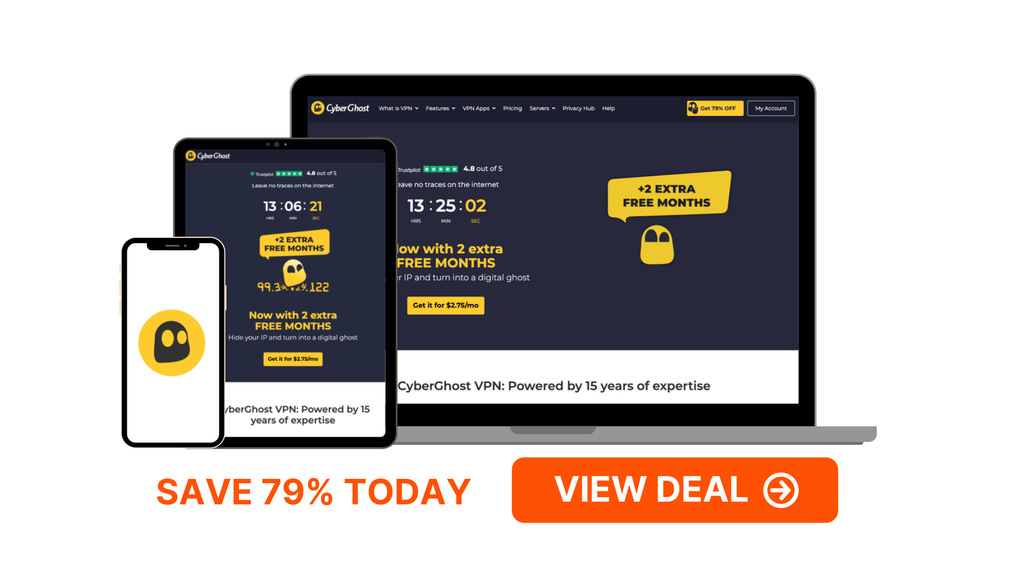 Key Features:
5,500+ servers in 90+ countries
Unlimited bandwidth for buffer-free streaming
Military-grade encryption with DNS and IP leak protection
Dedicated servers for streaming and downloading
45-day money-back guarantee
CyberGhost has 1 optimized Disney+ server in the US and I was very impressed by its fast streaming speeds.
My average speed on the optimized server was 48Mbps — this is the same speed as my internet connection without a VPN! Unfortunately, the optimized Disney+ server was occasionally full so I couldn't always connect.
Luckily, CyberGhost has hundreds of regular servers in every Disney+ country. When I tested the regular servers, I did experience some buffering at the start of the movie. However, it cleared up within a few seconds and I streamed the rest of the film in HD quality.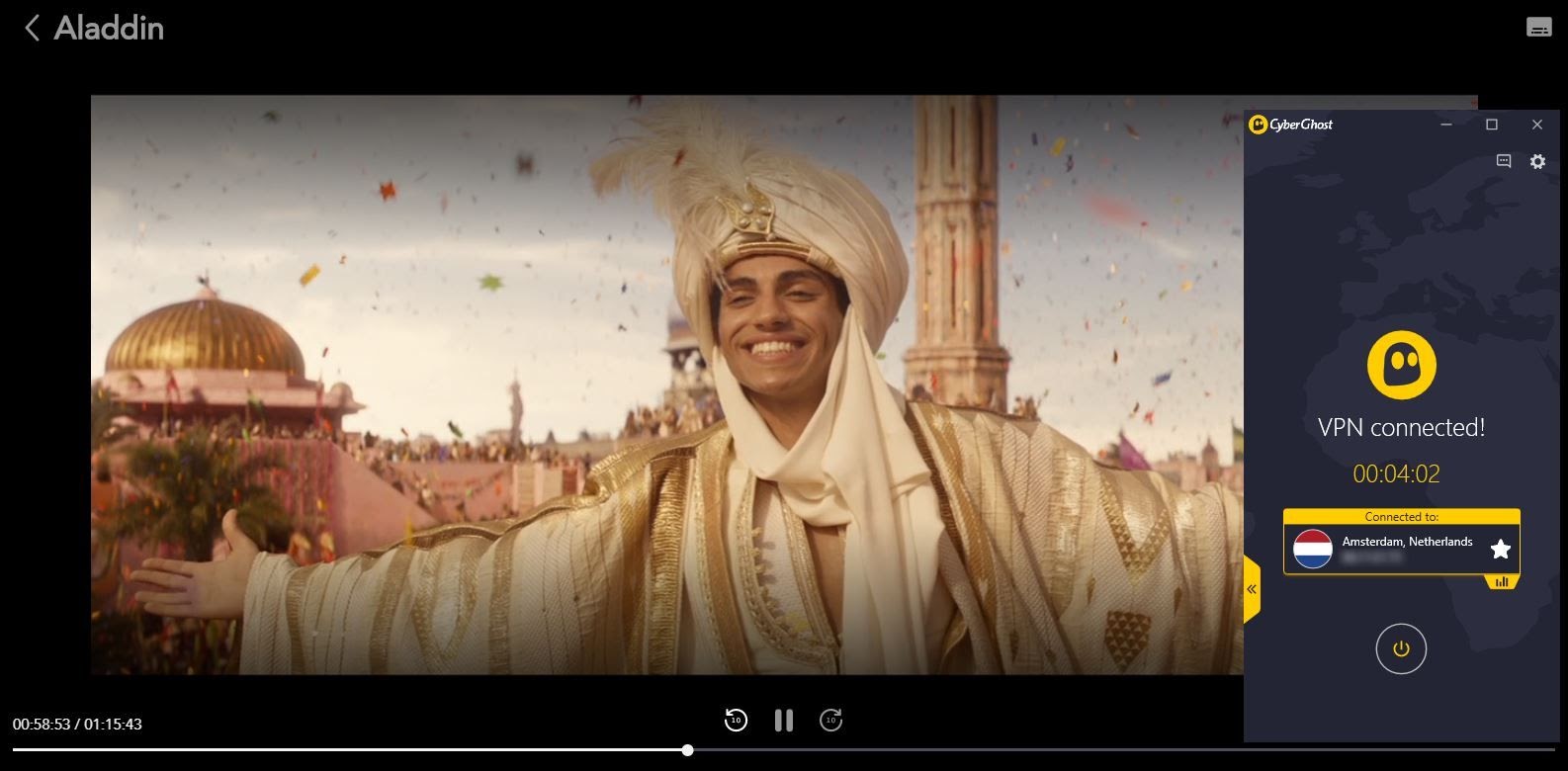 You can try CyberGhost for 45 days without any commitment. The provider offers a 45-day money-back guarantee, which is the longest money-back guarantee available in the market.
Get CyberGhost and watch Aladdin today!
Can I Watch Aladdin on Disney Plus With a Free VPN?
You might be tempted to get a free VPN but I strongly advise against it. Free VPNs are known for recording your internet activity and selling it to advertisers, governments, and other third-parties to make a profit. This leaves your device open to malicious hackers and ad trackers, which is especially concerning if young children are using your device as well.
In addition to security concerns, you'll also experience poor streaming quality due to slow server connections and limited bandwidth. In fact, it's unlikely that a free VPN can even unblock Disney+ with its limited number of servers.
The best (and free!) option is to get a quality VPN with a money-back guarantee. My top VPN choice, ExpressVPN, has a 30-day money-back guarantee. When combined with the free 7-day Disney+ trial, you'll be able to watch Aladdin at no cost.
Watch Aladdin on Disney+ for free with ExpressVPN!
If You Love Aladdin, Disney Plus Has Even More to Offer
You can keep up with Aladdin and his adventures even after watching the live-action remake! The Disney+ library includes the original animated Aladdin, The Return of Jafar, and Aladdin and the King of Thieves.
Even better, Disney+ has announced the release of an Aladdin spin-off movie! The exact date is unconfirmed but the film will feature Prince Anders from the live-action film.


Other than Aladdin, Disney+ has hundreds of movies and shows for the whole family. A few titles include:
Star Wars movies and The Mandalorian
The Simpsons
Marvel movies (including Avengers: Endgame and Captain Marvel
Classic Disney movies, such as Cinderella, Snow White, and Sleeping Beauty
New favorites like Frozen, Toy Story, and Big Hero 6
Even if Disney+ is available in your location, be aware that every country has a different Disney catalog due to licensing agreements. Some movies and shows might be available earlier in one country. In fact, Aladdin was first released on Disney+ in the Netherlands.
With a VPN, you can access every Disney+ catalog and watch your favorite programs as soon as it's released.
Watch Aladdin with ExpressVPN today!
Enjoy Aladdin on Disney Plus — No Matter Where You Are
The live-action Aladdin remake has been a worldwide hit since its theatrical release in 2019. Now that it's available on Disney+, this is your chance to sing all your favorite songs alongside Will Smith as Genie, Mena Massoud as Aladdin, and Naomi Scott as Jasmine.
All you need is a VPN and you'll be able to watch Aladdin from anywhere. Personally, ExpressVPN is my #1 choice for Disney+ as it has super fast speeds for streaming. It can also consistently unblock Disney+ from any server in the world.
You can even access other streaming platforms like Netflix US, Hulu, Sling TV, BBC iPlayer, and more. Try ExpressVPN for a month using its 30-day money-back guarantee!