VEGAS Pro is one of the leading, professional, non-linear video editing tools on the market. It was originally developed by Sony Creative Software but was sold to MAGIX in 2016. Under Magix, VEGAS Pro received many crucial updates and exciting new features, such as AI-driven tools for image processing, a much-improved user interface, top-of-the-line audio editing tools, and the inclusion of Sound Forge Pro. These tools help users with mastering and producing high-quality videos.
While VEGAS Pro can either be purchased with a one-time payment or a monthly subscription, I'll show you how to download it completely free for 30 days.
How to Download VEGAS Pro for Free
Click this link to open the VEGAS Pro free trial download page.
Click on the 30-Day Free Trial button, and a Captcha will open. VEGAS Pro doesn't require that you enter a credit card or PayPal account to begin the free trial. At the end of the 30 days, you can enter your payment information, otherwise, the account will be locked.
Prove that you aren't a robot and click on the Start Download button, and the .exe file will automatically download to your computer.
Select the components that you want to install. If you've never used VEGAS Pro before, just accept all the default files and click Continue.

The installation will begin. Take note, this is a large file, and the installation can take 30 minutes or more.
During the installation, you will be asked to choose your preferred language and accept the End User License Agreement. When this is done, click on the Install button, and it will complete the installation.
After VEGAS Pro is finished installing on your computer, several other programs that work with it will install as well.
Important: This will only uninstall VEGAS Pro and not the other programs that are installed at the same time. To uninstall these, scroll through the list of installed programs and click on the Uninstall buttons associated with those files.
VEGAS Pro Overview
VEGAS Pro, which was called Sony VEGAS before being purchased by MAGIX, is one of the top video editing programs on the market. While the program has a user-friendly UI, it will take some time to learn the new tools if you're used to working with other programs.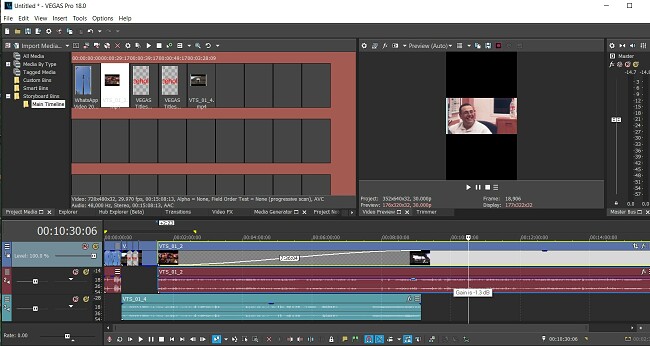 VEGAS Pro is popular among both professional TV and movie crews and amateur video creators, such as YouTubers. It has all the essential tools needed to edit your video and export the final cut in a wide variety of high-quality formats.
VEGAS Pro Features
The latest version of VEGAS Pro has some excellent features that help set it apart from other video editing programs. This includes a plug-in management system in the workstation that improves its functionality, making it easier to create beautiful videos.
Comprehensive Video Editing: In addition to the standard video editing tools, VEGAS Pro has state-of-the-art technology that stabilizes shaky videos. Another tool is the Planar Motion Tracking. With this motion tracking tech, you can attach color grading or text to moving items, and they will remain on the object, even as it moves across the screen.
Remove unwanted noise: The Denoise Filter is one of the newest features. It is designed to fix issues with poor lighting and other video "noises" to restore grainy or low-quality videos into clips that can be used while making quality videos.
Improved Color Grading: With complete HDR color support and a Unified Color Grading workflow, VEGAS Pro allows you to get the perfect color scheme for your video. The HDR support is powered by a GPU-based color processing tool known as ACES 1.1 color standards. The unified color grading has advanced tools and an adjustable Vectorscope that help you pick the exact color variant you want.
Audio Editing with Sound Forge Pro 14: The latest version of Sound Forge Pro is included in the VEGAS Pro installation package. This tool gives you more flexibility and opportunities for creativity with sound editing, adds special effects, reduces or removes audio noise, and mixes multiple audio tracks to produce the perfect sound for your videos.
VEGAS Pro Programs
Depending on your needs and video editing level, you can get a free 30 day trial of the following three VEGAS Pro programs:
The Movie Studio is a basic video editing software that gives you everything needed to start making beautiful videos. Use the nice selection of video and audio effects to create the perfect feel for your project, whether it's a short clip for social media, a professional video, or even a movie.
The single-camera linear editing program includes 32 multimedia tracks, 163 transitions, 32 intro and outro animations, and over 300 title templates.
Take your video editing potential to the next level with the Movie Studio Platinum version. The software includes 75 movie and editing templates, gives you the ability to see real-time previews of your edits, 200 multimedia tracks with gaps between video clips removed automatically.
Some other technical upgrades it has over the basic Movie Studio are 360 degree and effect transitions, effect and blur masks, a music editor and mastering suite, and automatic shot match.
The Suite version includes all the same features as the Platinum version, plus you always get several free add-ons. The specific add-ons are updated frequently, so it's always a good idea to check out the latest offer. In the past, the add ons have been free soundtracks, BlueFX, and extra transitions.
Get a VEGAS Pro Movie Studio Free Trial
How to Uninstall VEGAS Pro
If VEGAS Pro is not the right video editing program for you, or your 30-day free trial expires, it can be easily removed from your computer by following the steps below.
Scroll through the list of installed programs until you find VEGAS Pro, and then click the Uninstall button.

The Windows uninstallation wizard will automatically remove VEGAS Pro from your computer.
Free Alternatives to VEGAS Pro
Adobe Premiere Pro: One of the best video editing programs, Adobe Premiere Pro can handle everything from a short video presentation to a full feature film. While it has many advanced tools, there are plenty of tutorials, both from Adobe and its dedicated user base, making it easy to learn how to best use the software. Adobe Premiere Pro easily integrates with other Adobe programs, such as PhotoShop and Illustrator, which can be very helpful while creating your videos.
CyberLink PowerDirector: Get the comprehensive multi-track video editing program from CyberLink. The PowerDirector comes with royalty-free stock videos and images, picture-in-picture editing, and green screen editing. The editing board makes it easy to mix and match different video and audio clips, crop or remix videos, and add text overlay. If you're familiar with video editing tools, you should have no problem mastering CyberLink PowerDirector.
FAQ
Is VEGAS Pro Free?
There is no official version of VEGAS Pro that is free over a long period of time. However, you can download the software free for 30 days without providing any payment information or creating an account.
Is VEGAS Pro safe to download?
As long as you follow the instructions above and download an official version of VEGAS Pro, you won't have to worry about any viruses, malware, or ransomware. I tested the file with VirusTotal, and it came back 100% safe.
What happens at the end of the free trial period?
One of the great things about this free trial is that you don't have to enter a credit card number or PayPal information. Therefore, when the free trial offer ends, you don't have to do anything. The program will automatically lock, and you can follow these steps to uninstall VEGAS Pro from your computer.
Read More