Krisp is a noise-canceling application that removes background noise and echoes from calls making them clearer and audible. It identifies ambient noises like traffic, crying babies, and keyboard noises and separates them from the speaker's voice.
Thanks to Krisp, you no longer have to worry about distracting noises in your business or personal meetings. Noise cancellation happens in real-time during the call, and the app works well with all the popular conferencing apps like Zoom, Cisco Webex, Skype, Facetime, Slack, Google Meets, etc.
Krisp also offers other features like instant call recording and virtual backgrounds. Follow the instructions below and I'll show you how to download Krisp for free and access 240 minutes every week at no cost.
How to Download and Install Krisp for PC for Free
Go directly to the official Krisp download page by clicking on this link.
Click on the Get Krisp for Free button, and sign up for a download. You don't need to add payment details to begin using your free account when creating an account.
Once your email is verified, the .exe file will automatically download to your computer.
When the download is complete, open the file, and the Installation Wizard will open.
Click on the Install button to begin.
The installation will begin instantly. Once completed, click the Start Now button to begin.
Krisp Overview
Krisp is the go-to app for professionals and business people who want to eliminate sound distractions in their calls. It has a simple user interface that's practical and very easy to use. Plus, an intuitive wizard that guides you through the setup and initial configuration, making it convenient.

Through AI, Krisp identifies ambient and loud background noises in a call and filters them out automatically. You can use it to filter noises from your end of the call or noises coming from the other participants in the call. The software is very accurate and doesn't distort the speaker's voice.
Krisp features
Background noise removal
You don't have to sit through a frustrating call anymore if you're in a busy street or construction area. Krisp removes any unwanted noise in the call, leaving clear, audible HD sound from the participants.
The best thing is, the process happens in real-time during your call. Since it's automatic, there isn't any involvement required on your end. Krisp also suppresses echos resonating from an empty room and acoustic echos.
Instant call recording
Krisp introduces a new capability – call recording, allowing you to easily capture and distribute calls. This feature is seamlessly integrated into Krisp, ensuring compatibility with various video conferencing applications.
Once you're done recording the meeting, Krisp uploads the recording to a secure cloud which you can access through your dashboard. You can then share the recording using a link. If you wish, you can also download the recording to your computer.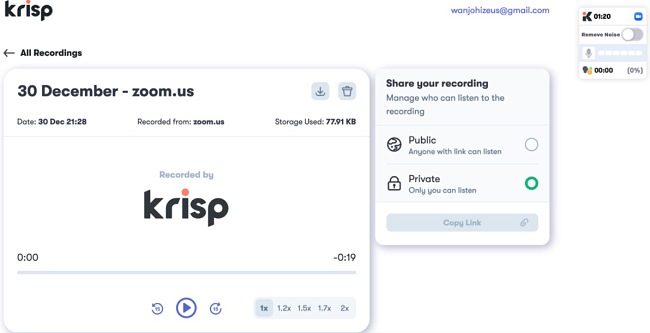 Krisp offers 1GB cloud storage for call recordings, but if you want more, you can always upgrade to a Pro account.
Virtual backgrounds
Apart from noise filtering and call recording, Krisp also offers unique virtual backgrounds. You can access available options by selecting "Krisp camera" in your meeting app.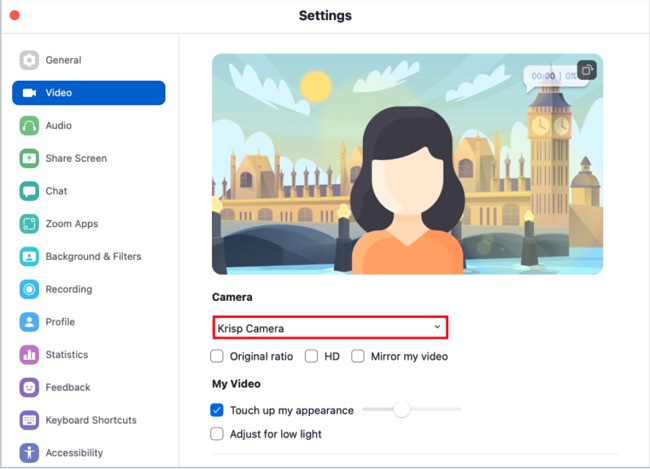 How to Uninstall Krisp
If Krsip isn't the right noise-canceling software for you, you can easily uninstall it from your PC.
Type Add or Remove Programs in the Windows search bar.

Find Krisp in the list of installed programs and click Uninstall.
Click continue and confirm that you want to uninstall the program.
If you are still looking for a noise canceling and background noise removal program, check out the free alternatives below.
Free Alternatives to Krisp
Audacity: A free, open-source, audio post production software. While you can't actively use it to reduce noise during calls like Krisp, you can customize noise profiles and remove background noise in recorded audios like webinars, podcasts, and even meetings.
Utterly: Get access to free unlimited noise cancellation for live calls using Utterly. It's a mac-based app that works on all popular video conferencing platforms, including Zoom, Google Meets, Skype, etc.
Noise blocker: To use Noise blocker, you have to pre-record the sounds you want to remove before your call. Once you get on a call, the app analyzes the pre-recorded sounds and actively suppresses them in real-time.
FAQs
Can I access all features on Krisp free version?
You can access all the pro features on the free Krisp app version, including noise cancellation, echo and background removal, usage analytics, and virtual backgrounds.
The only limiting factor is that you only have 240 free minutes every week, and once you exhaust them, you have to wait for the next week to get more. To avoid this limitation, you can upgrade your license from the free plan to the pro plan, which will give you access to unlimited minutes.
Read More