Multi-Hop Chains – The Most Secure Way to Use a VPN
Last Updated by John Bennet on June 19, 2022
You use a VPN to avoid surveillance and tracking, but you still might not be safe. As the government agencies continue to advance their technologies, VPN providers are continually looking for ways to keep you protected. One powerful way to stay anonymous is with a multi-hop VPN chain, otherwise known as a cascade.


A
multi-hop
allows the
VPN tunnel
to cross through varying servers, with each stop
re-encrypting the data
and giving you a new IP address.
Combining this feature with robust encryption and other privacy tools like securing your browser, you have the highest level of security and anonymity possible.
Why Should You Use a Multi-Hop VPN Chain?
With a connection to a VPN, the server sees your real IP address and location. It also sees where your traffic goes. This means if the data center or server is monitored, or if the VPN provider keeps logs, everything you're doing is recorded and leads back to you.
While we like to believe that the VPN providers maintain privacy and security as they state, it's best to take control of your own anonymity as well. There's always a risk of monitoring when using a single VPN server setup.
Government agencies, ISP, and advertisers continue to hone their technology to reach you, so it's best that we constantly stay one step ahead.
Use Double VPN
With your double VPN chain, the first server you go on gets your IP address and the second you visit only gets your traffic. That means that neither server has both your traffic information and IP address.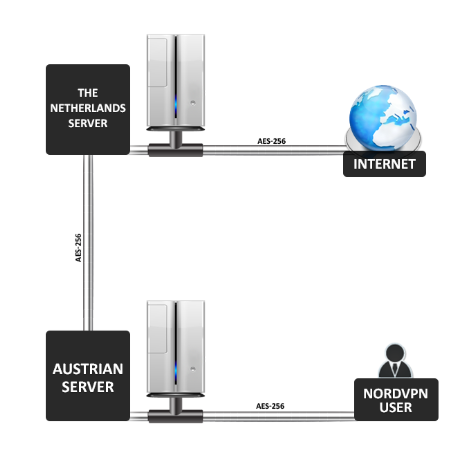 This advanced server configuration provides more privacy and security than just using a VPN alone.
Another reason to consider a double VPN is to avoid nationwide censorship or surveillance. Choose the start of your VPN chain in one country, for example with China, then have your exit point located in another country. This allows you to evade any national surveillance and restrictions.
The easiest way to configure multi-hop chains is to use a program that enables it for you.
As far as the security goes, most people think that using a double VPN means double the encryption as well. So, they assume that instead of AES 256-bit encryption, you end up with AES-512. That isn't far from the truth, actually, except you are getting AES 256-bit encryption, but the process occurs twice.
Let's illustrate this better for you. You connect to a VPN server through an encrypted tunnel. As your data flows through there, it receives AES 256-bit encryption. Because you have the double VPN, traffic from that server then gets re-routed through another.

This means your scrambled up data receives another round of AES 256-bit encryption, making it nearly impossible for the government or your ISP to decrypt. This increases your level of anonymity and keeps you hidden online.
Advantages and Disadvantages to Double VPN
Double VPN is useful, especially for people dealing with Internet censorship. Political activists and journalists do well to protect themselves as others attempt to subdue their efforts or quiet their voices.
A double VPN protects you from DNS and IP leaks in ways that a normal service doesn't. Even if something occurred and there was a failure of some sort on one server, the traffic that leaked would only be half of the puzzle – either your traffic or your IP address, but not both.
With that said, there are some downsides to users.
The first is the additional cost. To have a service as sophisticated as this, it will run you some extra money.
The second issue is the slower speeds. Your connection suffers due to the increased security levels. You'll need to have a lot of bandwidth if you desire to use a double VPN without lacking the speed you want.
How to Get Double VPN
There is one top-tier VPN provider to offer this service – Hide.me. You know that we regularly list Hide.me as one of best options in other lists, so this is just a bonus that they have double VPN as well.
Thankfully, Hide.me includes this added protection with their service, so you don't have to pay any more to receive it. They also offer plenty of other features that make them a robust provider. Hide.me comes with an Internet kill switch and support for 10 devices simultaneously. Add all this to Hide.me's strong encryption practices and you'll have the peace of mind you desire.
They also have a zero-log policy which ensures that your browsing activity isn't recorded. In addition, they have headquarters in Malaysia so they aren't bound by many of the oppressive government restrictions of other countries.
Hide.me also features DNS leak protection, so you won't have to worry over your information finding its way out of the tunnel and landing on the default servers. If you participate in torrenting and P2P file sharing, its stealth guard feature will keep your information safe while you download.
The best part is that they offer a 30-day money-back guarantee. If you try out the service and don't like it, you won't lose anything.
Final Thoughts on Double VPN
Using a double VPN makes it nearly impossible for your data to surface. The flip side is that you need to pay for a premium service and your connection might be slowed down.
Get Double VPN from Hide.me now
Prior to subscribing, you'll need to ensure that your network speeds are sufficient to handle the large drop you'll encounter. Otherwise, you might end up frustrated when you're attempting to stream your favorite content or download a new movie.