How to Protect Your Phone From Hacks in 2023 (10 Easy Tips)
Any phone can get hacked, whether you use an iPhone or Android, so long as you connect to the internet, you're vulnerable. And you don't have to be a celebrity to become a target of cybercriminals, as your phone also holds valuable data that hackers are on the lookout for.
If your smartphone experiences a security breach, unauthorized individuals may access your passwords, social media profiles, emails, and personal media without your permission. In some cases, they could even attempt to steal your identity or obtain your credit card details. To address these potential risks, it's essential to obtain a reliable security solution for your phone.
I shortlisted the 10 best ways to protect your mobile or smartphone from hackers and other cyber threats. For maximum protection, I recommend you install a top VPN like ExpressVPN to browse safely and download an antivirus app like Norton 360 to protect yourself against cyber threats.
Protect your phone with Norton
Quick Guide: The 3 Best Ways to Protect Your Phone From Hacks
Get a VPN and antivirus. I recommend using ExpressVPN for its best-in-class Android and iOS apps as well as strict security. On the other hand, Norton 360 is the leading antivirus for all types of mobile cyber threats.
Update your phone's software. Ensure that all your phone's software is updated as they always come with security improvements. This includes the operating system (Android or iOS) as well as any apps that you've installed.
Use strong and unique passwords. Always use strong passwords for your logins, and don't use the same one for different websites. A good password manager like Dashlane makes having unique and strong passwords extremely easy.
Block hacking attempts with Norton
10 Easy Tips: How to Protect Your Smartphone From Hackers in 2023
Step 1: Use a VPN and Antivirus
Google and Apple offer decent built-in security, but to achieve maximum protection against hackers, you will need the combination of a standalone VPN and an antivirus. While a VPN protects your device by encrypting your internet traffic, an antivirus detects and stops viruses and malware from harming your phone. The best VPNs in 2023 provide advanced security features like military-grade encryption and strict privacy policies.
ExpressVPN ranks as the top VPN, offering fast servers, compatibility with streaming apps, and it even works in China. To complement ExpressVPN's encryption capabilities, Norton antivirus provides an impressive defense against cyber threats on Android and iOS. It includes features such as:
Anti-malware scanning
Web protection against phishing links
WiFi Security to identify unsecured networks
Norton 360 for Mobile includes a free VPN and Dark Web Monitoring so I recommend it for its comprehensive protection. This monitoring feature alerts you to potential leaks of your personal information, safeguarding against identity theft. Norton offers a 60-day money-back guarantee and efficient customer support.
Overall, combining a VPN like ExpressVPN with antivirus like Norton enhances your phone's security. ExpressVPN offers high-speed servers, seamless streaming app compatibility, and reliability even in China. Norton provides defense against cyber threats, with features like anti-malware scanning and Dark Web Monitoring. Both services offer money-back guarantees, ensuring customer satisfaction.
Step 2: Update Your Phone's Software
It's crucial to keep your phone's operating system (OS) and apps updated. Google and Apple frequently release system updates that not only bring new features but also include vital security fixes. Updates play a vital role in protecting your device from potential risks. They are specifically designed to protect against exploits and vulnerabilities, ensuring that your phone stays secure.
To enhance your device's security even further, consider enabling auto-updates. This ensures that you never miss an important patch release, keeping your phone up to date with the latest security measures. While it's understandable that downloading a new software update might affect your phone's performance slightly, it's a small trade-off when compared to the potential dangers of having a compromised or hacked phone.
Step 3: Only Download Apps From Trusted Sources
To ensure the safety of your personal information, it's crucial to be cautious when installing mobile apps on your device. The best approach is to start with reliable sources. Stick to downloading apps from trusted platforms like the Google Play Store, Apple App Store, or other reputable sources. Apps available on these platforms undergo security assessments and malware scans before being approved, ensuring a certain level of safety.
In case you're not sure of the trustworthiness of an app you've downloaded, you can rely on a trusted antivirus solution such as Norton 360. Norton provides comprehensive protection by offering both real-time and manual scans to detect malware and other potential threats on your device. If you see any apps you don't remember downloading, delete them immediately.
Step 4: Use Strong and Unique Passwords
You need to adopt the best password security best practices to keep your phone from getting hacked. This will involve using unique passwords and updating your passwords regularly. Start with your Apple ID or Google Play password, then change the passwords for your email accounts, social media accounts, and any other accounts you have logged in on your device.
Here are a few other tips for boosting password security:
Change your password every 6-12 months, as well as any time you hear about a data breach for a service you use.
Use a combination of texts, numbers, and special characters to make your passwords more secure.
Don't reuse passwords across different accounts. Ensure to always use unique passwords for each website. That way, you prevent a hacker from accessing your accounts on other sites if they get hold of one of your passwords.
Avoid using personal information. Don't use easily discoverable personal information, such as your name, birth date, or address, in your passwords. Hackers can easily find this information online and use it to guess your password.
In addition to the tips above, you should strongly consider getting a password manager. These services let you store all of your account passwords in a digital vault, which not only provides much tighter security but also eliminates the need to memorize dozens of passwords! Norton offers a free password manager in all of its plans, with mobile apps for both iOS and Android. You can try Norton risk-free for 60 days with its money-back guarantee.
Step 5: Learn How to Lock or Wipe Your Phone Remotely
Apple's Find My iPhone and Android's Find My Device are location-tracking features designed to help you find your phone in the event it's lost or stolen. However, these tools go beyond simple device tracking, as they can also be set to lock your device and delete all data to prevent thieves from accessing your information.
While it's less than ideal to have to wipe your device remotely, it's important that you familiarize yourself with the process. Bear in mind that if you erase your device you'll lose all the information stored in it, so having an up-to-date backup is crucial.
Step 6: Enable Two-Factor Authentication (2FA)
Two-factor authentication (2FA) is a simple yet powerful security tool that enhances the safety of your online accounts. As the name suggests, 2FA adds a layer of security by requiring you to provide extra information after entering your username and password.
While any form of 2FA is better than no protection at all, it's important to choose the most secure method available. I recommend opting for a software token-based approach like Google Authenticator. This method generates a time-based, one-time passcode, ensuring strong security. You should avoid SMS/text messages or voice-based 2FA options, as these methods can be easily exploited by hackers.
Step 7: Be Careful When Granting App Permissions
Even if you exclusively download apps from trusted sources like the Google Play Store or Apple App Store, it's important to remember that not every app can be trusted with your data. Many apps often request permission to access sensitive information such as your location, photos, and contacts. While granting these permissions may initially seem harmless, it can potentially become a privacy concern if the app is compromised or hacked in the future.
If you come across an app with suspicious permission requests, it's best to deny those requests and report the issue by submitting a ticket to the app store, formally expressing your concerns. Just to be safe, performing a thorough scan of your phone using Norton 360 is a good precautionary step to ensure that the app hasn't installed any malware that may pose any security risks.
Step 8: Don't Jailbreak or Root Your Phone
Jailbreaking (for iOS) or rooting (for Android) your phone refers to the process of removing software restrictions imposed by the device's operating system. While it may seem tempting to unlock additional features or customize your device, there are significant risks involved.
Firstly, jailbreaking or rooting voids your device's warranty, leaving you responsible for any issues that may arise. Without the manufacturer's official support, you may encounter compatibility issues, instability, and even frequent crashes. Moreover, jailbreaking or rooting exposes your device to security vulnerabilities.
Bypassing your phone's built-in security measures opens the door to potential malware, unauthorized apps, and compromised system files. This puts your data, including sensitive information like passwords and financial details, at a higher risk of being accessed or stolen. Overall, it's best to avoid jailbreaking or rooting your phone to ensure its stability, security, and reliability.
Step 9: Beware of Spam and Phishing Emails and Text Messages
Be vigilant of phishing emails or fake websites that attempt to trick you into revealing your passwords. Always verify the authenticity of the website or email before entering your login credentials. Although your email service's spam folder will catch many of these threats, it won't prevent all of them from ending up in your inbox. Here are a few ways you can protect yourself against spam and phishing emails:
If an email looks suspicious, don't open it — although the act of opening an email isn't all that dangerous, it can still provide information about you to the spammer such as your IP address, ISP, approximate geographic location, and more.
Be cautious of unsolicited SMS messages — If you receive an SMS from an unfamiliar number, refrain from clicking on any links or responding to the message. Hackers frequently employ SMS phishing scams to deceive individuals into divulging sensitive information.
Never click on a link from a suspicious email — if you accidentally open a malicious email, the best thing you can do is delete it immediately and avoid clicking any links or attachments. These links could contain viruses or other malicious files.
Mark any suspicious email as spam or junk — this helps train your email service's detection software to better identify such emails in the future.
If you ever click a link or open an attachment you think might be malicious, immediately scan your device with antivirus software. Norton Mobile Security for iOS and Android will scan all apps on your device and remove any viruses, spyware, or other threats it encounters. Best of all, you can try Norton with the 60-day money-back guarantee.
Step 10: Check Your Browser's Settings
Look for any unfamiliar changes or modifications that have been made without your knowledge. These changes may include unknown homepages, search engines, or extensions.
If you come across any suspicious alterations, reset your browser settings to their default configuration. You can do this from your browser's settings menu or options. You can also disable any unauthorized changes and restore your browser to a safer and more reliable state.
The Best Software To Prevent Phone Hacks – Full Test Results in 2023
To protect your phone from hacking, you'll need to install and use security software. Usually, a combination of a virtual private network (VPN) and antivirus offers adequate protection. So, I shortlisted the most robust options (3 VPNs and 3 antiviruses) necessary for your protection.
Key Features:
100% malware detection rates.
Built-in VPN to protect your internet connection.
ID theft protection keeps your personal information safe.
Phishing protection protects you from malicious websites.
60-day money-back guarantee.
Norton is the best antivirus software to prevent phone hacking. It comes with top-tier features to ensure your security online and offline. Once you install Norton 360 on your phone, it would actively be on the lookout for threats and notify you if you're vulnerable to cyber attacks.
The first thing to do once you've installed Norton is to run a scan of your entire device. During my tests, Norton discovered the malware samples I planted on my test Android phone and immediately removed 100% of the threats. With its real-time protection feature, it also protects you against never-seen-before threats and blocks malicious downloads.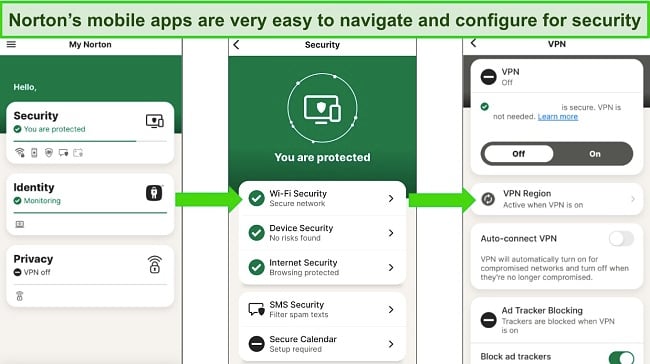 Norton's wide range of mobile protection features includes:
WiFi Protection — evaluates network and website safety, blocking access to high-risk connections.
SMS Security — prevents fraudulent or malicious SMS links from compromising your device.
Anti-phishing Protection — safeguards against malicious websites and block attempts to infect your device with malware.
Contact backup — backs up and restores your contact information.
Secure VPN — ensures secure web browsing through a private tunnel, actively identifying and blocking cyber threats.
Cloud Backup — provides encrypted storage for sensitive files and documents, offering various storage capacities ranging from 2GB to 50GB (up to 500GB for US residents).
Password Manager — safely stores and manages all your passwords within an encrypted vault, protecting your logins from hackers.
Dark Web Monitoring — regularly checks the dark web for compromised logins obtained through data breaches.
ID Theft Protection (US only) — blocks attempts by criminals to manipulate your credit score, open accounts in your name, or engage in other forms of identity theft.
I found Norton's features to be highly effective in securing my phone and providing protection against hacking attempts. I'm particularly pleased with the anti-phishing protection which blocked all malicious websites during my tests and the dark web monitoring feature that notified me of compromised logins on the dark web.
Overall, Norton 360 is a reliable defense against phone hacking. With affordable prices starting at just $14.99, you have a range of plan options to choose from, ensuring protection for all your devices. For comprehensive protection on 3 or more devices, including phones and desktops, the Norton 360 Standard, Deluxe, and Select plans are excellent choices.
However, if you specifically want to secure a single phone, you can opt for the Norton 360 Mobile plan. US residents can benefit from the Norton 360 + Lifelock plans which offer extra features like Identity protection, credit monitoring, and more. You can try Norton 360 risk-free using the 60-day money-back guarantee.
Prevent phone hacking with Norton
Key Features:
3,000 servers across 105 countries with unlimited bandwidth and lightning-fast speeds.
Military-grade security and privacy features for the utmost protection of your phone.
Easy-to-use native app for iOS and Android.
Protects up to 8 devices simultaneously.
30-day money-back guarantee.
ExpressVPN is the best security tool for encrypting your internet connection. A Virtual Private Network (VPN) encrypts your internet traffic and protects you from hackers, especially on public WiFi. With its state-of-the-art security measures including advanced AES 256-bit encryption, 4096-bit RSA key, and SHA-512 HMAC authentication, your mobile traffic remains completely hidden from malicious third parties such as hackers.
ExpressVPN offers the following features to protect you from hackers:
Robust Encryption — military-grade encryption settings that provide unparalleled online privacy, ensuring that your online activities remain completely hidden from hackers.
Extensive Server Network — lightning-fast speeds and top-notch security across a vast network of 3,000 servers located in over 105 countries that guarantee a seamless and secure browsing experience.
Propriety Technology — ExpressVPN's proprietary Lightway protocol, designed exclusively for their service, delivers exceptional speed and enhanced security.
I found ExpressVPN's Android app helpful in securing my phone as it blocked malicious links while I was browsing. The Security Assistant feature fortifies your data and shields your device from hacking attempts. In addition, the Data Breach Alert feature actively monitors your email address for any breaches. ExpressVPN also has a password manager (ExpressVPN Keys) which helps you organize all your logins.
Although a VPN encrypts your online traffic, it's still possible for your private data to be exposed through DNS, WebRTC, and IPv4 leaks. Luckily, during my tests, ExpressVPN's robust servers had zero leaks throughout my entire browsing session. This assured me ExpressVPN protects my data and privacy whenever I'm surfing the web.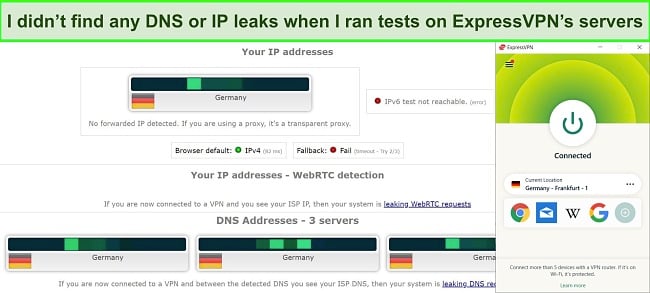 At just $6.67 per month, ExpressVPN may be slightly more expensive than other mobile VPNs. However, considering the exceptional value it offers, it remains a worthwhile investment. You can try ExpressVPN risk-free with its 30-day money-back guarantee.
Browse securely with ExpressVPN
2023 Update! ExpressVPN has dropped prices for a limited time to a crazy $6.67 per month for the 1-year plan (you can save up to 49%) + 3 months free! This is a limited offer so be sure to grab it now before it's gone. See more information on this offer here.
Key Features:
Removes 100% malware and other threats from your phone.
Protects you when connecting to public WiFi.
Safe Browsing feature protects against phishing and malicious websites.
Real-time protection keeps hackers at bay.
30-day money-back guarantee.
McAfee is yet another robust antivirus for protecting your phone against hacking. It comes with top-tier security features that provide robust protection against malware, viruses, trojans, worms, spyware, and other threats.
To prevent your phone from getting hacked, you simply need to run a system scan of your phone and enable the real-time and web protection features. Throughout my testing, McAfee's malware scanner thoroughly examined my phone and successfully eliminated all malware samples I planted on it.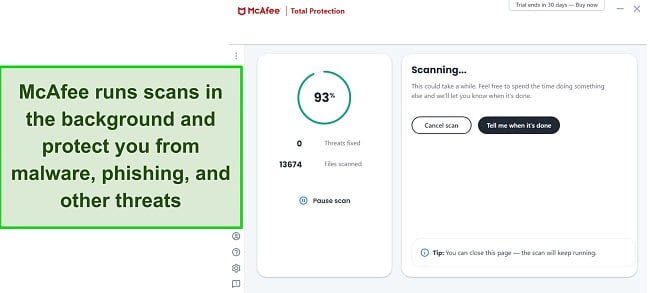 Like Norton, McAfee provides an excellent range of features:
Wi-Fi Security — protects your device from unsecured Wi-Fi networks, ensuring your data remains secure.
Contacts Backup — enables you to back up your contacts, allowing access from any device.
App Privacy Protection — keeps track and notifies you of apps that have access to your data.
Antivirus Protection — defends your device against viruses and malware.
Anti-Spyware — shields your device from spyware that may compromise your privacy.
Anti-Malware — provides protection against malware that you may have downloaded to your phone.
Virus Cleaner and Removal — remove viruses and malware from your device.
Safe Browsing — shields you from malicious websites and phishing links.
Generally, I was impressed with the performance of McAfee's mobile protection features. During testing, the Safe Browsing feature protected me against phishing, blocking all malicious links across all my browsers. Also, I was pleased to find out that McAfee protects against spyware, which is a very common way phones get hacked.
Overall, McAfee provides comprehensive phone protection to ensure your device remains secure against hacking attempts. Its robust features include SMS/MMS filtering, which effectively blocks unwanted texts and safeguards you from phishing attacks. Additionally, McAfee's antivirus feature proactively scans and removes any viruses that may have already infiltrated your phone.
McAfee has 2 groups of plans — Total Protection and McAfee+, with both offering different features and device coverage. After checking the plans, I found McAfee Plus plan offers the best value, as it provides comprehensive protection for up to 5 of your devices. There's also the McAfee Mobile Security plan designed specifically for Android and iOS. You can try McAfee risk-free using the 30-day money-back guarantee, starting at just $39.99.
Protect your phone with McAfee
Key Features:
Military-grade 256-bit encryption, plus automatic ad and malware blocking.
NoSpy servers prevent hackers from spying on your connection.
10,200 servers in more than 100 countries.
Protects up to 7 phones and desktop devices at the same time.
45-day money-back guarantee.
CyberGhost offers a VPN with military-grade security and fast servers for browsing the internet securely. It provides key security and privacy features that are essential for protecting mobile devices, such as robust encryption, IP leak protection, and a reliable kill switch. During testing, I was pleased that CyberGhost passed my leak tests.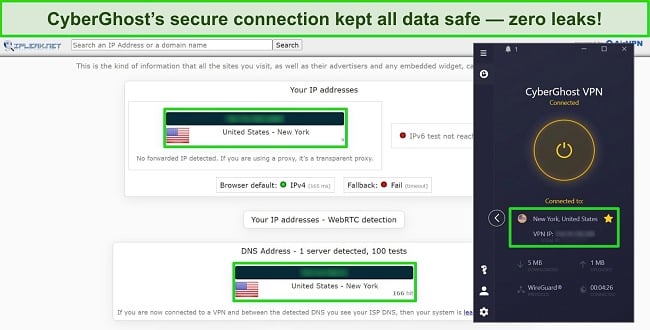 In addition, CyberGhost goes the extra mile by offering NoSpy servers, best for combating prying eyes. These specialized servers are situated in Romania, a country that doesn't engage in global intelligence-sharing collaborations. Additionally, by being under the direct management of CyberGhost, these servers allow you to surf the web privately and securely.
CyberGhost provides the following features to protect you from hacking:
Kill Switch — hides your actual IP address and location even if your connection unexpectedly drops, ensuring your online privacy and security are never compromised.
Malware and Tracker Blocking — prevents malicious links and intrusive advertisers from monitoring your browsing behavior.
Automated HTTPS Redirect — protects you from potentially harmful websites by automatically redirecting every website you visit to use HTTPS, the secure version of HTTP to encrypt your data and protect you against potential threats.
Apart from its key security features, CyberGhost's high-speed servers allow you to access your favorite streaming platforms like Netflix, Hulu, Disney+, and Amazon Prime Video. The VPN also comes with WiFi Protection for auto-connection on unfamiliar networks and even implements split tunneling for specific websites you wish to access without encryption.
While CyberGhost may not offer the same extensive security features as ExpressVPN, it compensates with a more affordable price offering. With plans starting at just $2.03 per month, it provides excellent value for your money. Additionally, CyberGhost offers a generous 45-day money-back guarantee, giving you ample time to test its security features risk-free.
Connect to the web safely using CyberGhost
Get Black Friday Deal and Cyber Monday Deal from CyberGhost! You can subscribe to CyberGhost for as low as $2.03 per month + get an extra 4 months free with the 2-year plan (save up to 84%)! This is a limited offer so grab it now before it's gone. See more information on this offer here.
Key Features:
Detects 100% of malware threats.
Webshield protects you from phishing and malicious downloads.
Secure Browsing VPN prevents hackers from spying on you.
Data Breach Monitor notifies you of compromised logins.
30-day money-back guarantee.
TotalAV's impressive range of web protection features makes it a very dependable antivirus to combat phone hacking. These features include real-time protection, Web Shield, and Data Breach Monitor, among others.
Apart from the web protection tools, TotalAV provides a robust ant-malware engine that detects and removes viruses, trojans, and other malware that may be used to hack your phone. During my tests, I planted over 1,000 malware samples on my phone and TotalAV detected 99.9% of them. This puts TotalAV shoulder-to-shoulder among the top-tier antiviruses on the market.
TotalAV offers different safe browsing features:
Wi-Fi Checker — verify the safety of your connected Wi-Fi network.
Real-Time Protection — protects your device against viruses and malware in real time.
Advanced Cloud Scanning — enhances protection by actively scanning for new and unidentified threats in the cloud.
Webshield — instantly block websites with low trust ratings in real-time to ensure a safer browsing experience.
Security scan — conducts a thorough scan of your device to identify and eliminate apps and games that are deemed potential threats.
Data Breach Monitoring — constantly monitors your device for any signs of data breaches, providing early detection and protection.
Safe Browsing VPN — encrypts your internet connection when browsing with military-grade security.
Overall, TotalAV mobile protection offers comprehensive security that will protect your phone against hacking. I was impressed with how TotalAV's Webshield acts as a robust line of defense against potential threats. It blocked every malicious site I attempted to visit and protected me from downloading malware.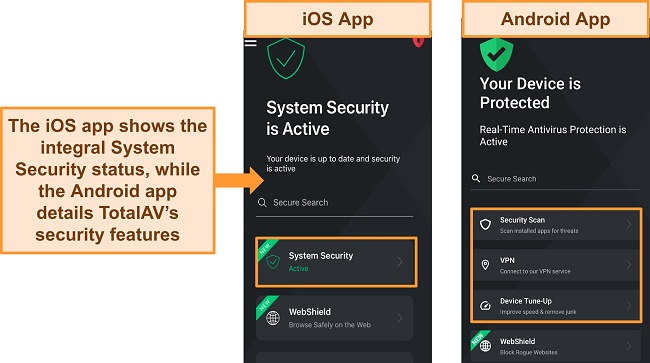 TotalAV offers 3 plans to choose from — Antivirus Pro, Internet Security, and Total Security that start at an affordable price of $19.00. These plans offer protection for 3 to 6 devices, including mobile phones. The best plan is the Total Security plan which gives you access to unlimited VPN, a password manager, and an ad blocker. You can try TotalAV risk-free for 30 days using the money-back guarantee.
Block hackers and threats with TotalAV
Key Features:
256-bit encryption for increased protection.
35,000 servers in 91 countries.
Offers an ad and malware blocker.
Protects all your phones from threats and hacking.
30-day money-back guarantee.
Private Internet Access (PIA) offers a large number of servers for you to browse safely. The VPN employs military-grade encryption to protect your data. It also maintains a strict no-logs policy, meaning that it doesn't record your app usage, browsing history, or other online activities, preserving your privacy to the fullest extent.
PIA offers a wide range of highly customizable VPN encryption settings, making it one of the most robust options. You can select your preferred level of security by adjusting the VPN protocol and data encryption strength to suit your specific needs. For instance, you can choose between AES 128-bit and AES 256-bit encryption options. Both encryption levels are widely recognized as highly secure and provide robust protection for your online activities.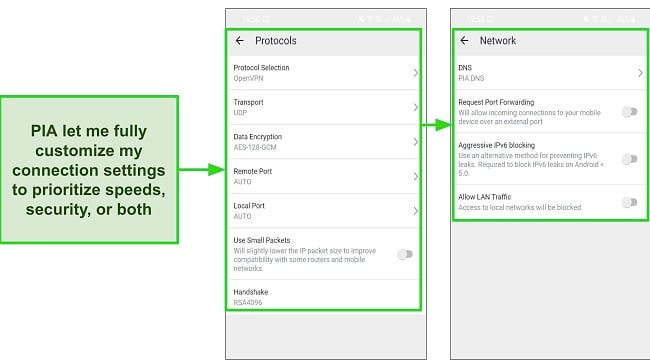 In addition, PIA provides the following:
Open-Source Transparency — PIA is the only premium VPN that makes its source code publicly available, ensuring transparency and trustworthiness.
Encrypted Servers — with over 35,000 servers at your disposal, each one is equipped with AES 256-bit encryption, guaranteeing top-notch security for your online activities.
Dedicated IP Address — enjoy the convenience and added privacy of having your static IP address, making your web browsing experience secure.
PIA is one of the few VPNs that offer an ad and malware blocker called PIA MACE. However, due to restrictions on Google Play, you can only download PIA MACE from the official website with the APK file for your Android device. During my tests, MACE proved worthwhile as it blocked intrusive ads and malicious content on my Android device.
Overall, PIA's wide range of robust servers will help you stay secure online. PIA offers highly affordable subscription options, including an exceptional month-to-month plan. However, the best value is in the 2-year + 3 months plan, which is priced at just $2.03 per month. This plan not only provides long-term coverage but also comes with a 30-day money-back guarantee, allowing you to try it risk-free.
Get PIA's Black Friday Deal! You can subscribe to PIA for as low as 2.03$ per month + get an extra 4 months free with the 2-year plan (save up to 84%)! This is a limited offer, so grab it now before it's gone! See more information on this offer here!
Quick Comparison Table: 2023's Best Security Apps to Protect Phones from Hacks
| | | | | | | |
| --- | --- | --- | --- | --- | --- | --- |
| | Real-time protection | Anti-malware | Wi-Fi Security | Ad-blocker | SMS protection | Number of devices |
| Norton | ✔ | ✔ | ✔ | ✘ | ✔ | 10 |
| ExpressVPN | ✘ | ✔ | ✔ | ✘ | ✘ | 8 |
| McAfee | ✔ | ✔ | ✔ | ✘ | ✔ | 10 |
| CyberGhost | ✘ | ✔ | ✔ | ✔ | ✔ | 7 |
| TotalAV | ✔ | ✔ | ✔ | ✔ | ✔ | 6 |
| PIA | ✘ | ✔ | ✔ | ✔ | ✔ | unlimited |
Stop hacking attempts with Norton
How I Tested and Ranked the Best Smartphone Apps to Prevent Hacks
To safeguard your phone against hacking, you can utilize the security suggestions provided in this compilation and employ the recommended software to enhance the security of your device. These software tools provide essential security features including:
Phishing protection — I chose security apps that can detect suspicious links, malware, and other threats.
Real-time protection — I selected apps that can detect and instantly block zero-day malware threats.
ID protection — I looked for security tools that offer ID theft protection by preventing unauthorized access and use of personal information.
Extra features — I chose apps that provide additional security features like VPN, WiFi protection, password manager, and dark web monitoring.
Value for money — I picked cost-effective security apps that are feature-packed and have money-back guarantees.
Remove malware threats with Norton
FAQs on Cell Phone Hacks Recovery and Protection
Protect your phone with Norton
Keep Your Smartphone Safe From Hackers With The Best Protection
With the ever-increasing sophistication of cyber threats, you need to be proactive in protecting yourself against the latest threats. You can't just rely on keeping your phone close anymore because your phone can be hacked remotely. Hackers can get into your phone if you fail to implement the best security practices.
To keep your smartphone safe from hackers, it is crucial to have the best protection in place. I recommend using Norton's top-tier security features to keep your phone protected. Norton's web protection features block malicious websites and phishing attempts, ensuring your online activities are safe and private. Plus, its real-time protection against malware and viruses and regular scans to detect and remove any potential threats.
---
Summary — Best Software in 2023 To Protect Phones From Hackers