11 Ways To Fix The VPN Authentication Failed Error in 2022
Last Updated by Bethany Chester on July 01, 2022
"Error: authentication failed" — ExpressVPN
You're not alone when you come across the "VPN Authentication Failed" error — it's one of the most commonly reported VPN issues. As a VPN user, I know how important it is to stay protected online and not compromise on security. So don't worry — I've come up with 11 methods you can use to fix this error and get your VPN back up and running in no time.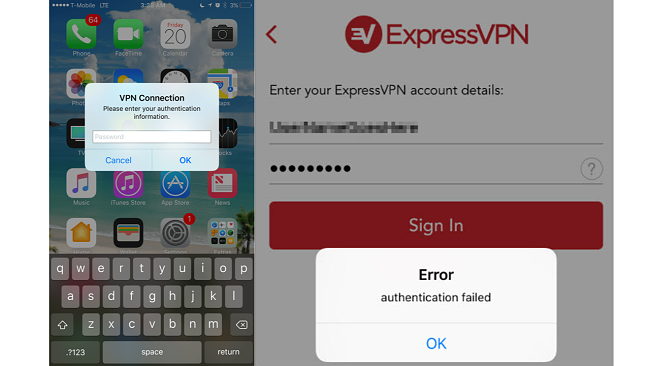 1. Reboot Your Computer
Sometimes, the simplest solutions are the best. Like many technical issues, the "VPN Authentication Failed" error can sometimes be solved by rebooting your device. This clears the memory cache and stops any code which isn't working properly so the VPN can start fresh.
2. Disable Your Firewall
If you're using a firewall, it could be blocking your VPN client. To find out whether this is the problem, you'll need to temporarily disable your firewall to see if it fixes things. Make sure you disable both third-party and built-in firewalls (like the Windows Defender firewall). You'll need to do this for public and private networks — this option should be in your firewall settings.
This isn't a permanent solution and disabling your firewall can leave your computer vulnerable to security threats. If your firewall is the problem, you'll need to adjust the settings or switch to a different firewall.
3. Try a Wired Connection
Sometimes, issues with your router can prevent the VPN from connecting properly. This isn't common, but it does happen — especially if you're using two linked routers. Try connecting to the router using an Ethernet cable instead of a wireless connection and see if it solves the issue.
If using two routers is causing problems, you can fix this by enabling bridge mode. The method for this varies between models, so check your router manual.
4. Use a Different VPN Protocol
With most VPNs, you have the option of choosing which IP protocol to use. The most common are TCP (Transmission Control Protocol) and UDP (User Datagram Protocol). The main difference is that TCP includes error correction, meaning it resends anything which gets corrupted or doesn't arrive due to connection issues. Because UDP doesn't do this, it's faster but can be less reliable.
Switching between protocols could solve the "VPN Authentication Failed" error by speeding up your connection, especially if you go from TCP to UDP. You'll find this option in Settings in your VPN app. Take note that the quality of your connection may decrease if you switch protocols.
5. Try an Alternate DNS Server
By default, your VPN client will probably use your VPN provider's DNS servers. This reduces the risk of DNS leaks, but it sometimes causes connection issues. To test whether this is the problem, try using other DNS servers. In your VPN app Settings, you'll need to turn off the "Only use VPN DNS servers" option. Bear in mind that this may slightly increase the risk of DNS leaks.
6. Try a Different WiFi Network
If none of the previous solutions worked for you, the problem may be with your WiFi network. To see if this is the case, try using the VPN at a public WiFi hotspot or a friend's house. If the VPN works on these other networks, yours may be the problem. Take a look at your Internet and WiFi settings and try to spot what's causing issues with your VPN.
7. Connect to a Different VPN Server
If you're struggling to connect, it could be that the VPN server you're using is too slow or has too many users. Most VPN apps allow you to choose between several servers in each available location. Try switching to a different one and see if it helps.
Remember that the closer you are to the server, the faster it's likely to be. For example, if you're in Europe and need to connect to a US server, the ones on the east coast should be faster than those further west.
If you're using a VPN on your router rather than through a client on your device, switching between servers is more difficult. The method will vary depending on your router and VPN provider. If you're not sure how to do it, check the documentation for your router and your VPN.
8. Reinstall Your VPN
A corrupt installation of your VPN can cause the "VPN Authentication Failed" error. If you suspect this may be the problem, try uninstalling and reinstalling your VPN client. Avoid running into other errors by using an uninstaller software to remove all registry entries and files from the first installation.
9. Make Sure Your VPN Subscription is Active
If you're using a paid VPN service, your subscription may have expired. Alternatively, you may have created an account but not yet bought a subscription.
To resolve this, log into your account on your VPN provider's website and make sure your subscription has been paid for.
10. Make Sure There Aren't Too Many Simultaneous Connections
Most VPN services put a limit on how many devices can be connected to the VPN at once. If you've connected several devices, you may have exceeded the limit. Check your VPN service provider's website to confirm how many simultaneous connections are allowed. If you're over the limit, disconnect any devices you aren't using.
11. Try a Better VPN
If you've tried all of the above solutions and you're still having problems, you may want to consider a better VPN service. Free and lower-end VPNs can be slow and prone to other connection issues. In contrast, premium services are very fast and much less likely to cause problems. For example, ExpressVPN offers unlimited bandwidth and has a built-in speed test feature to help you pick the fastest server.
Or if you watch a lot of online content, you may want to try CyberGhost. The company guarantees that you'll always be connected to the fastest available server, and it also has servers which are optimized for various streaming services.
These VPNs all offer money-back guarantees, so you can try them out for a while and get a full refund if you aren't satisfied.
Conclusion
The "VPN Authentication Failed" error may be common, but fixing it is straightforward. With these solutions, you'll soon be browsing securely again.
Experiencing other connection issues? Check out this guide to fixing the most common VPN error codes.