Bitdefender vs TotalAV: Which Antivirus Is Best in 2023?
Last Updated by Enemali Okwoli on February 01, 2023
Finding a competent antivirus can be quite a challenge considering that many popular products are always adding new compelling features. Bitdefender and TotalAV are two of the best options available, and I wanted to get to the bottom of which one is better.
To help narrow it down, I thoroughly tested Bitdefender and TotalAV and compared the features, performance, and usability. Here's what I found out.
While both antiviruses offer a wide range of features and an effective antivirus engine, TotalAV outperformed Bitdefender in many areas. TotalAV is the more user-friendly antivirus with a thorough and faster virus scanner, excellent antivirus engine, and a superior VPN. Bitdefender has more internet security tailored features such as webcam protection and password manager.
No Time? Here's a 1-Minute Summary of Category Winners
Both Bitdefender and TotalAV are good antivirus suites. However, TotalAV has better core antivirus features. TotalAV has a faster VPN and better optimization tools, whereas Bitdefender has unique internet security features like a firewall, parental controls, and webcam protection.
| | | |
| --- | --- | --- |
| | | |
| Virus Scanner | Excellent malware detection with 100% detection. | 100% detection rate, detecting all forms of malware. |
| Real-Time Malware Protection | Detects 99.7% of real-time threats and has more advanced security features. | Detected 99.1% of real-time threats but may flag some legitimate files. |
| System Performance | CPU usage was 10% without a scan and 41% with a scan. | CPU usage was 5% without a scan and 32% with a scan. |
| VPN | Has 29 server locations and can't unblock most streaming services. | Has 35 server locations and unblocked popular streaming services including Netflix. |
| Parental Controls | Has a very good parental control app that lets you monitor your child's activity. | Doesn't offer parental controls. |
| Firewall | Has a firewall with advanced control of network connectivity. | Doesn't have a firewall. |
| Password Manager | Has an easy-to-use password manager that lets you store unlimited passwords. | Has a user-friendly password manager but doesn't work on mobile. |
| Gaming Mode | My gaming performance wasn't impacted. | I didn't experience any lags while playing my favorite games. |
| Optimization Tools | Has a file shredder that permanently deletes files so that they cannot be retrieved by any means. | System Tune clears junk files, removes duplicate files, clears browsing data, uninstalls apps, and optimizes system boot time. |
| Other Features | SafePay provides a desktop environment for secure transactions and safe online banking. | Advanced cloud scanning provides real-time protection by detecting zero-day unknown suspicious files. |
| Device Compatibility | Works with major operating systems and supports up to 10 devices. | Works with major operating systems and has the most user-friendly apps |
| Customer Service | Offers 24/7 live chat, email support, phone support, and community forum | Has 24/7 phone support, an email ticket system, and detailed FAQs. |
| Price | Has 3 subscription plans with basic and advanced features on all premium plans. | Offers 3 premium plans with useful features and is good value for money. |
How I Tested and Compared Bitdefender vs TotalAV
1. Virus Scanner — TotalAV Has a Faster Virus Scanner
Bitdefender and TotalAV offer a similar number of scanning options, but TotalAV takes less time to perform all types of scans. Bitdefender has 4 types of virus scans (Quick Scan, System Scan, Vulnerability Scan, and Custom Scan), while TotalAV also supports 4 types of scans (Quick Scan, Smart Scan, Vulnerability Scan, and System scan). TotalAV's Smart Scan is pretty impressive. It performs targeted scans of many files focusing on the most likely location of malware in your computer's file system, providing a laser-focused malware detection system.
I ran a few quick scan tests for both antiviruses to determine which one was faster. TotalAV took just 4 minutes for a quick scan of 11,232 files, while Bitdefender took about 6 minutes to scan 10,900 files. Seeing that TotalAV was faster than Bitdefender for quick scans, I wanted to find out how the performance would be for deep scans. Bitdefender did a full system scan of 1,923,785 files in under 50 minutes, while TotalAV's system scan of 954,000 files took 23 minutes, making TotalAV the faster option even for deep disk scans. Luckily, both antiviruses maintained the same malware detection standards at 100%.
2. Real-Time Malware Protection — Both Antiviruses Performed Above the Industry Average
Although both antiviruses score 99% in real-time malware protection, Bitdefender still won slightly. Bitdefender and TotalAV scored above the industry average of 97% and close to Norton's remarkable 100% detection rate, one of the only perfect scores on the market. During my tests, Bitdefender detected 99.7% of real-time threats, a near-perfect detection rate, while TotalAV detected 99.1% of real-time threats. Unlike TotalAV, which flagged some harmless files, Bitdefender didn't flag a legitimate file erroneously.
3. System Performance — TotalAV Has Minimal Impact on PC Performance
I compared the impact of both antiviruses on my PC performance. TotalAV had the most negligible impact on my system. While both Bitdefender and TotalAV didn't significantly affect the speed of my laptop while carrying out different activities, I found TotalAV to be the more light-weight product. I ran additional quick and full disk scans to see the CPU usage by each antivirus.
Before running a full disk scan with TotalAV, my CPU usage was 5%. It jumped to 32% during the scan. TotalAV used about 27% of my CPU, which isn't that bad. On the other hand, Bitdefender made my CPU usage jump from 10% to 41%, a difference of 31%, which is slightly higher than that of TotalAV.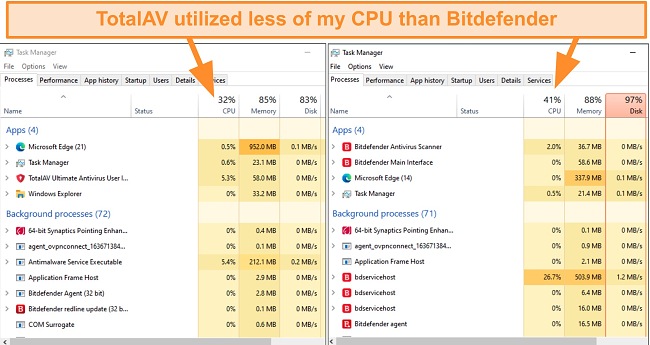 Both antiviruses did not slow down my PC, and I didn't experience any significant delays while browsing the web, downloading files, and copying files from one folder to another. In summary, Total AV and Bitdefender won't significantly affect the performance of your PC during scans or background processing.
4. VPN — TotalAV VPN Performs Better Across Board
Both Bitdefender and TotalAV have a Virtual Private Network (VPN). A VPN is vital in protecting your internet connection private, allowing you to access the web securely. I was pleased to see that both antiviruses had VPN available for Windows, Mac, iOS, and Android devices. However, I wanted to see which one performed better in speed, server coverage, and unblocking abilities.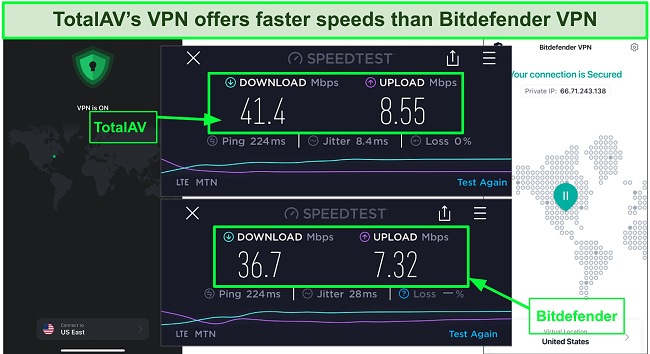 Bitdefender VPN has 29 servers, whereas TotalAV VPN has about 35 servers. You would think this would make Bitdefender VPN a better option, but that isn't the case. TotalAV VPN let me access my Netflix US account during my tests, but I couldn't get Bitdefender VPN to work with Netflix. My colleague in the UK had success unblocking BBC iPlayer, but that was the only streaming service that could be accessed.
For speeds, my base download speed was 44.1Mbps, with an upload speed of 6.3Mbps. TotalAV VPN provided a download and upload speed of 40.2Mbps and 7.84Mbps, respectively. However, Bitdefender VPN provided me with a slower 36.7Mbps download and 7.32Mbps upload speed. Since it could access Netflix and be a little faster, TotalAV's VPN came out on top.
5. Parental Controls — Only Bitdefender Supports Parental Control
Bitdefender has an excellent parental control app. It allowed me to monitor screen time, check visited websites, install apps, add contacts, and view the current location of my 10-year-old.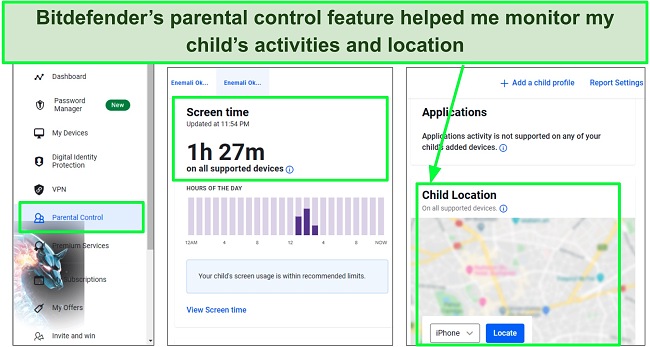 All I had to do was configure parental control, create a child profile (by adding name and age), install the Bitdefender Parental Control app on my child's phone, and create an account.
6. Firewall — Bitdefender Has a Functional Firewall
Bitdefender has a working firewall while TotalAV doesn't have any. A firewall is helpful to protect your connections from unauthorized access. Bitdefender's firewall provided real-time protection on all my networks and apps.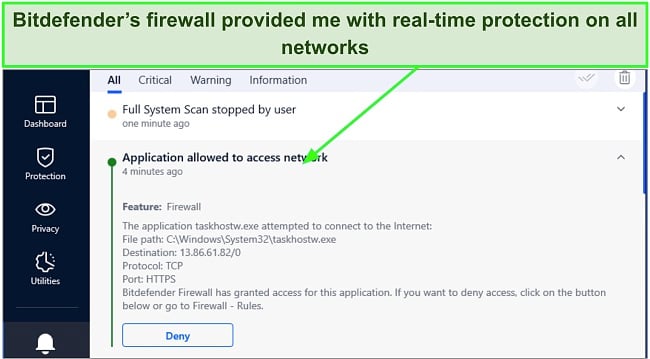 It also provides scan protection that blocks malicious attacks on vulnerable ports. Bitdefender offers advanced control of network connectivity, allowing me to add and edit rules for applications and the type of networks that access them.
7. Password Manager — Bitdefender Has the Better Password Manager
Bitdefender has the most feature-rich password manager among the two antivirus suites. It took only a few minutes to set up. It has basic and advanced password manager features like password generator, auto-fill and auto-save, dark web monitor, password health check, and multi-device syncing. I tested all these features individually, and Bitdefender didn't disappoint, allowing me to use the password manager on my PC and phone.
In contrast, TotalAV's Password Vault doesn't work on mobile devices. TotalAV only offered basic password management features like password generator, encrypted vaults, and password health check. Moreover, Bitdefender's password manager is part of every paid plan, unlike TotalAV, which requires you to pay extra for its password manager.
8. Gaming Mode — Both Antiviruses Are Good for Gaming
Bitdefender and TotalAV didn't affect my gaming experience. I played a few online multiplayer games while running a full disk scan on both antivirus software. Luckily, TotalAV didn't impact my gaming performance, and there were no lags while playing my favorite games.
Depending on the game you're playing, the experience may not be the same for you. Some games use more memory and CPU, affecting your PC speed even without an antivirus. Seeing that TotalAV VPN has a more effective VPN and has the least impact on CPU usage, it would be the best option for gaming.
9. Optimization Tools — TotalAV Offers Thorough Optimization Tools
Bitdefender and TotalAV have optimization tools, but TotalAV has a more in-depth optimization system. The TotalAV "System Tune-up" tool allowed me to clear junk files, remove duplicate files, clear browsing data, uninstall apps, and optimize my system boot time, all with separate buttons for each action.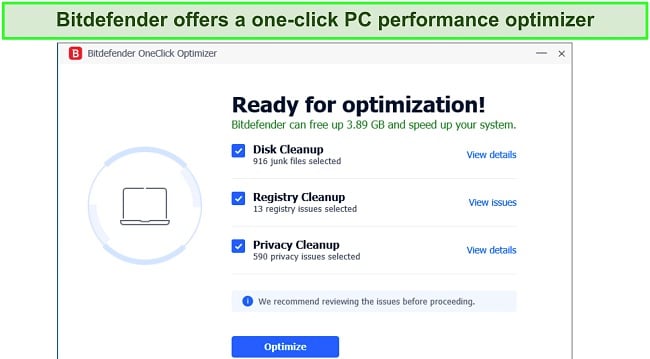 In contrast, Bitdefender doesn't have as many optimization options as TotalAV. You only get a disk cleaner that removes unnecessary files and a file shredder to delete files permanently. Overall, I prefer TotalAV's optimization tools as they provide a more flexible system and tools for specific optimization actions.
10. Other Features — Bitdefender Has More Unique Features
I was impressed that TotalAV and Bitdefender have other useful extra features that provide additional protection for my PC, phone, and web activities.
Advanced Cloud Scanning: This TotalAV feature gives real-time protection to your PC by detecting zero-day unknown suspicious files.
Web Shield: It is a TotalAV feature that ensures your privacy by blocking malicious websites on your browser to protect your personal information.
WiFi Checker: This TotalAV feature available on the Android app scans the WiFi networks you want to connect with and blocks them if it's unsafe to protect your data from being hijacked.
Device Locator: This TotalAV iOS feature helps you track your iPhone if it gets lost or stolen. You can track your phone from any other device you're signed in to.
SafePay: This Bitdefender feature creates another desktop environment that allows you to engage in transactions securely and online banking, preventing keylogging, screenshotting, and data interception.
Ransomware Remediation: This Bitdefender feature lets you restore files that have been encrypted during a ransomware attack.
Webcam Protection: This Bitdefender feature monitor and blocks unauthorized apps and websites that access your webcam and microphone.
Ad-block and Anti tracker: These features on TotalAV and Bitdefender prevent trackers from collecting data that can be used to serve you ads.
Dark Web Monitoring: It is a feature by both antivirus suites that help you to scan the dark web to see if any of your information has been compromised in a data breach.
While both AVs have valuable features, TotalAV has far more options that you can use and customize to suit your personal use case.
11. Device Compatibility — Both Are Compatible With Popular Devices
Bitdefender and TotalAV are compatible with most operating systems. You can use them on Windows, Mac, Android, and iOS devices. However, TotalAV has the most user-friendly interface among the pair with the most easy-to-use apps and browser extensions. It was much more intuitive using TotalAV than Bitdefender.
TotalAV's Android and iOS apps also provide a better experience. Bitdefender has a stand-alone VPN and parental control app. However, I prefer that I could easily connect with the TotalAV VPN, get real-time antivirus protection, and dark web monitoring features all from the TotalAV app without the inconvenience of installing too many stand-alone apps.
Device Compatibility Winner: TotalAV
12. Customer Service — Bitdefender Offers More Support Options
Bitdefender offers multiple ways to get help, while TotalVPN provides fewer options. Both antivirus offer 24/7 email support, phone support, and a detailed knowledge base with FAQs. I tested all the available support options for Bitdefender and TotalAV for responsiveness and to find out which was more helpful.
Only Bitdefender has live chat support. After initiating a chat, it took almost 4 minutes to move up the queue before I got assigned a representative. I dropped a question about one of its features, and I was pleased with the helpful answer that I got in less than 1 minute that pointed me to a resource where I found a detailed explanation.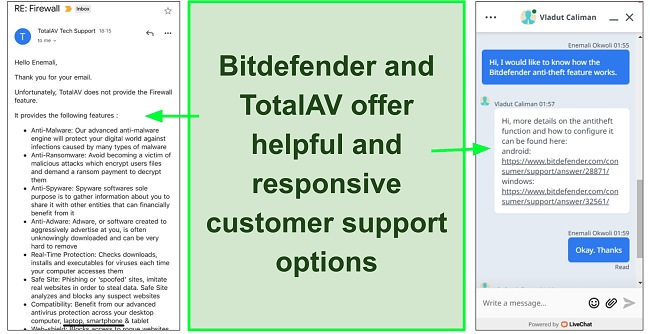 Bitdefender also won when I tested email support. I got a response from the support in less than 1 hour, whereas TotalAV responded to my question after 4 hours. Bitdefender offers 2 dedicated lines for US residents and 2 other numbers for worldwide locations (a UK line) for phone support. I called the UK helpline at 3:30pm CET and was on hold for just under 12 minutes. TotalAV also has phone support, but it is only available to US residents.
13. Price — TotalAV Offers Cheaper Plans for All Feature Categories
After comparing both antivirus and the features, I observed that TotalAV offers the best value for money. Both antiviruses offer different pricing plans with varying features for each plan, but I found TotalAV to be the better option for all categories of pricing plans.
TotalAV and Bitdefender have standalone antivirus pro plans. TotalAV offers the lower price among the duo, but it still beats Bitdefender on features and performance. TotalAV has the better virus scanner, optimization tools, and the least impact on my laptop's performance. The only edge Bitdefender has here is it comes with a password manager and file shredder feature that permanently deletes sensitive documents. Still, you can only use this Bitdefender plan on Windows devices. So, TotalAV has the better deal for the core antivirus features.
In terms of the Internet Security plan, Both antivirus suites offer similar features like VPN and anti-spam protection. Still, Bitdefender has more unique features like webcam protection and firewall protection, yet it costs less than the TotalAV Internet Security plan. However, if you want a TotalAV add-on feature, you can pay a small fee for that specific feature without upgrading to the higher premium plan.
Bitdefender has a free plan that works on only 1 Windows device, but it doesn't offer ransomware protection, vulnerability scanner, and secure file deletion. TotalAV doesn't have a free plan, but you can get a 7-day free trial if you sign up through the Appstore or Playstore. TotalAV's cheapest package supports 3 devices, more than what most antivirus software support. In contrast, Bitfender's cheapest paid plan only supports 1 device at a similar price to TotalAV.
TotalAV offers a 30-day unconditional money-back guarantee that works as advertised. I tested the refund process and got my money back in less than a week. When I sent a cancellation request via email, TotalAV offered me several add-ons and licenses at discounted rates which was too good a deal to refuse. Like TotalAV, Bitdefender provides a 30-day free trial on all premium plans, so you can try the advanced features before committing.
And the Winner Is… TotalAV
After comparing both antivirus suites and testing all features, I can confidently say that TotalAV won the day with a substantial margin. From basic protection to advanced features, TotalAV excelled across the board. Its virus scanner scanned through my whole computer in a very short time faster than Bitdefender, and the antivirus engine had an excellent malware detection rate.
TotalAV also has the least impact on my PC. It is a more lightweight product and has the least CPU utilization.
I also found TotalAV to be a more user-friendly app than Bitdefender. TotalAV provides a better VPN with faster speeds and unblocked more streaming services than Bitdefender. However, Bitdefender has a password manager as part of its core antivirus feature, which TotalAV doesn't have, and offers faster customer service support.
After assessing the total security package of both antivirus suites, I found TotalAV to be the better option. It has more extra features like advanced cloud scanning that detects zero-day unknown suspicious files, a web shield that blocks malicious websites on your browser, and a WiFi checker that scans public WiFi to protect you from connecting to harmful networks. TotalAV also has more optimization tools to improve my computer's performance by removing junk and duplicate files.
Overall, both antivirus suites are good and helpful for the total protection of your PC, just that TotalAV has better core and advanced antivirus features, user-friendly apps, costs less and optimizes laptop performance much better.
If you're looking for an antivirus with comprehensive protection and advanced capabilities, you can try TotalAV risk-free for 30 days and get your money back if you aren't satisfied.
However, if you're looking for an antivirus suite with more internet security features, you can use Bitdefender's 30-days free trial to test all the features before committing.
---
The 5 Best Antivirus Software Rated in 2023