Malwarebytes vs Bitdefender: Best Antivirus in 2022
Last Updated by Sayb Saad on July 01, 2022
With so many competitive antivirus solutions that make impressive promises on the market, it can be hard to parse the truly outstanding ones from the ones that only deliver average performance.
I decided to test out two of the popular names in the AV industry — Malwarebytes and Bitdefender. I wanted to see which of these two community favorites would come out on top. I evaluated their performance across 10 areas and found that Bitdefender was the clear victor. While both AVs are strong security solutions, Bitdefender outperformed Malwarebytes in every arena, including malware-detection capabilities, system performance, and, most importantly, price.
Since Bitdefender is an entire internet security suite, it offers a ton of valuable features that Malwarebytes doesn't. Both are excellent at detecting malware, with Bitdefender having a slight advantage.
No Time? Here's a 1-Minute Summary of Category Winners
Both Bitdefender and Malwarebytes are strong antivirus contenders, but Bitdefender is an entire internet security suite and Malwarebytes isn't. That means Bitdefender packs additional features, such as a VPN, parental controls, password manager, and a firewall, which I deem necessary for an antivirus.
| | | |
| --- | --- | --- |
| | | |
| Virus Scanner | 99.6% detection rate, and it may not detect zero-day malware | 100% detection rate against all malware, including zero-day malware |
| Real-Time Malware Protection | Detects 98.8% of real-time threats, but its free plan doesn't offer real-time protection | Detects 99.7% of real-time threats and has more advanced security features |
| System Performance | No noticeable slowdown, but its full scan can take upwards of an hour | No noticeable slowdown. Its full scan took 40 minutes to complete. |
| VPN | Has servers in 30+ countries with no data caps | Has servers in 27 countries, but you get a data cap of 200MB per day unless you get the premium plan |
| Parental Controls | Does not include parental controls | Has an easy-to-use parental control feature that lets you monitor your child's activity |
| Firewall | Doesn't have a firewall | Has a firewall that includes advanced features such as Stealth mode and Alert mode |
| Password Manager | Doesn't have a password manager | Has an easy-to-use password manager that lets you store unlimited passwords |
| File Shredder | Doesn't have a file shredder | Has a file shredder, but it may be slow if the file size is too big |
| Customer Service | Offers 24/7 live chat and email support | Offers 24/7 live chat, email support, phone support, and community forum |
| Price | Has 2 premium plans that provide effective malware protection but one doesn't have a VPN | Has 3 payment options, all of which offer a ton of features (including a VPN) at the same monthly price. |
How Malwarebytes and Bitdefender Compared in 2022
Try Bitdefender risk-free now!
1. Virus Scanner — Bitdefender Can Detect Zero-Day Malware, But Malwarebytes Can't
Before I began my test, I read detailed reports from a few independent testing labs, and all of them said that Bitdefender is better at detecting all kinds of malware than Malwarebytes. However, I wasn't convinced and wanted to test them both myself.
I planted malware that included trojans, keyloggers, polymorphic viruses, and more on my virtual machine and ran both antiviruses to see which one had a better detection rate. Bitdefender detected all the malware when I ran its full scan (though it took 48 minutes), whereas Malwarebytes missed out on some of them.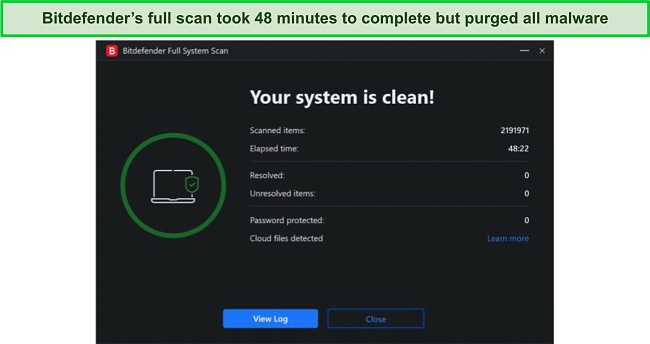 Apart from that, both Bitdefender and Malwarebytes provide effective real-time protection. However, I found that Bitdefender uses multi-layered protection, which performed better detecting zero-day malware that Malwarebytes's malware engine. Bitdefender provides this level of security even on its free plan, whereas Malwarebytes offers it only in its premium plan.
Lastly, both AVs have quick, full, and custom scan options, but Bitdefender additionally offers a Safe Mode search. I wouldn't recommend a quick scan on either because, unless you're using one of the best AVs out there like Norton 360, a quick scan will just skim through the most likely places a virus can exist and not the unassuming areas of your hard drive.
Bitdefender also includes a Vulnerability Scan which helps you get a brief overview of how compromised your computer is exactly. Malwarebytes lacks this feature, even in its premium plans. Due to its more robust and comprehensive scans, Bitdefender is the clear winner when it comes to protecting you from all kinds of viruses.
2. Real-Time Protection — Malwarebytes's Free Plan Doesn't Offer Real-Time Protection
As the name suggests, real-time protection means that the antivirus is continuously monitoring possible online and offline threats in real time. I was disappointed to find out that Malwarebytes's free plan doesn't offer real-time protection, which means you're exposed to all sorts of online threats when you're on the internet.
Having said that, Malwarebytes's paid plans do offer real-time protection. This real-time protection includes 4 layers of security — web protection, malware protection, ransomware protection, and exploit protection. I was also happy to find out that it uses modern signature-based detection and heuristic analysis to identify and remove threats as they are detected.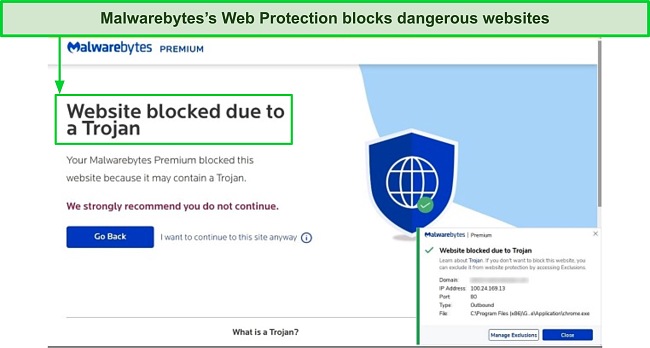 I visited a potentially dangerous website and Malwarebytes's web protection feature automatically blocked it, saying that it contained a Trojan. Over the course of my tests, I found that Malwarebytes provided a 98.8% detection rate, which is better than the industry average of 97%.
I ran the same test on Bitdefender and got a 99.7% detection rate of real-time threats, including a series of infected emails and malware-containing websites. More importantly, I didn't get any false positives (legitimate files flagged as infected).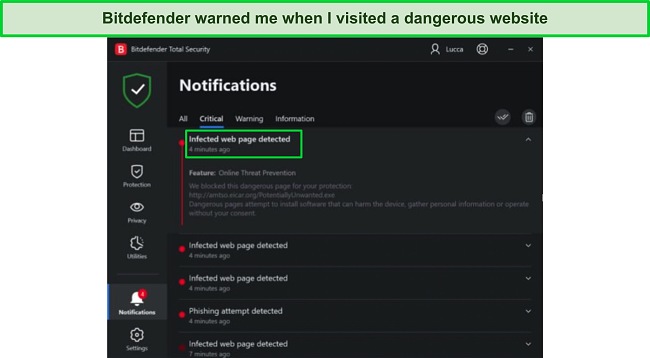 While both contenders performed well in web protection, Bitdefender won the race in phishing protection. Phishing occurs when hackers try to trick you into entering your confidential data, like bank account credentials. Bitdefender blocked 94% of phishing attempts, whereas Malwarebytes blocked 87% of them.
I wanted to understand why Bitdefender performed better overall than Malwarebytes. So, I did some digging and found that it features a Behavior Monitor Tool, which doesn't let malware alter your files. It also hosts a URL filter, heuristic filter, and Bayesian modules that work together in determining which emails match typical spam characteristics.
3. System Performance — Both Are Excellent
I was expecting Malwarebytes to slow my computer down, especially during its full scan, but that wasn't the case. I ran a quick scan, which took about a couple of minutes, and there was no noticeable slow-down, nor did my CPU utilization spike.
After that, I ran an hour-long full scan and was able to work on multiple tabs on my browser with ease. My computer did not slow down, and the CPU utilization only went up by 8%, which was barely noticeable. I did, however, feel some sluggishness when I tried installing apps like Microsoft Office suite and Netflix.
Bitdefender also had little to no impact on my computer performance. I was able to multitask with the full scan running in the background. I also tried installing the above apps and didn't experience as much of a slow down as when using Malwarebytes. Also, Bitdefender was about twice as fast as Malwarebytes as it completed a full scan in less than 40 minutes.
4. VPN – Malwarebytes's VPN Is Better
Both Malwarebytes and Bitdefender come loaded with a VPN, which I think is a necessity for a good antivirus. The only difference is that Bitdefender offers a VPN with every plan, whereas Malwarebytes only offers it with its top-tier plan.
Don't let first impressions fool you, though. Unless you buy its premium plan, Bitdefender's VPN has a data cap of 200MB per day, making it practically useless for more than general web browsing over a short period. It also doesn't let you choose a server of your choice. Instead, it connects to a server it thinks suits you best.
Bitdefender's Premium VPN doesn't have those limitations, but it only has servers in 27 countries. That's not enough if you want to access content when traveling. When traveling, I was able to access my Netflix US account, but I could not access Disney+, Hulu, Prime Video, or HBO Max.
On the other hand, Malwarebytes's VPN has no data caps and offers over 300 servers in 30+ countries. I used it to access all the above-mentioned streaming platforms without any problems or buffering.
I got similar speeds on both VPNs, but Bitdefender's was a bit faster. Malwarebytes's VPN may be a bit slower, but it offers better-unblocking capabilities, and it passed every leak test I put it through. Overall, Malwarebytes's VPN is more privacy-focused and has better unblocking capabilities.
Even though Malwarebytes's VPN is excellent, the antivirus itself lacks many essential security features. If you're looking for a complete security package with a great VPN, there are a few options worth checking out.
5. Parental Controls — Malwarebytes Doesn't Have Parental Controls, But Bitdefender Does
I wasn't happy to learn that Malwarebytes doesn't offer parental control, which I think is an essential feature of any premium antivirus. Parental controls let you monitor your child's activities, both offline and online.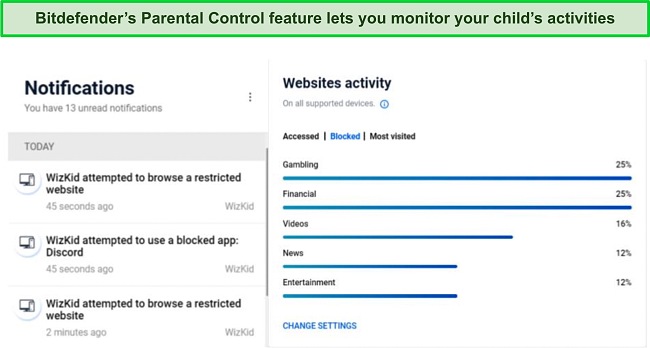 I used Bitdefender's parental control feature and found it easy to use. You can easily track what your kids are doing online and restrict their access to certain apps and websites. For example, when I set up these restrictions, I was immediately notified as soon as one of my colleagues tried opening a blocked app and a restricted website.
Also, you can add a child profile and link it to the device they're using. All you need to do is send the download link to the new device and the software will automatically start on that device. The only catch is that each profile can be linked with one device, which means that if you share your device with your children, then you'd have to disable the parental controls every time you're using the device.
6. Firewall — Bitdefender Hosts a Powerful Firewall
A firewall is a major component of keeping you safe online, and I was surprised to find out Malwarebytes doesn't have one! That's because it is just an antivirus program, not an internet security suite. Considering that its premium plan is more expensive than Bitdefender's, I think not having a firewall is a major red flag for anyone who wants airtight security.
On the other hand, Bitdefender features an easy-to-use and powerful firewall, having an array of features for advanced users. Keep in mind, though, that the firewall only comes with Bitdefender's Internet Security and Total Security packages.
Bitdefender's firewall analyzes the apps installed on your computer and automatically configures itself based on which network you're connected to. For example, when I connected my computer to a public WiFi, Bitdefender's firewall automatically went into "Stealth" mode.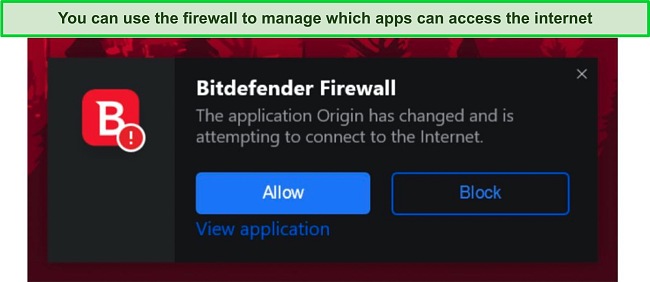 I was impressed by the firewall's "Alert" mode, which immediately alerted me whenever an application on my computer attempted to connect to the internet. Overall, Bitdefender's firewall gave me total control of my online security and privacy at all times.
7. Password Manager — Unlimited Saved Passwords
After learning that Malwarebytes isn't a complete internet security suite, I assumed that it wouldn't have a password manager, and I was right. The lack of features in Malwarebytes makes it a not-so-good antivirus. For example, a password manager prevents keyloggers from recording your keystrokes. Hence, features like these facilitate your security in areas that a basic antivirus cannot cover.
On the other hand, Bitdefender hosts a fast and simple-to-use password manager on all paid plans. I used it to save more than 25 of my user credentials across multiple websites and it worked without any hiccups every time.
More importantly, I was impressed that Bitdefender's password manager lets you save unlimited passwords, whereas many other antiviruses have a cap on the number of passwords you can store. Also, every time I tried it, the password manager auto-filled my credentials in less than 1 second.
8. File Shredder — Bitdefender's Safe File Acts Like a Secure Vault
A file shredder is a must-have for a good antivirus. Suppose you delete some confidential data from your computer. Even if you do that, it doesn't mean a hacker can't access them anymore. This is where a file shredder comes in. I was disappointed to learn that Malwarebytes doesn't have a file shredder.
On the other hand, Bitdefender comes with a file shredder, which overwrites multiple layers of data onto the original file, making the file practically useless for a hacker even if they did manage to recover part of it. I tested the file shredder and shredded a document. A pop-up window appeared asking me to "select the targets carefully" because the file cannot be retrieved after being shredded.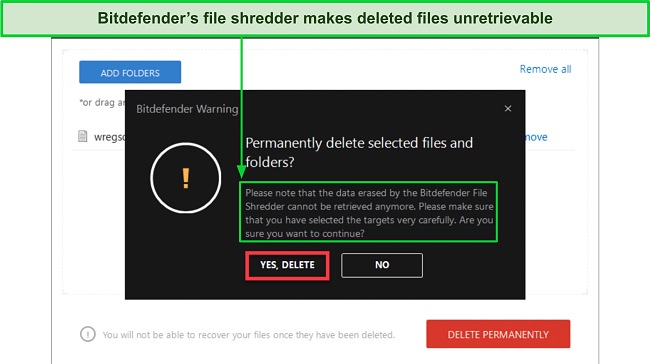 The only problem I had using Bitdefender's file shredder is that it takes time to shred large files. For example, when I shredded a 5GB video file, it took more than half an hour for it to happen.
If you don't want to permanently delete a file then you can use the Safe File feature to only hide it temporarily. I tried this feature multiple times, and I was prompted that no one can access or alter the file without my permission when I hid a file. I really liked this as it gave me total control over my confidential data.
9. Customer Service — Bitdefender Offers More Support Options
Despite its lack of features, I must say that I was impressed by Malwarebytes's customer support. It offers 2 customer support options — a 24/7 live chat and email support.
The live chat is the best way to reach out to the support team. I tested its live chat at different times of the day, and it barely took 2 minutes for the agents to reply back. The support team also gave detailed answers to my queries. At other times, the agent provided me with the website links where I could find the answer.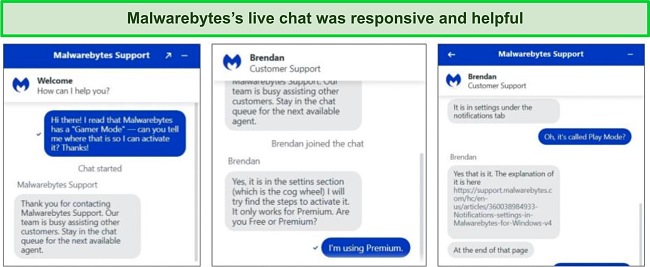 Before ending the conversation, the agent made sure that I was satisfied with his answers. Once the conversation was over, the transcript of my conversation had been sent to my email address for my record.
Next, I tested Malwarebytes's email support. I emailed the team, asking what can I do to reduce the performance impact while running Malwarebytes's full scan. I got a detailed response within 3 hours, and the team provided several tips, which proved to be quite helpful. Overall, I was quite happy with Malwarebytes's customer support.
The only reason why I think Bitdefender's customer support is better is that it provides additional avenues for support, such as phone support and a community forum. I tested the live chat feature, asking a question about Bitdefender's free trial. The agent responded with a clear-cut answer in less than a minute.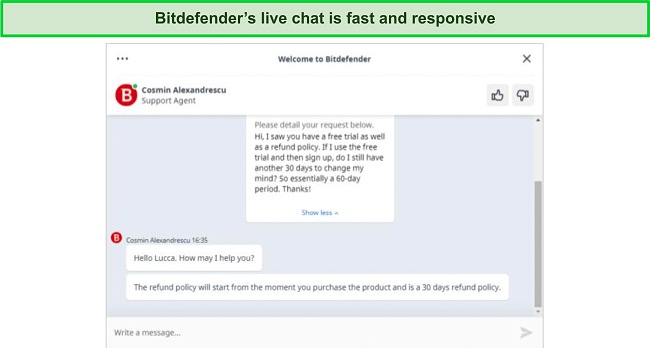 After that, I used Bitdefender's email support and got a response from the support team in a little over an hour, which is quite impressive.

What makes Bitdefender stand out is that it offers phone support in 17 countries and in multiple languages. I called one of its helplines and stayed on hold for about 10 minutes, which I think isn't too bad. Phone support can be useful if you want to ask something complex that can't be explained on live chat.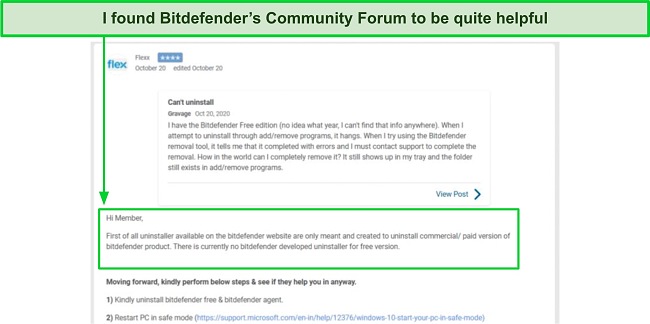 Apart from that, you can sift through Bitdefender's community forum, which contains troubleshooting guides and much more. It may take some time to find the answer, but it definitely worked for me when I wanted to know how to remove Bitdefender from my computer.
10. Price — Bitdefender Has More Features At a Lower Price
After checking both of their price plans, it didn't take me much to figure out that Bitdefender is a better buy. Although Malwarebytes has a free plan, I wouldn't recommend using it because it doesn't offer any real-time protection. So, you end up with two options — the Premium and Premium + Privacy plans.
If you choose Malwarebyte's premium plan, you'll get excellent malware protection, along with a browser guard, which is essentially an ad blocker and prevents third parties from collecting your data. The only catch is that you won't get a VPN with this plan.
If you want all the above features plus a VPN, you'll need to buy the Premium + Privacy plan. The price jump is substantial between the two plans just for a VPN. So, I think the premium plan with 1 device should work if you just need a decent antivirus.
On the other hand, Bitdefender Total Security offers a ton of additional features at the same price tag. Apart from the airtight threat defense, it includes parental control, anti-tracker, VPN, webcam protection, safe online banking, firewall, anti-theft feature, WiFi security advisor, and a file shredder.
More importantly, you can use Bitdefender Total Security on 5 devices simultaneously, whereas Malwarebytes's plan for the same price allows only 1 device. That's all well and good, but keep in mind that its renewal prices can be more than double the initial price.
As far as money-back guarantees are concerned, Malwarebytes provides a 60-day money-back guarantee, whereas Bitdefender only provides it for 30 days. However, Bitdefender also offers a 30-day free trial, which means you can use it for free for a total of 60 days, just like Malwarebytes.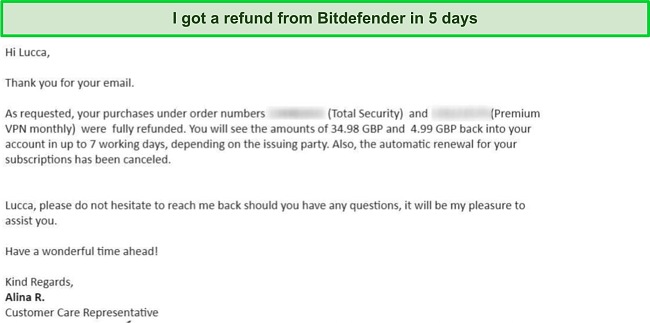 I filed a refund after canceling my Bitdefender subscription within the refund period, and I received an email from the customer care representative notifying me that I'll receive the refund within 7 days. I was happy that I got the refund in just 5 days.
I found the refund process for Malwarebytes incredibly hassle-free as well. All I had to do was send an email ticket, which got approved in 2 hours. The refund took 7 days, and I got my money back without any problems.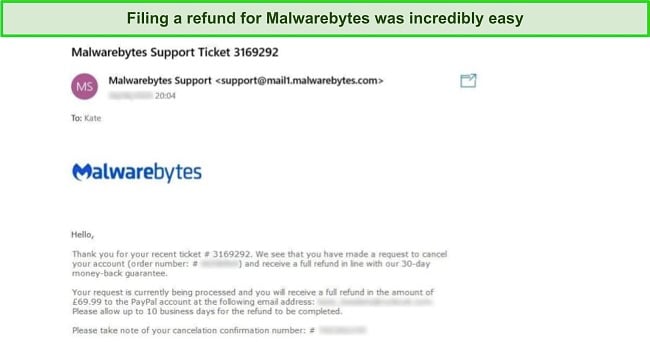 Both Bitdefender and Malwarebytes ensure that their customers get their refunds on time, so I'll call this round a draw. However, since I received the money from Bitdefender 2 days earlier than Malwarebytes, I will give Bitdefender some bonus points for that.
And the Winner Is Bitdefender Total Security
After extensive testing, I concluded that Bitdefender Total Security is the stronger contender. It packs a ton of features, including parental controls, a password manager, file shredder, and firewall, all of which are essential to your security. More importantly, you get all this at the same price as Malwarebytes's Premium plan, which has none of these features.
As for the contenders' malware-detecting capabilities, which is the basic function of any antivirus, Bitdefender outperformed Malwarebytes, but not by much. Both performed reasonably well, but the only area where Bitdefender had an edge was detecting zero-day malware. That's why Bitdefender gave me a 99.7% real-time detection rate, whereas Malwarebytes hovered at about 98.8%.
The only advantage Malwarebytes has over Bitdefender is its VPN, which has more servers around the globe, making it the better option if you want to access content while traveling. Of course, the VPN only comes with its Premium + Privacy plan. On the other hand, Bitdefender's VPN not only has fewer servers but also has a data cap of 200MB per day if you aren't subscribed to the most premium plan.
At the end of the day, both Bitdefender and Malwarebytes are good antivirus programs. It's just that the former provides you an entire internet security suite, while the latter is just an excellent antivirus. I was happy with the customer support and refund policies of both services.
Malwarebytes provides a generous 60-day money-back guarantee, so you can try it out risk-free. If you're bent on Bitdefender Total Security, you can avail its 30-day free trial before signing up. Even after you have subscribed, you can still use its 30-day money-back guarantee in case you change your mind later.
FAQ: Malwarebytes vs Bitdefender
Can I run Malwarebytes and Bitdefender together?
Yes, you can run both, but there's no use in doing that because Bitdefender provides all the necessary features you need to protect your computer, such as a VPN, password manager, firewall, and more. Also, unless you have a super-fast computer with the latest specs, it's recommended you don't run them together as doing that may significantly slow down your computer. I would recommend using Bitdefender because it offers faster scans without slowing down your computer.
Do I need Bitdefender and Malwarebytes?
It depends. If you're using Bitdefender, you don't need Malwarebytes because Bitdefender is a complete security suite, so it has all the features you would need to protect yourself against all sorts of malware in real time. Meanwhile, if you're using Malwarebytes, you might need Bitdefender's extra protective features, such as a password manager and firewall, to protect your computer.
If you are concerned about your computer's security and looking for a failproof antivirus with a full set of features, then I would recommend trying a premium antivirus such as Norton 360. With Norton, you won't need any other antivirus and it comes with a 60-day money-back guarantee so you can try it out risk-free.
---
Top Antivirus Software in 2022