4 Best Antivirus Software With FREE Parental Controls
Last Updated by Kate Hawkins on June 28, 2022
We all want to protect our kids when they're online, and the best way to keep your children and your network safe is by using a top-tier antivirus package that includes free parental controls. I found parental control apps are great for limiting my daughter's screen time and monitoring social media, but they don't protect her devices from malware. One accidental click on a flashy pop-up ad or suspicious link can compromise your entire home network.
After rigorous testing, I've found several antiviruses with free parental controls that help protect my daughter when she's online. Norton 360 takes the number 1 spot for a combination of superior malware protection and high-grade parental controls. Best of all, you can test Norton risk-free with a 60-day money-back guarantee available for all plans and make sure it's right for you.
Try Norton 360's Parental Controls
Quick Guide: Best Antiviruses With 100% Free Parental Controls
Try Norton 360's Parental Controls
The Best Antivirus Software With Free Parental Controls (Tested May 2022)
Key Features:
Easily detects and blocks all types of malware
Protect your kids with content filters, GPS tracking, search monitoring, and more
Works on Windows, Mac, Android, and iOS
24/7 customer support over live chat and phone
60-day money-back guarantee
Norton 360 takes the top spot because of its high-quality malware protection and standalone parental controls app that comes free with the subscription. Its parental control app is called Norton Family, and the options are simple to navigate and set up.
The parental control features are accessed from a central online dashboard. Having all these features in one place was perfect — I monitored my child's device from my Google Chrome browser (although I could from any browser) and tracked them anytime I needed to. I also:
Set device time limits
Blocked web access to sites with inappropriate content
Filtered search engine content
Monitored video content on YouTube and Hulu
Blocked and unblocked apps (Android only)
I found it easy to set up parental controls on my main device and my child's devices. I had Norton 360 downloaded, installed, and set up on my Windows PC in under 5 minutes. I did have to sign up to Norton 360 and make sure I was signed in before downloading the parental controls app, but afterward the step-by-step walkthrough for Norton Family on my child's iPhone was simple. I didn't even have to navigate to the App Store for the app — Norton 360 gave me a QR code to scan that sent me straight to the app for easy download.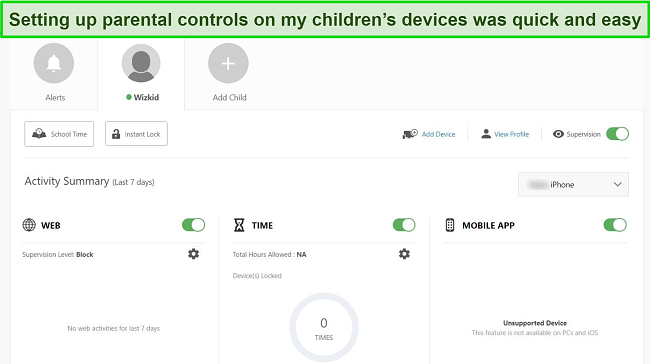 There are various restriction levels based on age that you can use for a quick setup, or you can manually adjust the settings to suit yourself. When I tested this, the app shut off access once the scheduled time limit was reached and blocked access to sites with inappropriate content. From the dashboard, you can also check your child's location, see which video content they've been watching, and toggle School Time on and off — this restricts your child to educational-only content.
I particularly liked that Norton 360 sent my child a notification when it blocked a site, which didn't disappear until it clicked off the screen. This gave my child time to read and understand why that particular site was prohibited.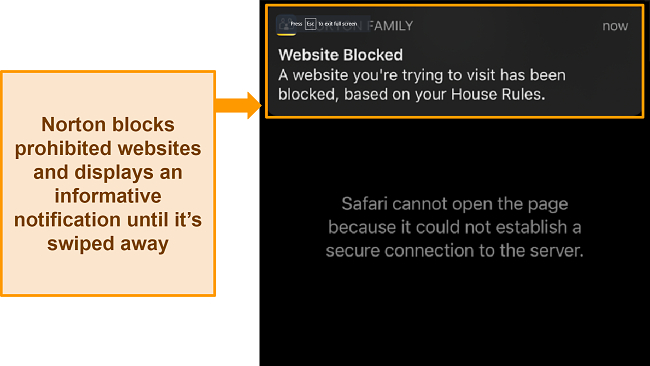 It wasn't a surprise for me that during my tests, Norton 360 detected and blocked 100% of zero-day and previously known malware. Norton 360 also uses heuristic analysis to identify new malware types before, preventing access to harmful sites by curious children. This saved me a ton of time since I didn't have to monitor my child's internet usage 24/7, knowing they will be kept safe with Norton's top-tier security features.
Norton 360's parental control features are available on its Deluxe and Premium plans, and you can test every Norton 360 feature for 60 whole days risk-free with its money-back guarantee. Getting your money back is easy too — a quick chat with Norton 360's 24/7 live chat approved my refund, and I had the money in my account in just 5 days.
Try Norton 360's Parental Controls
Key Features:
Powerful malware detection for new and known threats
Pre-made parental control profiles that include location tracking, app blocking, and more
Parental controls are available on Windows, Mac, Android, and iOS
Customer support available with live chat, phone support, and a community forum
60-day money-back guarantee
McAfee's Total Protection antivirus package comes with the Safe Family app, which includes a wide range of parental control features. With Safe Family, I can accurately track my child's device location, block inappropriate apps and web content with customizable filters, and schedule downtime. It took less than 3 minutes to download and set up, and I could easily see everything on McAfee's central dashboard.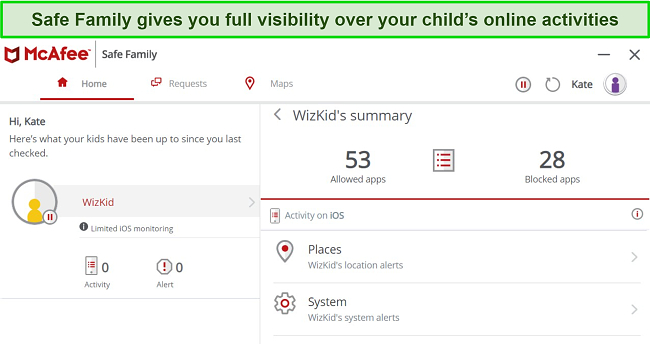 I was most impressed by McAfee's location features, which are very accurate. Using GPS signals, McAfee will send you a notification when your child reaches certain preset locations (like school) so you can see they've arrived safely. You can also set an area, like the school grounds, with geo-fencing and be alerted if your child goes beyond the boundaries. It gave me peace of mind that I could quickly check my daughter's exact location in real-time whenever I wanted to.
In terms of malware protection, McAfee scores exceptionally well. In recent tests, McAfee achieved 100% malware detection rates in both previously known and recent threats. These impressive results show that McAfee can not only keep your kids safe from online predators but also malicious threats.
While McAfee offers some top-tier parental control features, it doesn't have detailed social media monitoring. I can monitor my child on sites like Facebook and Twitter, though it doesn't offer full monitoring for sites like TikTok, YouTube, or Instagram. Given that McAfee is a more expensive option (particularly after the first year's discounted price), it's difficult to justify spending the extra money when a package like Norton 360 provides similar or better coverage for less.
You can test McAfee's online security for yourself for 60 days risk-free with its money-back guarantee. It's disappointing that McAfee doesn't have a reliable live chat feature to access a refund request. You'll need to do so through their site's contact form and then receive a call from a customer support representative. The only thing that saved this procedure was that I got a call within 10 minutes and they did not persuade me to try to keep my subscription and granted it right away. I got my money back within 7 business days.
Try McAfee's Parental Controls
Key Features:
100% new and known malware detection in recent tests
Feature-rich, with web filtering, chat monitoring, screen time limits, and more
Exclusively for Mac
Customer support through live chat, email, and online forum
30-day money-back guarantee
Intego's ContentBarrier parental controls are feature-rich with plenty of configurable options to help you protect your kids. This is ideal for parents who want a greater level of input over what their children can and cannot access online. It takes a bit longer to set up Intego before your kids can go online, but it was well worth the time to ensure the settings were exactly how I wanted them.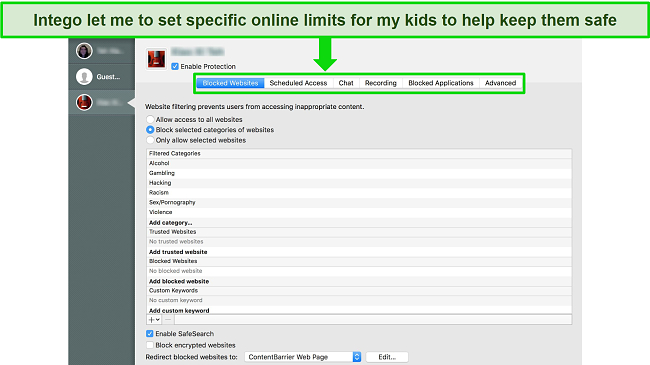 I noticed Intego has a couple of unique parental controls that specifically protect children from online predators. The Anti-Predator function sends an alert if your kids are having suspicious conversations, flagging commonly used words and phrases predators use to target children. I configured this setting to send an alert if my daughter sent her name, email address, and home address to anyone through email or iMessage.
Another unique feature is Intego's option to screen record your children's activity. You can set Intego to take screenshots every so often, giving you an overview of what your kids are doing online. You can also record keystrokes to check that your children aren't sending inappropriate messages or logging into secret social media accounts.
Intego also has parental control features like web filtering and screen-time monitoring. I'm particularly impressed by its web filtering, which uses multiple filters to make sure children don't see any inappropriate content. Unlike Apple's basic web filters, Intego's restrictions are much more specific and varied to keep the likelihood of accessing blocked content as low as possible.
Alongside secure parental controls, Intego is a top choice for keeping your Mac free from malware. In recent tests, Intego detected and quarantined 100% of real-time threats. It's reassuring to know Intego focuses specifically on Mac-targeting malware, as the number of threats grows daily.
The downside to Intego is that its antivirus with parental controls is only for Mac — you can't monitor your kids on their iPhones, PCs, or Android devices. Intego does offer antivirus for Windows, but it doesn't have any parental control features. I recommend you test Intego's Mac Premium Bundle X9 for 30 days, as this gives you access to all of its features — parental controls, optimization tools, privacy features, and more.
Try Intego's Parental Controls
Key Features:
Near-perfect malware detection for new and known threats
Simple parental controls include web filtering, app restriction, and anti-theft location
Parental controls are available on Windows only
Customer support with live chat, phone, email ticketing, and online forum
30-day money-back guarantee
Panda Dome's parental controls are super easy to set up, so you can quickly protect your children's Windows profiles. From Panda's intuitive dashboard, simply click the Parental Control icon and you can configure the settings for any Windows profile available on that PC. As I share my computer with my daughter, I could set up content restrictions on her profile without having to redownload Panda Dome or log in to her account.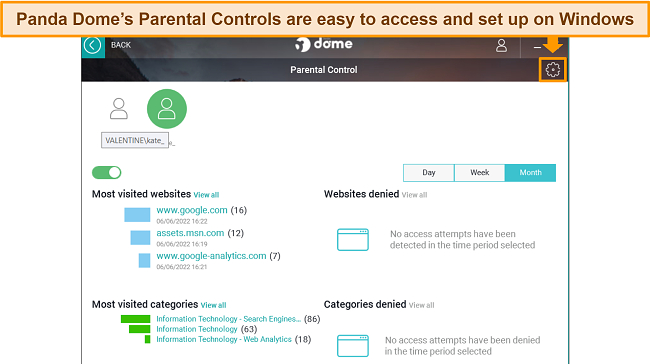 The only setting available in the Parental Control menu is web filtering, which lets you block or allow access to specific websites or restrict categories, like adult content, gambling, and web chat. There are different categories to choose from, which you can manually restrict or you can choose a pre-configured filter. This made it easy to block all inappropriate content on my daughter's profile. I was pleased to find Panda Dome also sends me a notification when she tries to access a blocked site. Unfortunately, web filtering is only available for Windows — you won't find it on Panda Dome's Mac or smartphone apps.
In recent tests, Panda Dome scored above the industry average for real-time malware detection, blocking 99.4% of the latest threats. This gives me confidence that my child's devices and my home network are well-protected by Panda Dome.
While web filtering is the only strictly Parental Control feature, Panda Dome has other tools that can help monitor your kids online. The Application Control feature lets you choose which apps to block, and Anti-Theft can pinpoint your child's device location very accurately. However, you'll have to trust your kids not to alter these settings themselves as Panda Dome doesn't have password protection.
Panda Dome's Parental Controls are available on its Advanced plan and higher. I recommend you try Panda Dome Complete for 30 days risk-free, which features a password manager, VPN, optimization tools, and more.
Try Panda Dome's Parental Controls
Comparison Table: 2022's Best Antiviruses With Parental Control
Content Filter
App Control
GPS Tracking
Time Restriction
Works On:
Norton 360

✔

✔


(Android only)

✔

✔

Windows, Mac, Android, iOS
McAfee

✔

✔


(Android only)

✔

✔

Windows, Android, iOS
Intego

✔

✘

✘

✔

Mac
Panda Dome

✔

✘

✘

✘

Windows
Try Norton 360's Parental Controls
Top Antiviruses That Didn't Make the Cut
Here are 2 top-quality antivirus plans that provide exceptional malware protection, but unfortunately don't have free parental control features included in their subscription packages:
1. TotalAV
TotalAV is a top-performing antivirus with excellent real-time malware protection and a host of extra features — it's one of the best antiviruses with a built-in VPN. However, despite its range of useful tools, TotalAV doesn't have any parental control options at all.
2. iolo
A great choice for Windows users, iolo's System Mechanic has multiple device optimization tools that help your PC operate quickly and smoothly while protecting it from the latest malware. Unfortunately, none of iolo's subscriptions offer parental control tools.
How to Use an Antivirus with Parental Control Features
Download an antivirus like Norton 360 with free parental controls. You'll need to download the app to both your main device and your kids' device.


Find the parental controls feature and set up your parent account. This is what you'll use to configure app settings, downtime schedules, and website restrictions.


Create a profile for your child. You can customize this based on your child's age and what you want them to access.


Sign in to the app on your child's device. This links your main account to the device so you can use the parental control features on your own device.


Configure the parental controls. Some apps have pre-set options depending on how old your child is, or you can select them manually.
Enjoy peace of mind knowing your child's device is secure and can only access age-appropriate content!
How I Tested & Ranked the Top Antivirus Programs
To find the best antivirus software packages with free parental controls included, I checked each one against the following criteria:
Parental control features — Free parental control features are great, but only if they're top quality. The better parental control features include content filtering and blocking, app control, GPS location tracking, and time restrictions. I tested these to check for accuracy, reliability, and minimal false notifications.
Malware protection — To fully protect your children (and your network!) from online threats, having top-tier malware protection is essential. I tested each antivirus with both new and known malware to ensure total safety from phishing scams, spyware, and other invasive software.
Useability — I made sure both the antivirus and parental controls are easy to download, install, and set up for quick protection. I also checked that the software could be used on popular devices such as Windows and Mac computers or Android and iOS apps.
Value for money — An antivirus with parental controls like Norton 360 provides much greater value than a standalone parental control app — they're the same price but with twice as many security features. Plus, all of the above antiviruses have a money-back guarantee so you can test the service before committing to a subscription.
Try Norton's Parental Controls
FAQ: Using an Antivirus With Parental Controls
Do I really need to use parental controls?
Yes, you really do need to use parental controls. There is a host of dangerous and disturbing content online that simply isn't appropriate for your kids to see. Most children don't actively seek out this content, but kids are often targeted by scammers, online predators, and potentially violent or adult content. Not only this, but children are susceptible to screen-time addictions, which can seriously impact their mental health.
When you use parental controls like the tools in these antivirus packages, you protect your children from harmful content, predators, and poor mental health. These tools let you monitor what your child can access, who they can speak to, and how long they can go online — ensuring a fun, positive relationship with the internet. Plus, an antivirus with parental controls also protects your children and your entire home network from malware and viruses.
What is the most effective parental control for my family?
Ultimately, the most effective parental control is you. There are some fantastic antiviruses with a range of built-in parental control features, but these aren't the complete solution. You can monitor everything your children look at, block all inappropriate apps, and try to shield them from the dangers online — but kids can and will find a way to get around these rules.
Having age-appropriate, honest conversations with your children is the most important part of keeping them safe online. You should set clear guidelines about how they interact with the internet and with others, what kind of information they can and cannot share, and what to do if they see something disturbing or inappropriate. These conversations can be tricky sometimes, which is why a service like Norton 360 has a Smart Talk template designed to help both parents and children understand the rules.
No matter how much you try to protect them, it's inevitable that your children will come across something online that they shouldn't. An antivirus with built-in parental controls will help you monitor screen time, limit access to inappropriate content, and block risky apps — but it's up to you as a parent to guide them safely through the internet.
Can my kids deactivate their parental controls?
Sometimes, yes. Tech-savvy kids can find ways to get around parental controls for free access to the internet. There are also a lot of apps, like WhatsApp and Snapchat, that use encrypted messaging — even the best parental control features can't penetrate these apps. However, the top antiviruses with parental controls often have features like app control, so you can stop your children from downloading and using potentially harmful apps.
I've found the best way to stop your children from trying to get around your parental controls is to involve them in the process. For example, Norton 360 sends your child a notification when a website is blocked, detailing the reasoning behind your choice. McAfee lets your kids send requests for access to websites, so you can explain why they can or can't visit that site.
Ultimately, if your children understand the reasons for the rules, they are less likely to try and bypass them.
What's the benefit of using an antivirus with parental controls?
Using a top-tier antivirus with parental controls gives you and your family 2 layers of security. First, you can customize your child's access to the internet, protecting them from predators, scammers, and inappropriate content. Second, you protect your data and home network devices from malware and other online threats.
Children are particularly at risk of phishing scams and malware-filled websites — one accidental click on a flashy pop-up is enough to compromise your whole family's devices. While you may be tempted to use software exclusively for parental controls, an antivirus that includes these features for free makes better sense, both security-wise and financially. Plus, a service like Norton 360 has parental controls that are noticeably better than some standalone products.
Try Norton 360's Parental Controls
Keep Your Kids Safe Both Online and Offline
You don't just need to protect your kids from online predators and spending too much time on the internet. It's equally important to secure your child's device against malware, most of which is designed to steal their private files, photos, and personal information.
Luckily, you don't have to buy multiple software packages to cover every angle of attack. You can simply download a high-quality antivirus with free parental controls included. After conducting in-depth tests, I found Norton 360 is the best overall package for families.
Not only did Norton 360 detect and block every piece of malware in tests, but it also comes with Norton Family — a parental control app specifically developed to keep young children and teens safe online. You can try out Norton 360 for free for 60 days with the money-back guarantee. This gives you plenty of time to test the parental controls on every device in your household to make sure it's right for you and your family.
---
Summary — Top Antivirus Software With Parental Controls in 2022