5 Best Antivirus Software With FREE Parental Controls (2021)
Last Updated by Kate Hawkins on July 16, 2021
We all want to protect our kids when they're online, and the best way to keep your children and your network safe is by using a top-tier antivirus package that includes free parental controls. Parental control apps are great for limiting screen time and social media monitoring, but they won't protect your children from viruses and malware. One accidental click on a flashy pop-up ad or suspicious website link can infect and compromise your entire home network.
That's why I tested dozens of antivirus programs with free parental controls — and some are even better than standalone parental control software! Norton 360 takes the number 1 spot for a combination of superior malware protection and high-grade parental controls. Best of all, you can test Norton risk-free with a 60-day money-back guarantee available for all plans and make sure it's right for you.
Get Norton 360 for free for 60 days!
Quick Guide: 5 Best Antiviruses With 100% Free Parental Controls
Get Norton 360's advanced parental controls!
How I Tested & Ranked the Top Antivirus Programs
To find the best antivirus software packages with free parental controls included, I checked each one against the following criteria:
Malware protection — To fully protect your children (and your network!) from online threats, having top-tier malware protection is essential. I tested each antivirus with both new and known malware to ensure total safety from phishing scams, spyware, and other invasive software.
Parental control features — Free parental control features are great, but they aren't worth it if they aren't of good quality. Some of the better quality parental control features include content filtering and blocking, app control, GPS location tracking, and time restrictions. It was super helpful to have these features since I monitored my child's usage on Facebook, Twitter, and TikTok. I was also able to restrict how much time they could spend on each app or on their phone altogether.
Useability — I ensured that both the antivirus and parental controls are easy to download, install, and set up for quick protection. I also checked that the software could be used on popular devices such as Windows and Mac computers or Android and iOS apps.
Value for money — You won't get the same value from a standalone parental control app as you will an antivirus with free parental control features. The latter gives the same price but with twice as many security features. Each price has to match what each product offers, and I've tested each package against one another to find the next value.
5 Best Antivirus Software With Free Parental Controls (Tested July 2021)
Key Features:
Easily detects and blocks all types of malware
Protect your kids with content filters, GPS tracking, search monitoring, and more
Works on Windows, Mac, Android, and iOS
24/7 customer support over live chat and phone
60-day money-back guarantee
Norton 360 takes the top spot because of its high-quality malware protection and standalone parental controls app that comes free with Norton 360. Its parental control app is called Norton Family, and the options are simple to navigate and set up.
It wasn't a surprise for me that during my tests, Norton detected and blocked 100% of zero-day and previously known malware. Norton also uses heuristic analysis to identify new malware types before, preventing access to harmful sites by curious children. This saved me a ton of time since I didn't have to monitor my child's internet usage 24/7, knowing they will be kept safe from Norton's top-tier security features.
The parental control features are accessed from a central online dashboard. Having all these features in one place was perfect; I monitored my child's device from my Google Chrome browser (although I could from any browser) and tracked them anytime I needed to. I also:
Set device time limits
Blocked web access to sites with inappropriate content
Filtered search engine content
Monitored video content on YouTube and Hulu
Blocked and unblocked apps (Android only)
I found it easy to set up parental controls on my main device and my child's devices. I had Norton 360 downloaded, installed, and set up on my Windows PC in less than 5 minutes. I did have to sign up to Norton 360 and make sure I was signed in before downloading the parental controls app, but afterward the step-by-step walkthrough for Norton Family on my child's iPhone was simple. I didn't have to navigate the App Store for the app either. Norton gave me a QR code to scan that sent me straight to the app for easy download.
There are various restriction levels based on age that you can use for a quick setup, or you can manually adjust the settings to suit yourself. When I tested this, the app shut off access once the scheduled time limit was reached and blocked access to sites with inappropriate content. I particularly liked that Norton sent my child a notification when it blocked a site, which didn't disappear until it clicked off the screen. This gave my child time to read and understand why that particular site was prohibited.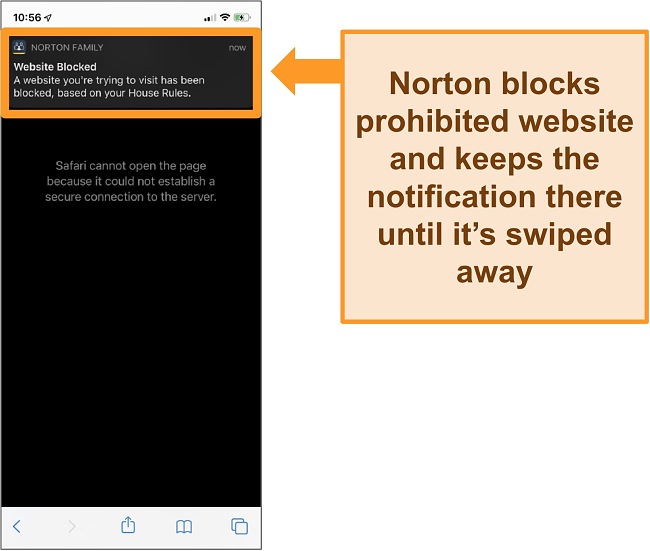 Norton 360's parental control features are available on its Deluxe and Premium plans, so you'll be able to test every Norton feature for 60 whole days risk-free. Getting your money back is easy too — a quick chat with Norton's 24/7 live chat approved my refund and I had the money in my account in just 5 days.
Monitor screen time with Norton 360 today!
Key Features:
Powerful malware detection for new and known threats
Pre-made parental control profiles that include location tracking, app blocking, and more
Parental controls available on Windows, Mac, Android, and iOS
Customer support available with live chat, phone support, and a community forum
60-day money-back guarantee
McAfee's Total Protection antivirus package comes with the Safe Family app, which includes a wide range of parental control features. With Safe Family, I can accurately track my child's device location, block inappropriate apps and web content with customizable filters, and schedule down time. It took less than 3 minutes to download and set up, and I could easily see everything on McAfee's central dashboard.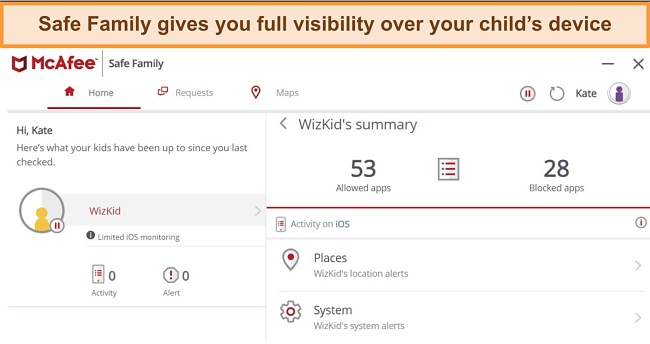 In terms of malware protection, McAfee scores exceptionally well. In recent tests, McAfee achieved 100% malware detection rates in both previously known and recent threats. These impressive results show that McAfee can not only keep your kids safe from online predators but also malicious threats.
While McAfee offers a decent set of parental controls, McAfee doesn't have detailed social media monitoring reports or geofencing features. Although I can monitor my child on sites like Facebook and Twitter, it doesn't offer full monitoring for sites like TikTok, YouTube, or Instagram. Given that McAfee is a more expensive option (particularly after the first year's discounted price), it's difficult to justify spending the extra money when a package like Norton 360 provides similar coverage for less.
You can test McAfee's online security for yourself for 60 days risk-free with its money-back guarantee. It's disappointing that McAfee doesn't have a reliable live chat feature to access a refund request. You'll need to do so through their site's contact form and then receive a call from a customer support representative. The only thing that saved this procedure was that I got a call within 10 minutes and they did not persuade me to try to keep my subscription and granted it right away. I got my money back within 7 business days.
Get McAfee's parental controls for 60 days!
Key Features:
Scored perfect malware detection rates
Basic parental control options are easy to configure — app block, web filters, and more
Available on Windows, Mac, and Android
24/7 live chat, email support, and online help center
30-day money-back guarantee
BullGuard's parental controls provide basic protection against online threats. You can easily access all parental control features inside the antivirus app — there's no need to download separate software. Combined with BullGuard's excellent malware protection (100% detection for new and known malware), it's a decent choice for protecting your kids and your overall network.
BullGuard has pre-set profiles for 3 different age ranges. Unfortunately, some of the pre-blocked apps are very outdated. If you're willing to spend some time, you can manually configure the profiles to suit your child's specific age range and online browsing habits. While browsing each profile, I manually selected that YouTube was allowed, but could only access children's content. This was reassuring as my 6 year old loved watching educational children's shows from YouTube and I knew they couldn't select anything mature.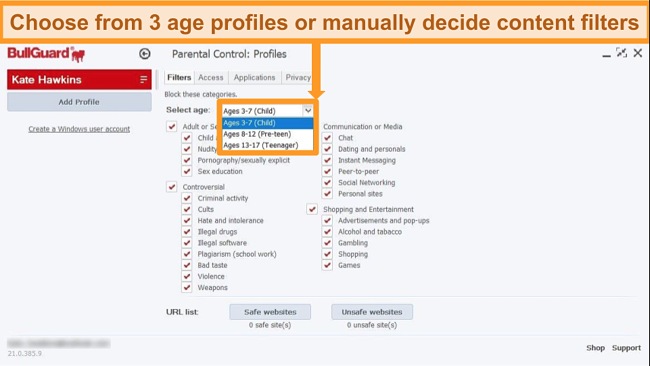 I found the content blocks were particularly tough to get around, so I doubt many kids can do it either. Make sure you're careful with settings that block certain content; you'll have to be specific and enter in different spelling so your child can't misspell a word and get around the block. For example, I could get around blocks by typing in information slightly differently (for example, writing 555-123-4567 instead of 5551234567).
The only other downside to BullGuard is its lack of location tracking. Location tracking is an important parental control tool that allows parents to monitor where their children are. Considering our top 3 antiviruses have this feature, it's a bit disappointing to realize that BullGuard doesn't have such a feature.
You can always try out BullGuard free for 30 days to see how well you like their features compared to others. Although BullGuard has a live chat feature, I still had to submit a refund request through the site's customer support email form. Although this wasn't too bothersome and I was able to get my refund accepted within 9 hours. Aftward, it only took 5 days for my money to be back in my account.
Try BullGuard for 30 days risk-free!
Key Features:
Protects against zero-day malware threats easily
Comprehensive parental controls that include geo-fencing, web content filtering, app blocking, and more
Apps for Windows, Mac, Android, and iOS
Customer support available with weekly live chat hours, phone, and email support
30-day money-back guarantee
Kaspersky has an incredibly thorough set of parental controls, including location tracking and adult content filters. You can also rest assured that even an accidental click on a dodgy link won't compromise any of your devices. In tests, Kaspersky detected and blocked 100% of new and known malware.
When it comes to parental controls, I found Kaspersky's GPS location tracking to be accurate (more than I can say for most standalone parental control software). I was especially impressed with the unique geo-fencing feature, which allowed me to specify an area my child should remain inside (and alert me if the boundary was crossed). For example, you can put a perimeter around your child's school during class hours.
It's easy to configure the parental controls — you can use pre-set configurations based on your child's age. I tested this by setting my child's age to 6 and adding my iPhone to the list of protected devices. Kaspersky immediately hid all the apps that weren't suitable for a 6-year-old child, like WhatsApp and Snapchat. When I tried accessing adult and gambling websites, Kaspersky blocked access to both and alerted me on my desktop computer. I didn't get a notification about the attempt to visit an adult site, which I would've liked, but the information was available on the Kaspersky dashboard.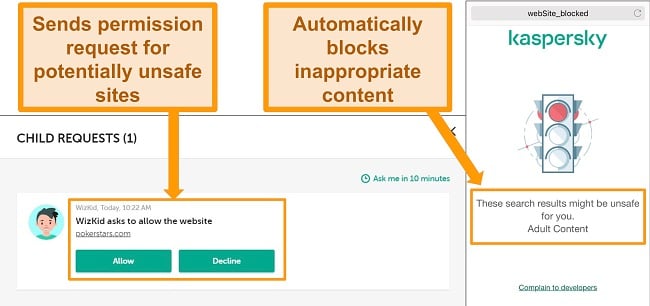 I'd like to see more monitoring of social media apps — Kaspersky only covers public Facebook posts, but not apps like Instagram or TikTok. I did like that I could monitor what my child watches on YouTube, both on the website itself and on the Android app (but unfortunately not on the iOS app). I was also glad that Kaspersky required a private pin code to uninstall the app from my child's device, so I knew it couldn't be removed without my permission.
I found Kaspersky very family-friendly overall and was especially impressed by the guidance offered to parents on talking to their kids about online safety. It's not always an easy subject to broach, especially for older children who value their privacy and independence. If you'd like to try these features, test out Kaspersky's 30-day money-back guarantee. I signed up and fully tested Kaspersky's features for a few weeks before filling out a refund request through their site's request form. Kaspersky says that it may take up to a day to receive the request, but mine was accepted in under 6 hours.
Try Kaspersky precise geo-locating today!
Key Features:
Top-tier malware protection from viruses, spyware, ransomware, and more
Basic parental controls, including screen time, app and location monitoring, and more
Available on Windows, Mac, Android, and iOS
Customer support available with 24/7 live chat, phone support, and a community forum
30-day money-back guarantee
Bitdefender is a top antivirus with simple (yet quality) parental control options. It has excellent malware protection (100% detection rates in recent tests!) with location monitoring screen time restrictions to defend your entire family from hackers, spyware, ransomware, and more. Better still, Bitdefender comes with an in-built Parental Advisor feature, so you can easily access all the parental controls from the main dashboard.
I'm especially impressed by the accuracy of its location tracking and geo-fencing tool. It even correctly identified the apartment number where my child's device was located. In addition, I easily blocked inappropriate content from YouTube that was meant for 18+ ages and set screen time limits for weekdays and weekends.
Unfortunately, when I originally downloaded the app, it took a while to initiate and begin downloading. When it was finally finished, I had to set up specific controls for each child I wanted to add to it — Overall, it took more than 10 minutes to have it ready to use on my Windows PC. I also found the parental controls tricky to set up and navigate as it's hidden in the "Privacy" tab — not where I first thought to look.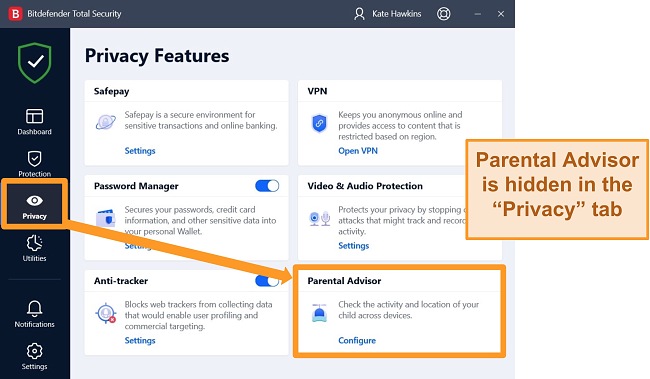 Bitdefender's Android app is considerably more comprehensive than its iOS counterpart. The Android app has features such as content filtering and app monitoring, perfect for keeping an eye on your child. The iOS is seriously lacking in any parental control features, due to app "sandboxing". This means third-parties can't access iOS apps, even trusted ones like parental control software. The only "parental control" feature the iOS app has includes call monitoring, which only allows calls from known contacts — no more spam or anonymous numbers can get through to your child.
If you'd like to test the parental controls for yourself, you can try Bitdefender for 30 days risk-free with its money-back guarantee. I wanted to verify Bitdefender's guarantee myself, so after fully testing the antiviruses' parental control features, I requested a refund through their email support system. I was skeptical since I didn't get a reply back until 5 days after I sent my request, but they replied back and accepted my request right away. Although it took another 5 days, I had my full refund back in my account.
Get Bitdefender for 30 days risk-free!
Comparison Table: 2021's Best Antiviruses With Parental Control
Content
Filter
App
Control
GPS
Tracking
Time
Restriction
Works On
1. Norton 360

✔

✔

(Android only)

✔

✔

Windows, Mac, Android, iOS
2. McAfee

✔

✔

✔

✔

Windows, Mac, Android, iOS
3. BullGuard

✔

✔

✘

✔

Windows, Mac, Android
4. Kaspersky

✔

✔

✔

✔

Windows, Mac, Android, iOS
5. Bitdefender

✔

✔

(excludes iOS)

✔

✔

Windows, Mac, Android, iOS
Top Antiviruses That Didn't Make the Cut
Some top-quality antivirus plans provide exceptional malware protection with free or built-in parental controls. Still, not all of them impressed me with their parental control feature quality or amount of features during my testing. Here are two antiviruses that didn't make the cut:
I was happy to find that Sophos offers web filtering options to block kids from accessing certain online content, such as online chat rooms, gambling sites, pornographic, and violence. Unfortunately, web filtering doesn't consistently work in tests. It all depends on which browser you're using — even with adult content blocked, some still got through on Google Chrome. Despite the set-back, Sophos is a lightweight and high-quality antivirus.
During tests, my team and I found Panda to be a solid antivirus option — its free version is particularly effective at blocking malware. Although free, Panda doesn't offer any free parental control features with its free plan. You'll have to purchase the Panda Dome Family plan if you want parental controls. This gives you access to real-time GPS tracking, app and game blocking, and more — but it's only available as a separate purchase.
How to Use an Antivirus with Parental Control Features
Download an antivirus like Norton 360 with free parental controls. You'll need to download the app to both your main device and your kids' device.

Find the parental controls feature and set up your parent account. This is what you'll use to configure app settings, downtime schedules, and website restrictions.


Create a profile for your child. You can customize this based on your child's age and what you want them to access.


Sign in to the app on your child's device. This links your main account to the device so you can use the parental control features on your own device.


Configure the parental controls. Some apps have pre-set options depending on how old your child is, or you can select them manually.
Enjoy peace of mind knowing your child's device is secure and can only access age-appropriate content!
FAQ: Using an Antivirus With Parental Controls
😅 Can my kids turn off the parental controls?
It depends on the parental controls you choose. Kids are increasingly tech-savvy, and some parental control features are easy to get around. You should look for parental controls that ask for your login credentials in order to switch off any blocks. Some services, like McAfee's Safe Family, send a notification to the parent device if changes are made, or rules are breached.
There are apps that even the most sophisticated parental controls can't access, like WhatsApp and Snapchat. These apps encrypt messages, preventing monitoring by a third-party parental control service. However, an antivirus with parental controls like Norton 360 allows you to block the software's download. This way, you don't have to worry about your kids using these secret messaging apps.
🤔 Why should I use an antivirus with parental controls?
There are many solid parental control apps on the market, but they won't protect your kids from malware. A top-quality antivirus with parental controls provides comprehensive, layered protection for your children and for your network. Your children are safe from online predators, the dangers of too much screen time, and malware posing as flashy pop-up ads and phishing sites.
Using an antivirus with built-in free parental controls will keep your entire cybersecurity suite in one place. Not only is this more convenient for controlling malware protection and parental settings, it's also more cost-effective than subscribing to multiple services.
🤑 What's the best cheap antivirus with parental controls?
The best value antivirus with free parental controls included is Norton 360's Deluxe plan. Our comparison table gives a quick look on why Norton offers the best value. For the first year, the plan provides exceptional malware coverage, parental controls, plus a host of added extras like a VPN, firewall, password manager, and dark web monitoring. When Norton 360 renews the price does go up, but even with the increase, it's still better value than antivirus packages from TotalAV and McAfee.
The cheapest option is BullGuard's Premium Protection plan, which also raises its price after the first year but not as much. However, some of BullGuard's parental control features are a bit outdated, and the interface can be confusing to navigate. For ease of use and overall protection and value, I'd recommend Norton 360 — and you can try it for 60 days risk-free with its money-back guarantee.
Keep Your Kids Safe Both Online and Offline
You don't just need to protect your kids from online predators and spending too much time on the internet. It's equally important to secure your child's device against malware, most of which is designed to steal their private files, photos, and personal information.
Luckily, you don't have to buy multiple software packages to cover every angle of attack. You can simply download a high-quality antivirus with free parental controls included. After conducting in-depth tests, I found Norton 360 is the best overall package for families.
Norton detected and blocked every piece of malware in tests. Its antivirus plan also comes with Norton Family, which is a parental control app specifically developed to keep young children and teens safe online. You don't have to take my word for it though. You can try out Norton for free for 60 days with the money-back guarantee. This gives you plenty of time to try out the parental controls on every device in your household.
Try Norton 360 risk-free today!
Summary: Top Antivirus Software With Parental Controls in 2021