5 Best Online Virus Scanners with Free Trials 2022
Last Updated by Sayb Saad on August 01, 2022
Most online virus scanners you'll find are sketchy, to say the least. They don't detect and remove viruses from your computer; even if they do, they're not great at it. Some of them can even infect your PC or are phishing sites attempting to steal your data.
You should steer clear of free online virus scanners and removers from less than reputable sources. They may put you and your data at serious risk. I tested dozens of virus scanners and made a list of a few reliable ones with free trials (or even completely free versions!) that you can use to protect yourself.
I suggest using a free trial of a reliable service rather than a free tool if you have sensitive data on your computer. Some free tools are great, but most are out there to steal your data or load your PC up with bloat. Therefore, I included virus scanners you can use risk-free with premium antivirus suites. I strongly recommend getting Norton Power Eraser as it gave me the best virus detection rates during my tests.
Try Norton Power Eraser risk-free!
Quick Guide: 5 Best Virus Scanners & Removers
Try Norton Power Eraser risk-free!
The Best Virus Scanners & Removers — Full Test Results in August 2022
Key Features:
4 advanced scanning options
100% detection rate
Free to download and use
Lacks real-time protection and a firewall
Norton Power Eraser is a free version of Norton's virus scanner that can be downloaded separately. Most antiviruses provide a free virus scanner with severe limitations, but I was thrilled to see Norton Power Eraser deliver the same results as Norton 360's scanner.
I planted malware like rootkits, trojans, and zero-day malware on my testing machine and scanned it using Norton's Power Eraser tool. I was pleased that its rootkit scan detected all the viruses on my computer. In addition, it also caught and removed all the PUPs (potentially unwanted programs) that came with the malware files.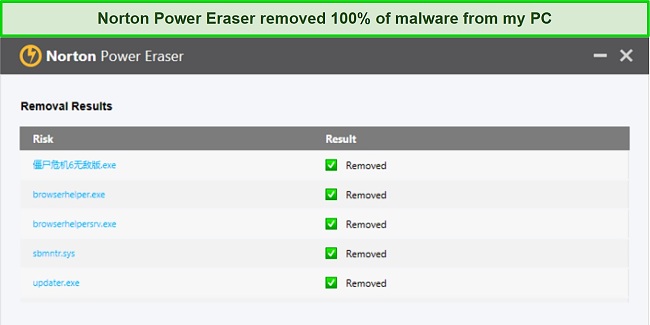 Norton Power Eraser is minimal software that isn't resource-intensive at all. I could easily stream Netflix and download resource-heavy apps like AutoCAD and Adobe Suite while running the scan. However, keep in mind that I have a high-end PC with a powerful CPU, so your experience might be different, depending on your computer's specs.
It offers 4 scan options — Unwanted Applications Scan, Reputation Scan, System Scan, and Multi-Boot Scan. The first scan option is a sort of optimization tool which removes unwanted files and PUPs from your computer.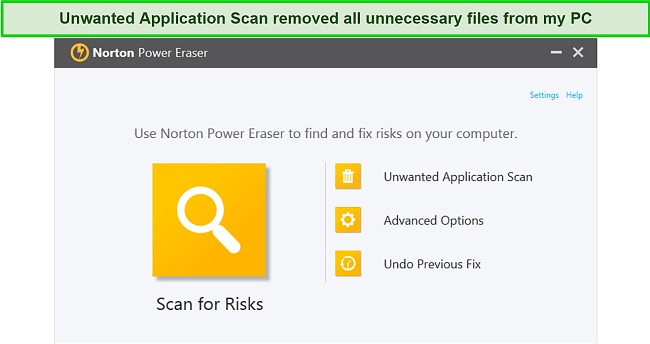 Its System Scan can check if your device is prone to vulnerabilities and needs a software update. However, its Multi-Boot Scan stood out the most — it can scan computers that run multiple operating systems.
The only drawback was that its rootkit scan took more than an hour to complete — that's a significantly long amount of time. On the bright side, the Reputation Scan was completed in under a minute and detected all viruses in the folders I selected.
The only two things missing with this free tool are real-time protection and a firewall. That means it can't protect you from real-time threats, like when browsing the internet. If you want complete and airtight protection, I highly recommend trying out Norton's full security suite with its 60-day money-back guarantee that starts at just $19.99.
Try Norton Power Eraser risk-free!
Key Features:
Global Threat Intelligence (GTI)
100% detection rate
Exceptional real-time protection
Hosts a browser extension and firewall
30-day free trial and 30-day money-back guarantee
McAfee offers a free antivirus software trial under its McAfee Total Protection plan. The only catch is that it's not technically free, but you can use it risk-free with its 30-day free trial.
I thoroughly tested McAfee's virus scanner and was pleased to see it deliver a 100% detection rate. It uses a cloud database with information on all kinds of viruses (Global Threat Intelligence) to detect stealthy and fast-emerging viruses.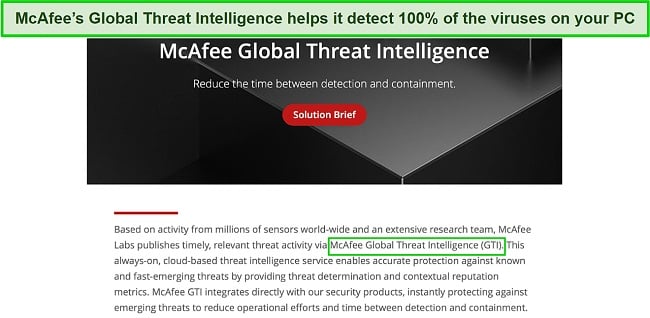 McAfee's virus scanner offers 3 scan options — Quick Scan, Full Scan, and Custom Scan. I recommend running the full scan because it checks every nook and cranny of your computer. It took about 10 minutes for the full scan to complete and 5 minutes for the Quick Scan, which is relatively fast compared to other premium antiviruses.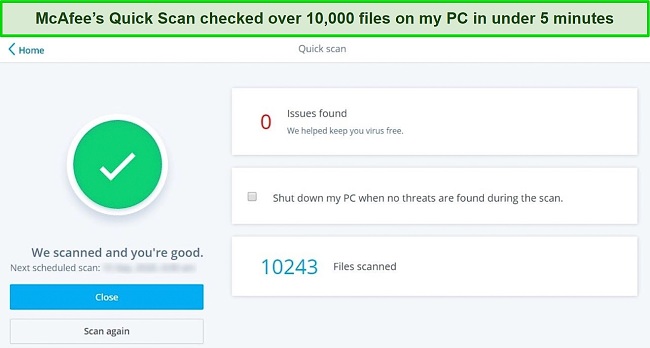 McAfee Total Protection provides exceptional real-time protection with its WebAdvisor browser extension and firewall. WebAdvisor lets you surf the web safely and blocks all potentially dangerous websites. I also liked that it marks each website on Google's SERPs with a green tick, indicating that it's safe to open.
I was especially impressed by McAfee's highly configurable firewall. It hosts various advanced features, such as a Traffic Controller, Intrusion Detection, and Net Guard. I especially liked "Intrusion Detection," which instantly blocks any unknown connections trying to connect to your computer. Having a firewall is a must-have, as Windows Defender can't protect you completely.
Although McAfee Total Protection isn't technically free, you can still use its 30-day free trial to test it out free. If you think it's worth it, you can buy a plan starting at $39.99 and make use it risk-free for another month with its 30-day money-back guarantee.
Try McAfee Total Protection risk-free!
Key Features:
Detects 99.2% of all viruses
Free antivirus doesn't include premium features, including real-time protection
Offers fast scans
Minimally resource-intensive
100% free to download
TotalAV is another complete security suite like McAfee, but it also includes a free antivirus scanner. This feature is great for users who don't need a comprehensive security suite but need to clean their computers of viruses every once in a while. You can download TotalAV's antivirus scanner on its website for free.
TotalAV free antivirus scanner is safe and reliable, but remember that it's a basic virus scanner and not a complete security suite. You won't get a real-time scanner and other protection features, such as a VPN, firewall, and browser extension.
I tested its free virus scanner, and it detected 99.2% of all malware I had planted on my PC, which is a decent score, considering the industry average is just 97%. Unfortunately, it missed out on a couple of zero-day malware, but, overall, it provides exceptional protection for a lightweight free scanner.
The free virus scanner was comparatively lighter than the TotalAV security suite. When I ran a scan on the latter, my CPU and disk utilization spiked to above 90%, and I noticed my PC slow down. You may experience a significant slowdown if you have a mid-tier computer. With the free virus scanner, however, my CPU and disk utilization stayed between 40 and 50%.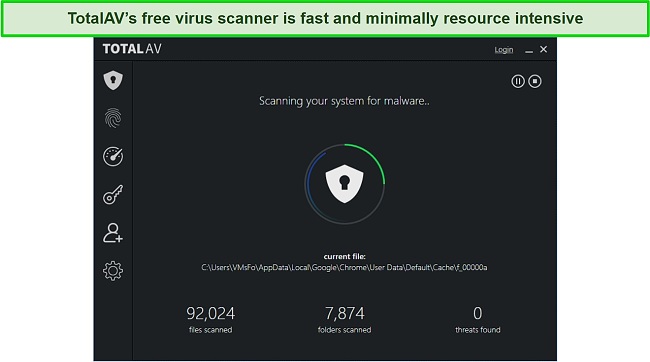 TotalAV's virus scanner was easy to use with its user-friendly and intuitive dashboard. The premium options are still available on the dashboard, but when you click on them, you'll be prompted to upgrade to a premium plan to use them. I would have liked it if its free virus scanner came with a few optimization tools because TotalAV is known for its nifty PC tune-up tools.
Overall, TotalAV's virus scanner is 100% free, so I don't mind if it lacks some of the premium features as long as it successfully detects viruses and keeps them at bay. However, if you want to upgrade to a premium plan and try out all its features for $19.00, you can use its 7-day free trial. It also provides a 30-day money-back guarantee if you change your mind after buying a plan.
Key Features:
Above-average malware detection
Weak against fast-emerging threats
Uses heuristic analysis and Proprietary Scan Cloud
Doesn't use many system resources
Not free, but it offers a 30-day money-back guarantee
iolo is another reputable player in the antivirus industry. It offers a variety of products, but if you're looking for a simple virus scanner, iolo's "Malware Killer" might be a good fit for you.
iolo Malware Killer comes as a standalone malware killer or a part of its complete utility package, "System Mechanic Ultimate." I used it extensively to test its detection abilities and found that it detected 98.7% of all the viruses, including spyware, trojans, rootkits, and worms. Like TotalAV, it failed to catch a handful of zero-day malware on my PC.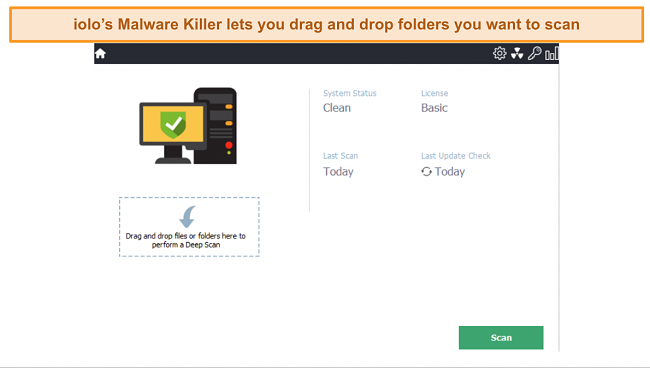 iolo's malware-detection engine uses heuristic analysis, which detects new viruses based on their shared characteristics with known viruses. It also features a Proprietary Scan Cloud, which sends suspicious files to iolo's cloud server database for identifying and profiling new threats.
iolo's Malware Killer is a very lightweight app that didn't take up many of my system resources. Even during a scan, my CPU and disk utilization remained under 60%, which is quite impressive. On the downside, it took almost 15 minutes to run a full system scan, which checked over 500,000 files on my PC.
Overall, I liked iolo's Malware Killer. It's an efficient malware remover that isn't too heavy on your system and provides excellent protection, and its detection scores are above the industry average. Although it isn't free forever, you can still use it risk-free with its 30-day money-back guarantee on its plans starting at just $23.99.
Try iolo Malware Killer risk-free!
Key Features:
Detects 99% of all malware
Only scan options available are Quick Scan and Full Scan
Schedule Scan option available
100% free to use
Bitdefender is another complete security antivirus, which offers a standalone free antivirus scanner. It offers good detection, and I was glad to learn that it revamped its previous free edition, adding more features to it. However, as far as scanning is concerned, you're limited to the Quick Scan and System Scan options with the free version.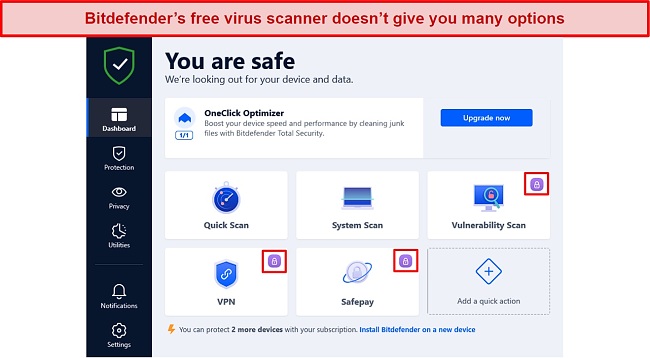 Bitdefender's free virus scanner provided excellent results. It detected 99% of all the viruses I had planted on my PC and only missed a few zero-day viruses. Bitdefender's full scan took about an hour to complete. I got a notification saying that the first scan might take a while, but the subsequent scans will be faster. I ran the second scan and it only took 10 minutes to complete.
I was happy to learn that, unlike Bitdefender's old free virus scanner, the new one lets you schedule scans. You can also use Bitdefender's "Virus Scanner for Mac" to protect your Mac for free. I used it and it detected all Mac-based viruses without any problems.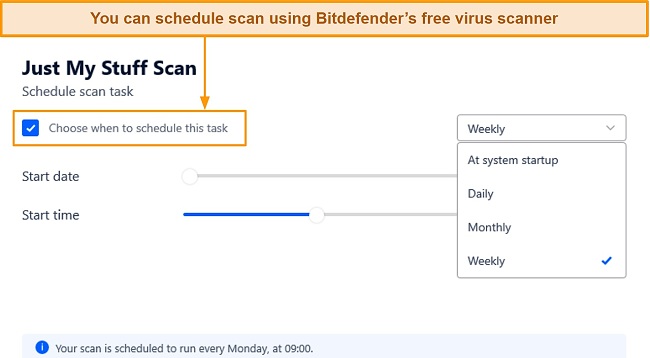 I was hoping that the new free version would let me use a premium feature called Rescue Environment, which removes threats that can't be removed as long as your computer is running the operating system. Unfortunately, it still doesn't offer real-time protection, so you won't have access to features like its online browser extension and firewall.
Overall, Bitdefender's free virus scanner is a decent option. It provides good detection scores and provides some flexibility, such as scheduling scans. The only downside is that its scans can be slow and resource-intensive. Although it's 100% free to use, if you want to access Bitdefender's premium features then you can upgrade to one of its plans starting at $29.99 and use it risk-free with its 30-day money-back guarantee.
Quick Comparison Table: 2022's Best Virus Scanners & Removers
How I Tested and Ranked the Best Virus Scanners & Removers 2022
I considered the following criteria to rank the best virus scanners and removers:
Free to use — The virus scanners on my list are free-to-use standalone scanners, have free trials, or can be used in conjunction with a money-back guarantee.
Reliability — Unknown free virus scanners can infect your PC. Therefore, I picked out reliable virus scanners affiliated with industry-proven companies.
Malware detection — I extensively tested each virus scanner and picked out those that provided above-average virus detection scores (97% or above).
Ease of use — All virus scanners on my list have a user-friendly dashboard and are easy to use.
Resource-intensiveness — I picked virus scanners that don't use up significant system resources.
FAQ: Best Virus Scanners & Removers
Can I use any free virus scanner?
No, most free virus scanners infect your computer instead of protecting it. They might have spyware or bloatware that can put you and your data at serious risk. Therefore, it's crucial to steer clear of virus scanners you haven't heard of and choose ones backed with a reliable name, such as Norton — here are my 5 best picks!
Alternatively, if you're looking for Mac-specific free antiviruses, I recommend using Intego because it offers plenty of Mac-specific features, such as a smart firewall, browsing extension, parental controls, and optimization tools.
What's the difference between a virus scanner and an antivirus?
A virus scanner is a standalone tool that detects malware and viruses on your computer. On the other hand, an antivirus is a security suite, comprising various security features, including a virus scanner. For instance, an antivirus typically includes a firewall, parental controls, VPN, real-time protection features, and more, which a virus scanner does not.
I considered a number of factors when picking out the 5 best virus scanners. I highly recommend Norton Power Eraser, which is also on top of my list because it provides perfect detection rates and fast scans without weighing down on your system.
Try Norton Power Eraser risk-free!
Detect & Remove Malware with Top Virus Scanners
While there are many free antiviruses you can find on the web, most of them do not offer decent malware detection, leaving you exposed to threats. Many of them can even infect your device with spyware and bloatware. Therefore, you must always use a virus scanner affiliated with a reliable name, such as Norton or McAfee.
I tested nearly all such reliable virus scanners and picked out the best 5 that provide perfect or near-perfect detection. Norton Power Eraser tops my list because it's the only virus scanner that gave me a perfect detection score. It also offers multiple scan options, a feature I couldn't find on many other virus scanners.
If you're looking for a virus scanner with real-time protection, I recommend you try out McAfee Total Protection because it offers a powerful web browser extension, firewall, VPN, parental controls, and more. Although it's not 100% free, you can still use it risk-free with its 30-day free trial. If you're still unsure of committing, you can use its 30-day money-back guarantee.
---
Summary — Best Virus Scanners & Removers 2022