Visit Psiphon Website!
Psiphon

Review 2023: Before You Buy, Is It Worth It?
Psiphon Overview 2023
Psiphon doesn't outrightly claim to be a VPN. Rather, it maintains that it's an open-source circumvention tool that gives unrestricted access to the open internet and easily gets past firewalls. I wanted to see if this disclaimer translated to poor service or if it ranked favorably with the top VPNs on the market.
My tests focused on the free desktop plan, but Psiphon has a premium plan available only for mobile devices, which I tried briefly using its 7-day trial. My results showed that while Psiphon can unblock most streaming services and browse securely, it had slow speeds, didn't support torrenting, and its privacy policy was unclear.
Psiphon offers a 7-day free trial by which you can evaluate the service risk-free without being bound to any financial obligations. It is also possible to request a refund; however, there is no reference to the period within which you can request the refund.
Don't Have Time? Here's a 1-Minute Summary
Psiphon Unblocks Netflix, Disney+, Max, and BBC iPlayer (But Can't Access Hulu and Amazon Prime Video)
Psiphon can unblock streaming services like Netflix, Disney+, Max, and BBC iPlayer, which is impressive. However, during my use of it, I noticed some speed issues with the servers. On the positive side, during tests, Psiphon was able to access several other services like Kodi, All4, Hotstar India, ITVX, DAZN, and YouTube. Unfortunately, it wasn't able to bypass restrictions on Hulu and Amazon Prime Video, which makes it less effective overall.
Netflix, Disney+, Max, and BBC iPlayer: Unblocked
During my Psiphon testing, I found out that it could unblock my US Netflix library. Sadly, the speed was inadequate for UHD video streaming. Moreover, I observed that regardless of the server I connected to, the videos required a considerable amount of buffering time. For example, when I rewound a segment of Cobra Kai by ten seconds, I had to wait for 30 seconds for the video to buffer. The fast-paced action scenes also had significant pixelation issues.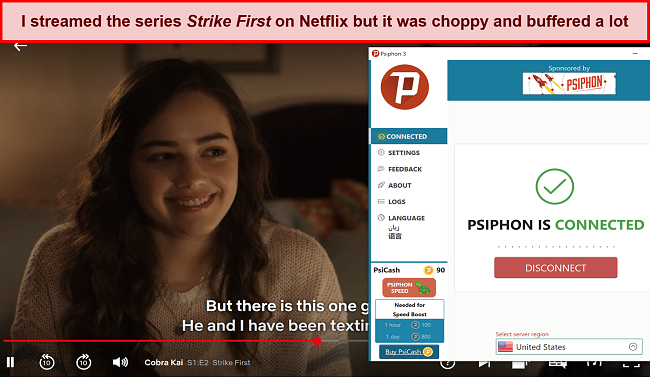 I was happy to find out that Psiphon allowed me to access Max, and I eagerly clicked on "His Dark Materials". The show started playing right away, which was great. However, as I watched, I realized that the video would frequently pause and take a long time to load. This made it difficult to enjoy the show and became quite frustrating.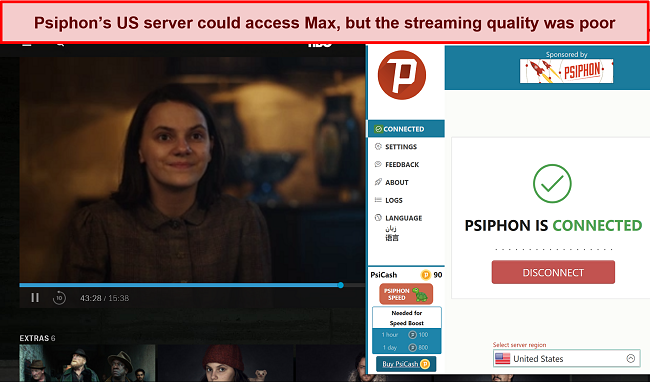 I could watch movies like The Bad Batch, Hocus Pocus, Marvel Studios Avengers: End Game, and The Wolverine with my Disney+ subscription using a number of Psiphon servers. Although I managed to unblock a lot of content, I faced issues while trying to watch most of these shows due to constant buffering.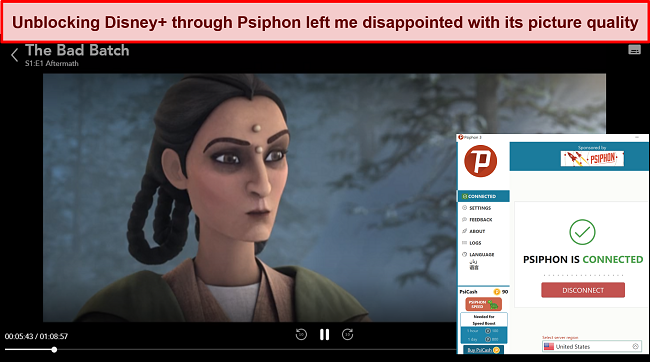 Psiphon also allows you to access your BBC iPlayer account, so you can catch up with your favorite Killing Eve episodes. However, due to the slow network, loading the BBC iPlayer page might take several attempts, and buffering may affect your streaming experience.
Hulu and Amazon Prime Video: Blocked
My attempt to access Amazon Prime Video and Hulu through Psiphon proved unsuccessful. Apparently, both streaming services were able to identify my VPN connection, which triggered geoblocking mechanisms, thereby restricting my access to their content. Consequently, I was disappointed upon receiving an error message.
ExpressVPN is a reputable streaming service with numerous servers around the world. Every service that I attempted to access including Hulu, Amazon Prime, BBC iPlayer, and several others, worked flawlessly at the first attempt.
Painfully Slow Speeds on the Free Version
Psiphon's free version often delivers painfully slow speeds, which can cause buffering issues while streaming high-quality videos. Upgrading to the professional version with faster internet speeds is recommended for a smooth streaming experience without interruptions.
Speed Test Results
I had a download speed of 40Mbps and an upload speed of 12Mbps before connecting to Psiphon. But, after connecting to Psiphon's free servers in the US, the UK, Japan, and Austria using its Windows app, my download speed dropped by over 90%. This is because the free version of Psiphon caps data speeds at 2Mbps.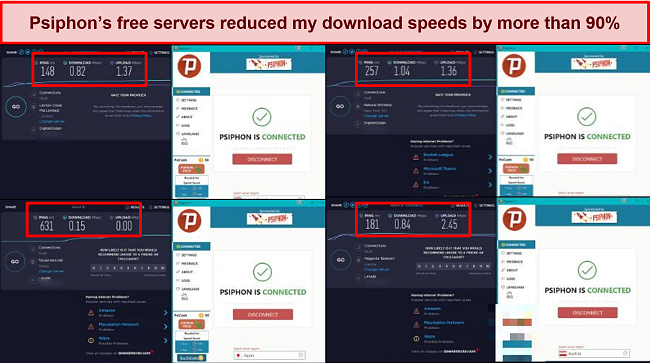 To enhance my internet speed, I decided to upgrade to a pricier internet plan. Curious to see if the investment paid off, I conducted several tests to measure my internet speed. As I analyzed the results, I found that my speed with the paid plan was actually quite better, averaging at 20Mbps, which was closer to my usual speed of 40Mbps. However, my enthusiasm diminished when I connected to a server in Japan, and my speed decreased dramatically to a meager 0.69Mbps.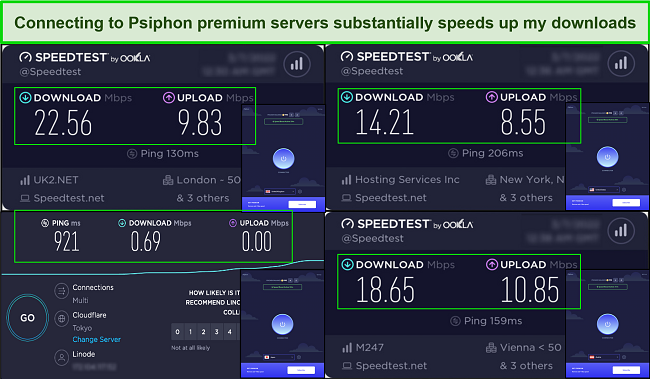 If you want little to no buffering during your shows on both your PC and mobile, I recommend you try ExpressVPN for its super-fast speeds that allow you to stream in UHD on all your devices.
Is Psiphon Fast Enough for Gaming? No!
While playing Call of Duty, I noticed that Psiphon Free and Premium didn't perform well. With nearby VPN connections, there was a delay of over 100 ms, and when I connected to a far-off server like Tokyo, my ping increased to 921 ms. This problem greatly affected my gameplay, causing clear delays.
Additionally, Psiphon lacks features like port forwarding, custom DNS servers, or unique VPN IP addresses that can improve online gaming. This lack of customization can, unfortunately, lead to a gaming experience that may not reach its full potential or prove as enjoyable as one would hope.
Why Most Speed Tests are Pointless & How We Correctly Test VPN Speeds
Speed determines how fast content uploads, so if you're torrenting or streaming, you want the speed to be somewhat identical to your regular internet speed. Since a VPN encrypts your data, it usually takes a bit longer to send your data back and forth, which can slow down your connection. However, if your ISP deliberately slows down your connection (also known as throttling) a VPN might increase your internet speed. Testing a VPN is somewhat pointless because new servers pop up and affect speed. Your speed can also differ according to your location, so your speed test might not match ours. Having said that, we tested the speed in numerous locations to provide you with the average.
Server Network — 20+ Server Locations on PC and Mobile Apps
Psiphon provides a means for browsing anonymously through a network of servers situated in 27 distinct locations. The exact number of servers remains undisclosed, but it is generally sufficient for most users' basic needs. However, if you require multiple IP addresses or access to geo-restricted content, this number may be limiting.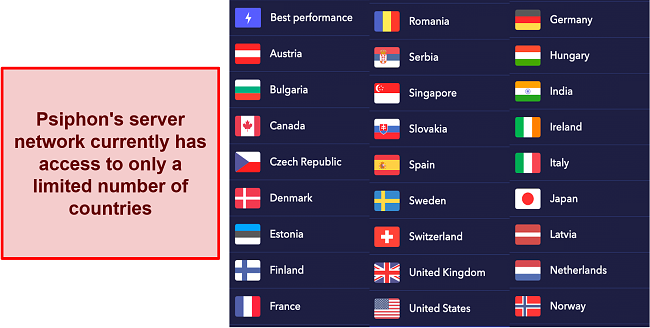 The server list is quite extensive and diverse for a free VPN, with servers from Europe, North America, and Asia. Sadly, the company does not have any server presence in Oceania, South America, and Africa. Server options are listed alphabetically based on country, but there are no city-level options available.
Psiphon provides an option for 'Best Performance' in its server list. Choosing this option should give you access to the country that will provide the best internet speed based on your location. It appears, however, that I was connected to the closest server, which was not necessarily the fastest.
CyberGhost has one of the best server footprints in the market today, which is why they have a dominant position and a large share of the VPN market. With over 9,600 servers in 91 countries, they provide reliable service as advertised.
Security — Few Security Features
Psiphon, primarily designed to bypass internet censorship constraints, places less emphasis on security and privacy during online browsing. This focus is evident in the absence of sophisticated security functions, such as a kill switch mechanism, which would halt internet access in the event of a lost VPN connection. Furthermore, Psiphon does not employ robust protocols that are commonly associated with improved online security, leading to a more basic level of protection for users.
Security features offered include:
Solid security – data is encrypted using AES 256-bit encryption and SHA1 cryptographic hashes. It tunnels data in proxy mode using SOCKS and HTTPS over port 443.
L2TP and SSH – you can set your Windows and Mac applications to use L2TP/IPsec in Transport mode to transmit double-encapsulated VPN traffic. In addition, Psiphon uses SSH as its default transport protocol, along with obfuscation encryption to protect against protocol fingerprinting.
Split tunneling – Psiphon offers a split tunneling feature that keeps local sites or apps outside the encryption tunnel for increased speeds. To activate Psiphon's VPN tunneling feature on the Windows app, you will need to go to the "Settings" tab.
Psiphon uses a "one hop" architecture that connects devices directly to the server without any intermediate steps. To maintain this architecture, Psiphon relies on cloud providers to host and manage its infrastructure. This approach enables Psiphon to quickly scale its infrastructure and provides users with a fast, reliable, and secure way to access the internet without restrictions.
To ensure secure browsing, Psiphon also runs its own DNS servers. When you use Psiphon on a Windows device, it automatically modifies your DNS settings to connect to a group of trusted servers. This prevents any DNS leaks while using Psiphon and guarantees a smooth, secure internet connection.
Although L2TP/IPSec may not provide the same level of security as more renowned protocols like OpenVPN, my tests revealed that Psiphon's US server effectively concealed my IP and DNS information. Furthermore, I performed WebRTC leak tests during my Psiphon assessment, and the results indicated no leaks. This demonstrates that Psiphon is a reliable and secure VPN service, giving you confidence in your online privacy.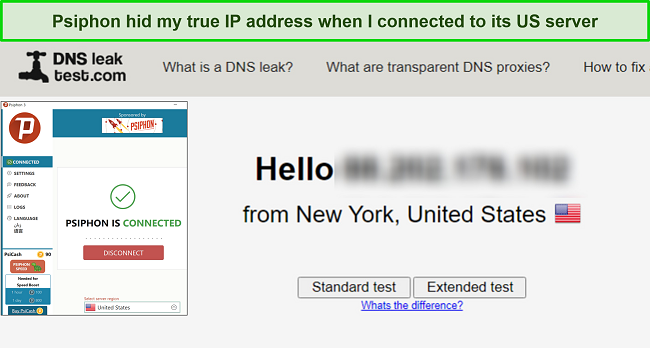 A 2017 security audit by Cure53 emphasized Psiphon's dedication to open-source development. This comprehensive review spanned 22 days, involving nine testers who scrutinized various aspects of Psiphon's software. The results of the audit were quite positive, as no major risks were uncovered. Out of the two major vulnerabilities found, one has already been fixed, while plans are in place to address the other in upcoming releases.
Additionally, the audit brought attention to seven other minor issues. So far, four of these have been resolved. The team at Cure53 praised the quality and neatness of Psiphon's code, which speaks to their commitment to excellence. Notably, this was the second security audit that Psiphon has undergone within a three-year period, further emphasizing its dedication to maintaining a secure and reliable platform.
Privacy — Huge List of Logged Data
Psiphon will not keep your internet activity private. The VPN logs personally identifiable information, like your chosen connection protocols, the length of time the device was connected, the number of bytes transferred during a session, and which city, country, or ISP the connection came from.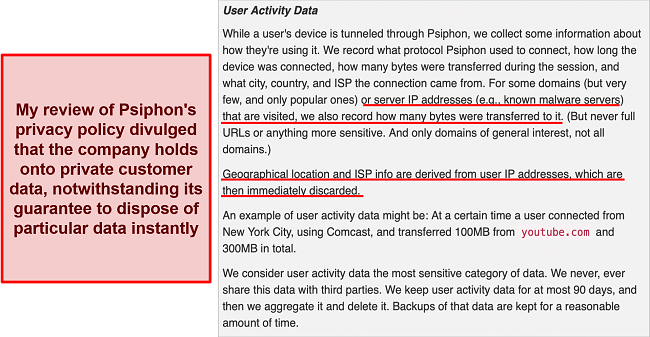 Psiphon collects some information like server IP addresses and the number of bytes transferred, but it doesn't store full URLs or user IP addresses, which makes it difficult to trace activity back to you. The data it collects is only kept for 90 days and won't be shared with third parties, so after that time, no one can trace the information back to you.
While Psiphon does share some aggregated data with third parties, it takes steps to ensure that it can't be used to identify individual users. However, the free version of the software does allow advertisers to collect some user information because it relies on ads.
Psiphon is a VPN service provider based in Canada, which is part of intelligence-sharing alliances. These alliances consist of countries that collaborate on intelligence sharing and surveillance activities. This means that Canada, as a member of these alliances, may be asked to share digital information with other member countries. As a result, Psiphon may also face pressure to do the same, particularly if the Canadian government demands access to Psiphon's user data.
If you value your privacy, it's essential to be aware of the potential risks associated with using a VPN service based in a member country of these alliances. For this reason, I recommend choosing a VPN service that doesn't keep sensitive logs and isn't a part of these intelligence-sharing alliances. ExpressVPN is a great option since it doesn't keep logs and isn't associated with these alliances.
Torrenting — Supported But Not Advised
While Psiphon may allow torrenting, I would strongly recommend avoiding it for several reasons. Firstly, it lacks a kill switch which could potentially expose your private P2P activities to your ISP or other third parties. Additionally, the speed of the service is notoriously slow, meaning that any files you attempt to download could take a significant amount of time to complete the download process.
Furthermore, Psiphon logs personally identifiable information, which could be used to identify you based on your P2P activities. All things considered, it's best to steer clear of Psiphon for your torrenting needs. If you're often downloading large files simultaneously, CyberGhost is a better choice for high-speed torrenting, and it does not keep any logs. As a team, we do not endorse engagement in any unlawful actions. To ensure that you are not breaching any legal requirements in your country, kindly review the regulations and statutes applicable to your location.
Does Psiphon Work in China? Yes!
Although I haven't personally tested Psiphon in China, its customer support team assured me that the software is accessible to everyone worldwide, including Chinese citizens. The provider claims to use a proxy service that utilizes the SSH obfuscation protocol to bypass government firewalls and evade Deep Packet Inspection (DPI). As a result, the software has gained popularity not only in China but also in other countries that have a history of censorship, such as Iran, Turkey, and North Korea.
Due to the Chinese government's strict internet censorship policies, access to VPN sites is often blocked by their firewalls. However, Psiphon provides a solution to this problem by offering the ability to download their service through email. By sending an email to the company's official email address, you can easily obtain the download file for Psiphon without having to go through a web browser, which adds an extra layer of protection against potential monitoring or interception. This feature not only allows you to access your favorite content while on a trip to China, but also ensures their privacy and security while doing so.
While it is true that non-government-approved VPNs are considered illegal in China, it is worth noting that tourists have not faced any penalties from the Chinese government for using them. Exercise caution when accessing the internet in China as the government monitors online activity and may take action against violators of internet regulations.
Server Locations
Denmark
Estonia
Finland
France
Germany
Spain
United States
User Experience
- 7.0
/ 10
Simultaneous Device Connections — Premium Plan Works Only on One Device at a Time
Psiphon's support team informed me that the premium plan only supports one-device connection at a time. However, you can still use its free plan on an unlimited number of devices, which means you can protect as many devices as you'd like without buying the premium version. I experienced no difference in performance when using the free plan on my macOS, Windows, iOS, and Android devices simultaneously.
Device Compatibility — Works With Popular OSes
Psiphon is a versatile tool that works with various devices, including Windows computers, Macs with the M1 chip, Android phones, and iOS devices. To download the software, simply visit the Psiphon website for all the necessary links. If you live in a region where access to these platforms is limited, don't worry—you can still request the download files through email. Keep in mind, though, that Psiphon doesn't officially support other devices like Chromebooks, Linux-based systems, gaming consoles, or routers.
Ease of Setup & Installation — Straightforward Installation Process
When I installed it on my Windows and Android devices, the process was seamless and hassle-free, and I didn't encounter any issues. It's worth noting that the Windows app uses the proxy model by default, which is Psiphon's primary anti-censorship tool. However, if you prefer to use the VPN, you can easily switch to it by going to Settings, selecting Transport Mode, ticking the L2TP/IPSec box, and clicking Apply Changes.
On Android, to use the VPN, you'll need to enable 'Tunnel Whole Device'. Meanwhile, if you're an iOS user, it's crucial to use the main Psiphon app instead of the 'Psiphon Browser for iOS,' which is a proxy. One of the most outstanding features of the Psiphon Pro is its simplicity. Once you download the app, you can easily change servers by going to Options and clicking Start to connect.
The options, available in the settings menu, comprise minimizing the program to the system tray, selecting a server location, and enabling split tunneling. You also have the choice to allow or disallow automatic local proxy port selection, as well as to enable or disable traffic alerts and timeouts for slow networks.
For those utilizing Psiphon on an institutional network, configuring an upstream proxy that reroutes all outgoing web requests to a designated server can prove to be particularly advantageous in safeguarding and securing internet traffic.
Steps to Installing Psiphon on Windows
Download Psiphon for Windows. You can download the Psiphon VPN executable file from the official website. Select the appropriate version of the software based on your Windows operating system.


Run the executable file. Once the download is complete, locate the downloaded executable file on your computer and double-click on it to launch the program.
Connect to a server. Once Psiphon opens, click the "Connect" button to establish a VPN connection. The program will automatically connect you to the fastest server available, but you can also select a specific server from the list of available options.


Check your connection. After you are connected to the VPN, you can check your connection by visiting any website or using any online service. Your IP address should be hidden, and your internet traffic should be encrypted.

Psiphon offers limited guides that only cover the setup process and some basic troubleshooting on the FAQ page on its website. For further support, the only way to get in touch with Psiphon is through email.
I reached out to Psiphon customer support to ask about port forwarding (to try and get around a known port restriction regarding email service) and waited 3 days for a response. The answer I got wasn't very useful since the agent sent me the same article I'd already seen in the FAQ without providing additional troubleshooting steps.
If you're looking for another option, the Psiphon Chatbox on Facebook is worth considering. Keep in mind that if you link your Facebook account to Psiphon, the VPN will have access to your profile details, like your contacts and location.
How We Test Customer Support and Why Should You Care
We personally test the customer support team of every VPN we review. This means asking technical question through the live chat feature (where applicable) and measuring the response time for email questions. Whether you need to connect to a specific server, change your security protocol, or configure a VPN on your router, finding a VPN with quality customer support should be important to you.
Psiphon is not worth your money due to its relative lack of quality. The free version of the app has a speed limit of 2Mbps, but if you want faster speeds, you have to pay for it using an in-app currency called PsiCash. With PsiCash, you can buy faster speeds for different lengths of time, like an hour or a month.
Upon downloading the Psiphon app, you'll get 90 free PsiCash tokens. Psiphon says that these speed boosts are unrestricted, which means that you can use them without any limitations. Additionally, a premium subscription plan for mobile devices is available for a weekly, monthly, or yearly fee, which provides maximum speeds and an ad-free experience.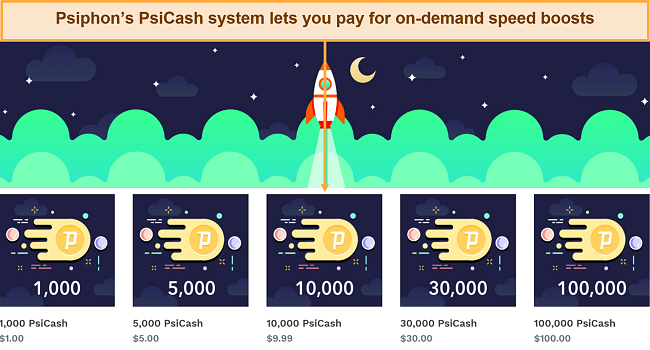 Psiphon provides a one-week trial subscription that you can access by registering through its iOS or Android app. This trial period allows you to test the paid version of the app, with full access to all its features and functions. If you find that the app doesn't suit your needs, you can cancel the subscription before the trial ends to avoid being charged for the premium plan.
If you decide to purchase a plan and later change your mind, you can request a refund through the Google Play Store or the App Store. Alternatively, you can also reach out to customer support via email. Keep in mind that the process of getting your money back may take up to a week. This way, you have options to ensure your satisfaction with the app and its features.
Psiphon accepts a limited number of payment methods, including credit and debit cards, as well as Paypal. There are no options to pay with Cryptocurrency, nor international methods like AliPay or UnionPay. If you're in search of a VPN that provides a lengthier money-back guarantee than Psiphon, you may want to explore this selection of the best monthly VPNs.
Psiphon offers the following plans
Final Verdict
Psiphon is a decent free tool for simple browsing needs and basic IP protection, but it can't beat premium VPNs in speed, security, and support. Although its free plan can unblock some streaming services like Netflix, Disney+, Max, and BBC iPlayer, it throttles speeds at 2Mbps, which is not fast enough for streaming in UHD.
Its premium plan for mobile devices — although faster than its free version — does not compare in price or performance to top VPNs on the market. For example, ExpressVPN beats Psiphon in terms of server count, high speeds, and an abundance of extra features with a similar price tag. The best part is that you can test ExpressVPN completely risk-free as it is backed by a 30-day money-back guarantee. If you don't feel it's right for you, you can easily get a full refund.
FAQs About Psiphon
Is Psiphon good?
No! Although Psiphon's free version won't cost you a dime, you end up paying for it in ads, slow speeds, and limited features. At a higher price for unlimited service, the downsides of Psiphon's premium account are overwhelming. There is no kill switch, an essential security feature, to protect you in the event of a network interruption. Additionally, an account is only compatible with one mobile device, and its server locations are limited.
Can I use Psiphon for free?
Yes, Psiphon provides a free plan that doesn't require any registration or payment information. By subscribing to its iOS or Android application, you can opt for a 7-day trial to experience the premium version.
While the best free VPNs are worth trying out, streaming sites will generally blacklist the IP addresses free VPNs use. As a result, you're unlikely to bypass most streaming services' restrictions with a free VPN.
We rank vendors based on rigorous testing and research, but also take into account your feedback and our commercial agreements with providers. This page contains affiliate links.