Norton VS Malwarebytes: Which Is Best in 2022
Last Updated by Sayb Saad on July 01, 2022
Norton and Malwarebytes are two of the most renowned names in the antivirus industry, but I wanted to see if these two top contenders could live up to their ambitious claims. It can be difficult to trust antivirus claims since so many tend to exaggerate their efficacy. That's why I placed these two contenders head to head to see which one would come out on top.
I tested both antiviruses extensively in 10 crucial areas. It was a close competition, and both contenders performed exceptionally well, especially when it came to malware detection and real-time protection. In the end, however, Norton emerged victorious, mainly because Norton 360 is an entire internet security suite that offers an array of additional features at the same price as Malwarebytes.
Norton repeatedly gave me perfect detection scores across all my malware scan tests, including real-time protection. However, Malwarebytes didn't lag behind much in this department. Since it's not a security suite and only an antivirus, Malwarebytes doesn't provide features I deem essential for an antivirus security suite, such as a password manager, firewall, and parental controls.
No Time? Here's a 1-Minute Summary of Category Winners
Both Norton and Malwarebytes provide exceptional detection and are more than capable of protecting you from threats in real-time. Although Malwarebytes is less resource-intensive and has a better VPN than Norton, it loses out because of its lack of additional security features.
| | | |
| --- | --- | --- |
| | | |
| Virus Scanner | Detected 100% of the malware and offered the fastest full-scan time I've seen | Detected most viruses but couldn't detect zero-day malware in my tests |
| Real-Time Malware Protection | Detected and removed 100% of real-time threats | Detected and removed 98.8% of all real-time threats |
| Web Protection | Blocked all dangerous websites and links and works on Mac | Blocked all dangerous websites and has more features, but ransomware protection doesn't work on Mac. |
| System Performance | Used ample resources without weighing down too much on system performance | Used significantly fewer resources and was light on my computer, but it took much longer to perform scans |
| VPN | Offers 70 servers in 30 countries | Offers 450+ servers in 30+ countries and provides faster speeds |
| Parental Controls | Includes user-friendly parental controls feature that offers app and website restrictions and even screentime usage. | Doesn't include parental controls |
| Firewall | Has a smart firewall that configures itself automatically and hosts a ton of features for advanced users | Doesn't have a firewall |
| Password Manager | Has a well-integrated and powerful password manager that can save an unlimited number of passwords | Doesn't have a password manager |
| Customer Support | Offers 24/7 live chat, phone support, and a community forum | Offers 24/7 live chat and an email ticket system |
| Price | Provides a 7-day free trial and a 60-day money-back guarantee | Provides a 14-day free trial (only on Windows) and a 60-day money-back guarantee on its premium plan and a 30-days guarantee on its regular plans |
How I Tested and Compared Norton and Malwarebytes in 2022
1. Virus Scanner — Norton Has Better Detection
After rigorously testing both contenders' virus scanners, I found that Norton 360 provides faster and more accurate malware detection. However, Malwarebytes didn't lag behind much. It provided exceptional results, except that it missed some zero-day malware I had planted on my testing machine.
Norton provides 3 scan options — quick scan, full scan, and custom scan. I ran the quick scan, and it scanned more than 11,000 files in about 2 minutes. What impressed me more is that it scanned over 900,000 files totaling 500GB in just 10 minutes — that's the fastest scan I've seen so far!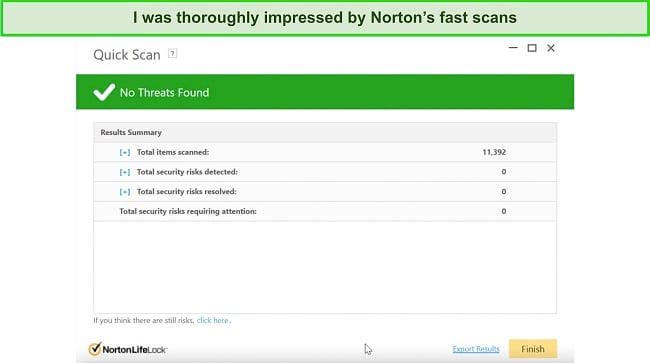 Malwarebytes also provides the same scan options as Norton, with the addition of its Threat Scan feature, which is a basic scanner available on its free plan. I ran a threat scan and was surprised that it took as little as a minute to complete. In addition to scanning viruses, it detected 2 potentially unwanted programs (PUPs), which is a great feature, but it can also flag legitimate files at times.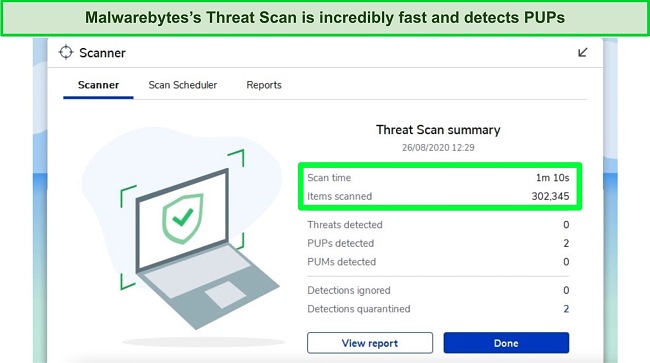 Malwarebytes's full scan took about an hour to complete, which was significantly longer than how long Norton took. I also noticed that, unlike Norton, Malwarebytes failed to detect some zero-day malware I had planted on my computer.
All in all, Norton is faster and more accurate than Malwarebytes and repeatedly gave me a 100% detection rate, thanks to its Power Eraser tool, which removes hard-to-find malware. It also hosts a feature called Norton Insight that learns which file locations on your computer are safe, making all your future scans happen faster.
2. Real-Time Protection — Norton Is More Technologically Equipped
Besides its perfect malware detection rates, Norton detected 100% of real-time threats, compared to Malwarebytes's 98.8% detection rate. Real-time protection is the single most important thing you should be looking for in an antivirus. It refers to how well an antivirus can protect you from viruses in real-time, both online and offline.
I downloaded 7 controlled malware from the EICAR (European Institute for Computer Antivirus Research) to see which contender provides better real-time protection. I first turned off real-time protection for each antivirus and turned it back on after the malware had been planted.

Norton blocked all of them though I had to unzip Eicar Sample 2 before it could detect and block the malware contained in it. On the other hand, Malwarebytes couldn't detect and remove Eicar Sample 2, but I was impressed that it blocked all the live samples.
I was curious how Norton gave me perfect scores on my detection and real-time protection tests. After doing some research, I found that Norton uses an AI-powered tool called SONAR analysis, which detects unknown threats based on how similarly they behave to known threats. That's why Norton can detect even the stealthiest of new viruses beforehand.
3. Web Protection — Norton Provides 100% Online Protection at All Times
I wasn't surprised that Norton provided airtight web protection throughout my testing. It successfully blocked all the potentially dangerous websites, thanks to its Safe Web browser extension.

You can use Safe Web on Chrome, Firefox, Microsoft Edge, and Safari. That's a big plus because I've seen that many antiviruses aren't compatible with Safari, which is a major issue for regular Mac users like me.
Apart from blocking malicious websites, Safe Web also warned me when I was about to download an infected file. I downloaded it anyway to see what would happen, and it turns out that Norton quarantined it automatically.
I was further impressed to see that Norton offers a Safe Search extension, which changes your default search engine to Norton's native search engine for risk-free browsing. All these factors combined, I was convinced that Norton leaves no room for error when protecting you from all kinds of malware.
Having said that, Malwarebytes gave me exceptional web security as well. It blocked all the dangerous websites and prevented me from downloading infected files, but it occasionally flagged non-infected files like torrent files as malicious.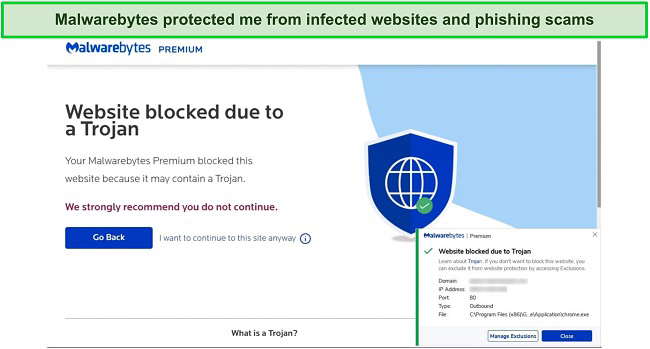 I was especially impressed by Malwarebytes's Exploit Protection feature, which you can use to add an extra layer of security for vulnerable apps. You can add as many apps to the list as you want, and the antivirus will automatically detect when the said app is under threat.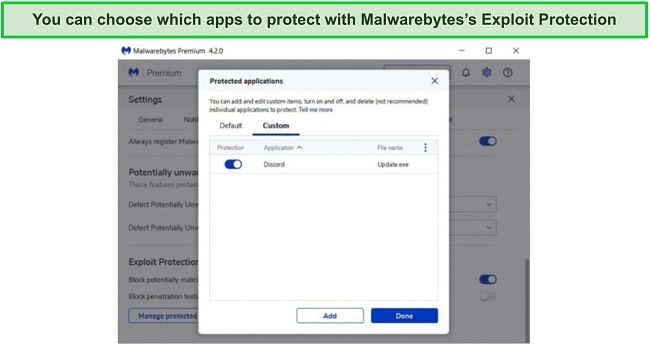 It's true that Malwarebytes offers more online protection features, such as Exploit Protection, but it doesn't provide ransomware protection for Mac. While it's true that Macs rarely get infected by ransomware, I think it's always better to be safe than sorry. Therefore, Norton 360 wins this round thanks to its superior real-time protection capabilities and support for both PCs and Macs.
4. System Performance — Malwarebytes Is Lighter on Your Computer
I ran multiple tests and found that Malwarebytes was lighter on my system than Norton. I monitored my CPU and disk utilization levels during this test while running a full scan on each antivirus. Keep in mind, though, that I have a high-end PC with a powerful processor, so these results may not necessarily apply if your equipment is older. However, regardless of hardware, it was clear which antivirus used more system processing power.

Before starting the test, I recorded my baseline CPU, memory, and disk utilization levels having each antivirus opened in the background. Both Norton and Malwarebytes gave me excellent baselines, and I was able to surf the internet and use heavy applications without any problems.
When I ran the full scans, my CPU utilization spiked up to 84% with Norton and only 6% with Malwarebytes. That's a significant difference on paper, but it wasn't that noticeable. I was still able to stream videos at the same on multiple tabs. Though you could run into lags if you're trying to use resource-heavy programs like Adobe Premier or game while such a resource-intensive scan is being done.
Norton is a bit heavy on your computer because it uses more MBs per second (see Full Scan Disk Utilization column), making the scans happen faster. I wouldn't call this a disadvantage and would prefer the scan happens faster even if the system utilization is higher during it.
The cost, however, was that I felt my computer lag a bit when I tried downloading and using apps like MS Office and Adobe suite during the full scan. On the other hand, I didn't experience this problem with Malwarebytes, although its full scan took a significantly longer time to complete.
At the end of the day, it's up to you if you want to compromise a bit on system performance for faster scans, but, overall, Malwarebytes is less resource-intensive than Norton.
5. VPN — Malwarebytes's VPN Has More Servers
The best antivirus software will come packaged with a quality VPN, and these two were no exception. I found Malwarebytes's VPN is more capable of unblocking content and is faster than Norton's. The only catch is that Malwarebytes provides a VPN with its top-tier plan called Premium + Privacy VPN, whereas Norton provides a VPN in both its mid-tier and top-tier plans.
I used Norton's Secure VPN and was pleased to know that it doesn't have any data caps, unlike most antiviruses. I logged into my Netflix US account and streamed an episode of Schitt's Creek in HD without any buffering.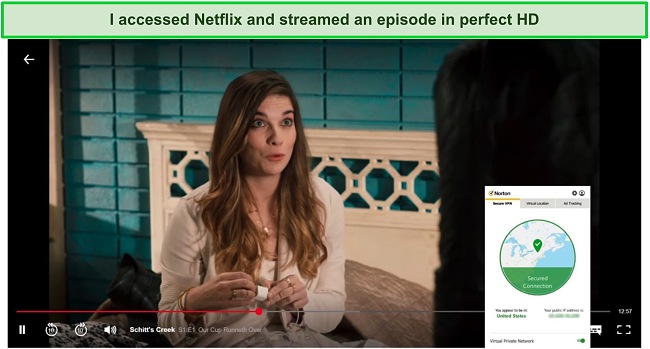 I tried logging into my Disney+, Amazon Prime Video, and HBO Max accounts but couldn't. I was expecting Secure VPN to unblock them, but these platforms can easily detect if you're using a VPN and block your access.
After that, I used Malwarebytes to access these streaming platforms, and, to my surprise, I got in! Not only that, I streamed multiple shows and movies in HD at different times of the day without experiencing buffering.
I was curious why Malwarebytes's VPN was significantly better than Norton's. I found that Malwarebytes's VPN offers 450+ servers in 30+ countries, whereas Norton's Secure VPN only has about 70 servers. It was no wonder that Norton couldn't unblock most content while I was traveling.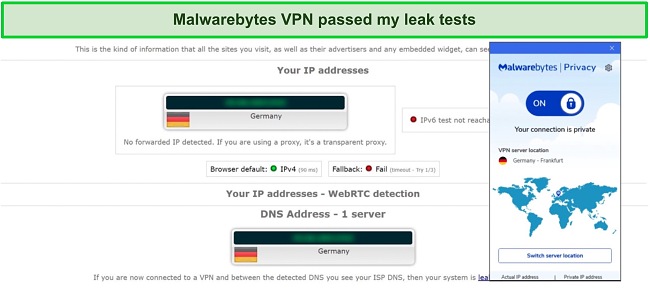 I ran speed tests and found that Malwarebytes's VPN gave me 30% faster speeds and a lower ping than Norton's Secure VPN. I was also impressed by the airtight security it offers. I ran multiple DNS tests, and Malwarebytes VPN passed them without fail. Overall, Malwarebytes's VPN offered me better speeds, unblocking capability, and security than Norton's.
6. Parental Controls — Norton Offers Powerful and User-Friendly Parental Controls
I was extremely pleased with how easy it was to use Norton's Parental Controls feature and remotely monitor your child's online and offline activities! I consider parental controls a vital feature for any antivirus and was disappointed to find out Malwarebytes doesn't offer it.
I extensively used Norton's Parental Controls and was impressed that it lets you create up to 15 child profiles on a single subscription. That's more than enough to protect your family, especially if you need to monitor your children. Most importantly, you don't need to be a tech wizard to set up parental controls.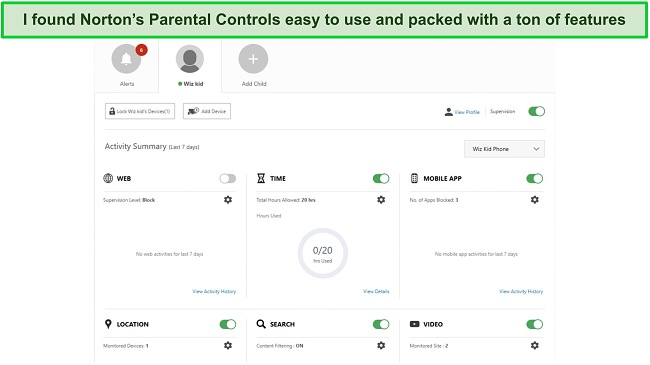 Norton's Parental Controls is the most feature-packed monitoring tool I've ever seen. You can block websites, restrict mobile apps, filter content, and view web and video history. It gives you total control over what your child is doing online and offline, even if you're in a different country!
7. Firewall — Norton Features an Intelligent Firewall
Norton boasts a powerful smart firewall that automatically configures itself as soon as you install the antivirus. It has a list of trusted programs that it doesn't block and monitors the behavior of new applications to see if they pose any threat to your computer.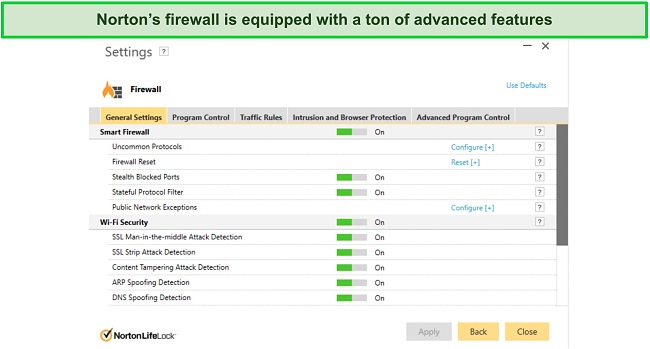 I extensively tested Norton's firewall, and it immediately flagged when any programs running on my computer attempted to connect to an external source or vice versa. Plus, it constantly monitors incoming and outgoing traffic on your system and blocks any suspicious behavior, keeping you safe from threats you're not even aware of.
Norton has one of the most sophisticated firewalls I've seen in an antivirus, hosting an array of technical features for advanced users. For instance, you can set traffic rules, manage public network exceptions, and enable browser protection. Having all these settings makes Norton's firewall quite flexible, so you can tailor the settings to how you like them.
8. Password Manager — Norton Makes Password Management Hassle-Free
I used Norton's password manager and was impressed by how well integrated and user-friendly it is. On the contrary, Malwarebytes doesn't have a password manager.
I consider a password manager a must-have for every antivirus, irrespective of whether it is an entire security suite. A password manager isn't just an added utility; it's a vital safety measure against unwanted keyloggers that can record your keystrokes and steal your data.
Norton's password manager is pretty straightforward. You can save all your passwords in its vault in a few clicks. The most impressive thing about it is that it can store an unlimited number of passwords, whereas most password managers I've used have a limit.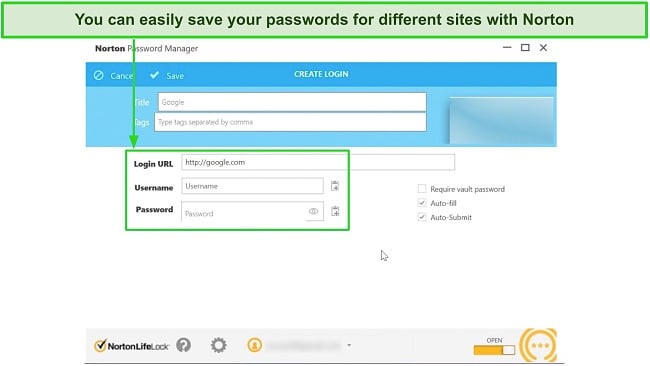 Once I stored all my passwords, I never had to remember them again. Norton auto-filled my username and password whenever I visited a saved website. Norton's password manager automatically syncs passwords across all linked devices. When I reset a password on my PC, it automatically got updated on my phone.
Another unique feature of Norton's password manager is its Auto-change Password feature, which you can use to generate strong passwords and store them securely. I didn't have to take time to manually update the passwords Norton generated for me, at least for well-known sites like Facebook, Netflix, and Reddit.
Norton's password manager makes password management seamless and hassle-free. I would have liked to see it have two-factor authentication as an added security feature. Nonetheless, it keeps all your passwords safely in one place and away from keyloggers.
9. Customer Support — Both Provide Excellent Support, but Norton Offers More Support Options
I tested each contender's customer support and was pleasantly surprised by both, but Norton wins this round because it offers an additional support route. Malwarebytes offers 24/7 live chat and an email ticket system, whereas Norton provides a live chat, phone support, and a community forum.
First, I tried out Malwarebytes's live chat and asked the agent how to enable "gaming mode" on the antivirus. I had to wait about 2 minutes before an agent took my query. The agent resolved my queries and even provided me with a link to the website's support section.
At the end of the conversation, the agent asked if I was satisfied with their answers and if there was anything else I need help with. Overall, I found Malwarebytes's live chat very helpful and professional.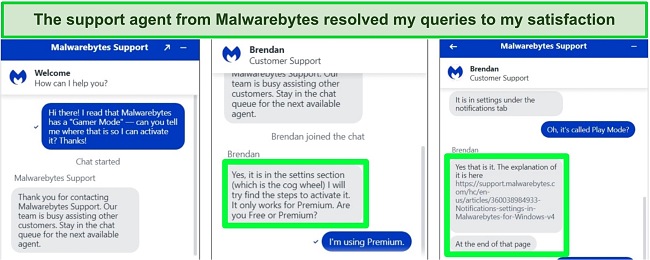 I also tried Malwarebytes's easy-to-use email ticket system. You just need to fill out the form on the website with your email address and query, and you'll get an answer in your inbox in a couple of hours. I wasn't expecting I would get a response within 3 hours, which is a decent response time for email support.
Next, I tested Norton's live chat and immediately connected to a customer support agent. I asked a question about Norton's Power Eraser tool, and the agent provided an in-depth answer to my query.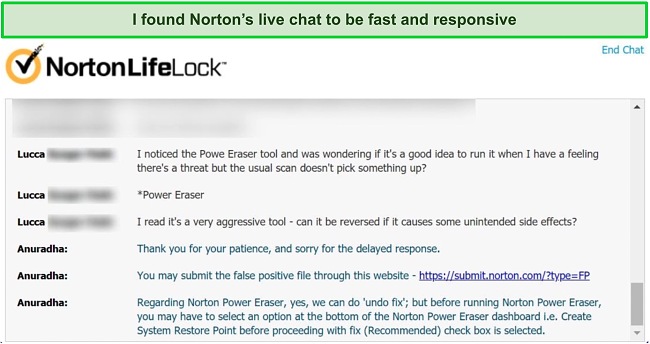 Apart from its live chat, Norton also offers phone support in 53 countries and multiple languages. I filled out an online form on Norton's website and was provided a US number to call. I called that number and had to stay on hold for about 10 minutes before an agent got back to me.
Phone support isn't lightning-fast, but if you need to ask something very technical that can't be communicated via live chat, it's a good option. Lastly, don't forget to check out Norton's community support forum, which has tons of detailed articles and FAQs from moderators and members.
Overall, both Norton and Malwarebytes provide exceptional customer support. I would have called this round a tie if Norton didn't offer phone support.
10. Price — Norton Offers Better Value for Money
After checking out both contenders' price plans, it was obvious that Norton's plans are not only cheaper but also pack a ton of features that Malwarebytes doesn't.
Malwarebytes's plans for 1 and 3 devices cost the same as Norton's Plus and Standard plans, respectively. The only difference is that you won't get features like a firewall, password manager, VPN, and even cloud storage with Malwarebytes. Clearly, Norton offers a better deal.
Apart from that, I was pleased to learn that both providers offer a 60-day money-back guarantee. Keep in mind that Malwarebytes only provides a 60-day refund with its premium plans — otherwise, it's 30-days.
It also provides a 14-day free trial for Windows, so you can test it out yourself before making any commitments. If you don't want to subscribe just yet, you can still use Malwarebytes's free plan.
The refund process for Malwarebytes was very easy, and I didn't have to speak with anyone. All you need to do is submit an email ticket and wait for the billing team to get back to you with a refund approval. I got my refund approval within 3 hours, which was quite fast compared to some of the other antiviruses I've tried before, and I got my money back in 8 days.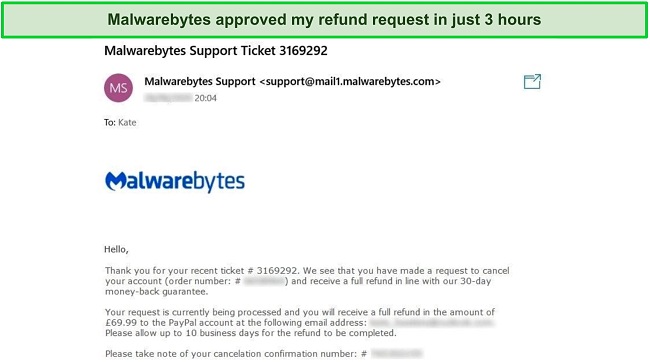 Next, I tested Norton's money-back guarantee and requested a refund through the 24/7 live chat. The agent responded immediately and tried to retain me as a customer by offering an extra month for free. I really liked the gesture, but I continued with the refund process.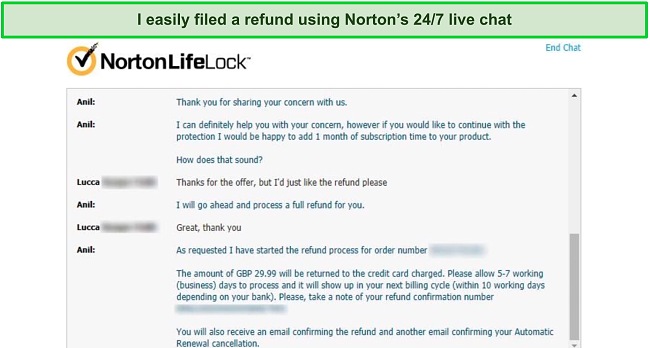 After requesting a refund, I received a confirmation email about my refund in a couple of minutes and got my money back in just 5 days.
Overall, I found the refund process of both contenders hassle-free, but as far as value for money is concerned, Norton outperforms Malwarebytes in all aspects. If you want a premium antivirus but don't want to commit just yet, you can use Norton's generous 60-day refund policy to try it out completely risk-free.
And the Winner Is Norton 360
After rigorous testing, I concluded that Norton 360 was the clear victor of this showdown, mainly because it offers a ton of features like a password manager, intelligent firewall, and parental controls that Malwarebytes doesn't. That's because Malwarebytes is just an antivirus and not an entire internet security suite like Norton.
Having said that, Malwarebytes wasn't very far behind Norton in malware detection. It offered near-perfect detection rates (way above the industry standard) and provided exceptional real-time threat protection. In fact, its full scan was significantly lighter on my PC than Norton's.
Apart from that, it overperformed Norton in the VPN department. Its VPN has more servers and provides faster speeds than Norton's VPN. If you're traveling and need to unblock your content, Malwarebytes VPN's performance is at par with some of the premium standalone VPNs I've tried.
If all you need is an antivirus that's not too heavy on your system without the extra features of an entire suite, Malwarebytes is an excellent choice. You can try out its Premium + Privacy plan with a 60-day money-back guarantee.
However, if you're looking for an internet security suite with top-of-the-line premium features, Norton offers loads of extra features and has better detecting and threat-protection capabilities at the same price as Malwarebytes. Therefore, Norton's the more obvious choice for most users.
Antivirus FAQs
Can I use a free antivirus?
Yes, but a free antivirus is likely to have limitations and may not be able to protect your computer from all kinds of threats. You also won't be able to use premium features such as a password manager, firewall, and parental controls that help keep viruses at bay. Take Windows Defender, for example — It has some security protections, but it falls short of what premium security suites can deliver.
Another problem with free antiviruses is that they can pose privacy concerns. For instance, they can flag suspicious files on your computer and send them to a global database for further analysis, which means it may collect your personal data in the process. I would recommend using a paid antivirus like Norton 360 because it has perfect malware-detection capabilities.
Can I use Norton and Malwarebytes for free?
Yes, both Norton and Malwarebytes offer free trials and money-back guarantees. Norton offers a 7-day free trial, so you can test it out before buying a subscription. Apart from that, it provides a generous 60-day money-back guarantee, so you can try it risk-free before making any commitments.
Malwarebytes provides a 14-day free trial, but only for Windows systems. On top of that, it provides a 60-day money-back guarantee on its premium plan and a 30-day guarantee for the other plans.
Is using more antivirus apps at once better than just one?
No, running multiple antiviruses can significantly slow down your computer. Even when antivirus isn't running a scan, it still uses your system resources such as memory, disk space, and CPU resources. Therefore, installing one well-rounded antivirus is better than having multiple poor ones.
I recommend using Norton 360 as it offers everything you need, from a VPN and password manager to a firewall and parental controls. If you're not looking for an internet security suite, Malwarebytes is an excellent standalone antivirus that will keep you protected from offline and online threats.
---
Other Top Antiviruses in 2022