How to Get a Free Trial for Kaspersky Secure Connection
Last Updated by Sarah Barnes on June 20, 2022
If you're looking for a full security suite for your business or home, Kaspersky might be the best possible option.
The company offers a range of tools that can help protect you online. What's more, Kaspersky offers a free trial on the majority of apps and services, including a free version of its VPN.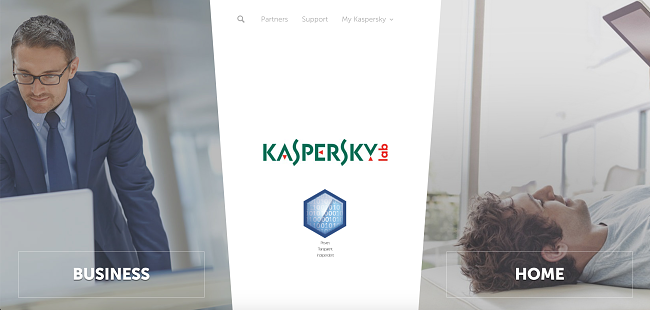 Getting a free trial is simple:
Go to Kaspersky's VPN Secure Connection page
Click on GET FREE VPN to download and install the option for your device
Open the VPN and connect to a server
Browse the web anonymously
However, while the free trial is easy to get a hold of, there are some details you should know before signing up.
In
this article, we answer the most frequently asked questions about Kaspersky Secure Connection
. We've also shared a short review of the VPN so you can decide whether it's the right tool for your individual needs.
Try Kaspersky's VPN For Free Today
Signing Up for Kaspersky Secure Connection's Free Trial – Everything You Need to Know
1

Do you Need a Credit Card to Sign Up?
Kaspersky Secure Connection comes with a free trial on most of the online tools but also offers an entirely free basic plan, and the VPN is no exception. To sign up for this plan, you don't need to input your credit card details. The only catch is that the plan comes with limitations. The Basic Protection plan offers:
200MB of data allowance per day
Support for an unlimited number of devices
One user account
Automatic virtual location selection
To download this version of the VPN, follow the steps outlined in the introduction of this article.
2

Does the Company Offer a Money Back Guarantee on Its Paid Plan?
Unlike most VPN services, Kaspersky's VPN doesn't come with a money back guarantee period. The company does offer a free plan which allows you to try the service before you upgrade to the paid subscription.
Kaspersky's paid plan costs just under $5 a month or under $30 charged annually. If you opt for the paid plan, click BUY NOW. Then, input your payment details and, finally, follow the download procedure above.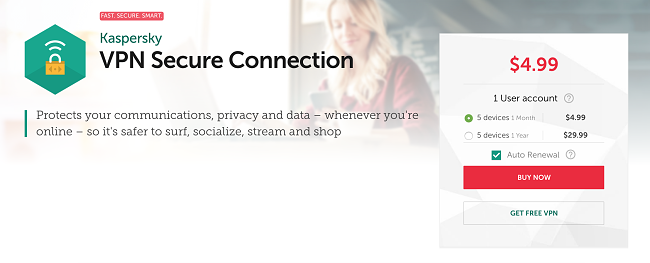 3

Can You Use the VPN to Unblock Streaming Platforms?
Kaspersky Secure Connection VPN primarily focuses on the privacy and security that a virtual network can provide rather than the capability to unblock restricted content.
Regarding streaming services, we do know that the VPN doesn't work with Netflix, nor with any other popular services consistently. In fact, we tried a variety of different servers and services, all of which didn't work.
Kaspersky is very clear about its app usage restrictions:


4

Should You Also Use Kaspersky Internet Security Alongside Its VPN?
While using Kaspersky Internet Security alongside the Kaspersky VPN will enhance your anonymity and online safety, it is not a necessity. If you want a more comprehensive online tool, you can look into Kaspersky's Total Security package.
Aside from coming with a 30-day free trial, you can also choose the number of devices you'd like to protect. The suite comes with all the features of its other services as well as
password and file protection and extra features to protect your children
.
Kaspersky Secure Connection
One user account
Protection for up to five devices
Unlimited data allowance
Virtual locations in a wide variety of countries for you to choose from
1. Security and Privacy
When it comes to security, Kaspersky Secure ConnectionKaspersky Secure Connection[/ewviewLink] gets full marks as it uses the highest standard 256-bit encryption. It also uses the industry standard OpenVPN protocol to encrypt all your data while using the web. Kaspersky protects users still running on outdated devices and networks as it offers a selection of other protocols.
Furthermore, Kaspersky comes with DNS and IP leak protection, so you don't have to worry about your IP address getting in the wrong hands. But, while the company seems perfect on the outside, there are some downfalls when it comes to privacy.
While Kaspersky is a Russian-based company and out of the Eyes intelligence alliance, its privacy policy isn't airtight. The company explicitly outlines that it will report all users for violations:

Aside from the fact that they don't explain what consists a violation, the only way they would be able to report you is if
they log your personal information
.
Stay Protected with Kaspersky Secure Connection VPN
2. Speed and Servers
While Kaspersky only has 18 server locations, these do include the US and the UK. The problem is, the company doesn't tell users how many servers it has. If it only has one server in each country, users will all be trying to connect to the same overcrowded server, thus significantly slowing down their connection.
Additionally, you will see this small print under the list of Secure Connection plans:

Kaspersky doesn't work in Belarus, China, Saudi Arabia, Iran, Oman, Pakistan, Qatar, and Hong Kong
Despite not being able to download and install the software in these locations, the company has servers in some of them. It seems odd that users in Hong Kong, for example, wouldn't be able to use the VPN but, users in other locations would be able to connect to servers in Hong Kong.
If you need a
VPN that can bypass the Great Firewall of China
– check out our list of the
5 Best VPNs for China.
3. Torrenting and P2P Sharing
While Kaspersky doesn't deny users the opportunity to torrent files, the company does clearly state that it doesn't condone copyright infringement. However, all in all, you can use the VPN for P2P sharing.
If you are looking for a reliable torrenting VPN, we recommend that you check out NordVPN which has dedicated P2P servers.
Bottom Line
If you're looking for a free VPN, Kaspersky could be an excellent option. It comes with the highest grade encryption and allows you to protect all your devices with one account.
However, the service is far from perfect. Aside from only having 18 server locations, Kaspersky has a questionable privacy and logging policy.
The
paid plan
is also considerably
more expensive
than other,
better VPN services
currently available.