10 Best VPN Free Trials to Download in 2021 (No Credit Cards)
Last Updated by Mackenzie Pringle on July 01, 2021
VPN free trials aren't always as free as they appear to be. I tested over 40 VPNs and more than once, my free trial expired early because I hit the hidden data cap I wasn't aware of! Other VPN free trials are only available for 24 hours and have limited features, making it impossible to get an accurate idea of how well it works.
In my research, I found many of the best VPNs offer a money-back guarantee rather than a free trial. Out of the 2 options, I prefer the risk-free guarantee. While you do have to pay upfront, you get access to every VPN feature without limitations — and with the best VPNs, getting a full refund is easy.
Of all the VPNs I tested, ExpressVPN is the best choice. It's a high-quality service with excellent security and a risk-free money-back guarantee. I tried it for myself and had a full refund within 4 days!
Quick Guide: Best VPN Free Trials and Tested Money-Back Guarantees
What to Look for When Choosing a VPN Free Trial
Finding a free VPN trial that isn't excessively limited and frustrating to use is tricky. I researched and tested over 40 VPNs to find safe and secure services that offer free trials and money-back guarantees. Here are the criteria I used to rank the VPNs on this list:
Legitimacy of free trials and money-back guarantees — I checked that every VPN offers a risk-free trial or money-back guarantee you can use to effectively test the service.
Strong security features — I tested each VPN for high-level encryption, a kill switch, a variety of server connections, and more to ensure total security.
Unblocks restricted sites and apps — I connected to global servers to test how well each VPN can access restricted content, like Netflix, Disney+, YouTube, and more.
Guaranteed security and anonymity — I carefully looked over each VPN's privacy policy to ensure your identifiable data is never collected or stored.
Fast speeds — I ran multiple speed tests on each VPN to ensure fast connection speeds for your online activities.
Effective customer support — I tested customer support by contacting them through live chat and email to check response times and helpfulness.
10 Best VPN Free Trials (Updated July 2021)
Key Features:
ExpressVPN is one of the few VPNs that can consistently get around the restrictions set by global streaming services. With ExpressVPN I was able to unblock a host of streaming sites including Netflix, Hulu, Disney+, and Amazon Prime Video easily. I tested ExpressVPN's unblocking ability by connecting to different server locations where these services are available, including the US, UK, Australia, and the Netherlands. I was impressed to find that every server got around any and all content blocks — I never had to waste time switching between servers to find one that worked.
Better still, ExpressVPN's speeds were consistently fast across servers when I tested them. It didn't matter if I was connected locally (32Mbps) or to a server in Japan, almost 6,000 miles away (30Mbps) — my speeds were always fast enough to stream in HD, download, and game without worrying about buffering.
To test ExpressVPN for free, I signed up for a plan and took advantage of its 30-day money-back guarantee. This gave me unlimited use of all its features, which meant I could access thousands of servers in 94 locations with uncapped bandwidth and speed.
I put its "no questions asked" money-back policy to the test when my 30 days was nearly up. Most VPN customer service agents have asked me to reconsider canceling my subscription, but ExpressVPN didn't. I requested a refund through the 24/7 live chat and it was processed straight away. I had my money back in less than a week!
It's well worth spending the extra to test it for yourself — so I'd suggest using the money-back guarantee to try ExpressVPN risk-free for 30 days.
Key Features:
CyberGhost's dedicated servers provide excellent speeds for streaming and torrenting without lag. As someone who streams a lot, it's essential for me that a VPN can bypass restrictions for streaming sites like Netflix and Hulu. With CyberGhost, all I had to do was click the "For Streaming" tab on the app and pick the service I wanted to use. Best of all, CyberGhost never slowed my speeds when streaming and I was able to watch my favorite shows in HD with no buffering.
CyberGhost doesn't offer a free trial, but it does have a generous 45-day money-back guarantee — which I think is better than a free trial as it has no restrictions! CyberGhost claims the refund policy is "no questions asked" and so I put it to the test. The customer service agent I talked to through the live chat didn't try to convince me to stay when I asked for my money back! Getting a full refund was very easy and I had the money back in my account in 5 days.
It's important to note that CyberGhost's 45-day money-back guarantee is only available if you choose a subscription of 6 months or longer. If you choose the 1-month subscription option, the money-back period is a much shorter 14 days. CyberGhost also has a 24-hour free trial available which you can use on your desktop without entering payment details. However, I don't think a single day is enough time to fully test a VPN. I recommend you use CyberGhost free for 45 days instead to ensure you have enough time to take advantage of all its features. You can rest assured knowing you can get a refund easily and whenever you want.
Try CyberGhost for free for 45 days!
Key Features:
I'd seen on other review sites that Private Internet Access (PIA) doesn't have a free trial, but I thought I'd contact customer support through the live chat and ask. To my surprise, I discovered that you can get an unrestricted 7-day free trial of PIA just by asking! The agent set it up for me using my preferred email address — I didn't have to hand over any payment details either.
I'm pleased I could get a free trial as PIA has a reputation for being extremely strict on security and privacy and I wanted to test it. I thoroughly checked its privacy policy and can confirm it has a zero-logs policy that won't store or share any of your data. It's also valuable to know that PIA had previously had its servers seized by the Russian government, who demanded PIA start logging user activity. PIA's response was to end operations in Russia — proving that when you connect to a PIA server, your personal data is totally safe and secure.
A minor con is that if you're planning to use PIA to stream geo-blocked Netflix content, it might take a bit of time to get it to work. I struggled to connect to Netflix using PIA's US, Japanese, and Australian servers, though locations close to me worked more easily. I contacted PIA through live chat and the customer service agent recommended trying different servers, which resolved the issue.
If you want to try the service for longer, I suggest you sign up with the 30-day money-back guarantee (you're still eligible even after you use the free trial!). Simply email customer support to request a refund (it can't be processed over live chat). When I tested this myself, I had no issues getting my money back. It took less than 12 hours for PIA to confirm my refund and I got the money back in less than a week.
Key Features:
As IPVanish doesn't offer a free trial, I wanted to make sure the refund process was as easy as possible. I was impressed by just how easy it was to navigate IPVanish's 30-day money-back guarantee. Most VPN money-back policies require you to speak to customer service or fill in a request form. With IPVanish you just log into your account and click a couple of buttons to confirm you want to cancel your subscription. Your refund is processed automatically. I tested this process and my money was back in my account after 7 days.
I like how intuitive and easy-to-use IPVanish is. Its interface is designed to provide you with everything you need to choose the best server. With one glance you can find out the number of servers in a location, and how full the servers are. This means I didn't have to waste time finding the best server as all the necessary information was readily available.
A minor con of IPVanish is that it doesn't reliably unblock restricted Netflix content. If you want to take advantage of a VPN to watch your favorite shows from around the world, I'd recommend ExpressVPN as it's one of the few VPNs that can get around Netflix's proxy error with ease.
IPVanish comes with no limitations or restrictions on bandwidth so you can stream, browse, and download as much as you want. Just make sure you cancel your subscription before the 30 days are up so you can test IPVanish risk-free with its money-back guarantee.
Try IPVanish for free for 30 days!
Key Features:
HMA provides a 7-day free trial for you to test its unique features, like the IP Shuffle. I really like this feature as it makes you virtually untraceable by randomizing your IP address periodically when you're connected. This boosted my security and gave me peace of mind that my activity couldn't be traced by anyone watching, like my ISP.
I was also impressed by HMA's speeds and server availability — with connections in over 210 countries, it has the highest number of locations on this list. I was easily able to stream, torrent, and perform day-to-day online activities without lag or interruptions. My average speed over 25 connections was 24Mbps, which is fast enough to stream in UltraHD!
I did have to enter my payment details to access the free trial, but I wasn't charged. You'll only have to pay if you don't cancel before the 7 days are up. If you do forget to cancel, you can use HMA's 30-day money-back guarantee and get a full refund. I recommend you take advantage of this as it gives you a zero-risk way to test HMA fully over a longer period of time.
Unfortunately, getting your money back with HMA isn't as hassle-free as some other services. You need to sign in to your HMA account and cancel your subscription, fill out a form, and then confirm your refund via email. After that, it should only take a day or 2 for your refund to be processed.
Key Features:
PrivateVPN's free trial is a great choice if you're going on a short trip to a country with restrictive internet access (like China or Turkey) and want to get around censorship. It's one of the few VPNs that are able to get around restrictive internet censorship in China, Turkey, Iran, and more. Its military-grade encryption, DNS and IP leak protection, and zero-logging policy mean you can't be spied on by government bodies. It also means there will be no records of your activity if PrivateVPN's servers are ever seized by authorities.
I was pleased with my overall speeds and connections, as I was concerned I might see a reduction due to a smaller server network. Fortunately, I was able to connect to servers easily and get around restrictions to stream Netflix and Disney+ without issue. My speeds averaged at 24Mbps over 15 server connections.
To access PrivateVPN's unrestricted free trial, you'll have to enter your payment details. If you forget to cancel, PrivateVPN also offers a 30-day money-back guarantee. I actually prefer this as it gives me more time to test its features to see if it works for me.
I tested the money-back guarantee and found PrivateVPN's customer service wasn't as seamless as other VPNs. I requested a refund over 24/7 live chat and the customer support team asked me to send an email instead. I suggest sending an email several days before the trial period expires to make sure you're not accidentally charged.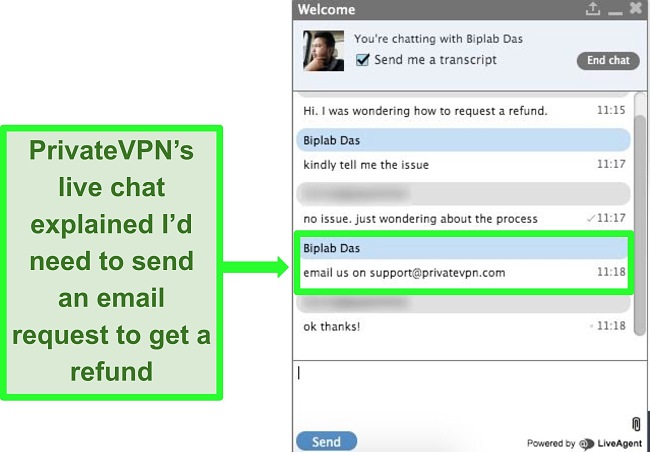 I had an email response from PrivateVPN in less than 24 hours that asked to give a reason for canceling — I said I'd changed my mind and didn't need the service any more. I was also asked if they could troubleshoot any issues I was having and for an email address associated with the PayPal account I'd used to purchase PrivateVPN. Once I'd sent these details back and received confirmation, I had my money back in a week.
Try PrivateVPN for free for 7 days!
Key Features:
VyprVPN is a great choice if you're looking for a VPN you can use to stream all your favorite shows for a month risk-free (thanks to its money-back guarantee). Its proprietary Chameleon protocol can get around geo-blocks on Netflix, Disney+, Hulu, and BBC iPlayer easily. You won't have to keep switching servers to find one that works, making it easy for you to stream content.
While VyprVPN can unblock sites and services, I found its download speeds weren't very consistent. I tested VyprVPN by connecting to a nearby UK server and had download speeds of over 30Mbps. This is fast enough for UltraHD streaming and browsing without lag. Connecting to a server in Australia, my speeds dropped to just over 12Mbps — not as good, but still fast enough to stream in HD.
There's no need to worry about your data falling into the wrong hands when you're using VyprVPN. It has been independently audited by the Leviathan Security Group, which confirmed its zero-logs policy. Every site you visit, email you send, and file you download when connected is totally secure.
You need to pay upfront to access VyprVPN's unlimited 30-day money-back guarantee, but getting a full refund is easy. I requested my money back by email and got a response in just 7 minutes which is really fast! They asked me to provide a reason for canceling and fully refunded me within 3 days. They also refunded the international transaction fee of $1.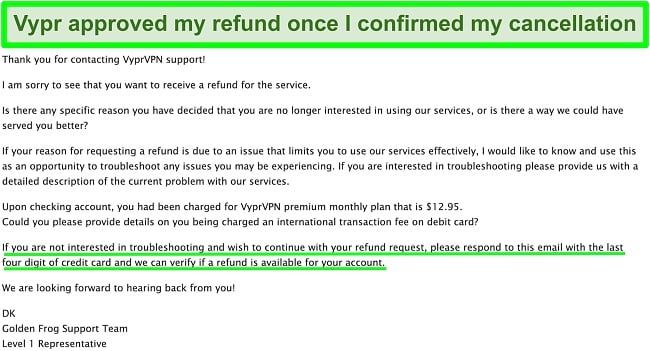 Try VyprVPN for free for 30 days!
Key Features:
ZenMate has a truly free 7-day trial — you don't even need to enter your payment information! I really like this as it means I don't have to worry about accidentally forgetting to cancel.
In addition, ZenMate has a 30-day money-back policy that lets you test its features for longer without risk. I took advantage of this to use its streaming and torrenting servers as much as I wanted for the entire month. This way, you won't face data caps or speed limits. I was pleased to find that ZenMate's speeds are fast enough to watch my favorite shows and movies in HD with minimal buffering.
It's important to know that to get a refund from ZenMate, you need to cancel your subscription within the first 14 days. You'll be able to keep using the VPN for the rest of the 30 days despite canceling early. When I applied for a refund, I got my money back in less than a week.
ZenMate also has a free version, but it comes with serious limitations. Speeds are limited to 2Mbps and it only has 4 server options available. As it's so easy to get your money back using ZenMate's premium plan, I'd strongly recommend you sign up for ZenMate with the 30-day money-back guarantee instead. That way, you get to access its superior features and speeds risk-free.
Try ZenMate for free for 30 days!
Key Features:
SaferVPN is fast and easy to set up so you can get connected and protected almost immediately. This saved me a lot of time as I didn't have to figure out how the VPN works — I could spend the free trial period testing all of SaferVPN's features.
The free trial lasts for 24 hours and doesn't require any payment details. This means you don't have to worry about being charged when the trial is up. However, 24 hours isn't a long time to thoroughly test a VPN. I much prefer testing over the course of several weeks, so I opted to use SaferVPN's 30-day money-back guarantee. This meant I had to enter my credit card details and pay upfront, but getting my money back was easy. I just sent an email to customer support and had my refund in less than a week.
I also tested SaferVPN's 24/7 live chat and found the agent friendly and responsive. However, they weren't able to answer my technical questions about using OpenVPN with the iOS app. They gave me generic answers which didn't solve my problem and it was difficult to source the answers elsewhere.
However, I was impressed with SaferVPN's speeds during my tests. Over 30 different connections, my average speed was 22Mbps which is fast enough to stream without lag or interruption. I could connect to blocked streaming sites like Netflix and Disney+ without any issues, too.
Try SaferVPN for free for 30 days!
Key Features:
Hotspot Shield has a completely free 7-day trial that gives you unlimited access to every premium feature. I had to enter my credit card details to enable the trial, but I wasn't charged (and you won't be as long as you cancel before the week is over). While I like the 7-day trial, I prefer to test a VPN over a longer period — Hotspot Shield also offers a very generous 45-day money-back guarantee so you can try it for almost 7 weeks! Requesting a refund is easy through email or live chat and I had my money back in less than 10 business days.
I took the money-back guarantee as an opportunity to take advantage of Hotspot Shield's impressive speeds. I found my average speed across more than 30 server connections was 28.64Mbps — fast enough to stream Netflix in UltraHD quality! You can watch your favorite shows, download, and play games with no restrictions during the trial period.
HotSpot Shield does have a free version, but its features are extremely limited. You only get access to its US server, 500MB of data per day, and speeds are capped at 2Mbps. Also, Hotspot Shield does share some user data from this version with advertisers, meaning your data is not kept totally private. For security, fast speeds, and global connections I recommend you download Hotspot Shield with the 30-day money-back guarantee instead.
Try Hotspot Shield for free for 7 days!
FAQ: Free Trial VPNs
How do I cancel my free VPN trial?
For most VPNs, there are 2 options for canceling — by logging into your account through your browser and finding a cancellation link in your account settings or by contacting customer service. Some VPNs require you to do both these steps separately. If your VPN has a 24/7 live chat function, this is usually the easiest and quickest way to cancel your trial. You can also contact your VPN's customer service to ask how to cancel your free trial.
Cancelation processes can also vary for different devices, like an iPad or Android smartphone. If you subscribed through the App Store, for example, your VPN provider will likely request that you cancel through the App Store too.
How do I get my money back from a VPN?
The best way to get a refund is usually by contacting customer service through the live chat function. Just connect to the live chat and when the agent answers, tell them you'd like to get a refund. Some VPN's will ask you for a reason for your cancellation (I say I've changed my mind and no longer need the service) and some have a no-questions-asked policy.
Just make sure that you get your refund within the money-back period to be eligible for a full refund. I set a reminder on my phone to make sure I cancel before the guarantee period is up and get my money back.
Do I need a credit card to get a free trial VPN?
Sometimes. There are VPNs that only let you sign up for a free trial if they have your payment details. This way, they can charge you for a subscription once the trial period expires. Other VPNs don't require any payment information to get the free trial, reverting back to a limited service once the trial is up.
Totally free trials do exist, but they're rare and usually have many limitations. There are a couple of VPNs on this list that offer a free trial without any payment details. SaferVPN gives you 24 hours of free premium service when you sign up for an account. However, it's very difficult to properly use this trial due to how short it is.
A better option is to choose a risk-free money-back guarantee. These give you considerably longer to test every feature and make sure the VPN works for you. I've tested them for myself and can confirm they work — and they do! I've never had any issues getting my money back and it's never taken longer than a week to get my refund. This does mean handing over your payment details and an upfront cost, but you get to try every VPN feature without limitations.
Do you still get charged if you cancel a free trial?
It depends. The best way to avoid any nasty surprise charges is to carefully read over the terms and conditions of your free trial. Some VPNs impose charges or refuse a refund if you breach the terms of the trial — like exceeding the data cap you agreed to on sign up. All of the VPNs on this list have clear terms and conditions so you know what to expect when you sign up for a trial or money-back guarantee.
One precaution you can take is to sign up for the cheapest plan available. This way, if you forget to cancel before the set period is up you won't have to pay a fortune. The most affordable plan for most services will be their monthly option — on this list, the cheapest monthly VPN is IPVanish.
Can I use my free trial more than once?
Unfortunately, no — VPN services won't let you use a free trial more than once. If you're caught trying to sign up for multiple free trials with different email addresses, you could end up facing a ban from the VPN service altogether. You can, however, test different VPN services using their free trials to see which one works the best for you before you subscribe.
What's the best free VPN to use instead of a free trial?
The best free VPN to use is Hotspot Shield, which has both free and premium options. The free version has high-level encryption and security and 1 US server with surprisingly fast speeds. However, it relies on ads for revenue and will share some of your data with third-party advertisers.
This is why I don't recommend using a free VPN instead of a free trial. There are some great options available but they have a lot of limitations, like data caps and server options. While they'll keep your data and online activity secure, you won't be able to use them how you want to.
You might be tempted to download a free VPN with no data or speed caps but these unlimited free services pose a massive risk to your data security. These VPNs are known to log user data and sell it to third parties, including advertisers. This compromises your security as you don't know if the VPN is protecting your data. Also, some of the most popular unlimited free VPNs have been found to host malware which could infect your devices and steal your data!
The safest option is to choose a quality VPN that offers a free trial or has a money-back guarantee. You can try ExpressVPN risk-free with its 30-day money-back guarantee and get access to every premium feature with no restrictions. Best of all, getting a full refund is easy! It took less than 5 minutes to request a refund using ExpressVPN's live chat and I had my money back in less than a week.
Can I watch Netflix with a VPN during my free trial?
Yes, you can! Many of the VPN free trials on this list have sophisticated technology to get around restrictions and let you access Netflix's global content libraries. For the best Netflix streaming, I recommend ExpressVPN as it has thousands of fast servers for watching your favorite content in UltraHD and no speed or data caps.
You should note that some VPN free trials limit the amount of data you can use — HMA, for example, has a 10GB data cap, so while you can use it to stream Netflix, you might not be able to watch in HD quality or finish the show or movie you're streaming.
Will a VPN track my activity during my free trial?
None of the VPNs on this list will track your activity during your trial period as they all have strict no-logs policies. This means that while you're using the encrypted VPN connection, no data will be monitored, recorded, or stored at any point.
Will a VPN work in China if I'm using a free trial?
Yes, as long as the VPN you've chosen is able to get through China's tough restrictions. I'd suggest you look carefully at the features each VPN offers to determine which ones are most likely to work from inside China.
If you need a VPN that is guaranteed to work while you're inside China, I recommend using ExpressVPN. During my tests, it consistently bypassed China's restrictive internet regulations and let me connect to websites outside of the country.
Use a Free Trial VPN to Find the Best VPN for You
Reviews are great — but nothing beats testing the product for yourself! By signing up for a free trial or using a money-back guarantee, you can try a VPN service risk-free to see if it's right for you. This way, you get to test a VPN over the course of several weeks. You can see how well it works at different times and check if there are any issues.
For the best free trial and money-back guarantee offer, I recommend ExpressVPN. It has strong security, fast connection speeds, and it's really easy to test risk-free! If you want a longer test or to try the desktop app, you can take advantage of ExpressVPN's 30-day money-back guarantee — I've tested the refund process myself and it's easy!
---
Summary: Top VPNs With Free Trials in 2021