Fastest VPNs in 2022 (See the Latest Speed Tests!)
Last Updated by Kate Hawkins on November 01, 2022
Fast VPNs can be hard to find, especially when every VPN claims to be the fastest VPN out there. To save you time, I tested 50 services to shortlist the 10 fastest VPNs with blazing-fast speeds. Each VPN is specifically designed to reduce speed loss, buffering, and interruptions — all while maintaining powerful security to protect your data and devices.
I'm impressed to say that ExpressVPN outperformed the competition with its high-speed global servers. I didn't notice any slowdown even when I connected to a server on the opposite side of the world. Best of all, you can try ExpressVPN's fast speeds for yourself. You're protected by a 30-day money-back guarantee, so it's simple to get a full refund if you're not satisfied. When I tested this myself, my refund was approved over 24/7 live chat (no questions asked) and the money returned to my account in only 5 days.
Enjoy fast speeds with ExpressVPN
Quick Guide: The Fastest VPNs in 2022
The Fastest VPNs for Streaming, Torrenting & Gaming (Tested November 2022)
Key Features:
ExpressVPN is the fastest VPN out there with excellent speeds across its global servers. During tests, both ExpressVPN's local and distant servers were impressively fast. Even when I connected to Australia, more than 15,000km away, my download speeds were steady at almost 90Mbps. That's a tiny drop of just 21% from my base speed, which is minimal considering the distance.
I didn't notice any lag or buffering even when I streamed content in HD. This is no surprise as its high speeds are the reason ExpressVPN is the best choice for streaming on Netflix US, Amazon Prime Video, Disney+, and more.
Torrenting was quick and easy, with a 40GB file downloading in just over an hour. I could even play high-intensity online games like PUBG and CounterStrike without worrying about lag or latency issues.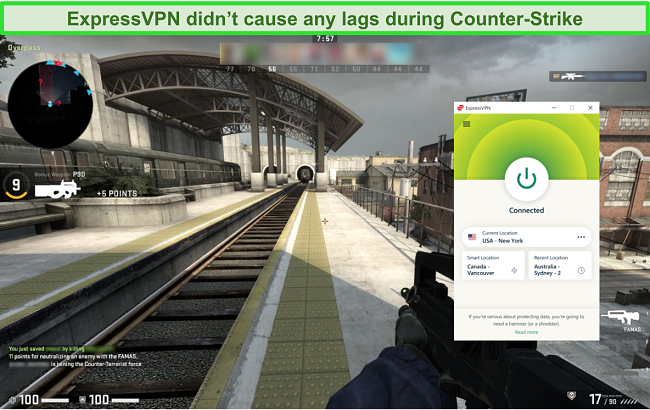 These impressive speeds are in part due to ExpressVPN's proprietary protocol, Lightway. This protocol is designed for maximum speed without compromising security. It's more lightweight than other protocols; OpenVPN is made up of 70,000 lines of code, while Lightway is a mere 1,000 lines. This makes running the protocol and connecting to servers almost instant and reduces the impact on your device, too.
Lightway is ExpressVPN's default protocol, and I'd recommend using it whenever it's available as it's the fastest option. Using Lightway with ExpressVPN's closest server, my speed reached an impressive 104Mbps — less than a 10% drop from my regular speed. Without Lightway, my closest ExpressVPN server had speeds of 100Mbps. This might not seem like a big difference at these high speeds, but if you have slower internet you need a VPN with the least impact on speeds possible.
ExpressVPN split tunneling can also help give you a speed boost. This lets you choose to only allow specific traffic to be routed through the VPN. I added my banking apps and torrent clients to ExpressVPN's split tunneling feature and found it slightly improved my speeds by reducing unnecessary traffic.
I thought that ExpressVPN's layers of security may cause some slowdown, but I was pleased to find that wasn't the case. ExpressVPN military-grade encryption and leak protection secured my online activity from hackers and spies without impacting my speeds at all. I was worried that this meant I wasn't actually protected, but during my tests, I found ExpressVPN had no IP, DNS, or WebRTC data leaks — my worries were unfounded, as my information was undeniably safe! As a bonus, ExpressVPN's TrustedServer technology runs entirely on RAM, meaning none of your data is logged or stored on its servers. For additional peace of mind, ExpressVPN has been independently audited to verify its no-logs policy
Ultimately, the best option is to test ExpressVPN's fast and reliable speeds for yourself to make sure it suits your needs. As it's backed by a 30-day money-back guarantee, you can get a full refund if you're not fully satisfied.
I tested the process and was surprised by how easy it was. I contacted the 24/7 live chat and spoke to an agent in less than 30 seconds. The polite and helpful agent processed my refund immediately, no questions asked — I didn't even need to give a reason for canceling. Best of all, I had my money back in just 5 days!
Get fast speeds with ExpressVPN!
Key Features:
CyberGhost's dedicated servers give even resource-intensive activities like streaming, torrenting, and gaming a speed boost. These optimized servers are updated regularly to ensure they provide the fastest connections. This means you can download large files and play fast-paced games without experiencing lag or interruptions.
During my tests, I found CyberGhost's optimized servers were significantly faster than its standard servers. I compared servers in France, Germany, the US, and Australia and found that on average, the optimized servers were over 30% faster. This is particularly significant if you live somewhere with slower internet, as it can minimize speed loss so you maintain a lag-free connection. I always recommend connecting to an optimized server for this reason.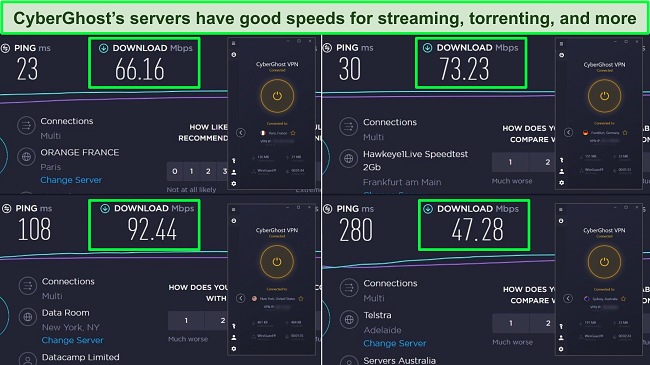 CyberGhost offers both OpenVPN and WireGuard. OpenVPN is the industry standard for speed and security, but I found WireGuard was the fastest option for CyberGhost. It's much more lightweight than OpenVPN with just 4,000 lines of code.
Fortunately, CyberGhost's high-level security features don't impact speeds. It offers AES-256-bit encryption, the same kind used by the US military and guaranteed to secure your data. It also has IP, DNS, and WebRTC leak protection — during testing, CyberGhost kept all of my data private with zero leaks. CyberGhost also uses RAM-based servers so you can rest assured none of your data is ever logged or stored.
While CyberGhost's global speeds are good, I noticed a big slowdown when connecting to distant servers. This isn't unusual as physical distance will inevitably impact speeds, simply because data has much further to travel. As my base speed of 115Mbps is pretty fast, even the biggest slowdown in Australia (almost 60% slower) didn't impact my activities much. However, if your regular speeds are slower you will notice a more significant impact.
I also found CyberGhost's latency or "ping" on faraway servers increased beyond what I was expecting. While this didn't affect my streaming or torrenting very much, it did impact my online gaming even on an optimized server. I tried playing Valorant with an Australian server and the ping was so high I couldn't even load the game. As such, I'd recommend using local servers to play online games and avoid lag. On the plus side, since CyberGhost's server network is so large, with 8200+ servers in 91 locations, I never had any problem finding a fast server nearby.
To see if the service is right for you, I recommend that you test CyberGhost's optimized servers for yourself risk-free. It has a 45-day money-back guarantee you can use to get a full refund if you're not entirely satisfied. I went through the process myself and it was easy — I contacted an agent through the 24/7 live chat and they started the refund immediately, no questions asked. I had the money back in less than a week.
Get fast speeds with CyberGhost!
Key Features:
Private Internet Access (PIA) has a massive server network that maintains fast speeds for streaming, torrenting, gaming, and more. It has over 35000 servers in 84 locations which is ideal for 2 reasons: first, you're very likely to find a server close to your physical location; second, a large number of servers means you won't experience user congestion.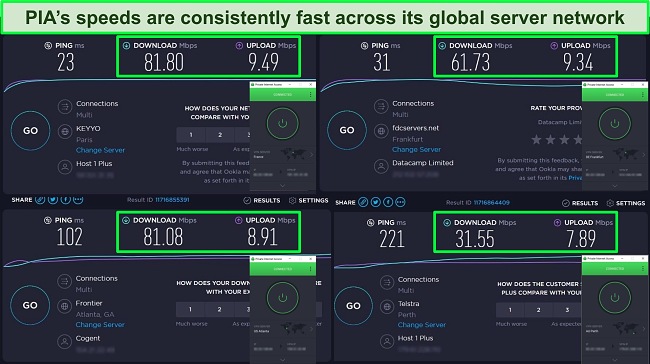 Part of the reason my connections were so fast is because PIA offers the lightweight WireGuard protocol. OpenVPN protocol is the default, but I found WireGuard was a faster option — it improved my speeds by at least 10Mbps on every connection I tried. I could connect to PIA's servers in just a couple of seconds when I switched over to Wireguard.
PIA has a couple of additional features that can boost your speed. I was impressed by the MACE ad- and malware-blocker. Not only did it protect me from malicious downloads, but it also made loading websites faster. Blocking ads allowed websites to populate more quickly so I got to my content faster. I also used PIA's split tunneling feature, which stopped unnecessary data from passing through the VPN connection.
PIA's features are privacy-driven, guaranteeing your anonymity while you're connected. It uses AES-256-bit encryption, the same level used by the US military. Every app has a kill switch to protect your data if the VPN connection is interrupted. I also tested its leak protection and it passed every test — PIA didn't leak any of my data.
Like many VPNs, PIA's speeds drop a bit when connecting to distant servers. However, even when I connected to a server in Australia I could stream and torrent — though I did experience some buffering due to high ping. Unfortunately, I couldn't game on that server as the latency produced too much lag and my game froze repeatedly.
Unfortunately, PIA also isn't a good choice if you want easy access to your favorite streaming services. Despite its speeds, my team and I were unable to connect to BBC iPlayer, Hulu, and some Netflix locations. PIA could only access Netflix US and UK, Disney+, and Amazon Prime Video.
If you want to test PIA's huge server network for yourself, you can purchase the service with confidence as it's backed by a money-back guarantee. You get up to 30 days to claim a refund if you find PIA isn't right for you, and the process is easy — I just contacted the 24/7 live chat and asked for my money back. The agent asked if I'd like to troubleshoot, but when I declined they arranged my refund quickly. I had my money back in less than a week.
Key Features:
IPVanish gives you all the information you need to choose the fastest server connection for you. After exploring the interface, I found IPVanish details the server load in % and ping in ms for every individual server. I could make precise choices based on my preferred location and pick the fastest possible option every time. This way, I could enjoy very fast speeds and avoid buffering and lag for most global locations.
IPVanish has a "Connect" button that should auto-connect you to the fastest available server, but I had faster speeds when I manually chose my server connection.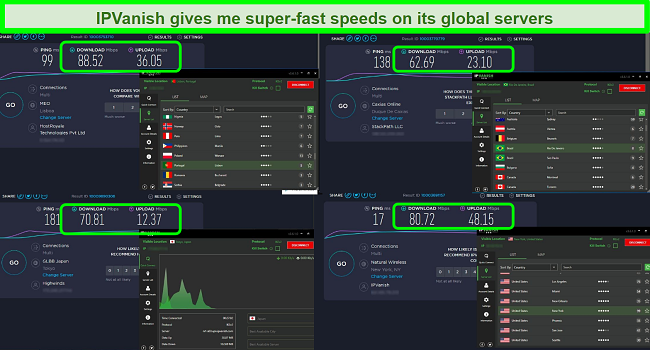 There are multiple protocols to choose from — I'd recommend using OpenVPN as this is the fastest and most reliable protocol IPVanish offers. IPVanish doesn't provide any information about which protocol to use, which could make it tricky to figure out if you're not familiar with VPNs.
I was pleased to find that connecting to IPVanish's servers only took a couple of seconds. Its military-grade encryption, kill switch, and leak protection on all of its apps didn't slow down my connection at all. During my tests, I found all of my data was secure when connected to all of IPVanish's servers — no data leaks.
The downside to IPVanish is at first glance its interface can seem overwhelming. The client requires you to experiment a little to figure out how it works properly. There are multiple dropdown menus and configurable options, making it a VPN option for more advanced users.
IPVanish is supported by a 30-day money-back guarantee so you can test the service and explore its detailed interface risk-free. I was impressed by how easy it was to cancel the service — I just had to click the "Cancel Now" button in the Subscription tab of my IPVanish account. My refund was processed automatically and I had my money back almost immediately.
Get fast speeds with IPVanish!
Key Features:
PrivateVPN's small network surprised me with its fast local speeds. Usually, a smaller network has user congestion, but I got speeds of over 70Mbps on almost all of the local servers I tested — a drop of only 35% from my regular ISP speed. The entire server network is optimized for streaming and P2P file-sharing, designed for top speeds and security.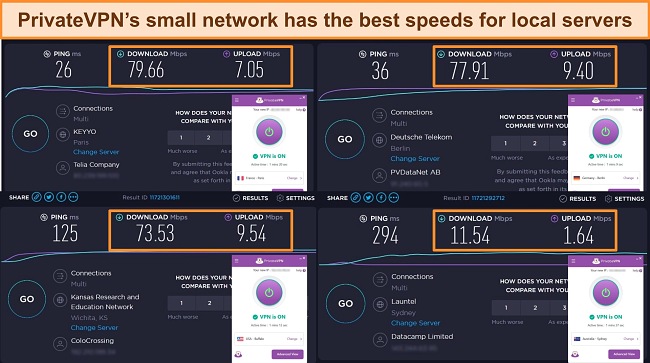 PrivateVPN uses the OpenVPN protocol by default, which I found to be the fastest option during my tests. I also found that it's possible to lower PrivateVPN's encryption level from AES-256 to AES-128. While this doesn't make a huge impact to your overall security (AES encryption has never been cracked) it could potentially boost your speed. This is useful if you're living somewhere with slower internet speeds.
I was pleased to find PrivateVPN really does take privacy seriously, without sacrificing speeds. It has top-tier encryption, leak protection, a kill switch, plus a Stealth VPN setting that disguises VPN traffic to look like regular traffic. This can help to bypass strict internet regulations in countries like China and Turkey, allowing free access to online content.
As with most VPNs, PrivateVPN has the best speeds when connecting to servers nearby. My speeds were consistently fast as far as New York, over 5,600km away. However, the further away I connected, the slower my speeds became. Connecting to a server in Australia dropped my speed by 90%. I could still browse the web and stream local content, but it's something to bear in mind if your internet isn't that good.
PrivateVPN is a solid choice if you want to connect to servers less than 5,000km away. I recommend that you test PrivateVPN's small but reliable network for yourself to see if it's right for your needs. If not, you can get a full refund with its 30-day money-back guarantee.
Get fast speeds with PrivateVPN!
Key Features:
VyprVPN is excellent at getting around content blocks, which makes it a great choice for watching your Netflix or Disney+ account while you're abroad. While I did experience a big drop in speed when I connected to a server 15,000km away (92% slower), I could still stream in HD-quality video. I had to wait around 40 seconds for my content to buffer, but after that, my stream was smooth and lag-free.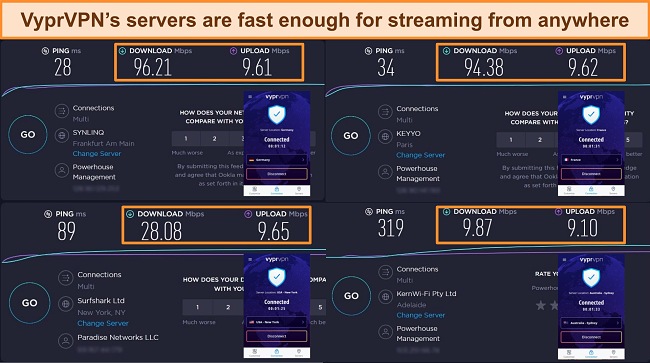 VyprVPN has several protocol options, including WireGuard and its proprietary Chameleon protocol. During my tests, I found WireGuard gave me the best speeds, although the Chameleon protocol was excellent at bypassing content blocks. If you're willing to sacrifice a little speed to access online content, I recommend using VyprVPN's Chameleon protocol. Otherwise, WireGuard is the fastest.
With secure protocols, VyprVPN protects your data with AES-256-bit encryption, leak protection, and a kill switch. It also features public WiFi protection, which automatically connects the VPN when your device joins an unknown or public WiFi network. I found this useful as I didn't have to remember to switch on my VPN to remain secure at all times.
Unfortunately, high ping makes VyprVPN a less favorable choice for online gaming. Popular servers in the US and Canada had a ping of around 90ms, which meant I experienced a small amount of lag while playing. Further away, ping was even higher which made my game unplayable. I'd recommend connecting to local servers for the lowest lag, or opting for a VPN like ExpressVPN for seamless gameplay on all servers.
If you're interested in testing the service, you can try VyprVPN's fast local speeds risk-free for 30 days with its money-back guarantee. Canceling is easy and after contacting customer support, I had a full refund in 3 days.
Key Features:
Hide.me's server network performs well when it comes to download speeds. I tested multiple servers and was pleased to find my speeds were fast enough for streaming, torrenting, and secure browsing with minimal lag. The fastest connection was only 34% slower than my standard ISP speed of 115Mbps.
Even The most distant connections (like the West Coast of the US) experienced minimal buffering, taking less than 20 seconds for my content to load. My team and I were able to access local Netflix and Amazon Prime Video accounts and stream HD-quality video.
Hide.me uses the WireGuard protocol by default. I found this was faster than OpenVPN, but it's not available on every server. However, hide.me's OpenVPN connections were still reliably fast.
Alongside secure protocols, hide.me uses AES-256-bit encryption to keep traffic anonymous and protected. This, along with the kill switch and leak protection prevents data leaking while still providing fast download speeds. Hide.me also has an audited zero-logs policy to guarantee your data security.
The issue with hide.me is its low upload speeds. During video calls and online gaming, I experienced significant lag and interruptions. My Zoom calls froze frequently and in-game responses were delayed, making gameplay impossible. Unfortunately, it seems hide.me has prioritized download speeds for streaming and torrenting, so I don't recommend it if you want to game online or upload files quickly.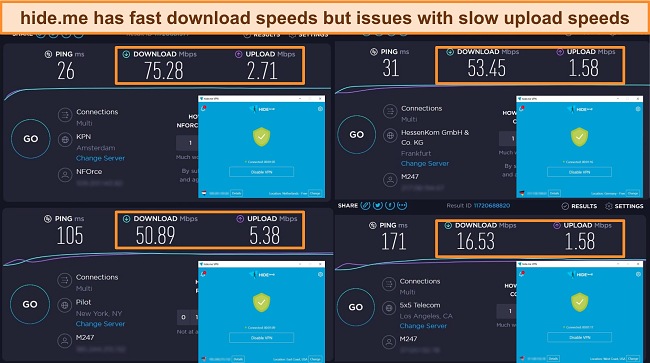 I suggest testing hide.me for yourself to make sure it's right for you. Not only does it offer a 30-day money-back guarantee, it also has a free version you can use to sample the service first.
Key Features:
ZenMate has a selection of dedicated servers for streaming and torrenting. These servers are designed to provide top speeds and security while you're watching your favorite shows or P2P file-sharing. I found ZenMate's optimized servers were faster than its standard servers by around 40%. All of these dedicated servers use the OpenVPN protocol to maximize speeds for streaming and downloading.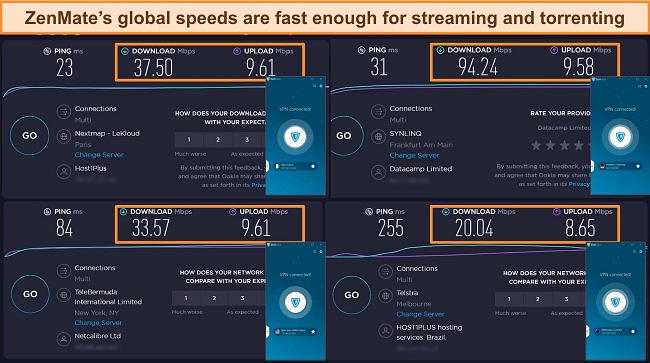 ZenMate is effective at creating a secure connection because of its top-tier security features. It has AES-256-bit encryption, a kill switch to protect your data if the connection is unstable, and leak protection. During my tests, I found ZenMate kept my data secure at all times — zero leaks!
Unfortunately, ZenMate's standard servers were very slow with high ping. The closest standard server to me in London only reached a speed of 16Mbps — a dramatic slowdown of 86%. For the best possible speeds, you should always connect to an optimized server. This is particularly important if your standard internet speeds are slower.
I also found that connecting to ZenMate's servers took a long time, up to 30 seconds in most cases. I found it frustrating to have to wait so long, but once I connected I didn't have any issues with server interruption.
All new users get a 7-day free trial of ZenMate so you can test the service. However, that isn't long enough to really examine every feature. Luckily, there's also a 30-day money-back guarantee so you can test ZenMate risk-free and get a full refund if you're not fully satisfied.
Key Features:
TunnelBear has fast speeds on both its paid and free plans at global server locations like France, the UK, and the US. On these servers, I had speeds of above 80Mbps. This is more than enough for streaming, torrenting, online gaming, and more without lag or interruption. Unfortunately, you only have 500MB of data per month on the free plan.
TunnelBear uses AES-256-bit encryption to protect your traffic, as well as IP, DNS, and WebRTC leak protection. My tests showed that all of my data was secure when I connected to TunnelBear's servers. I found TunnelBear primarily uses OpenVPN UDP, which is the fastest of OpenVPN's options.
Connecting to TunnelBear's servers was almost instant. It took less than 5 seconds to connect to my chosen servers, even those very far away. This meant I had TunnelBear's high-level security protecting my data immediately
TunnelBear doesn't offer a money-back guarantee like other VPNs. However, you can download TunnelBear's free version and run some basic speed tests before committing to a paid subscription.
Get fast speeds with TunnelBear!
Easy Comparison Table: The Best Fast VPN in 2022
After extensive testing, ExpressVPN emerged as the fastest service. Its impressive global speeds and minimal slowdown make using ExpressVPN unnoticeable, even on slow internet connections. Plus, it accesses streaming sites and supports P2P file-sharing on all servers, so you can enjoy your favorite online content anywhere.
To get an overview of the fastest VPNs in 2022, you can take a look at the table below.
| | | | | | |
| --- | --- | --- | --- | --- | --- |
| | Average Speed Drop | Server Number | Fastest Protocol | Unblocks Netflix | Money-Back Guarantee |
| ExpressVPN | 18% | 3000 | Lightway | ✔ | 30 |
| CyberGhost | 39% | 8200 | WireGuard | ✔ | 45 |
| PIA | 45% | 35000 | WireGuard | ✔ | 30 |
| HMA | 50% | 1040 | OpenVPN | ✔ | 30 |
| IPVanish | 34% | 2000 | OpenVPN | US only | 30 |
Get fast speeds with ExpressVPN
How I Tested and Ranked VPNs for Fast Speeds
Here is the testing methodology I used when I evaluated the best VPNs on the market:
Speed test: I ran an initial test on Speedtest.net to find my speed without a VPN. On average, my standard ISP connection is 115Mbps. I then used the same speed test tool to run tests for each VPN.
Device: I performed all tests on a Windows 10 PC and an iPhone XS.
VPN protocol: I let the VPNs automatically pick the fastest protocol available at the time. This was OpenVPN for the majority of VPNs.
Local server location: I let the VPN choose the fastest server available using a "Smart Connect" or similar feature. This was a server closest to me in London, UK for most VPNs.
International server location: I tested servers in Asia, Australia, Europe, and the US. This was so I could look at how speeds were affected over different distances.
Time of testing: I ran tests at 3 different times of day — 9 am, 3 pm, and 8 pm. This is so I could see the impact of high and low traffic times on each VPN's speed.
It's important to note that despite all these factors, there are variables outside of my control. Fluctuations in internet speed and how my device was performing could impact my results. This means that if you run similar tests, you could get very different results. I'd recommend testing a VPN for yourself to see if it works for you — ExpressVPN is the fastest service, and you can try it now to see if it's right for you.
Get top speeds with ExpressVPN
What Impacts VPN Speed?
More often than not, using a VPN will cause your connection to slow down. A layer of encryption is added to your traffic, so your data moves through a secure tunnel. Your traffic also passes through the VPN's server before reaching your intended online destination.
However, the best VPNs are designed for speed so you can browse, stream, torrent, and more without lag or buffering. Top-tier VPNs have been known to improve speeds in some rare cases. If your Internet Service Provider (ISP) notices you're performing data-intensive activities (like torrenting) it can limit your speed. By using a VPN, your ISP can no longer see your online activity and will stop imposing speed restrictions.
It's important to remember that your VPN can only really be as fast as your regular ISP connection. If your standard speed is slow, your browsing is more likely to constantly buffer when you connect to a VPN. Fortunately, with a top service like ExpressVPN that provides minimal speed loss, the drop is barely noticeable even if you do have bad internet.
Get fast speeds with ExpressVPN
Need a Faster VPN? 5 Tips to Increase a VPN's Speed
If you're using a VPN and are still having issues with slow speeds, there are a few things you can try.
1. Choose a VPN With a Large Server Network
A VPN with a few hundred servers won't be as fast as a VPN with thousands of servers. This is because the less available servers, the more user congestion — so your speeds will slow significantly during peak hours.
2. Change VPN Protocol
Most VPNs have several protocols to choose from, depending on your desired level of encryption and speed. I recommend using WireGuard or OpenVPN TCP as it's a highly secure protocol with excellent speeds. Nobile users, you can try IKEv2 if it's available through your VPN.
The majority of VPNs automatically choose the fastest protocol unless specified otherwise. However, if you're experiencing slower speeds, it's a good idea to check which protocol your VPN is using.
3. Connect to a Nearby Server
Latency (or ping) is how long it takes to send data from your device to a server and back again. A factor for increased latency is distance — by connecting to a distant VPN server your data has to travel more and will take longer to get a response. High latency causes a considerable slowdown and buffering.
Connect to a VPN server much closer to your physical location instead. A shorter distance for your data to travel should significantly improve your speeds.
Your VPN should have the option to automatically connect you to the closest, fastest server. ExpressVPN's Smart Location always picks the fastest server available based on your location. Alternatively, you can look at the VPN's server menu to manually find a fast connection.
Get fast connections with ExpressVPN
4. Set Up Split Tunneling
Split tunneling can boost your speeds by only routing certain apps through the VPN, with the rest of your traffic using your regular ISP connection. By being selective about the data that passes through the encryption tunnel, you reduce the amount of bandwidth it's using. A smaller amount of traffic can pass much more quickly and improve your speed.
Many VPNs offer split-tunneling through their clients, with easy step-by-step guides to set it up. I recommend configuring torrent or banking apps to always use the VPN as they contain sensitive data.
5. Use an Ethernet Cable
Connecting your device to your router will result in faster speeds. A wireless connection (Wi-Fi) isn't 100% direct so will be slower. Connecting your device to your router using an ethernet cable creates a direct line so data is transferred faster.
As a bonus, an ethernet connection is more reliable and secure than a WiFi connection. By connecting with an ethernet cable and a VPN, you can increase your speed and maximize security at the same time.
Download the fastest VPN in 2022
FAQs on Fast VPNs and Speed
What's the fastest VPN for streaming?
The fastest VPN for streaming is ExpressVPN. Based on my tests, ExpressVPN had an average speed drop of just 18% (the lowest of all the leading VPNs on the market). My team and I successfully tested ExpressVPN's servers with Netflix US, Amazon Prime Video, Hulu, Disney+, HBO Max, and more and didn't experience any lag or buffering.
I especially liked that ExpressVPN works on devices without VPN support (like game consoles or smart TVs). The MediaStreamer SmartDNS feature is a proxy DNS server that can grant you access to streaming services on PlayStation, Xbox, LG smart TVs, and more.
Which VPN is fast enough for gaming?
According to test results, ExpressVPN is the fastest VPN for gaming. I experienced minimal lag during high-intensity gameplay, easily playing online games like PUBG and Overwatch without any interruptions.
This is due to ExpressVPN's proprietary Lightway protocol, which is designed to reduce ping (or latency) across all its servers. Lightway is also less resource-intensive so you'll notice less drain on your desktop or phone's battery life!
How can I improve my VPN's speeds when gaming?
There are several ways you can improve your VPNs speeds. First, you should run a ping test. Many online games will display your ping on your in-game dashboard so you can check it before and after connecting to your VPN server to see the impact. If you need to check manually, you can by following these steps:
Find the domain or IP address of the server you want to play on. Be prepared to do some research as most games don't make this information easily accessible.
Open the Windows Command Prompt or Mac Terminal. You can find these by entering the appropriate term in your device's search bar.
Enter the command "ping" followed by the server IP address. For example: ping 226.3.203.243
Make a note of the ping. This will be provided in milliseconds.
Connect to your VPN and run the command again. You'll be able to see the difference between your regular connection and your VPN connection.
What's a fast VPN for torrenting?
The fastest VPN for torrenting is ExpressVPN. Every one of its 3000 servers supports quick and secure P2P file-sharing. During my tests, I downloaded a 40GB file in just an hour while streaming in HD at the same time. Plus you're protected by military-grade encryption, leak protection, and perfect forward secrecy to guarantee you can torrent anonymously.
There are other VPNs offering port forwarding as a way to boost speeds — this designates a particular port to be used for P2P file-sharing, reducing the amount of data passing through the port. You can configure your torrent client to use that port for faster downloads. However, keep in mind that port forwarding makes it much easier to track your online activity.
Which free VPN has the fastest speeds?
Unfortunately, 100% free and fast VPNs don't really exist — even the best free VPN services have speed restrictions to encourage you to upgrade to a premium subscription. Slow speeds are mainly caused by the limited number of servers, which creates congestion due to so many users on 1 server. This slows your speeds dramatically as there simply isn't enough bandwidth for everyone.
Worse still, many free VPNs aren't actually safe to use. Some free VPNs have even been known to use malware and spyware to steal your data, putting you at risk of identity theft without you knowing. Others log and store user data to sell to third parties as a way to generate revenue, compromising your privacy.
If you want a free option, I recommend getting a premium VPN with a money-back guarantee. For example, you can use CyberGhost for free for 45 days (as long as you ask for a refund within the money-back guarantee period). You're guaranteed fast speeds — and you don't have to worry about your data being logged or leaking from the encrypted tunnel.
What's the fastest VPN for my device?
You can minimize speed loss no matter what VPN you have. However, the fastest VPN across the board is ExpressVPN. ExpressVPN has native apps for all popular devices, including Windows, Mac, Android, iOS, Linux, Amazon Fire Stick, smart TVs, and even routers.
Does a VPN slow down internet speed?
You can expect a slight drop, although the fastest VPNs are designed to minimize speed loss. Aside from choosing a fast VPN, I recommend choosing a nearby VPN server with a low user load. If many users are connected to a server, data is transferred much more slowly. The further a server is from your location, the longer it takes for your data to be sent from and received by your device.
How do I test VPN speed?
Some VPNs have a built-in speed test (like ExpressVPN). Alternatively, you can use Speedtest.net to perform a speed test when your VPN is connected. Ideally, a VPN will provide speeds that are very close to your baseline. A minimum speed of 25Mbps is recommended to browse, stream, and download without significant lag or interruption.
4 Easy Steps: How to Test VPN Speed
Download a VPN. I recommend ExpressVPN as it's the fastest VPN I've tested.
Run a speed test on your regular ISP connection. This gives you a baseline for comparison.
Connect to a VPN server. Nearby servers will be faster than distant ones.
Run another speed test. Record the VPN speed and compare the result to your baseline.
Enjoy fast speeds with ExpressVPN
Get Fast Speeds and Top Security With a VPN in 2022
Using a VPN will impact your speed, but the best VPNs are designed to mitigate speed loss so you don't even notice it. All of the VPNs on this list provide fast connections and high-level security so you can stream, torrent, game, browse, and more without lag or interruptions.
After rigorous testing, the fastest VPN in 2022 is ExpressVPN. It has consistently fast connections on all servers and its proprietary Lightway protocol ensures top speeds. But don't take my word for it — you have the option to test out ExpressVPN for yourself risk-free. If you're not satisfied (although I think you will be), you can easily get a refund with its 30-day money-back guarantee.
---
Summary — The Fastest VPNs in 2022