Kaspersky Secure Connection Review 2023: Is It Worth Buying?
Kaspersky Secure Connection Overview 2023
When I read about Kaspersky Secure Connection, I was met with mixed reviews regarding its effectiveness. I wanted to see which side of the discussion was right. So, I decided to test it out myself to see if it would fall short of my expectations or exceed them completely.
After extensive testing, I found that Kaspersky has excellent unblocking capabilities. It consistently exceeded my expectations with its fast speeds (on both nearby and distant servers), airtight encryption, and competitive price point. Having said that, Kaspersky does have some limitations, such as a lack of torrenting support and some privacy issues. If you're looking for a premium VPN that has a large server network, torrenting features, and checks all the boxes concerning privacy and security, these are the top VPNs on the market.
Kaspersky offers a standard 30-day money-back guarantee, which is a common practice in the industry. However, the process for requesting a refund is not as simple as it may initially appear. If you're in search of a comprehensive VPN solution, Kaspersky could be a valuable investment. It's advisable to explore its free version before making a purchase decision, allowing you to determine if it aligns well with your needs.
Don't Have Time? Here's a 1-Minute Summary
Kaspersky Secure Connection Unblocks Netflix, Hulu, HBO Max, Amazon Prime Video, Disney+, and BBC iPlayer
I was thoroughly impressed by Kaspersky's unblocking capabilities. While many other VPNs I've tested can unblock Netflix, HBO Max, and Hulu, they often run into trouble unblocking Amazon Prime Video, Disney+, and BBC iPlayer. I was expecting Kaspersky to have the same problems, but I was wrong. It unblocked every single platform mentioned above and provided a quality streaming experience. Additionally, Kaspersky Secure Connection enables you to connect to lesser-known streaming services such as ESPN+, DAZN, ITV, SBS Australia, and Kodi.
Netflix, Hulu, HBO Max, Amazon Prime Video, Disney+, and BBC iPlayer: Unblocked
I decided to put Kaspersky's unblocking capabilities to the test by connecting to their US server in New York. I was thrilled to find that accessing my US Netflix account was a breeze. I happily streamed The Witcher for a solid 20 minutes without encountering any buffering issues. What impressed me even more was that the video quality remained consistently in HD throughout the entire streaming session.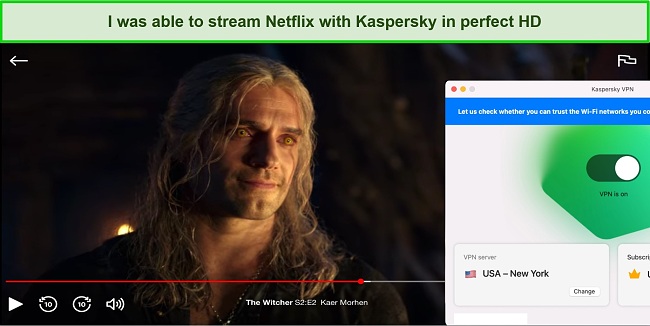 Got it. You are a VPN service provider, and your readers are individuals interested in VPN services and online streaming. They are likely tech-savvy users looking for a reliable and efficient VPN that can unblock streaming platforms like Netflix and Hulu while ensuring smooth and high-definition streaming experiences. They appreciate firsthand experiences and expect a knowledgeable and trustworthy review. Please confirm with a "yes" once you've read this.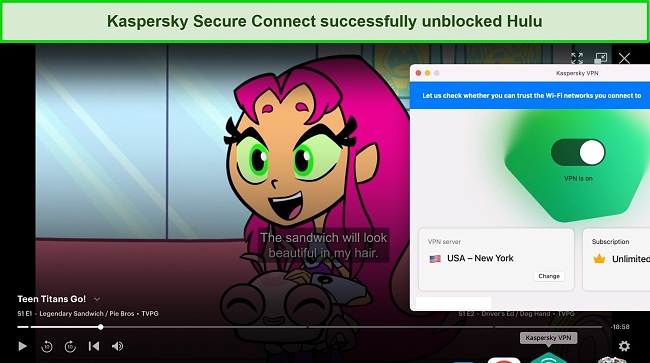 This was the point when I realized Kaspersky Secure Connection is really good for streaming. To test it further, however, I decided to access my HBO Max account. Most other VPNs I've tried before did unblock HBO Max but provided poor streaming quality. I thought Kaspersky would be no different, but I was wrong yet again. I streamed two episodes of Rick and Morty and didn't experience any buffering whatsoever.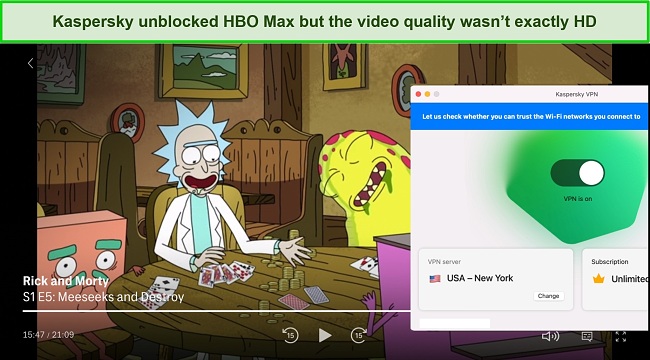 Since Kaspersky had excelled so far, I had high expectations when I tried to use it with Amazon Prime Video. Thankfully, it did not disappoint when I decided to log into my Amazon Prime Video account. With Kaspersky, I was able to stream The Wheel of Time in HD without buffering.
There was one instance where my connection to the VPN's server dropped for some reason, and I received the error message below. However, when I turned off the VPN and reconnected, I could stream Amazon Prime Video without any problems.
I've always had trouble accessing my US Disney+ account with most VPNs when traveling abroad. I either never make it past the login screen or get shown the error message below:
Sorry, Disney+ is not available in your region.
When I connected to Kaspersky's network, I was able to unblock Disney+ without receiving any of the above error messages — it was a pleasant surprise, to say the least. I streamed The Avengers in HD for about half an hour and experienced no buffering at all.
Lastly, tests were conducted to see if Kaspersky can unblock BBC iPlayer, a UK-specific streaming platform most VPNs can't. Kaspersky servers in the UK could access it seamlessly and stream shows like Peaky Blinders in HD without issue.
Kaspersky Secure Connection Provides Amazing Speeds Even on Distant Servers
Based on my completely buffer-free streaming experience earlier, I had no doubt that Kaspersky would perform well in my subsequent speed tests. Nevertheless, I wanted to see it for myself. I tested it on nearby, midrange, and distant servers to see how much the speed would drop with distance and found that it performs exceptionally well on all three fronts.
Speed Test Results
Before I describe my speed test results, I want to tell you that I frequently travel between North America, the Middle East, and Southeast Asia. At the time I conducted this test, I was in Pakistan. This is important to know, so you have a clear idea of which servers were nearby, midrange, and distant for me.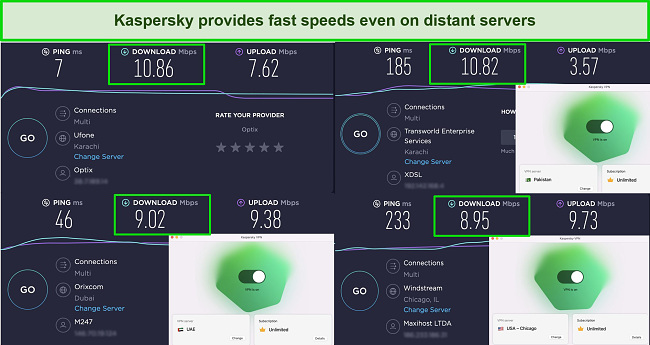 First, I ran a speed test without connecting to the VPN. My baseline download speed was 10.86Mbps. After that, I connected to the VPN's server in Pakistan and I got speeds of 10.82Mbps – a very small speed drop of 0.36%. That's impressive, considering many other VPNs I've tried before gave me a speed drop of up to 15% on nearby servers.
Next, I tested Kaspersky's speeds on midrange servers and connected to a server in the UAE. I got download speeds of 9.02Mbps, a 16.94% drop from my baseline. That's not bad at all, and you can easily surf the internet and stream videos without any problem, especially if you have faster internet than mine.
Premium VPNs that provide fast speeds on short-distance and mid-range servers are common. The real test is how they perform on distant servers. I connected to a server in Chicago, US, and got download speeds of an impressive 8.95Mbps. That's a 17.58% speed drop from my baseline and less than a 1% drop compared to the speeds I got on the midrange server.
I initially connected to a server in New York, but my IP was set to Dallas, Texas for some reason. I disconnected and reconnected multiple times, but the issue persisted. After that, I connected to Chicago and got an IP there without any problems.
Kaspersky also provides a Smart Connect feature that automatically finds the best server for your location. When I used it, I connected to a server in Sweden, which was odd since Sweden was far from my location. However, when I ran the speed test, I got download speeds of 9.45Mbps, more than what I got when connected to the midrange server.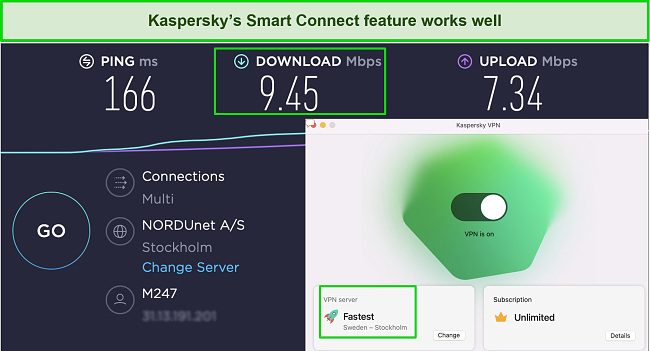 Overall, I was thoroughly impressed by Kaspersky's performance on my extensive speed tests. It provides little to no speed drops on nearby servers and minimal drops on distant ones, which says a lot about its superior infrastructure.
Is Kaspersky Secure Connection Fast Enough for Gaming? Yes, but only on Short-Distance Servers!
Kaspersky Secure Connection provides a superior user experience when connecting to nearby servers without any noticeable performance issues. However, using servers located far away, such as those in the United States, results in high ping rates of over 200 ms. This makes it unsuitable for playing fast-paced games like Fortnite and Apex Legends, although slower online games can still be played.
I also attempted to use Kaspersky Secure Connection for cloud gaming on PS Now and GeForce Now, but the experience was less than satisfactory due to the latency issues. The lag made controlling my character and responding to in-game actions difficult. Therefore, ExpressVPN is a better option for gamers due to its superior performance.
Why Most Speed Tests are Pointless & How We Correctly Test VPN Speeds
Speed determines how fast content uploads, so if you're torrenting or streaming, you want the speed to be somewhat identical to your regular internet speed. Since a VPN encrypts your data, it usually takes a bit longer to send your data back and forth, which can slow down your connection. However, if your ISP deliberately slows down your connection (also known as throttling) a VPN might increase your internet speed. Testing a VPN is somewhat pointless because new servers pop up and affect speed. Your speed can also differ according to your location, so your speed test might not match ours. Having said that, we tested the speed in numerous locations to provide you with the average.
Server Network – Does the Job but Could Be Larger
Kaspersky has 2000+ servers spread across 70+ locations with most of them located in North America, South America, and Europe. Apart from having servers in major countries like the US, the UK, France, Australia, and Japan, Kaspersky also has servers in restrictive countries like Russia, Turkey, and the UAE.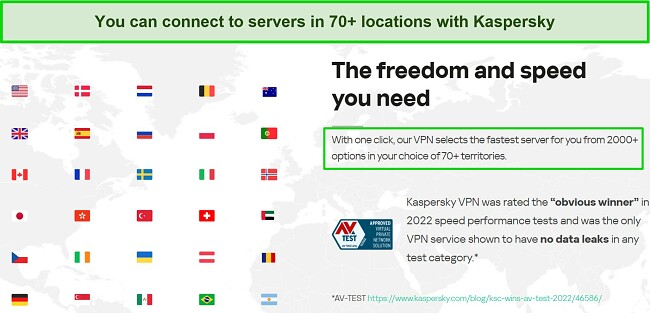 Kaspersky uses Hotspot Shield's server technologies but offers different features and pricing under the Kaspersky brand. These servers are spread across the world, which increases your likelihood of unblocking your home content when you're traveling. However, I still feel a server network across 65 countries might not be enough for some users. If you want a VPN with a larger server network, you can try CyberGhost as it has over 10,200 servers in 100 countries.
Security – Provides Airtight Security
Kaspersky Secure Connection, while not boasting as many advanced security features as the leading VPNs in the market, still offers a sufficient level of protection to safeguard your data.
The security protocols include:
Solid encryption – I dug around Kaspersky's blog and found out that it uses AES 256-bit encryption, which is the strongest encryption out there and is used by military agencies to protect confidential data. Apart from that, Kaspersky adds an extra layer of security with Perfect Forward Secrecy. This means the keys used to encrypt and decrypt your internet traffic keep changing, so your data is almost immune to being hacked.
Catapult Hydra and WireGuard protocol – in the Windows application settings, you have the choice between two protocols – Catapult Hydra and WireGuard. Catapult Hydra, used by Hotspot Shield and Kaspersky Secure Connection, is based on OpenVPN and uses TLS over UDP/TCP. WireGuard on the other hand boasts superior performance, speed, and reliability. Combining both protocols enhances the application's performance, offering you the best of both worlds. However, it's important to note that the Mac, Android, and iOS applications do not allow you to select a specific protocol.
Kill switch – the kill switch disconnects you from the internet if the connection to the VPN drops for any reason, ensuring that you remain anonymous at all times. This ideally prevents accidental data leaks.
Smart protection – Smart Protection concisely secures internet usage across networks, employing intelligent techniques to optimally safeguard online activities, especially on public networks, ensuring a seamless protection experience.
Split tunneling – this feature selectively routes internet traffic through the VPN server, maintaining your regular connection for the rest. It reduces latency and offers targeted VPN protection, balancing security and performance.
In order to assess the security of Kaspersky VPN, I carried out a series of IP leak tests. Initially, I connected to a server located in Cambodia, which provided me with a Cambodian IP address. Next, to detect any possible leaks, I utilized the tools available on ipleak.net and dnsleaktest.com.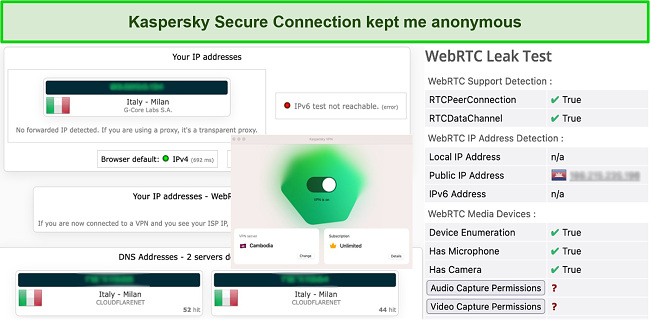 In the above screenshot, you can observe that the website shows my IP and DNS addresses as being in Italy, without any leaks. It is important to note that at the time I am writing this Kaspersky VPN review, I am actually in the United States, my home country. I also tested it for WebRTC leaks and found none. The displayed addresses, therefore, do not indicate my true location, demonstrating the effectiveness of the VPN.
Privacy – Good Privacy Features but a Questionable History
Kaspersky Secure Connection has a zero logs policy, which means that it doesn't collect your internet traffic and, thus, can't sell it to third-party advertisers. However, it hasn't undergone a third-party audit, so you'll have to take the VPN's word for it.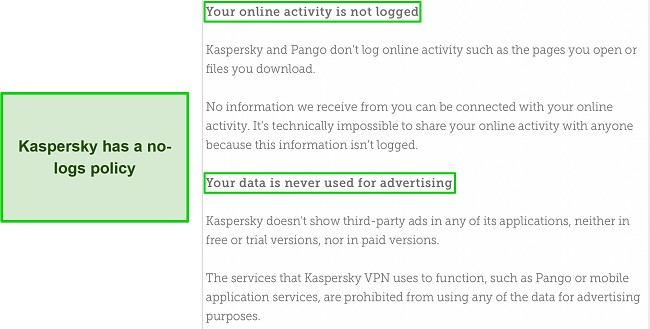 Another thing that concerned me was that, although Kaspersky claimed it doesn't store your information, its privacy policy states that it can store information such as what device(s) you're using Kaspersky on, your subscription details, and wireless network specifications.

Apart from the caveats in its privacy policy, Kaspersky has a questionable history. I dug around various sources and stumbled upon a 2017 Bloomberg report that stated Kaspersky allegedly works for Russian intelligence, including Russia's Federal Security Service (FSB). Apparently, emails exchanged between Kaspersky and FSB point to the fact the two have a working relationship.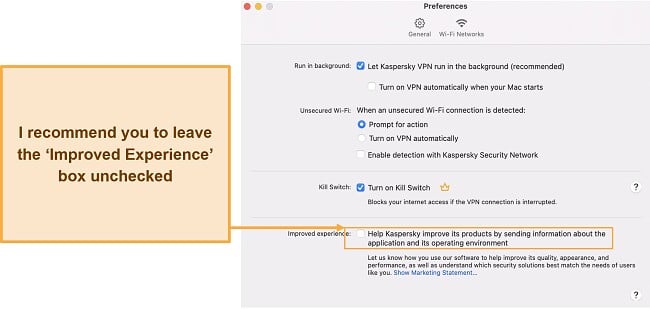 Overall, I wouldn't recommend Kaspersky Secure Connection to someone who wants airtight privacy. Although Kaspersky's privacy features are enough for the average user, its privacy policy has loopholes and the VPN's alleged affiliation with the Russian government is a point of great concern.
To be safe, I kept the 'Improved Experience' box unchecked while testing on the off chance that it reveals my personal information. I urge you to do the same when using Kaspersky.
Torrenting – Lack of Specialized Torrenting Servers
When I initially browsed through Kaspersky's list of servers, I didn't find any information on which ones support torrenting. On the surface, it seemed like either all of their support torrenting or none of them do. I decided to dig into Kaspersky's FAQs and Knowledge Base to find answers, but, unfortunately, I didn't find anything. So, I decided to test its torrenting capabilities on my own.
I connected to a server in the US and downloaded a 3.5GB copyright-free file via uTorrent. It took about 8 minutes for the file to download. After that, I connected to the optimal server in Sweden and downloaded the same file again. This time, the file was downloaded in under 7 minutes.
Overall, the download speeds are adequate, but at times my connection got interrupted in between. That's because Kaspersky doesn't have any P2P-optimized servers, which it should. P2P servers have higher bandwidth and provide a fast and steady connection suitable for torrenting.
Having said that, my team and I don't condone illegal torrenting, so it's always wise to check the rules and regulations in the country you're in.
Does Kaspersky Secure Connection Work in China? No
China has some of the strictest laws for VPNs, so it's rare to find a VPN that works there. So, I inferred Kaspersky would probably not work there. However, when I was browsing through Kaspersky's website, I stumbled upon a note underneath the pricing section that stated Kaspersky isn't available for downloading or activation in Belarus, China, Saudi Arabia, Iran, Oman, Pakistan, and Qatar.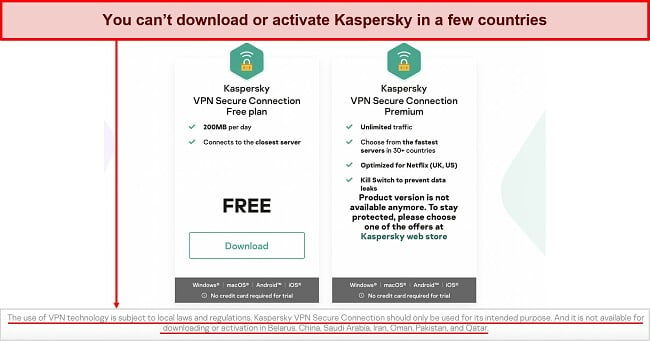 This was odd because I used Kaspersky in Pakistan, and it worked just fine. Although I didn't purchase it there and had asked my colleague in Australia to buy it for me, I activated it in Pakistan. After this, I got curious that if it works in Pakistan, would it work in China?
Unfortunately, I didn't have any of my colleagues in China who could test it out for me. So, I decided to contact customer support. I submitted a ticket and didn't get a response from the team for the next 18 hours. After that, I spoke to a customer service representative via live chat, and he told me that Kaspersky doesn't work in China.
Getting past China's Great Firewall is no easy task, and only a few VPNs are up for the task. One of them is ExpressVPN. Just make sure you install ExpressVPN's app on your devices before you arrive in China.
Please remember that using an unauthorized VPN in China is against the law, but so far, there have been no reported instances of tourists facing consequences for utilizing them. This is because the Chinese government primarily concentrates on employing technological measures to block VPNs rather than targeting individuals directly.
Server Locations
Argentina
Australia
Austria
Brazil
Czech Republic
France
Germany
India
Indonesia
Ireland
Italy
Japan
Luxembourg
Romania
Russia
See all supported locations...
User Experience
- 8.0
/ 10
Simultaneous Device Connections – 5 Simultaneous Device Connections
Kaspersky Secure Connection supports 5 simultaneous device connections, which is the industry standard and enough for most users. I was able to connect my Mac, iPhone, and iPad without any problems. I could surf the internet and stream YouTube on all of them at the same time. There was a little bit of buffering at first since the speed was being shared, but it didn't persist.
If you're using the free version, you can connect as many devices as you want. Of course, that doesn't matter much since you'll only have a data cap of 300MB per day.
Device Compatibility – Supports All Major Platforms
Kaspersky is compatible with Windows, macOS, iOS, and Android. I used its macOS and iOS apps and found that both have a user-friendly and easy-to-navigate interface. However, the iOS app has a few additional features, such as a data leak checker, which checks if your personal information is leaking.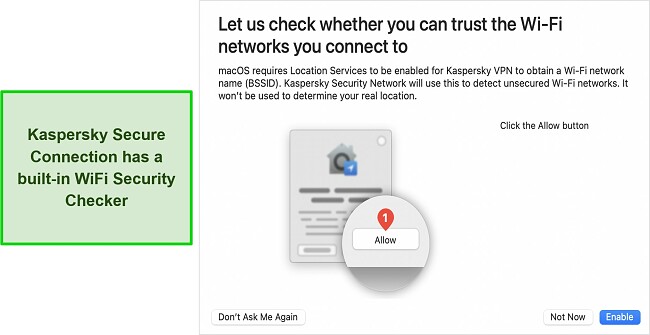 On the other hand, the Mac app has a built-in kill-switch function, which isn't available on the iOS app. Apart from that, both apps have a WiFi security checker, which checks if you can trust the WiFi networks available to you.
Although Kaspersky is compatible with all major platforms, I think it should support other platforms like smart TVs, routers, and gaming consoles too.
Ease of Set-Up & Installation – Easy to Install
Installing Kaspersky is easy. All you need to do is sign up with your email to create a "My Kaspersky" account and choose whether you want to access the free plan or the paid one. If you want the latter, you'll get an activation code, which you'll have to put into the VPN app.
The "My Kaspersky" dashboard has a user-friendly interface. You can easily manage your subscription and see how many devices are connected to Kaspersky. When I downloaded and installed Kaspersky on my iPhone and signed in with my login credentials, I could see my iPhone added to the list of devices on the client dashboard.
Steps to Installing Kaspersky Secure Connection on Windows
Purchase a subscription. Before downloading Kaspersky Secure Connection VPN, you'll need to purchase a subscription from the Kaspersky website. Choose the plan that best suits your needs, create an account, and complete the payment process.
Download the installer. Go to the Kaspersky Secure Connection VPN product page and click on "Download" to start downloading the installer for Windows.


Run the installer. Once the download is complete, locate the installer file and double-click it to run the installer. You may need to provide administrator permissions to continue with the installation process.
Install Kaspersky Secure Connection VPN. Click on "Install" to begin the actual installation of the VPN software on your Windows computer. The process may take a few minutes, so please be patient. 
Launch the application. Find the Kaspersky Secure Connection VPN icon on your desktop or in the Start menu, and double-click it to open the application. You may be prompted to enter your Kaspersky account credentials (email and password) to activate the software.


Connect to a VPN server. After successfully activating the software, you will see the main interface of Kaspersky Secure Connection VPN. To connect to a VPN server, click on the "Connect" button. By default, the VPN will connect you to the optimal server based on your location, but you can also select a specific server from the available list.

Kaspersky's support options vary depending on location. If you're in the US, you can use the virtual assistant tool (which is practically useless), live chat, and a ticket system.
I used the live chat, and it was cumbersome to use. I had to fill in multiple drop-down boxes and submit my email address before I could start the chat. However, the representative was available as soon as I entered the chat room, which was impressive.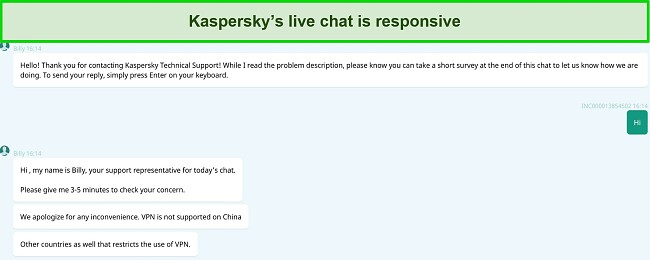 Kaspersky provides an FAQ section and a Knowledge Base, which aren't very detailed but will help you fix basic VPN issues. I found them a bit confusing and difficult to navigate, especially since you have to find your way through the Kaspersky suite of services to get to the correct FAQ page.
I also used Kaspersky's ticket system, and the support team's response time was slow. I received a response after 18 hours, which is not impressive at all. Other VPNs I've used before provided a response within a couple of hours. The fastest of all have 24/7 live chat — I tested ExpressVPN's live chat support and got a reply almost immediately.
How We Test Customer Support and Why Should You Care
We personally test the customer support team of every VPN we review. This means asking technical question through the live chat feature (where applicable) and measuring the response time for email questions. Whether you need to connect to a specific server, change your security protocol, or configure a VPN on your router, finding a VPN with quality customer support should be important to you.
Kaspersky Secure Connection distinguishes itself in the VPN market through its blend of valuable features and affordable pricing. The service provides two versions, a free version, and a premium version. The free version, which has no time limit, allows you to use it indefinitely. However, it comes with a daily data cap of 200MB. Additionally, the free version does not permit server selection; rather, it employs the Smart Connect feature to automatically connect you to the nearest server based on your location.
On the other hand, the premium version, which offers both monthly and yearly plans, provides unlimited data and the option to connect to servers in over 60 countries. Furthermore, the premium version comes with additional features such as a kill switch and split tunneling, which are not available in the free version.
Kaspersky accepts payment in credit and debit cards, net banking, prepaid cards, and other mobile payment methods. It doesn't accept Paypal and cryptocurrency payments yet. Also, it provides a 30-day money-back guarantee. However, requesting a refund isn't as simple. You need to contact 2Checkout via email or phone.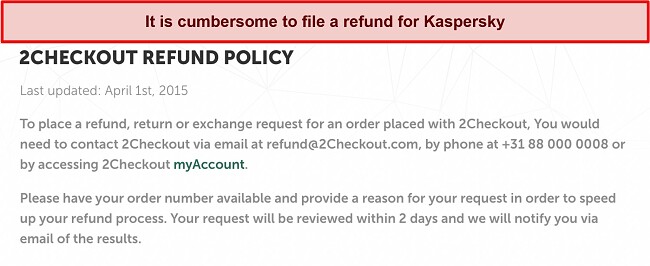 While Kaspersky offers great performance at an affordable price, its refund policy is a bit questionable. If you are searching for a VPN that offers a dependable refund policy, I suggest exploring the choices featured in our list of the top monthly VPNs.
Kaspersky Secure Connection offers the following plans
Final Verdict
Overall, Kaspersky Secure Connection is a good buy because it provides fast speeds, a relatively well-spread-out server network, and solid security. Its excellent unblocking capabilities, along with its user-friendly app make it suitable for avid streamers who want to access geo-blocked content when they are traveling.
The only thing Kaspersky lacks is good torrenting features such as P2P-optimized servers. Other than that, its privacy and refund policies are questionable. Therefore, if you just need a VPN to get by the day, you can use Kaspersky's free version. If you want to buy the premium plan, I recommend you get the 1-month plan to see if it suits your needs.
If you're looking for a premium VPN with excellent torrenting features, airtight security, and blazing-fast speeds, I strongly recommend you try ExpressVPN.
FAQs About Kaspersky VPN
Is Kaspersky VPN good?
Yes, Kaspersky is a great VPN. It provides consistent and fast speeds with little to no speed drops. Plus, it has decent security features such as a built-in kill switch for its desktop app, leak test on the iOS app, and perfect forward secrecy.
Apart from that, it has a decent server network across 60+ countries. If you travel frequently as I do and are an avid streamer, you can use Kaspersky to access geo-blocked content from anywhere in the world.
Is Kaspersky VPN really safe?
Not entirely. Kaspersky is completely safe to download as it doesn't contain any malware that would infect your computer. It also has good security features, such as AES 256-bit encryption, Perfect Forward Secrecy, a built-in kill switch, and an OpenVPN encryption protocol.
On the downside, though, Kaspersky's privacy policy has loopholes. Despite having a no-logs policy, it might store some of your personal data, including what device you are using Kaspersky on and your WiFi networks. Apart from that, Kaspersky is based in Russia and allegedly has a history of working with the FSB.
Can I use Kaspersky VPN for free?
Yes, Kaspersky has a free version that you can use for as long as you want to. However, you'll have a data cap of 200MB per day, which is not suitable if you're an intensive VPN user. Also, you can't pick and choose servers on the free version. You can only use the Smart Connect feature, which connects you to the best possible server based on your location.
The caveat of using free VPNs, including the free version of Kaspersky, is the low data caps. If you're looking for a free VPN that has little to no data restrictions, there are a few reliable options.
We rank vendors based on rigorous testing and research, but also take into account your feedback and our commercial agreements with providers. This page contains affiliate links.