How to get an IP Address in Thailand in 2 Steps
Last Updated by Joel Timothy on June 19, 2022
When you travel, accessing the content that you are used to can difficult. You will encounter region locks, geo-restrictions, and censorship almost everywhere.
However, you can get around all this and take a piece of home with you by using a VPN to connect to a proxy IP address.
If you are not familiar with VPNs, the whole process can sound complicated, but they're actually easy to use.
In fact, you can get an alternative IP in just two steps:
Get a fast VPN with servers in Thailand. Try ExpressVPN risk-free with its 30-day money-back guarantee.
Connect to a server in Thailand.
After that, you will now be able to use the internet just like you did at home; bringing so many benefits, and even improving online privacy and security.
In this guide, we'll show you how to get a Thai IP address with the right VPN.
The Advantage of Having a Thai IP Address
1 Stream TV and Videos from Thailand
Most popular Thai TV networks like Workpoint, TrueVisions, Thairath, CH33 Thailand, and others now have online streaming services.
However, these services are usually geo-restricted, and you can only watch them when you're in Thailand. Fortunately, this can be changed using a Thai IP address, as the services won't discern between actual and proxy location settings.
The concept also applies to the other popular streaming services like Netflix and Spotify, which offer content depending on the region. If there's a particular show or album that's not available in your current area, a VPN can allow you to access more content.
2 Retain Resident Account Access in Thailand
Certain services like online banking and PayPal restrict the use of accounts abroad. Though this is for security purposes, it can be an inconvenience.
A VPN can allow you to access local accounts.
3 Bypass Censorship Blocks
Censorship is on the rise, and you may find yourself unable to use certain global services as you did at home. Different countries have different levels of censorship, but you can overcome it by changing your IP address.
If you have traveled to a country with high censorship like China or Iraq, you will need a VPN that can bypass Deep Packet Inspection (DPI). Check out the best VPNs for China.
How to Check That Your IP Address Has Changed
Some VPNs are unreliable; they may give you a false sense of privacy and security because they can leak data.
As a result, your anonymity and privacy are compromised, and you won't be able to unblock any services that you were trying to access.
It's important to check if your IP change was successful, and you can do that using WizCase IP checker. There, you'll be able to see your IP address, location, and even your protection status.
How to select the Best VPN for a Thai IP Address
To get the right VPN for a Thai IP address, there are several factors to consider. There are many benefits to using a VPN, including privacy, security, anonymity, evading ISP throttling, etc.
Here are the fundamental factors:
Servers in Thailand
A VPN without servers in Thailand can't be used to get a Thailand IP address. It will be better if a VPN has many servers in the country, as this means users won't be over-crowding one server.

Fast Speeds
You'll need a fast VPN to stream without worrying about lag. Different VPNs offer different speed rates, and so ensure yours is fast enough to stream in HD seamlessly.Security & Privacy
A good VPN should have a proper privacy practice and offer reliable security. It should not keep any logs, and preferably, it should be registered in a country with civil privacy laws. As for security, it should use AES 256-bit encryption along with an automatic kill switch and DNS/IPv6 leak protection.Fast, Reliable Support
What's a good VPN without reliable support? A premium VPN should always be ready to sort out any issues that you might have 24 hours a day.
Though you should consider the above before choosing from the 100+ VPNs out there, making sense of everything can be time-consuming.
To ease things up for you , we've gone ahead and analyzed and tested various VPNs to find the best for Thailand.
Top VPNs for a Thai IP Address
1. ExpressVPN– World's Best VPN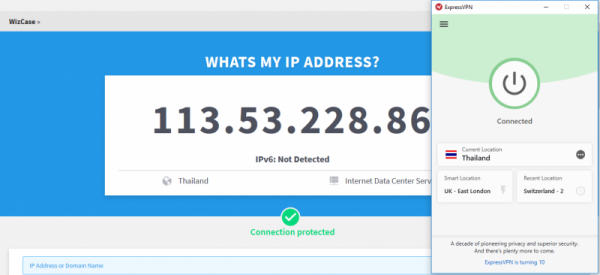 3,000+ global servers
Unlimited bandwidth
Split tunneling
ExpressVPN is the leader in the VPN market, and it boasts servers spread across 160 locations in 94 countries. Thailand is one of the countries covered by the VPN, and you will be able to connect with excellent speeds.
One great thing about ExpressVPN is that it works with almost all streaming services. You'll be able to watch the likes of Netflix, Hulu, BBC iPlayer, etc.
ExpressVPN keeps absolute zero logs policy, and so you don't have to worry about exposure. Security is also good thanks to AES 256-bit encryption, and features like automatic kill switch and DNS/IP Leak protection.
With ExpressVPN, you'll get an all-round VPN and with a 30-day money-back guarantee to let you try it risk-free. In case of any problems, there's 24/7 live chat support ready to assist you.
2. CyberGhost VPN– Most servers in Thailand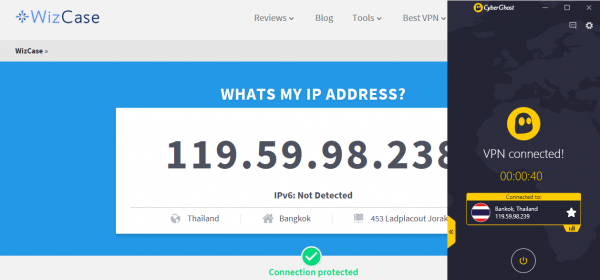 3,600+ global servers
Unlimited bandwidth
Use on up to seven devices simultaneously
CyberGhost VPN is currently one of the top VPNs thanks to its superb performance and exceptional client apps.
The VPN also boasts a huge server network consisting of servers located in 62 countries worldwide, with Thailand covered with ten servers.
With CyberGhost, your privacy and security are ensured. The VPN is based in Romania, and it doesn't keep any logs whatsoever. Furthermore, it uses OpenVPN AES 256-bit encryption, which is very secure. There's also a kill switch, ad & malware blocker, and leak protection.
CyberGhost clients have various modes of connection that you can use depending on what you want to achieve, and they are fully-featured. The apps are also easy to use, and they are suited for both power and novice users.
Your subscription will be covered with a 45-day money-back guarantee.
Can you use a free VPN to get an IP address anywhere?
Though free VPNs may sound like an attractive option of getting a Thai IP address, they're not. First of all, you won't easily find a free VPN that offers free servers in Thailand.
Most free VPNs only provide servers in an average of three locations, and others don't even allow you to choose the server you use.
Additionally, even if you manage to get a free server in Thailand, it will be restricted. Your data will be limited, your speeds will be capped, and it won't be able to circumvent geo-restrictions.
If you are looking for a VPN that you can use just for a short time, we'd suggest that you go for a risk-free premium trial.
From our tests, ExpressVPN, and CyberGhost do not bother you when you decide to cancel your account and get a refund, even on the last day.
Final Word
To use the internet as if you never left Thailand, all you need to do is get a Thai IP address. Doing so is quite easy as you need to pick a VPN from our list, take advantage of the discounts offered, and then install the VPN.
Once you connect to a server in Thailand, you're good to go.