How to Download Region-Locked Games from Anywhere 2020
Last Updated by Kate Hawkins on November 01, 2020
I get really annoyed when I have to wait months before a new game release becomes available in my country, and I'm constantly blocked by this error message:
"This item is currently unavailable in your region"
After lots of trial and error, I found that you can access region-locked games, DLC, and sales from anywhere in the world using a VPN. It masks your IP address and makes your game consoles think you're in the right country to access region-locked content.
I've created easy step-by-step guides to help you set up a VPN to download region-locked games for PS4, Xbox One, Steam, and Nintendo Switch. You'll also get instructions on how to purchase the games you want from anywhere (no foreign credit card required).
Do note that not all VPNs can bypass your console's detection — and if you get caught, your gaming account could be terminated. I risked my own accounts and tested 29 different VPNs with PS4, Nintendo Switch, Xbox One, and Steam to shortlist the 3 most reliable service providers that can unblock games safely without detection. I continue to use NordVPN as my preferred VPN as it can reliably get around geo-blocks while maintaining the fast speeds required for gaming (as a bonus, you can try it for free using its 30-day money-back guarantee).
Unlock games with NordVPN today
Quick Guide: 3 Steps to Download Region-Locked Games from Anywhere
Get a VPN. Then, install it on your compatible router. I recommend you try NordVPN because it has broad router compatibility and because you can test it using its 30-day money-back guarantee.
Connect to the VPN server. Select a server in a country where the gaming content and sales you want are available.
Start gaming! You can now download and play your region-locked game from anywhere!
Why You Need a VPN to Unblock Region-Locked Games, DLC, and Sales
A VPN encrypts and redirects your connection to mask your IP address. When it reroutes your internet traffic through one of its servers in another location, it also assigns you an IP address associated with that server. Since an IP address tells online game stores where you are physically located, this makes it look like you are in the same place as the server. This VPN camouflage lets you access another country's virtual marketplace content without ever leaving your home.
Each console manages region restrictions differently. Some region-lock games temporarily according to release dates, others do so permanently. Many companies restrict DLC or sales. Regardless of the game system you use, the only way to reliably access all games, DLC, and sales is by using a VPN to change your IP address and update your account region.
Finally, using a VPN with top-tier security is important because it prevents strict companies (like Steam!) from realizing that you're spoofing your location and banning your account.
Do This First to Avoid Download Errors or Delays!
Before you try to download any region-locked game, you'll need to get a gift card and set up a VPN properly to ensure you don't face any errors or delays. If you skip these steps, you won't be able to successfully pay for your purchases or change your game account region.
1. Get a Gift Card to Pay for Region-Locked Games From Anywhere
Most online game stores require that your payment method is linked to a billing address in the same country. While there are different strategies for individual consoles, using a gift card is the only way I've found that lets you bypass the local payment method requirement for any console.
Here's how you can get started:
Download a VPN and connect to a server. You can try NordVPN so you can get a local IP address and buy gift cards in the correct currency.
Visit a gift card site that offers game store gift cards. You can check out stores like MyGiftCardSupply.com or CDKeys.com.
Purchase a gift card in the country's local currency. Your gift card will be delivered by email in a few minutes.
Turn on your console and connect it to your VPN-protected WiFi. If you need help connecting your console through your VPN, see the instructions below.
Add the gift card to your account. After you've switched your account location, you'll be able to redeem your gift card in your account settings on the game store!
2. Set Up Your VPN to Access Locked Games
Currently, there are no native VPN apps for PS4, Xbox One, or Nintendo Switch. The best way to ensure your VPN works with your console is to set it up on your router or via your computer's hotspot. These quick guides will show you how to do this within a few short minutes:
Easy Steps to Install a VPN on Your Router
Guide to Set Up a Virtual VPN With a Hotspot on Your Computer
Download a VPN on your computer. I recommend you install ExpressVPN because it's compatible with both Windows and macOS.

Set up a mobile hotspot using your computer. This step will vary according to your operating system.
On Windows:





On Mac:

Change your adapter settings. This will allow your VPN to be shared through the connection. Your VPN will have setup instructions available to walk you through this process according to your particular operating system.
Connect your console to the mobile hotspot. Then visit your online gaming store and get the geo-locked content you want!
Try ExpressVPN risk-free today
Step-By-Step Guides to Download Games on PS4, Nintendo Switch, Xbox One, or Steam From Anywhere
After you've got your gift card and VPN set up, you can now access region-locked games on your gaming consoles. Here's how:
Instructions for PS4
Sign in to your VPN and connect to a server in the country that has access to the content you want.
Click "Create a new account" and follow the prompts. Use an email that's not associated with an existing account for your "Sign-in ID".

Complete the account information. Set your new "Country/Region" to an area that already has access to the games you want. Then, click "Agree and Create Account".

Next, connect your PS4 to your VPN-protected WiFi.
Click your Network Name (SSID). If your router/hotspot is connected through the VPN, this will now reroute your PS4's connection and give it a local IP address.

Access the online game store with your new account. Select the game you want and pay with a gift card.
Start gaming!
Unlock PS4 content with NordVPN
Directions for Nintendo Switch
Sign in and connect your VPN to a server in the country that has the content you want.
Restart your console to complete the region change.
Access the virtual marketplace. Choose the game you want and pay with a gift card.
Start gaming!
Here's a tip for you: If you have funds in your Nintendo account already, use them up before you change regions — Nintendo may block you from changing your location otherwise!
Unlock Nintendo content with NordVPN
Guide for Xbox One
Sign in and connect your VPN to a server in a country where the content you want is available.
Click "Language and Location". Choose the region you want from the list — make sure the content you want is already available there!

Access the online game store. Find the game you want and pay with a gift card.
Start gaming!
Important: If you purchase DLC from a location different from your game (for example, you buy the main game in the UK and DLC from the US), it may not be compatible. If you want the latest Cuphead or Call of Duty DLC, get your game from the same region.
Unlock Xbox content with NordVPN
Instructions for Steam
Download a reliable VPN for Steam. Connect your VPN to a server in a region where the content you want is available.
Choose the country you want from the dropdown menu. Make sure it matches your VPN location to avoid getting your account banned.

Enter a billing address from your new country and click "Apply Country Change." If you use a gift card or your Steam Wallet, you must enter an address that matches your new country. You can use any address you find on Google Maps (I used 1001 E Main St, Yukon, OK 73099 for the US and it worked perfectly for me).

Access the online Steam Store. Find the game you want and pay with a gift card.
Start gaming!
Tip: Don't change your location too often. You can only switch your account location after the 2-week long "cooldown period".
Unlock Steam content with NordVPN
3 Best VPNs for Unblocking Region-Locked Games from Anywhere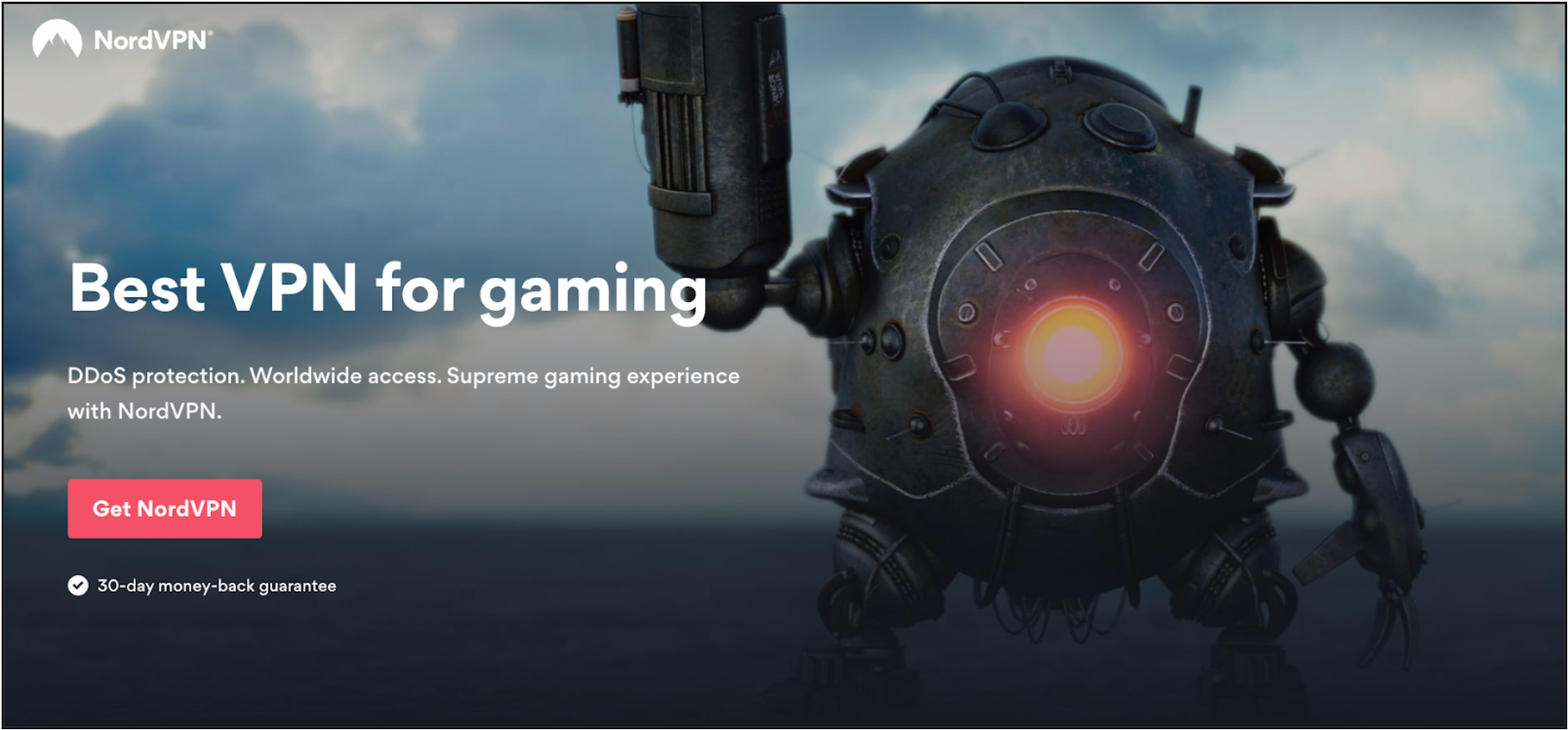 Key Features:
5,600+ servers in 59 countries so you can access game stores from around the world
Unlimited bandwidth for fast gaming speeds
Military-grade encryption masks your IP address for secure connections
24/7 customer service with live chat to help you troubleshoot any problems
30-day money-back guarantee so you can try it 100% risk-free
NordVPN is the top VPN for bypassing geo-blocks with 5,600+ reliable servers in 59 different countries. This lets you access game stores from a huge number of regions from almost anywhere in the world and get the best prices.
When I connected to the different NordVPN servers, I was surprised how easy it was to connect to each game store. I had no problems accessing Japan's Nintendo eShop or downloading content from the US PlayStation Store. I was also worried about Steam's tough anti-VPN technology, but NordVPN's military-grade encryption allowed me to change my Steam account location without being detected.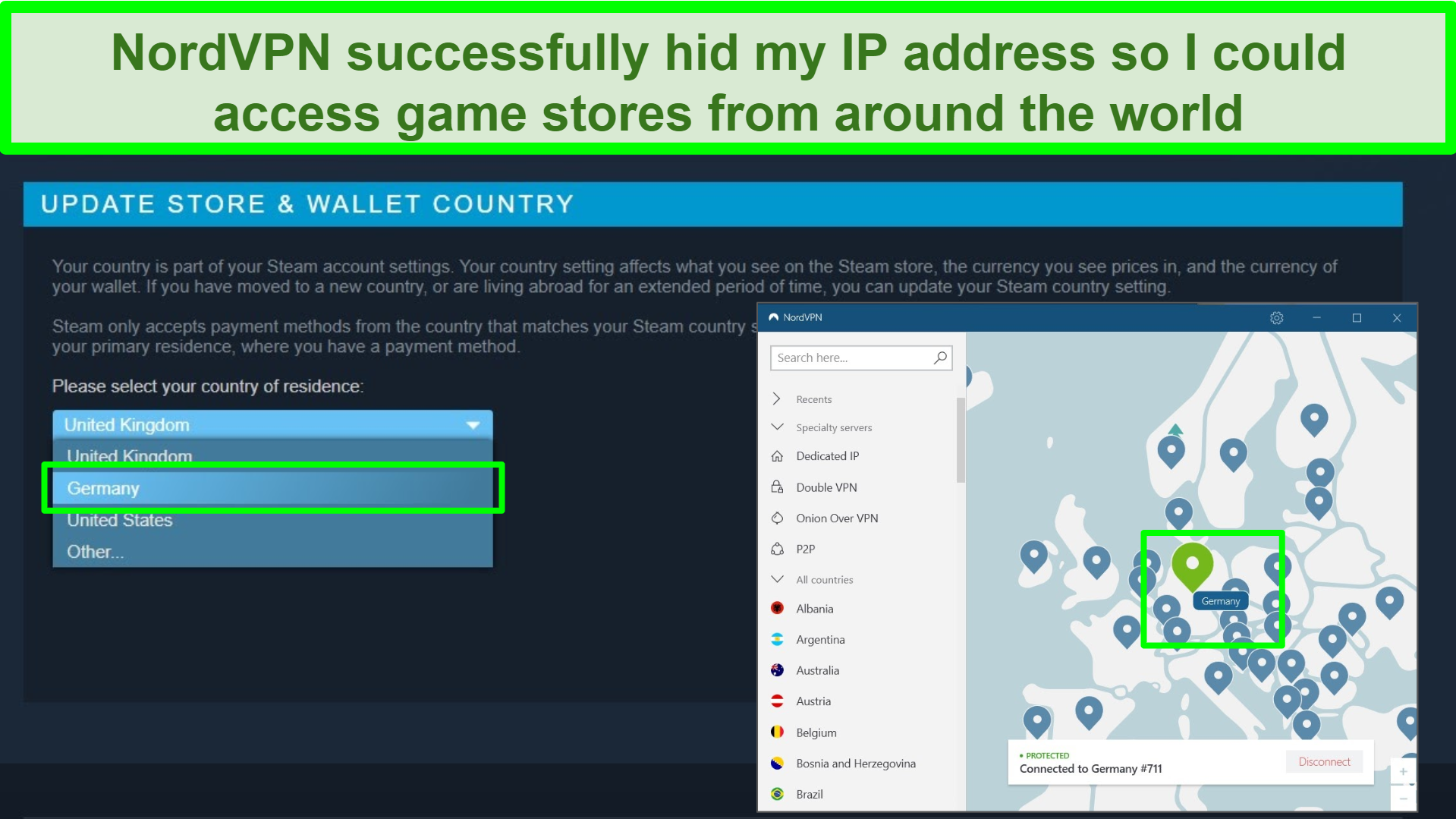 Aside from being able to bypass geoblocks, I wanted to make sure that NordVPN would give me a good gaming experience. To make sure it's fast, I conducted 5 different local and long-distance speed tests. I also tested it with servers in countries that are popular for new game releases (the US and Japan). I was impressed by NordVPN's consistently fast speeds. All of my connections were over 35Mbps, so I was able to download Fortnite on my PS4 (7.5GB file size) and enjoy lag-free play in less than 20 minutes. Plus, my fastest connection in the UK was almost 62Mbps — faster than my baseline speed of 61Mbps!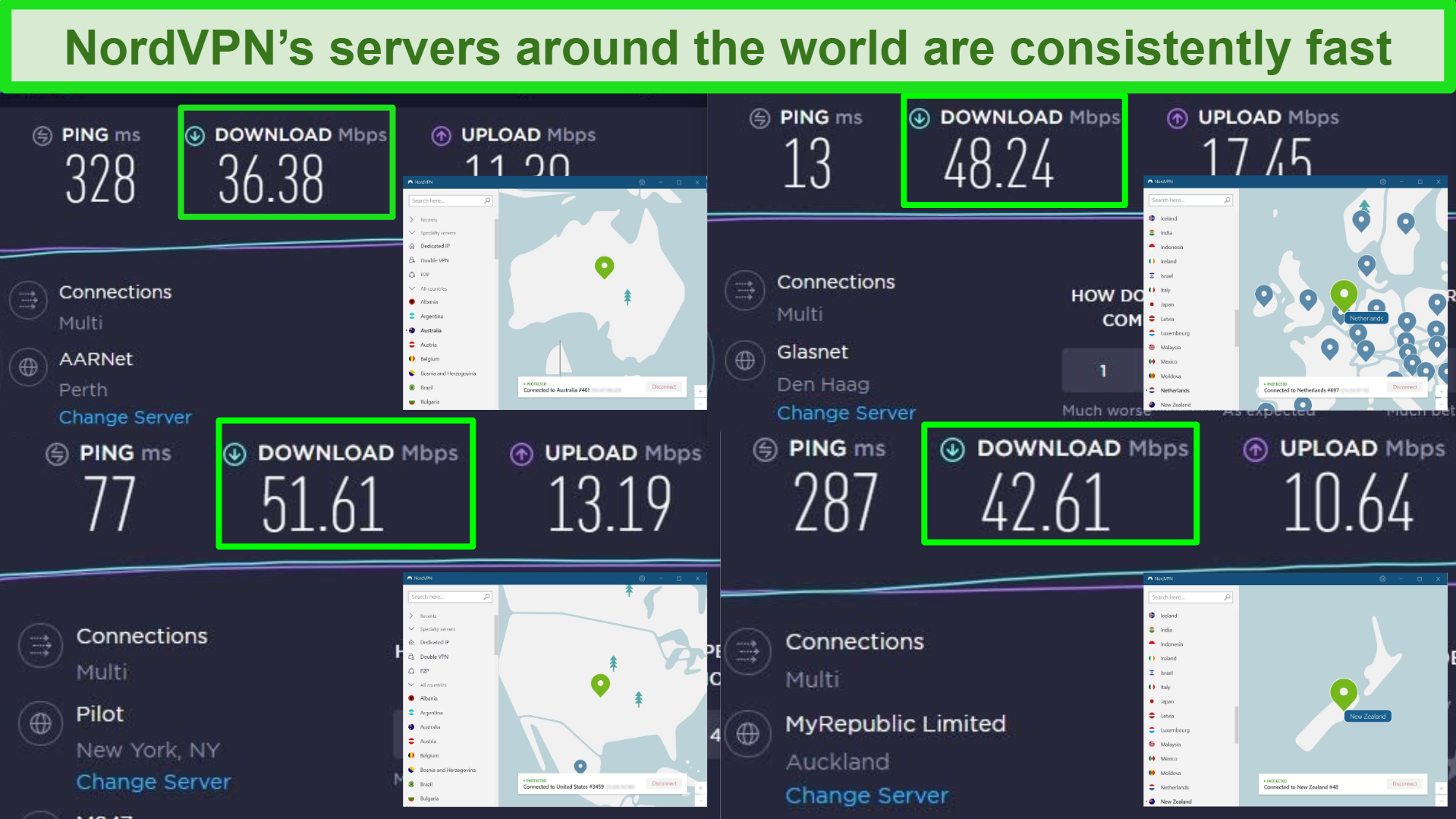 NordVPN's broad device compatibility also makes it the best VPN for gaming. One of my favorite games to play on my Windows laptop is MineCraft. Since compatibility with Windows can be a problem for some VPNs, I didn't want to risk subscribing to a service that wouldn't work well. But I was really impressed that NordVPN offers the same features across different device types and operating systems. I didn't notice any changes in my gaming experience whether I was using my laptop, iPhone, or Android tablet — so I wasn't surprised to learn that NordVPN is one of the best VPNs for Windows.
The only slight issue I experienced was that NordVPN doesn't work consistently in China. But since I don't travel there frequently, this wasn't a big issue to me. Besides, NordVPN is still the best VPN for gaming in almost any other country. Plus, it can give you access to platforms that other VPNs can't, and it can even bypass Netflix's proxy error.
But don't take my word for it — you can try NordVPN for free using its 30-day money-back guarantee. I tried NordVPN for myself and found it easy to get a full refund. I used the VPN for 29 days and then contacted customer service through live chat. The representative wasted a few minutes trying to get me to stay, but processed my refund promptly when I said I wasn't interested. I was done with the chat in less than 3 minutes and I had my money back in 4 business days.
NordVPN also unblocks: Twitch, YouTube Gaming, Humble Bundle, GOG.com, Origin, GameStop, Game, Netflix, Disney+, Hulu, Amazon Prime, YouTube, and more.
NordVPN works on: Windows, macOS, Android, iOS, Linux, Android TV, Smart TVs Chrome, Firefox, routers, PlayStation, Xbox, Nintendo Switch, and Raspberry Pi.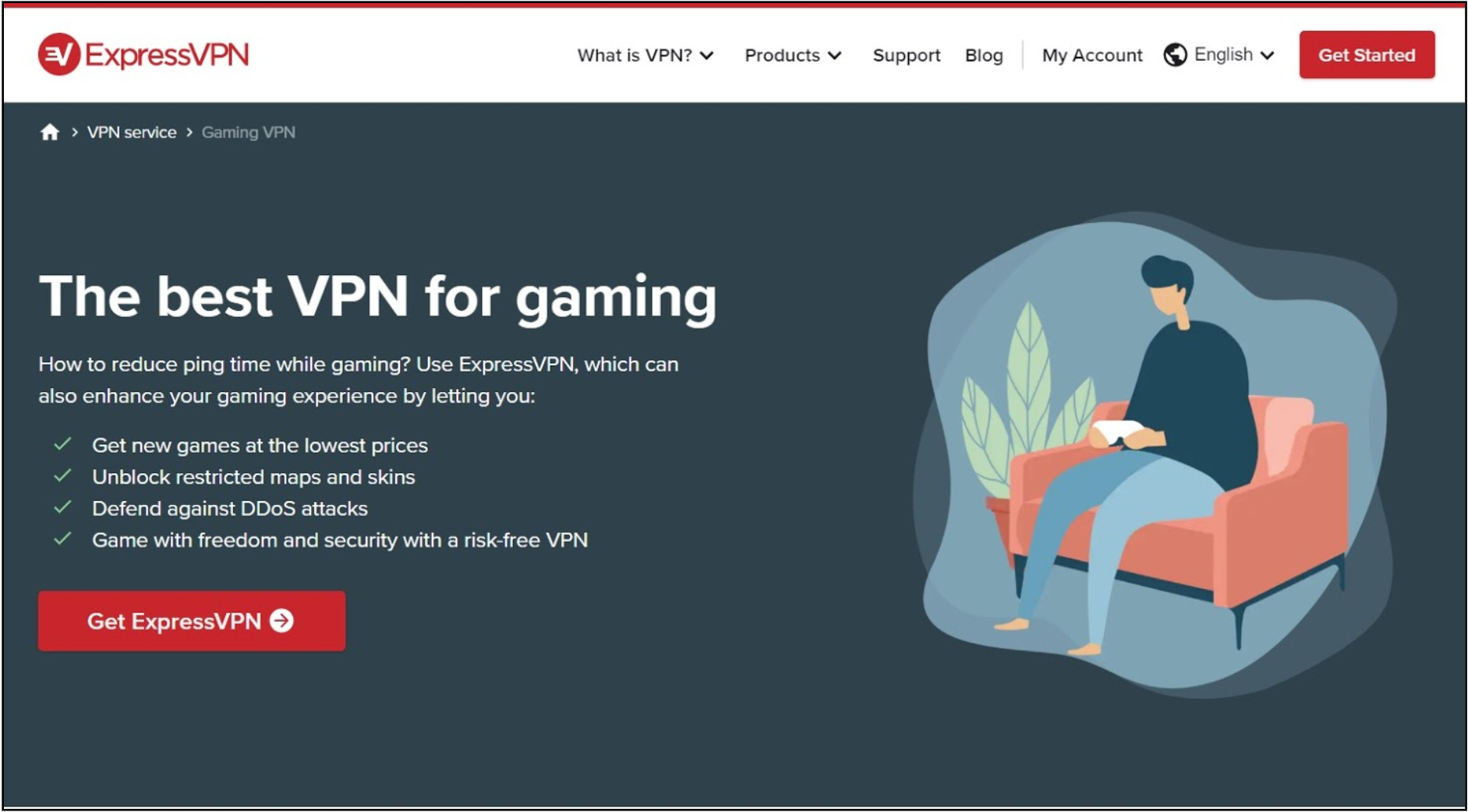 Key Features:
3,000+ servers in 94 countries for global gaming connections
Unlimited bandwidth can reduce latency for smooth gaming and fast downloads
Best-in-class encryption hides your location to access any game store
24/7 customer service available via live chat and email
30-day money-back guarantee
ExpressVPN has servers in 94+ countries (more than any other VPN on this list), making it one of the best VPNs to unblock online game stores from anywhere. I was impressed to learn that ExpressVPN can bypass China's Great Firewall and it even works in the UAE (one of the most heavily censored countries in the world). With technology like this, you won't have to worry about whether or not you'll be able to get geo-restricted games.
In addition to its unmatched ability to get around geo-blocks, ExpressVPN also uses the same level of encryption and leak protection technology as cybersecurity experts. If you're worried about being punished for using a VPN by online stores like Steam or government censorship, then ExpressVPN is a great option to keep you 100% safe.
Since I often travel to countries (like India) where you can be jailed for playing some games, I didn't want to risk using a VPN that might leave me exposed. To test its safety promises for myself, I ran a DNS leak test while connected to ExpressVPN to see if it would keep my real IP address hidden. After connecting to dozens of servers throughout the US, Europe, and Asia, I was relieved that ExpressVPN never revealed my true location.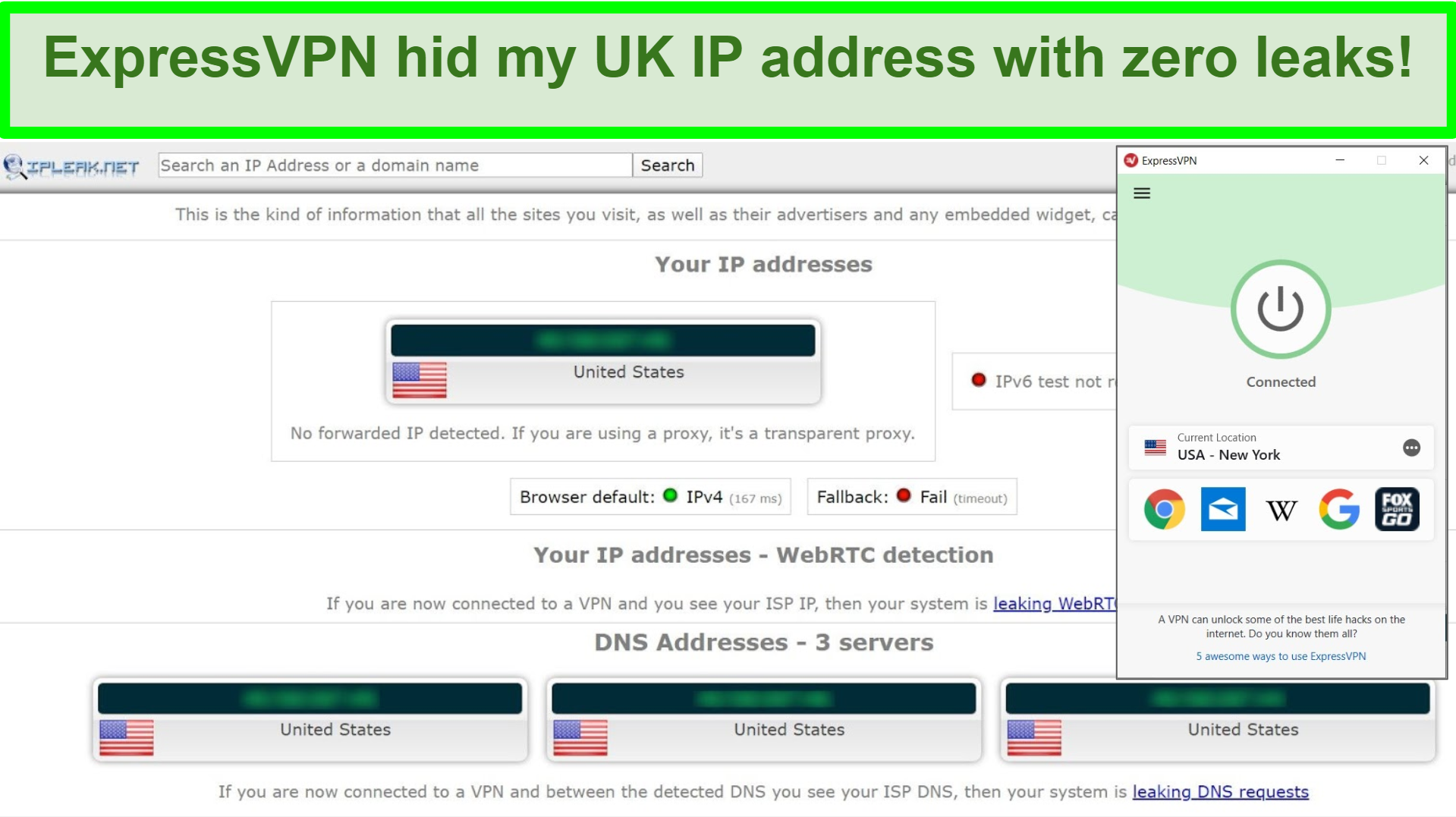 In terms of speed, ExpressVPN lets you download games fast and enjoy lag-free play. You can download as many games as you want on any server without worrying about bandwidth or data caps. I tested several ExpressVPN servers and my speeds were consistently fast — the UK at 60.8Mbps, USA at 47.4Mbps, and Japan at 42.8Mbps. During testing, this was fast enough to let me download Stardew Valley on Steam and start playing in less than 5 minutes!
The only downside is that ExpressVPN is a bit pricier than other VPNs. In a head-to-head price comparison, I found that NordVPN's longest subscription cost almost 50% less than ExpressVPN's. But I think it's worth paying a few extra dollars each month because of its ability to bypass geoblocks and blazing-fast speeds.
ExpressVPN is great for downloading region-locked games, especially if you're in a country with tough internet restrictions (like China). If you want to make sure it's the right choice for you, you can try ExpressVPN risk-free for 30 days with its money-back guarantee. When I contacted ExpressVPN's live chat for a refund, they didn't try to convince me to stay — they processed my request with no questions asked and I had my money back in 4 days.
ExpressVPN also unblocks: Twitch, YouTube Gaming, Humble Bundle, GOG.com, Origin, Netflix, and more.
ExpressVPN works on: Windows, macOS, Android, iOS, Linux, Apple TV, Amazon Fire TV, Smart TVs, routers, PlayStation, Xbox, Nintendo Switch, and Smart home devices.
Try ExpressVPN for free today!
Get ExpressVPN's Black Friday Deal! ExpressVPN has dropped prices for a limited time to a crazy $6.67 per month for the 1-year plan (you can save up to 49%)! This is a limited offer so be sure to grab it now before it's gone. See more information on this offer here.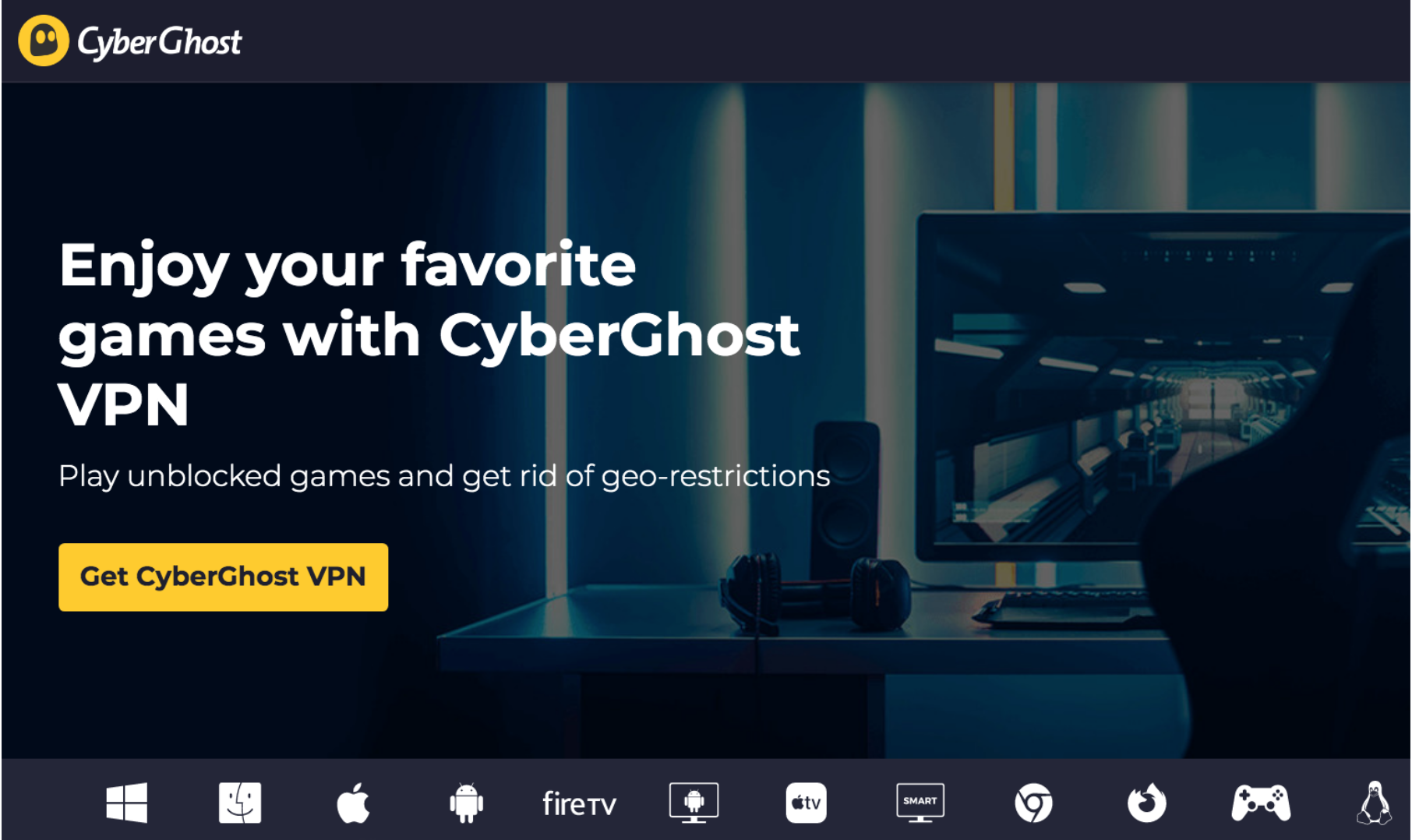 Key Features:
6,400+ servers in 90 countries for easy connections around the world
Optimized servers to download games safely and quickly
Military-grade encryption hides your real location
24/7 customer service with live chat and email support
45-day money-back guarantee
CyberGhost's 6,400+ servers bypass geoblocks easily and its specialty torrenting servers can help you download games fast.
CyberGhost has the biggest server network of any VPN on this list to help you access restricted games, DLC, and discounts. However, it was annoying to me that I couldn't always access the right store location when I initially connected. CyberGhost's customer service suggested clearing my browser cache (location data can be stored there) or switching to a different server in the same country. These methods worked for me, but the extra step was a bit inconvenient.
Aside from bypassing geoblocks, I wanted to make sure that CyberGhost would let me download my favorite games fast. To test it for myself, I connected to the fastest server near me in the UK and ran a speed test. Then, I connected to the UK's optimized torrenting server. The optimized server was over 10Mbps faster — that's an increase of almost 40% on the standard server speed! I was impressed that CyberGhost's optimized torrenting server gave me blazing-fast speeds for downloading games and DLC.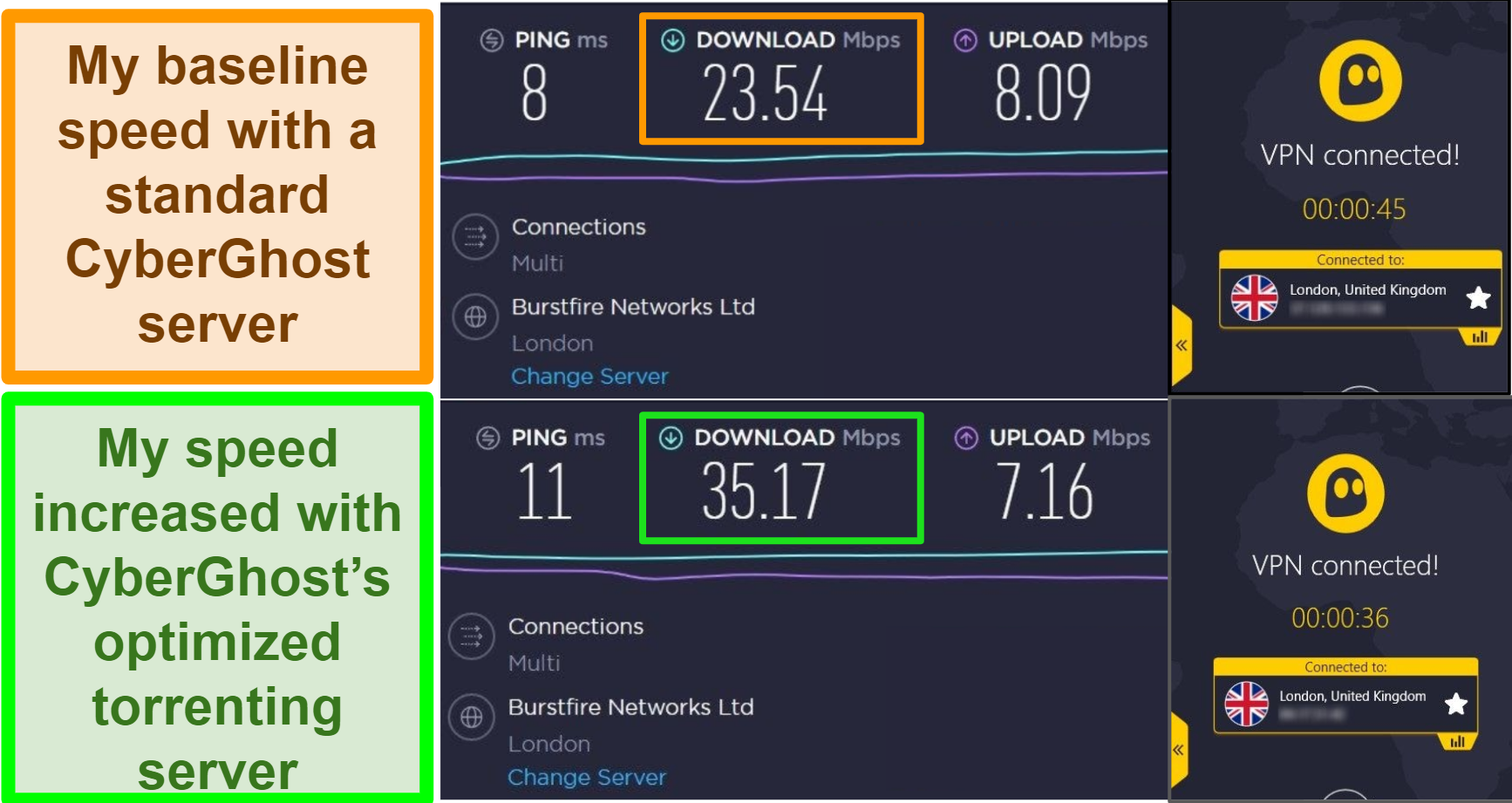 To make sure it's the right VPN for you, you can try CyberGhost for 45 days risk-free. That's the most generous refund policy of any VPN on this list. I used the money-back guarantee and got a full refund in 5 days by sending an email to customer support. Plus, the representative didn't waste my time trying to convince me to stay.
CyberGhost also unblocks: Twitch, YouTube Gaming, Humble Bundle, GOG.com, Origin, Netflix, and more.
CyberGhost works on: Windows, macOS, Android, iOS, Linux, Amazon Fire Stick, Android TV, routers, PlayStation, Xbox, Nintendo Switch, and more.
Try CyberGhost for free today!
November 2020 Black Friday Update: CyberGhost has dropped prices for a limited time to a crazy $2.25 per month + get an extra 3 months free with the 3-year plan (you can save up to 83%)! This is a limited offer so be sure to grab it now before it's gone. See more information on this offer here.
FAQs: VPNs and Video Games
🤑 Can I use a free VPN to unblock video games?
There are some decent free VPNs available — but I recommend against using them for downloading region-locked games.
Free VPNs limit your data usage. If you want to download a larger game, you may not be able to if it exceeds the data allowance. Free services also offer fewer server locations. This means you may have difficulty finding the right server to bypass geoblocks. Plus, server crowding may cause slow speeds.
Aside from poor performance, free VPNs compromise your safety. Many gamers simply want to download a particular game a few months early — but using a free service to do so could come at a serious price. Free VPNs may install malware on your device, sell your private data, or even expose you to cybercrimes like fraud. To me, saving a few dollars with a free service isn't worth it because of these security risks.
If you want a free way to download a certain game, I recommend you take advantage of NordVPN's 30-day money-back guarantee. This refund policy gives you more than enough time to shop around for the cheapest price, download, and play the game you want. When I tested this guarantee, NordVPN returned my money in less than a week!
😅 Will my console or account be blocked if I use a VPN?
Most platforms won't block your console or account — but Steam bans users if they discover you're using a VPN.
Steam has a notoriously strict VPN policy included in the Subscriber Agreement. They warn:
"You agree that you will not use IP proxying or other methods to disguise the place of your residence, whether to circumvent geographical restrictions on game content, to purchase at pricing not applicable to your geography, or for any other purpose. If you do this, Valve may terminate your access to your Account."
This is why you shouldn't take any chances with a free or low-quality VPN. Only the best services like NordVPN have the advanced technology necessary to prevent your VPN use from being detected.
Sony, Microsoft, and Nintendo all allow users to access global game stores and change their console region. Your accounts or consoles won't be blocked for using a VPN.
🙃 Can I get region-locked games for free?
No, not 100% free — but I have a trick to help you save money when you use a VPN to purchase region-locked games.
For region-locked or censored games that require an internet connection for live play, this trick won't work (like online Nintendo Switch games in China). But since most games don't restrict play based on your IP address, you can use NordVPN's money-back guarantee to purchase the content you want. Afterwards, simply cancel your subscription and get your money back in a few days.
The only reason I would recommend against this method is if you plan to play a game that requires an internet connection in a censorship-heavy country. That's because internet surveillance in countries (like India) has led to gamers being jailed. In those cases, I recommend you always use a VPN to prevent prying eyes from spying on your gaming and online activity.
🤓 Will a VPN slow down my gaming?
It depends — the best VPNs can actually improve your ping. That's because connecting through a VPN gives your traffic a more direct route to the server. This minimizes packet (information) loss as compared to when you connect through your ISP. By improving your ping time, you'll experience less lag and enjoy a smoother gaming experience.
However, poor quality VPNs can seriously slow down your gaming. Server crowding and poor technology may slow down your ping and cause lag.
If you find that connecting to a VPN server slows your gaming speed, there are a few things you can try to improve your speed. For example, you can try changing to a different server, restarting your router or computer (depending on where your VPN is active), or restarting your console.
Get fast gaming speeds with NordVPN
😎 What else can a VPN do for gamers?
VPNs can also secure your gaming by protecting you from DDoS attacks and surveillance.
In DDOS attacks, hackers find your IP address, overload your server, and shut it down so that they can beat you in online gaming. This is increasingly common in P2P gaming. A VPN protects you from DDoS attacks by masking your IP address through encryption — if hackers can't find your server, they can't execute the attack. I recommend you use NordVPN to protect yourself with its military-grade security.
In some censorship-heavy countries, gamers have limited access to content and may be punished for playing banned games. The good news is you can use a VPN to stay hidden from government surveillance.
Download Region-Locked Games With a VPN Today!
If you're tired of waiting for release dates or don't want to miss out on exclusive DLC and sales, you don't have to — you can download region-locked games (and more!) with a high-quality VPN service.
I still think the best way to see if a VPN is right for you is by testing it yourself. You can try NordVPN completely risk-free for 30 days using its money-back guarantee. That will give you plenty of time to see if it gives you access to the specific games you want. If you decide you don't need it anymore, you can simply get a refund through its customer service before the end of the month. During testing, I got my money back in only 4 business days.