How to Play Region-Locked Games Safely While Abroad (2022)
Last Updated by Mariah Shanice Basa on November 15, 2022
I get really annoyed when traveling to a country where my new favorite game hasn't yet been released — especially when I've already played it back home. Since I didn't want to wait months for it to become available, I found a way to start playing immediately — with a VPN.
You can access region-locked games, DLC, and sales from anywhere in the world using a VPN. It masks your IP address to make your gaming consoles think you're in the right country to access region-locked content. However, not all VPNs can bypass your console's detection, and getting caught could result in your gaming account being terminated.
I tested 25+ VPNs to find the best services to access your games safely. My top pick is ExpressVPN, as it can reliably access gaming platforms while maintaining the fast speeds required for gaming. Plus, you can try ExpressVPN totally risk-free. All plans are backed by a 30-day money-back guarantee, so you can get a refund if you're unhappy.
Quick Guide: 3 Steps to Securely Play Region-Locked Games Abroad
Play games abroad with ExpressVPN
How a Virtual Network Helps You Play Games While Abroad
Most gaming consoles don't allow direct VPN installation. Many people extend the benefits of their VPNs to their gaming consoles by installing a VPN on their home routers. For people like me who often travel for work, setting up a VPN on a router is difficult (if not downright impossible) because I usually connect to public networks in Airbnbs and hotels. After some research, I found an easy solution: setting up a virtual network.
A virtual router extends the benefits of a VPN to all your WiFi-enabled devices by turning your laptop into a router. It's similar to sharing internet connectivity to other devices via a mobile hotspot. You won't need to do this if you only play games on your PC or phone since most VPNs have native apps for these devices.
Remember that not all devices can be virtual routers, so you will have to check for compatibility:
If you're a Mac user, you will need an ethernet cable or a WiFi adapter. Macs can't connect to a WiFi connection and transmit it simultaneously. You will have to connect to the router via ethernet, but this is impossible if you don't have physical access to the router you're connected to. The alternative is to use a physical WiFi adaptor to pull WiFi from a hotspot and transmit the connection.
If you're a Windows user, you can check for compatibility by opening "Command Prompt" (you will find this by typing "cmd" into the Windows search bar) and selecting "Run as Administrator" (if prompted.) Once the command prompt window appears, type "netsh wlan show drivers" and press enter. Check whether there's a "Yes" or a "No" beside the line saying "Hosted Network Supported." If it's a yes, then your Windows laptop is capable of setting up a virtual router.
Of course, to set up a virtual router, you will need a VPN subscription. Ensure that you're using a VPN that offers a native Windows/Mac app and allows multiple device connections.
How to Set Up a Virtual Network (Windows 10)
Set up a virtual router with ExpressVPN
The Best VPNs to Securely Play Region-Locked Games from Anywhere
Key Features:
ExpressVPN is the best choice for gaming from anywhere, thanks to its superfast extensive server network. I tested both local and distant servers in countries that usually have early game releases, and I was impressed! My average download speed only dropped by 12% — from 340Mbps to 298.9Mbps. Plus, I had ping rates between 30-55ms on servers closest to me which is perfect for FPS games like Counter-Strike. Even on servers with ping rates over 100ms, I was pleasantly surprised that I could still play my FPS favorites without any lag.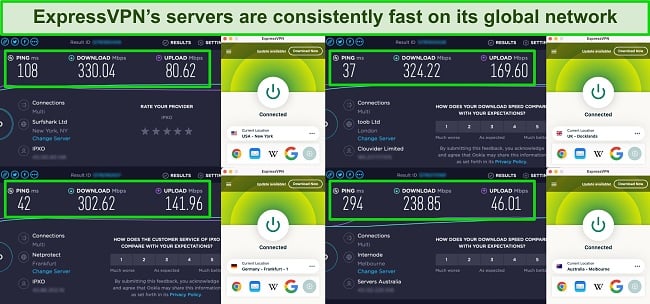 I found ExpressVPN's network of 3000+ global servers very effective at hiding my location. I tested servers in North America, East Asia, and Europe to see if I could access new releases in regional game stores. You'll have no issues accessing Japan's Nintendo eShop or downloading content from the US PlayStation Store.
You'll even be able to change your Steam account location without detection, thanks to ExpressVPN's military-grade encryption and DNS/IP leak protection. Since Steam has tough VPN-detection technology, I made sure to run DNS leak tests on every server I connected to — ExpressVPN effectively masked my IP address and geographical location every time.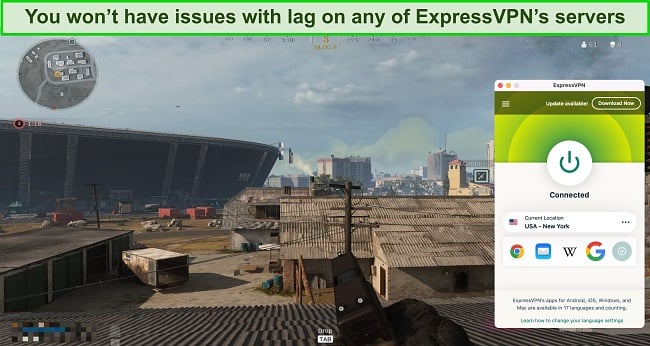 ExpressVPN is also one of the only VPNs with an independent audit that proves its no-logs policy. Plus, it has encrypted RAM-based servers (no hard drives), so you can rest assured that none of your personal or browsing data is being stored anywhere. This also means you'll be protected from man-in-the-middle attacks, DDoS attacks, and doxxing. You'll even be able to game safely in high-censorship countries like China.
Its broad device compatibility and 5 connection allowance mean you can game on multiple devices. Whether you're a casual mobile gamer, a dedicated console user, or a member of the r/pcmasterrace, you have options. ExpressVPN is compatible with most major operating systems from Windows, macOS, Linux, Android, and iOS, to PlayStation(3, 4, and 5), Xbox (360, One, Series S, and Series X), and Nintendo Switch.
You can also use ExpressVPN on Android TV, Samsung and LG smart TVs, Apple TV, Roku, and Amazon Fire TV devices. So, when you're not gaming, you can watch The Witcher, Castlevania, and Arcane using one of the best VPNs for Netflix US.
While it's a little pricier than other options at $6.67 a month for its 1-year plan, it's worth the investment for best-in-class speed and security. Plus, you can test ExpressVPN with your favorite game to make sure it's right for you. When you sign up for any plan, you're covered by a 30-day money-back guarantee. If you're not happy with its performance, you can get a refund — no questions asked. After testing it for a few weeks, I asked for a refund via live chat. It was approved within minutes, and I had my money back in 3 days.
Key Features:
CyberGhost has 69 optimized gaming servers to reliably and quickly connect to your favorite gaming platforms. They're spread across 4 locations — Germany (29), the US (17), the UK (12), and France (10) — and significantly improve connection speed and reduce latency. You can quickly find the best available gaming server by sorting them by ping, distance, and load. I tested servers in all 4 countries and was connected in less than 5 seconds.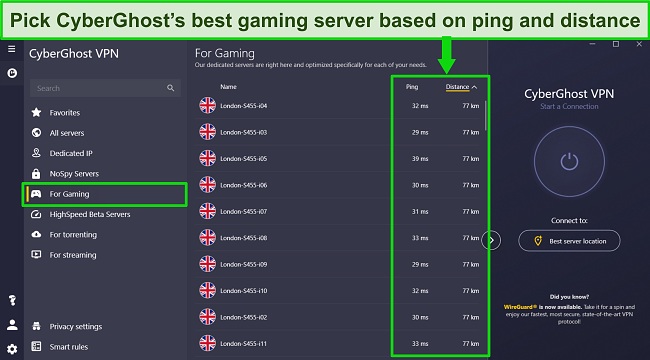 When I tested its performance, I was impressed at how much better the optimized servers perform. CyberGhost sometimes delivered faster speeds on local servers than my regular ISP connection! Games were super responsive and didn't lag at all, despite playing for hours at a time.
However, on the most distant servers, my download speeds dropped by 95% (to just 17Mbps). I was disappointed by this significant speed loss, but it's pretty easy to avoid by picking a server closest to your location — there are over 8200 in 91 countries.
On every server, your data is protected by 256-bit encryption, DNS/IP leak protection, and a kill switch. Plus, CyberGhost is one of the few VPNs that offer dedicated IP addresses to its users. When you use a dedicated IP address, you're less likely to be detected by Steam or any gaming system or console.
Even though it has a strict zero-logs policy, CyberGhost hasn't been independently audited as ExpressVPN has. However, like ExpressVPN, it has RAM-only servers that cannot store any of your data.
For an extra layer of protection, you can connect to CyberGhost's NoSpy servers — all inside its Romanian headquarters. Since Romania has strict privacy laws and isn't part of any intelligence-sharing agreements, you won't have to worry about any high-surveillance governments getting their hands on any CyberGhost logs.
I was a bit disappointed to find that its NoSpy servers and gaming-optimized servers are only available for Windows users. So, if you're using the VPN on your Mac PC, Android or iOS mobile device, or WiFi router, you won't have access to any of these servers. But, you'll still have access to the same top-tier security features and optimized streaming and torrenting servers.
Although it can be a little pricey on short-term subscriptions, CyberGhost's long-term plans are priced extremely well at just $2.03 a month for a 2-year plan — you'll even get 3 months free!
You can also use its generous 45-day money-back guarantee to try CyberGhost's gaming servers completely free. When I tested the policy, the entire process only took 20 minutes, and I had my money back within a week.
Key Features:
PIA's built-in ad, tracker, and malware blocker (MACE) adds a much-needed layer of security to all online activities, including gaming. I've recently started playing The Sims 4, and I was shocked that hackers often use The Sims 4 mods to infect devices with malware. PIA MACE has a comprehensive database of servers that host malware and trackers and blocks all of them before they even load.
While it wasn't as fast as ExpressVPN or CyberGhost, PIA delivered good speeds on nearby servers. I did have to deal with a few seconds of lag on some servers, but overall, I had almost no trouble. It wasn't difficult to find PIA servers with ping rates under 100ms to support lag-free gameplay. Plus, when I switched to the WireGuard protocol, I boosted my speed by 10 Mbps.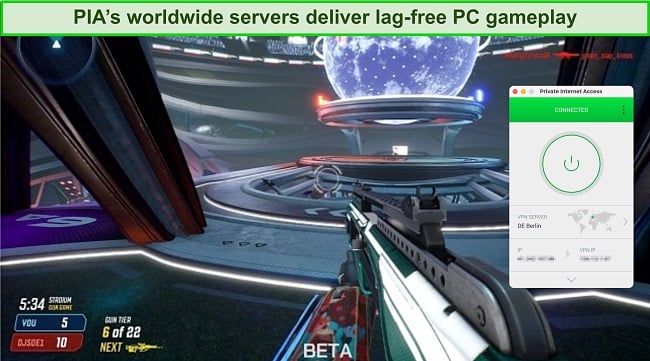 PIA's massive server network of 35000+ servers in 84 countries makes it easy to access region-specific game stores and deals — there's always a nearby server for a quick and reliable connection. While most premium VPNs only offer around 100 servers per country, PIA manages an extensive 400 servers per country. This vast network ensures that you'll rarely (if ever) be affected by slowdowns due to server overcrowding.
Your data is always kept secure with military-grade encryption and leak protection. After a few rounds of IP, DNS, and WebRTC leak tests on multiple servers, no leaks were detected. For an extra layer of protection, PIA's kill switch blocks all online traffic if your connection ever drops. This means none of your personal information will ever be leaked, and your IP address will never be exposed to online game stores.
It's worth mentioning that PIA is headquartered in the US, a vital member of the 5-Eyes Alliance — an intel-sharing deal between the US, the UK, Australia, New Zealand, and Canada. While that is worrying, PIA has clarified that they do not keep any information that might identify their users, so they would have nothing to share should authorities request any information.
PIA has one of the best monthly VPN deals, and you can get a 2-year subscription for just $2.03/month.
If you'd like to try it for yourself, I recommend using its 30-day money-back guarantee to try PIA completely risk-free. I tested the policy by asking for a refund through live chat on the website. After trying to get me to change my mind, the agent finally approved my request. I had the money back in 5 working days.
Key Features:
PrivateVPN's Stealth VPN feature is ideal for accessing region-locked games from anywhere without hassle. It disguises your VPN traffic as regular internet traffic through obfuscation so that you don't trigger any gaming platforms' proxy-detection systems.
Since obfuscation can usually slow speeds dramatically, I was happy to find that PrivateVPN's speeds didn't suffer too much with Stealth VPN activated. On nearby servers, my ping rate stayed virtually unchanged, which was perfect for playing Call of Duty: Warzone. However, I did experience an 80% decrease in average speed. Fortunately, at 70Mbps, my gaming experience didn't suffer too much. I recommend connecting to servers close to your physical location to keep speed loss to a minimum and latency low.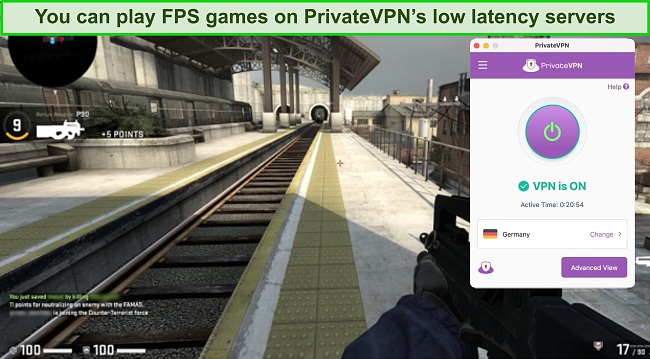 However, you may have trouble finding nearby servers with PrivateVPN's small network of 200+ servers worldwide. At peak times, you might find that overcrowded servers cause connection issues and slowdowns.
Like the other VPNs on this list, PrivateVPN encrypts your data with 256-bit encryption and keeps your location hidden with leak protection on every server. You'll also have a kill switch to stop your unencrypted data from leaving your device and exposing your IP address. This is particularly handy if you have an unstable WiFi connection.
PrivateVPN is the most affordable VPN on this list — you can get it for as little as $2.00 a month. I found this price even more impressive when I realized that you could use PrivateVPN on Windows, Mac, Android, iOS, and some routers. When you set it up on your router, you'll be able to connect all the devices on your network to a VPN server (including PlayStation, Xbox, and some smart TVs).
You can also try PrivateVPN for gaming completely free when you use its 30-day money-back guarantee. Claiming a refund is easy, but you can only do it via email (not live chat). When I tested it, an agent responded within a day and approved my refund without much hassle. It took a full week before I had my money back.
Key Features:
With its detailed app and filter tab, IPVanish helps you pick the best gaming server in any location. In addition to showing the ping rate of every server, the app also lets you sort servers in any country by ping rate. This helps you find the fastest server with the lowest latency to ensure lag-free gaming every time you connect.
By making precise server choices, I ensured I got the best download speeds to access Steam and the Nintendo eShop, change my region, and play Elden Ring without slowdowns.
I was most impressed with IPVanish's speeds — aside from ExpressVPN, it's the fastest VPN I tested for gaming. My download speed dropped by 14% (only 2% more than ExpressVPN). Even at its worst, IPVanish's most significant drop was only 47%, still faster than other providers' best performance.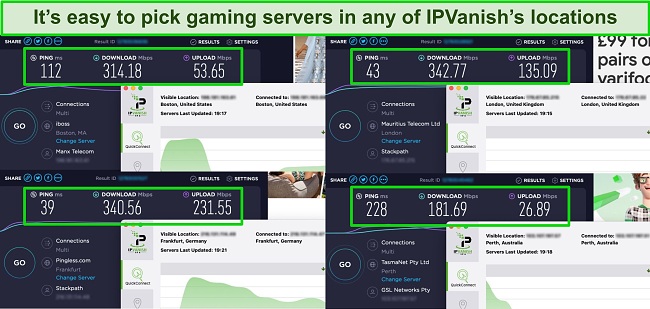 The best thing about IPVanish is its unlimited simultaneous device connections and device compatibility. IPVanish works with Windows, Mac, Linux, Android, iOS, PlayStation, Xbox, and a wide range of routers. However, the apps can be overwhelming if you're new to VPNs. In addition to a large amount of data, IPVanish apps also have plenty of customization options which can be confusing.
It's not the cheapest provider on this list, but you can get IPVanish for $2.50 per month when you subscribe to the 2-year plan. The other option is to try IPVanish completely free with its 30-day money-back guarantee. You can get a full refund on any of its annual plans by simply canceling your subscription on your account dashboard. Refunds are automated and are usually processed within a few hours.
Why You Need a VPN to Stay Safe While Playing Region-Locked Games
If you travel a lot, you're probably used to connecting to public WiFi networks in airports, cafes, and hotels. Connecting to a public WiFi network exposes your personal information (IP address, passwords, banking information, and private messages) to various risks, including:
DDoS attacks — This happens when a person or a group utilizes an army of bots to initiate a massive wave of junk traffic to an IP address to disrupt or shut the network down.
Man-in-the-middle attacks — MitM attacks happen when someone intercepts the traffic between a device and the network to steal valuable information.
Doxxing — Someone finds your personal information and posts it online (can be done with a combination of IP address discovery and social engineering), inciting harassment.
Swatting — Swatting is when someone calls 911 with fake information about a crime happening at the target's address to get law enforcement (like SWAT) to show up at their house.
With a VPN, your internet activity is encrypted, and your location stays hidden. This means you don't have to worry about the security of the hotspot you're connected to or the intentions of other players online. Any third party who might be attempting to peek into your internet traffic will see nothing but gibberish.
Many VPNs promise to protect your data, but few can maintain the low-ping, high-speed connections required for smooth gameplay. ExpressVPN is one of the few good ones — I played ping-sensitive first-person shooter games while connected to its servers, and it did not affect my connection speeds.
Protect yourself while gaming with ExpressVPN
How to Securely Download Games From Anywhere (PC, Steam, PlayStation, Nintendo Switch, Xbox, Android, and iOS)
A VPN is a good way to protect your personal information when you purchase and download games abroad. Before doing so, don't forget to review each platform's ToS.
Guide for Desktop/Laptop (Windows & Mac)
Changing Your Steam Country
Updating Region on PlayStation (4 & 5)
Try ExpressVPN with PlayStation
Connecting to a Different eShop on Nintendo Switch
Use ExpressVPN with Nintendo Switch
Accessing Different Locations on Xbox (One, 360, Series S, and Series X)
Changing Locations on Mobile Devices (iOS & Android)
Download games safely with ExpressVPN
Comparison Table: Best VPNs for Playing Region-Locked Games Safely in 2022
| | | | | |
| --- | --- | --- | --- | --- |
| | Security Features | Servers | Average Speed Drop | Simultaneous device connections |
| ExpressVPN | TrustedServer Technology, AES-256 encryption, private DNS, kill switch, audited no-logs policy | 3000+ servers in 94 countries | 12% | 5 |
| CyberGhost | NoSpy Servers, AES-256 encryption, no-logs policy, kill switch | 8200+ servers in 91 countries | 18% | 7 |
| PIA | MACE ad and tracker blocker , customizable kill switch, 128-bit/256-bit encryption | 35000+ servers in 84 countries | 49% | 10 |
| PrivateVPN | Stealth VPN, AES-256 encryption, kill switch, zero-logging policy | 200+ servers in 63 countries | 80% | 10 |
| IPVanish | Military-grade encryption, zero-logs policy, kill switch, no outsourced servers | 2000+ servers in 75 countries | 14% | unlimited |
Play games securely with ExpressVPN
How I Tested and Ranked the Best VPNs to Play Region-Locked Games Safely
I tested the best VPNs in 2022 against the following criteria to find the best options for playing region-locked games safely from abroad:
State-of-the-art security and privacy features: I checked for military-grade encryption, IP and DNS leak protection, kill switch functionality, no-log policy, and ad/malware blockers. I ranked the VPNs on this list according to their advanced and comprehensive security features.
Global servers: The more options a VPN has, the better. More server options prevent overcrowding and slowdowns.
Consistently high speeds: Since data travels farther while you're connected to a VPN server, a bit of slowdown is expected. I conducted multiple speed tests on as many servers as possible and took note of the average speed drops for every VPN. The lower the drop, the better.
Device compatibility and ease of use: I looked for VPNs with intuitive apps for various devices, including mobile devices, PCs, routers, and gaming consoles.
Try ExpressVPN for gaming risk-free
FAQs: VPNs and Video Games
Will my console or account be blocked if I use a VPN?
Most platforms won't block your console or account. For example, Nintendo only forbids users from purchasing game content that isn't available in their location, so using a VPN while gaming shouldn't be an issue. However, Steam has a notoriously strict VPN policy and bans users if they discover you're using a VPN. Their Subscriber Agreement warns:
This is why you shouldn't take any chances with a free or low-quality VPN. Only the best services like ExpressVPN have the advanced technology necessary to prevent your VPN use from being detected.
Will a VPN slow down my gaming?
It depends — some of the best VPNs can actually improve your ping. That is because connecting through a VPN gives your traffic a more direct route to the server. This minimizes packet (information) loss compared to when you connect through your ISP. By improving your ping time, you'll experience less lag and enjoy a smoother gaming experience.
However, low-quality VPNs can seriously slow down your gaming. Server crowding and poor technology may slow down your ping and cause lag.
If you find that connecting to a VPN server slows your gaming speed, there are a few things you can try to improve your speed. For example, you can try changing to a different server, restarting your router or computer (depending on where your VPN is active), or restarting your console.
Can a VPN do more than help me play games safely abroad?
Yes. A good VPN will allow you to play region-blocked games safely while traveling abroad and:
Keep your browsing history private. VPNs encrypt your internet traffic and protect your data from collectors (including marketers and even your ISP) and surveillance.
Prevent bandwidth throttling. Some ISPs slow down users' connections when they detect high-bandwidth activities such as gaming, streaming, and downloading (also known as bandwidth throttling). A VPN obscures your online activities, ensuring that you won't be a target.
Allow you to access your streaming subscriptions while abroad. People who travel a lot can use a VPN to access the content they've rightfully paid for. A VPN will help you access the Netflix shows you've been binge-watching at home, no matter where you might be.
Add a layer of protection while working remotely. A VPN will ensure that all your sensitive work information stays safe, even while connected to public WiFi.
Can I use a free VPN to download region-locked games?
Yes, but it could be dangerous, so I don't recommend it. Unlike the premium VPNs on this list, free VPNs can't offer robust security measures to ensure your IP address and real location are never revealed. Without this protection, platforms like Steam can easily detect that you're using a VPN and permanently ban your account.
Even with a safe free VPN, you'll face restrictions that make it impossible to enjoy playing anything. With bandwidth limits (sometimes as low as 500MB), you'd be lucky if you could complete your game download before the VPN cuts out. You'll also have access to fewer locations, which could make it difficult to connect to a server where your game is available.
Rather than compromise your online safety and gaming accounts, I suggest using CyberGhost's long 45-day money-back guarantee to use it completely free. This way, you get the best combination of speed and security without risking any of your money.
Start Playing Region-Locked Games Safely While Abroad!
Gamers face many threats online, including doxxing and sometimes even swatting. If you happen to travel a lot and public WiFi networks, these threats are compounded. Suddenly, you become more vulnerable to WiFi spying and MitM attacks. The good news is that you can protect yourself online with a high-quality VPN service that encrypts your personal data to minimize the risk of cyber attacks.
I suggest using a high-quality VPN like ExpressVPN. You can try ExpressVPN's 3000+ servers with your favorite gaming platform and test its blazing-fast speeds and robust security — at no risk to you. It's backed by a 30-day money-back guarantee, so you can claim a refund if you're not happy. I tested it myself, and the money was back in my account in just 3 days.
Play games safely with ExpressVPN
---
Summary — Play Region-Blocked Games Securely With These VPNs (Updated 2022)