How to Get a Venezuelan IP Address in 2 Steps in 2022
Last Updated by John Bennet on December 01, 2022
Venezuela has been experiencing plenty of upheaval in recent years, causing a large number of people to flee the nation and wait things out elsewhere.
If you're a Venezuelan that still needs access to sites with geo-restrictions outside the country, or if you want to stream access content, you can't do so using conventional means, you'll need a VPN.
Although there are lots of free IP switchers and proxies that can spoof your location, they generally lack any encryption and are not as secure as a VPN. The leaking of data is not something you want to risk when dealing with an oppressive government.
A VPN is always the best choice, no matter where you live. With a VPN, you can get a Venezuelan IP address in just two simple steps:
Subscribe to a VPN service that has servers in Venezuela. Our top recommendation is ExpressVPN for its reliable geo-unblocking capabilities. Try ExpressVPN risk-free with its 30-day money-back guarantee.
Connect to a server located in Venezuela.
In addition to obtaining a Venezuelan IP address, VPNs have several other benefits.
The Advantage Of Having A Venezuelan IP Address
The situation in Venezuela offers some different advantages as to why someone would want a Venezuela IP address.
For many, a Venezuela IP address provides a way to access bank accounts within the country, or any other utility or financial account based in Venezuela. If someone leaves the country and tries to access any of these sites, the government will block them.
Using a VPN to obtain a proxy server with a Venezuelan IP address gets around that. Additionally, if you want to stream Venezuelan content, see news from the state, etc., you'll need a VPN as well, due to the same geo-restrictions.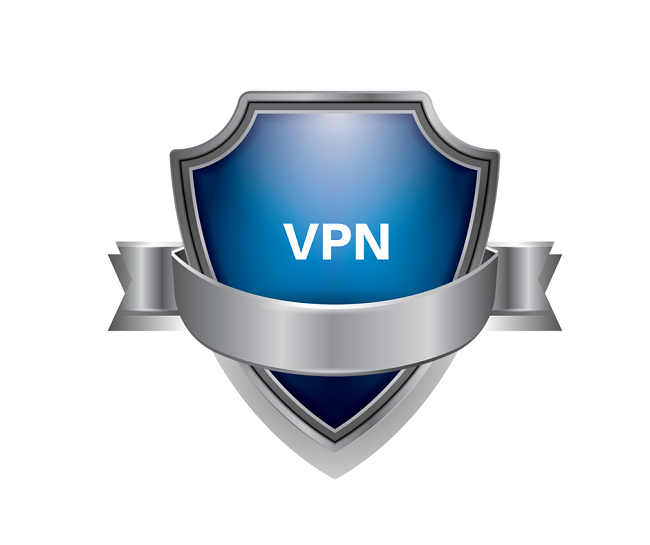 However, using a Venezuelan IP address goes beyond just getting access to websites and platforms within the country. By using a VPN, you can
encrypt your traffic
, which prevents the government from tracking your activity. Given how oppressive the Maduro regime is, this is a significant advantage.
The benefit carries over to allow access to all incoming content the country has blocked as well. In May of 2017, the government extended its internet content filtering policy, preventing citizens from viewing over 300 web portals and 40 internet domains.
This included NTN 24; a popular news channel in nearby Colombian origin got shut down. The government also threatened the use of social networks.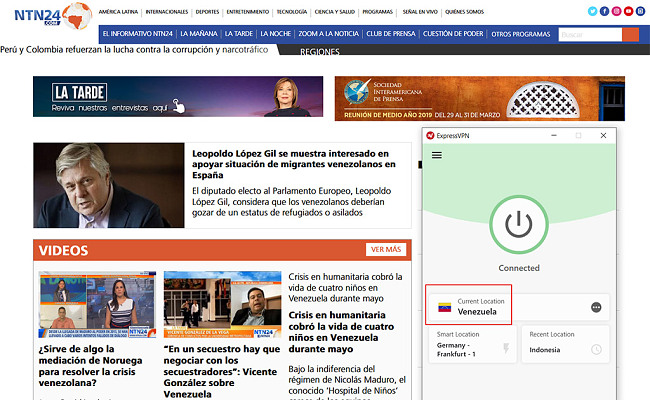 The bottom line is,
if you're in Venezuela, using a VPN will let you view any content you want, bypassing the country's filtering and monitoring.
How To Test To Make Sure You Have A Venezuelan IP Address
After installing your VPN, you'll select a Venezuela server and then connect. However, you may still want to double-check that you're using a Venezuela IP address, as some VPNs can sometimes have issues, or move you to a different server nearby if there's a problem.
The easiest way to test that you're currently using a Venezuelan IP address is to use an IP leak test, like the WizCase IP checker.
You'll see the IP address you're connected to, and its precise location. If the test shows any place other than within Venezuela, you'll know something is wrong.
You can then attempt to troubleshoot the problem yourself or get help from the VPN's support team to fix the issue.
What Makes a VPN Good For Venezuela?
When looking for a VPN to use for a Venezuela IP, you should prioritize the four aspects below above all else.
Servers in Venezuela
Not every VPN offers servers within Venezuela. Always check with the VPN and make sure they have servers in Venezuela, or else you won't be able to get an IP.
Military-grade security
Don't risk having your identity and activity exposed to the government in Venezuela, or anywhere else. Look for VPNs with AES 256-bit and OpenVPN as security options. These are among the most secure
24/7 customer support
Sometimes things can go wrong with a VPN, or you may need some help figuring a few things out. Look for VPNs with responsive customer service, often in the form of a live chat on their site, or a rapid response from via email.
Fast, reliable servers
Not all VPNs provide fast speeds or secure connections. Look for VPNs known for having reasonable rates, and servers that stay up and running with no issues.
If the VPN you're considering can do everything mentioned above, you're all set. These are the minimum for requirements though, and many premium VPNs offer all of this and much more.
Can You Use a Free VPN to Get a Venezuela IP Address?
It seems there's a new free VPN service popping up each month. You should always remain apprehensive of these, since most of them limit your experience, have intrusive ads, and may even lack security, even though they advertise it.
Instead of a free VPN platform, we recommend a free trial of a reputable paid VPN option instead.
The Top VPNs For a Venezuelan IP Address

Lightning fast speeds
Over 3000 servers in more than 94 countries
Can unblock streaming sites like Netflix
Compatible with most platforms like Windows, Mac, iOS, Android, and more
ExpressVPN is one of the world's best and most popular VPNs and is prized for having the very best speeds of any VPN.
The network operates several servers in Venezuela, all of which are fast and reliable. ExpressVPN offers much more than just speeds, however.
You have access to military-grade 256-bit encryption protocols, and get extra features such as an automatic kill switch that ends your connection if the VPN has an issue, and split tunneling.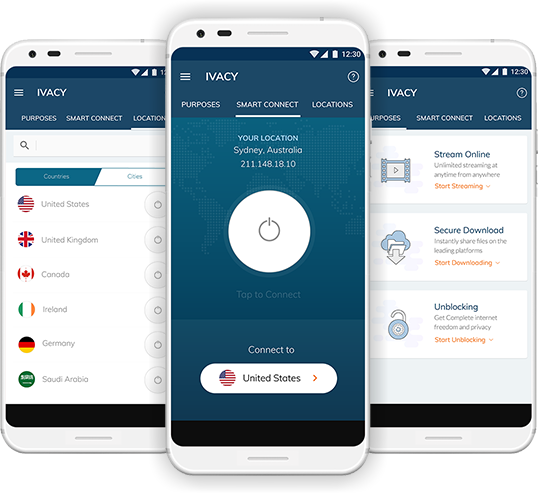 Supports P2P and torrenting
Works on up to five simultaneous connections
Servers in over 100+ locations
Lots of extra features
IvacyVPN is a big proponent of internet freedom and has written about the situation in Venezuela extensively on their site.
Ivacy lacks the speeds of VPN like ExpressVPN, but it does offer top-level security, has a kill switch and split tunneling, and supports torrenting.
It's also very effective at getting around geo-blocks on most streaming platforms, including Netflix.
Final Word
If you know aspects what to look for in a good VPN, it's a simple process to get a Venezuela IP address. By opting for a quality VPN with good speeds, military-level security, and of course servers within Venezuela, you'll have no trouble at all.
ExpressVPN and IvacyVPN are both excellent choices for getting a Venezuelan IP address, and they all meet the criteria for what you should look for in a VPN.
While they are all excellent options, we recommend ExpressVPN, mainly due to its speeds, server selection, and reliability of those servers.
No matter which of these VPNs you go with, you will still be able to get a Venezuela IP, and have access to content both inside the country and out.
---
Summary: These Are The Best VPNs for Getting A Venezuelan IP Address in 2022
Top Choice