4 Best Email Security Tools and Solutions in 2022
Last Updated by Enemali Okwoli on November 01, 2022
With business email compromise (BEC) on the rise, setting up a conventional mail filter isn't enough to protect your system. Hackers often use sophisticated email attacks, which include transmitting malware, trojans, and phishing links into your inbox.
You can't rely on the built-in email protection tools as they are often short on features. While you may not be able to control the links your employees click on, you can control your protection by choosing a stellar antivirus with advanced email protection tools.
I tested 15+ email protection tools and found the 4 best solutions in 2022. They integrate easily with mail servers and popular email clients like Gmail and Outlook. From my tests, Norton proved to be the best email protection tool.
Quick Guide: 4 Best Antivirus Software With Email Security Tools
The Best Antiviruses With Email Security Tools and Solutions — Full Test Results in November 2022
Key Features:
Detects and removes infected emails.
Anti-spam tool.
Compatible with POP3 and SMTP protocols.
Works with Outlook and Windows Mail clients.
Norton provides robust email security tools for incoming and outgoing emails. Norton's Email Antivirus Scan checks your email for spam and malware on POP3 and SMTP configured accounts. When it detects an infected file, Norton automatically removes them before they are downloaded to your inbox, protecting you from email-based threats.
Emails you receive in your SSL accounts can't be scanned, but Norton's email antivirus scan has an "Auto-Protect" feature that will still keep you protected from infected files. It can detect and remove infected attachments you try to open. That way, the malware doesn't make it to your system.
All of the following plans from Norton offer email protection:
Norton Antivirus Plus — Protects inbound and outbound emails, covers 1 device, and offers additional features, including online threat protection, 2GB cloud storage, a firewall, and a password manager.
Norton 360 Standard — Secures all emails and covers up to 3 devices. It also offers dark web monitoring and protects your webcam from unauthorized access.
Norton 360 Deluxe — Scans and protects incoming and outgoing emails. It covers 5 devices and offers parental controls app VPN, 50GB of cloud storage, and a privacy monitor.
Norton 360 Select — Protects inbound and outbound emails. Offers 250GB cloud storage, covers 10 devices, and provides stolen wallet protection, identity restoration, credit monitoring, and ID monitoring.
I was also happy to see that Norton offers an anti-spam feature on all its subscription plans. The AntiSpam tool is compatible with the Microsoft Outlook and Windows Mail clients, which works to secure your Windows PC, Mac, and mobile devices. However, the antispam feature is only supported on POP3 and SMTP protocols.

I like how customizable Norton's AntiSpam tool is. It uses local filters, and its Web Query filter uses signature and URL hashes of the email messages to identify and classify spam messages. Once the message has been identified as spam, Norton sends it to the Junk folder or the Norton AntiSpam folder. You can also create a block list that allows you to classify emails from specific emails as spam.
Although email protection is included in all Norton plans, I found the Norton 360 Deluxe to be the best value plan. You get comprehensive protection against malware, firewall, and online threat protection on up to 5 different devices.
Key Features:
Detects and removes email threats.
Anti-spam tool.
Compatible with Exchange and Domino mail servers.
Management console.
McAfee offers multilayered email protection for Microsoft Exchange and Lotus Domino servers. It scans your emails and attachments for the following threats:
Viruses
Trojans
Worms
Potentially Unwanted Programs
You can also create whitelists and blacklists for specific email addresses and quarantine suspicious emails.
The McAfee Global Threat Intelligence system (integrated into the tool) provides real-time cloud-based protection (file and sender reputation) against known and emerging threats. The IP address and URL of the sender are checked at the gateway to prevent phishing, malware, and other web-based threats embedded in the email.
You can enforce policies for incoming and outgoing mail on your email servers. McAfee allows you to block spam, filter offensive messages, ban specific file types, and implement data leak prevention, keeping your organization's confidentiality and compliance at the forefront. I like that McAfee provides a management console with detailed reports that allows you to monitor all your messages.
McAfee has 2 plans for email security:
McAfee Email Security for Servers — Supports Microsoft Exchange and Lotus Domino mail servers. It offers antimalware, antiphishing, antispam, and data loss protection. Subscription is offered and priced per node.
McAfee Email Protection — Supports cloud architecture, local hardware appliances, virtual appliances, and hybrid architecture deployments. It offers antimalware, antiphishing, antispam, and data loss protection. Subscription is offered per user basis.
McAfee Security for Email Servers offers an easy-to-use interface. You can get real-time reporting, charts, and email traffic statistics. All these can be managed using the graphical user interface on the McAfee ePolicy Orchestrator (McAfee ePO) dashboard.
Key Features:
Scans and removes all email threats.
Works with Gmail, Microsoft365, and Microsoft Exchange.
Customizable email policies.
Advanced reporting and management console.
Bitdefender offers robust email protection tools for personal and business use, but it provides more business-tailored features. Although the Bitdefender antivirus for Homes offers basic email protection tools, Bitdefender for Business (Gravitizone) offers multi-layered protection from email threats.
Bitdefender's GravityZone provides comprehensive email security for fraud prevention, anti-malware protection, and mail flow control. It uses signature and behavior-based antivirus and antispam engines to detect malware, spam, and zero-day threats. GravityZone also protects email servers against the following threats:
Business email compromise (BEC)
CEO fraud
Phishing
Ransomware attacks
You can protect all incoming and outgoing emails in real-time with GravityZone's Deep Analysis and Inspection system. It checks all parts of your emails including message content, file attachments, sender information, embedded links, sender and recipient address, and email size to ensure that your communications are protected.
GravityZone uses a cloud-based engine and is easy to implement. IT administrators can easily deploy policies and set rules for mail filtering and delivery, view detailed reports, and analyze all messages. GravityZone Email Security works with popular email servers like Gmail, Microsoft365, and Microsoft Exchange (on-premise and online).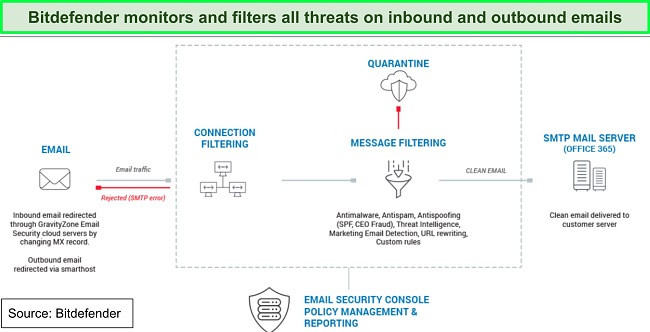 Bitdefender offers 3 GravityZone packages that vary in pricing depending on the number of supported devices. However, only the GravityZone Business Security + Add-ons plan allows you to include email security tools.
GravityZone Business Security Premium + Add-ons — This plan covers 5 to 100 devices (laptops, desktops, file and mail servers, or mobile devices). It offers email protection for Gmail, Microsoft365, and Microsoft Exchange (on-premise and online).
Overall, GravityZone provides comprehensive email protection for multiple devices and mail servers and provides detailed email threat analysis reports.
Try Bitdefender for email security
Key Features:
Scans all inbound and outbound emails for threats.
Cloud-based sandbox for analyzing all file processes.
Compatible with hardware, cloud, or virtual environments.
Advanced reporting and management console.
Sophos Email Security protects inbound and outbound emails from malware, phishing, and spam. It uses its signature-based and its deep learning AI system to detect and eliminate all types of malware from your emails, including zero-day threats. Sophos' cloud sandbox also analyzes all file processes, file activity, registry activity, and network connections to block ransomware and other forms of malware.
You can deploy Sophos Email Security via:
Hardware (email appliances)
Cloud
Virtual environments
It works with mail gateways and mail servers. You can integrate Sophos with Microsoft 365 and Google Workspaces Gmail, and configure your policies and settings.
Sophos automatically scans all your messages and attachments for sensitive data. It protects sensitive data with email encryption and data loss prevention to ensure that confidential information isn't shared wrongly. Sophos also blocks more than 99% of spam messages using a combination of signature and reputation-based systems.
Sophos offers standard email protection features on its email security subscription:
Sophos Email Security — Supports email services where you control the domain and DNS records, Google Workspaces Gmail, and Microsoft365. It offers antimalware, antiphishing, email encryption, BEC, and data loss protection.
Sophos offers comprehensive reporting on the Sophos Central console. You can check the log of all processed messages, message summaries, post-delivery summaries, and advance threat summaries. You can set up your mail flow on Sophos Central without making changes to your DNS settings or MX records redirection. Sophos does have other plans, but Sophos Email Security is the only plan that can protect your email data.
Warning! Avoid These 2 Antivirus Brands
1. AVG/Avast
Avast, the parent company of the Avast and AVG products, has been caught selling customers' data to third parties. While both antiviruses offer email protection tools, I don't recommend using them because of the underlying privacy issues which could see your personal information end in the hands of third parties.
2. Trend Micro
Trend Micro offers email security tools. However, like Microsoft Windows Defender, it can't detect trojans and flags too many legitimate files wrongly.
4 Easy Steps: How to Use Norton's Email Protection Tools
Sign up for an antivirus plan — Go to the official antivirus site and subscribe to any of the antivirus plans.


Download and install the app — Download the antivirus program to your device and run the installer file.
Launch the app — Go to the "My Norton" window and click on "Settings."
How I Tested and Ranked the Best Antivirus With Email Security Tools in 2022
Email and attachment scanning — I selected the email protection tools that could scan inbound and outbound email messages and attachments for malware, phishing, and other malicious links, removing them at the gateway.
Antispam Protection — Spam and unsolicited emails are one of the menaces that businesses and individuals are confronted with. This is why I chose email protection tools that offer strong antispam features. I ensured that the antispam tools can check every area of an email, including the header, body, and links.
Cloud Integration — I ensured that the email security tools on my list can easily integrate with email cloud solutions like Microsoft 365, and Gmail, and works with most mail servers and gateways.
Ease of use — I chose email security tools that are easy to use, offer a management console, and provide advanced reporting and analysis tools. I also ensured that they are easy to deploy on all services and allow custom email protection policies.
FAQ: Best Antivirus Software With Email Security Tools
What does an email protection tool do?
An email protection tool prevents attackers from using your email account as a vector for transmitting or executing web-based threats. Email Protection tools scan your emails and file attachments for malware, spam, phishing, and impersonation attacks.
You can protect your personal email accounts and business email accounts from known and emerging threats. Norton Email Antivirus Scan provides the best email protection tool for personal email accounts. It integrates seamlessly with Outlook and Windows mail clients and scans messages and attachments. Similarly, McAfee Security for Email Servers offers the best email protection tools for enterprises with cloud integration and policy management.
Which email attachments can contain malware?
Malware can be embedded in different file types that are supported for email attachments. It can be contained in zip files, txt file format, PDFs, and much more, making it difficult to detect on the surface.
However, a robust email protection tool can detect viruses of any file format embedded in your email attachment. Fortunately, Norton Antivirus Email Scan checks all inbound and outbound messages for viruses, trojans, and malware hidden in email attachments.
Keep Your Business and Personal Email Secure
Email remains one of the most common digital spaces that hackers exploit. They can be used to transmit malware, spam, and impersonation messages to and from your inbox. Many people and businesses cannot detect these emails and fall victim to the attackers.
Conventional email services often do not offer sufficient email protection tools. However, you can take advantage of email security tools provided by top-tier antivirus software. These antiviruses provide email and attachment scanning, antispam protection, cloud integration for mail servers, and data loss protection.
You can protect your personal or business emails using the email protection tools provided by top antivirus programs. From my tests, I found that Norton offers the most reliable email protection tool for personal email accounts, being compatible with Outlook and Windows mail clients. If you are looking for extra protection for your emails, I would recommend testing Norton for yourself using its 60-day money-back guarantee.
---
Summary — Best Antivirus With Email Security Tools in 2022