Here's a Complete Orbot Review – Is it REALLY Anonymous?
Last Updated by John Bennet on July 16, 2021
The buzz around online security and privacy is constantly evolving. As online accessibly advances, our personal information becomes stored in many places, some of which can be exposed.
If you're concerned about the openness and security of your Android device, an app called Orbot can now encrypt your data for total anonymity.

What is Orbot?
Orbot is an open-source Android application which acts as a proxy for accessing online services.
With it, you can access web sources, send emails, and instant messages without being blocked or monitored by your mobile service provider. It brings the functionality and features of Tor to Android.
Using Orbot with a VPN

While Orbot offers a considerable degree of online privacy and security, it's not a complete web-surfing solution on its own.
Some of its most significant drawbacks are its poor speed and its inability to download. Geographical restrictions on specific online content are not affected by Orbot, and therefore, to bypass geo-blocks, you will still need to use a VPN.
The best VPN that works wonders when used together with Orbot:
2,000+ servers in 90+ countries
256-bit AES encryption
Split Tunneling
Compatible apps for, Linux, Mac, iOS and Android Smartphones
ExpressVPN is one of the most reliable services we have today. With it, you'll enjoy a zero-logging traffic policy, smart DNS leak protection system and a secure 256-bit AES security encryption protocol.
On top of that, it has an automatic kill switch, which keeps you protected from connection drops. There's also an impressive 30-day cash back guarantee if you feel you're not satisfied with its services.
What is Tor and How Does It Work?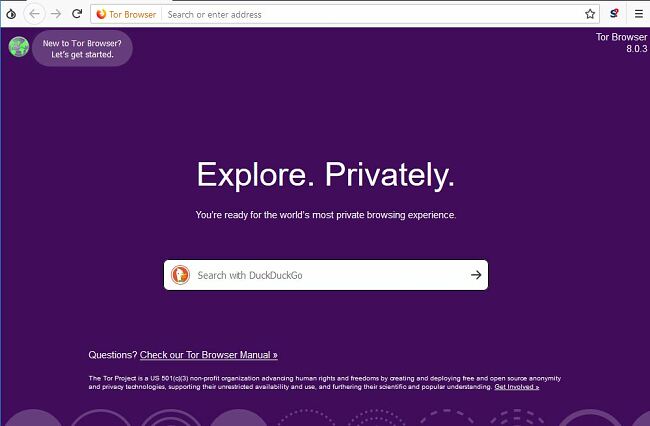 Tor (The Onion Router)
,
is a group of servers that are free to use, and form part of a larger project which develops and researches matters of online anonymity and privacy
.
How Does Tor Work?
Wherever you
connect to the internet, you are assigned an IP address which represents certain personal information, including your location.
Your IP address is visible and can allow third parties to monitor your activity; it's not difficult to trace your data to a specific source.
To avoid the breach of your privacy, Tor encodes data within high encryption layers and relays it through its own network, making it much harder for others to track your activity.
The advantage of using the onion routing system is total anonymity and improved privacy.
The Tor Browser
A highly customized browser based upon Firefox, with additional changes meant to provide a high anonymity level. You can use it to access any information on the web like any other standard browser.
However, with JavaScript and Adobe Flash disabled, online capabilities will be severely limited. Another crucial point that we need to mention is that this browser is slow as onion routing is time-consuming, and we wouldn't recommend it as your primary browser.
What Roles Does Orbot Play in Increasing Security on Your Android Device

Access Onion Links
Onion links are unique URLs consisting of mixed characters, ending with .onion instead of .net, .com, etc. These type of links access content from the deep web, and familiar sites like DuckDuckGo and ProtonMail.
Private Web Surfing
One of the most anonymous ways to access restricted web content on your mobile devices. You can also enjoy other privacy settings like:
Private Chat Messaging – Using Orbot with ChatSecure, you can confidentially talk to anyone, at any location for free.
Twitter Privacy – Orbot works well with the official Twitter app. If you want to tweet anonymously, all you need to do is to change the proxy settings.
App Privacy – You can customize any app to use the Tor network as a proxy
Anonymity for Business
When businesses or individuals are required to work out of office or abroad, they can prefer the anonymity provided by a service such as Tor or Orbot, especially when communicating sensitive information. Many investigative journalist et al., are also well known to use these techniques when in contact with Whistleblowers, etc.
What is 'Orfox' and Why Should You Use It Together with 'Orbot'?
Orfox is an Android web browser that allows you to enjoy secure and private communications via the Tor network.
It has HTTPS and NoScript pre-installed, plus other security settings. All these features are meant to improve your secure online connection and safeguard it from malicious content.
Orfox routs all Android specific codes via the Tor proxy for Orbot to safeguard against privacy and data leaks. We encourage using Orfox with Orbot.
Conclusion
Orbot offers Android users the privacy and safety of the encrypted web. It is an impressive app and one that can change the way we conduct various activities online. Built to help people overcome strict privacy regulations and those seeking anonymity; whistleblowers, etc.
However, remember to
use it with a VPN like ExpressVPN
.