5 Best VPNs for Romania (Updated with Local Servers in 2020)
Last Updated by Chase Williams on November 18, 2020
It can be frustrating trying to stay up to date on Romanian news and local content when you're abroad. Whether you want to watch Digi24 or catch up on the latest episode of Las Fierbinți, strict geo-blocking makes it nearly impossible to access certain sites without a Romanian IP address. You'll need a VPN to help you get around these blocks to access local Romanian content from anywhere in the world.
If you're inside Romania, you may have noticed that some streaming platforms (like Romanian Netflix) have a limited amount of content. By using a premium VPN (I recommend you try NordVPN for free for 30 days), you can get unlimited access to thousands more movies and television shows on other streaming services like Netflix US, BBC iPlayer, and Hulu. Plus, it will keep you completely anonymous on the web, concealing your activity and identity from prying eyes.
But not all VPNs are created equal — some don't keep you as safe as others, and many aren't able to bypass geo-blocks successfully. To save you time, I've tested the 30 leading VPNs on the market to find the ones that work. Here are the 5 best VPNs to get an IP address in Romania — and you can set one up in just 3 simple steps.
3 Easy Steps to Get a Romanian IP Address
Install and launch a VPN with servers in Romania (NordVPN has the fastest servers for this location).
Create an account.
Connect to a Romanian server and access all of your apps, websites or services without being blocked!
Tip — How to Check Your IP Address
To make sure your VPN is securely connected to a Romanian server, you can use this free online tool to confirm your IP address's current location.
Watch Romanian shows with NordVPN!
5 Best VPNs for Romania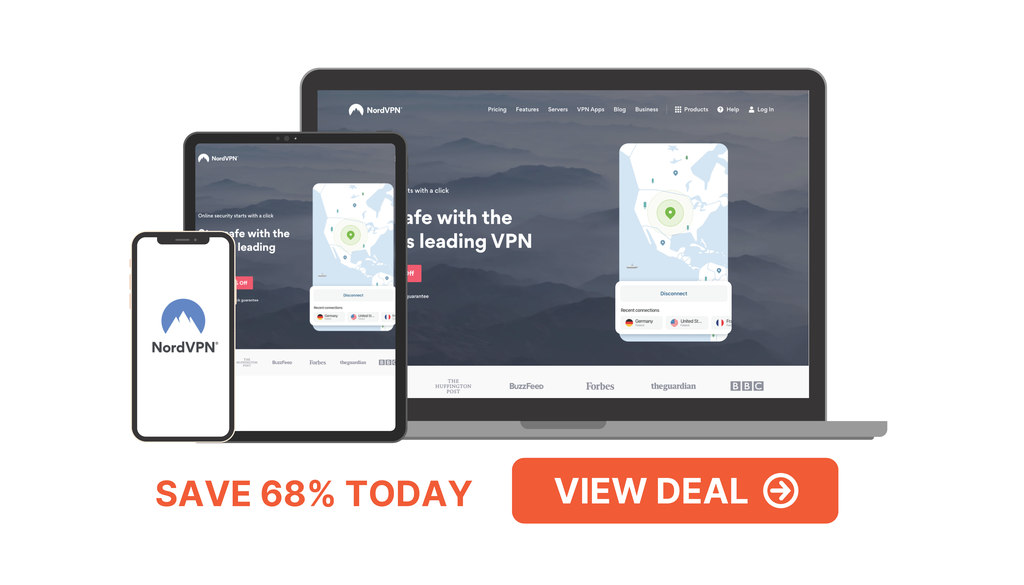 Key Features:
26 servers in Romania and 5,200+ servers worldwide
Protects your data with 256-bit AES encryption
Connect up to 6 devices simultaneously
Your data is never stored with a strict no-log policy
Plenty of P2P servers for downloading torrents
NordVPN's ultra-fast speeds make it my top choice for a Romanian IP address. I could watch Survivor Romania on Kanal D with no buffering, and even downloaded an entire movie in under 10 minutes. Video-calls with friends in Australia were smooth and didn't drop-out, so I'm confident you can easily stay connected while travelling. Meanwhile, if you're concerned that using a VPN will make your load speeds drop, don't stress —NordVPN kept my internet as fast as ever.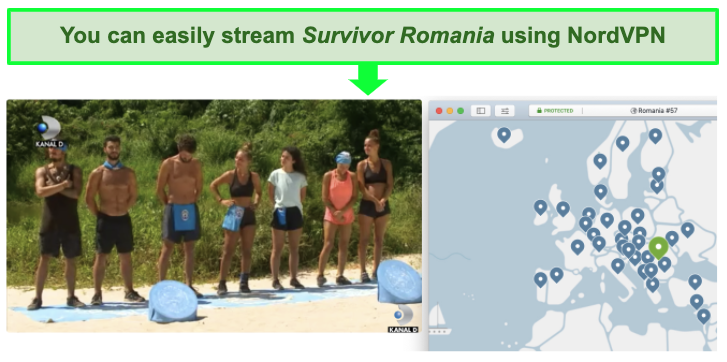 With 26 local servers available, you won't have slow speeds from overcrowding and you'll have more chances of getting a working connection. I tested 20 of the servers and was impressed by the quick and reliable connections throughout, but servers 33, 44, 50 and 59 were definitely the fastest. A few clicks will save the quickest servers in your personal favorites list, so you can easily find and connect to them later.
If accessing content around the world is your priority, great news: NordVPN is able to navigate even the most advanced geo-blocking. Its automatic SmartPlay feature easily bypasses Netflix's annoying proxy error. I'm located in the Netherlands, but loading and watching Netflix US's extensive content library was easy. You're protected from malware with NordVPN's Cybersec feature — with the added bonus of blocking annoying ads! I streamed hours of Netflix with no interruptions (unlike other VPNs like Hotspot Shield that had pop-ups every few minutes)!
I'm always concerned about staying secure online and protecting my personal data, so I'm happy that NordVPN is located in Panama where data retention laws keep your online information safe.
Romania's censorship laws may not be all that strict — but that doesn't mean you're safe from prying eyes. If you're not properly protected online, malicious third parties like hackers can still gain access to your information. Military-grade encryption keeps all your web-traffic private, so you'll be protected when logging into your Romanian bank account from anywhere. If you need extra security you can turn on the impressive Double VPN option, adding an additional layer of security and making a breach in your privacy nearly impossible.
The only minor downside I could find to NordVPN was its payment options. It stopped accepting PayPal in early 2019 and doesn't support Romanian online payment systems, like iTransfer or ZebraPay. Even so, I didn't have any issues paying with a credit card — and you have additional options of using a prepaid card or cryptocurrency as well.
If you're not quite ready for a long-term commitment, you can try NordVPN risk-free with its 30 day money-back guarantee. If you don't love it, it's quick and easy to get a full refund after some short troubleshooting. I tested this out, and was happy that a 3 minute chat had a refund in my bank account in less than a week.
NordVPN unblocks: Digi24, PRO TV Plus, TVR, Kanal D, Realitatea TV, Netflix US, Amazon Prime, Hulu, BBC iPlayer, and more.
NordVPN works on: Mac, Windows, Android, iOS, Linux, some routers, Chrome extension, and Firefox.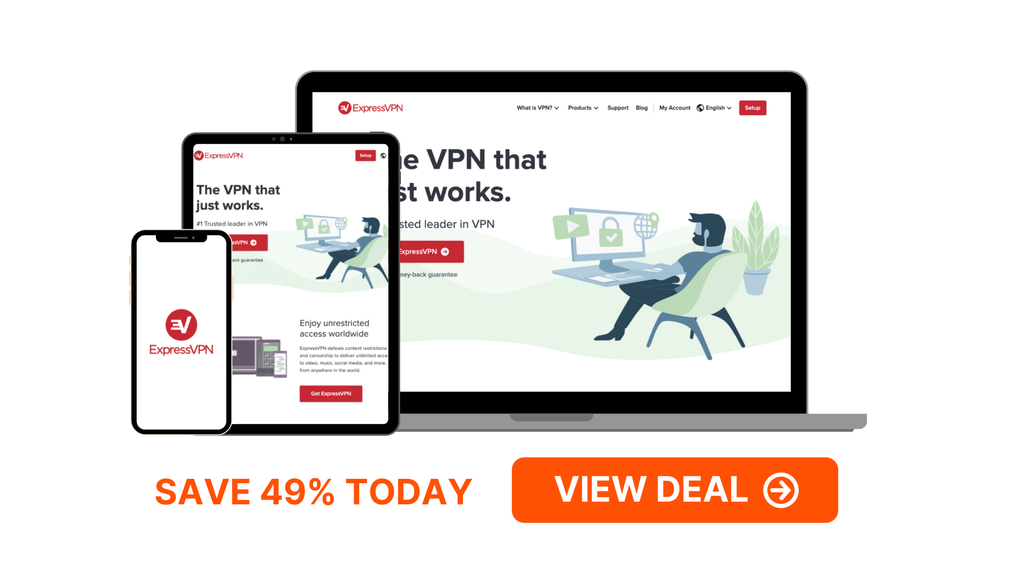 Key Features:
1 server in Romania and 3,000+ servers globally
Secure 256-bit AES encryption keeps you safe online
Protect up to 5 devices at once
Proven no-logs policy keeps your browsing history hidden
Zero restrictions on content makes torrenting easy
ExpressVPN has a reputation for reliable speeds, and after my extensive testing I can say it is well-deserved. Despite only having one Romanian server, ExpressVPN's speeds were consistently fast enough that I never experienced any buffering or lag when connected. Within seconds of connecting I was able to stream ProTV Plus. The Smart Location feature will automatically find you the fastest server so you can stream Las Fierbinți without being slowed down by frustrating buffering.
Some VPNs store your data (even if they claim not to) which puts your privacy at risk of leaks — but ExpressVPN isn't one of them. TrustedServer technology clears your data from ExpressVPN's servers to ensure that none of your personal information is ever logged. I also ran a series of DNS leak tests while connected to a Romanian server to find out just how safe my data was while connected. ExpressVPN never revealed my real geographic location, so you won't have to worry about advertisers or strangers hacking your information.
I follow many different series on different global streaming platforms, so I wanted to see if ExpressVPN could unblock them all. I'm happy to report that I've been able to access any content library I want with ExpressVPN. I watched Star Wars on US Netflix with fast speeds and no lag despite being over 7500km away. I was also able to get around BBC iPlayer's geo-blocks to catch up on episodes of Killing Eve. If you do a lot of streaming, ExpressVPN excels at both fast speeds and getting you access to your favorite shows.
ExpressVPN performed extremely well in my tests — but a premium VPN comes at a price and it's a little higher than others on this list. To be fair, you get what you pay for. Over my years of using ExpressVPN I've never had an issue. I find a hassle-free experience is worth the price-tag.
If you feel a little hesitant about committing, there's good news: you can take full advantage of this premium product and test out all of ExpressVPN's features risk-free for 30 days. ExpressVPN has a no-questions-asked refund policy, so it's easy to get a refund if you find it's not the right VPN for you.
ExpressVPN unblocks: Digi24, PRO TV Plus, TVR, Kanal D, Realitatea TV, Netflix, Amazon Prime, Hulu, BBC iPlayer, and more.
ExpressVPN works on Mac, Windows, Android, iOS, Linux, some routers, Chrome extension, and Firefox.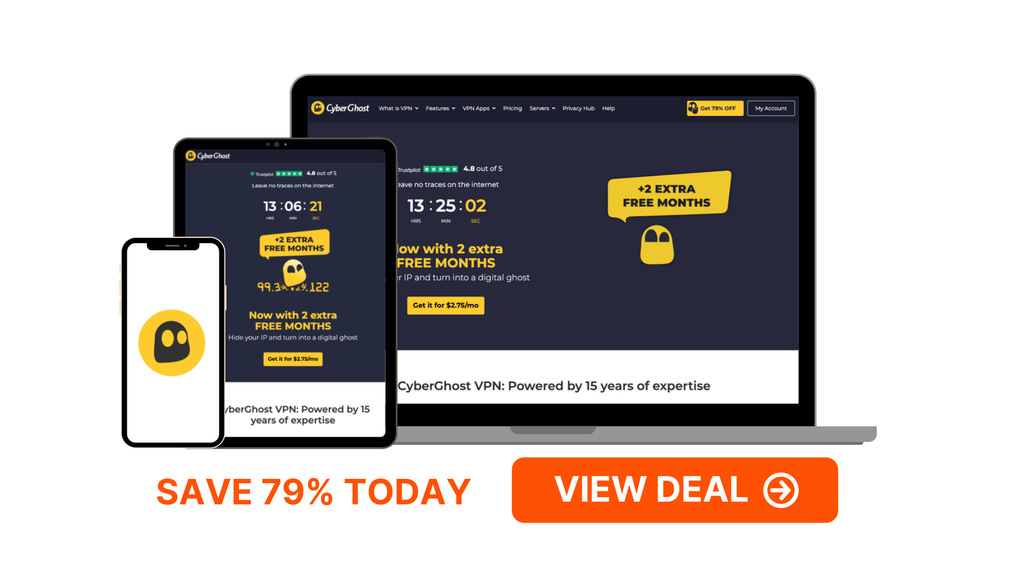 Key Features:
58 servers in Romania and 5,800+ servers worldwide
Military-grade 256-bit AES encryption protects your data
Use on up to 7 devices at the same time
Strict no-logs policy keeps your online activity private
Download torrents safely with Anonymous Torrenting Mode
CyberGhost has 58 Romanian servers, the most of all the VPNs that I tested. This allowed me to switch to quieter servers when my load speeds needed a boost. I tested over 20 of these servers, and could watch the news on Realitatea TV within seconds in most of my tests.
CyberGhost's automatic simulated location feature will quickly connect you to the fastest server in Romania. But if you want to customize the way you stream, torrent, or browse the internet, you can choose one of their specialized servers for the best speeds.
You can connect to up to 7 devices, so you can share a CyberGhost subscription with your family and friends. Considering the low price of an annual plan and some cheap discounts on offer, this can make it really affordable. To check if this is the right VPN for you, make use of CyberGhost's 45-day money-back guarantee.
CyberGhost unblocks: Digi24, PRO TV Plus, TVR, Kanal D, Realitatea TV, Netflix, Amazon Prime, BBC iPlayer, and more!
CyberGhost VPN works on: Mac, Windows, Android, iOS, Linux, Some Routers, Chrome Extension, Firefox Extension, Amazon Fire Stick, and Android TV.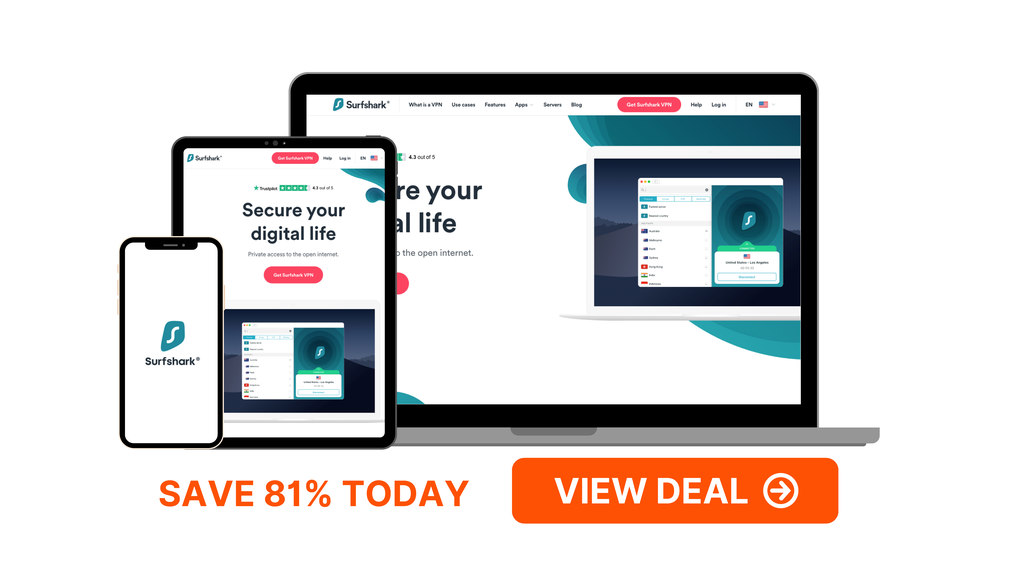 Key Features:
1 server in Romania and 1,000+ servers globally
Powerful AES-256 encryption for guaranteed security
Connect to an unlimited number of devices with a single subscription
Strict no-logging policy to keep your browsing private
Great for torrenting with dedicated P2P servers
You can get a Romanian IP address for an unlimited number of devices with a single Surfshark subscription. That means your entire family will be able to stream their favorite content on their own phone, computer, or iPad while staying safe online.
Although there is only one Surfshark server in Romania, watching live content and torrenting was extremely fast. During my tests, I was able to download Survivor Romania in under 20 minutes and could stream the Romanian news lag-free.
Surfshark is one of the most affordable options on this list, with an annual subscription saving you up to 83%. They have a 7-day free trial on Google Play and Apple, or you can properly try Surfshark across all your devices risk-free using the 30-day money-back guarantee.
Surfshark unblocks: Digi24, PRO TV Plus, TVR, Kanal D, Realitatea TV, Amazon Prime, Hulu, BBC iPlayer, and more.
Surfshark works on: Mac, Windows, Android, iOS, Linux, some routers, Chrome extension, Firefox extension, Playstation, Xbox, FireTV, and Apple TV.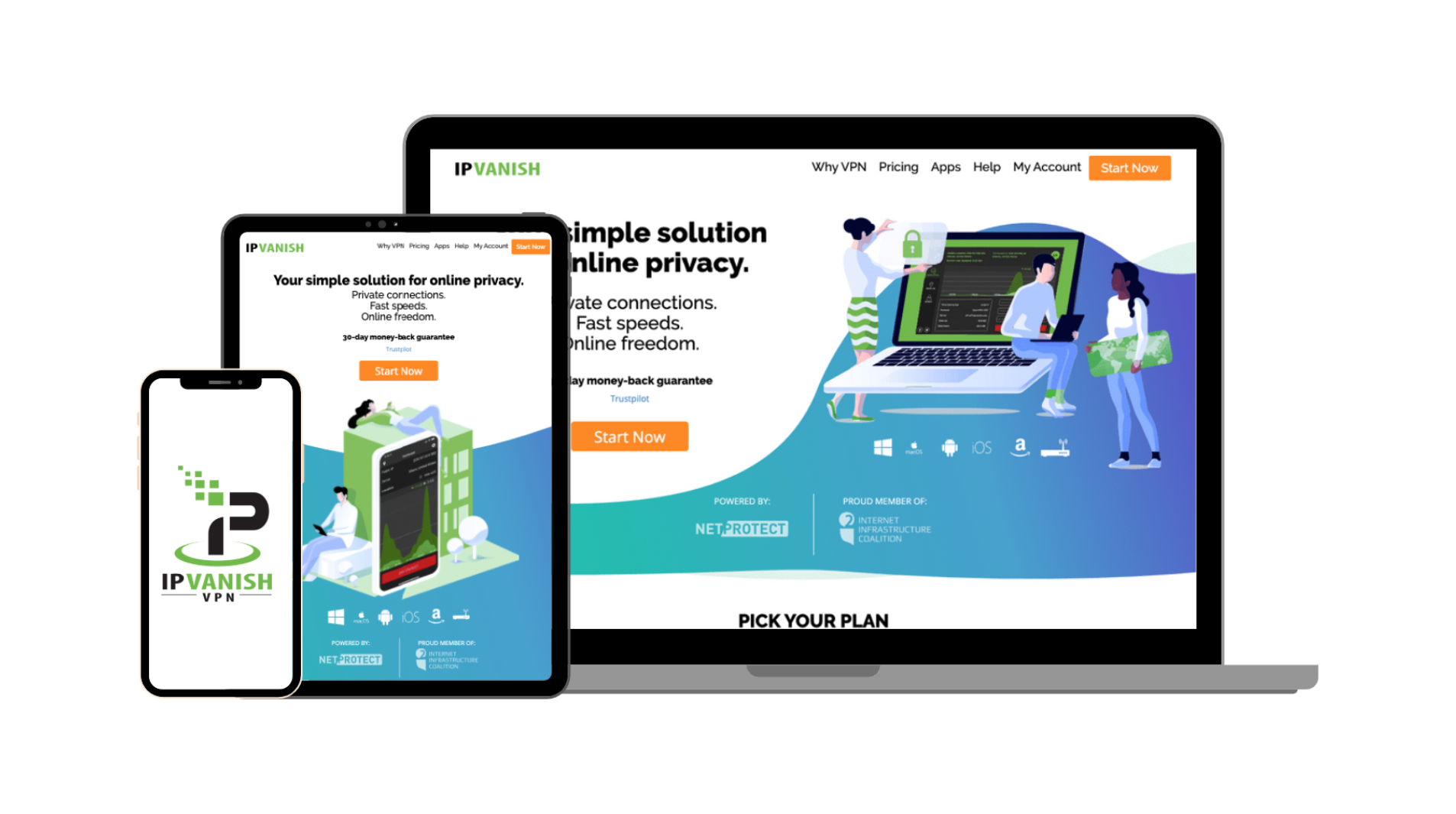 Key Features:
4 servers in Romania and 1,300+ servers globally
Secure 256-bit AES encryption keeps data secure
Connect up to 10 devices at the same time
No-log policy to keep your personal information safe
Easily download torrents on all servers
IPVanish is simple to use and the most affordable option on this list. You can easily switch between IPVanish's 4 Romanian servers through a simple dropdown menu. This makes IPVanish a great option for someone new to VPNs who doesn't require advanced security or features. I especially liked the Best Available Server option. It automatically connects you to the fastest server in Romania, so you can start browsing as soon as you log on.
You can try IPVanish risk-free using its 7-day money-back guarantee. Personally I didn't feel a week was enough time to figure out if this VPN was right for me. If you want a longer period to try out a service, other VPNs (like NordVPN) offer 30-day money-back guarantees.
IPVanish unblocks: Digi24, PRO TV Plus, TVR, Kanal D, Realitatea TV, Amazon Prime, Hulu, and more.
IPVanish works on: Mac, Windows, Android, iOS, Windows Phone, Linux, some routers, Chrome OS, and Amazon Fire TV.
Why You Need a Romanian IP Address
Stream your favorite Romanian series from abroad using services like Digi24, PRO TV Plus, Kanal D, Realitatea TV, HBOGo, and more.
Download torrents for Romanian movies like Baccalauréat or Sieranevada.
Stream Romanian sports like the next Steaua game.
Avoid censorship to help you to stay connected to the content you need.
How a VPN Gets You a Romanian IP Address
A VPN creates a private connection between your device and the internet. Think of a VPN as a tunnel with cars passing through. While you know that cars are driving through the tunnel, you are unable to see the color, make, or model of the car. When you use a VPN, the site you are accessing can't see your IP address, your location, or any other personal information.
When you connect to a Romanian server using a VPN, any website, service, or app you use will think you're located in Romania. They can't see your real location as you're hidden by the VPN tunnel. Instead, you can consume content, access geo-blocked websites, and browse just like you're in Romania — while keeping your identity private.
Can I Use a Free VPN to Get a Romanian IP Address?
Free VPNs may be able to get you a Romanian IP address — but you'll have to heavily compromise on features and security. During my tests, I found it hard to watch full episodes without any interruptions due to annoying ads and data limits.
Additionally, free VPNs put you at risk for data leaks. They lack the security features of premium services, so your personal information won't be as well protected. I experienced frequent connection drops that left my connection exposed.
If you're accessing sensitive content (e.g. banking sites) or want to evade the prying eyes of hackers and government authorities, a premium VPN (like NordVPN) is a safer option.
All the premium VPNs on this list will give you a Romanian IP address, and provide you with unlimited data, fast speeds, and military-grade security protocols to ensure your privacy.
Get a Romanian IP address with NordVPN!
How to Save on VPNs for Romania
A premium VPN doesn't have to be expensive.
Some of the best VPN services also often have the best deals. Check out these hidden offers, or take advantage of a long-term subscription plan to get a discount on the highest-rated VPNs.