5 Best Antiviruses that Protect Against Keyloggers (Updated 2022)
Last Updated by Sayb Saad on July 01, 2022
The last thing you want on your computer is a keylogger that records all your keystrokes and stays off your antivirus radar. A keylogger is an unwanted program that hides deep within your system files and is hard to detect. It's mainly used to intercept passwords and steal your confidential data.
I tested a wide range of antiviruses and was disappointed to find that most of them could not detect and remove keylogging malware seamlessly. Fortunately, after extensive testing, I found some top options that are able to remove and detect keyloggers. The reason that these antiviruses performed so well is that they are loaded with a suite of advanced security features, such as a VPN, password manager, and advanced malware scanning.
Having said that, no antivirus is perfect and there are always some limitations for each. If you're looking for an antivirus that provides top-of-the-grade security, I strongly recommend using Norton 360. It uses AI and machine learning to block advanced malware like keyloggers that go undetected in most other antiviruses.
Quick Guide: 5 Best Antivirus Software for Keylogger Protection
How I Ranked the Best Antivirus for Keyloggers in 2022
When coming up with the list of the best antiviruses that keep keyloggers at bay, I considered the following features:
Keylogger protection features. All antiviruses on my list have keylogger protection features, such as real-time protection, web security, and password safety.
Malware protection capability. An antivirus is as good as its ability to detect viruses, especially keyloggers that are well-hidden deep inside system drives. I made sure each antivirus on my list has excellent detection rates against all kinds of malware.
User-friendliness. During my testing, I also considered how easy an antivirus is to set up and use for both technical and non-technical users.
Value for money. Lastly, I considered the value for money by factoring in software features, the number of devices, and money-back guarantees.
Best Antiviruses for Keylogger Protection in July 2022
Key Features:
Powerful AI-based malware scanner
Smart firewall that provides top-notch internet security
Parental controls and remote management tools
Cloud storage supporting up to 100GB of data
Compatible with Windows, macOS, iOS, and Android
I extensively tested Norton 360's keylogging detection and removal capabilities and was impressed at every step of the way. Norton boasts a powerful anti-malware engine powered by artificial intelligence and machine learning, making it a smarter antivirus program than most others.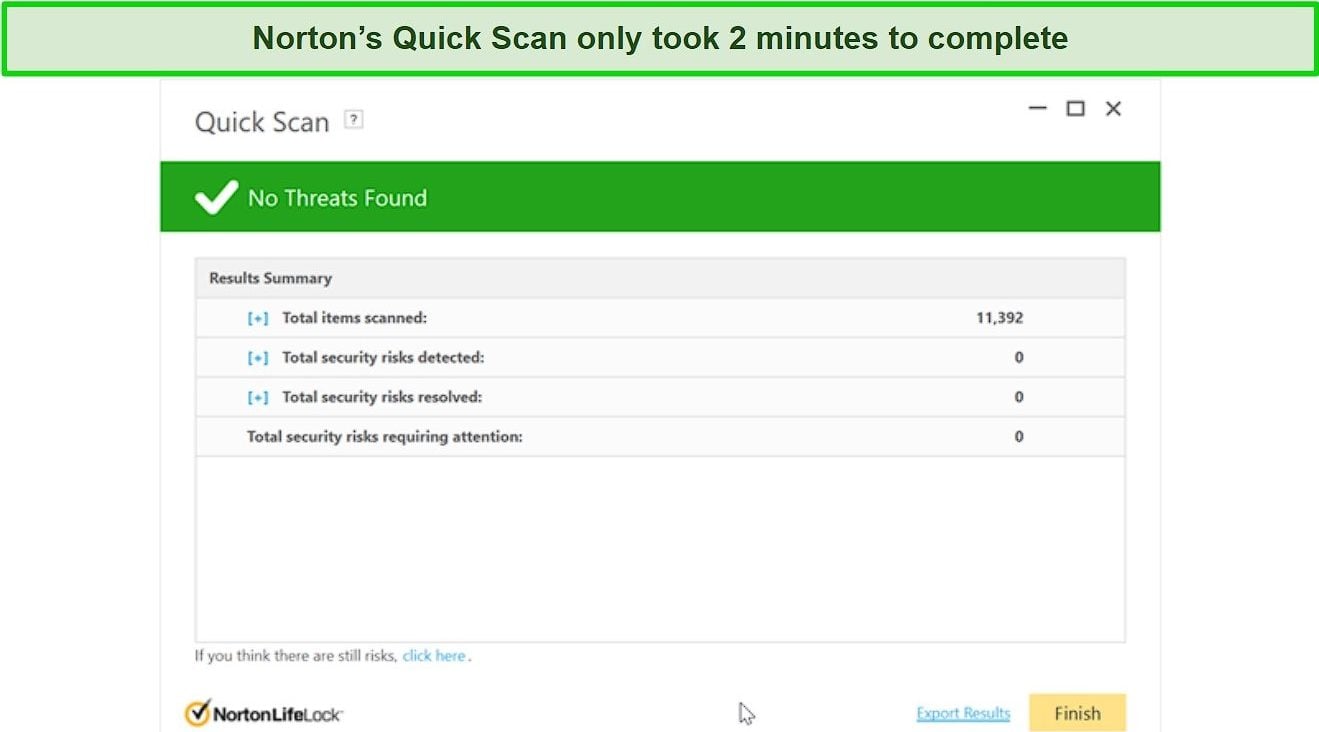 I planted various keylogger malware on my computer and Norton blocked and removed every single one of them with a 100% detection rate. I took it a step further and planted other malware, including trojans, spyware, and ransomware. I ran the full scan and found that Norton easily managed to quarantine and remove all malware in about 10 minutes. More impressively, the quick scan only took 2 minutes to complete.
Apart from its exceptional malware-detection capabilities, I was thoroughly impressed by Norton's password manager. It automatically stored and filled in my saved passwords to prevent any keylogger to steal my credentials even by accident. On top of that, it features webcam security protections to prevent hackers from accessing your webcam to steal your keystrokes.
Norton 360 has four price plans – Plus, Standard, Deluxe, and Premium. If you have one device to protect, the Standard plan is a good buy because it includes the Privacy Monitor and PC SafeCam features, which the Plus plan doesn't. If you have many devices to protect and want premium features like parental control, the Deluxe plan would work.
Overall, Norton is a powerful antivirus, equipped with top-of-the-line anti-malware and security features that goes above and beyond to get rid of keyloggers on your computer. If you want to test it out before buying it, Norton provides a 60-day money-back guarantee. I tried out this money-back guarantee and was easily able to cancel my account and get a full refund.
Key Features:
Uses Global Threat Intelligence to provide top-notch security
100% detection rate with Full Scan
Parental controls, password manager, firewall, and web protection
Identity monitoring
[VDS: MBG]-day free trial
I had heard good things about McAfee but wasn't sure if it would be able to compete with Norton – so I decided to test it out. Like before, I planted several instances of malware, spyware, and ransomware onto my computer and let McAfee do its thing. Surprisingly, McAfee quarantined and blocked all of them, performing exceptionally against zero-day malware.
McAfee offers 3 scans – Quick Scan, Full Scan, and Custom Scan. The Quick Scan searched more than 10,000 items on my computer in about 4 minutes, while the Full Scan scanned 630,000 files on my computer in 48 minutes. I got a 100% detection rate when I used the Full Scan, unlike the Quick Scan which doesn't check every nook and cranny of your system.
Another thing I noticed was that McAfee's Full Scan had a more significant toll on my computer than Norton's full scan did. I noticed McAfee slowed down my computer despite having a top-of-the-line CPU and more-than-sufficient RAM. Therefore, if your computer is a bit old, you might not be able to multitask with the scan running in the background.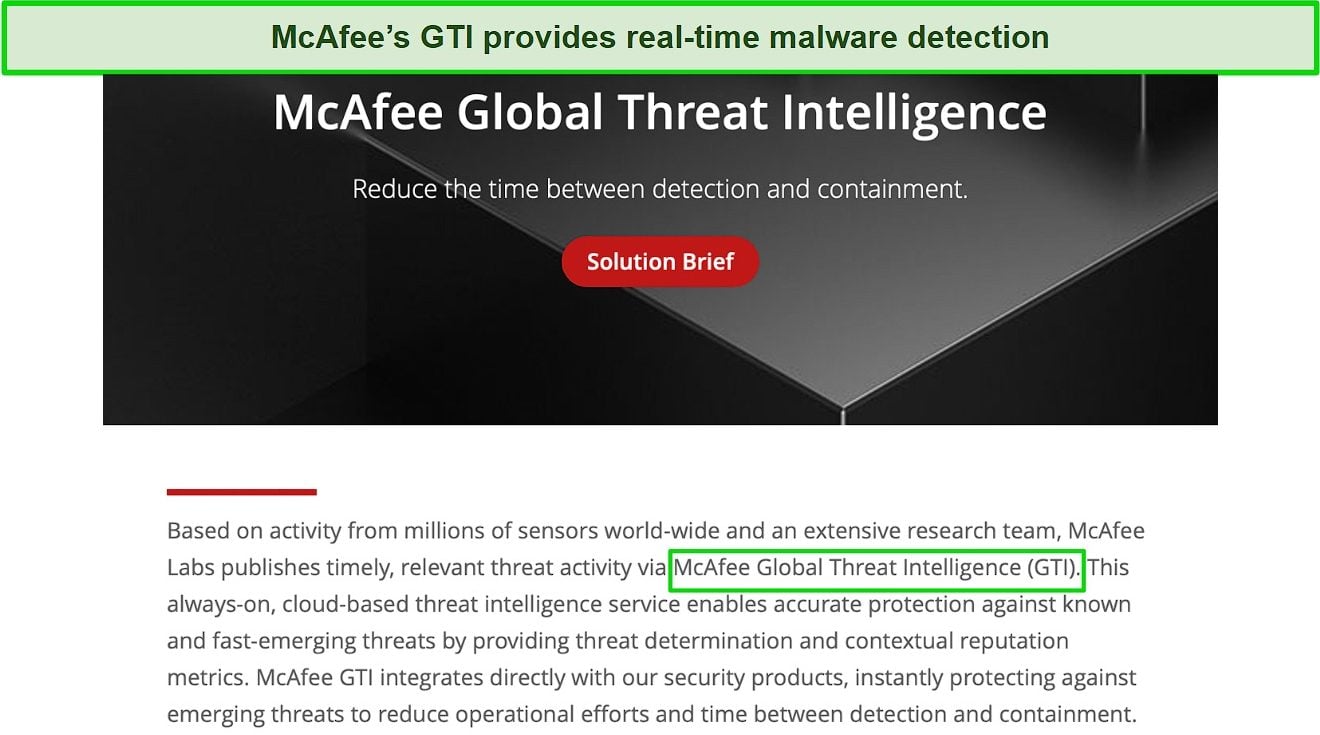 I was happy to find out that McAfee uses Global Threat Intelligence (GTI), a cloud-based system that protects you from fast-emerging threats. This is extremely useful for detecting new keyloggers that might go undetected, hiding deep inside your computer. Apart from that, it packs a suite of other essential security features, including a VPN, password manager, file shredder, and a web browser extension.
McAfee has three price plans – the Plus, Premium, and Ultimate plans, all of which are priced competitively. All of them include a firewall, VPN, password manager, and file shredder, and support identity monitoring and web protection. However, the Plus plan only covers one device, whereas you can get the Premium plan for an additional fee and get access to parental controls. You can try all of McAfee's plans with both a 30-day free trial and a 60-day money-back guarantee (if you signup for auto-renewal). This is one of the most generous trial period deals that I have seen on the market.
Try McAfee Total Protection risk-free
Key Features:
Superior malware detection and removal
VPN, system cleanup, firewall, and website safety extension
User-friendly dashboard
Data breach test
Compatible with Windows, macOS, iOS, and Android
As a relatively new antivirus on the market, I didn't expect TotalAV antivirus to be as good as Norton and McAfee, but I was in for a surprise. I repeated my test with TotalAV and got a detection rate of 99.2%, which is quite impressive compared to the industry average of 97%. The only malware it didn't detect was a handful of zero-day malware.
Like McAfee, TotalAV has 3 scan options – a full malware scan, smart scan, and custom scan. At first, I used the smart scan and it scanned about 9,000 files in under 8 minutes. The smart scan detected all the keylogging malware on the computer but missed out on a few ransomware when I did the full scan.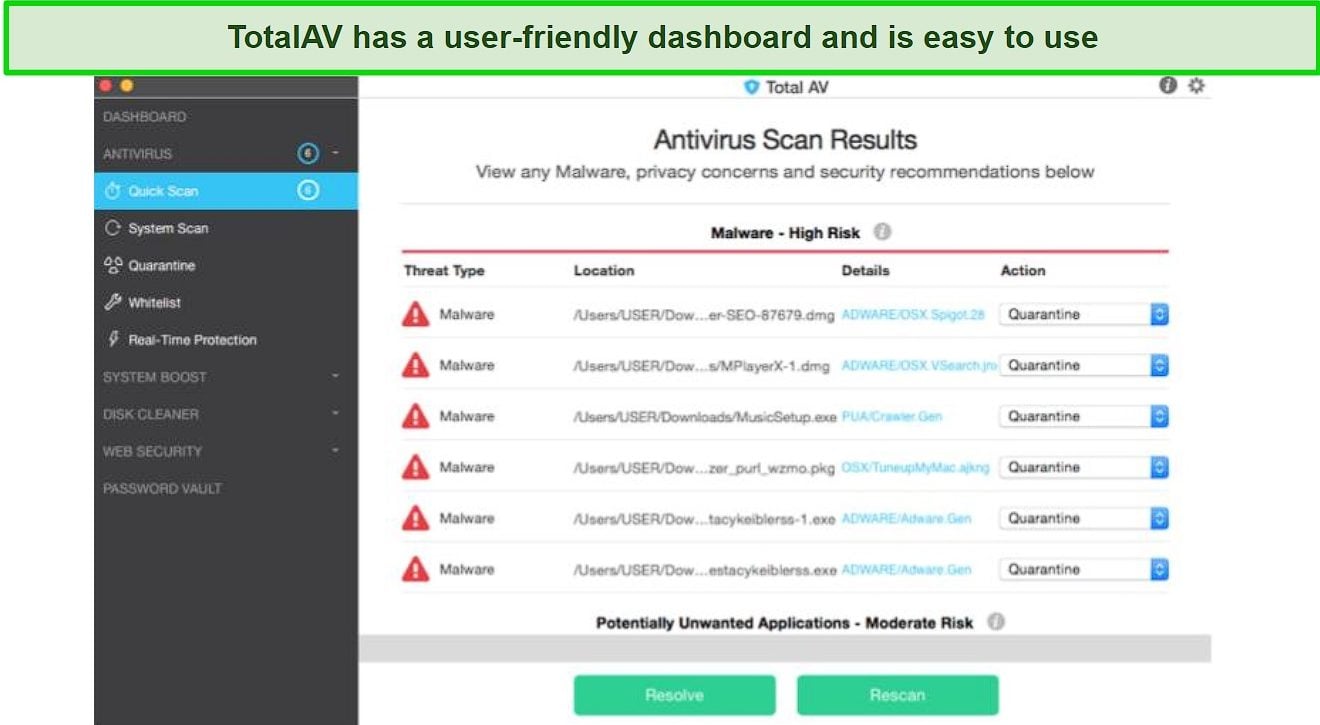 On a positive note, TotalAV wasn't as resource-intensive on my computer as McAfee. I streamed a movie while the scan ran in the background. The thing that stood out most about TotalAV was its easy-to-use dashboard. While its Mac and Windows app look quite different, you'll easily be able to navigate through them even if you're not a tech wizard.
I was also impressed with the array of other security features TotalAV offers. It includes a VPN with unlimited data, a nifty system cleanup option to remove junk files, a firewall, and a website safety extension that works on Chrome, Firefox, and Edge. More importantly, it hosts a data breach test that immediately alerts you if someone is using a keylogger to steal your data.
TotalAV offers three price plans, all of which provide essential security features but protect 3, 5, and 6 devices, respectively. The base plan covers almost everything an average user needs. However, if you need a VPN with that, the mid-tier plan would be a good buy. Similarly, I would recommend the top-tier plan because it additionally includes a Password Vault, which I deem essential for an antivirus. Luckily whichever plan you decide to try, TotalAV offers an unconditional, 30-day money-back guarantee with every paid plan.
Try TotalAV Total Security risk-free
Key Features:
AI-powered anti-malware engine with HyperScan technology
AntiSpyware that eradicates spyware, adware, and keyloggers
Live chat, phone support, and knowledge base for customer support
Optimization tools, including PC Cleanup, Drive Scrubber, and more.
[VDS: MBG]-day money-back guarantee
IOLO is an old but lesser-known name in the antivirus industry. I had heard mixed reviews about its malware detection and removal capabilities, so I decided to test it out for myself. I planted the same malware and keyloggers as before and ran a deep scan. I was impressed to find out IOLO had detected all the malware and keyloggers on the system.
The only catch was that the deep scan took about an hour and slowed my computer a lot. My CPU utilization jumped from 13% to 55%, and I wasn't able to multitask seamlessly or even access IOLO's dashboard with the scan running in the background. On a positive note, IOLO identified and quarantined keyloggers and other malware without any problems.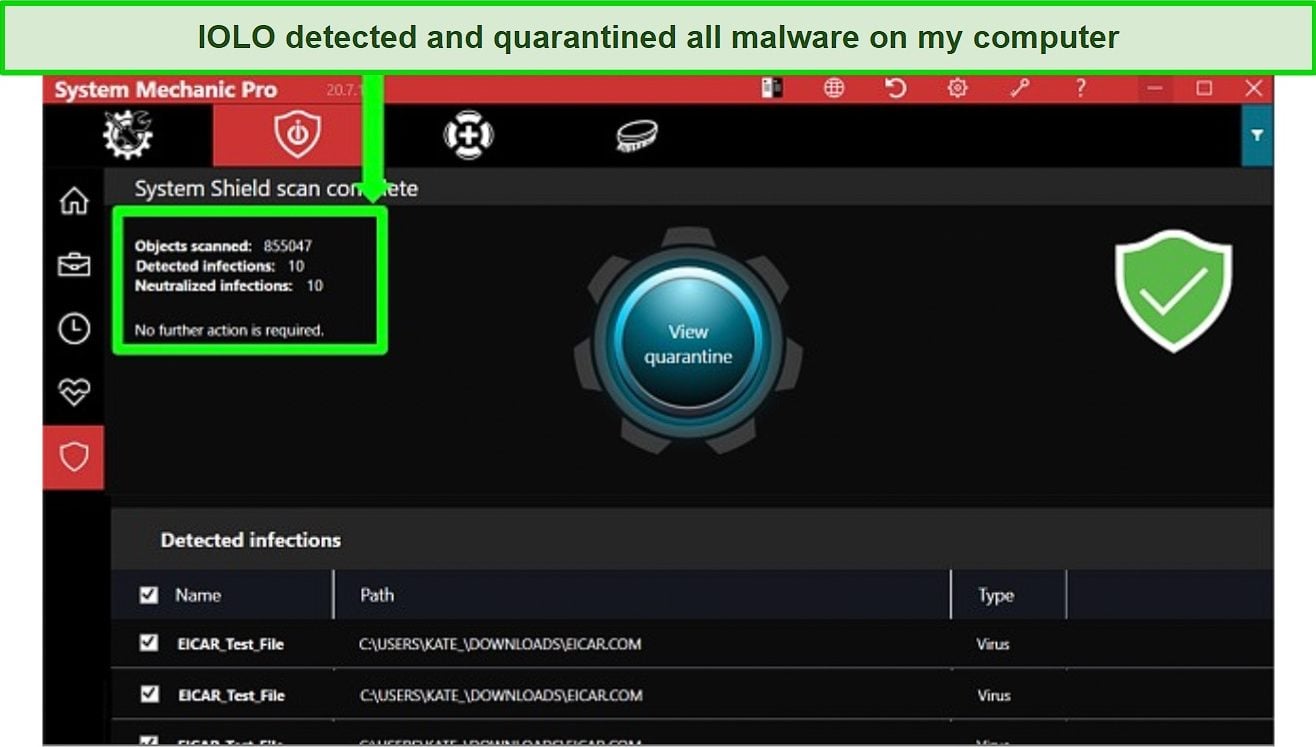 That's all well and good, but the real test of antivirus is how well it performs in a quick scan. I ran IOLO's quick scan and it detected some malware but overlooked a few of them.
I don't recommend you use IOLO's quick scan if you're suspicious that you have keyloggers in your computer. That's because a quick scan typically scans the most likely places where a virus can live, and keyloggers are usually well-hidden inside your system drives in unassuming places.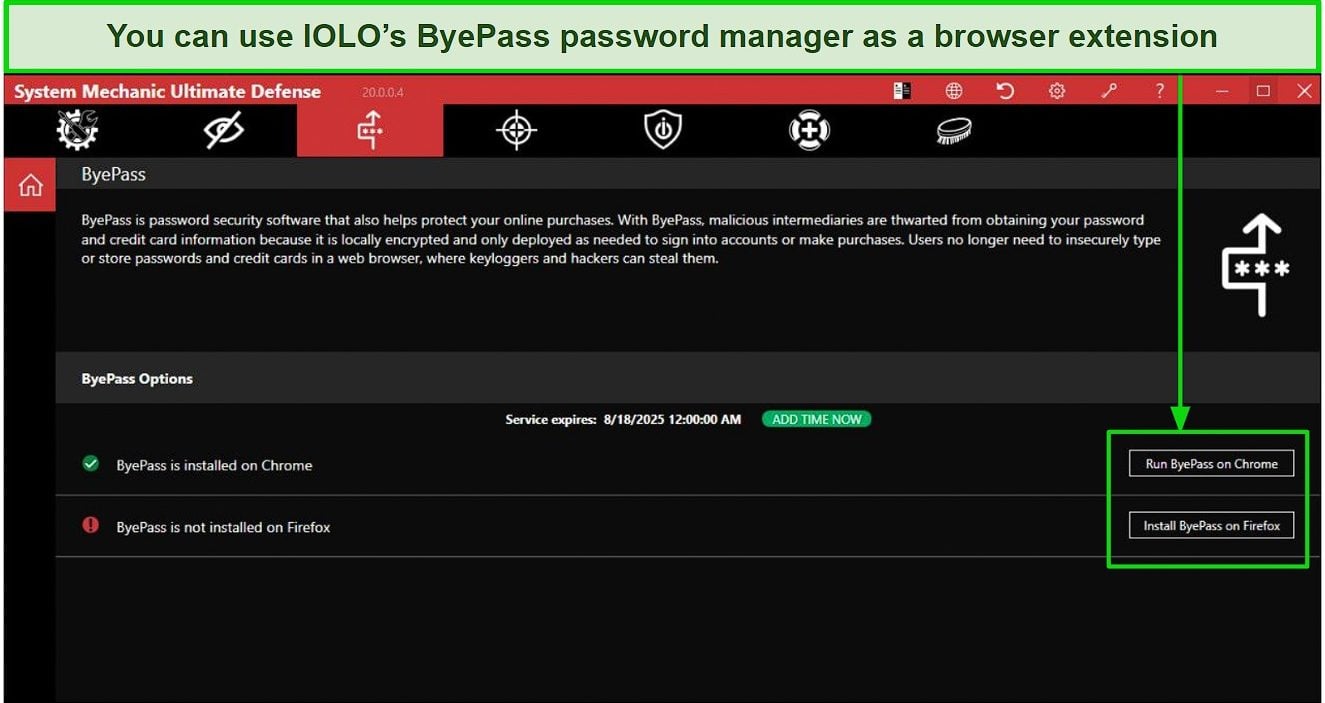 Apart from that, IOLO has its native password manager known as ByePass, but it's only available with the top-tier package, System Mechanic Ultimate Defense. All you need to do is set up a master password so that you can access all your other accounts. I also used ByePass on Chrome, Firefox, Safari, and Edge.
IOLO comes with a suite of products, such as its Malware Killer, Privacy Guardian, System Shield, Systemic Mechanic, and more. If you're on a budget, the Malware Killer is a good buy and won't be too heavy on your computer. If you want a more comprehensive plan with additional features like PC tune-up, I suggest you go for IOLO's System Shield or System Mechanic plans.
Try IOLO System Shield risk-free
Key Features:
Near perfect detection of keyloggers and malware
A variety of scan options
Anti-phishing and ransomware protection
Compatible with Windows, macOS, iOS, and Android
30-day free trial
Next up, I decided to try out Bitdefender because I had heard good things about it. I was also thrilled to find out that Bitdefender offers a free plan. The free plan is sufficient for most users, but, of course, it lacks advanced security features.
First, I ran my test on the free trial and I was quite impressed with the results. Apart from a few malware, Bitdefender's free trial managed to detect and remove all keyloggers and malware I had planted on my system. It also flagged 5 legitimate files on my computer as infected.
Next, I ran the same test again on the paid plan, and this time Bitdefender detected and removed 100% of the malware with the Complete System Scan. When I tried the Quick Scan, however, it didn't detect some of the keyloggers.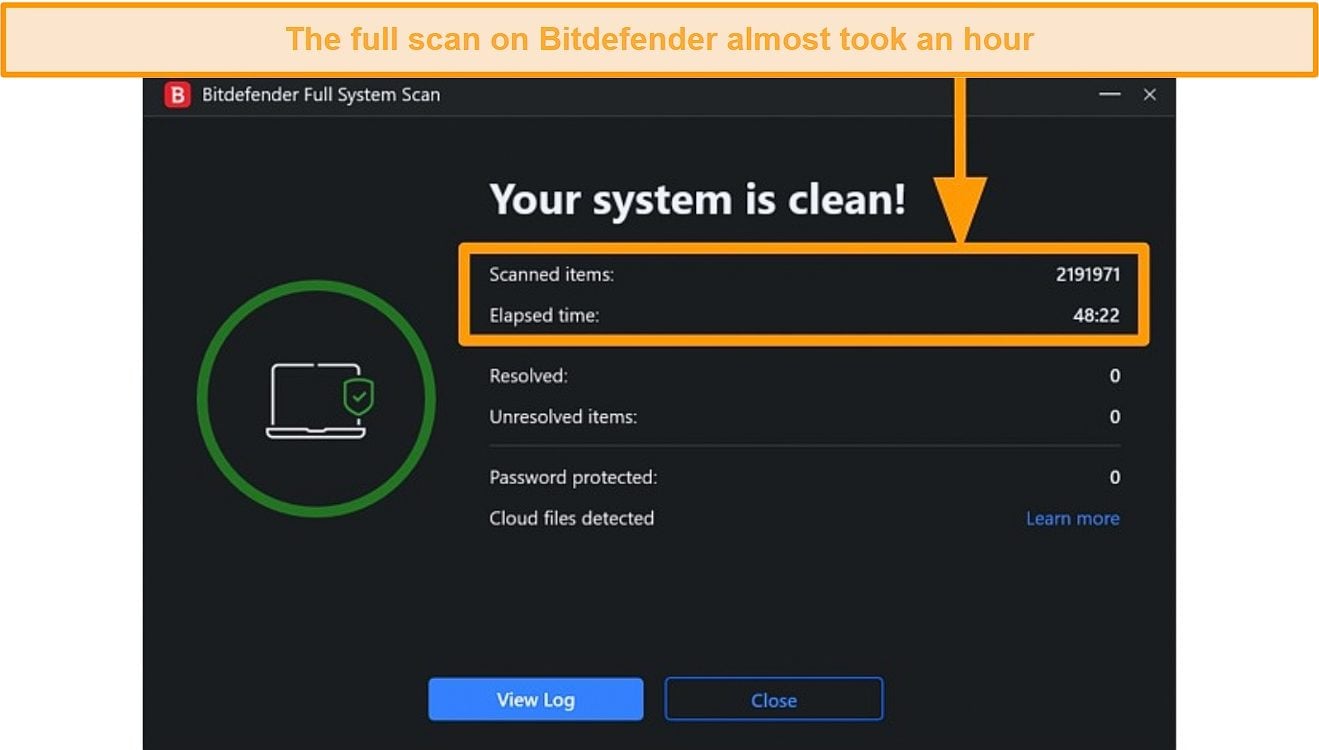 The complete scan took about an hour and was heavy on my CPU, but the good thing is that each subsequent full scan took only 15 minutes because Bitdefender remembered which locations on my computer were safe. Apart from that, you can run a Vulnerability Scan, Rescue Environment Scan, and Custom Scan – I really liked having these options on the table.

Another great anti-keylogger feature of Bitdefender is its phishing protection. It detected nearly all the scam emails and links in my inbox and also warned me when I was about to download something dangerous. This is an extremely useful feature because many keyloggers infiltrate your computer when you open links from scam emails.
Overall, Bitdefender is a decent antivirus loaded with security features, such as a system security scanner, password manager, file shredder, and firewall. Its Behavior Monitor tool prevents malware from altering your files and keeps a backup of all your important documents. It also has a VPN, but the data cap is limited to 200MB per day.
Bitdefender's free plan offers antivirus and online threat prevention but lacks some of the advanced security features like ransomware remediation, AntiTracker, VPN, Safepay, and File Shredder. I recommend you sign up for Bitdefender Total Security and use its 30-day free trial so that you know what you're buying.
Try Bitdefender Total Security risk-free
Comparison Table: 2022's Best Antiviruses that Protect Against Keyloggers
| | | | | |
| --- | --- | --- | --- | --- |
| | Web Protection | VPN | Network Security | Identity Protection |
| Norton 360 | ✓ | ✓ | ✓ | ✓ |
| McAfee | ✓ | ✓ | ✓ | ✓ |
| TotalAV | ✓ | ✓ | ✘ | ✘ |
| IOLO System Shield | ✓ | ✘ | ✘ | ✘ |
| Bitdefender | ✓ | ✓ | ✘ | ✘ |
FAQ: Antiviruses for Keylogging Protection
What is a keylogger?
A keylogger is malicious software that records your keyboard keystrokes. It's one of the oldest forms of malware used by hackers and cybercriminals to steal confidential data, such as your bank passwords, when you type on your keyboard. While basic keyloggers can record your keystrokes, advanced ones can even record stuff you copy-paste. A quality antivirus like Norton360 can detect and even remove keyloggers from your device.
How do I get rid of a keylogger on my computer?
The only way you can get rid of a keylogger is by using an antivirus with excellent detection and removal capabilities. That's because keyloggers are hidden deep within system files in the most unassuming locations that a typical antivirus doesn't scan. The antiviruses on my list all have above-the-industry-average detection and removal rates.
When choosing an antivirus, pick one that offers real-time protection, phishing scam and ransomware protection, and features such as a password manager, firewall, and VPN.
How do I protect my computer from keyloggers?
Keyloggers are well-hidden malware in your system files and are hard to detect. That's why the only way you can detect them is through an antivirus. Not all antiviruses can detect and remove keyloggers, though. You need one that has a perfect or near-perfect detection rate, or at least above the industry average of 97%. Here's what I looked for when choosing my top picks.
Apart from having a powerful malware detection engine, a good antivirus offers an array of security features that can make keyloggers useless. For instance, a built-in password manager that saves all your confidential information so you never have to type in your passwords adds an extra layer of security against keyloggers.
Secure Yourself From Advanced Keyloggers
Keyloggers are difficult to detect, which is why you need an antivirus with a powerful malware-detection engine to fully protect your computer. It's always better for malware engines to be powered by artificial intelligence and machine learning so they can combat the fast-evolving nature of computer viruses.
It's rare to find an antivirus that ticks all the boxes. While some have an excellent detection rate, they lack other complementary features, such as a password manager, VPN, phishing protection, and identity security. From my test results, I can safely conclude that Norton antivirus is the best antivirus for detecting and removing all forms of malware, including keyloggers.
Norton's anti-malware engine is powered by AI and its scans aren't nearly as resource-intensive as the other antiviruses on my list, and yet, provide 100% detection accuracy without fail. The good thing is you can test it out risk-free before making a commitment. Norton offers a 60-day money-back guarantee with its monthly plan and yearly plans.
---
Summary: 5 Best Antiviruses that Protect Against Keyloggers