Avast vs Bitdefender: Which Antivirus Is Better in 2022?
Last Updated by Enemali Okwoli on September 01, 2022
Both Avast and Bitdefender are well-known antiviruses with free options for the budget-conscious consumer. I wanted to see how the premium versions competed against each other.
So, I pit them against each other in more than 12 categories to see which one came out best overall. After all my tests, I found that Bitdefender provides a more robust antivirus, winning by a wide margin.
Apart from not stacking up well against Bitdefender, Avast has been caught selling its users' browsing data in the past, which makes it very difficult to recommend it. In contrast, Bitdefender is privacy-friendly and offers many useful security features.
Try Bitdefender risk-free for 30 days
No Time? Here's a 1-Minute Summary of Category Winners
While Avast provides many useful features, its unethical practices and slightly weaker performance against Bitdefender make it a difficult choice to recommend. Bitdefender proved to be the best among the duo at combating cyber threats and keeping you safe online and offline.
| | | |
| --- | --- | --- |
| | | |
| Virus Scanner | Has a near-perfect detection rate but flags more legitimate files wrongly. | Detected 100% of malware and has fewer false positives. |
| Real-Time Malware Protection | Detected 100% of real-time threats but only 86% of phishing attacks. | Detects 99.7% of real-time threats and 94% of phishing threats. |
| System Performance | I experienced a slow down of my PC when launching other programs. | Consumes fewer system resources and doesn't have any significant impact on my PC. |
| VPN | Can access most streaming platforms and covers 10 devices. | 200MB daily data cap for all plans except premium. |
| Parental Controls | Doesn't have any parental control app. | Comes with many useful features and is easy to use. |
| Firewall | Offers an intelligent firewall that provides robust protection. | Provides smart and customizable firewall features to protect your computer from attacks |
| Password Manager | Has a basic password manager with only core functions. | Provides an impressive password manager packed with features. |
| Gaming Mode | Game mode disables unnecessary background processes but requires manual configuration. | Automatic gamer mode eliminates background processes during gaming. |
| Optimization Tools | Features a thorough disk cleaner and bloatware removal. | OneClick optimization tool, mainly related to clearing up disk. |
| Other Features | Has useful extras like Sandbox for safely installing and testing apps from untrusted sources. | Provides a wide range of useful extra features, including webcam protection and secure banking features. |
| Device Compatibility | Supports 10 devices on basic plans and offers user-friendly apps. | Works with popular devices but only supports 3 devices on lower plans. |
| Customer Service | Only offers FAQs and online forums, requiring a premium subscription for other support options. | 24/7 live chat, email support, phone support on all plans, and fast response times on all channels. |
| Price | Only offers 2 plans, and a free trial option is absent. | Provides excellent value for money, multiple plans, and a 30-day free trial. |
| Free Version | Has a free version with limited features. | Has a free version with robust ransomware protection and a free premium trial. |
| Money-back Guarantee | Provides a 30-day money-back guarantee but requires tediously filling out a form to process a refund. | Offers a 30-day money-back guarantee with a straightforward and fast refund process. |
How I Tested and Compared Avast vs Bitdefender
Try Bitdefender for 30-days risk-free
1. Virus Scanner — Bitdefender Provides Better Detection Rates
Bitdefender has perfect malware-detection scores, whereas Avast has near-perfect detection rates.
I set up a test machine and downloaded hundreds of malware samples. Bitdefender detected 100% of malware, including those discovered in the last 4 weeks, while flagging 7 harmless files as dangerous. In contrast, Avast got a 99.8% malware detection rate but flagged 15 safe files wrongly.
Both antiviruses have a good number of scanning options. Bitdefender has 5 types of scanners:
Quick — Scans parts of your hard drive with the highest risk of infection.
System — Scans your entire device for threats.
Vulnerability — Checks for potentially dangerous settings and missing updates.
Custom — Allows you to choose what files to check, when to scan and what threats to look out for.
Rescue Environment — Reboots your system in a safe mode to find and remove difficult threats.
Avast, on the other hand, has 6 types:
Quick — Scans the most at-risk sections of your device
Full — Checks your whole system
Boot-Time — Scans your computer before the operating systems boots up
Smart — Runs a quick virus scan and checks for outdated programs, dangerous browser extensions, and performance issues.
Custom — Allows you to choose which type of scan to run, when to run it, and what to search for
Targeted — Scans only files or folders specifically selected by you
I tested both antiviruses' Quick and Full disk scanners to see how each would perform.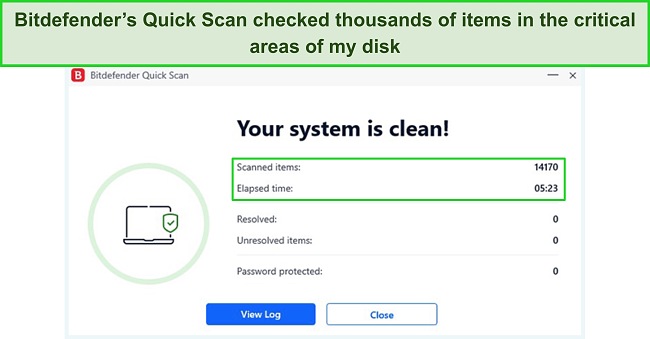 During my tests, Bitdefender's initial System (full-disk) Scan took about 48 minutes to scan 2,191,971 files (subsequent scans took just 10 minutes), while the Quick scan took about 5 minutes to scan 14,170 files. Avast's full scan took only 23 minutes to scan 980,000 files, while the Quick Scan took just 2 Minutes to scan 81,000 files.
Although Avast's scanner appears to be faster, it checks a fewer number of files compared to Bitdefender. Moreover, Bitdefender has an intelligent scanner that marks safe files and skips them for subsequent scans, making the process even faster. Other top antivirus suites like Norton also use this type of scanning method to ensure you aren't always waiting too long for a scan to complete.
Also, Avast had twice as many false positives (flagging safe files as malware) compared to Bitdefender. Considering all these facts, Bitdefender is the winner for this round.
Secure your device with Bitdefender
2. Real-Time Malware Protection — Avast Offers Perfect Malware Detection Scores
Both Avast and Bitdefender offer excellent real-time protection. Real-time protection is a crucial feature that all the top-tier antiviruses on the market provide. It helps detect malware in real-time, blocking it even before it enters your computer.
During my tests, Avast scored 100% detection of real-time threats. I tested this by setting up a test machine and opening emails and web pages that had malware infections, and I was impressed to see that Avast blocked them all. On the other hand, Bitdefender scored 99.7% detection rates against real-time threats with 0 false positives.
For anti-phishing protection, Bitdefender performs better. It detects 94% of phishing threats, whereas Avast has an 86% detection rate. Overall, Avast offers better real-time protection results. However, its higher false positives and weaker phishing detection results (compared to Bitdefender) make Bitdefender slightly better.

Whenever Avast or Bitdefender detects a malicious file or webpage, it notifies you with a warning message. If the malware has already made it to your device, both antiviruses will quarantine the file, prompting you to remove it. However, I was pleased to find Bitdefender's real-time protection beyond detecting malware also secures your devices against adware and spyware.
3. System Performance — Bitdefender Barely Impacts Your System Performance
After thoroughly testing both antiviruses, Bitdefender turned out to be less resource-intensive than Avast. Bitdefender didn't significantly affect the speed of my laptop while carrying out different activities. However, Avast had some impact leading to the slow down of my PC while carrying out some activities.
I experienced slight delays when launching installed programs and opening websites on my browser while Avast was running. In contrast, I didn't notice any impact on my system performance while browsing the web, downloading files, and copying files from one folder to another when Bitdefender was running.
I wanted to get a closer look and measure how much each antivirus impacted my system performance. So, I recorded my baseline CPU, disk, and memory utilization before and during a full scan. After my tests, I noticed that Bitdefender made my CPU usage jump from 10% to 41%, which didn't have much impact on my PC. However, Avast increased my CPU utilization from 12% to 62%, which slowed down my PC.
Overall, Bitdefender barely affects the performance of your PC, while Avast isn't the best choice for peak system performance. In all my tests, I've found that Norton antivirus has the least impact on PCs when it comes to performance.
Having said that, my experience isn't written in stone, and you may experience slightly different results. Many factors like your PC hardware and the type of software you're running along with your antivirus play equally important roles in your system performance.
4. VPN — Both Antiviruses Have a Good VPN Service
Both contenders have a VPN, but Avast's VPN is much better. The Avast SecureLine VPN offers 700 servers in 34 countries, industry-standard encryption, and supports 10 devices. Avast's VPN let me and my colleagues access accounts on popular streaming sites, including:
Netflix
HBO Max
Hulu
Disney+
ESPN
BBC iPlayer
During my tests, Avast's VPN offered average speeds of 100Mbps between 4 global locations, which was really impressive. However, you have to subscribe to the ultimate Avast premium plan to get the VPN bundled or purchase the standalone VPN product.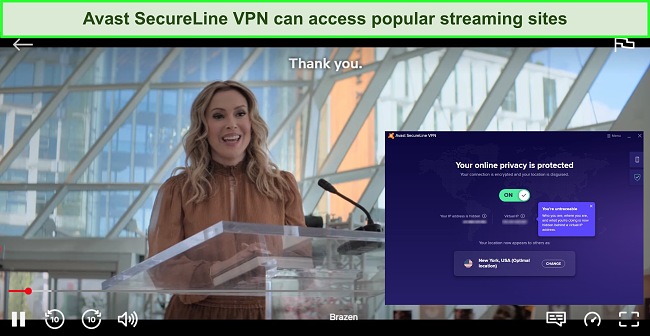 Bitdefender, on the other hand, has 4000 servers in 49 countries and offers industry-standard encryption but only lets me and my colleague access Netflix and BBC iPlayer, respectively.
Unlike Avast, Bitdefender's VPN works on mid-tier plans, but it has a data cap of 200MB per day, which isn't enough to really do anything serious. The only way to get unlimited VPN traffic on up to 10 devices is by subscribing to the high-tier Bitdefender plans or purchasing the standalone Bitdefender Premium VPN plan.
In summary, Avast's VPN has better streaming capabilities than Bitdefender. However, you're better off with one of these antiviruses with a VPN built-in. These recommendations offer better security, faster speeds, and access to more streaming platforms.
5. Parental Controls — Only Bitdefender Has a Parental Controls App
Bitdefender has parental controls, but Avast doesn't. The Bitdefender parental control app is useful and allows you to monitor your child's activities on their device. It allowed me to block adult content and gambling sites and temporarily restrict social media access.
You can use Bitdefender's parental control tools to locate your children's devices, track how they spend time online, and even check their browsing history. All I had to do was configure parental control, create a child profile (by adding name and age), install the Bitdefender Parental Control app on my child's phone, and create an account.
Bitdefender's parental controls app is easy to use and intuitive. I like that the features are neatly arranged so that even a beginner won't find it challenging to use.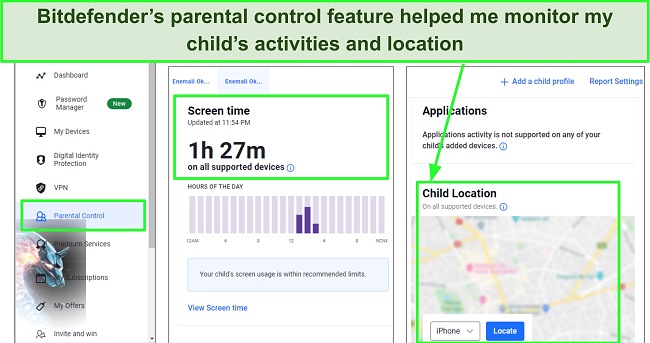 I did have a few issues with the parental control features. First, I observed that you could only link 1 device to a child, limiting the number of your child's devices that you can monitor. I had to create multiple child profiles across my daughter's 3 devices.
Second, the apps have marked differences depending on the operating system. For instance, you can't use the Bitdefender parental controls on iOS to block websites, and you can't view your child's location on the desktop apps. McAfee provides a better parental control app, bundled in its antivirus package which works flawlessly on popular operating systems.
Try Bitdefender's parental controls
6. Firewall — Both Antiviruses Have an Intelligent Firewall
Avast and Bitdefender both have excellent firewall features. Avast's firewall offers robust protection, requiring almost no input from you. Its intelligent firewall automatically configures your protection depending on your network (private and public networks), but it trusts programs more on private networks.
Bitdefender's firewall is also very effective and doesn't require any configurations to get it working. Like Avast, the firewall analyzes the programs you've installed and configures itself based on your chosen network type. However, firewall protection is only available for Bitdefender's "Internet Security" and "Total Security" plans, whereas Avast has a firewall for all its paid plans.

If you prefer advanced control, Avast and Bitdefender's firewall makes it easy. It offers better features than the Windows Defender Firewall. You can customize network rules and grant access to specific apps or restrict access to programs, block remote connections, and even set rules for ports and protocols.
Avast and Bitdefender also have a "stealth mode" function that allows you to connect securely to a public network, hiding your device information and keeping you safe from prying eyes.
One of the features I like the most that only Bitdefender offers is "Alert Mode," which analyzes and monitors any suspicious behavior on all apps installed on your device. Ultimately, both contenders have a firewall that's up to the task and effective at combating every network attack. However, Bitdefender has more customizable rules and features, making it the better option.
Try Bitdefender risk-free for 30 days
7. Password Manager — Only Bitdefender Has a Worthwhile Password Manager
After testing both antivirus software, I concluded that Bitdefender's password manager is the better option. Avast has stopped the sale of new Avast Passwords subscriptions. So, you can't use it anymore as a new subscriber.
Bitdefender's password manager, on the other hand, is one of the best-bundled password managers I've tested. It has essential features like a password generator, unlimited password storage, auto-filling, password auditing, password sharing, data breach monitoring, and multi-device syncing.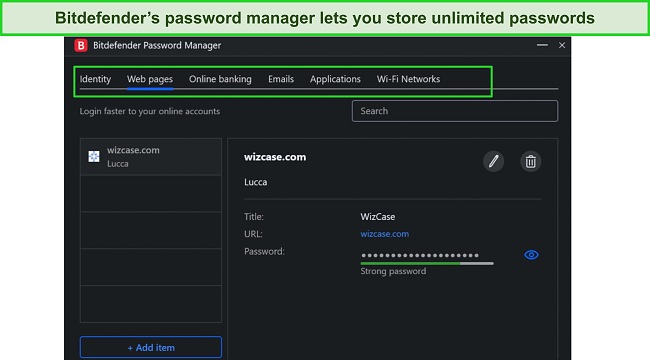 I was impressed with how fast Bitdefender's password autofill feature works on connected sites. I imported all my passwords from Chrome into the Bitdefender vault within seconds and could easily use them across the supported sites. I didn't experience delays when auto-filling forms, including complex forms like those of banking sites. Luckily, Bitdefender's password manager is included in every plan, making it easy to access for any budget.
Try Bitdefender's password manager risk-free
8. Gaming Mode — Bitdefender Has a Far Superior Gaming Mode
After considering the gaming mode of both antiviruses, I found Bitdefender to be more effective. I like how Bitdefender's "Gaming Profile" is automatically turned on once you start gaming. It minimizes CPU usage by eliminating unnecessary background tasks and modifying protection settings, assigning more system resources to the gameplay. I tested the feature while playing Call of Duty: Warzone, and I didn't experience lags throughout the time I was gaming.
Similarly, Avast's "Game Mode" adjusts your system settings, disabling any unnecessary background running processes to allocate more resources to you while you're gaming. You can manually add the games to which you want the gaming mode feature to apply.
After you've added the game, you have to "activate game mode on launch" so that the settings apply whenever you start the game. Avast's Game Mode was good, but Bitdefender's gaming mode was far superior.
9. Optimization Tools — Avast Has a More In-Depth Optimizer
Both Avast and Bitdefender have great optimization tools, but Avast has a more in-depth optimizer. Avast's "Cleanup Premium" features a disk cleaner that quickly removes junk files, registry files, and browser cookies. I also found the bloatware remover helpful in getting rid of annoying preinstalled programs.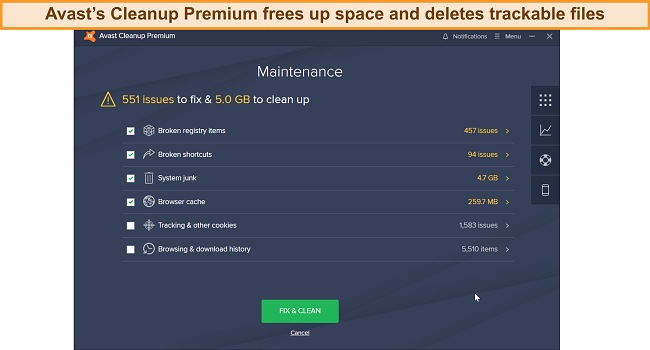 I tested the cleanup tool, and it removed 5GB of junk files (browser cookies, browsing history, trackers, system junk, and broken shortcuts) from my PC. Unfortunately, you can't get this optimizer on Avast's mid-tier or low-tier plans. Avast Cleanup Premium is only available on the Premium or Ultimate versions of Avast, making it too pricey.
In comparison, Bitdefender's Optimizer comes with all its paid plans. Its "One Click Optimizer" has 3 optimization tools automatically activated with one click. It features a Disk Cleanup, Registry Cleanup, and Privacy Cleanup.
Bitdefender's One-Click Optimizer removed 3.89GB of junk files from my PC, but I couldn't find in-depth details for all the files that were being removed. Overall, both antiviruses have excellent optimization tools, but Avast is more advanced and feature-rich.
Optimization Tools Winner: Avast
10. Other Features — Bitdefender Offers Way More Useful Extras
Both contenders have extra useful features, but Bitdefender has a wide range of additional features for your all-around security. Both antiviruses offer a few overlapping features, such as ransomware protection, file shredder, and webcam protection, but, ultimately, Bitdefender had more unique features.
Ransomware protection: Avast and Bitdefender have ransomware protection tools that protect your device and files from ransomware attacks.
WebCam Protection: Bitdefender both have webcam protection tools that block unauthorized access to your webcam. Bitdefender takes it further by preventing hackers from accessing your device's microphone.
Sandbox: Avast's Sandbox provides a secure environment to run applications from unknown sources. If you don't trust an application, you can still test it in a virtual "container" that avast provides. It allows you to run an app without the risk of it infecting your system.
SafePay: Bitdefender's SafePay allows you to access banking or e-commerce sites securely. It creates a unique desktop environment and offers a secure browser that will enable you to input financial details safely. SafePay's advanced security features prevent screenshotting, data interception, and keylogging.
Real Site: Avast's "Real Site" feature provides you with an encrypted connection using its DNS servers to protect you from DNS hijacking.
Anti-Spam: Bitdefender's Anti-spam feature connects to your Outlook account and filters out your junk email. You can also use this feature to mark legitimate emails that are wrongly flagged as spam to prevent their recurrence.
Avast also offers its own secure browser and an alternative to the Google Chrome browser — although it still uses Chrome's core infrastructure. The browser is packed with Avast's features such as:
Anti-tracker
Ad-blocker
Anti-phishing
Banking mode
Integrated video downloader for sites like YouTube.
I found this feature a little intrusive, though. It automatically set itself as my default browser and even imported all my Chrome bookmarks without my consent.
After examining all the additional features provided by both antiviruses, I found that Bitdefender had the most compelling extra features. I was very impressed with Bitdefender's SafePay feature that protected my banking sessions, even from keyloggers. I also like the anti-spam feature which helps filter out unwanted emails. Overall, Bitdefender's additional features were much more useful to me than those of Avast.
11. Device Compatibility — Avast Is More User-Friendly
After testing both antiviruses extensively, I found Avast to be the more user-friendly option. Both Avast and Bitdefender are compatible with most operating systems such as Windows, Mac, iOS, and Android devices. However, while all Avast low-tier plans cover 10 devices, Bitdefender supports a few devices (1, 3, 5) on its lower plans.
Avast was pretty easy to install and set up, taking only about 5 minutes to get everything running. The desktop apps feature a pleasant interface and fluid design, making navigating through the features easy. I also found Avast's mobile apps intuitive, offering as many features as the desktop versions.
Bitdefender's desktop apps are equally user-friendly, with the features neatly arranged in a grid-like design that makes navigation easy. I like that the dashboard is customizable so that you create quick access to the features you want to see on your dashboard. Bitdefender's mobile apps also share a similar interface to the desktop app.
My only issue is that Bitdefender's Mac and iOS apps lack some features like webcam protection and anti-theft tools, with the parental controls app also having limited features. If you want complete antivirus protection for your iOS device, I suggest looking at some of the best antivirus software optimized for iOS devices.
Overall, Avast and Bitdefender are easy to use and compatible with modern operating systems. However, Avast had the more user-friendly apps and the easiest installation process.
Device Compatibility Winner: Avast
12. Customer Service — Bitdefender Offers Better Customer Support
After testing the customer support of both contenders, I can easily say that Bitdefender is the winner. First, Bitdefender provides more support options. Second, it offers a more worthwhile experience that Avast fails to deliver.
Bitdefender offers 3 support options — a 24/7 live chat, email, and phone support. It took less than a minute to get connected with an agent through its live chat support. I wanted to find out more about Bitdefender's File Shredder feature and more details about the refund policy. The agent provided me with a helpful response to all my questions.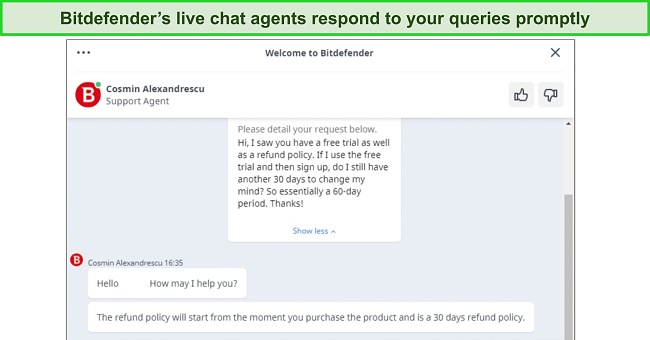 I also tested Bitdefender's email support and was surprised by the speed. After emailing my query, I got a detailed response from the support team in just about 1 hour. This is really fast, considering that it can take up to 10 hours to get an answer from the email support of many other AVs.
Bitdefender's phone support is available in 17 countries (offering 28 phone numbers) in Spanish, French, German, and Japanese. You can also reach a worldwide number with English support. I called the worldwide helpline and had to wait for 12 minutes before I got connected with a representative who helped me solve my issue.
Unlike Bitdefender, Avast offers limited support options. At first, I thought it only offered a FAQ page and online forums. However, I found a way to get live chat support.
To get to live chat you have to navigate to a category in the knowledge base, select that you still want to contact support, choose the right category again, and fill out your personal details. After that, it took about 5 minutes before I was connected with an agent, but I got a helpful response to my question.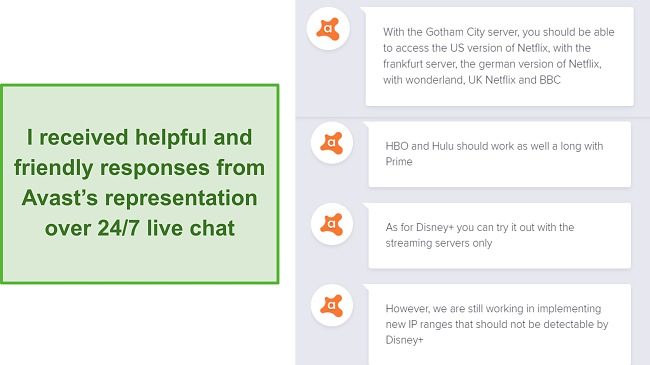 The only way to get 24/7 live chat, email, phone, and remote access support is by subscribing to Avast's premium support service (Avast Care). This feels like an unnecessary charge when most antiviruses offer support for no extra charge.
In summary, Bitdefender offers more support options and worthwhile customer support than Avast. You can also find helpful FAQs, articles, and threads on the knowledge base and community forums.
Try Bitdefender risk-free for 30 days
13. Price — Bitdefender Provides Better Value Across All Plans
Bitdefender provides much better value than Avast. I compared all the plans each vendor offers and found Bitdefender to be the best product.
Bitdefender offers 5 plans:
AntiVirus Plus — A basic Windows-only antivirus with ransomware protection
Internet Security — A mid-tier plan only for Windows, but it lacks a device optimizer
Total Security — A mid-tier plan that includes most security features except for identity theft protection, and it only protects 5 devices.
Premium Security — Includes every security feature except for identity theft protections and protects 10 devices.
Ultimate Security — Includes every security feature as well as identity theft protection and protects 10 devices
Total Security is the plan I signed up for and recommend because it supports most of the premium features and comes at a reasonable price.
The Ultimate Security plan is also good as it provides additional features such as credit reports monitoring, identity theft insurance, priority support, and unlimited VPN. However, it is priced twice as much as Total Security.
Avast offers 2 plans — Premium Security and Avast Ultimate. Premium security is the best value, even though it costs close to Bitdefender's Ultimate Security Plan. In contrast, Avast's Premium option is only worth it for including the firewall and Ransomware Shield and the ability to install it on up to 10 devices.
Try Bitdefender premium plans risk-free
14. Free Version — Both Antiviruses Offer Limited Free Versions
Both Avast and Bitdefender offer free versions, even though their features are limited. Bitdefender Free is very basic, but surprisingly it can detect and block most ransomware, but you won't be protected from the latest evolving cyber threats.
Bitdefender provides a 30-day free trial on all premium plans, so you can try the advanced features before committing. Unfortunately, Avast doesn't offer any free trial option so you can't try out Avast's premium features without providing your card information.
Try Bitdefender's free version
15. Money-Back Guarantee — Both Antiviruses Have Money-Back Guarantees
Both Avast and Bitdefender offer a 30-day money-back guarantee, but Bitdefender refunded my money sooner. I emailed Bitdefender's support, and my request was processed immediately. The customer service didn't waste my time with any follow-up questions, and I had my money back in my account just 5 days later.
Avast also makes it easy to get a refund. You simply fill in a form with your name, order ID, address, and reason for the refund from a predetermined list. After submitting the form, I got my money back in about 7 days.
Try Bitdefender risk-free for 30 days
And the Winner Is… Bitdefender
After comparing both antivirus suites and testing all features, I can confidently say that Bitdefender won the day with a substantial margin. Bitdefender provides excellent malware-detection scores and real-time protection and offers more features than Avast.
Bitdefender won in every area apart from VPN, Optimization Tools, and Ease of Use. Even then, Avast's edge was only by a small margin. Avast's VPN had better streaming capabilities and a more comprehensive device coverage, whereas Bitdefender's VPN is capped at 200MB on lower plans. Avast's optimization tool won because it provided a more thorough PC cleaner.
In summary, apart from Avast losing out on features and overall performance, I wouldn't recommend using Avast because it has been caught selling its customer browsing data, making it untrustworthy for privacy. On the other hand, Bitdefender has proven to be a reliable and efficient antivirus software that ensures the total security of its customers.
Luckily, Bitdefender offers a 30-day free trial to test its premium plan, and it has a 30-day money-back guarantee which gives you even more time to try the antivirus.
Try Bitdefender risk-free for 30 days
How To Download Bitdefender on Your Device
Sign up for an account — Visit the Bitdefender website, click on "Login" and then "Bitdefender Central" and create an account.


Sign up for a free trial — Once you're signed in on Bitdefender Central, follow the prompt and click on "Start a free 30 free trial" to try Bitdefender.
Choose a product — Select a product from the list: Security, VPN, and Parental controls. Choose "Security" to download the antivirus client.


Select a device — Choose the device you'd like to install the app on. You can download the client on the device you're browsing from or install it on other devices by generating a download link.
Download and Install the app — Run the installer file once it finishes downloading and follow the setup wizard to install the client on your device.
Start using the app — Once the app is installed and launched, click on "Start Device Assessment" to begin the initial scan.
Download Bitdefender risk-free
FAQs About Avast And Bitdefender
Is Bitdefender better than Avast?
Yes. I compared Bitdefender and Avast in over a dozen different areas and found Bitdefender to be better. Bitdefender offers better malware detection scores than Avast, making it more effective at blocking phishing attacks. Bitdefender also provides extra security features like parental controls and a password manager.
Does Bitdefender free have more features than Avast free?
Yes. Bitdefender's free version offers more features than Avast free. It provides advanced threat detection, anti-malware tools, anti-phishing, web protection, and anti-fraud protection.
In contrast, Avast free offers only a few features, such as a malware scanner, ransomware protection, and a WiFi scanner. However, Avast has been caught selling its users' data. So, I don't recommend using it.
---
Top Antiviruses in 2022