AVG vs Avast: What is the Difference 2022?
Last Updated by Sayb Saad on October 01, 2022
AVG and Avast are two of the most widely-used antiviruses, mainly because of their free plans. They claim to provide airtight security and top-notch privacy, but I wasn't convinced since both contenders are owned by the same parent company that was found to be secretly selling users' data.
Despite that, I was curious to see which antivirus is better overall. I tested them rigorously across multiple categories and found that Avast won but only by a slim margin. AVG had better detection scores and system performance but Avast outshined in optimization tools, extra features, and ease of use.
However, I can't recommend either because of their privacy issues in the past. Instead, I recommend using a reliable antivirus like Norton because it provides perfect protection at a competitive price.
No Time? Here's a 1-Minute Summary of Category Winners
AVG provided me with better detection scores but lost out in most other categories, including system performance, optimization tools, and more. Overall, it was a close competition, but Avast took the lead, albeit only by a small margin.
| | | |
| --- | --- | --- |
| | | |
| Virus Scanner | Detects 99.7% of malware and provides 6 scan options with a few false positives. | Detects 98.8% of malware and provides 6 scan options with many false positives. |
| Real-Time Malware Protection | Detects 99.85% of all viruses in real-time. | Detects 99.5% of all viruses in real-time. |
| System Performance | Uses fewer system resources with and without scan, with little impact on system performance. | Uses higher system resources with and without scan, making your PC noticeably slower. |
| VPN | Provides fluctuating speeds on nearby and mid-range servers and decent streaming capabilities but stores logs. | Provides good speeds on nearby and mid-range servers, and decent streaming capabilities, but it has a questionable privacy policy. |
| Parental Controls | Doesn't include a parental controls function. | Doesn't include a parental controls function. |
| Firewall | Tedious to use and has fewer advanced features | Easier to use and provides a range of advanced security features. |
| Password Manager | Doesn't provide a password manager. | Doesn't provide a password manager. |
| Gaming Mode | Doesn't offer resource allocation while gaming but only a "mute mode" that mutes notifications. | Suspends background activities and silences non-critical notifications while gaming. |
| Optimization Tools | Provides a disk cleaner and startup manager, but it didn't enhance my PC's performance much. | Provides disk clean-up, startup manager, and bloatware removal that sped up my PC noticeably. |
| Other Features | Offers a browser extension, a driver updater, and a secure browser. | Offers ransomware shield, browser extension, and "Real Site" to prevent DNS hijacking. |
| Device Compatibility | Difficult to locate features on desktop and mobile apps. | Easy to use desktop and mobile apps with a consistent UI. |
| Customer Service | Includes 24/7 live chat and an online forum. Expect a lot of upselling on live chat. | Includes 24/7 live chat and an online forum. No upsells on live chat, but it may take time to connect to an agent. |
| Price | Provides better-value paid plans than Avast in terms of feature-richness. | Provides less value because its paid plans offer fewer features than AVG. |
| Free Version | Offers a free plan with numerous security features, but decent protection | Offers a free plan with a few features but good protection. |
| Money-Back Guarantee | Provides a 30-day money-back guarantee, but it may be tedious to file a refund. | Provides a 30-day money-back guarantee with a seamless refund process. |
How I Tested and Compared AVG vs Avast
1. Virus Scanner — AVG Provides More Accurate Detection
After rigorously testing both antiviruses, AVG gave me significantly better protection than Avira. AVG offers a range of scan options:
Smart Scan — Quickly scans the most critical areas of your PC's hard drive.
Deep Scan — Performs a full scan of your PC and checks the entire hard drive.
File/Folder Scan — Scans specific folders for malware.
Boot-Time Scan — Runs a scan during boot-up to remove viruses before launch.
USB/DVD Scan — Scans removable hard drives, including USBs and external hard drives.
Performance Scan — Scans your system for optimization issues and provides recommendations.
I recommend running the Deep Scan if you want to thoroughly rid your PC of viruses. While Smart Scan is more popular because it performs a scan quickly, it doesn't check every nook and cranny of your hard drive. I wasn't completely satisfied with the Deep Scan's imperfect results, especially when I'm used to Norton's 100% detection rate.
AVG's Deep Scan detected 99.7% of the malware I had planted on my computer. However, it took more than 50 minutes to complete. While AVG's score was much better than the industry average of 97%, it still doesn't provide perfect protection.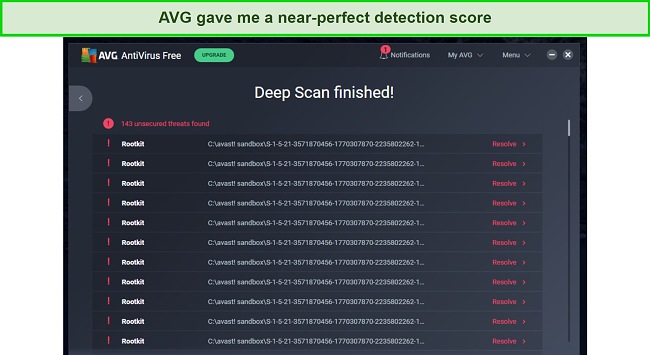 While it gave me an excellent detection score, AVG missed a couple of zero-day malware and also falsely flagged 5 safe files. As a result, I had to manually deselect those files and mark them as safe.
Like AVG, Avast also offers 6 scan types:
Full Scan — Scans your whole system
Targeted Scan — Allows you to select files and folders you want to be scanned
Boot-Time Scan — Scans your computer before the operating system boots up
Quick Scan — Scans the most at-risk sections of your device
Smart Scan — Checks for outdated programs, dangerous browser extensions, and performance issues.
Custom Scan — Lets you choose which type of scan to run, when to run it, and what to search
I ran the full scan, and it gave me a decent detection score of 98.8%, falling behind AVG by a slim margin. However, I was happy that it took only 23 minutes, almost half of AVG's full scan time.
Avast gave me 15 false positives, and it was quite time-consuming to scroll through the list of viruses to mark safe files. Overall, AVG provides better protection and doesn't give many false positives.
Virus Scanner Winner: AVG
2. Real-Time Malware Protection — AVG Provides Better Real-Time Protection
AVG gave me a better real-time protection score than Avast, detecting 99.85% of all viruses in real-time compared to Avast's 99.5%. To conduct the real-time protection test, I downloaded 500 virus samples, including URLs embedded in scam emails.
I was delighted to see that AVG blocked all infected files I had planted on my PC. However, it failed to detect 1 malicious link in a scam email. On the other hand, Avast failed to detect 2 infected files and 1 malicious scam URL.
After a lot of research, I finally discovered why AVG was so much better than Avast at detecting viruses in real-time. AVG uses AI technology to enhance its detection capabilities, especially against zero-day viruses that haven't been cataloged. Even so, it still missed out on well-hidden zero-day malware, which top antivirus suites like Norton managed to detect.
AVG also features phishing protection, but I was disappointed by its results. It identified only 85% of phishing attacks when I ran over 500 URLs on my testing machine. In comparison, Avast detected 86% of phishing domains, slightly better than AVG but still not on par with top antiviruses in the industry.
Real-Time Malware Protection Winner: AVG
3. System Performance — AVG Is Lighter but Still Doesn't Provide a Lag-Free Experience
AVG was lighter on my PC than Avast. It gave me a relatively lag-less experience but only when I didn't do resource-heavy tasks on my PC during the scan.
To conduct my system performance test, I observed how much each antivirus's full scan slowed down my PC. To start, I simultaneously launched 10 websites while running a full scan and noticed how long it took the websites to load as compared to without a scan.
The batch of websites opened in less than 2 seconds without a scan. However, it took 4 and 7 seconds to open the same batch while running AVG's and Avira's full scans, respectively. Similarly, opening resource-heavy software like MS Office and AutoCAD was 11% and 16% while running AVG's and Avira's full scans, respectively.
AVG felt lighter on my PC overall. When I ran its full scan, however, I noticed some lag while I surfed the internet on multiple tabs simultaneously. I could stream YouTube and Netflix without any problems, though. In contrast, Avast felt much heavier on my PC, even without a scan. I had difficulty multi-tasking on multiple tabs all at once, and the lag was worse overall.
In summary, AVG is less resource-intensive than Avast, but you still can't do heavy tasks on your PC like installing a large program with its scan running in the background. If you're looking for a more lightweight antivirus, I recommend going for Bitdefender, as it hosts a cloud-based infrastructure that doesn't weigh down on your PC.
System Performance Winner: AVG
4. VPN — Avast's VPN Keeps You Safe from Prying Eyes
After comparing each contender's VPN, I recommend Avast's because it offers better speeds on mid-range servers. Both AVG and Avast are equipped with a decent VPN, but, unfortunately, only on their top-tier plans. In terms of being able to access your home content and speeds, both gave me similar performance.
Avast's SecureLine VPN hosts 700+ servers in over 35 countries. While traveling overseas, I had no trouble accessing the following streaming accounts:
Netflix
Amazon Prime Video
Hulu
HBO Max
Disney+
Avast has a decent server network and unlocks a wide range of streaming platforms, but it doesn't beat some of the premium standalone VPNs in the industry.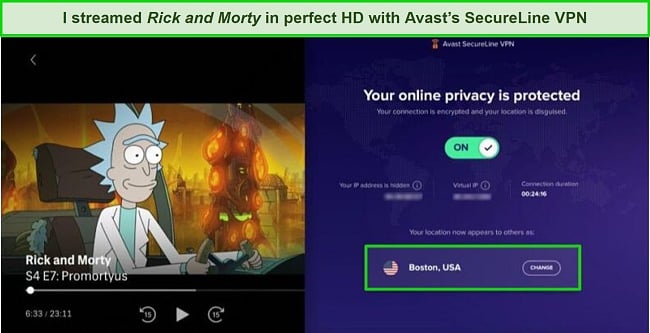 Although SecureLine gave me great speeds on nearby servers, it struggled to keep up on distant servers. I got speed drops of up to 50% on distant servers, and my streaming experience was frequently punctuated by buffering. If you're an avid streamer, I recommend trying out ExpressVPN because it provides an extensive server network, superior streaming capabilities, and blazing-fast speeds.
AVG's SecureVPN was decent and allowed me to access:
Netflix
Amazon Prime Video
Disney+
However, I couldn't access my Disney+ and HBO Max accounts and kept getting an error message. I got good speeds on nearby servers, but, like Avast, AVG also suffered from slow speeds on distant servers.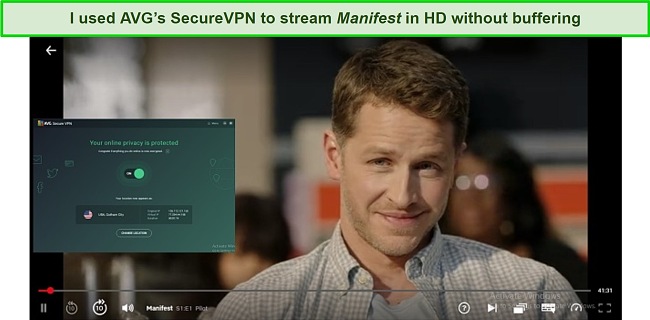 The main reason why Avast wins this round is that it provides better speeds on mid-range servers than AVG. However, I would be cautious using both contenders' VPNs, as they have been caught storing and selling personal information, including email addresses, location, and time stamps.
Overall, Avast's VPN is better, but I wouldn't use either antivirus because of privacy concerns. Instead, if you want a VPN build-in to your antivirus package I would suggest one of these options.
5. Parental Controls — Both Antiviruses Lack Parental Control Features
I was extremely disappointed to learn that neither contender provides an essential feature like parental controls in their plans (even the top-tier plans). Parental controls aren't an exotic feature but are necessary for parents who want to prevent their children from accessing inappropriate websites and apps.
If not having parental controls is a deal-breaker, you can choose from an array of other reliable antiviruses that provide extensive parental controls. I recommend Norton because its parental controls pack a lot of features. For instance, you can create up to 15 child profiles with Norton.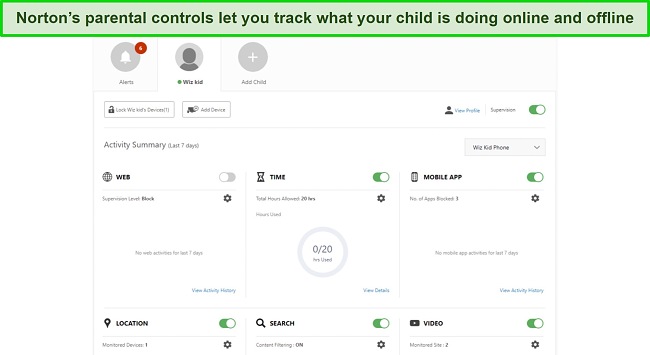 Norton gives you total access to your child's online and offline activities. You can block websites, videos, and apps, set up screen time restrictions, and even track location.
6. Firewall — Avast's Firewall Provides Comprehensive Protection and Is Easy to Use
After using AVG's and Avast's firewalls, I was impressed by the robust security they offer. However, after careful consideration and multiple detection tests, Avast's firewall leaped ahead in the contest. It offers comprehensive security and lets you take full control of your incoming and outgoing internet traffic.
Avast's firewall automatically configures itself, depending on how secure your network connection is. For instance, it'll be more guarded if you're connected to a public WiFi than your home or private connection.
I'm a fan of its "Stealth Mode," which hides your device connected to a public network so that hackers can't see you. It also provides ample customization, so you can block programs from connecting to the internet and block remote connections, ports, and protocols.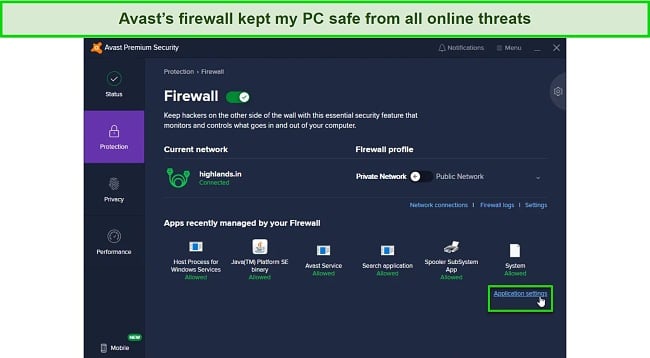 AVG's firewall is a bit complicated to use for beginner users. However, I was happy to see that it offers plenty of customizability, especially in terms of setting up your traffic rules (basic rules, network rules, and application rules).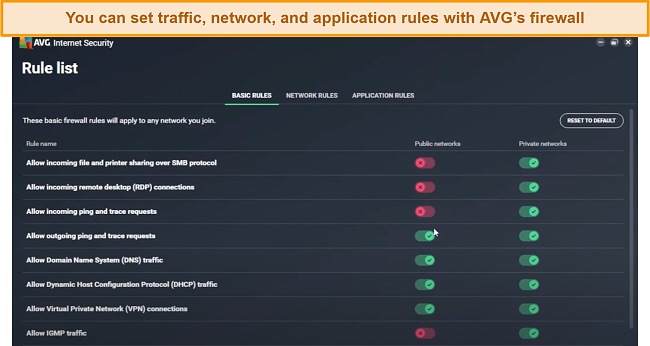 Overall, AVG's firewall blocked me from opening potentially dangerous websites, malicious URLs in scam emails, and phishing attacks. However, it couldn't detect some malicious links embedded in a handful of scam emails. Meanwhile, Avast's firewall detected and blocked every threat I threw its way, providing security at par with McAfee's highly configurable firewall.
7. Password Manager — Neither Antivirus Includes a Password Manager
Unfortunately, neither AVG nor Avast offers a password manager on any of their plans. Avast used to offer it previously but doesn't now. Instead, it provides its password management service in another product called "Avast Passwords."
A password manager is an essential feature because it keeps your online accounts safe. It also packs a password auditor that checks for weak or reused passwords that can be easily hacked. It's a great utility feature that lets you auto-fill complex web forms instead of filling them out yourself.
I highly recommend using Norton's password manager because it lets you save unlimited passwords and offers numerous utility features, such as two-factor authentication (2FA) and an automatic password changer.
Password Manager Winner: None
8. Gaming Mode — Avast's Game Mode Enhances Gaming Experience
I was happy to see both antiviruses equipped with a gaming mode. After digging deeper into it, I found Avast's "Do not disturb" mode (formerly known as "Game Mode") was better than AVG's "Do not disturb" mode.
Avast's "Do not disturb" mode is much more than a notification silencer. It just changed the name to include non-gamer audiences but includes all the essential features for avid gamers.
It suspended background applications and allocated system resources more efficiently, enabling me to play resource-heavy games like The Witcher 3 and Forza Horizon 5 in Ultra HD without any frame drops. It also silenced all non-critical notifications, such as Windows or program updates and browser-related notifications, which made my gaming experience more immersive.
AVG also features a "Do not disturb" mode, but it cannot allocate your system resources while gaming. It just does what the name suggests — mute your notifications so that you have an uninterrupted gaming experience.
Overall, Avast's gaming mode is better because it has a dual function and enhances your system performance, whereas AVG's gaming mode can only mute notifications.
Gaming Mode Winner: Avast
9. Optimization Tools — Avast's Tune-up Facility Is Better but Still Not Worth Paying Extra for
Both AVG and Avast offer optimization tools only on their premium plan, but I wasn't satisfied with either's toolset. They didn't improve my system performance significantly and provided only a handful of useful tools. I think it's unwise to upgrade to each contender's premium plan to get optimization tools.
AVG's PC TuneUp comes with its premium plan (AVG Ultimate) and is offered as a standalone feature. It includes a disk cleanup feature that clears your browser cache and removes junk and duplicate files from your PC.
I was also impressed to see it has a Startup Manager, but I was disappointed after using it. Disabling unneeded programs from automatically starting on system boot-up didn't have a noticeable impact on my system performance. In contrast, TotalAV's Startup Manager significantly improved my PC's speeds.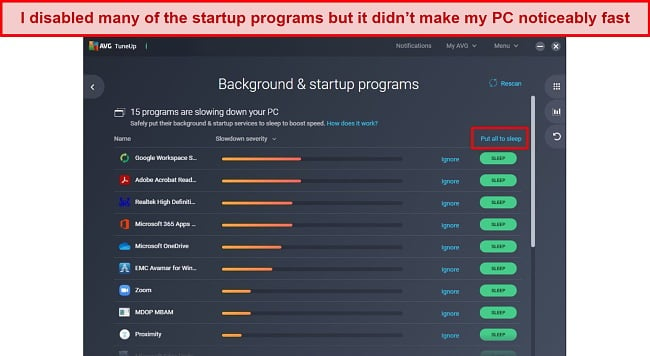 Avast's optimization tools are a bit better but still not worth the extra money for the upgrade. I liked its disk cleaner, which cleaned up 5GB of junk files, cookies, and duplicate files on my PC.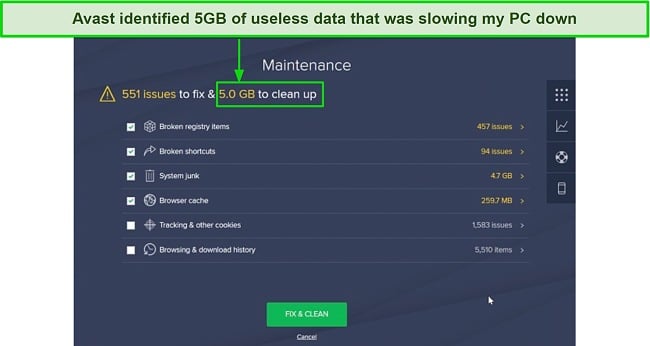 Apart from that, Avast's tune-up facility hosts a bloatware removal tool, which removes any potentially unwanted programs (PUPs) and any pre-installed software. It also has an "Automatic Updater" that keeps your Windows and apps updated. Those are great features but aren't worth paying extra for. In fact, other antiviruses like Norton provide these basic features free with their mid-tier plan.
Overall, Avast's optimization tools are slightly more efficacious than AVG's. However, they're only available on the premium plan, which is too pricey for the value these tune-up tools offer.
Optimization Tools Winner: Avast
10. Other Features — Avast Offers Security-Related Useful Extras
Both contenders offer extra features on their paid plans, but, after using them, I concluded that Avast's additional features were more useful in terms of enhancing security.
Avast offers a Ransomware Shield that protects your vulnerable files and folders. It actively monitors any suspicious changes to your protected folders to prevent ransomware attacks. However, its detection capabilities aren't as good as Bitdefender's "Behavior Monitoring" tool.
I liked its "Online Security" browser extension, which is available on Chrome and Firefox. The extension prevents you from accidentally opening malicious websites and downloading infected files.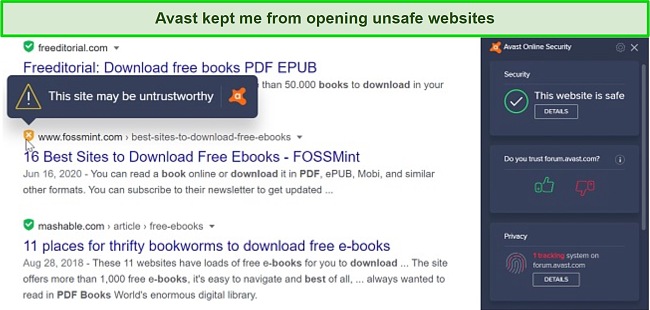 Avast's "Real Site" was my favorite feature — it prevents DNS hijacking, an attack that redirects you from a real site to its duplicate that wants to steal your login credentials or credit card details. Real Site provides an encrypted connection from your browser to Avast's DNS servers, preventing any likelihood of DNS hijacking. This may sound a bit complicated, but it's straightforward to use — just toggle on Real Site, and that's it.
AVG provides an "AntiTrack" browser extension that blocks website tracking and actively clears tracking cookies from your browser. It gave my browser a protection score of 70% and gave me tips and recommendations to improve it. Strangely, though, I couldn't get my score up to 100% even after following AVG's tips.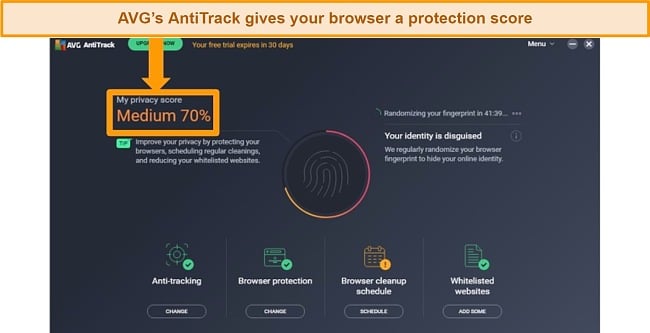 I was happy with the extra features of both contenders, but Avast's features offered me better online security than AVG's. However, I was left with mixed feelings and would've liked to see more utility features like Norton's cloud backup.
Other Features Winner: Avast
11. Device Compatibility — Avast Is Significantly Easier to Use
Avast is compatible with a greater range of OS versions. After thorough testing, I found that its apps (both desktop and mobile) were more intuitive and easy to use than AVG's.
AVG is compatible with Windows 7+, macOS 10.11+, Android 6.0+, and iOS 13+. Its desktop apps for Windows and Mac share a similar user interface, but I found it challenging to locate features on both apps. For example, its SecureVPN and TuneUp features are hidden in the dropdown menu at the bottom.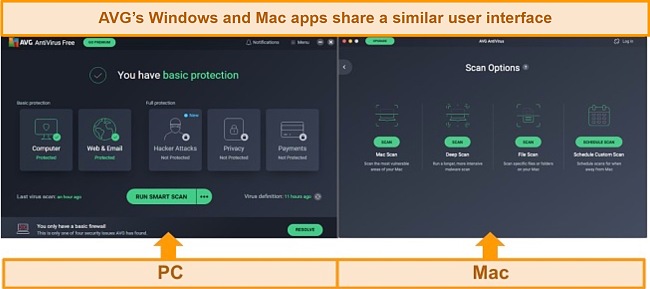 I found AVG's mobile apps a bit confusing to navigate at first. I spent dozens of minutes trying to find the login button on the dashboard and couldn't find it. To log in, you have to tap the drop-down button on the top right and tap the "Already purchased?" button.
The Android app packs more features than the iOS app. Its "Boost RAM" feature automatically closes background apps to increase system performance. The "Clean Junk" feature analyzes your device's storage and optimizes it, and the "Scan WiFi" feature checks your WiFi connection for potential issues and threats.
I would've liked to see its iOS app pack more features like some of the other iOS-focused antiviruses I've used before.
Avast is compatible with Windows 7+, macOS 10.11+, Android 6.0+, and iOS 10+, so it's compatible with a greater range of OS versions than AVG, namely iOS. I also found Avast's desktop apps user-friendly as compared to AVG's. They have a clean interface with each feature clearly displayed on the dashboard.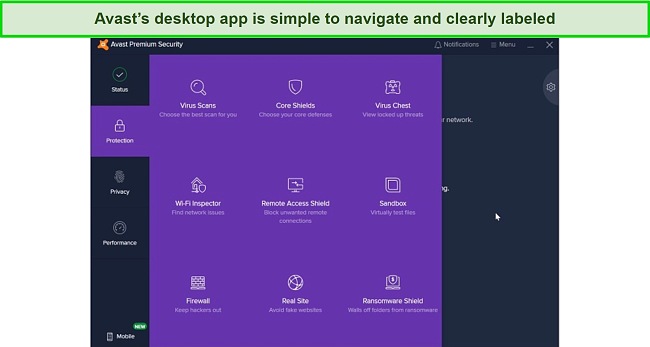 Avast's mobile apps are equally intuitive and user-friendly as its desktop apps. They pack an anti-malware scanner, a WiFi scanner, remote control access, optimization tools, and an encrypted photo vault.
The Android app additionally includes a "Boost RAM" feature that suspends unnecessary background activity to make your Android phone faster.
Overall, Avast's apps were significantly easier to use than AVG's apps. Both its desktop and mobile apps make using the antivirus extremely easy on a range of devices, even for beginner users.
Device Compatibility Winner: Avast
12. Customer Service — Avast's Live Chat Is Better
I was surprised that neither antivirus provides a support option other than live chat. I deem email support and phone support vital to any premium antivirus provider. Although they do offer phone support, you'll have to pay extra for that facility, which I think isn't fair. Therefore, I can't recommend either, as they fail to provide the most basic customer support options.
Avast's live chat wasn't easy to find. You must head to the Knowledge Base, select the category, and click the "contact support" button. You'll then have to provide your email address and other details. After doing all this, I still had to wait 5 minutes before an agent got back to me. However, I was satisfied with the agent's responses.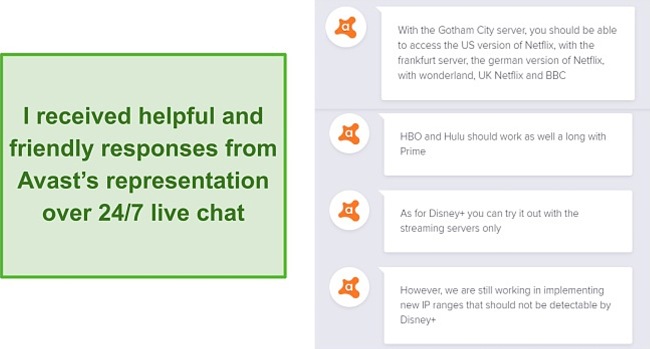 AVG's live chat is also difficult to find. You have to search for your question in the FAQ section and click the "contact a live agent" button there. I had to wait for under a minute before an agent replied to me, and they answered my questions professionally. However, they were constantly trying to coax me into upgrading my plan. For that reason, I found Avast's live chat better.
Customer Service Winner: Avast
13. Price — AVG Provides Better Overall Value
After checking out each contender's plans, I concluded that AVG's plans pack more features for the same price than Avast does. However, I wasn't satisfied with either antivirus, compared to the mid-tier plans of top competitors in the industry.
AVG has 3 plans:
Antivirus Free — The free plan provides basic protection and doesn't offer real-time protection. However, I was happy to see it include extra security features, such as its file shield, web shield, email shield, and ransomware protection. While the free plan is good, you can find other free feature-rich antiviruses.
Internet Security — The Internet Security plan includes all the features of the free plan, plus a firewall, password manager, webcam protection, and DNS hijacking protection. On mobile apps, this plan includes some notable anti-theft features to protect your device if it's ever stolen. This is AVG's best value plan but lacks the features and protection offered by other premium contenders.
Ultimate — AVG's Ultimate Security plan offers all the features from the previous plans and adds optimization tools and VPN into the mix. Given the price point, it's not worth the upgrade, especially when you'll only get a sub-par VPN and a handful of optimization tools.
Avast also offers 3 plans:
Free Antivirus — The free plan includes a malware scanner, ransomware protection, and a WiFi inspector. While it doesn't offer real-time protection, I was still happy with its performance on my tests.
Premium Security — Premium Security packs all the features from the free plan, plus a firewall and ransomware shield. It also lets you use the antivirus on up to 10 devices — and that's about it.
Ultimate — If you want to upgrade to the Ultimate plan, you'll additionally get optimization tools, a password manager, phishing protection, and a VPN. I don't think either of these plans is worth the upgrade.
Overall, AVG's Premium plan offers the best value, but if you're a budget-conscious user, I suggest you use its free plan. However, even with AVG's paid plans, you won't get the performance of a top-tier antivirus like Norton.
14. Free Version — AVG's Free Plan Is More Feature-Rich
AVG and Avast offer a free plan in their antivirus product line-up; I found that AVG's plan packed more features than Avast's.
AVG's free plan provides basic protection and doesn't include real-time protection. It packs a malware scanner and a handful of useful tools to enhance protection. Its "file shield" scans any new file you add to your PC. The "behavior shield" monitors any suspicious application behavior, such as an app trying to connect to the internet without your approval.
It also offers ransomware protection, a web shield browser extension to protect you online, and a network inspector that checks if your internet connection is secure. I was impressed to see such features on the free plan, as many other antiviruses I've used have a barebones free plan.
Avast's free plan includes a malware scanner, ransomware protection, and a WiFi inspector. It offered me decent protection, but it doesn't pack as many features as AVG's free plan.
15. Money-Back Guarantee — Avast's Refund Process Is Faster
Both contenders provide a 30-day money-back guarantee on all their paid plans. I tried out their refund policies first-hand and found claiming my refund with Avast easier.
Avast makes it surprisingly easy to claim your full refund. I filled out a form on Avast's website containing my name, mailing address, email address, order ID, and reason for refund. I got email confirmation within 5 minutes of submitting the form and received my money in 5 days.
Claiming my refund with AVG was a bit more tedious. I initially submitted a refund request by filling out a form on its website, but I didn't hear back nor got a confirmation email. After waiting for a response for 3 days, I hopped on to its live chat and initiated my refund request again. The agent processed my request, and I received an email confirmation right away and got my money back in 3 days.
While AVG took less time to provide a refund, the entire process was not as seamless as Avast's. I prefer a hassle-free and transparent refund process, even if it means getting a refund a few days later.
Money-Back Guarantee Winner: Avast
And the Winner Is… Avast
AVG outperformed Avast in real-time protection and detection scores but lagged in other areas, particularly ease of use. Overall, however, it was a close competition, with both contenders going neck in neck in most categories. Avast hosts a powerful firewall and features like "Real Site" that make it a solid antivirus.
On the other hand, AVG's malware scanner is better at detecting viruses and providing real-time protection. It also consumes fewer system resources than Avast, making it an obvious choice for regular users. However, its firewall doesn't provide many advanced features.
In summary, Avast won the most rounds, but I don't recommend using either contender because they have been caught collecting and selling their users' data to third-party advertising agencies. That reason alone should be enough to steer clear of them. Instead, I recommend going for a more transparent and reliable antivirus like Norton, which has given me excellent results repeatedly and is my go-to antivirus.
How To Download Avast on Your Device
Choose your plan. Go to Avast's website and choose the product you'd like to buy.

Provide credit card information. Enter your mode of payment and payment details to proceed to checkout.

Download and install Avast on your system. Download the app for your respective OS.
Activate your license and start using Avast. Enter the activation code you have received in your email to activate your software license.
FAQs About AVG and Avast
Is a free antivirus enough to keep me safe?
Depends, but most of them don't have the necessary features to keep you safe from online and offline threats. Instead, I recommend using a paid antivirus, or at least its free plan (if you don't have the budget).
Is Avast the best antivirus?
No! Although Avast is a decent antivirus with a free plan, it has some weak areas. For instance, it doesn't include parental controls and has a sub-part VPN. More importantly, it doesn't offer perfect detection scores like top competitors like Norton.
---
Top Antiviruses in 2022