5 Best Gaming VPNs for PC, Xbox, PS4, and More in 2022
Last Updated by Kate Hawkins on August 01, 2022
As a gamer, you're more at risk from online threats than ever before. Whether it's upset opponents launching DDoS attacks or malicious third-parties taking advantage of unencrypted traffic, there are some serious threats that can compromise your security.
A VPN is a great way to protect your IP address and personal data with multiple layers of security, but it can slow down your connection and cause lag during online games. There's no need to sacrifice speed for security — and with the VPNs on this list, you don't have to. I've tested over 25 VPNs to find the top choices with fast download speeds, low ping, and best-in-class security to protect all of your devices. Some of these VPNs actually improved my gaming speeds and responsiveness.
If you're looking for a recommendation, ExpressVPN is the best VPN for gaming in 2022 — it has a huge server network with quick connections, top-tier security to block online threats, and a 30-day money-back guarantee. You can use it for gaming on your PC, mobile, tablet, Xbox, PlayStation, and more as it has app support for multiple devices.
Quick Guide: Best Gaming VPNs in 2022
Download ExpressVPN for gaming
5 Best VPNs for Gaming With Fast Speeds and Low Ping (Tested August 2022)
Key Features:
ExpressVPN is the best VPN for reliable gaming connections and offers consistently rapid speeds. Thanks to ExpressVPN's top-tier encryption, you also get maximum security. The app has built-in advanced features like an automatic kill switch, leak protection, and an audited no-logs policy to protect your information. This combination of security measures guarantees your data is protected and anonymous while using the service. I never had to worry about my VPN connection getting detected and blocked.
I was happy with my speeds when I played online, particularly in games that required fast responses like Counter-Strike and Overwatch. I didn't experience any lag or interruption when connected to ExpressVPN during gaming.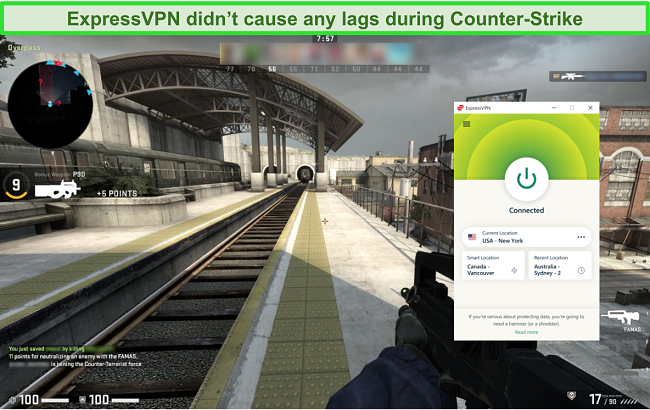 ExpressVPN's desktop and mobile apps make it easy to connect to a fast server with its simple "Quick Connect" button. With up to 5 device connections allowed, you can continuously protect your PC and mobile devices and still protect your consoles as well. You can even configure your router, which protects all internet-enabled devices in your household (including Xbox and PlayStation consoles).
If you have one of ExpressVPN's own routers, you can even use port forwarding to host video games from your own servers. This means other devices (like your friend's PC, Xbox, or PlayStation) can send traffic to your router — you simply allow a particular port number on your router to accept traffic from any device that tries to connect to it. If you're all using the same connection, you can play together on the same game server. Plus, your outgoing connection to the server will be VPN-encrypted so you can all game securely and anonymously.
As an extra bonus, ExpressVPN's MediaStreamer feature gives you a fast set-up method on devices without a VPN app. This lets you share your VPN connection with any of your gaming consoles connected to WiFi. The MediaStreamer feature will let you access US based streaming services on your Xbox or PS4. However, this is only a proxy service so your IP address won't be protected. The best way to keep yourself safe while playing on a console is to set up a VPN on your router.
You can try ExpressVPN on your own gaming device completely risk-free. ExpressVPN is backed by a 30-day money-back guarantee so if you're not satisfied with your purchase, you can request a refund at any point during this 30-day period. When I contacted a 24/7 live chat agent for a refund, it was processed right away with no questions asked. The entire chat took less than 3 minutes and I had my money back in just 4 business days.
Get ExpressVPN for gaming risk-free!
Key Features:
CyberGhost's dedicated gaming servers significantly improve connection speed and reduce latency. You can conveniently sort them by ping, distance, or load to find the best option. I was surprised at just how much better the dedicated servers performed, as CyberGhost provided download speeds faster than my regular ISP during testing! The difference in speed and lower ping was immediately noticeable — my games loaded faster, were more responsive, and didn't have any lag at all.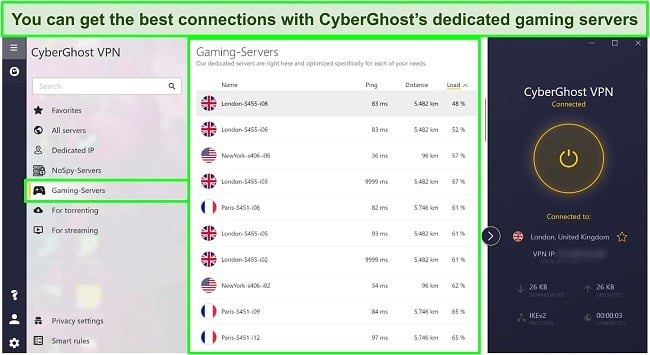 It's worth noting that you may experience higher latency on distant servers than with ExpressVPN, even on the dedicated gaming servers. From my location in the UK, gaming servers in the US and Japan resulted in ping between 100-110ms. However, this shouldn't impact you too much unless you're playing competitive eSports.
In terms of security, CyberGhost provides high-level encryption to keep your data and online activity totally anonymous. It has specific DDoS protection on all of its servers so you can rest assured that frustrated opponents can't interfere with your connection. CyberGhost also has an automatic kill switch that will secure your data if the VPN connection is interrupted.
CyberGhost is a great choice for first-time VPN users because of its easy-to-use apps for Windows, Mac, mobile and more. Its 7 device limit is also an attractive feature, as that will easily protect your PC, mobile, and some of your other devices as well. Although it doesn't have dedicated apps for Xbox or PlayStation, you can find helpful instructions to set up the VPN on your router to connect any gaming device. This makes it much easier to choose servers, navigate the interface, and customize settings to improve your gameplay.
You can find out just how simple, fast, and secure it is if you try CyberGhost risk-free with its money-back guarantee for a generous 45 days. Like ExpressVPN, CyberGhost offers "no questions asked" refunds, which I tested myself by contacting customer support after using the VPN for 35 days. It took less than 1 minute for my refund to be approved, and I got my money back in a week.
Get CyberGhost for gaming risk-free!
Key Features:
Private Internet Access (PIA) has useful SOCKS5 "Squid" proxies to decrease your latency for online gaming. These servers are less heavily encrypted than a normal VPN connection, but provide a faster response time when gaming. As they're not as secure, I wouldn't recommend using them for any sensitive online activities like banking.
You'll have no issue keeping your online activity and IP address private while gaming with PIA. This means you're protected in case you become the subject of an attempted DDoS attack mid-game. Don't let the fact that it's based in the US (and part of intelligence-sharing alliances like the Five Eyes) deter you. PIA has a strict zero-logs policy and it even shut down servers in Russia when the local government demanded the VPN share its user data. You can rest assured that your identifying information is kept safe.
Another plus of PIA, especially for tech-literate users, is it lets you manually configure your connection with port forwarding. If you host games, port forwarding helps keep your connection lag-free. Port forwarding via VPN will also keep you safe from malicious parties looking to take advantage of your unprotected network.
PIA's many servers and proxies (over 35000!) help it to maintain its fast speeds without overcrowding, although my ping wasn't always as low as I'd like during my tests. I was satisfied with download speeds, but I experienced some lag and delayed responses due to higher ping when connecting to distant servers (in countries like Japan and Australia). As long as you can connect to servers close to your location, you shouldn't experience lag — when I connected to servers in the UK and Europe, my gameplay was flawless. I also noticed a higher speed decrease when I connected more devices, so if you're using PIA for gaming, don't use up the entire 10 device allocation.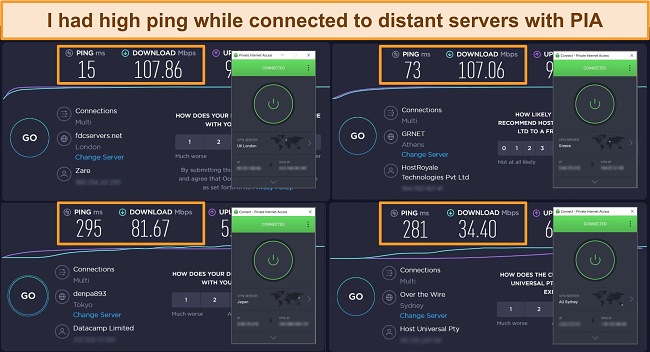 PIA is also one of the most budget-friendly VPNs on this list — you get top-tier security for a low monthly price. Better still, you can test PIA risk-free using its 30-day money-back guarantee.
Key Features:
HMA's fast servers ensure you get the best speed for playing games online. I tested HMA's 20Gbps servers and was impressed by the fast download speeds I experienced. I connected to multiple servers worldwide and had an average speed of 96Mbps — only marginally slower than my standard speed of 115Mbps.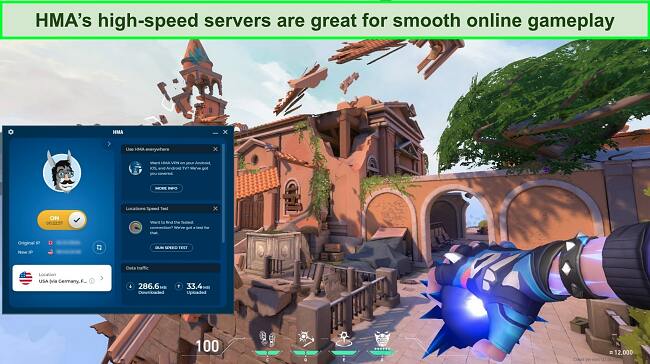 However, I did find HMA has some latency issues with distant servers — not surprising as physical distance usually causes some slowdown. HMA does have a smaller number of servers overall, so part of this slowdown could be caused by high traffic on popular servers. I had ping of over 200ms when connected to servers in Japan and Australia which meant my reaction times in-game weren't as fast. For servers closer to the UK, my ping was well below 100ms and suitable for fast-paced online games like Valorant.
As a security-focused gamer, I like HMA's unique IP Shuffle feature. This regularly changes your IP address within the same location while you're connected, making it impossible to trace you. I like the protection this provides against DDoS attacks for competitive gameplay. Best of all, there was no noticeable lag when HMA shuffled the IP address so my online gaming was smooth.
HMA is one of the best value-for-money options because of its low-price 3-year-month plan. I'd recommend testing HMA for yourself risk-free with its 30-day money-back guarantee.
Key Features:
IPVanish's detailed app provides all the information necessary to pick the best gaming server in your chosen location. Sorting locations by ping in the app list menu, you can find the fastest city with the lowest ping to ensure lag-free gaming every time you connect. I used this feature to choose servers with ping lower than 100ms in the US, Japan, and Europe and my gameplay was smooth — my average speed with IPVanish was 76Mbps.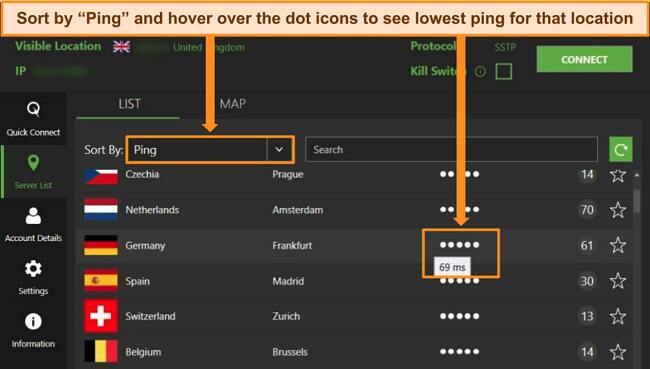 I like that IPVanish offers multiple connection protocols which can help if you're experiencing slower speeds. For example, switching from L2TP to PPTP boosts your speed with a reduction in security. If you want fast speeds and top security, IPVanish offers the IKEv2 protocol which protects your IP address from potential DDoS attacks.
With so many options to configure, IPVanish is a great choice for gamers who want to customize the VPN connection precisely. At first glance, IPVanish isn't the easiest app to navigate so I'd recommend it for users who are more familiar with how a VPN works.
IPVanish is a pricier VPN service, but often has discount coupons available so you can get a good deal. It also has a 30-day money-back guarantee available so you can purchase IPVanish with confidence and get a full refund if you change your mind.
Get IPVanish for gaming risk-free!
Quick Comparison Table: 2022's Best Gaming VPNs
| | | | | |
| --- | --- | --- | --- | --- |
| | Speeds | Device Limit | Unlimited Data | Servers |
| ExpressVPN | Fast | 5 | ✓ | 3000 |
| CyberGhost | Fast | 7 | ✓ | 8200 |
| PIA | Average | 10 | ✓ | 35000 |
| HMA | Average | 5 | ✓ | 1040 |
| IPVanish | Average | unlimited | ✓ | 2000 |
Warning! Don't Download Any of These VPNs for Gaming
Do You Really Need a Gaming VPN? (Yes!)
Here are some of the best reasons to use a VPN while gaming:
Avoid device and personal attacks — DDoS attacks or swatting are based on your IP address, which is securely hidden by the VPN. This is especially the case if you're using public WiFi, which are hotspots for malicious activity and hackers.
Bypass NAT firewalls — A Network Address Translation (NAT) firewall protects private networks, which can block P2P gaming connections.
Reduce lag, ping, and latency times — You can get faster speeds by connecting to a nearby server.
Get around blocks with a new IP address. A VPN will also let you regain access to your home country's content when you're traveling abroad (like Steam, Xbox Game Pass, and Google Stadia).
Talk on Discord — It's no secret that the Discord messaging service is full of hackers and shady servers. Access it safely with a VPN and talk with your friends securely.
Try the best VPN for gaming in 2022
How I Tested and Ranked the Best VPNs for Gaming
I tested more than 25 VPN services to find the best options for gamers and ranked them based on the following criteria:
High-speed global servers with unlimited bandwidth to avoid lag or reduced responsiveness while you're in-game. You'll need low latency or "ping" (less than 100ms) for rapid responses. I tested ping and packet loss to determine how stable the connection is.
Premium security features, such as military-grade encryption and data leak protection to keep your connection and personal information secure from external threats. Hiding your IP address also helps avoid bandwidth throttling if your ISP detects that you're engaged in intensive online activity. The best gaming VPNs will even help you access your Netflix account from anywhere and support anonymous torrenting.
Device compatibility with PC, mobile, and gaming consoles. I made sure every VPN has a user-friendly app with easy server connections in 1 click.
24/7 customer support for quick responses and resolutions on live chat available around the clock for any technical issues or questions.
Works with popular games. The list of games I test includes: Valorant, CS:GO, Fortnite, Minecraft, League of Legends, CoD: Warzone, and Apex Legends.
Easy Guide: How to Set Up Your VPN on Any Gaming Device
How to Set Up a Gaming VPN on Desktop (Windows & Mac)
Before you begin setting up your VPN, consider connecting your desktop to the internet via ethernet cable. This will ensure you get the most stable connection possible. Once you've done that, continue with the steps below.
How to Configure a VPN on Router
Setting up a VPN on your router is the best way to connect your game consoles and devices that don't natively support VPN connections. Every device connected to the router will be securely encrypted through a VPN tunnel. It's easy to set up, even if you're completely new to VPNs.
How to Change VPN Settings for Faster Gaming Speeds
If you have slow download speeds or high latency, there are a couple of simple changes you can make to your VPN settings to fix the problem. These options can also help you access blocked games that aren't available in your location. However, neither of these options provides the encryption or security of a standard VPN connection — you should only use these options if you really need to improve your speed.
PPTP — Get Higher Speeds Without Lag
PPTP stands for Point-to-Point Tunneling Protocol and it's one of the oldest VPN protocols still in use. It's also one of the fastest protocols, but it's not often used with VPN connections because it's not secure. In fact, its encryption has repeatedly been cracked since it was developed!
As such, I don't recommend using PPTP if you're going to be undertaking any tasks involving private or personal data. As long as you aren't sending anything sensitive, PPTP can provide a significant speed boost over other, more secure protocols like OpenVPN.
Below are instructions on setting PPTP up with ExpressVPN on Windows PC.
SOCKS5 — Reduce Ping When Gaming
You can use the SOCKS5 proxy if your ping is too high when you're connected to your VPN, or you want to quickly change your location. This doesn't encrypt your connection, but it will change your IP address so you can access blocked content. I use the SOCKS5 proxy to download games that aren't available in my location and find games at a cheaper price.
As it isn't encrypted, SOCKS5 isn't a secure setting and doesn't have the protection of a standard VPN connection — so don't use it to send or receive sensitive data. The lack of encryption makes it a faster option with less ping.
You can easily set up a SOCKS5 proxy with PIA. It has plenty of SOCKS5 locations you can use for free as they're included with your subscription. PIA has browser extensions for Chrome, Firefox, Safari, and Opera that automatically route your connection through a proxy server.
FAQ: Gaming Online and Offline With a VPN
Can I use a free VPN for gaming?
I found some decent free VPNs for gaming when I tested leading VPNs on the App Store and Google Play store — but I wasn't 100% satisfied. My battery would either drain too fast or I'd run out of data (and my game would lag or stop entirely!).
Unfortunately, if you've found a free VPN with no limitations at all, there's a high chance that you're paying in other ways. Many shady VPNs secretly log your data and sell it to third-party advertisers and potentially even hackers.
For the best gaming performance, I suggest you try CyberGhost for free with its money-back guarantee for 45 days. I tested the process myself and it really works. After testing CyberGhost for over a month, I requested a refund through the 24/7 live chat. The agent asked if there were any issues but I just responded that I didn't need the service anymore. My cancellation was processed in less than 5 minutes and I had my money back in my account within a week.
Do gaming VPNs reduce ping?
Yes, they can. All of the VPNs on this list have servers with low ping to keep your response times fast, even when you're connected to servers farther away. By routing through a server, a VPN like ExpressVPN can help you get around congestion caused by online traffic at peak times. This helps to reduce your ping to improve how responsive your gaming is.
Even your standard internet speeds can sometimes suffer from increased latency. By connecting to a VPN server, you can reduce lag and improve your online speeds. Closer servers are more likely to give you the fastest speeds with the lowest latency. However, you should be aware that using a VPN won't always reduce your ping. When you connect to a VPN server, your data has to be encrypted and decrypted, so the route might not be the most direct. This can also result in a higher ping and greater latency.
You can easily improve your ping time by adjusting your VPN protocol. Many VPNs have WireGuard, which is both fast and secure, or you can choose IKEv2 or OpenVPN UDP. Alternatively, if your VPN offers PPTP, you can try that — but be mindful that your connection will be less secure as PPTP has very basic (and crackable) encryption.
How does a gaming VPN work?
A gaming VPN works by routing your connection through an encrypted tunnel to a VPN server that hides your IP address and your online activity. When you consider a high-quality VPN for gaming, you can connect to servers anywhere in the world to access restricted content or play region-blocked games with friends abroad. You can also play data-intensive games online without any bandwidth throttling from your ISP. You can even improve your gameplay by reducing lag when you connect to the best VPN server for your location.
I recommend that you take a look at ExpressVPN as it's the top-rated VPN for gaming — its fast server connections and military-grade encryption keep your sensitive information secure and lag-free while gaming.
Is it legal to use a VPN when gaming?
It depends. In most countries, it's perfectly legal to use a VPN when gaming online. However, you should double check your game's Terms and Conditions as some don't allow the use of VPNs or proxies. It is rare for games to block users if they use a VPN, but you should make sure you follow the rules just in case.
If your games all allow the use of a VPN, I suggest you pick the best VPN service available. While there are several good options, ExpressVPN is the best VPN for gaming due to its low ping.
What is the best VPN for gaming on mobile?
In my tests, I found the best VPN to use while you're gaming on mobile is ExpressVPN. ExpressVPN has a lightweight mobile app for Android and iOS, fast speeds, and minimal battery drain, which is perfect for smartphone gaming. It comes with a 30-day money-back guarantee, making it risk-free to try for yourself before you commit to a subscription.
Can I use a VPN on my smart TV or game console?
Yes, but you'll need to set a VPN up on a router. This is because smart TVs and gaming consoles don't have native VPN apps. Thankfully, installing a VPN on your router is easy, even for beginners. As a bonus, it will protect all the other devices on your network as well.
However, only a few VPNs offer router apps, and you want to be sure you get the best one of those. I personally recommend you try ExpressVPN as it's compatible with a large range of routers.
Can I host a game server with a VPN?
Yes. There are several good VPNs to use while gaming, but if you want to host games there are some extra factors to consider.
Hosting an online game server — especially for older or non-Steam games like Minecraft — requires you to port forward your router. This is so other gamers can find and connect to your network. Unfortunately, port forwarding your router opens up your network (and all the devices connected to it) to hackers. While you can be careful with who you share your network information with, it's highly recommended you port forward through a VPN instead.
If you use a VPN to port forward, you'll also need to use a static IP address (so your details stay the same, even if you turn the server off for any reason). A static IP is a lot more convenient for your friends, as they won't have to keep changing the server details in their game.
With this in mind, the best VPN for you to use while hosting games is Private Internet Access. It has online guides, customizable port forwarding settings, and offers static IP addresses.
Protect your devices with ExpressVPN!
Enjoy Fast and Secure Gaming With a Quality VPN
When you're gaming online, you need a VPN to get better speeds, high responsiveness, and reliable connections that won't interrupt your game time. However, some VPNs are known to slow down connections, so many gamers choose speed over security by not using a VPN — putting them at risk of malicious attacks.
With the VPNs on this list, you can get improved gaming response times plus top-tier security to stay safe online. As the overall top choice, ExpressVPN has fast speeds, low ping, and military-grade security for hardcore and casual gamers alike. Best of all, it's backed by a 30-day money-back guarantee, so you can see how well it works for gaming on your own device. If you're not satisfied, it's easily and quick to refund a full refund.
---
Summary: Best Gaming VPNs in 2022