Visit X-VPN Website!
X-VPN

Review 2023: Before You Buy, Is It Worth It?
X-VPN Overview 2023
Why would a VPN not disclose the security protocol it uses and yet make a big deal out of it? What difference does it make if these protocols are known? These were some of my concerns when I stumbled upon this Hong Kong-based VPN. For this reason, I wanted to test X-VPN to see what the real story is.
After testing X-VPN, I was impressed with some of the features. It has an extensive network of servers in 50+ locations, unblocks popular streaming sites, has a functional killswitch, and works on most operating systems. However, its speeds are inconsistent on some servers, it's expensive, and I kept wondering why the vendor isn't transparent about its protocols. On top of that, X-VPN had the worst live chat support response time in all my experiences.
If you are still interested in trying X-VPN, there is a free version available with a 500MB limit and limited to one server. The premium subscription also comes with a 30-day money-back guarantee with certain restrictions. I recommend considering top-rated alternative VPNs on the market if you are unsatisfied after trying X-VPN.
Don't Have Time? Here's a 1-Minute Summary
X-VPN Unblocks Netflix, Disney+, Hulu, HBO Max, and Amazon Prime Video (But Couldn't Unblock BBC iPlayer)
X-VPN is an excellent choice for unblocking most streaming services. During my tests, I tested different servers to see how well X-VPN would unblock popular streaming platforms. I was pleased with the results I got. I experienced lag-free streaming sessions and caught up with all my favorite shows while traveling abroad.
I was impressed to learn that this VPN offers optimized server locations for streaming. I tested all these servers to see how well they performed individually. While it generally unblocked popular streaming services, it couldn't get into BBC iPlayer.
Netflix, Disney+, Hulu, HBO Max, and Amazon Prime Video: Unblocked
X-VPN unblocks Netflix with ease. I watched a couple of shows from my US Netflix account buffer-free and had no disconnections at any point. I also tried accessing Netflix with the free server and had no issues. Unfortunately, the free version has a 500MB data cap and finishing one video in HD used about half of it.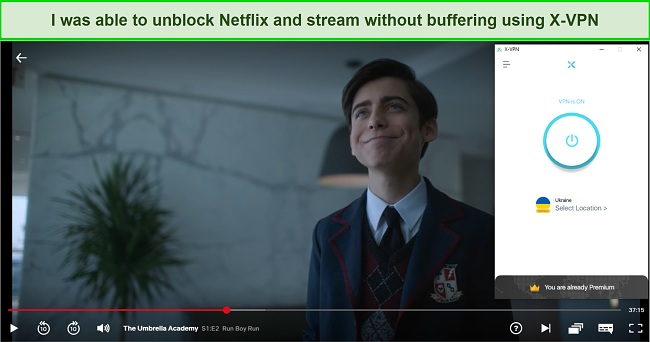 X-VPN had no problem unblocking Disney+. Both the UK and US servers had fast enough speeds to watch WandaVision in HD without interruption.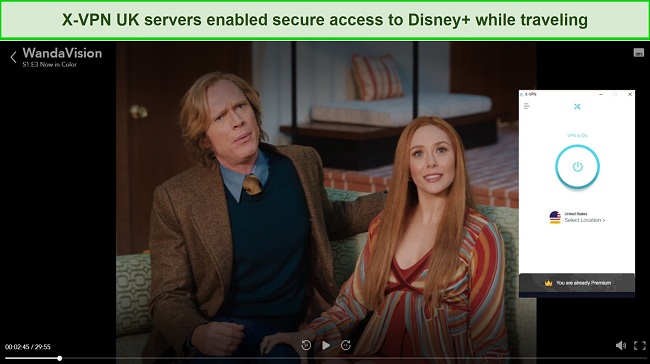 I also had no problem connecting with my HBO Max and Amazon Prime Video accounts with X-VPN. I was able to stream an entire episode of Good Omens in UHD with minor instances of buffering, which did not impact the general quality of my streaming experience.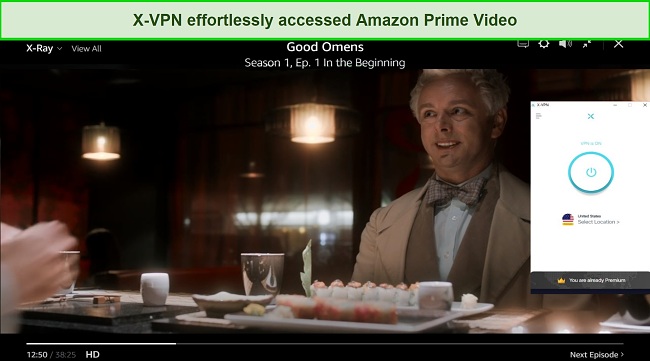 I was also happy that X-VPN unblocked Hulu seamlessly. Hulu has some of the strongest geoblocks, but I successfully loaded Brooklyn Nine-Nine and started watching within a few seconds with no buffering.
BBC iPlayer: Blocked
BBC iPlayer was blocked on the premium version of X-VPN. Although I had success unblocking other streaming platforms, it couldn't get past BBC iPlayer's tough geoblocks. During tests, even trying multiple UK servers including the specialized UK streaming servers and different protocols couldn't unblock the streaming service. No matter what server or setting was used, the site displayed a disappointing error message.
"BBC iPlayer only works in the UK. Sorry, it's due to rights issues."
If you need to catch up with your favorite shows on BBC iPlayer because you're traveling or having technical issues, I would suggest using ExpressVPN. The provider has consistently proven its ability to unblock a wide variety of streaming services, including BBC iPlayer. I advise you to use ExpressVPN's unmatched servers to access BBC iPlayer.
Fast but Not Consistently Across Servers
X-VPN gave me fast speed results when I connected to nearby servers, but my speeds slowed down as I tested servers further away from my location. Also, switching between protocols generally reduced my speeds drastically. That said, the default protocol usually provided better speeds during my tests.
Speed Test Results
X-VPN provided me with average speeds of 15Mbps across the majority of servers I tested. My base speed was consistently around 35Mbps, and the highest speed drop I experienced when connected to servers in the US or Canada was 57%.
With these speeds, I had no problems streaming, gaming, or torrenting — a 1GB file took about 10 minutes to finish downloading. When I was using other countries' servers, my download took about 40% longer and occasionally slowed my web browsing speeds.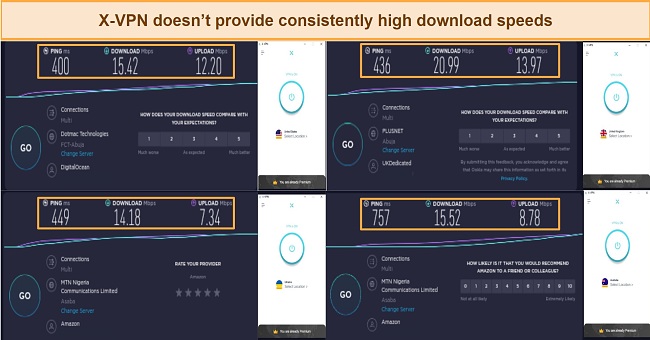 Although, as with most VPNs, speeds usually drop with servers further away from your location, X-VPN had a drastic drop in speed. When I tested servers located in Germany, the United Kingdom, and Ukraine, the speed decreased noticeably, ranging from 35% to 50%.
I tested various protocols offered by X-VPN to check how they impact speed. One protocol, called A, was not very efficient. Another one, called B, actually made the speed faster on all servers. However, using Protocol E with the server farthest away from my testing location in Australia slowed down the speed by 97%. This makes it not a good choice for activities like watching videos or downloading files.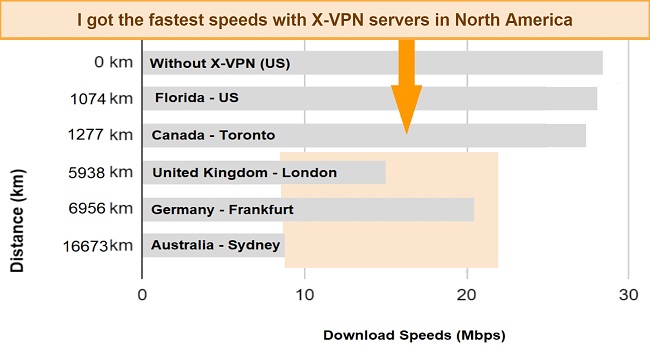 While X-VPN speeds dropped significantly with servers far away from my location, I had better luck when I tested ExpressVPN. There wasn't a drop in speed of more than 20%, even with the farthest server from me. I also got super-fast speeds with ExpressVPN across all servers that I tested.
Is X-VPN Fast Enough for Gaming? Yes, on Short-Distance Servers
X-VPN is a really good solution for making your online gaming better if you connect to a server near you. It has servers optimized for popular games like Roblox, PUBG, LOL Wild Rift, and IN-BGMI, which means you'll generally get a faster connection and fewer interruptions.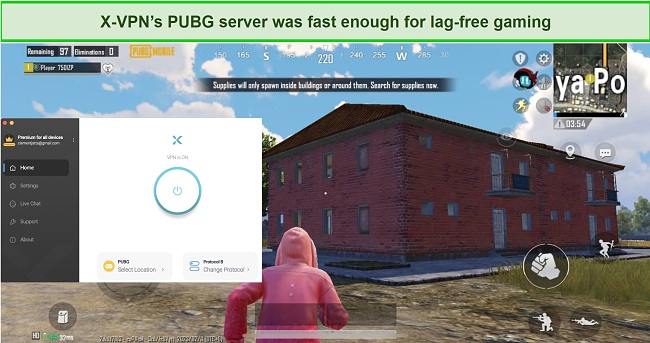 I tested the speed and found it's pretty good, with a delay of 70-88 ms. But, if you connect to a server that's far away, the speed gets slower and there's a longer delay of up to 400 ms.
Why Most Speed Tests are Pointless & How We Correctly Test VPN Speeds
Speed determines how fast content uploads, so if you're torrenting or streaming, you want the speed to be somewhat identical to your regular internet speed. Since a VPN encrypts your data, it usually takes a bit longer to send your data back and forth, which can slow down your connection. However, if your ISP deliberately slows down your connection (also known as throttling) a VPN might increase your internet speed. Testing a VPN is somewhat pointless because new servers pop up and affect speed. Your speed can also differ according to your location, so your speed test might not match ours. Having said that, we tested the speed in numerous locations to provide you with the average.
Server Network — A Wide Selection of Servers for a Small VPN
X-VPN boasts a global network of 8,000+ virtual servers, sourced primarily from Amazon Web Services (AWS) and Rockspace. These servers are mostly located in Europe and Asia, with a few in Africa, the Middle East, and the Americas.
I established connections with servers situated in numerous countries, including the United States, Canada, France, Germany, Mexico, India, Japan, South Korea, Australia, and various other regions. Having more servers decreases the likelihood of a single server overloading.
On the premium version of X-VPN, I found a long list of servers to connect to, including ones optimized for streaming and gaming. No matter which server I connected to, I got unlimited bandwidth. On the other hand, X-VPN's free version didn't give me the option to select a server of my choice. It automatically chose a random server.
Security — X-VPN Is Serious When It Comes to Security
X-VPN keeps it simple by focusing on the most important features and leaving out unnecessary security elements. Many VPNs use this method to attract customers who aren't tech-savvy, but X-VPN doesn't actually offer enough options to customize the service. The lack of customization can be a problem for some users.
The few noteworthy security features offered include:
Military-grade encryption – XVPN's AES 256-bit encryption ensures that your personal information and data are protected. It is a secure method of encryption that encrypts data into a random string of characters that are difficult to break.
Multiple protocol options – when it comes to security protocol, X-VPN has a total of 9 protocols that you can choose from. Each protocol goes by a letter (Protocol A, B, C, D, and so on) and is differentiated by 4 features – the length of time it takes to connect, speed, security, and unblocking ability. I could choose to have a higher connection speed over security or vice versa, but there is no other way to tell the difference between each protocol while connected. It's a strange method, but X-VPN claims they have done this so your privacy is a top priority, and your data remains encrypted.
Kill switch – X-VPN has a feature called a "kill switch" which is dependable, but you need to turn it on yourself. Once I turned it on, it stopped me from accessing the internet when my connection was lost or weak.
Split tunneling – X-VPN also has a split tunneling feature it calls "app control". The feature allowed me to exclude certain apps like my mobile banking app (that requires access from my banking location) from the VPN tunnel while enabling me to torrent with VPN security safely.
On the plus side, I checked to see if there were any DNS leaks and saw that my IP address wasn't revealed even with an extended test. This comprehensive DNS test involved carrying out 36 different queries to ensure that the servers could pass all the tests to confirm it as genuinely airtight. There were also no WebRTC, IP, or data leaks while I was connected to the VPN.
Privacy — X-VPN Promises to Protect Your Data, but Do They?
There are some serious red flags with X-VPN's privacy policies. The company claims it does not log user activity, including original IP address or other personally identifiable information. But, after looking closer, it seems like they keep some information for up to 2 days, which doesn't match up with what they said about not logging anything.
The specific data includes:
Account data like email address, registration date, and subscription status are kept for support purposes.
VPN usage data like network type and connection timestamps are kept for VPN service optimization and troubleshooting.
Payment data like purchasing method, timestamps, and transaction IDs are used for troubleshooting. X-VPN warns that more information like geolocation, the cardholder's last name, and even the last four digits of your credit card can be collected independently by third-party payment platforms.
X-VPN will only keep the App Activity Data for a maximum of 48 hours, as stated in their privacy policy, and solely for the purpose of providing user support. The collected data will then be permanently erased from its system. This ensures the protection of your privacy while also enabling the provider to deliver efficient support.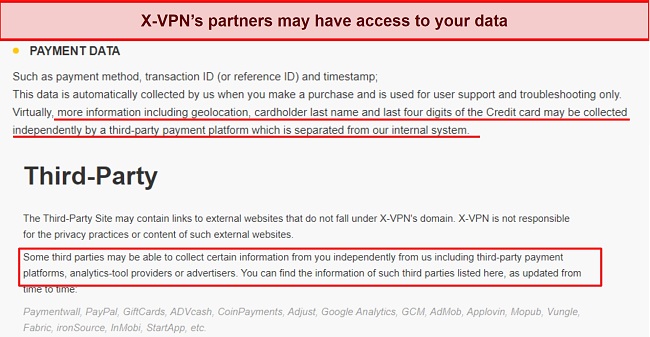 X-VPN is located in Hong Kong, which could lead to government intervention and monitoring. Hong Kong has its own laws that are not the same as the rest of China. However, because of the National Security Law, the Chinese government has some authority in Hong Kong that might interfere with your rights to privacy. Plus, Hong Kong's collaboration with the Five Eyes intelligence-sharing group could put your privacy at risk.
I was unimpressed by X-VPN's logging policy, especially considering its jurisdiction. I prefer a VPN that is located in a privacy-friendly location and has an independently audited no-logs policy. For example, ExpressVPN's privacy claims have been audited by PwC and it's located in the British Virgin Islands.
Torrenting — Supports Torrenting, With Fast Speeds
After examining X-VPN closely, I can confirm that it can help with downloading torrents safely. The company's website makes it clear that it endorses P2P file sharing, and my conversation with a representative of the company confirmed this. Choosing a server in the United Kingdom ensured the fastest download speeds, and my anonymity was protected throughout the torrenting session.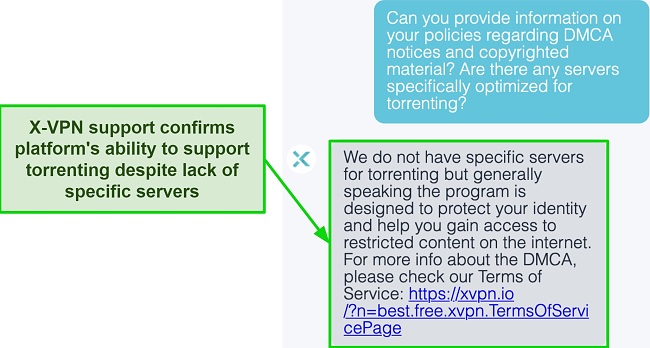 X-VPN also offered fast speeds that allowed me to download a 700MB file in less than 5 minutes. I was impressed with the speeds I got. While at it, remember to check the rules and regulations in your country on torrenting. Please also note that my team and I don't support illegal file sharing.
Does X-VPN Work in China? No
It was disappointing to learn that X-VPN doesn't work in China. As I was not physically present in the area, I contacted VPN's customer service to learn more about its capabilities. The live chat support agent confirmed that X-VPN doesn't work in China.

If you want to travel to China and need to securely access the internet, then I recommend using ExpressVPN which consistently proves to work in all parts of China and other highly censored countries.
User Experience
- 6.0
/ 10
Simultaneous Device Connections — Works on 5 Devices at Once
The X-VPN premium version permits simultaneous connections to a maximum of 5 devices, whereas the free version only accommodates 1 device. In my own testing, I was able to use the premium version to connect two Android devices, two Windows computers, and an iPhone without experiencing any noticeable lag.
If you need a VPN that can be used on more than 5 devices at once, CyberGhost is a great choice because it supports 7 devices simultaneously at an affordable price.
Device Compatibility — Works on All Popular Devices
X-VPN offers both a free and premium version for multiple platforms, including Android, iOS, Windows, Mac, Linux, Amazon Fire TV, Chrome, and routers (for premium users). Unfortunately, if you've got a PC, you'll have to have a Microsoft account to download and install from the Microsoft Store. I found this frustrating because most VPNs allow you to download the app directly from its website without using the Microsoft store.
Ease of Setup & Installation — Start Using X-VPN Within Minutes
X-VPN is an effortless platform to install and configure. After you click on "Get started", you will be able to choose between a monthly or annual subscription, and then a download page will be available for you to install the VPN.
The installation process for X-VPN only took a few moments to complete and didn't ask me to download anything extra or put in any sensitive information. You will have to sign in again if you're a premium member, but you don't even have to create an account for the free version. Once you're all set up, just hit the power button to connect to the fastest VPN services automatically.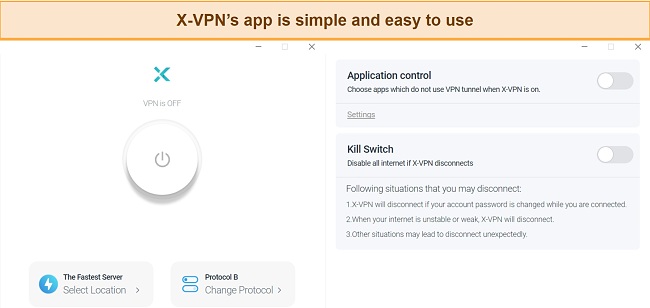 It's important to mention that X-VPN lacks a built-in uninstallation program in its software. Therefore, instead of using the software dashboard, you will need to remove the program from your computer's settings.
Steps to Installing X-VPN on Windows
Download X-VPN. The first step is to download the X-VPN software on your Windows computer. You can download it from the app store for the device you're using.

Save the Installation File. The download process will start automatically. After the download is complete, save the X-VPN installation file on your computer.
Install X-VPN. Locate the installation file on your computer and double-click it to begin the installation process. A prompt window will appear, asking you to agree to the terms and conditions. Click on the "Agree & Install" button.
Follow the On-Screen Instructions. The installation process will begin and you will be guided through a series of on-screen instructions. Follow them carefully and make sure you don't skip any steps.
Launch X-VPN. After the installation is complete, click on the "Finish" button. X-VPN will launch automatically.
Connect to a Server. Click on the "Connect" button to connect to a server. You can choose from a list of servers or connect to the fastest server available.

Enjoy anonymous browsing. Once you are connected to a server, you can start browsing the web securely and anonymously. You can also check the connection status in the X-VPN client window.
X-VPN offers several customer support options, including a live chat, email support, and a question-answer forum. However, I encountered a significant delay in connection and response times during my interaction with X-VPN's customer service.
When I compared the wait times to other VPNs' customer service, I was frustrated at how much longer X-VPN made me wait to receive the help I needed. I found X-VPN's help page was not much help either, as it answered only about 20 basic common questions.
X-VPN's live chat isn't 24/7 but 18/6, so support wasn't always available when I had a question. I was able to find out that live chat hours are from 2-10am GMT and 11am-7pm GMT on weekdays on the company's support page. When I initially attempted to connect with support via live chat, I did not receive a response for 2 days. Subsequently, responses took anywhere from 10 to 20 minutes after posing my questions. Despite these challenges, the representative was knowledgeable and provided insightful responses to all of my queries.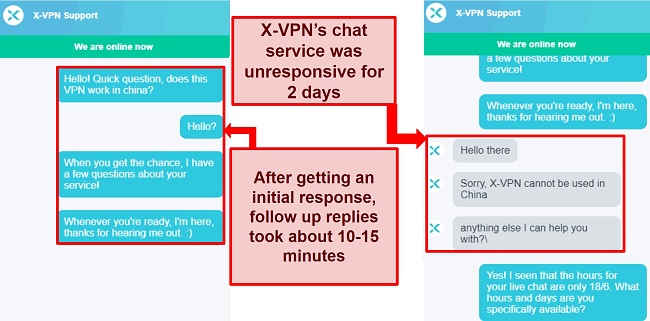 When I contacted X-VPN through its email support, I got the same response time whether I was emailing from a premium or free account. The reply was slow since I didn't receive a response until half a day later. Despite the delayed response, this was still faster than initially contacting X-VPN through live chat support.
I tested this by contacting X-VPN with separate emails for my premium and free accounts. I wanted to see if both accounts would get helpful and genuine responses from the representative trying to help answer my questions. I received the same answers and the wait times were similar for both.
Additionally, X-VPN provides support in eight additional languages, beyond English, including Arabic, Spanish, Russian, Portuguese, Hindi, French, Bengali, and Azerbaijani.
How We Test Customer Support and Why Should You Care
We personally test the customer support team of every VPN we review. This means asking technical question through the live chat feature (where applicable) and measuring the response time for email questions. Whether you need to connect to a specific server, change your security protocol, or configure a VPN on your router, finding a VPN with quality customer support should be important to you.
With its basic privacy features, X-VPN's pricing is pretty expensive. Besides the free version, you can choose between paying every month or paying once a year to access the service. Keep in mind that the free version has some disadvantages when compared to the premium version, such as having fewer servers available and restrictions on how much data can be transmitted. Opting to pay annually gives you a significant discount of 60% on X-VPN's premium version.
You can pay for your X-VPN subscription in several ways on its website. It offers basic options like: PayPal, Credit cards (Mastercard, Visa, and American Express), Cryptocurrency from CoinPayments, ePay (For Non-US Citizens), Payeer (For Non-US Citizens). ePay and Payeer are similar to Paypal, although they operate outside of the US and don't offer their services to US-based customers.
Even though you have to use an app store to download the app, I recommend getting your subscription through the website, not the app. You won't be able to take advantage of the 30-day money-back guarantee if you make your purchase through the Apple App Store, Amazon, HUAWEI, or Galaxy Store.
X-VPN's refund process wasn't entirely straightforward. Although X-VPN's 30-day money-back guarantee applies to desktop and mobile users, mobile users also get the option to try the VPN with a 7-day free trial.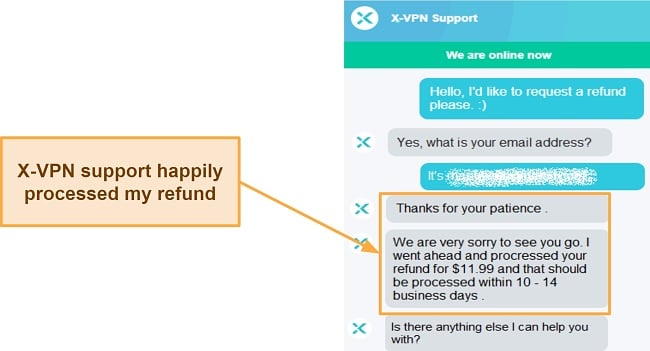 On the fifth day of my X-VPN subscription, I asked for a refund through live chat support. After a brief discussion, the representative approved my request and estimated the processing time to be 10-14 business days. However, to my surprise, I received the reimbursement in just 6 days.
X-VPN offers the following plans
Final Verdict
After thorough testing, I'm not convinced X-VPN is worth your time. While it does offer desirable features, such as a comprehensive list of servers and the capability to bypass geo-restrictions, the absence of a reliable data logging policy undermines the platform's overall security.
The extremely long wait times for customer service while using X-VPN added to the already inadequate privacy protections. Consequently, X-VPN is not a recommended solution for secure internet browsing, even with its attractive 30-day refund policy and annual plan discount of 60%.
ExpressVPN offers a cost-effective solution with dependable features, including 24/7 customer support and a verified no-logs policy. It grants access to all major streaming platforms with high-speed streaming and includes a 30-day money-back guarantee for a risk-free trial.
FAQs About X-VPN
Can I use X-VPN for free?
Is X-VPN really safe?
It depends
. X-VPN offers 256-bit encryption that ensures data exchange is protected with military-grade security. Yet, I couldn't get past thoughts concerning its privacy policy.
While X-VPN claims to have a no-logs policy, its privacy policy states that it doesn't have control over what third parties it partners with may do with your data
. I found this inconsistency worrisome. Not just that, but the fact that X-VPN isn't transparent about the protocols it uses makes me wonder if I could trust it with my data. This lack of transparency and questionable privacy policy wouldn't let me recommend X-VPN.
We rank vendors based on rigorous testing and research, but also take into account your feedback and our commercial agreements with providers. This page contains affiliate links.