How to Cancel PureVPN & Get a Refund – Results Will Surprise You
Last Updated by Olivia Jones on June 19, 2022
We put PureVPNs 31-day money back policy to the test and while it took some effort on our part, we did receive a full refund even though we signed up through their special deals page to get the cheapest plan.
If you're trying to cancel PureVPN, get ready for a fight
.
PureVPN does not want to lose you as a customer, so despite their "no questions asked, risk-free, stress-free" policy, canceling your account and getting your money back will require persistence.
They'll ask you lots of questions about why you want to leave and they'll try to convince you to stay. The only way you'll succeed in cutting ties is if you keep your answers brief and vague, and insist that you're just not interested in continuing to use their service.
On the bright side, my trying to cancel my account accidentally revealed a money-saving hack for those who want to stick with PureVPN: In order to convince you to stay, they'll offer you two months of free service.
If you weren't happy with their service, we highly recommend ExpressVPN which can do everything PureVPN does and then some or check out the top 5 VPNs in the table below.
Quick Guide: 3 Steps to Cancelling your PureVPN Account
How to Cancel Your PureVPN Account
Even the first step of the first part of this process isn't so obvious. That's because when you log into the PureVPN member area, you won't see an "unsubscribe" or "cancel" button.
To get to the cancellation page, you have to request a link to the form from a customer service representative. They didn't just give it to me, I had to insist that I really wanted to cancel before PureVPN gave me the link.
But you don't have to go to all that trouble to get the cancellation form. Because we got you the link, you can just click here.
My first request got this reply.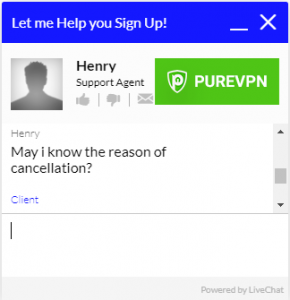 When I gave them a technical reason for an answer, the representative started trying to troubleshoot the problem, and
only linked me to the form once I insisted that I just wanted to cancel
.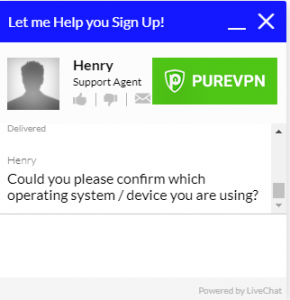 But you don't have to go to all that trouble to get the cancellation form.
Because we got you the link, you can
just click
here
.
For question 1, "When would you like to cancel your account?" select Right Now.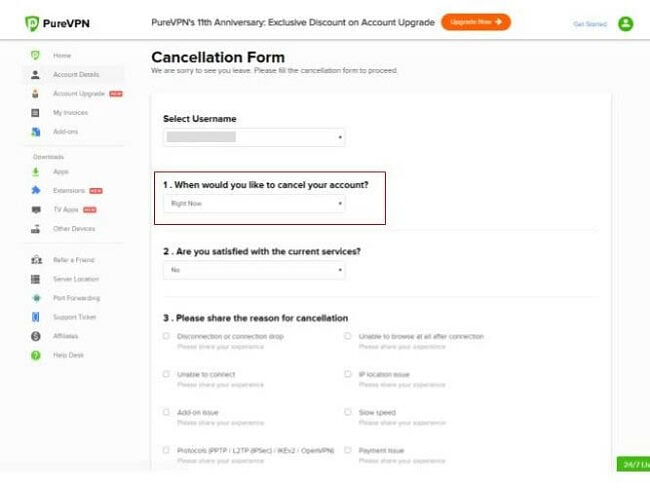 For the rest of the questions,
I assume that actually saying why you're leaving will lead to more targeted sales pitches
, so you should probably stay vague.
For questions 3 and 5 ("Please share the reason for cancellation" and "Other comments or suggestions"), no matter what answer you choose, you'll be prompted to elaborate and won't be able to submit the form until you do.
After you submit the cancellation form, you will receive two emails.
The first is an acknowledgment of your request to cancel. Note that this is not a confirmation of cancellation. You haven't actually canceled yet.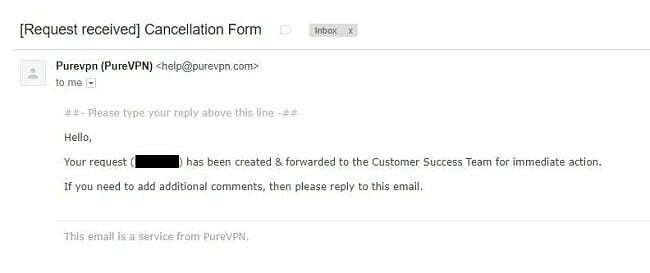 The second email is an attempt to sell you on PureVPN and find out if they can fix any technical issues. The email contains this line: "If you have already decided to quit then let me know and I will cancel your subscription right away without any further delays."
However, it doesn't tell you exactly how you're supposed to let them know that yes, you actually do want to cancel.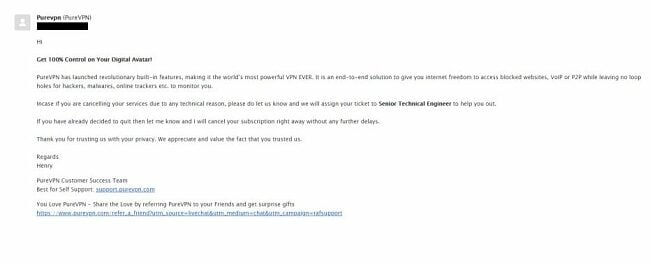 I replied to the email, reiterating that I just want to cancel. However,
instead of canceling my account, they sent another reply, in which they told me I would get an extra two months of service for free.
To be clear, they didn't ask if I wanted a better deal. They informed me, "Your account will be extended in your current plan."

At that point, I decided to just move forward and request a refund.
How to Get a Refund
Like the cancellation form, s no clear way to get to the refund form from the members page. I got it by requesting it from a customer support representative, but you can find it here.
While PureVPN says their refund policy is "no questions asked," that's not actually true.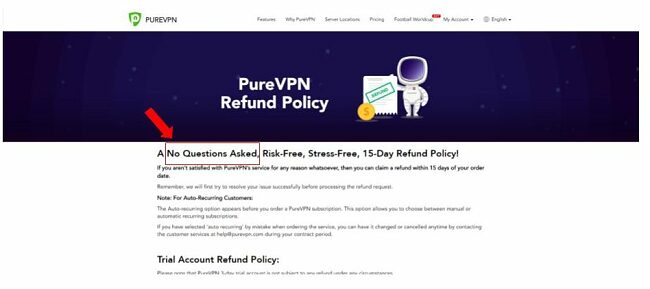 The refund form requires that you answer some the same questions as the cancellation form.
Like the cancellation form, the refund form requires that you fill in all the fields, even the ones that ask you to type in answers.
Again though, you don't have to give your exact reason for leaving. And to keep from giving them more opportunities to convince you to stay, it's probably better not to get into specifics.
Once you submit the refund form, you'll get another two emails. These are identical to the emails you get after submitting the cancellation form – one is a confirmation of your request, and the other is a sales pitch.
Since I still hadn't received a confirmation for either a cancellation or a refund, and I was still able to log in and use PureVPN, I went back to the live chat to speak directly with a customer service representative.
After explaining that I was unsuccessfully trying to cancel and get a refund, they once again asked why I wanted a refund, and once again tried to convince me to stay by offering a better deal.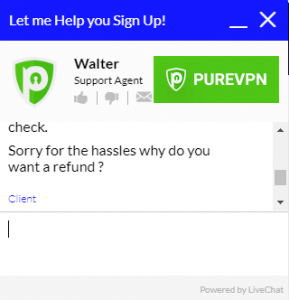 After responding that I just want to cancel and that I keep getting asked questions despite their "no questions asked" policy,
they tried to get me to cancel my refund request by offering me an extra month of service for free
.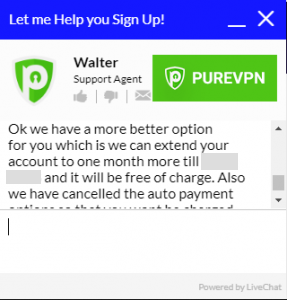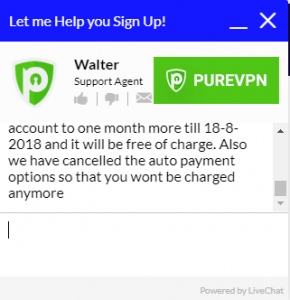 I insisted that I wasn't interested in extending the service and simply wanted a refund, but
they just kept trying to sell me on their product
.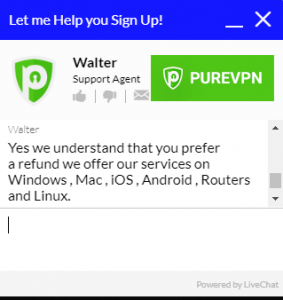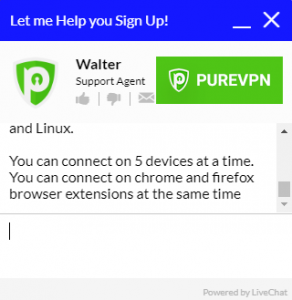 After repeating my assertions,
I finally received an email confirming my refund!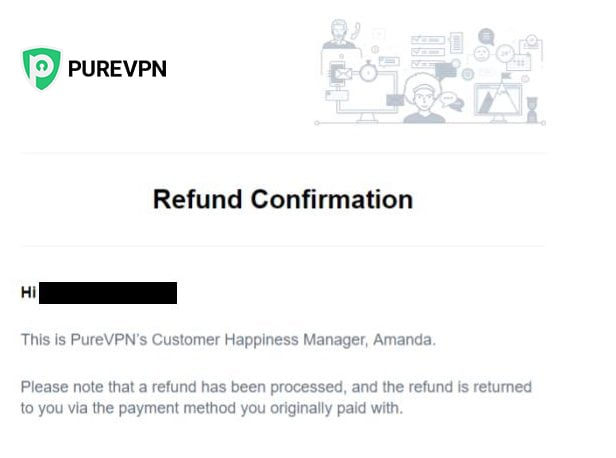 So there you have it. I managed to cancel my subscription and get refunded – and it only took a million simple steps. (Please excuse my sarcasm.)
How to Uninstall PureVPN from Your Windows Desktop
Next you'll want to uninstall PureVPN from your computer. This part is actually pretty easy.
Here's what you do:
1. Open up your computer's control panel and select Programs.

2. Click
Programs and Features
.

3. Use the
search bar
in the upper right corner to find PureVPN, and then double click on it.

4. A prompt will pop up with the text, Uninstall or change an application. You'll have the option to click yes or no. Click Yes. Then select Continue.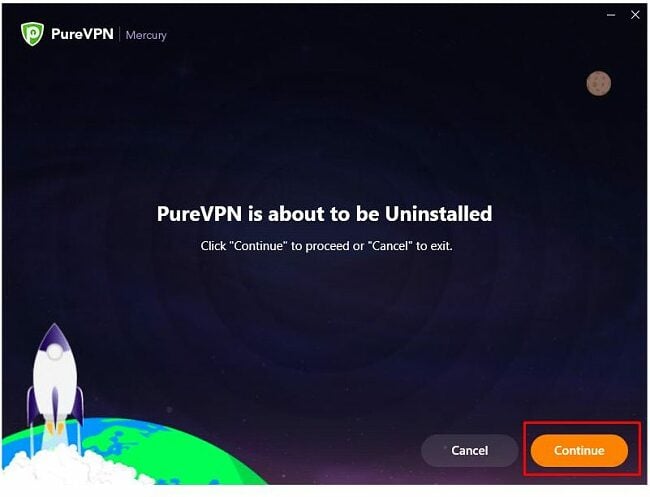 Now PureVPN will no longer be on your computer.
Note, however, that if you added PureVPN as a browser extension, you'll have to remove that separately.
To remove it from Chrome, you just need to:
1. Right click the PureVPN icon in the upper right corner of your browser window.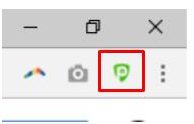 2. Select Remove from Chrome.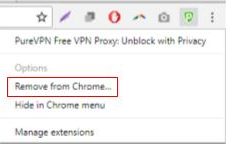 3. Click
Remove
.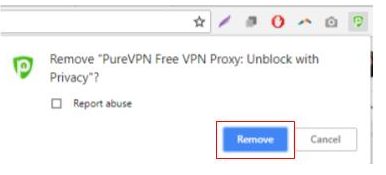 4. Then, in true PureVPN style, you'll be asked why you're quitting. I assumed that selecting a specific issue would lead to another series of troubleshooting questions and a sales pitch, so I chose I don't need it.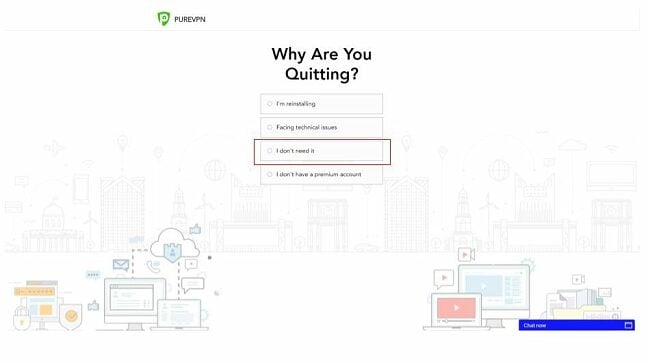 5. Then you'll be asked to elaborate. Again, I went with the most vague answer (Other), provided a minimal explanation, and clicked Submit.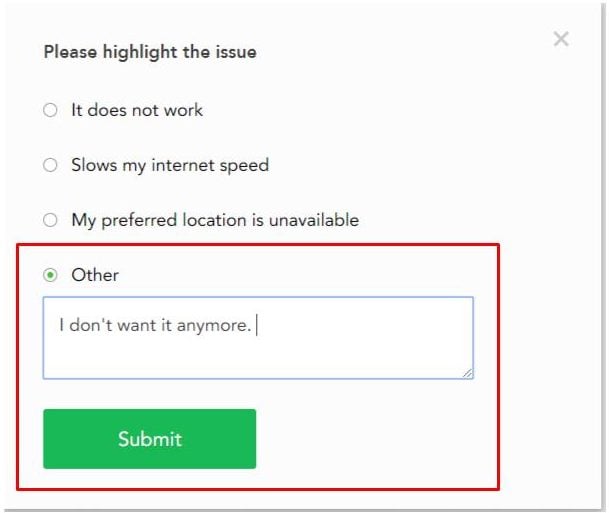 5 Best VPNs – That all Include Money Back Guarantees
Now that you canceled and uninstalled PureVPN, you probably want a different VPN.
If the reason you canceled was that PureVPN wasn't able to consistently unblock Netflix, you're in luck. There are several popular VPNs out there that have made it their mission to get their users Netflix no matter what.
Or maybe you want a VPN that provides better privacy because you read about how – despite their claim that they don't keep any logs – PureVPN was somehow able to turn over the IP address of a subscriber to law enforcement.
If that's the case, click here to find not only the best VPNs for maintaining your privacy but lots of other tips on how to protect your identity and maintain anonymity in the digital age.
Or if you're canceling for some other reason, you can check out some of our top rated VPNs overall.

All of these VPN providers give their users excellent security and high speeds. Plus, they all offer refunds, so you can try them out without worrying about losing any money.
With so many options out there, we're sure you'll find a VPN that's right for you.