Visit Zenmate VPN Website!
Zenmate VPN

Review 2023: Before You Buy, Is It Worth It?
Zenmate VPN Overview 2023
ZenMate has partnered with CyberGhost and, as of May 1st, 2023, Zenmate apps are no longer supported. This means that existing customers have to install CyberGhost apps and log in with their Zenmate credentials to continue benefitting from their subscriptions. It is not possible to create new subscriptions to Zenmate anymore. Find out more about this change.
ZenMate has been around for years, but it's still not as popular in comparison to industry heavyweights like ExpressVPN. Yet with low prices of only $1.99 per month, ZenMate appears to be a great bargain for a premium VPN service.
I wanted to see if there was a catch, so I put ZenMate to the test. I rigorously tested its speeds, server network, streaming capabilities, customer support, and security and privacy features.
In short, ZenMate is a solid VPN but I was disappointed by the inconsistent features across each device. The Windows app is packed with the most features — except you can't use the WireGuard protocol. The Android app has WireGuard, but no IPv6 or DNS leak protection. The Mac and iOS apps lack the most features with no leak protection, no WireGuard, and no browser extension for Safari (only Chrome, Edge, and Firefox extensions are available).
If you're curious whether ZenMate has the power and versatility you need, I've shared all my testing results below. However, you can also just try ZenMate risk-free with the 30-day money-back guarantee. That gives you plenty of time to test out every feature for yourself before committing to a subscription.
In a Rush? Here's a 1-Minute Summary
ZenMate Works With Netflix, Disney+, Amazon Prime Video, Hulu and More
ZenMate has streaming-optimized servers for specific countries and platforms. You can access the streaming-optimized servers on the Windows, Mac, Android, and iOS apps.
In tests, ZenMate's optimized servers had no issues accessing the following streaming services:
US: ESPN+, Comedy Central, NBC, Android TV, Crunchyroll, SlingTV, YouTube
Canada: CBC
Germany: 7TV, ARD, ZDF, Zattoo DE, Android TV, and more
Austria: ORF, Servus TV
Italy: Rai Play Diretta
France: TF1, France TV, Europe1, RTL, Radio France, 6 Play
Finland: Yle
Brazil: Fox Sport, Globo, Globo Sport TV
India: Disney+ Hotstar
Unfortunately, Zenmate failed to work with HBO Max.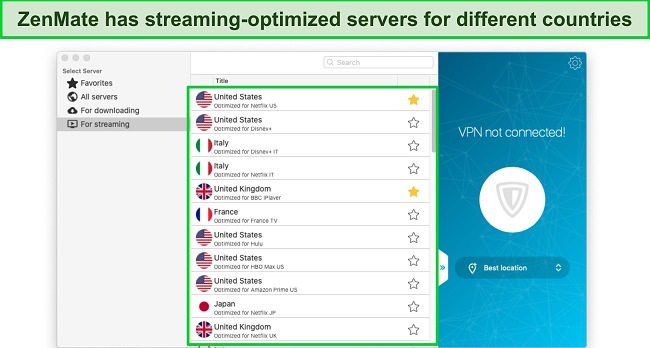 Netflix: Unblocked
ZenMate works with Netflix US, Canada, Germany, France, Japan, Italy, and Australia. I was especially impressed to find both the streaming-optimized and regular servers worked and were fast enough for HD quality.
Amazon Prime Video: Unblocked
ZenMate instantly unblocked Amazon Prime Video US on both the optimized server and regular servers. Episodes played all the way through without any buffering or pixelated video.
Hulu: Unblocked
There are no Hulu-optimized streaming servers, but I could access Hulu with a regular US server. I watched the show Nine Perfect Strangers in SD (sadly, it never loaded in HD throughout the entire episode).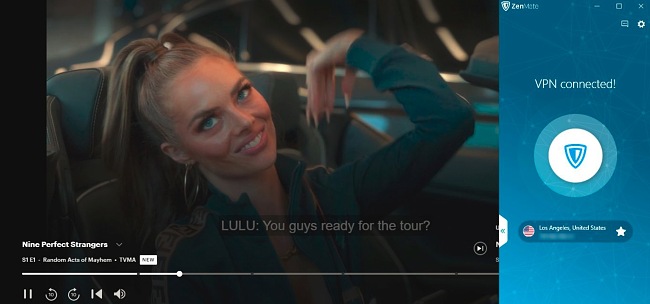 Disney+: Unblocked
ZenMate has optimized servers for Disney+ in the US and Italy. I had minimal problems when streaming other than a few initial seconds of pixelated video before it switched to HD.
Unfortunately, the regular servers don't work with Disney+ at all. That means you can't use ZenMate to watch Disney+ content anywhere beyond the US and Italy.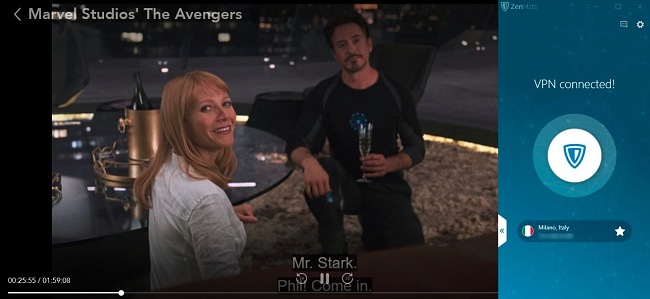 BBC iPlayer: Unblocked
ZenMate's optimized BBC iPlayer server worked perfectly. An episode of the show Ladhood played with only a couple of seconds of initial loading time. ZenMate's regular UK server also worked with BBC iPlayer, although it did have an extra 5-10 seconds of initial buffering.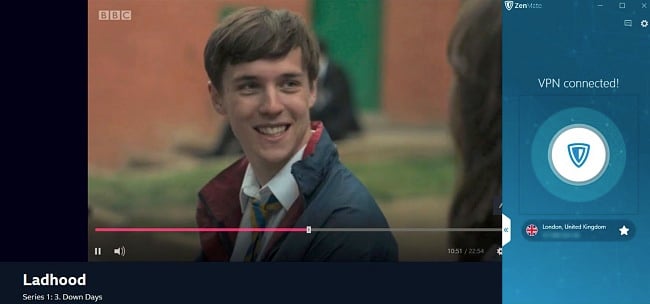 HBO Max: Blocked
There are no specialized streaming servers for HBO Max, so I connected to a US server instead. Despite testing servers in New York and Los Angeles, I got errors when I tried to log in saying I couldn't connect or a VPN was detected.
If you want to watch HBO Max, I was more impressed with CyberGhost's optimized servers for HBO Max — these servers worked for me every time.
Speed Test Results
I experienced an average speed drop of about 59% (from my baseline speed of 156Mbps down to 63Mbp on average). While ZenMate isn't the fastest VPN — that would be ExpressVPN — this type of speed drop isn't uncommon either.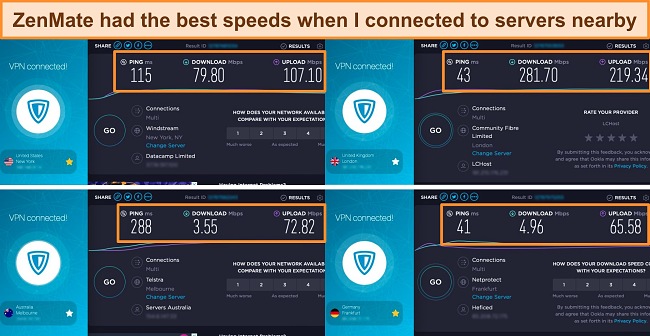 Is ZenMate Good for Gaming? (Average)
I connected to ZenMate servers both near and far to play Dota 2. I had no problem finding servers with high speeds, but low ping was tricky.
A high ping rate means it takes your device longer to communicate with a server — and in the worst-case scenario, it can cause enough lag for you to lose a battle.
If you're a hardcore gamer, I wouldn't recommend ZenMate as your go-to VPN for gaming. In the same tests, ExpressVPN had the fastest speeds and lowest ping on its global servers. This easily makes it an ideal VPN for all types of online games, including Call of Duty: Warzone, PUBG Mobile, and more.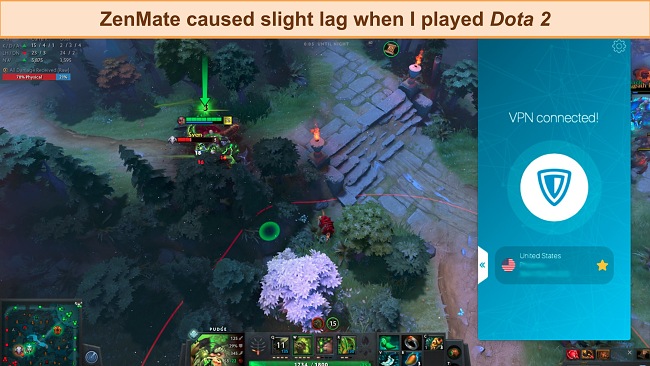 Why Most Speed Tests are Pointless & How We Correctly Test VPN Speeds
Speed determines how fast content uploads, so if you're torrenting or streaming, you want the speed to be somewhat identical to your regular internet speed. Since a VPN encrypts your data, it usually takes a bit longer to send your data back and forth, which can slow down your connection. However, if your ISP deliberately slows down your connection (also known as throttling) a VPN might increase your internet speed. Testing a VPN is somewhat pointless because new servers pop up and affect speed. Your speed can also differ according to your location, so your speed test might not match ours. Having said that, we tested the speed in numerous locations to provide you with the average.
ZenMate has over 4,800 servers in more than 81 countries. Most servers are concentrated in the US, UK, Germany, and Romania, although there are servers spread across North and South America, Europe, Asia, the Pacific, and Africa
Unlike other premium VPNs, you can't connect to a server in a specific city. Instead, ZenMate automatically connects you to the fastest server in your chosen country. If you'd prefer to have full control over your server location, ExpressVPN is a better choice as you can drill down to a specific city.
Is ZenMate Any Good for Torrenting? (Yes)
It's a great choice. ZenMate has torrenting-optimized servers for secure P2P file-sharing — just click on its For Torrenting tab in the VPN app. These servers are optimized for fast speeds and compatibility with torrent clients like BitTorrent, uTorrent, Deluge, and Transmission.
In my tests, I connected a torrenting-optimized server in the US and downloaded 2GB of public-domain books in just a few minutes. There are other servers in the UK, Canada, Germany, Italy, and more.
You can also use the regular servers for torrenting — even though your speeds might not be as fast, you'll be protected by ZenMate's built-in leak protection, military-grade encryption, and no-logs servers.
Note: The torrenting-optimized servers are only available on the Windows and Mac apps.
Does ZenMate Work in China? (No)
Unfortunately, ZenMate doesn't work in China. It's also not a reliable VPN for countries with strict online censorship, including Turkey, Russia, the UAE, and Saudi Arabia. If you're traveling to any of these countries and you need a working VPN, ExpressVPN uses proprietary obfuscation technology to help you browse freely and anonymously.
Security Features
ZenMate has all the essential features that I'd expect from a premium VPN. However, it doesn't have a split tunneling feature on the VPN apps, nor does it offer the advanced WireGuard protocol on every device (only Android).
Military-Grade Encryption — 256-Bit Cipher
Your traffic is encrypted with an AES 256-bit AES cipher and authenticated every time an SHA 265 hash function. ZenMate also supports cipher suites with PFS (Perfect Forward Secrecy). These are some of the most powerful protocols for securely transmitting information across the internet.
VPN Protocols — OpenVPN, IKEv2, and WireGuard
Your choice of protocol depends on your device. I would prefer more customization and consistency for each device, although all the available protocol options are still the best on the market.
Windows: OpenVPN and IKEv2
Mac: IKEv2
Android: OpenVPN and WireGuard
iOS: IKEv2
Linux: OpenVPN
OpenVPN and WireGuard are both open-source protocols and considered to be the industry gold standard. OpenVPN has been around for longer so it's considered highly secure, but WireGuard offers much faster speeds. IKEv2 is another solid option — while it's not as fast as OpenVPN or WireGuard, it works best on mobile devices.
I was disappointed that ZenMate doesn't offer the WireGuard protocol, which has been released by all other premium VPN services. ExpressVPN has even taken a step further and offered its own Lightway proprietary protocol to rival WireGuard.
Automatic Kill Switch — Turned On By Default
The kill switch worked perfectly in tests. You don't even have to turn it on because it's activated by default.
I tested ZenMate's kill switch by connecting to a server in the US and then putting my PC to sleep. When I woke up my PC, my internet connection had been completely shut off by ZenMate. I saw a notification that its kill switch had activated — all I had to do was reconnect to the server to turn the kill switch off.
Leak Protection — Blocks DNS, IP and WebRTC Leaks
I ran leak tests on servers in the US, Canada, Australia, Argentina, and Japan. On every server, my DNS, WebRTC, IPv6, and IPv4 addresses stayed hidden. Only ZenMate's server information was displayed.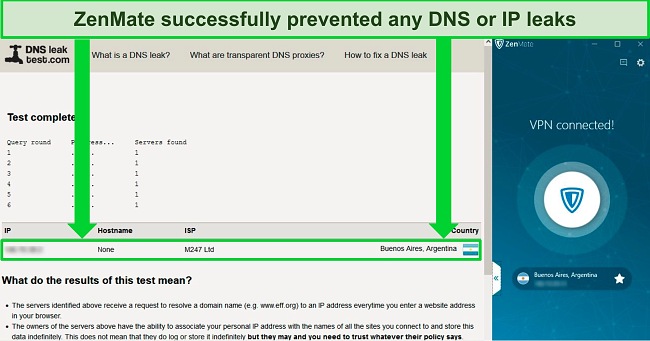 Unfortunately, leak protection is only available on the Windows app — you'll miss out if you have Mac, iOS, or Android.
Ad and Malware Blocker — Blocks Malicious URLs Automatically
The malware blocker isn't visible in ZenMate's interface, but it's on by default. You don't have to do anything to set up the malware blocker. In my tests, I attempted to visit an adware bot site, but ZenMate blocked my access and displayed a Page not found error message instead.
However, ZenMate doesn't block all ads (only malware-filled ads). If you want totally ad-free browsing, Private Internet Access has a built-in blocker that removes all ads (even on YouTube!), as well as blocking malicious sites and files.
Privacy Features
No-Logs Policy
I carefully read the privacy statement and ZenMate has a strict no-logs policy. As soon as you connect to a server, none of your browsing or download history, location, and personal data is logged, stored, or shared with any third parties.
Some non-identifying data is collected for analytical purposes when you're using the website. Your email address is also collected if you've signed up for optional marketing emails. However, this is normal for any website and nothing to be concerned about.
The major downside is that ZenMate hasn't undergone a third-party review. This is common practice with industry-leading VPNs as it proves their privacy claims. For instance, ExpressVPN's no-logs policy has even been verified by global auditing firm PwC.
Company Jurisdiction
ZenMate is headquartered in Germany. While Germany is part of the 14 Eyes Alliance (an international intelligence-sharing network), ZenMate's no-logs policy ensures no record of your VPN activities are stored — so there's nothing to hand over to the authorities if user logs are ever requested.
Server Locations
Australia
Austria
Belgium
Bulgaria
Canada
Czech Republic
Finland
France
Germany
Hong Kong
Israel
Italy
Japan
Latvia
Luxembourg
See all supported locations...
User Experience
- 9.0
/ 10
ZenMate is extremely easy to use. I had no issues installing, setting up, or using it on mobile or desktop devices. You can download the dedicated app for Windows, Mac, Android, iOS, Chromebook, Linux, and Raspberry Pi. You can also use its browser extensions on Chrome, Firefox, and Edge.
However, not every app is the same. I found the Windows and Android apps are significantly superior to the Mac and iOS apps, which lack the same set of premium features.
If you're seeking a full-feature VPN on more than just a Windows device, ExpressVPN offers the same app interface on its desktop and phone apps. Unlike ZenMate, you won't even notice the difference as you're switching between devices.
Desktop and Mobile Apps
The Windows app is the only app with every feature ZenMate has to offer, except the WireGuard protocol. However, OpenVPN and IKEv2 are available, and both are industry-leading protocols known for their speed and security. The app even has IPv6 and DNS leak protection, which you can turn on and off (although I recommend keeping it on at all times).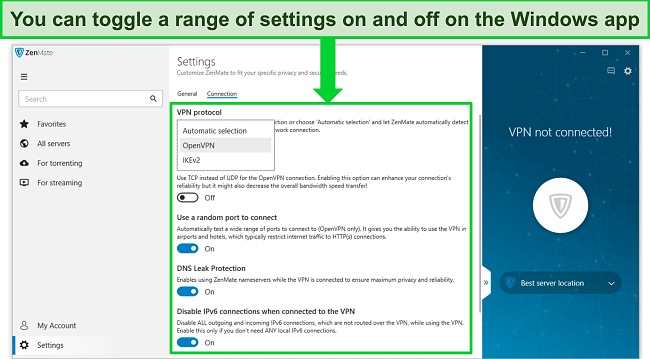 Unfortunately, the Android, Mac, and iOS apps are pretty lackluster. While you can use the advanced WireGuard protocol on Android — it's the only device that WireGuard is available on — you don't have any leak protection built into the app. There's no malware or ad blocker either.
The Mac and iOS apps suffer even more. OpenVPN isn't even available (only IKEv2). There are no other security or privacy settings you can configure yourself on these apps.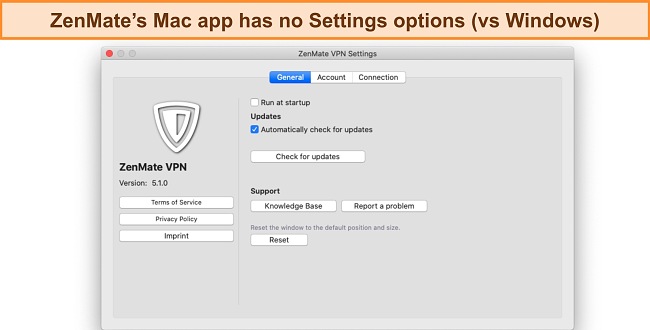 Browser Extensions for Chrome, Firefox, and Edge (Not Safari)
There are 2 tiers you can choose from: Free and Pro. The free extension only gives you 4 server countries and throttles your speed to 2Mbps. You're also protected by 128-bit encryption — while it's not as strong as 256-bit encryption, it still provides a secure tunnel that's difficult for hackers to penetrate.
However, the Pro plan gives you access to ZenMate's 4,800+ servers in 81+ countries, optimized-streaming servers (so you can access Netflix and more), and unlimited bandwidth.
You also have access to the Smart Location feature, which automatically connects you to your chosen server as soon as you visit a specific website. For example, you can set up Smart Location to connect to a US server as soon as you visit Netflix.com. This ensures you'll always be browsing through the Netflix US library.
Stealth Connection is another unique feature that clears your cookies, cache, and browsing history every time you disconnect.
Routers, Game Consoles, and Smart TVs
ZenMate only work natively with Android Smart TVs. For any other device, your only option is to manually configure ZenMate with your router. You can find step-by-step instructions on the website or contact the customer support team for assistance over email.
If you want a VPN with a dedicated app for routers, ExpressVPN has a router app that works with Tomato or DD-WRT firmware.
Unlimited Simultaneous Device Connections
ZenMate offers unlimited device connections, which is very generous (especially when you consider its low price of only $1.99 a month!). You won't have to worry about maxing out your device limit and having to log in and out — you can install and use ZenMate seamlessly between devices.
I connected on PC, Mac, Android, and iOS devices, and I didn't experience noticeable slowdowns until I connected on 12 devices. Even then I could still stream in HD, I just had to wait for 5-10 seconds of initial buffering. Since not all VPNs can handle their full device load without performance issues, I was pleased to find ZenMate isn't negatively affected by multiple connections.
I could only contact ZenMate over email. While a 24/7 live chat service is advertised, I couldn't find this option even after I logged into my account on the website.
This isn't the best service and I can't even blame it fully on ZenMate's cheap prices. PrivateVPN is a premium VPN with 24/7 customer support and it's just as affordable at only $2.00 per month.
Email Support — Expect to Wait Up to 24 Hours for Replies
On average, I received responses within 1 day. I opened an email support ticket via the form on ZenMate's support page and I got a reply in less than 4 hours. When I submitted another question about the browser extensions, I didn't get an answer until the next day. The answers I got were always polite and helpful.
Website — Many Outdated FAQ Pages
I was frustrated to find many articles aren't up-to-date. This resulted in a lot of confusion for me and I had to send many emails to the customer support team for clarity. For example, a support page about the money-back guarantee stated it's only valid for 14 days (even though the sign-up pages say it's a 30-day money-back guarantee).
How We Test Customer Support and Why Should You Care
We personally test the customer support team of every VPN we review. This means asking technical question through the live chat feature (where applicable) and measuring the response time for email questions. Whether you need to connect to a specific server, change your security protocol, or configure a VPN on your router, finding a VPN with quality customer support should be important to you.
ZenMate is one of the most affordable premium VPNs out there. You can sign up for a 1-month, 1-year, or 3-year subscription. The 3-year + 3 months-plan is the most affordable at only $1.99 per month (and you can save 86% off the full price).
Browser Extension Packages
The browser extension has its own pricing packages: Free, Pro, and Ultimate.
If you only want the browser extension, it's available for free (with limitations) or for a small price under the Pro plan (no limitations). Only the Ultimate plan bundles the browser extension and VPN together (both with no limitations).
In my view, only the Ultimate plan is worth the price as you'll actually get a VPN out of the deal. A VPN is an essential tool for online privacy as it encrypts your entire internet connection (which a browser extension doesn't), so you can anonymously browse, stream and torrent on any apps or programs outside the browser.
To save on your subscription, you can check out ZenMate's latest coupons and discounts.
Payment Methods
ZenMate only accepts credit or debit cards and PayPal. I would've liked to see cryptocurrency or online transfer options, especially since many premium VPN providers offer this.
For example, ExpressVPN accepts Bitcoin payments (via BitPay, Etherium, CRP and more). It even lets you transfer payments through iDEAL and Klarna.
7-Day Free Trial
The free trial automatically started once you confirm your email, and it's available on both the desktop and mobile apps. You won't be asked for any billing information, so you don't need to worry about being charged.
30-Day Money-Back Guarantee
The 30-day money-back guarantee applies to every ZenMate plan and you get access to every feature (no restrictions or limitations). To get a refund, you simply need to email the customer support team within the first 30 days of signing up.
When I tested this policy, it took less than 2 days to get my money back. After I sent an email asking for a refund, I received a reply in 15 hours to confirm my cancellation. The representative also offered to troubleshoot any issues for me.
I confirmed my cancellation and within 2 hours, I received a reply stating that my refund had been processed. I was told to expect the money in 5 to 10 business days — but to my pleasant surprise, the refund arrived the following day.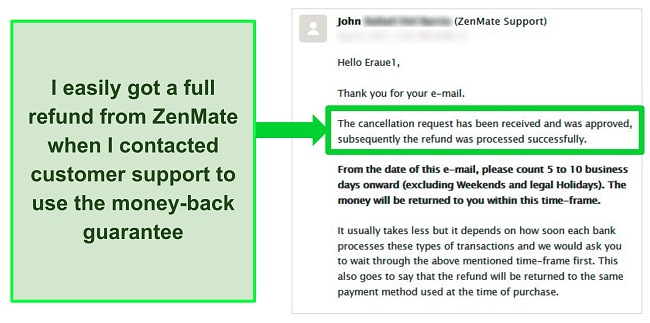 Zenmate VPN offers the following plans
Final Verdict
ZenMate is a budget-friendly VPN that gets the job done. it has decent speeds and all the key security and privacy features I look for in a premium VPN — including a no-logs policy, military-grade encryption, leak protection, and the WireGuard, OpenVPN, and IKEv2 protocols. You can even connect to streaming and torrenting-optimized servers.
However, not every feature is available on every app. The Windows app is packed with the most features and the Android app comes up second, but the Mac and iOS apps severely pale in comparison. If you like to have maximum protection on your desktop and smartphone, you're not likely to be satisfied with ZenMate.
That said, ZenMate has an extremely low price of only $1.99 per month when you sign up for the 3-year + 3 months plan. You can even use it on an unlimited number of devices at once, which makes it great value for money.
It's completely risk-free when you download ZenMate and take advantage of the 30-day money-back guarantee. You can test out every feature and see if it's a good fit for your needs. If you change your mind later, you can easily get a full refund. I tested this myself and I got my money back quickly with no issues.
Still unsure about ZenMate? Here's the full rundown on the best VPNs in 2023.
FAQs
Is ZenMate free?
ZenMate has extremely low prices and a 30-day money-back guarantee, but it's not a free VPN. However, you can use ZenMate's browser extension for free on Mozilla Firefox, Google Chrome or Microsoft Edge.
While the browser extension isn't a VPN, it does encrypt your browser traffic and gives you access to 4 free server countries. None of your browsing history will be tracked, stored, or sold to third parties either.
Alternatively, you can check out the best free VPNs in 2023 if you want a free VPN (not just a browser extension).
Is ZenMate any good?
I tested ZenMate in 2023 and it's a decent VPN, especially when I consider its low price of just $1.99 per month. While it's not packed with too many bonus features (like an ad blocker or split-tunneling feature), ZenMate is less than half the price of industry-leading giants like ExpressVPN and CyberGhost.
I recommend you take advantage of ZenMate's 30-day money-back guarantee and try it out for yourself. This gives you plenty of time to make sure it's a good fit for you before committing to a plan.