How to Safely Access Online Banking on Public WiFi in 2023
Accessing online banking using public WiFi is risky as hackers can intercept your connection and steal your login credentials and other data. Besides luring you to fake phishing sites, they can also install malware on your device on public networks.
There are several steps you can take to protect yourself from potential eavesdroppers on public WiFi, but you need a VPN to be truly safe. However, not all VPNs offer top security and privacy features, so I analyzed 25 top services and picked the most reliable and safe.
ExpressVPN is my #1 recommendation to safely access online banking on public WiFi. Its military-grade encryption makes your banking data inaccessible to third parties. Plus, it uses TrustedServer Technology to ensure it can't store your data. You can buy ExpressVPN confidently as it's backed by a 30-day money-back guarantee.
Get ExpressVPN for secure online banking
Why You Shouldn't Do Online Banking on Public WiFi
Often found in cafes and airports, public WiFi is convenient and free, but it's riddled with security gaps. Many of these networks lack basic encryption and other security features so others can see your activities. Some of the risks this leads to are:
Man-in-the-Middle attacks — anyone can intercept the communication between your device and the banking app or site to steal your login credentials.
Rogue hotspots — these mimic legitimate public WiFi networks, but once you connect, your data is exposed to cybercriminals handling the rogue hotspot.
Malware distribution — hackers can exploit vulnerabilities in the network to upload malware to your device to spy, steal data, hijack its processing power, and more.
Session hijacking — the attacker takes over your internet session when you're paying bills, for example, to get your personal information and fool the site into thinking they're you.
Phishing attacks — once a WiFi network has been compromised, hackers can send you phishing emails and direct you to a fake banking site to 'confirm your identity.'
How to Ensure Safety When Accessing Online Banking on Public WiFi
1. Use a Reliable VPN
A VPN encrypts your connection to keep your online banking activities on public WiFi private. Just make sure to activate the VPN before joining a public network. To enhance safety, avoid setting your device to automatically connect to available networks.
I also configure my VPN to start automatically when my device powers on or connects to a network so that I don't forget to do it manually before logging into a banking website or app. While the best VPNs in 2023 should do the job, I recommend ExpressVPN due to its best overall performance in terms of speed and privacy.
2. Use Strong Passwords and a Password Manager
When creating passwords, make sure they contain uppercase and lowercase letters, numbers, and symbols to make it hard to guess. Tools like password managers with strong password generators can create and store complex passwords. Also, update your passwords routinely, preferably every 3 to 6 months.
3. Enable Two-Factor Authentication (2FA)
Many banks let you set up 2FA on their apps, but if yours doesn't, get a third-party authenticator. With 2FA, your password alone isn't enough to access your bank account. An additional temporary code is sent to your mobile device so that only you can log in. More advanced password managers come with 2FA authenticators, too.
Given the vulnerability of SMS-based 2FA codes to interception, use physical security tokens or secure apps like Google Authenticator for receiving these codes.
4. Use Your Personal Mobile Hotspot
A mobile hotspot is much more secure than public WiFi for online banking, and it's easy to set up.
On iPhones:
Go to "Personal Hotspot" in "Settings".
Turn on "Allow Others to Join".
If you use an Android device:
Open the Settings app and go to 'Network & internet.'
Select "Hotspot & tethering".
Tap on "WiFi hotspot" and follow the instructions to customize.
Turn on "Use Wi-Fi hotspot".
Once it's turned on, connect to your hotspot like you would connect to a regular WiFi network, and you're ready to go.
5. Sign Up for Transaction Alerts
You'll get prompt notifications about any suspicious activities, including new transactions, failed login attempts, and changes to personal details. If they're unauthorized, you can take immediate action and prevent significant financial losses.
6. Avoid Suspicious Sites
To stay safe, type out your bank's URL and always confirm you're on your bank's official website. A secure URL begins with "https://" and displays a lock symbol in your browser. If these elements are missing, it could be a fake site, and you shouldn't enter your personal details.
7. Don't Click Suspicious Links
Steer clear of links sent via emails and text messages, as it could be a phishing attempt. Hackers count on innocent users to click on URLs that can give them control over their bank accounts. Remember that banks never request personal details through email or text, so never share them.
8. Use Official Banking Apps
Download the app from official stores to guarantee authenticity and automatic security updates. Your bank's official app is more secure than the browser you use to access websites as they have built-in security infrastructures that undergo stringent assessments.
9. Enable Firewall and Use an Antivirus
A firewall checks incoming and outgoing network traffic to prevent cyber attacks, while an antivirus detects malicious activity within your system. Take advantage of both when using public WiFi for online banking. Although it provides basic protection, Windows Defender isn't enough against advanced threats, so get a premium antivirus.
10. Turn Off WiFi Auto Connect
Turning off WiFi auto-connect stops your device from automatically joining familiar or available networks. Hackers often create fake networks that mimic legitimate ones to steal data, so always check if it's safe before connecting to one.
To disable auto-connect on iOS:
Go to "WiFi" in "Settings".
Set the "Ask to Join Networks" tab to "Ask." It's set to "Notify" by default.
On Android:
Go to "Connections" in "Settings".
Choose "WiFi" and tap the 3 vertical dots on the top-right.
Select "Intelligent WiFi" and disable "Turn WiFi On/Off Automatically."
11. Keep Your Device and Apps Up to Date
Outdated software can contain security vulnerabilities that hackers can exploit to gain unauthorized access to your device or intercept sensitive banking information. Updating your operating system and apps makes sure you get the latest security patches to protect against evolving threats.
12. Monitor Your Bank Accounts
To keep your bank account secure, review your transactions regularly. Hackers sometimes make small transfers to test the waters, and small transactions may not trigger your bank's security. By checking your account daily or weekly, you can spot any unusual activities early on. Report any discrepancies promptly to protect yourself from potential financial loss.
Why You Need a VPN for Online Banking on Public WiFi
Accessing your bank account on public WiFi comes with considerable risk as hackers find inventive ways to exploit insecure connections. A VPN is the best tool to secure your online activities and financial information because it provides:
Encryption for security — protects your data with a powerful cipher, making it unreadable to third parties so that your banking details remain inaccessible.
Phishing protection — prevents hackers from seeing your personal information on compromised public networks and launching a phishing attack.
Anonymity — hides your IP address, protecting your identity and keeping your banking activities private when using public WiFi.
Accessibility — some banking services have location-based restrictions for security. A VPN lets you access your account safely from anywhere, making it very travel-friendly.
Bank online anywhere with ExpressVPN
Quick Guide: How to Do Online Banking on Public WiFi With a VPN in 3 Easy Steps
Download a VPN. I recommend ExpressVPN for online banking on public WiFi because of its security, privacy features, and speed.
Connect to a server. Pick your home country's server to get an IP address there. Your bank app will think you're there and give you access without verification checks.
That's it! Now you can do online banking on public WiFi safely and anonymously.
Secure online transactions with ExpressVPN
The Best VPNs for Safe Online Banking on Public WiFi
Key Features:
3,000+ servers in 105 countries, offering the broadest global coverage
Secures online banking with military-grade encryption, private DNS, a kill switch, and RAM-based servers backed by TrustedServer technology
Get fast technical support via 24/7 live chat, email, and its extensive knowledge base
Transact online securely on up to 8 devices on a single subscription
Buy confidently as it's backed by a 30-day money-back guarantee
ExpressVPN is the #1 VPN for online banking on public WiFi. Its TrustedServer technology ensures your data isn't stored thanks to its RAM-only servers, while a private DNS prevents your DNS queries from being exposed to prying eyes. Besides that, ExpressVPN protects you with:
Military-grade encryption — uses a 256-bit cipher to make your online banking data unreadable to third parties even if it's somehow intercepted, which is very unlikely.
No-logs policy — ensures that your data isn't shared with others as it's based in the British Virgin Islands, which isn't part of any internet surveillance pacts.
IPv6 leak protection — blocks all IPv6 traffic from reaching your device to prevent leaks (all 20 ExpressVPN servers I tested passed my DNS, IP, and WebRTC leak tests).
Threat Manager — blocks malicious sites in case you access your bank account via a link on public WiFi.
ExpressVPN Keys — generates and safely stores your passwords so you can access online banking on public WiFi without the fear of keyloggers.
During my tests, ExpressVPN consistently averaged 95Mbps on distant servers in the US, Canada, and Australia. These speeds are perfect for loading payment pages quickly, especially when there's a time limit for transactions. I shopped online and received an authorization notice immediately on my banking app while connected to ExpressVPN.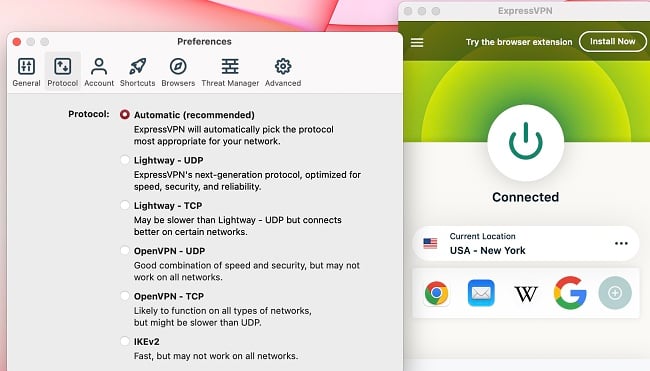 A downside of ExpressVPN is its lack of static or dedicated IP addresses, which prevent triggering security alerts when traveling abroad. However, ExpressVPN's network spans 105 countries, and it actively replaces blacklisted IP addresses. There's likely a server in your home country to do online banking safely using free public WiFi networks around the world.
I recommend ExpressVPN's 1-year + 3 months plan at $6.67 per month with a 49% discount. You can confidently buy ExpressVPN as it's backed by a 30-day money-back guarantee. I asked for a refund through live chat and wasn't persuaded to stay. 3 days after receiving a confirmation email, the funds were back in my account.
ExpressVPN works on: Windows, macOS, Linux, Chromebook, Android, iOS, Chrome, Firefox, Edge, Amazon Fire TV, Amazon Fire TV Stick, gaming consoles, routers, and more.
Use ExpressVPN for online banking
2023 Update! ExpressVPN has dropped prices for a limited time to a crazy $6.67 per month for the 1-year plan (you can save up to 49%) + 3 months free! This is a limited offer so be sure to grab it now before it's gone. See more information on this offer here.
Key Features:
Has 10,200+ servers in 100 countries for fast online banking
Uses NoSpy servers, military-grade encryption, a kill switch, and IP leak protection for foolproof online banking on public WiFi
Check statements and transact securely on up to 7 devices simultaneously
Offers fast technical assistance via live chat, email, and its online knowledge base
Try it risk-free with its 45-day money-back guarantee on long-term plans
CyberGhost starts a VPN connection automatically when you join a public WiFi network with the WiFi Protection feature. You can even set it up to connect as soon as you start your device. All you have to do is pre-select a server in the country where you opened your bank account. This is helpful as I often forget to connect my VPN before joining public networks.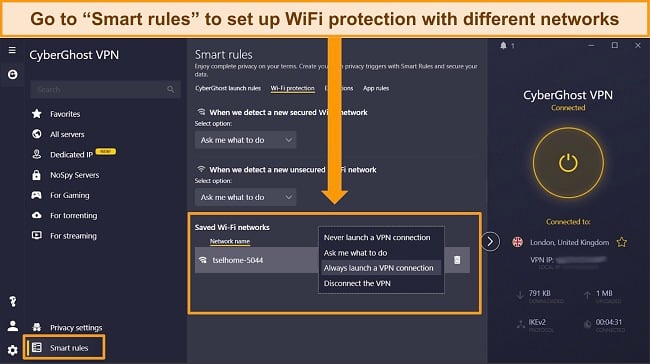 Its NoSpy servers avoid risking your data with third-party server farms and maintain high server uptime as they're managed by CyberGhost. Located in Romania and outside the 14 Eyes jurisdiction, CyberGhost assured top privacy for my financial data on public WiFi with:
Content Blocker — stops dangerous websites from loading and monitoring your browsing behaviors.
Dedicated IP address — provides your own IP address to avoid CAPTCHAs and other verification when banking online, but it's a paid add-on.
Identity Guard — notifies if your email is at risk, so you can immediately secure your bank account and all other accounts before damage can be done.
Split tunneling — lets you access local services and conduct secure online banking with a VPN server abroad simultaneously while traveling.
One minor issue is that the Content Block feature is unavailable on CyberGhost's iOS app. But since official banking apps and iOS are pretty secure, this isn't a major concern. However, I advise enabling Face ID or Touch ID for your banking apps to eliminate risks.
I recommend CyberGhost's 2-year + 4 months plan, which offers a 84% discount. Leveraging its 45-day money-back guarantee lets you try CyberGhost risk-free. I found the refund process simple — the support agent asked for my email to verify my subscription and approved the request. I received the refund in 5 business days.
CyberGhost works on: Windows, macOS, Linux, Android, iOS, Raspberry Pi, Chrome, Firefox, smart TVs, gaming consoles, routers, and more.
Use CyberGhost for online banking
Get Black Friday Deal and Cyber Monday Deal from CyberGhost! You can subscribe to CyberGhost for as low as $2.03 per month + get an extra 4 months free with the 2-year plan (save up to 84%)! This is a limited offer so grab it now before it's gone. See more information on this offer here.
Key Features:
Extensive network of 35,000+ servers in 91 countries
Includes RAM-only servers, military-grade encryption, and Perfect Forward Secrecy
Access online banking on unlimited devices
Troubleshoot with live chat, email support, and its online FAQ guides
Take advantage of its 30-day money-back guarantee
PIA's huge network prevents crowded servers to access bank accounts quickly. 35,000+ servers globally means there are many per country to prevent you from competing for bandwidth with other users. For a small extra fee, you can use PIA's dedicated IP addresses that remove unnecessary verifications while using online banking. Additionally, it offers:
Flexible encryption — lets you switch between 128-bit and 256-bit ciphers, but I recommend the latter for secure online banking on public networks.
Perfect Forward Secrecy — changes your encryption keys continuously, hindering potential interceptors from deciphering your online banking data.
MACE ad blocker — blocks malware to keep your online banking credentials secure on public networks.
Unfortunately, PIA is located in the US, a member of the 5 Eyes intelligence alliance. However, I feel safe using PIA due to its strict no-logs policy validated by a reputable audit firm. It was also proven during multiple court cases when PIA had no data to provide the investigators.
PIA is one of my preferred affordable monthly VPNs, and I suggest getting its 2-year + 4 months plan to get a 84% discount. It's backed by a 30-day money-back guarantee, so you can try PIA without risk. Securing my refund was hassle-free. I shared my invoice with a live chat agent and got my money back in a week.
PIA works on: Windows, macOS, Linux, Android, iOS, Chrome, Firefox, Opera, routers, and more.
Get PIA's Black Friday Deal! You can subscribe to PIA for as low as 2.03$ per month + get an extra 4 months free with the 2-year plan (save up to 84%)! This is a limited offer, so grab it now before it's gone! See more information on this offer here!
FAQs About Online Banking on Public WiFi
Do Online Banking Safely on Public WiFi With a VPN
Public WiFi networks are prone to hacking and pose huge risks if you bank online without proper security measures. A VPN encrypts your traffic on public WiFi, shielding you from potential threats. However, not all VPNs are suitable for secure online banking, so I tested all the top-ranking ones to find the best.
I recommend ExpressVPN as it assures anonymity and improves safety on insecure public networks. It's backed by military-grade encryption, a TrustedServer network, and solid leak protection. You can get ExpressVPN confidently to use public WiFi for online banking as it's backed by a 30-day money-back guarantee.
---
Summary: These are the Best VPNs for Online Banking on Public WiFi in 2023
Top Choice