NordVPN vs. VyprVPN 2023 — Full Comparison & Test Results
NordVPN and VyprVPN are both excellent options for safely browsing, streaming, torrenting, and gaming online. They offer robust security, fast connections and are located in privacy-friendly countries. You'll also find user-friendly apps for each VPN on most operating systems.
In this in-depth comparison, I tested each VPN's performance in 13 categories: speed, security, compatibility, streaming, customer support, ease of use, and more.
After extensive testing, I found that NordVPN is the winner, thanks to its competitive pricing, ultra-fast speeds, and advanced security features. Plus, it comes with a 30-day money-back guarantee, so you can try NordVPN risk-free. Getting a refund is easy — I got my money back in just 4 days.
No Time? Here's a 1-Minute Summary
Pricing

$2.99/month on its 2-year + 3 months plan — price increases on renewal

$5.00/month on its 1-year plan — price doesn't increase on renewal

Streaming

Works with 10+ Netflix libraries, Amazon Prime Video, Hulu, Disney+, HBO Max, BBC iPlayer, and more

Works with 4 Netflix libraries, Disney+, BBC iPlayer, HBO Max, and more

Servers

5,900+ servers in 60 countries, Onion Over VPN servers, dedicated IP addresses from 15 countries

700+ servers in 70 countries, virtual servers

Speed

Speed on local servers: 15% drop from baseline speeds
Speed on distant servers (>10,000 mi): 26% drop from baseline speeds

Speed on local servers: 37% drop from baseline speeds
Speed on distant servers (>10,000 mi): 90% drop from baseline speeds

Security

NordLynx, IKEv2/IPsec, OpenVPN protocols

A kill switch

Ad and malware blocker on Windows, macOS, Android, iOS, & more

DNS/IP leak protection

Onion Over VPN servers

RAM-only servers

Double VPN servers

Chameleon, WireGuard, IKEv2, L2TP/IPsec, PPTP, OpenVPN protocols

A kill switch

Malware blocker on macOS and Android

DNS/IP leak protection

VyprDNS

Torrenting

5000+ P2P servers in 50+ countries

10 SOCKS5 proxy servers for uTorrent

10 minutes to download a 2.3 GB file

Supports torrenting on all 700+ servers in 70 countries

23 minutes to download a 2.3 GB file

China

NordVPN does not work in China

VyprVPN is one of the best VPNs for China

Gaming

Ping rate on local servers: lower than 55ms

Meshnet function for LAN multiplayer gaming

DDoS protection

Ping rate on local servers: >100ms

DDoS protection

Device Compatibility

Works with Windows, macOS, Linux (Ubuntu/Kali Linux), Android, iOS, Amazon Fire TV devices, Chromecast, smart TVs, Xbox, PlayStation, routers, and more

Works with Windows, macOS, Linux (Ubuntu/Kali Linux), Android, iOS, Amazon Fire TV devices, Chromecast, smart TVs, routers, and more

Company Jurisdiction

Headquartered in Panama, outside the 5/9/14 Eyes alliance

Headquartered in Switzerland, outside the 5/9/14 Eyes alliance

Privacy Policy

No-logs policy, audited by PwC and Deloitte

No-logs policy, audited by Leviathan Group

Payment and Refunds

Accepts credit cards, registered prepaid cards, PayPal, AmazonPay, Sofort, cryptocurrencies, GPay, and cash in retail stores

Accepts debit/credit cards and PayPal only

30-day money-back guarantee

30-day money-back guarantee

Customer Support

24/7 live chat with an average response time of seconds, email support with an average response time of 5h

24/7 live chat with an average response time of seconds, email support with an average response time of 2h
13 Categories of Comparison for NordVPN vs. VyprVPN
Here's a quick breakdown of the criteria and testing methods I used to evaluate NordVPN vs. VyprVPN. For more details about how I got my test results, click on the categories to jump to the findings of each section:
1. Pricing — NordVPN Is Cheaper Than VyprVPN (and Offers Better Value)
NordVPN is significantly cheaper than VyprVPN and offers better value for money, with plans as low as $2.99 a month. It provides a 2-year + 3 months plan, which VyprVPN doesn't, making it a better, long-term investment.
At $5.00/month, VyprVPN's 2-year + 3 months plan is more expensive than NordVPN's 2-year + 3 months plan. However, VyprVPN's 1-month plan is cheaper than NordVPN and is one of the best monthly VPN deals in 2023.
NordVPN
VyprVPN
Best Deal

$2.99/month (2-year + 3 months plan)

$5.00/month (1-year plan)

Price increases on renewal

Price doesn't increase on renewal

Free Trial

7-day free trial (Android only)

3-day free trial (Android and iOS)

Money-Back Guarantee

30 days

30 days
NordVPN offers 3 different plans: Standard, Plus, and Complete. The Standard subscription is just the VPN; the Plus plan includes a password manager (NordPass); and the Complete plan includes NordPass and 1 TB of secured cloud storage (NordLocker).
Unfortunately, you can only get NordVPN's 7-day free trial through its Android app. If you want a VPN for your iPhone, you can claim VyprVPN's 3-day free trial through the iOS app. However, if you sign up for either VPN through a mobile app, you'll only be able to claim a refund via the Google Play or Apple App Store (which can be difficult).
Both VPNs offer a 30-day money-back guarantee on all plans, which lets you test each VPN for yourself. If you're not happy with either of them, you can easily get your money back. Unlike the free trials, the money-back guarantee lets you use the VPN on any of your compatible devices.
You can find the best deals for each VPN on our latest deals on our frequently updated coupon page.
2. Streaming — NordVPN Easily Unblocks 10+ Netflix Libraries, Amazon Prime Video, Hulu, Disney+, and More
NordVPN is better for streaming than VyprVPN because it provides access to 10+ Netflix libraries and 35+ international streaming services. VyprVPN only gives access to 4 Netflix libraries and a handful of other streaming platforms.
Both VPNs can help you access the following Netflix libraries:
NordVPN: Australia, Brazil, Canada, Finland, France, Germany, Italy, Japan, Netherlands, South Korea, Spain, Sweden, the UK, and the US.
VyprVPN: Germany, the US, the UK, and Canada.
In addition, both NordVPN and VyprVPN can reliably access your local streaming accounts for the following services:
| | | | |
| --- | --- | --- | --- |
| Disney+ | Hulu | BBC iPlayer | Max (formerly HBO Max) |
| DAZN | ESPN+ | Sky Sports | …and more! |
While NordVPN easily accessed Amazon Prime Video, Peacock, Pluto TV, Britbox, and more, VyprVPN failed to gain access to these platforms. During my testing, NordVPN's servers were fast enough to support UHD-quality streams without buffering or lag.
It also has SmartPlay with built-in Smart DNS which lets you stream devices that don't support VPN apps (smart TVs and gaming consoles). While VyprVPN has VyprDNS, it can't be set up on smart TVs or gaming consoles like NordVPN's SmartPlay.
Overall, NordVPN outperforms VyprVPN as the best streaming choice. While both VPNs can access Netflix US, NordVPN also unblocks 35+ international streaming platforms and supports UHD streams without interruption.
Streaming Winner: NordVPN
3. Servers — NordVPN Has a Larger, More Advanced Server Network Than VyprVPN
NordVPN has a larger server network than VyprVPN, with 5,900+ servers in 60 countries, whereas VyprVPN has 700+ servers in 70 countries.
| | | |
| --- | --- | --- |
| | NordVPN | VyprVPN |
| Server Number | 5,900+ servers | 700+ servers |
| Server Countries | 60 countries | 70 countries |
| Obfuscation | ✔ | ✔ |
In contrast to VyprVPN, NordVPN offers Onion Over VPN servers, dedicated IP addresses from 10+ countries, and Double VPN servers. Double VPN provides an additional layer of encryption by directing internet traffic through 2 servers. This prevents your ISP and other third parties from monitoring your online activities or intercepting data.
VyprVPN supports torrenting on all its servers, while NordVPN offers an extensive P2P server network, comprising over 5000 P2P optimized servers.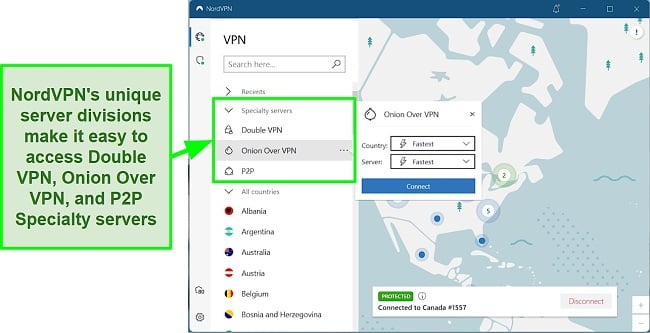 All NordVPN servers are physically located, which means there's a reduced risk of third-party interference and other issues that can affect the connection quality. Conversely, VyprVPN uses virtual servers in some locations, which can cause unstable connections and performance issues.
Plus, NordVPN gives you the option to purchase a dedicated IP address. This provides a unique, static IP that is less likely to be identified as VPN traffic.
4. Speed — NordVPN Is Faster and More Consistent on Long-Distance Connections
While VyprVPN performs well on some local servers, NordVPN is consistently fast on both short- and long-distance connections. I ran tests on nearby servers in the UK and Europe and more distant servers in the US and Australia.
To ensure the results were precise, I used the OpenVPN protocol for each VPN and let each provider automatically connect me to the fastest server in each chosen location.
Before I connected to any of the VPNs' servers, I recorded a baseline speed of 400 Mbps.
Nearby Server Speed Test Results
NordVPN's local servers were faster and more consistent than VyprVPN. I recorded an average drop of 9% on NordVPN's servers, whereas VyprVPN reduced my speeds by 58%.
London, UK
Frankfurt, Germany
NordVPN

364.01 Mbps

9% drop

365.16 Mbps

8.75% drop

VyprVPN

263.47 Mbps

34% drop

72.96 Mbps

82% drop
On nearby servers, NordVPN performed very well. Websites and 4K videos loaded instantly, and I didn't encounter any buffering. A 20 GB file took approximately 11–13 minutes to download.
VyprVPN was significantly slower. When connected to a nearby server, websites and videos all loaded instantly, but there was some initial buffering on 4K YouTube videos over an hour long.
Long-Distance Server Speed Test Results
As expected, there was a more noticeable difference in speed on servers farther from my location. However, NordVPN's servers did better to mitigate speed loss on distant servers than VyprVPN. I had an average speed reduction of 17% with NordVPN, while VyprVPN reduced my speed by 85%.
New York, USA
Melbourne, Australia
NordVPN

355.33 Mbps

11.25% drop

310.16 Mbps

22.5% drop

VyprVPN

102.8 Mbps

74% drop

15.88 Mbps

96% drop
While I barely noticed the speed drop on NordVPN's servers in the US and Australia, VyprVPN's servers in Australia were very slow. I had to wait for Netflix and YouTube videos to buffer and occasionally saw a drop in streaming quality during playback.
I had a marginal speed boost on tests when I used NordVPN's proprietary NordLynx protocol and WireGuard with VyprVPN. Still, VyprVPN was significantly slower than NordVPN in every test.
Even though NordVPN was significantly faster than VyprVPN in every location I tested, I found both VPNs had fast enough speeds for streaming, torrenting, and gaming without much hassle.
5. Security — NordVPN Has Diskless Specialty Servers (Double VPN, Onion Over VPN, P2P, and Dedicated IP)
NordVPN is a clear winner due to its RAM-only servers, specialty servers, and ad and malware blockers.
NordVPN
VyprVPN
Encryption

256-bit AES encryption with 4096-bit DH key, SHA2-384 HMAC authentication, and Perfect Forward Secrecy

256-bit AES encryption with 2,048-bit RSA keys, SHA256 authentication, and Perfect Forward Secrecy

VPN Protocols

NordLynx, OpenVPN UDP, OpenVPN TCP, and IPSec/IKEv2

Chameleon, WireGuard, OpenVPN UDP, L2TP/IPsec, IKEv2, and PPTP

Kill Switch

✔

Available on Windows, macOS, Android, iOS, and Linux

✔

Available on Windows, macOS, and Android

Leak Protection

✔

✔

Malware/Ad Blocker

Ad and malware blocker on all platforms

Block Malicious Sites available on macOS and Android only

Double VPN Servers

✔

✘

Onion Over VPN Servers

✔

✘

Obfuscated Servers

✔

✔

Dedicated IP Servers

✔

In 15 countries

✘

RAM-Only Servers

✔

✘
Encryption Standard
Both NordVPN and VyprVPN utilize military-grade AES-256 encryption, guaranteeing more advanced network traffic security that is extremely difficult to decode. AES is considered military-grade encryption due to its reliability in safeguarding sensitive information. It's also often used by the government, banks, and the military.
In addition, each VPN uses Perfect Forward Secrecy (PFS), which generates a distinct encryption key for each individual session. This enhances security by changing encryption keys for each session, safeguarding against potential security breaches caused by stolen keys.
Encryption Protocol
NordVPN supports 3 security encryption protocols:
OpenVPN is an open-source VPN protocol and a secure option that works on most operating systems. With NordVPN, you can choose between a safer (TCP) or faster (UDP) method.
IKEv2/IPsec is best used on mobile devices, as it is much less CPU intensive and excellent in establishing a reconnection. It is also a fast and reliable protocol for tasks like banking, gaming, and torrenting.
NordLynx is based on the WireGuard protocol. It offers several improvements over WireGuard, including faster speeds and better security.
VyprVPN supports 6 encryption protocols — Chameleon, WireGuard, OpenVPN, IKEv2, L2TP/IPSec, and PPTP. Chameleon technology decreases the chances of restrictions or blocks. It achieves this by disguising metadata, preventing it from being identified as VPN traffic during deep packet inspections.
Leak Protection
Leaks may expose your IP address, DNS requests, and browsing activities to your ISP and other observers. I used ipleak.net to run independent tests for both NordVPN and VyprVPN while connecting to servers outside my location. I found no IPv4, IPv6, WebRTC, or DNS leaks on any connections, as both VPNs kept my data and traffic safe.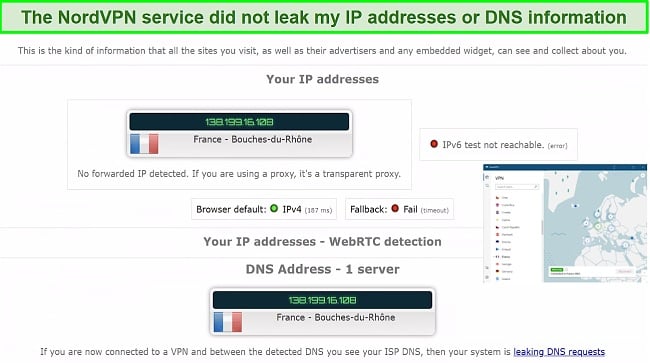 Ad Blocker
NordVPN has a reliable and advanced ad blocker feature — Threat Protection. It expands on CyberSec. This security feature of NordVPN uses the VPN program to block trackers, advertisements, and malware sites throughout the complete operating system.
Comparatively, VyprVPN has a Block Malicious Sites function, which prevents you from opening malicious websites that contain malware and other threats. It does this by checking the websites you want to visit against its list of blocked sites.
Security Audits
NordVPN has also carried out the following independent security audits:
PricewaterhouseCoopers (PwC) conducted a no-logs audit in 2019.
VerSprite conducted a thorough security audit that included an examination of applications, server infrastructure, and penetration testing.
PwC finished its second no-logs audit in 2020.
All conducted security audits confirmed that NordVPN did not keep a record of user information.
In 2018, a No Log Assessment of VyprVPN was done by Leviathan Security Group, Inc., which confirmed the VPN doesn't store user data. However, VyprVPN hasn't had any audits since then.
6. Torrenting — NordVPN Has 5,000+ Superfast Optimized P2P Servers
NordVPN is a more reliable VPN for torrenting because it has 5,000+ P2P servers in 50+ countries. Alternatively, VyprVPN supports torrenting on all 700+ servers in 70 countries. While VyprVPN covers more locations, its small server network increases the risk of congestion.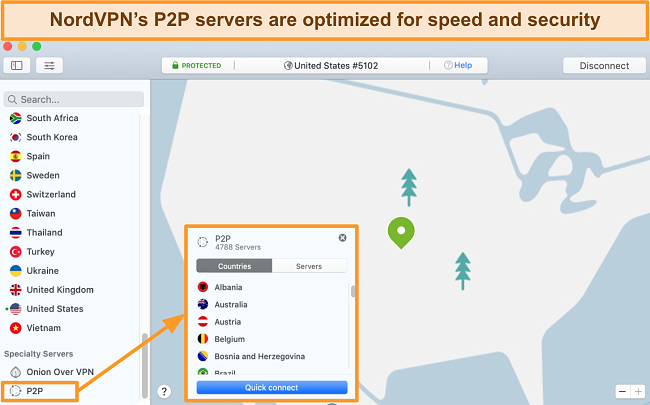 Thanks to impressive speeds on NordVPN's dedicated P2P servers, I downloaded a 2.3 GB file in just 10 minutes. Even though VyprVPN was slower, I was still impressed that it only took 23 minutes to download the same file on a local server.
Unlike VyprVPN, NordVPN also supports SOCKS5 proxy servers for uTorrent. These servers excel in speed but lack encryption. This means your IP address and torrenting activity could be visible to your ISP and other third parties.
No matter which VPN you choose, NordVPN and VyprVPN both protect your P2P activity with the following security features:
A kill switch cuts your connection to the internet if your VPN connection drops for any reason. This ensures that your real IP address isn't exposed to other torrents or anyone monitoring the network.
Data leak protection prevents your DNS requests and the IP address from leaking. This is crucial for torrenting, as exposure of your IP can lead to tracking by copyright enforcement agencies.
Military-grade encryption ensures that nobody can snoop on what you're downloading or uploading.
A zero-logs policy that ensures none of your activity is logged or stored.
NordVPN provides added anonymity for torrenting through cryptocurrency payment. Additionally, its Double VPN servers encrypt your traffic twice. VyprVPN doesn't offer cryptocurrency payment options and lacks Double VPN servers.
Overall, NordVPN wins the torrenting category, thanks to its superfast P2P-optimized servers, SOCKS5 proxy servers, highly secure Double VPN servers, and anonymous payment options.
Torrenting Winner: NordVPN
7. China — VyprVPN Works in China Reliably
VyprVPN is one of a handful of VPNs that work consistently in China and other restrictive countries. My colleagues in China confirmed that NordVPN doesn't work in the country.
There are a few reasons VyprVPN is one of the best VPNs for China, including:
Chameleon protocol with obfuscation: VyprVPN's proprietary Chameleon protocol uses obfuscation to scramble VPN traffic, making it appear like regular internet usage. This helps you bypass China's Great Firewall and allows unrestricted internet access.
Owns its servers: VyprVPN owns its servers, and no outsiders are involved in server maintenance. This minimizes the risk of data breaches and interference, which is vital in a country with strict internet regulations like China.
24/7 customer support: Around-the-clock customer support ensures immediate help if you encounter connectivity issues in China.
Given its many benefits and the fact that it works in China when NordVPN doesn't, VyprVPN is the top choice in this category.
8. Gaming — NordVPN Offers Lower Latency and More Advanced Features for Lag-Free Gaming
During my tests, I found that NordVPN is the better gaming VPN due to its consistently low ping rate. When I tested it, I found it was one of the best VPNs for CoD: WarZone. My ping was 2ms, which is impressively low.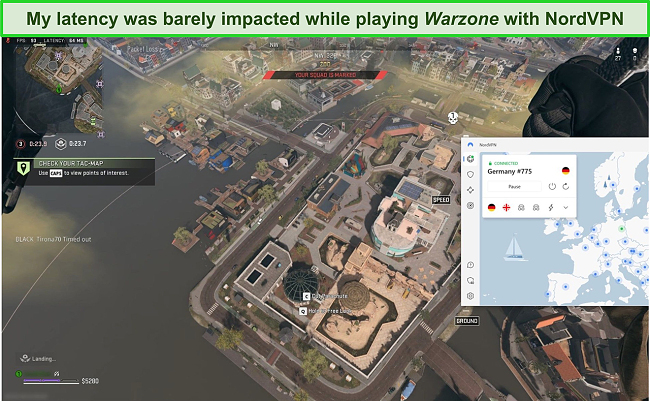 When I tested VyprVPN, I noticed the slower speed and higher ping rate on distant servers, which is why my game kept freezing, causing me to miss a few crucial shots.
NordVPN avoids geo-restrictions, bandwidth limiting, and DDoS assaults. This allows for seamless gameplay on local and long-distance servers across several platforms, particularly mobile gaming.
With its NAT Firewall feature, VyprVPN also effectively prevents DDoS attacks. It also bypasses VPN blocks and geo-restrictions, thanks to its Chameleon protocol. This allows for seamless, lag-free gaming.
VyprVPN has VyprDNS which ensures that your gaming activities are hidden from your ISP so it can't throttle your internet connection. Comparatively, NordVPN has a built-in smart DNS, a feature that can mask your IP address but doesn't encrypt your connection. This is the reason behind its higher speed, while also offering protection from cyberattacks.
Both VPNs enable router use with detailed setup directions on their websites. This allows users to connect devices that don't support VPNs by default, such as gaming consoles.
NordVPN has a standout feature called Meshnet. It allows you to host virtual LAN parties with up to 60 friends. All connections are encrypted, and the service is free. Plus, Meshnet is powered by the NordLynx protocol (which is fast), so there is less likelihood of lag.
After testing both VPNs, I discovered that NordVPN delivered a faster and more enjoyable gaming experience.
9. Device Compatibility — Both VPNs Are Compatible With Windows, Android, macOS, and More
Both VPNs support a wide range of devices, operating systems, and extensions. VyprVPN offers 10, while NordVPN offers 6 device connections.
NordVPN and VyprVPN both work on: Windows, macOS, Linux, Chromebook, Android, iOS, PlayStation, Xbox, Nintendo Switch, Amazon Fire TV devices, Nvidia Shield, Xiaomi Mi Box, Chromecast, Roku, Android TVs, smart TVs (Samsung & LG), routers, and more.
I set up NordVPN and VyprVPN on my iPhone and MacBook, while my colleague did the same on her Samsung phone and Windows PC. We smoothly navigated both VPN apps, even when all our devices were connected simultaneously.
For broader device coverage, you can install these VPNs directly on your router, enabling usage with devices like PS5, Nintendo Switch, or Xbox. Keep in mind that not all routers support VPNs, so ensure you choose a compatible router for this feature.
As both VPNs are compatible with the same number of devices, this category results in a tie.
Device Compatibility Winner: Tie
10. Company Jurisdiction — Both VPNs Are Placed Outside the 5/9/14 Eyes Alliance, but NordVPN Has a Warrant Canary
NordVPN wins in this category because it has a warrant canary, which VyprVPN doesn't. In the US and other jurisdictions, entities like ISPs and VPN services may receive secret warrants. Warrant canaries are regularly published statements confirming no secret warrants have been received.
| | | |
| --- | --- | --- |
| | NordVPN | VyprVPN |
| Company Headquarters | Panama | Switzerland |
| Inside 5/9/14 Eyes | Outside the 5/9/14 Eyes alliances | Outside the 5/9/14 Eyes alliances |
| Warrant Canary | ✔ | ✘ |
Both VyprVPN (based in Switzerland) and NordVPN (based in Panama) operate in countries that are not part of the 5/9/14 Eyes alliances. This means that both VPNs are not legally required to share user data with these governments or agencies.
Company Jurisdiction Winner: NordVPN
11. Privacy Policy — NordVPN Has RAM-Based Servers to Support Its Zero-Logging Policy
Both VPNs have strict no-logs policies that have been audited by third parties. However, NordVPN has RAM-based servers to support its zero-logging policy, ensuring data isn't stored on disks and the servers are wiped clean at regular reboots. VyprVPN doesn't have RAM-based servers.
Both VPNs manage and own their own server networks, making it more difficult for third parties to access the data on these servers (physically or virtually).
Even though NordVPN and VyprVPN don't store data like traffic and connection logs, or IP addresses, they process some of your personal information. Both retain data such as your email address, subscription info, payment details for paid services, contact data, and more. However, this information will never be linked to your online activity.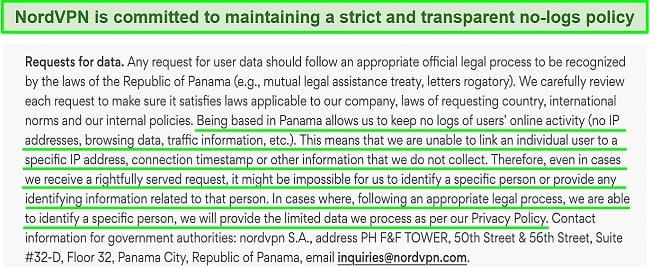 NordVPN has undergone three security audits as evidence of its commitment to a no-logs policy. It also allows you to use cryptocurrencies to pay for your subscription. VyprVPN doesn't support cryptocurrency payments and has had a single security audit conducted in 2018.
Privacy Policy Winner: NordVPN
Protect your privacy with NordVPN
12. Payments and Refunds — NordVPN Accepts Bitcoin and 65+ Other Cryptocurrency Payments
NordVPN offers a wider range of payment options than VyprVPN, including anonymous payment options (like 65+ cryptocurrencies).
| | | |
| --- | --- | --- |
| | NordVPN | VyprVPN |
| Credit or Debit Cards | ✔ | ✔ |
| PayPal | ✔ | ✔ |
| Mint | ✘ | ✘ |
| QiWi | ✘ | ✘ |
| Cryptocurrencies | Bitcoin, BitTorrent, Dash, Ethereum, Tronix, Monero, and more | ✘ |
| Other | Amazon Pay, Google Pay, ACH Transfer, UnionPay, Prepaid Cards, iTunes, cash in retail stores | Google Play, Apple App Store/iTunes |
Both NordVPN and VyprVPN offer a 30-day money-back guarantee, enabling users to try out their services risk-free. To put their claims to the test, I subscribed to their monthly plans and evaluated their services. I then engaged their live chat support agents to request refunds.
Both VPNs processed my refund requests within minutes, with no questions asked, and I received my money back within a week.
Payment and Refunds Winner: NordVPN
13. Customer Support — Both VPNs Have 24/7 Live Chat and Assisting Customer Service
NordVPN and VyprVPN offer several customer support options, including 24/7 live chat, searchable knowledge bases, email assistance, ticket support, and more.
| | | |
| --- | --- | --- |
| | NordVPN | VyprVPN |
| 24/7 Live Chat | ✔ | ✔ |
| Average Response Time via Live Chat | 1-5 seconds | 5-10 seconds |
| Email Support | ✔ | ✔ |
| Average Response Time via Email | 5h | 2h |
| Ticket Support | ✔ | ✔ |
| Phone Support | ✘ | ✘ |
| Online Knowledge Base | ✔ | ✔ |
| Community Forum | ✔ | ✘ |
During my tests of NordVPN's live chat support, I never had to wait more than 5 seconds to connect with their customer support team. When I tested VyprVPN, I talked to 2 different agents using the same feature, and I connected with them within seconds. All agents I talked to were helpful and displayed a positive attitude while addressing and resolving my inquiries.
With NordVPN's email support, you can expect a response within a few hours to a day. For my initial email, I received a response in approximately 5 hours, and for my second email, I got an answer the following day, with both my queries being resolved.
Email responses from VyprVPN were great — email agents replied to both of my emails within 2-3 hours, and resolved all inquiries I had.
NordVPN also features a chatbot to assist you with common problems. If you don't feel like speaking to a support agent, you can just choose a topic and follow the automated instructions. VyprVPN doesn't have a chatbot, but since I received fast responses to my queries using live chat and by email, I didn't have to wait long to get the answers I needed.
Questions
Initial Response Time By Email
Query Resolved
Number of Emails
NordVPN

Does NordVPN have split tunneling on iOS?

5h

✔

2

What is Nord Threat Protection?

24h

✔

2

VyprVPN

Can I use VyprVPN for P2P services?

2h

✔

2

Is split tunneling available on VyprVPN?

3h

✔

2
Both NordVPN and VyprVPN provide advanced customer support services, resulting in a tie in this category.
Customer Support Winner: Tie
And the Winner Is… NordVPN
NordVPN emerged as the clear winner, beating VyprVPN in 10 of the 13 categories, with 2 draws.
If you need a VPN that works seamlessly in China, VyprVPN is one of the few VPNs that work in this restricted area. With its Chameleon protocol, it offers reliable access in China, ensuring you can bypass censorship and access your favorite websites and apps.
However, for those searching for a VPN that's better for practically any online activity, NordVPN is the perfect choice. NordVPN provides better long-term value, lower ping for gaming and faster speeds, more payment options, and access to more streaming services.
If you want to test it out yourself, you can try NordVPN's premium features risk-free, since it's backed by a 30-day money-back guarantee.
---
The Best VPNs to Try in 2023