How to Safely Download Torrents With ExpressVPN in 2022
Last Updated by Kate Hawkins on May 01, 2022
You probably know that downloading torrents without protection leaves your devices and personal data exposed. If you want to download torrents without making yourself susceptible to cyberattacks or spying third parties, you need to use a VPN proven to safeguard your information.
With every VPN claiming to keep you secure and anonymous while torrenting, it can be difficult to find a reputable service worth your money. ExpressVPN supports P2P on every server, which makes it easy to download torrents safely and without interruption. However, using a VPN doesn't give you a license to engage in illegal activities. Downloading copyrighted files is illegal in most countries and violates the TOS of most VPNs. Make sure that the torrents you access are freely available in the public domain.
Whether you're new to torrenting or an experienced downloader, I'll show you how easy it is to keep your data and devices protected — especially now with their latest deal!
Try ExpressVPN risk-free today
4 Simple Steps to Safely Torrenting with uTorrent or BitTorrent
Torrent safely with ExpressVPN
Key Features:
3,000+ servers in 94 countries — each server supports P2P file sharing
Best-in-class encryption, automatic kill switch, and DNS leak protection
Zero-log policy
24/7 live chat and customer support available
30-day money-back guarantee
ExpressVPN's strong security features make it the safest VPN for torrenting. None of the information you send through an ExpressVPN server is ever stored due to a strict zero-logs policy. As a part of its encryption process, you are assigned a secret key. This key changes every 60 minutes, so even if your device is compromised, only an hour of data can be accessed.
Its military-grade encryption and DNS leak protection work together to keep your personal and location data private when file sharing. I ran several tests on different ExpressVPN servers to check that my IP address was secure — ExpressVPN passed them all!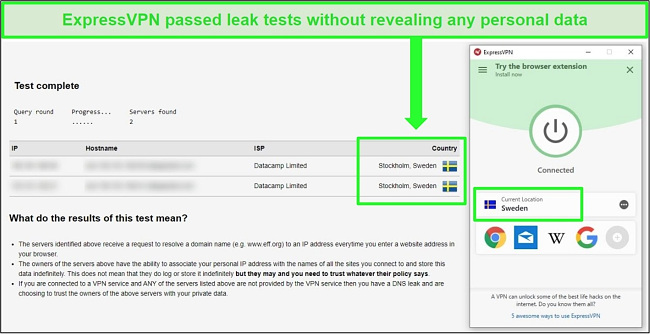 Every ExpressVPN server supports P2P file sharing, so staying secure is as easy as connecting to a server. With 3,000+ servers to choose from, you never have to worry that servers will be crowded or slow.
I used the Smart Location feature to connect to the best server near me. It chooses the optimal server for you by considering speed, latency, and distance. With one click, ExpressVPN automatically connected me to the fastest UK server. I was impressed to see that ExpressVPN actually improved my download speed of 55Mbps by 5Mbps.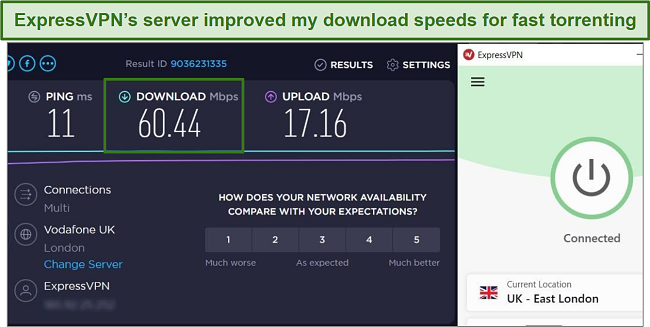 You can also select a server in a specific country using the server list feature. Unlike other VPNs, ExpressVPN even works in China.
Fast speeds and unlimited data mean you can securely download music and free software as well as stream, shop online, and browse the web. ExpressVPN supports up to 5 simultaneous device connections, so you can download torrents on one device and stream content on another!
Want to try the service before you commit? ExpressVPN offers a 30-day guarantee. You can try out the VPN service fully for 30 days and get your money back, no questions asked. I contacted customer support through the 24/7 live chat and got my full refund in 5 business days.
Try ExpressVPN risk-free today
How a VPN Works With Torrenting
A VPN changes your real IP address and encrypts your data with military-grade technology, masking your identity and download history to anyone trying to access it. This is because P2P file sharing allows other users on the network to see your IP address. Exposing your IP address puts you at risk of being monitored or even online attacks while torrenting. With unwanted third parties all trying to see your online activity, it's important to use a VPN and protect your anonymity while torrenting.
If you're facing technical issues (for example, if your company uses corporate firewalls), a VPN can even help give you access to torrent sites. The best VPNs will also have built-in blockers against ads and malware, which help you stay safe from dangerous downloads.
Note: The protection of a VPN doesn't give you license to commit illegal acts when torrenting.
Torrent anonymously with ExpressVPN
Common Torrenting FAQs
How does P2P file sharing work?
P2P (peer-to-peer) file sharing works by using a network of linked computers to store, upload, and download files. Rather than relying on a single server to store and distribute information, like a website, P2P stores files on every computer in the network. This creates a peer-to-peer computing network, as each computer becomes a server as well as a client.
When you want to torrent a file, all the network computers work together to upload the data to you. As you download the information, it's being uploaded at the same time (by you and other users in the network) for others to share. This makes torrenting a fast way to share files as the workload is distributed between all of the computers in the network.
P2P file sharing can be risky if you can't verify the torrent site as being reputable and safe. Some sites have torrents infected with malware that can compromise your data security. Make sure you only use trusted torrent software, reliable torrenting sites, and a quality VPN to safely share files with other users on the network.
What's the difference between BitTorrent and uTorrent?
BitTorrent and uTorrent are both torrent clients you can use to P2P file share. They're both owned by BitTorrent Incorporated and are considered "sibling products." With almost identical interfaces, you may think they're basically the same, but there are a few differences you should know about before you choose which one to use.
uTorrent is the smaller of the 2 clients, taking up less than 1MB of space on your device. BitTorrent is considerably bigger, at almost 3MB.
uTorrent is compatible with more operating systems — Windows, Mac, Android, and Linux. BitTorrent has no Linux compatibility.
uTorrent is updated more frequently and is in a constant state of development. BitTorrent only releases stable updates, making it more reliable.
Can I use a free VPN for torrenting?
Using a free VPN is not the best option for torrenting. There are some reliable free VPNs available but they are limited when it comes to P2P file sharing.
Reputable free VPNs have to make revenue. They do this by limiting your data allowance, download speeds, and server options to prioritize the service for paying users. Some free VPNs have strong encryption and security features, but restrict your data to 500MB or less per month. If you regularly engage in torrenting, you know that this small data allowance won't allow you to download much.
Not all free VPNs are so strict when it comes to security. To make money, free VPNs have been known to log and sell your data to third parties and advertisers. This compromises your data security and puts you at risk of being targeted by hackers and spies.
Not sure if you want to subscribe to a VPN for torrenting? ExpressVPN offers a 30-day money-back guarantee, so you can try it out for yourself completely risk-free. If you're not satisfied, you can always get a full refund.
Try ExpressVPN for torrenting!
Don't Risk Your Safety — Secure Your Torrents With ExpressVPN
P2P file sharing is one of the fastest ways to download files from the internet, but you need to take precautions to keep your data safe before you torrent. One of the best ways to do that is with a quality VPN. ExpressVPN's strong security features, fast speeds, and huge number of supported servers make it the safest choice for torrenting.
Want to try ExpressVPN before you subscribe? Test it out for yourself risk-free. If you don't feel it's right for you then you can request a full refund with the 30-day money-back guarantee if you're not satisfied with the service.
---
Summary: These Are The Best VPNs for Downloading Torrents in 2022
Top Choice