How to Get a South Korean IP Address in 2 Steps
Last Updated by Benjamin Walsh on July 01, 2020
As a hub for culture, entertainment, and history, South Korea is one of those places on earth that you absolutely must visit. Cities such as Seoul, Busan, and Incheon are rich in Korean History, but also highly advanced beyond many of the world's largest cities.
However, if you can't quite make it there yet or you call South Korea your home but are currently living or traveling outside of the country, you may have found that much of South Korea's online content is restricted. This is because governments and ISPs restrict access for those abroad which means you could be missing out on the latest and greatest South Korean TV shows and movies as well as websites you may need to visit for personal or financial information.
Luckily, you can overcome this barrier by simply using a VPN to get a South Korean IP address. Once you get a South Korean IP address, you'll be able to access South Korea's online content regardless of where you are in the world.
By following this straightforward two-step process, you'll have a South Korean IP address in no time at all:
Choose a VPN provider with servers in South Korea.
Connect to one of your VPN's dedicated South Korean servers and go.
In this article, we'll explain why you need a South Korean IP address, how to check your IP address, the advantages of using a VPN, and our top 3 VPN picks.
Quick Guide: 3 Top VPNs for Getting a South Korean IP Address
ExpressVPN – My top pick for a South Korean IP address as its DNS leak protection and Network Lock kill switch keep your true IP address hidden at all times.
NordVPN – 10 servers in South Korea and top-grade security features, but slightly slower speeds compared to ExpressVPN.
CyberGhost – 12 servers in South Korea and 7 simultaneous device connections, but doesn't work if you're connecting from China.
The 2 Main Advantages of having a South Korean IP Address
1. Access Geo-restricted Websites
As only "partly free" according to Freedom House, South Korea geo-restricts much of their online content, resulting in those abroad being unable to access certain websites. If you're outside of South Korea, you may have come across these restrictions when trying to log into your online banking account or other sites that contain sensitive, personal, and financial information. This is because banks, companies, and other websites implement these geo-restrictions in a bid to prevent hackers and other cybercriminals from stealing important data or implementing viruses and malware onto their systems.
If you want to bypass the geo-restrictions, all you need to do is connect to a South Korean server using your VPN, open a new webpage, and reload the website. When you've done this, you'll have full, uninterrupted access.
Watch and Stream South Korean Content Online
Getting a South Korean IP address will not only allow you to access personal, financial, and geo-restricted websites. It'll also give you the ability to watch and stream on sites such as DramaFever, AsianCrush, Netflix, Hulu and many more.
If you want to watch the latest, popular, and classic Korean movies and TV shows such as Boys Over Flowers, Coffee Prince, Train to Busan, and Oldboy, you will be able to do so with a South Korean IP address. Unfortunately, most of this content is only available to those in South Korea, which is why you need to use a VPN. If you want to see the best Korean dramas available to watch in South Korea, check out our article here.
How to Check to See If You Have a South Korean IP Address
When you've chosen your preferred VPN and found a South Korean server to connect to, you'll want to know whether it has actually worked or not. However, there's no way to tell whether it's changed or not unless you use a specific online tool.
Luckily, if you use the WizCase IP checker you can easily test this to see if your VPN has done its job. When you utilize this tool, you'll know your devices IP address and your "location".
If you've connected to your VPN's South Korean server and the IP checker shows that you're not in South Korea, then your VPN doesn't work. To fix this, try and connect to a different server and take the test again. If it still doesn't work, contact the VPNs support team for help or consider using a different VPN.
The Benefits of Using a VPN
Regardless of whether your security conscious or not, the most important feature of a VPN is its level of protection. Typical premium VPN providers offer an AES 256-bit level of encryption, which is about the best you can get. This level of security is used by many major corporations and the US military and has yet to be cracked by hackers. Many free VPNs on the market offer a less secure 128-bit encryption, which is still strong, but not on the level of a 256-bit encryption.
When you connect to your VPN, your internet traffic becomes encrypted, meaning only you and those who have the key can access it. This encryption stops hackers from intercepting your data, but if they do, they won't be able to read it.
Moreover, using a VPN gives you the ability to change your appeared location at will. By connecting to a server, your devices IP address will become the same as the server. As a result, websites are tricked into thinking you're actually in that country so you can watch and access different content from around the world.
VPNs can also include plenty of other important features too. A no-throttling policy allows your connection to be the fastest it can by stopping ISPs from limited your speeds. A no-logging policy means none of your data is stored by the VPN, maintaining your online anonymity. An automatic kill switch cuts your internet connection when you disconnect from the VPN, leaving no room for vulnerabilities.
These features are just a few in a long list of security, privacy, and performance benefits a good, premium VPN can offer.
Best VPNs to Choose for a South Korean IP Address
Below are three of our favorite premium VPNs. All offer high speeds, great security, and servers in South Korea.
Each of these VPNs requires a paid subscription, but have a money-back guarantee if you're not satisfied and want to cancel. Free VPNs such as TunnelBear and Hotspot Shield are an option, but they can have privacy and security flaws as well as speed and data caps. Therefore, we recommend using only a trusted, premium service like the ones listed below:

2 server locations in South Korea
Impeccable speeds and performance
AES 256-bit encryption
No throttling policy
ExpressVPN is by far the top rated VPN in South Korea, especially for its amazing speeds and performance, perfect for streaming from abroad. Connections have proven to be consistent and reliable throughout and you will have little to no issues connecting to a South Korean server. When you're browsing and streaming, it won't feel like you're using a VPN at all.
Additionally, when you're connected to an ExpressVPN server, you'll be protected by an AES 256-bit encryption which will protect your device from hackers, snoopers, other cybercriminals.
With their incredible speeds and a no throttling policy, you'll be able to browse and stream maximum internet speeds when connected. We can guarantee that you won't have to deal with any form of buffering or interruptions.
If you're not happy with ExpressVPN or just don't need it, there is a 30-day money-back guarantee you can use.
Get a South Korean IP address with ExpressVPN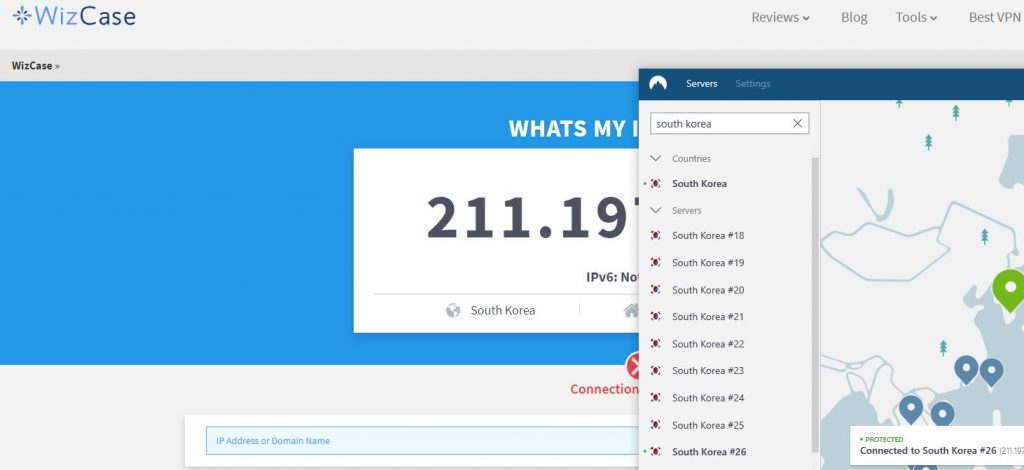 Unbeatable security
Smart Play technology
4,867 servers in 62 countries
10 servers in South Korea
NordVPN is famous in the cybersecurity world for its insurmountable security measures. Not only do you get the full protection of an AES 256-bit encryption, but you also have the option to double up and increase your security with another level of encryption. Imagine an impenetrable castle wall with another impenetrable castle wall in front of it.
If you're less into security and more into streaming, you can utilize their Smart Play technology which optimizes NordVPN servers for streaming. Be sure to do this when you're watching the newest Korean drama.
With the highest server count on this list, NordVPN has over 5,200 servers in 60 countries including 10 servers in South Korea. Regardless of whether you're looking to watch your favorite shows, movies, sports or even trying to access restricted sites, NordVPN has you covered.
There's also a 30-day money-back guarantee should you want to cancel your subscription.
Get a South Korean IP address with NordVPN
July 2020 Update: NordVPN has dropped prices for a limited time to a crazy $3.49 per month for the 2-year plan (you can save up to 70%)! This is a limited offer so be sure to grab it now before it's gone. See more information on this offer here.

12 servers in South Korea
Easy to use interface
Works with Netflix
Cheaper long-term plans
Last but not least we have CyberGhost. Its feature-packed service is not something that should be overlooked. Not only can you connect up to 7 devices on one account at the same time, but you have a plethora of security measures on top the AES 256-bit encryption on offer. Measures like their automatic kill switch and a zero log policy.
CyberGhost offers excellent performance and a high server count, with 12 servers in South Korea to choose from. It's easy to use, and simple to navigate too, great for those who aren't familiar with the intricacies of a VPN.
With CyberGhost, browsing safely and watching your favorite South Korean content is easier than ever.
Even with all these features, CyberGhost doesn't burn a hole in your pocket. Prices range from around $13 per month to $2.70 per month depending on the length of your subscription.
Get a South Korean IP address with CyberGhost
July 2020 Update: CyberGhost has dropped prices for a limited time to a crazy $2.75 per month + get an extra 2 months free with the 3-year plan! This is a limited offer so be sure to grab it now before it's gone. See more information on this offer here.
Regardless of which VPN you choose from this list, we can guarantee that you will be able to overcome any South Korean geo-restrictions and access all the sites you want
.