How to get a South African IP address In 2 Steps
Last Updated by Benjamin Walsh on May 13, 2019
If you long for adventure, wildlife, beaches, and immense culture, then South Africa is an absolute must see. The Kruger National Park safari is one that cannot be missed with the possibility of seeing all of the "big five" – Elephants, Rhinos, Leopards, Cape Buffalo, and Lions. However, if you can't quite make it there just yet, or it's your home and you're currently abroad, then don't worry. It's extremely easy to get a South African IP address allowing you to browse and watch online content from South Africa. It's the best you can get without actually being there.
Getting a South African IP address is simple if you use a VPN. Regardless of your geographical location, you'll be able to access content from South Africa by connecting to a dedicated VPN server in that country.
By following these two easy steps, you'll have a South African IP address in no time:
Choose a VPN provider with servers in South Africa.

Connect to a South African server and go.
In this article, we'll show you why you need a South African IP address, how to test if your IP address has changed, the benefits of using a VPN, and our top 3 VPN picks.
2 Advantages of having a South African IP Address
1. Access Geo-restricted Websites
Like many countries around the world, South Africa geo-restricts much of their content despite it being fairly free in regards to internet freedom. Whether you're living abroad or just traveling outside of South Africa, you may have come across these restrictions when attempting to access sensitive information such as your online bank account. The reason for this is that banks and other companies implement geo-restrictions to stop those out of the country from accessing their site. By doing this, they can prevent hackers and other cybercriminals from stealing sensitive data or implementing viruses and malware onto their systems.
To overcome this geo-restriction, all you need to do is connect to your VPNs South African server, open a new webpage, and revisit the site. Now, you'll have full, uninterrupted access.
2. Watch Your Favorite South African Online Content
When you get a South African IP address using a VPN, you'll gain the ability to access and stream on sites such as Showmax, Netflix, IROKOtv and many more popular streaming sites.
If you want to watch popular Nollywood movies such as The Wedding Party, King of Boys, A Trip To Jamaica, and more, you can do so on these accessible South African streaming sites like IROKOtv. Unfortunately, all of this content is only available to those in South Africa, which is why you need to use a VPN. Simply connect to one of your VPNs dedicated South African servers and watch all the content you want.
How to Test If You Have a South African IP Address
Once you have a VPN installed on your device and have found the server you want to connect to, you can't actually tell whether it has been successful in changing your IP address or not. Fortunately, there is a way you can check to see the location of your IP address.
To do this, all you need to do is use an IP leak tester, the best one is the WizCase IP checker. By using this, you'll know what your devices IP address is and where its located. If you connect to a South African server and the IP checker shows that you're in a country other than South Africa, then the VPN isn't doing its job. To troubleshoot this, try and connect to a different server and take the test again. If it still doesn't work, contact the VPNs support team for help.
The Benefits of Using a VPN
One of the most important features you get with a VPN is extra security. Choosing a premium VPN service will likely provide you with an AES 256-bit encryption, which is a level of protection that has not yet been cracked. An AES 256-bit encryption is used by many major corporations, the US military, and the NSA. If you decide to opt-in for a free VPN then you may only get an AES 128-bit encryption. A level that is still secure but not as good. When you're connected to a VPN, your internet traffic becomes encrypted, and as a result, only you and those with a key can access it. This means that to those who don't have access, the information is complete nonsense.
Additionally, a VPN allows you to change your appeared location at will. By connecting to a different server, your device will mimic the location of that server, tricking websites into thinking you're actually there. As a result, you can watch and access content from around the world.
VPNs can include plenty of other features too. A no-throttling policy allows your connection to be the fastest it can. A no-logging policy means that none of your data is stored by the VPN, maintaining your online anonymity. An automatic kill switch cuts your internet connection when you disconnect from the VPN, leaving no room for vulnerabilities.
These features are just a few in a long list of security and privacy benefits a good, premium VPN can offer.
3 Best VPNs to Get South African IP Address
Below are three of our favorite VPNs. All offer high speeds, great security, and servers in South Africa.
Each of these VPNs requires a paid subscription, but have a money-back guarantee should you want to cancel. Free VPNs such as TunnelBear are an option, but they typically have privacy and security flaws as well as speed and data caps. Therefore, we recommend using only a trusted, premium service.
1. ExpressVPN – Top rated VPN for South Africa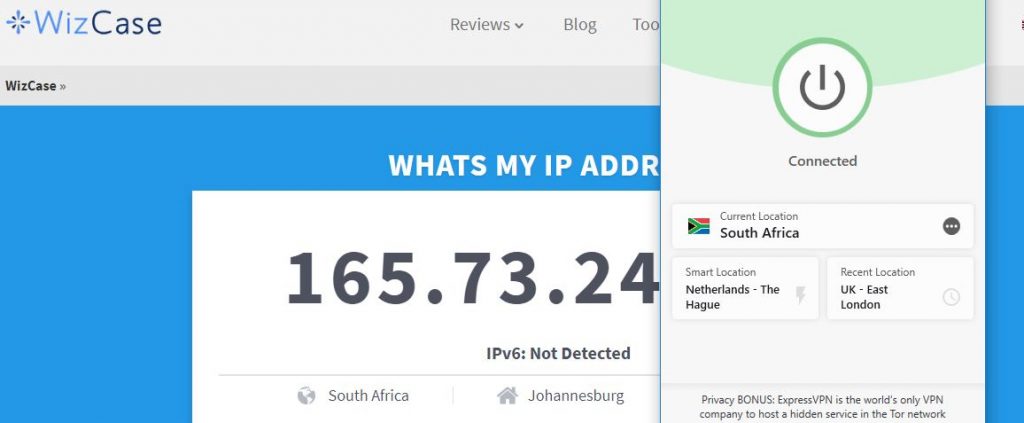 Amazing speeds and performance

Servers in South Africa

AES 256-bit encryption

No throttling policy
We've put ExpressVPN first because of its high speeds and amazing performance, especially in South Africa. Short and long distance connections have proven to be consistent and reliable. When you're browsing and streaming South African content, it won't feel like you're using a VPN at all.
When connected to ExpressVPN, you'll be protected by an AES 256-bit encryption which will secure you from hackers, snoopers, other cybercriminals.
Furthermore, ExpressVPN has a no throttling policy, meaning you get maximum internet speeds when connected. This is perfect for streaming online content as you won't have to deal with buffering or interruptions.
If you're not happy with ExpressVPN or just don't need it, there is a 30-day money-back guarantee you can use.
Get a South African IP address with ExpressVPN
2. NordVPN – 20 South African servers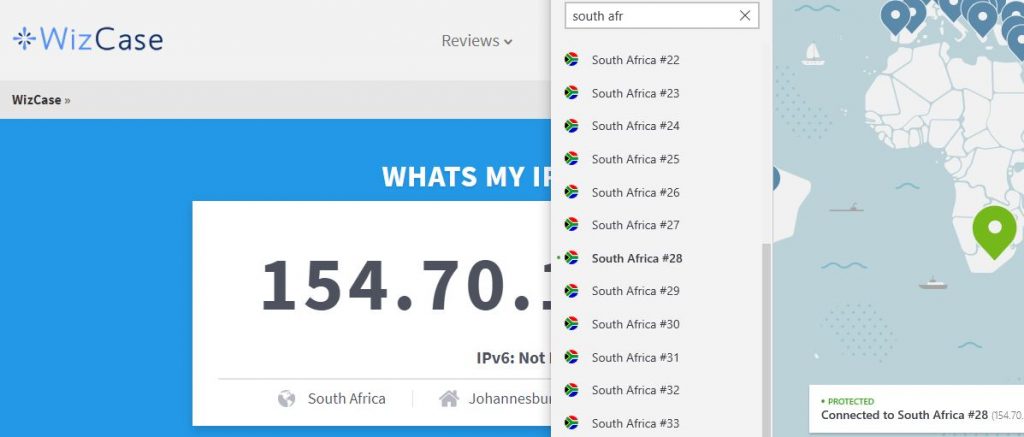 Unbeatable security

Smart Play technology

4,867 servers in 62 countries
NordVPN is renown in the cybersecurity world for its impressive security measures. With an AES 256-bit encryption, NordVPN implements the utmost level of protection. On top of this, you can double your level of security with an extra layer of protection.
If you're more into streaming and wanting online content, you can activate their Smart Play technology which optimizes NordVPN servers for streaming. Be sure to do this when you're watching the next big Nollywood movie.
With the highest server count on this list, NordVPN has almost 5,000 servers in just over 60 countries including 19 servers in South Africa. Regardless of whether you're looking to watch your favorite shows, movies, sports or even trying to access restricted sites, NordVPN has you covered.
There's also a 30-day money-back guarantee should you want to cancel your subscription.
Get a South African IP address with NordVPN
3. CyberGhost – 10 servers in South Africa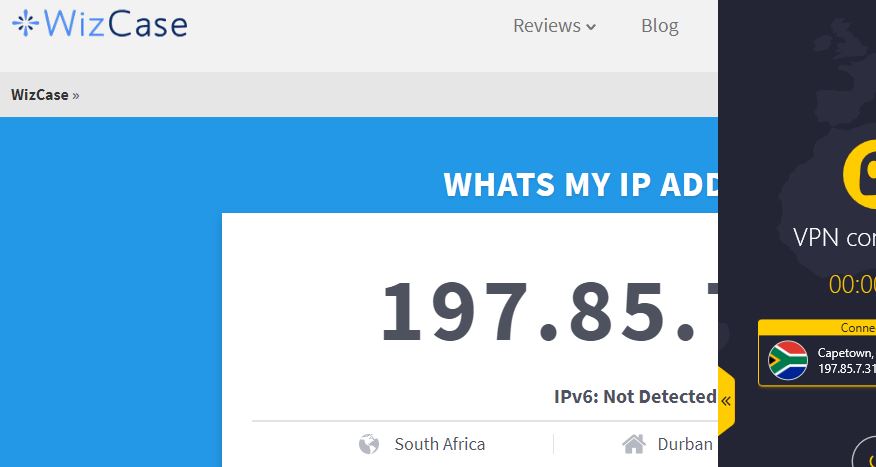 Easy to use

Works with Netflix

Cheaper long-term plans
We have chosen CyberGhost for our list due to its feature-packed service. Not only can you connect up to 7 devices on one account at the same time, but you have extra security measures on top of an AES 256-bit encryption with their automatic kill switch and a zero log policy.
CyberGhost offers excellent performance, a high server count, capability, it's easy to use, and simple to navigate. If you're not familiar with technology or how a VPN works, CyberGhost is for you.
As well as its usability, CyberGhost has dedicated servers in South Africa, so watching your favorite South African content will be a breeze.
Even with all these features, CyberGhost manages to stay rather cheap with prices ranging from around $13 per month to $2.70 per month.
Get a South African IP address with CyberGhost
Regardless of which VPN you choose from this list, we can guarantee that you will be able to overcome any South African geo-restrictions and access all the sites you desire.