How to Close HMA and Get a Refund – The Results Will Surprise You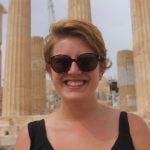 Last Updated by Sarah Barnes on October 07, 2019
If you're looking for
information on HMA VPN's refund policy
, this is the article for you.
If you haven't signed up yet but are looking to, don't forget to use our coupon to get a great discount.
HMA VPN is an excellent service with features fit for all users. Unfortunately, it's not for everyone. Maybe you found it didn't unblock US Netflix as consistently as you hoped or it may not have a server in a desired location.
In any case, HMA comes with a 30-day money back guarantee period. Better yet, getting your refund is extremely simple.
Open the live chat on the HMA website
Tell the agent you'd like a refund
Give them your account email address and order number
Wait for an email from the billing team
In this article, we're going to tell you more about HMA VPN and give you detailed instructions on how to cancel your subscription for a full refund.
About HMA
930+ global servers
Connections on five simultaneous devices
Compatible with Windows, Mac, iOS, Android
Compatible with routers
HMA is a VPN service with more than 280 locations worldwide, including the States, the UK, and various other countries. The VPN allows you to browse the web anonymously so that you can stay safe online.
The service is optimized for peer-to-peer (P2P) sharing and streaming shows online. Plus, with it, you can access the geo-restricted content on the likes of Netflix, among other streaming platforms.
HMA VPN comes with
military-grade encryption for all devices including routers
. Better yet,
you can protect up to five devices with just one account
.
Moreover, the VPN comes with unlimited bandwidth and 24/7 customer support and a 30-day money back guarantee.
Canceling Your Subscription and Requesting a Refund From HMA (The Easy Way!)
When it comes to getting a refund from HMA,
you have to make your request within 30 days of buying a subscription; otherwise
, you won't be eligible.
If you meet the above condition, canceling your HMA subscription is straightforward.
All you have to do log into your account and scroll down to the 'Your HMA! Licenses' section. Then, click on 'Cancel subscription.'

While this part of the process is simple, this doesn't automatically qualify you for a refund. With this in mind,
you're better off jumping on the live chat with the customer support team from the get-go
.
Here's a breakdown of how you can cancel your subscription and get a refund via live chat.
1

Open the Live Chat on the HMA Website
To start, you don't even need to log into your account. All you have to do is head over to the HMA website and click on the 'Help' button on the bottom right-hand side of your screen.
Once you've clicked on 'Help,' click on 'Live Chat.' An agent will join you shortly.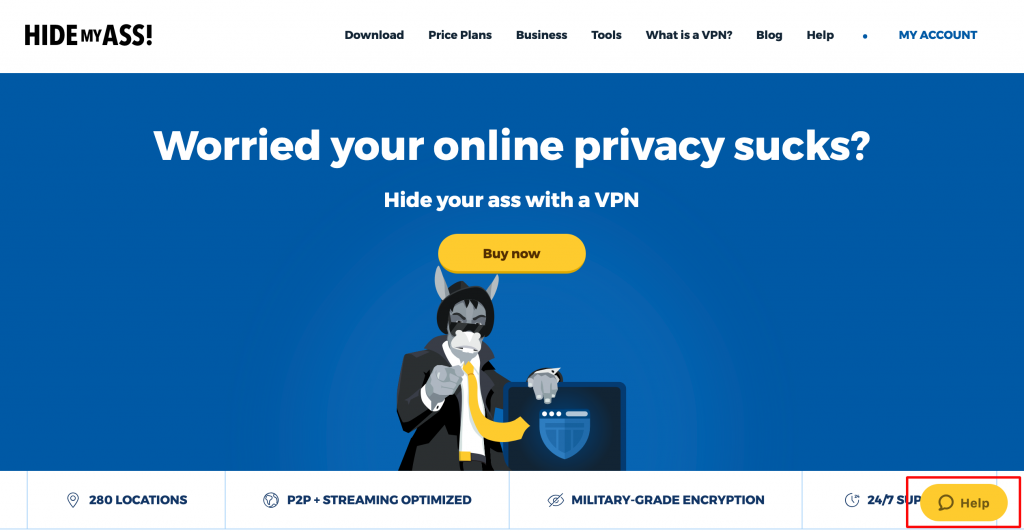 2

Tell the Agent You'd Like a Refund
Once an agent assigns themselves to your case, tell them that you'd like a refund on the subscription that you bought in the last 30 days. They will ask you why you'd like to cancel your subscription in the hope that they can fix the issue you're having with the service.
Here, you can give any excuse you like. We chose to say that we decided to go with a different service.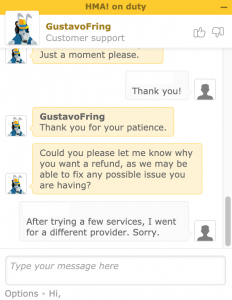 3

Provide Your Account Email Address and Order Number
Once you give the agent the reason for which you'd like to cancel your subscription and get a refund, they will ask you for your order number.
They'll also ask for the email address that you used to create the account.
4

Wait for an Email From the Billing Team
Assuming you've made the refund request within 30 days of buying your subscription, the agent will then forward your case onto the billing team. You'll receive an email with the script from the live chat conversation with your agent.
From there, you'll receive an email saying that HMA canceled your automatic subscription extension. This means that if you log into your account, you'll no longer have the option to cancel your subscription because the customer support team did it for you.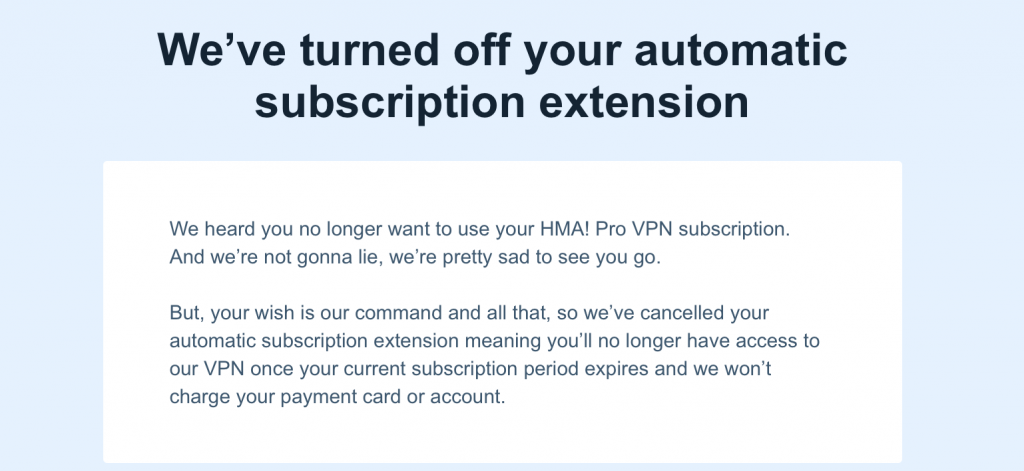 Following this,
you'll receive an email from a member of the billing team telling you that they are processing the refund
. Later, you'll receive another email notifying you that HMA approved your refund request and minutes later, the money should be back in your account.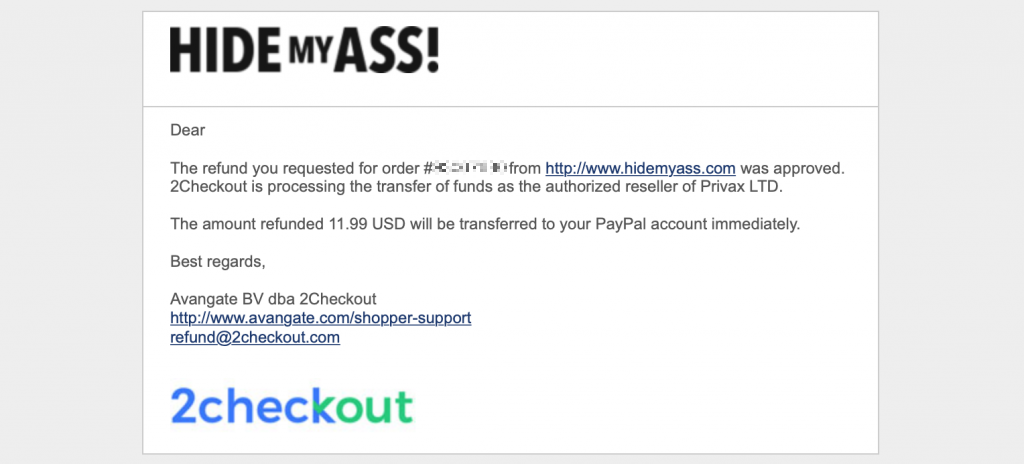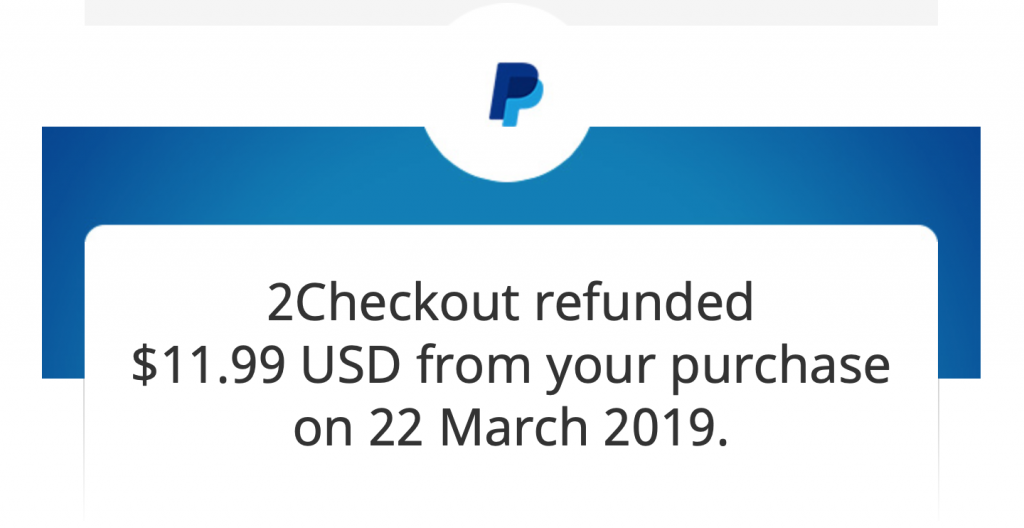 Deleting your HMA Account
Deleting your HMA account isn't as straightforward. After speaking to customer support and getting a refund, we realized that the account was still active.
Not only this,
we couldn't find any indication of how to delete it without having to go back to the customer support team
.
As a result, we jumped back on the live chat. They opened a ticket with another department. They then emailed us to confirm the deletion of the account.
How Long does it Take?
We were surprised to get a full refund within only 12 hours. The customer support team stuck to their promise, and within six hours, the billing team got in touch with us. Four hours later, they approved the refund, and the money was back in our account a moment later.
Unfortunately, HMA
make it very difficult to delete your account
. Unlike with other services, there was no 'Delete' button.
We had to go back to the customer support team and wait for yet another email.
Bottom Line
HMA is a fantastic service that allows you anonymously surf the web and bypass geo blocks.
But, it's not perfect for everyone. Aside from being slightly more expensive than other services in the industry, it also doesn't have the same wealth of servers.
If you still want to stay anonymous online and HMA isn't the service for you,
we recommend you check out NordVPN, ExpressVPN, or CyberGhost
.
All these services come with thousands of servers in different locations. They also allow P2P sharing, and you can access US Netflix. Plus, they come with the highest standard of encryption.
Rank
Provider name
Our score
Price
Top Choice

Top Choice

Top Choice