Best VPNs for Online Banking and Why You Need One in 2022
Last Updated by John Bennet on July 01, 2022
Don't make the same mistake I did — your bank's online security isn't enough to protect your accounts. Having worked in cybersecurity for 6+ years, I knew better than to rely only on passwords and two-factor identification to keep my finances safe. But, I got lazy and forgot to use extra precautions. That's how hackers intercepted my login and stole thousands of dollars from me!
The good news is a quality VPN can protect your online banking from hackers, malware, and more (even on public WiFi!). Just be careful when selecting a service — some tech blogs recommend shady providers that sell your information to cybercriminals!
To help you avoid dangerous services, I tested 20 providers to shortlist the best online banking VPNs. The options on this list offer top-tier security and huge global server networks to access banking platforms around the world. ExpressVPN is the #1 banking VPN for its military-grade security and you can even try it risk-free with its 30-day money-back guarantee.
Try ExpressVPN risk-free for 30 days
Quick Guide: Best VPNs for Safe Online Banking
Get a VPN. I recommend you use ExpressVPN as it protects your information with top-tier encryption and lets you access your account from anywhere. You can even try it risk-free for 30 days!
Connect to a server. Select a server in the country where your bank is located in order to bypass location-based restrictions.
Start online banking! That's it — you've now secured your passwords, accounts, and more with military-grade protection!
Secure your banking with ExpressVPN
4 Reasons You Should Use a VPN When Online Banking
You face numerous risks if you do your banking online — but a quality VPN protects you from them all. Using a top-tier banking VPN lets you:
Stop hackers from stealing your logins. Cybercriminals often use phishing scams and spyware to get your credentials. Some even create fake banking sites to trick you into sending them your account information.
Protect your mobile banking apps. Some applications can be hacked through encryption vulnerabilities or malware (especially on Android and Windows phones!).
Secure your banking on unsecured WiFi. Cybercriminals can infiltrate public WiFi networks to steal your banking information. They can also trick you into installing spyware on your device to access your accounts!
Bypass your bank's geo-restrictions. When your bank detects an attempted login from a foreign IP address, it may issue a fraud alert and freeze your account access.
In order to protect you, VPN software encrypts your data and masks your IP address. This prevents cybercriminals from intercepting your logins and keeps your banking safe no matter what network you connect to. Plus, hiding your real location lets you bypass your bank's geoblocks so you can access your account anywhere.
Try ExpressVPN risk-free for 30 days
2 Best VPNs for Online Banking in July 2022
Key Features:
3,000+ servers in 90+ countries, so you can bank safely from anywhere
Top-tier 256-bit encryption protects your private data on banking apps and sites
Compatible with the best ad blockers for extra protection against malware attacks
Zero-logs policy never records information about your banking activities
Support for up to 5 devices for secure banking on desktop, mobile, and tablets
ExpressVPN has 3,000+ servers in more countries than any other provider on this list to connect you to online banking anywhere. Combined with its IP-masking technology, this allows it to beat your bank's geo-restrictions and tough censorship. I was impressed that it even works in heavily-censored countries like China and the UAE! To me, nothing's more frustrating than losing access to my hard-earned money while abroad. But you won't have to worry about that with ExpressVPN — my bank never noticed I was abroad, so it never triggered a fraud alert or froze my account.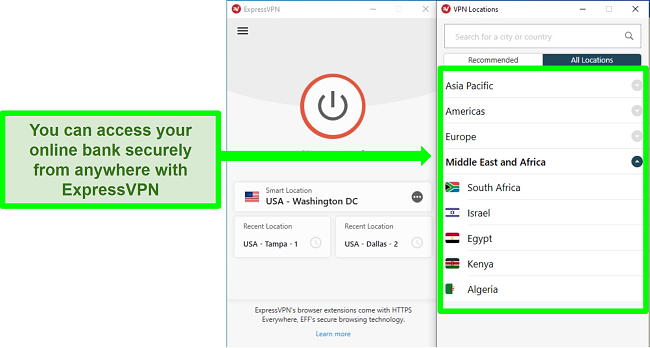 In addition to thousands of server options, ExpressVPN also uses state-of-the-art security to ensure your online banking data stays safe. Its 256-bit encryption is the same level of protection US intelligence uses, so I felt assured hackers wouldn't be able to decipher my logins. It also uses Perfect Forward Secrecy technology to reset your encryption password every 60 minutes. That means that if a hacker were somehow able to steal an encryption key, ExpressVPN would automatically re-scramble your data within the hour! With so many layers of protection, I felt safe accessing my mobile banking on any network.
Aside from top-tier encryption, ExpressVPN has a strict zero-logs policy meaning it doesn't store your private data. This means that cybercriminals, government spies, and others wouldn't be able to steal records about your banking activities or logins (since they don't exist!). Unlike other providers, ExpressVPN has proven it truly follows this policy. In 2019, it underwent a cybersecurity audit with PWC to verify its no-logs policy. It published the positive results of this testing afterwards, so I was reassured my banking would be 100% secure with ExpressVPN.
One slight drawback I discovered is that ExpressVPN is a bit pricier than other services. However, I didn't think this was a big deal as I found that this Express coupon gives you a 49% discount. Plus, longer subscriptions are more affordable.
If you're not ready to commit, I recommend you try ExpressVPN for free for 30 days with its money-back guarantee. After testing, I asked for my refund on the 24/7 live chat and the rep processed my request with no questions asked. The money was back in my bank account 5 days later. The process was extremely easy!
ExpressVPN works on: macOS, Windows, iOS, Android, Linux, Chromebook, Firefox, Chrome, and Raspberry Pi.
Protect your online banking with ExpressVPN
July 2022 Update! ExpressVPN has dropped prices for a limited time to a crazy $6.67 per month for the 1-year plan (you can save up to 49%) + 3 months free! This is a limited offer so be sure to grab it now before it's gone. See more information on this offer here.
Key Features:
6,000+ servers in 85+ countries to secure your connection for online banking
Advanced encryption hides your identity, IP address, and login info
Compatible with the top ad blockers to protect you from spyware
No logging policy keeps your banking activities private
Works on up to 7 devices to protect baking apps on desktop, mobile, and other device types
CyberGhost has a unique alert-enable-ignore system to protect you from the risks of banking on unprotected WiFi networks. Every time your device detects a WiFi network, you can set up CyberGhost to alert you, connect to a VPN server, or ignore the new network. That means you won't have to worry about your mobile device automatically connecting to unsafe WiFi and giving hackers a way to steal your information!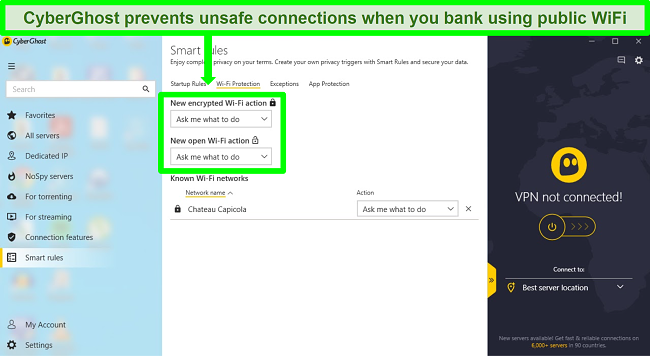 Aside from this unique security, CyberGhost protects your private information with top-tier encryption and an automatic killswitch. If you connect to unprotected WiFi at the airport or a public park, your data will look like a random string of numbers, letters, and symbols to anyone spying on you. Even if your connection gets interrupted because of a technical error, CyberGhost's killswitch stops the flow of data to ensure your private information stays hidden. With these protections, I wasn't worried about prying eyes stealing my account or card numbers!
CyberGhost also has the greatest number of servers of any VPN on this list to make sure you can bank online from almost anywhere. This variety of options gives you both fast speeds and safe connections to servers in 85+ countries! Despite this huge network, CyberGhost reports that it doesn't consistently work in heavily-censored countries (like Russia, China, and Turkey). Since I rarely travel to these regions, this wasn't an issue for me. But if you plan visiting one of these countries, CyberGhost might not be the best option for you.
I was pleasantly surprised that CyberGhost also protects up to 7 devices at once, which is more than any other VPN on this list. Since it has native apps for Windows, Mac, iOS, and Android, I had the freedom to do my online banking from any of my devices.
During testing, I was impressed that CyberGhost lets you try it for free for 45 days with its money-back guarantee — longer than any other provider I've tested! If you're not satisfied with its security features, you can take advantage of its refund policy. The customer service representative processed my request immediately and I had my money back in my account in 6 business days.
CyberGhost works on: macOS, Windows, iOS, Android, Linux, Chromebook, and Firefox.
Protect your online banking with CyberGhost
July 2022 Update! You can subscribe to CyberGhost for as low as $2.29 per month + get extra 3 months free with the 3-year plan (save up to 83%)! This is a limited offer so grab it now before it's gone. See more information on this offer here.
How to Choose a VPN for Online Banking
Don't be fooled by clever advertising — not all VPNs are secure enough to protect your online banking. I picked the services in this article according to this list of the most important security features to safeguard your private data. Before you try a service, make sure it has:
Tough encryption — The best VPNs use 256-bit encryption and OpenVPN or IKEv2 protocols. This level of encryption is nearly impossible to break, so your logins and account numbers will stay hidden to prying third parties.
Global server network — To access your home banking platforms, you'll need a VPN that has working servers in your country. This will allow you to bank even while abroad.
Advanced security features — Extra security features like malware blockers and public WiFi protection provide additional security for online and mobile banking.
Bonus: Additional Tips to Secure Your Online Banking
In addition to using a VPN, you can protect your online banking with some easy safety practices.
When you log on to your bank's website, verify that it starts with "HTTPS". Look for a lock icon on the left side of your address bar — if it's missing, you may be on a fake page set up by hackers to get your username, password, and security question answers. If you review your bank's security practices and find that it doesn't offer an encrypted HTTPS site, you may reconsider online banking with them!
Another good practice is to change your passwords often and use 2-factor authentication. Use unique, complex passwords for every account. Otherwise, if one of your logins is stolen and sold on the dark web, thieves can easily access all your accounts. Additional protections like 2-factor authentication also help safeguard your financial data.
Similarly, regularly monitor your accounts for suspicious activity. If you see a charge, password change, or login attempt you don't recognize, call your bank immediately. Most banks let you set up automatic notifications to help you stay vigilant.
Also try to be wary of phishing scams and don't give away account details, logins, or ID numbers. Scammers often use official-looking emails, fake login pages, or even phony apps to intercept this information. They can then steal from you or commit financial fraud under your name! If you're unsure about a communication you received, call your bank directly. Updating your antivirus and device software can also help you block these cyberattacks.
Finally, keep your devices safe. If a thief steals your phone or laptop, a complex pin or facial recognition lock can prevent them from opening your mobile banking apps. Also make it a habit to log out of your accounts when you finish using them and disable settings that remember passwords. These barriers give you precious time to notify your bank if your device is stolen!
Protect your online banking with ExpressVPN
FAQs: VPNs and Banking
How does a VPN actually keep your banking information safe?
The VPNs on this list protect your banking data with military-grade encryption and IP-masking technology. First, encryption scrambles your data into a random string of letters, numbers, and symbols so hackers can't decode your logins or account numbers. Next, your VPN reroutes your connection through a secure server to hide your real location. This lets you bypass your bank's geo-restrictions so you can access your accounts while abroad!
Together, these security measures let you safely access your online or mobile banking from anywhere. To test the best banking VPN yourself, I recommend you try ExpressVPN for 30 days with its money-back guarantee. If you're not satisfied, you can easily get your refund.
Can I use a free VPN while online banking?
There are a few good free VPNs, but I wouldn't recommend them for something as sensitive as online banking because of safety and performance issues. Even if you can save a few dollars with a free service, it's not worth risking your life savings! But if you need to safely access your accounts without spending any money, I have a temporary solution for you.
Most free VPNs are dangerous — they usually make money through ad revenue or by selling your data. Some providers display malicious ads every time you try to load a page. Others install trackers or malware on your devices that make you vulnerable to hackers. Worse yet, some intentionally log your private information and auction it off to the highest bidder!
Safer free VPNs are trials of paid services. Unfortunately, most of these providers are too slow to complete transactions on mobile or online banking. When I tested free services for this article, my connection almost always timed out before I was able to complete transfers or review transactions.
Even though there are plenty of safety and performance issues associated with free services, I understand the temptation to use them. Afterall, it doesn't seem fair that you should have to pay for a VPN to safely access your own money! The good news is that the top VPNs on this list offer money-back guarantees. That means you can try the best banking VPN risk-free for 30 days and easily get a refund before the month is over.
Try ExpressVPN risk-free for 30 days
Do VPNs keep me safe on banking apps?
Yes — the best online banking VPNs on this list are compatible with iOS, Android, and other devices and they protect you on banking and money transfer apps. The mobile and tablet versions of these VPNs give you the same military-grade encryption and advanced security features as the desktop versions. This keeps your banking data secure regardless of which device you use.
If you decide to try one of the recommended providers in this article, just make sure to download the service directly from the vendor website. When you install a VPN from an app store, some security features like malware blockers don't work as well because of ad policies.
I recommend you take advantage of ExpressVPN's 30-day money-back guarantee to try it risk-free. If you're not happy with it, simply ask for a refund before the end of the month.
Keep Your Bank Accounts Secure With a VPN
To prevent hackers from accessing your online banking, you need a VPN to encrypt your data. However, only the best VPNs can actually keep your banking safe. ExpressVPN is the best service for its advanced security and reliable network of servers around the globe. You can even try it risk-free for 30 days and easily get your money back if you don't like it.
Try ExpressVPN risk-free for 30 days
---
Summary: These Are The Best VPNs for Online Banking in 2022
Top Choice