RealPlayer is a digital media player that can play most video and audio formats, but it's so much more than that. With RealPlayer, you can find web videos, convert large video files to a compressed HD format, create music playlists, and even download online videos. For more information on these features, read the overview below.
How to Download RealPlayer for Free
Click on the Download button on the sidebar to go directly to the RealPlayer site.
Click the Download RealPlayer for Free button and the file will immediately download to your computer.

Once the download is complete, click on the file to open the installation program.
You will have to accept the Terms of Service and Privacy by checking the little box and then click Next.
The installation will begin. It shouldn't take more than 2 minutes to complete.
When it's done, click on Start RealPlayer and the program will open.
How to Uninstall RealPlayer
If you're not happy with RealPlayer you can remove it in a few easy steps. Check out my list of free media player alternatives below.
Type Add or Remove Programs in the Window search bar.

Scroll down the list of installed programs and find RealPlayer and click Uninstall.

Choose which components you want to delete and then click OK.

Once the uninstallation is complete, a browser window will open with a survey asking why you deleted the program. If you don't want to answer these questions, just exit the browser tab.
RealPlayer Overview
The core feature of RealPlayer is to play audio and video files. It does a great job working with most known formats and codecs and can play videos in HD.
I liked that when I first opened the RealPlayer, it offered to organize all my media files in the RealPlayer library. It added all video, audio, and image files and organized them by date, name, or folder.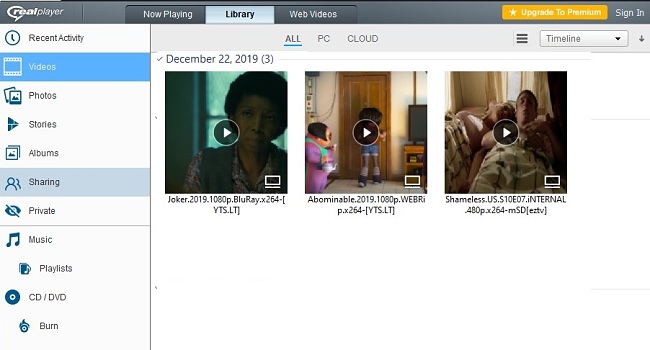 RealPlayer Features
As I mentioned at the beginning of the article, playing media files is just the beginning of what RealPlayer can handle.
Web Videos: When you first open RealPlayer you'll see a selection of web-based videos that you can watch.
Create Playlists: In addition to adding all your music files to its library, RealPlayer allows you to create multiple playlists.
Burn CDs and DVDs: While it may not be as popular as it used to be, you can preserve your videos, songs, and pictures by burning them to a CD/DVD.
Download Videos: This feature works on most video sites, and allows you to download the video file to your computer. You'll notice a box on the top of your browser, hover your mouse over this box, and it will open a dialog box. It will show you which videos are on the page and can be downloaded. The video will be downloaded as an MP4 and stored locally on your computer.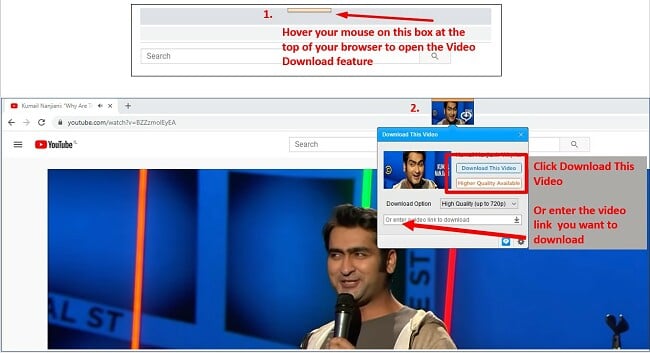 Convert files to alternate formats: RealPlayer comes with a built-in format converter. By default, it will convert files to RealMedia HD, but you can also choose from a list of available formats. To convert the files click on the Convert to RealMedia HD button to get started.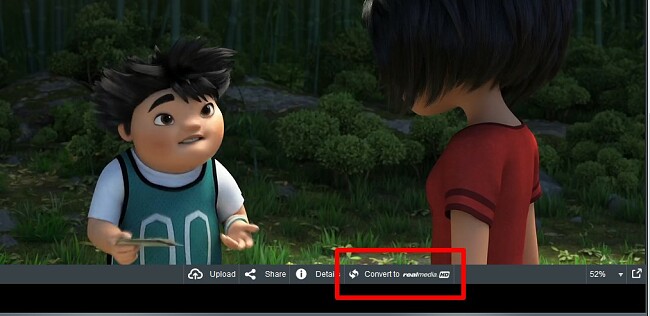 This will compress the file, in the example below, I took a 1.5 GB and after the conversion, it was 995MB, a saving of 36%.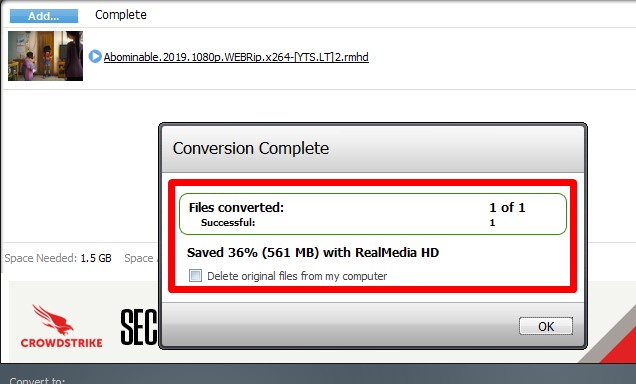 Free Alternatives to RealPlayer
RealPlayer is an excellent media player, however, unless you pay a subscription fee you will have to deal with banner ads all over the player. If you prefer an ad-free experience, check out the alternatives below.
VLC: It might not have as many features as RealPlayer, but the open-source VLC player is one of the best options for watching videos. There isn't a format or codec that it can't play and the subtitle feature makes it possible to watch just about any movie or TV show.
GOM Player: This media player has some advanced features such as a 360-degree VR video view and a subtitle and Codec search functionality help separate it from the other free players available for download.
FAQ
🤑Is RealPlayer free?
All of the features listed above are included in the free version of RealPlayer. There are several premium options that remove the ads and add some additional features such as cloud storage, higher-quality streaming, making videos private, plays DVDs, and more.
😇Is RealPlayer safe to download?
It depends. Many websites post dangerous download links with viruses, spyware, malware, or ransomware. As long as you download an official version of RealPlayer, through the button below, you won't have to worry.
😎Can RealPlayer convert video to formats other than RealMedia HD?
Yes. Videos can be converted to:
🤓Can RealPlayer convert audio files?
Yes. RealPlayer can convert an audio file to the following formats:
AAC
MP3
RealAudio10
RealAudio Lossless
WAV
WMA
🤩Can I download videos from YouTube, Netflix, Facebook, etc with RealPlayer?
RealPlayer has a unique feature that allows you to download videos from other websites. I had no trouble downloading videos from YouTube as you can see in the feature section above. I had some more difficulty downloading from Facebook. When I ran a search for videos while on my timeline, I saw a message saying that there were no videos to download on this page. However, when I clicked on the video and left the general timeline, I was able to download the video with no issues.
I was unable to download a show or movie on Netflix. While it said that the show was downloading, when I went to play the file, it was only the show or movie trailer. I tried downloading several different shows but always ended up with the same result.
Visit RealPlayer Website