5 Best VPNs for Chromecast with Fastest Streaming 2020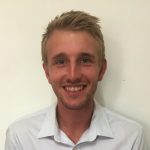 Last Updated by Benjamin Walsh on October 01, 2020
Want to know how to use a Virtual Private Network (VPN) with Chromecast? Read on to find out more.
Google's famous TV casting device, the Chromecast, allows you to wirelessly stream content from a device to your TV over Wi-Fi. This simple little gadget is amazing for catching up on the latest shows or to watch your favorite movies without the mess of connecting to your TV through HDMI.
However, like with any device that is connected to Wi-Fi, your Chromecast can be vulnerable to attacks from hackers and other cybercriminals. Therefore, to stay protected, you should use a VPN to secure your connection while you watch all the best content safely and anonymously.
Unfortunately, Google Chromecast doesn't have a built-in VPN or VPN functionality. So in order to utilize its full potential, there are a few ways in which you can use a VPN with your Chromecast.
In this article, we'll show you how as well as the best VPNs on the market.
Use A Pre-Installed VPN Router or a Virtual Router
VPN Router
One simple solution to allow you to use a VPN on your Chromecast is to connect your device to a router with a VPN already installed on the router. This method is great for not only protecting your Chromecast but also bypassing geo-restrictions put in place by your government or ISP.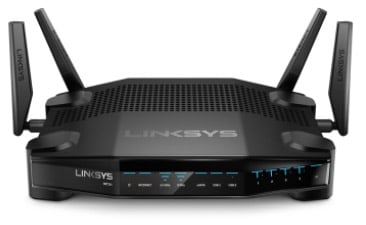 For example, if you want to
watch American TV
, simply connect to your VPN provider's US server and start casting. If the VPN is already installed onto the router, all you need to do is follow the normal procedure to
connect your Chromecast to the Wi-Fi and watch away
.
Setting up a VPN on your router is no simple task, so if you're unsure about what to do, simply contact your VPNs customer service, state your routers make and model number and they will be able to help you with the process.
Virtual Router
Using your device to set up a virtual router or hotspot can quickly overcome your VPN Chromecast issue. Once you've set up your device as a virtual router, simply connect to one of your VPN's dedicated servers and then begin casting.
Through this method, your device will basically become its own router, thus directing any traffic through your VPN protected device. Not only will you be protected and anonymous, but you will also be able to bypass tricky geo-restrictions and appear to be in any country you choose.
You can find a guide on how to set up a virtual router here.
Cast the Tab Instead of the Video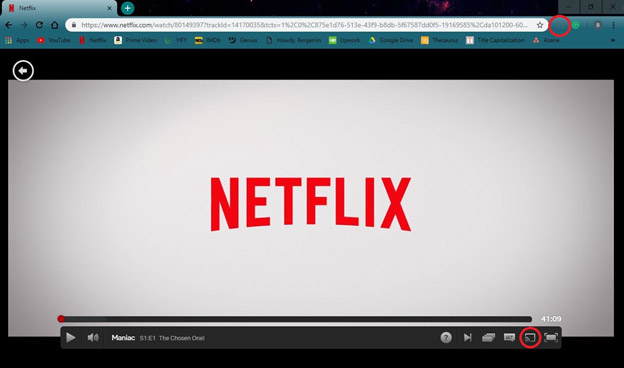 Another way you can use a VPN on your Chromecast is by taking a slightly different approach to your usual Chromecast routine. When you go to cast a TV show or movie on any platform or streaming site, simply
click to cast at the top of your browser instead of on the video player
(see image above).
Through this method, you are essentially casting your browser instead of the video, and your browser is connected to the VPN. Now, both your device and Chromecast is secured using your VPN.
Our Top 5 VPNs for Chromecast
When choosing a VPN to cast and stream your favorite content on your TV, you need to look at ones that have a strong connection and fast speeds, so you won't experience any interruptions or buffering while you cast.
Additionally, the VPN must be able to connect to a router. To ensure high security, reliable speeds, and privacy, you need a premium VPN service. Luckily, we've picked out the top 5, to make your search easier.
Here are our top 5 recommended VPNs for Chromecast.

Router compatible
High server count
Unlimited bandwidth
Regarded as one of the best VPNs on the market, ExpressVPN is the full package. First of all, it can be installed on a router so your Chromecast and all other devices on the network are protected.
Furthermore, it has possibly the fastest speeds out there, showing consistent and reliable performance over long and short distances, as well as unlimited bandwidth so you won't need to worry about running out of data.
Finally, ExpressVPN can bypass geo-restrictions and access content from all over the globe with its over 2,000 servers in 94 countries.
Router Compatible
Smart Play technology
Works with US Netflix and BBC iPlayer
With it's Smart Play technology, NordVPN is optimized for streaming making it an extremely fast VPN. So when you're watching your favorite content through your Chromecast, you will not only be secure, but it will also feel like you're not using a VPN at all.
Combined with their 5,113 servers in 62 countries, you can watch all the latest shows and movies, even on Netflix and BBC iPlayer.
Unblocks restricted content
AES 256-bit encryption
5 simultaneous device connections
Providing you with both a reliable and secure connection, you can watch content through your Chromecast and stay guarded at the same time. With second-to-none security, you're protected by an AES 256-bit encryption used by the US military.
If you choose the method of casting the tab instead of installing CyberGhost VPN on your router, then you can secure your device as well as 4 other devices on the same network simultaneously.
Strong OpenVPN encryption
Router compatible
Great customer support
PrivateVPN is one of the best, yet cost-effective VPNs available. Additionally, speed and security aren't sacrificed for the lower price tag.
You can either connect PrivateVPN to the router or use one of its 6 simultaneous device connections to cast your chrome tab through your PC or laptop. Luckily, if you encounter any issues with your VPN, PrivateVPN offers great and friendly customer support that can be accessed 24/7.
High speeds
Unlimited bandwidth
Zero logs policy
Utilizing IPVanish VPN's strong, reliable connection and high speeds means you can stream your favorite content through your Chromecast easily and with little interruption.
Unlike other VPNs, IPVanish offers unlimited bandwidth with your service so you won't run out of data when you're five seasons into your favorite show and just about to reach the finale.
If you're also concerned with your online privacy and don't like governments and ISPs watching your every move, you're in luck as IPVanish has a zero logs policy, which means they won't store any data that is collected over the network.
Final Thought
No matter which VPN you decide to choose, you can be sure that every option on this list is proven to be reliable, safe, and will provide you with the best streaming experience possible for your Chromecast.
Ensure you take the correct steps to properly set up your VPN on Chromecast and you'll be casting safe and secure in no time.