5 Best Mozilla Firefox VPN Extensions in 2022 (+ Free Options)
Last Updated by Mariah Shanice Basa on July 01, 2022
Mozilla Firefox is one the best browsers for data protection. However, Firefox doesn't encrypt my network or disguise my IP address. My IP address can be seen by my internet service provider or government surveillance agencies can track what I do on the internet.
I found out that the solution is to use a Virtual Private Network (VPN) that has a Mozilla Firefox extension. A VPN disguises your real location and encrypts your internet traffic to protect your anonymity online. There's a lot of VPNs to choose from, but not all of them feature an official Firefox extension.
I tested around 27 VPNs with Mozilla Firefox add-ons. After multiple rounds of testing, ExpressVPN rose to the top of the list — it worked seamlessly with Firefox and effectively protected data against leaks. You can try ExpressVPN in confidence as it's covered by a 30-day money-back guarantee. If it's not for you, you can easily claim a refund.
Quick Guide: Best VPNs for Mozilla Firefox in 2022
Browse Firefox with ExpressVPN
The Best VPNs for Mozilla Firefox (Tested July 2022)
Key Features:
3000 high-speed server options in 94 countries unblocks more websites while on Firefox
WebRTC blocking and killswitch feature prevents Firefox browsing data leaks
Protects 5 devices simultaneously — not just Firefox
24/7 live chat and email customer support available
30-day money back guarantee allows you to test all of its features, risk-free
In terms of internet security and anonymity, ExpressVPN is definitely the top choice. ExpressVPN prevents WebRTC leaks (when your actual IP address is revealed in spite of you using a VPN), and it does so effectively. I ran leak tests on various ExpressVPN servers and I never—not even once—experienced a WebRTC leak. ExpressVPN's WebRTC blocking feature is accessible directly from the Firefox plug-in.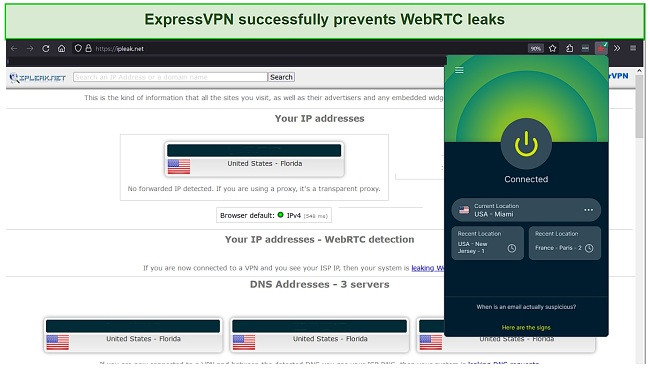 Depending on how far you are from the server you're trying to connect to, data might have to travel farther. That's why some VPNs do tend to slow down your connection speeds. I conducted speed tests on various ExpressVPN servers, and I never experienced any slowdowns. I have never experienced buffering while streaming.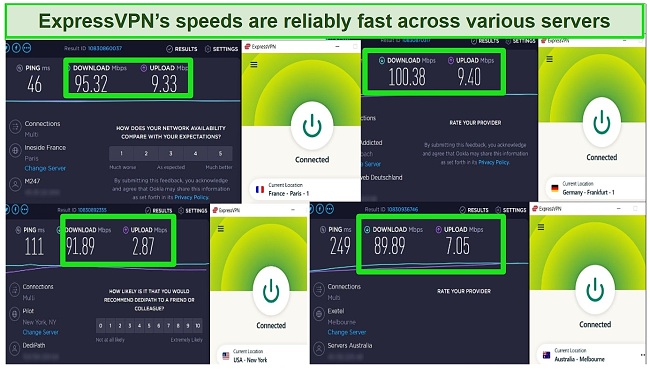 Coming back to security, ExpressVPN employs a military-grade AES-256 encryption standard to protect your internet traffic from prying eyes. ExpressVPN's clear no-logs policy adds another layer of anonymity on top of that: they do not keep logs of your online activities. These security and privacy features really put my mind at ease.
The ExpressVPN plug-in is also really easy to install. I just had to search for the official add-on on the Firefox site, and click "Add to Firefox." After it was installed, I was pleasantly surprised at how similar the Window's interface was to the app. ExpressVPN is one of the best VPNs for Windows, so I wasn't surprised that its app was also just as good. I was able to access all of ExpressVPN's settings through the add-on.
ExpressVPN is a bit pricier than other premium VPNs in the market, but it's covered by a 30-day money-back guarantee. This gives you enough time to try ExpressVPN out, and test all of its features. If you realize that it's not for you, you can claim a refund. I tested how reliable their customer support is by requesting a refund via live chat. My request was approved in less than 10 minutes, and the money was back in my account in a week.
ExpressVPN unblocks: Netflix, Amazon Prime Video, Disney+, Hulu, BBC iPlayer, Sling TV, HBO, Showtime, UKTV, DAZN, ESPN+, and more.
ExpressVPN works on: Firefox, Windows, Android, macOS, iOS, Linux, routers, Chrome, Kindle, PlayStation, Xbox, Nintendo Switch, Apple TV, Amazon Fire TV, and Smart TVs.
July 2022 Update! ExpressVPN has dropped prices for a limited time to a crazy $6.67 per month for the 1-year plan (you can save up to 49%) + 3 months free! This is a limited offer so be sure to grab it now before it's gone. See more information on this offer here.
Key Features:
7900 servers in 91 countries provides more location options when accessing websites on Firefox
AES 256-bit encryption ensures full protection of your personal data while on Firefox
7 device connections protects all your household devices
24/7 multilingual customer support available
45-day money-back guarantee means that you can test it in confidence; if you're not satisfied, you can request a refund
CyberGhost is another great VPN with a Firefox plug-in. CyberGhost's advanced, 256-bit military-grade encryption protects your internet traffic from third parties. Governments all over the world utilize this encryption mechanism to protect classified data.
During my testing, I saw that CyberGhost features 3 different VPN protocols: OpenVPN, IKEv2, and WireGuard. OpenVPN is the top choice when it comes to security, and IKEv2 will give you lightning-fast connections when connecting to nearby servers. WireGuard is the user-friendly option, a close second to OpenVPN in terms of security.
Testing showed consistently fast connection speeds while connected to CyberGhost servers. I was able to stream shows without experiencing buffering or slowdowns. During testing, my speeds reached up to around 95Mbps, which is pretty close to my normal speeds of around 100 to 102Mbps. It's fast enough to browse online with no lags, and stream videos with no buffering.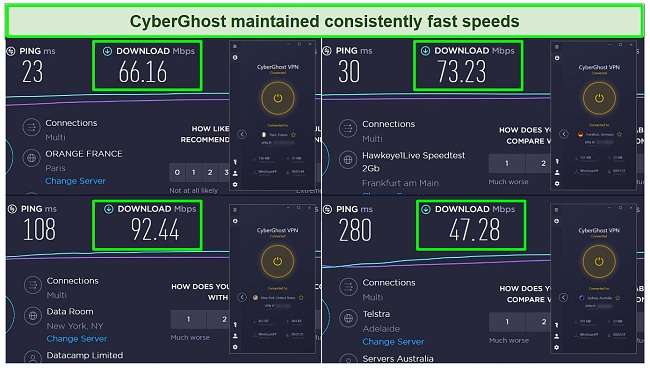 It's important to note that CyberGhost keeps some user data such as email addresses, payment information, and cookie preferences. This data cannot be linked to users' online activities, but it's still important to keep that in mind.
CyberGhost's VPN extension ensures a secure, bufferless browsing experience on Firefox. However, what I like most about this VPN is that it's backed by a generous 45-day money-back guarantee. Try out CyberGhost, check out all of its features, and decide if it's the right VPN for you. If you decide that it's not, you're eligible for a refund. Requesting a refund via live chat took a few seconds, and I got the money in my account after a few minutes.
CyberGhost unblocks: Netflix, Disney+, BBC iPlayer, HBO Max, YouTube TV, ESPN, and more.
CyberGhost works on: Firefox, Windows, Android, macOS, iOS, Linux, routers, Chrome, Safari, PlayStation, Xbox, Nintendo Switch, Apple TV, Amazon Fire TV, and Smart TVs.
July 2022 Update! You can subscribe to CyberGhost for as low as $2.29 per month + get extra 3 months free with the 3-year plan (save up to 83%)! This is a limited offer so grab it now before it's gone. See more information on this offer here.
Key Features:
Large selection of 35000 servers in 80 countries when browsing Firefox provides a lot of options when browsing, and prevents overcrowding
Built-in ad, tracker, and malware blocker provides an extra layer of protection while you're browsing on Firefox
Generous 10 device connections protects all of your household devices under one subscription
Live chat and email support available, 24/7
Covered by a 30-day money-back guarantee so you can try it with Firefox, worry-free
Private Internet Access (PIA)'s unique ad, tracker, and malware blocker (also known as MACE) is the best at protecting users from malicious content. It's a setting that I was able to easily activate on my PIA Firefox extension. MACE blocks ads at the domain name system (DNS) level, AKA the most basic level: at the point where a computer connects to websites. It prevented ads and trackers from even loading on my browser.
I tested PIA's connection speeds multiple times and confirmed PIA's speeds are fast across various servers. Some servers slowed my connections down a bit, but never to a crawl. The slowest I've experienced was around 23Mbps (my default is around 100Mbps), when I was connected to a server that was quite far from my actual location. It was still fast enough to watch videos without buffering.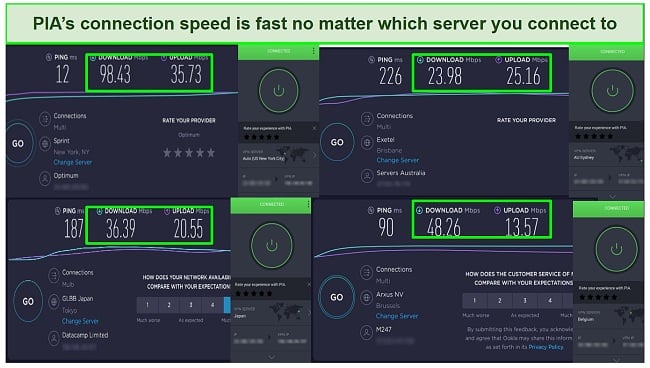 PIA allows 10 devices to connect simultaneously — more than enough to protect all of your devices, or to share all its benefits with your entire household. Aside from Firefox, PIA is also one of the best VPNs for Windows. It's also available on Mac OS, Android, iOS, and even on Linux. It's definitely versatile, and it's one of the reasons why I like it.
PIA is based in the United States, a member of the Five-Eyes alliance, an intelligence deal between five countries. Member states spy on one another's citizens, and then share the data with each other. However, PIA stands by its commitment to keeping no logs — they've even testified to it in a court of law — by releasing transparency reports.
PIA's 30-day money-back guarantee gives you ample time to try it with Firefox. If you're not satisfied with the features, you can easily request a refund. I tested PIA's live chat support, and I was pleasantly surprised at how quickly I was connected to an agent. My refund was processed in a few minutes, and the money was back in my account in less than a week.
PIA unblocks: Disney+, Amazon Prime Video, HBO Max, YouTube TV, and more.
PIA works on: Windows, Android, macOS, iOS, Linux, routers, Kindle, Chrome, Firefox, PlayStation, Xbox, Apple TV, Amazon Fire TV, and Smart TVs.
Key Features:
2000 server options in 75 server locations gives you various options to unblock platforms while on Firefox
QUIC blocking prevents potential security issues caused by uninspected traffic
One subscription allows for 10 simultaneous device connections so you can protect all of your devices
24/7 customer support via live chat, email, and ticket
30-day money back guarantee gives you enough time to test it in confidence
Aside from WebRTC leak blocking, Hide.me also features a QUIC blocking feature. QUIC is a technology created by Google to facilitate website efficiency. This technology can get past firewalls, and could allow the download of malware through QUIC-enabled websites. It's quite advanced, so the fact that Hide.me can block it makes this VPN worthy of a spot on this list.
Speed tests showed that Hide.me offers really fast speeds across most servers. The speeds are good enough to facilitate bufferless streaming. However, speeds were a bit slow, especially the upload speeds. Watching videos and browsing the internet was generally OK, but at its worst, I got a 1Mbps upload speed which made Zoom calls a bit glitchy.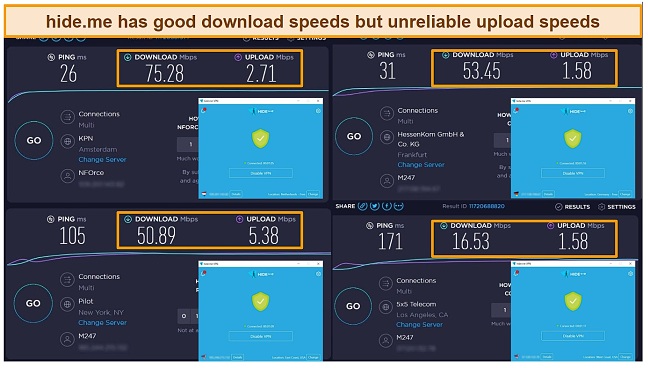 On top of that, Hide.me also has a straightforward no-logs policy. Hide.me does not log personal data to avoid liability. This has been audited and verified by security analysts.
Hide.me offers a free plan, but it comes with a data cap and limited number of servers to choose from. Its premium plan is one of the most expensive VPNs in the market today, but you can save money by purchasing a long-term plan.
Hide.me's QUIC blocking feature is a good security feature, and the speeds are good enough for streaming and browsing. Try these features out for yourself: Hide.me is backed by a 30-day money-back guarantee. If you decide that it's not for you, you can request a refund via email. I requested a refund via email, and I got the money back in my account in a week.
Hide.me unblocks: Netflix, Hulu, HBO Now, Amazon Prime, Playstation Vue, DAZN, and more.
Hide.me works on: Firefox, Windows, macOS, Linux, Android, iOS, Blackberry, WindowsPhone, Nintendo, PlayStation, XBox, Amazon Fire TV, AppleTV, Chromecast, and Roku.
Key Features:
No servers in 49 countries all over the globe provides a wide variety of server options to use with Firefox
Lightweight VPN functions separately from the VPN app, and protects only Firefox traffic as needed
5 simultaneous device connections protects all of your household devices
Reliable customer support via ticket and email
No money-back guarantee, but there's a limited, free version
If you're looking for an easy-to-install Firefox VPN extension that doesn't take up a lot of RAM, you should check out TunnelBear. TunnelBear offers a free plan with a 500MB data cap. You won't be able to stream, and you can forget about gaming, but it can protect you from some time if all you do is browse.
I ran speed tests on multiple TunnelBear servers, and found out that TunnelBear's speeds are a bit inconsistent. However, I was still able to stream videos and music without any issues, regardless of the server that I was connected to. The worst upload speed that I got was around 7Mbps, which was still good enough for video conference calls.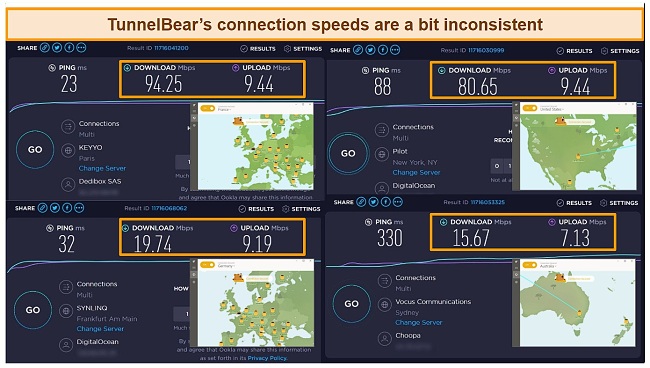 TunnelBear has a straightforward no-logs policy: they don't collect data, and if they do, they will inform their customers. However, TunnelBear is headquartered in the US and is required by US law to comply with government data requests. TunnelBear states that all they can provide to law enforcement is a confirmation that a user account exists, nothing else.
Independent, third-party security audits attest to TunnelBear's quality of service. The results of these audits are published on TunnelBear's website. This goes to show that the provider is committed to proving that they're committed to maintaining users' privacy through their infrastructure, apps, and website.
Unlike other VPNs, Tunnelbear doesn't have a reliable money-back guarantee. You can try to request for a refund, but it's subject to evaluation. There's no guarantee that you're going to get your money back. They do offer a free service, so you can try the features that way, and proceed with the purchase if you decide that you need more data allowance.
Tunnelbear unblocks: Netflix, Hulu
Tunnelbear works on: Chrome, Firefox, Windows, macOS, and Android iOS.
Comparison Table: 2022's Best VPNs for Mozilla Firefox
Servers
VPN or Proxy
Free plans
No-Logs Policy
Tracker

Blocker

Ad-blocker
WebRTC Blocker
Money-back Guarantee (days)
ExpressVPN
3000

VPN

✘

✔

✘

✘

✔

30
CyberGhost
7900

VPN

✘

✔

✔

✔

✘

45
PIA
35000

Proxy

✘

✔

✔

✔

✘

30
Hide.me VPN
2000

Proxy

✔

✔

✘

✘

✔

30
TunnelBear
No Server

VPN

✔

✔

✘

✔

✘

No Money Back Guarantee
Download ExpressVPN for Firefox
How I Tested and Ranked the Best VPNs for Mozilla Firefox
While there are a lot of good VPNs on the market today, my first priority was to find VPNs that had native Mozilla Firefox VPN extensions. I tested around 20 of them against the following criteria. I then ranked the top ones according to how well they performed.
Consistently fast speeds and a large number of servers – I tested every VPN's performance by running speed tests on multiple servers. I also took server numbers into account (more servers means less overcrowding and better performance speeds.)
Advanced security features – The best VPNs employ military-grade data encryption mechanisms and feature reliable WebRTC data leak prevention systems.
Clear no-logs policy – I examined every VPN provider's Privacy Policies. I ranked VPNs based on how straightforward and strict their no-logs policies are.
Unblocking capabilities – The more streaming platforms and websites a VPN can unblock, the better. The best VPNs have the capability to bypass the most stringent geoblocks.
Money-back guarantee – It's important to be able to test the features and performance of every VPN before purchasing any long-term plans. I also tested how easy it was to request a refund.
Customer support – Customer support is another important criteria. The ranking took into account how quickly the customer support team responds to a query via live chat or email.
How To Install A VPN On Firefox (Add-ons)
Installing a VPN extension on Firefox is extremely easy and shouldn't take longer than a few minutes.
Access addons.mozilla.org from your Firefox browser. Make sure you're accessing it with Firefox. If you haven't downloaded Firefox yet, do so now.
Search for your chosen VPN's official add-on. Either search the VPN's website or visit addons.mozilla.org to search for the add-on directly. I recommend ExpressVPN — it has an official Firefox add-on and you can test its features risk-free.
Download the official add-on. Click the "Add to Firefox" button. Once it's installed, connect to a server.
Congratulations, your Mozilla Firefox browser is now protected by a VPN.
FAQs About Mozilla Firefox VPN Extensions
What Are The Pros Of Using A VPN Extension On Firefox?
Just like a VPN app, an extension protects your data as you browse the internet, especially when connected to public WiFi. A VPN extension is also quite easy to set-up. Once it's installed, a Mozilla VPN extension allows you to easily access your VPN, so you can connect/disconnect, change servers, and adjust other settings directly from your Firefox window.
Keep in mind that not all browser extensions are secure. Be especially careful with individual plug-ins that are unaffiliated with established VPN providers. These extensions do not have the security features and no-log guarantees that a reputable provider has. Installing one of these plug-ins puts you at risk of surveillance, data theft, and malware infection. To prevent this, make sure you're downloading an extension from an established VPN provider.
Another advantage to using a Firefox VPN extension is unblocking geoblocked sites. With a good VPN, you'll be able to access Netflix's US library, as well as other geoblocked streaming platforms worldwide.
Should you use a VPN extension or a full VPN?
A full VPN is always better, but a VPN extension is still better than no VPN at all. VPN extensions (also known as proxy servers) are lightweight, and provide browser-level protection and are usually included with the top VPNs on the market. These extensions have the capability to disguise your location by changing your IP address. For more comprehensive protection, nothing beats a VPN with a native Firefox extension, just like the VPNs that I recommended above.
In most cases, all a VPN extension does is allow you to access your VPN's settings directly from your browser. Your VPN extension will have all of the features that your VPN has, so it's very important to choose a good VPN from the get-go.
Don't forget: independent extensions (also known as proxy servers) from insecure sources might even put you at risk of data theft or malware injections. Make sure that you're downloading extensions from a legitimate source, or choosing a secure, high-quality VPN that has a clear-no logs policy.
What are WebRTC leaks?
WebRTC (Web Real-Time Communication) is a technology that helps enable video chat, P2P, and voice communication within the browser. Devices utilizing the technology must know each other's IP addresses, which is a major privacy issue. A good VPN has sophisticated security features that can prevent WebRTC leaks.
If this has been too much of a hassle though, you can disable WebRTC in Firefox, all you have to do is follow these steps:
Open up your Firefox browser and enter "about:config". Entering this term in the address bar will bring up a warning screen about altering advanced settings. To continue, all you need to do is press "I accept the risk!"
After accepting, enter "media.peerconnection.endabled" in the address bar. This will bring you to a page and show you the status of the WebRTC. Under the 'Value' column you'll see "true" which means the WebRTC is enabled. Double-click the column to change it to 'false' and disable WebRTC
Your WebRTC is disabled. Although it can be risky to disable it, you'll still be able to go to dnsleaktest.com to make sure your IP address hasn't been leaked
There's an option to turn off WebRTC on Firefox, but this might result in errors when accessing some sites, so the easiest option is to go for a VPN that prevents WebRTC leaks.
Are there Firefox VPN extensions for Android devices?
No, but you can choose a VPN that has a native Android app. All of the VPNs that I recommended in this article have an app for Android. A VPN app on your device will ensure that all your online activities on the devices are protected — not just your browsing data.
Does Mozilla Firefox have a built-in VPN and should I use it?
No, Mozilla VPN exists, but it's not a built-in VPN for Firefox. It's a paid VPN service (same as the recommended VPNs on this list) from the makers of the browser. It has around 400+ servers in 30+ countries. However, at the time of writing, it's only available to users in select locations including (but not limited to):
United States
Germany
Ireland
Switzerland
Belgium
Canada
France
Singapore
The Mozilla Firefox VPN is good in terms of speeds, but it has very limited features. It only works on Windows 10, Android, and iOS, and only manages to unblock a couple of geo-blocked sites. It also doesn't have a built-in ad and tracker blocker.
How do I use the Firefox built-in VPN?
There is no built-in VPN extension for Firefox. However, downloading and installing a high-quality VPN extension is quick and easy. Once the VPN is installed, the extension is really easy to use: all you have to do is click the VPN icon on the top right corner of your browser, and click connect.
Choosing the right VPN for your needs is actually the trickier part. Luckily, VPNs such as ExpressVPN have a 30-day money-back guarantee, so you can test it yourself. If you aren't completely satisfied, you can request a refund.
Is it safe to use a VPN add-on on Firefox?
Yes. A VPN is easy to set up on Firefox, just make sure you download the add-on from a legitimate source. Most VPN providers have a link to the extension on their website. For example, you can download the Mozilla Firefox VPN extension directly from ExpressVPN's site. A secure, legitimate VPN add-on will actually help improve your Firefox browser's security.
Should you use a free VPN for Firefox?
You can, but I don't recommend it. A free VPN will never be able to protect you or give as many features as any on the top-tier recommended VPN list here. You've probably encountered promotions for free VPNs, and there are some excellent free services out there. However, there are certain disadvantages to getting a free VPN.
Free VPNs are not as secure as premium VPNs. Some free VPNs have been reported to collect and sell your data to third-party advertisers and government agencies. In the worst case, the nice, free VPN that you downloaded could infect your computer with malware, and pass your data along to hackers and cybercriminals.
Performance-wise, free VPNs are limited in terms of connection speeds and data allowance. Free VPNs will either give you a small data allowance and/or will only give you a few server options. Since they don't have the budget to consistently acquire new servers, these VPNs are also not very effective when it comes to bypassing geoblocks.
A premium VPN will protect your data and give you access to geo-blocked websites, and it will do so without slowing your connection down. ExpressVPN is an overall top choice, but CyberGhost gives you more time — an amazing 45-days — to test its features risk-free. I recommend you try CyberGhost, and if you decide that it's not for you, you're eligible for a refund.
Try CyberGhost risk-free for Firefox
Choosing A VPN That Works Best For You And Firefox
Mozilla Firefox is one of the best options when it comes to a more secure browser. However, choosing a VPN extension for Firefox can be a bit tricky, since not all VPNs have a native Firefox plug-in. On top of that, finding a good VPN is another challenge.
After testing a long list of VPNs, I can say that ExpressVPN's extension works the best with Firefox. ExpressVPN is easy to install and use. Its no-logs policy and encryption mechanisms ensure your complete privacy online. I really recommend that you test it yourself — it's risk-free, since it's covered by a 30-day money-back guarantee.
---
Summary — Best VPNs for Mozilla Firefox in 2022