How to Watch Food Network Live From Anywhere in 2022
Last Updated by Caroline Webster on November 02, 2022
I get frustrated when I'm out of the country and can't watch Food Network. I already pay for a TV subscription with this channel, so I should be able to watch it, even if I'm not home. Unfortunately, due to licensing restrictions, if you try to watch the Food Network outside of one of its broadcasting locations, you'll be faced with error messages.
I tried several different ways to fix this and found a Virtual Private Network (VPN) is the one solution that always works. It's an app that masks the location of your IP address so you can watch your favorite Food Network shows while traveling abroad.
Unfortunately, not all VPNs are equal, and they can't all unblock Food Network. I tested over 30 different VPNs, and only a few actually gave me access to Food Network. Of those, I found ExpressVPN was the most reliable. It consistently unblocked Food Network for me–and I was impressed by its lightning-fast speeds, too. You can try ExpressVPN for yourself, too, completely risk-free, as it's backed by a no-questions-asked 30-day money-back guarantee.
Quick Guide: How to Watch Food Network From Anywhere in 3 Easy Steps
Get a VPN. I suggest ExpressVPN to watch Food Network if you're away from home. It's one of the fastest VPNs available, so you will be able to watch Guy's Grocery Games with top picture quality. You can test out ExpressVPN risk-free for yourself, and if you're not satisfied, they have a 30-day money-back guarantee.
Connect to a server in the US. I tested 20+ servers in the US, and they all let me watch my shows. Go to the Food Network website and sign in with your cable or streaming service provider details. You can watch some older shows for free.
Start watching Food Network.
Watch Food Network with ExpressVPN
How a VPN Helps You Watch Food Network From Anywhere
Food Network is only available in the US. If you're outside of the US and you try to watch Food Network, you'll see the following error message:
We're sorry, This site is not available in your region.
When you connect to the internet, websites can see your location via your IP address – which is how streaming services like Food Network can block access to their content. With a VPN, you can connect to a server in the US – this masks your IP address, so it looks like you're in the US, and you'll be able to watch Food Network shows without issues.
So now you can get a VPN and start streaming. Not so fast. Streaming services have gotten smarter. They can detect when you're using a VPN, so not every VPN will unlock Food Network. Only a premium VPN can reliably escape detection.
Note: Just using a VPN doesn't go against Food Network's Terms of Service. But be careful because changing your location with a VPN might. Make sure you check for yourself beforehand.
Watch Food Network risk-free with ExpressVPN
The Best VPNs to Watch Food Network in November 2022
Key Features:
3000 servers in 94 countries, including over 20 servers in the US to access Food Network
Connect 5 devices at one time – you can watch Cutthroat Kitchen and surf on another device
Optimized servers for high-speed connections
A strict no-logs policy with military-grade security
30-day money-back guarantee
ExpressVPN's best quality is its blazing-fast speed that means a high-quality stream. When I tested ExpressVPN, I watched No Reservations in UltraHD on my laptop, and 4K on my smart TV, and every connection was at least 60 Mbps. I'm happy to say each server I checked had speeds that were consistently fast and reliable. When I switched to the Lightway protocol, it was even faster. That meant I could watch my shows on Food Network with no interruptions or lags.
I tested 20+ US servers, and they all had steady download speeds. The great thing about ExpressVPN is that all you have to do is click on a country, and they will pick the server with the highest speed for you. Because they have plenty of servers, there's no overcrowding. If you want to watch an entire season of Barefoot Contessa, go right ahead. With this VPN, there's unlimited bandwidth. I liked that every server was reliable, and I could binge-watch my shows without having to worry if I'd get disturbed.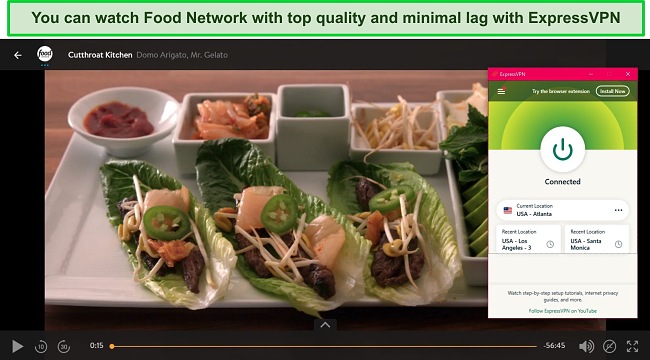 Test out ExpressVPN for yourself risk-free. If you don't feel it's right for you, you can get a full refund in the 30-day money-back guarantee period. I tried it for myself and was surprised to find the agent didn't ask any questions or try to pressure me to keep my subscription. She was friendly and professional and resolved my request in a matter of minutes. I had the total sum back in my account in five days.
ExpressVPN works with: Windows, Android, macOS, iOS, Linux, routers, Chrome, Kindle, Firefox, PlayStation, Xbox, Nintendo Switch, Apple TV, Amazon Fire TV, and Smart TVs.
ExpressVPN unblocks: Netflix, Disney+, Hulu, Amazon Prime Video, BBC iPlayer, HBO Max, YouTube TV, ESPN, and more.
Watch Food Network with ExpressVPN
Get ExpressVPN's Black Friday Deal! ExpressVPN has dropped prices for a limited time to a crazy $6.67 per month for the 1-year plan (you can save up to 49%) + 3 months free! This is a limited offer so be sure to grab it now before it's gone. See more information on this offer here.
Key Features:
8200 servers with 10+ servers in the US to watch Food Network.
Connect 7 devices and have your own watch party
24/7 live chat support if you happen to need assistance
Optimized streaming servers to watch Food Network with minimal buffering
45-day money-back guarantee so you can try CyberGhost risk-free
When trying out CyberGhost, I noticed that it was super-easy to set up and start watching Food Network. You won't have to do any configuration; just install the program and connect to a server. This is a fantastic VPN for you, and you want no muss and no fuss if you're a beginner. You can watch Iron Chef America in minutes and see the chairman choose an iron chef for the new competitor in Kitchen Stadium.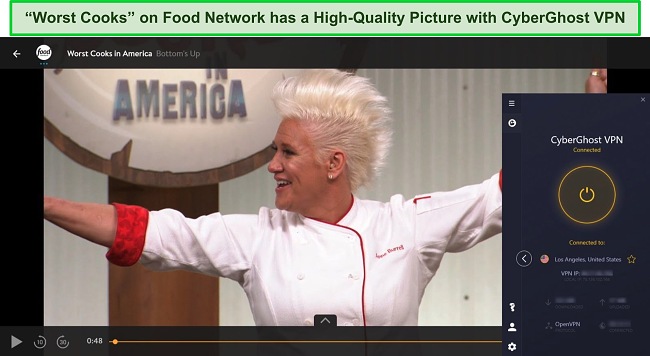 One thing I like about CyberGhost is its extensive network of dedicated streaming servers. If you need to get around geoblocks and not hit a VPN block, they've got you covered. Their servers are reliable, so you get a great connection and low traffic. Their servers are optimized, and you can choose the one that best suits your needs.
Security and privacy are some of my concerns, and this VPN takes care of them. CyberGhost has military-grade security, so you know you're safe from hackers and trackers. I was impressed to see that they have a strict no-logs policy. What you do on the VPN is never recorded, and your IP address is masked the whole time you're on. The app also has a kill switch, so if your VPN connection drops, your internet connection stops.
The one minor thing someone might not like about CyberGhost is that the interface on the desktop can be a bit clunky sometimes. But for most applications, it's okay, and if you're a beginner, you're not going to be getting too deep in it. Most of the time, you'll just connect and go to Food Network.
Want to see if CyberGhost works for you? Check it out for free with its 45-day money-back guarantee. It's an excellent value for the price and allows you to connect up to seven devices. You can watch Food Network with your family and friends on different devices.
CyberGhost works with: Windows, Android, macOS, iOS, Linux, routers, Chrome, Firefox, Safari, PlayStation, Xbox, Nintendo Switch, Apple TV, Amazon Fire TV, and Smart TVs.
CyberGhost also unblocks: Netflix, Disney+, BBC iPlayer, HBO Max, YouTube TV, ESPN, and more.
Watch Food Network with CyberGhost
Get CyberGhost's Black Friday Deal! You can subscribe to CyberGhost for as low as $2.03 per month + get extra 4 months free with the 2-year plan (save up to 84%)! This is a limited offer so grab it now before it's gone. See more information on this offer here.
Key Features:
35000 servers in 84 countries so you can stream your shows
Most affordable VPN with 2-year subscription to save you cash while you watch
Can connect 10 devices simultaneously so you can watch Food Network while the family browses and watches their shows
30-day money-back guarantee so you can try it out risk-free.
I like PIA because it has the most servers to watch Food Network and all my streaming shows. When I checked it out, I found more than 15 US servers to watch Food Network and other American shows on for hours. If you want good speeds, I clocked them at 45 Mbps and above every time, and those servers were always stable.
PIA has this great "Detect Best Server" feature that I love. With just one click, this VPN puts you on the fastest, most optimal server for your connection, so you'll have minimal lags and pixelation. When I tried it, Guy's Grocery Games came through clear and with no buffering, even though my base connection was not optimal at the time.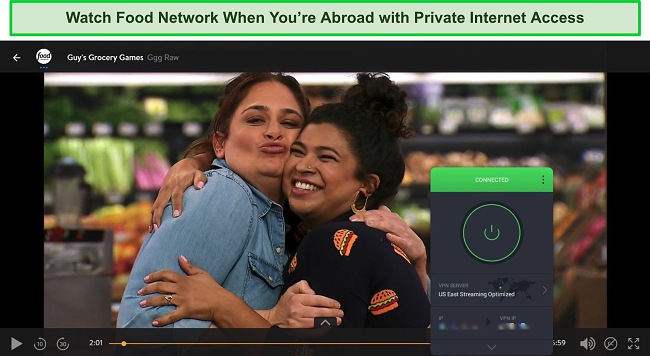 If you want a VPN that keeps more money in your pocket, PIA costs less. With its 83-off discount, it was a good deal. It'll help you save money for the recipes you're going to try. I liked all the functionality I got for the price. With PIA, I was able to save a buck and still watch my shows.
The thing I didn't like was that PIA occasionally has slow customer response times when you're trying to reach support. You get what you pay for, and I suppose you can't have everything. But they do answer your questions and make sure they address your issue.
Want to check it out too? As a new user, you can try out Private Internet Access with their 30-day money-back guarantee. I was glad to have the time to try out the VPN to get a chance to understand their customizable settings. After 23 days, I canceled my subscription, and they refunded the entire amount to my bank account.
PIA works with: Windows, Android, macOS, iOS, Linux, routers, Kindle, Chrome, Firefox, PlayStation, Xbox, Apple TV, Amazon Fire TV, and Smart TVs.
PIA also unblocks: Netflix, Disney+, Amazon Prime Video, HBO Max, YouTube TV, and more.
Best Streaming Services to Watch Food Network Without Cable
I checked out several streaming services that had Food Network. They had a range of features and prices. Watching Food Network on a streaming service is easy, and they have other great channels available.
Stream Food Network with ExpressVPN today
How to Sign Up With Hulu + Live TV and Watch Food Network
You can sign up for Hulu using a gift card or a credit card. Remember that you need to sign up before you travel because signing up for Hulu abroad, even using a VPN, could breach its terms and conditions.
Gift Card Method
Get a VPN. I recommend ExpressVPN for Hulu because it's fast. Connect to a US server. Hulu is restricted outside of the US.
Purchase a Hulu gift card from MyGiftCardSupply. You'll have to create a MyGiftCardSupply account if you don't have one already.
Redeem your gift card. Create a Hulu account and go to the Hulu redeem gift card page. Enter your gift code in the box. Click "Redeem." Enter a valid US zip code in the following box. I used an Atlanta zip code, 30008.
Sign up for Hulu + Live TV.
Enjoy watching Food Network.
Credit Card Method
Download a VPN. I use ExpressVPN for Hulu because their servers always unblock Food Network and connect to a US server. Hulu is restricted outside of the US.
Visit the Hulu website. Click the "Start Your Free Trial" button. On the next page, choose the option for Hulu + Live TV.
Create an account and set up your billing information. On the Billing Information page, enter your credit card number, expiration date, CVC number (the three-digit number on the back of your card), and your zip code. Click "Submit."
Enjoy watching Food Network.
Watch Food Network without lags with ExpressVPN
How to Watch Food Network on Different Devices
There are multiple ways to watch Food Network on Hulu online, as VPNs work on a variety of devices, including Apple TV, iOS, Android, Mac, and Windows PC. If you're just starting out and not sure how this works, here are some easy installation guides.
FAQs on Watching Food Network With a VPN
Do I have to pay to watch Food Network?
No. You don't have to pay anything over your regular subscription to watch Food Network while you are away from the country. You are going to need a subscription to a VPN, however. I recommend ExpressVPN because of its reliability, but you can look at it and others here. After connecting to a VPN, you can use a US server to access the streaming service you have a subscription to and watch your shows.
Can I watch Food Network on Amazon Prime Video?
Yes. You can watch Food Network live on Amazon Prime, though you have to stream individual shows. You must subscribe to Discovery+, and you're going to need a VPN subscription too. Choose one of the best VPNs for streaming Amazon Prime and use it to connect to a US server to stream Food Network shows on Amazon Prime with a Discovery+ subscription.
Can I download the Food Network App for free?
Yes. It is free to download the app itself but to use the app, you must have a subscription to a live TV service. Before it starts, it will ask you which TV provider you have. Food Network may not have your provider listed, but you can fill out a form and let them know the provider needs to be added.
On the app are Food Network shows from long ago spanning all the way to last night. Click on one, and you can watch from your device.
What shows are available on Food Network?
They have entertaining programs, like Guy's Grocery Games, where chefs compete. They make a randomly selected style of food like a noodle dish with a challenging twist. The Best Thing I Ever Ate is a show where celebrity chefs talk about incredible meals they've had at restaurants. The restaurants show us how they're made.
Chopped is a program where chefs compete to make stunning meals for celebrity judges with unique ingredients chosen before the show. Diners, Drive-In's, and Dives is a classic Food Network show where Guy Fieri rides from city to city, sampling local cuisine at iconic restaurants.
Buddy vs. Duff features two chefs and their teams who compete against each other to make amazing, gigantic cakes with incredible detail. Finally, Valerie's Home Cooking has Valerie Bertinelli and her guests at her home, where she cooks her own recipes for them.
Remember to connect to a US server while you're using a VPN like ExpressVPN before you watch.
What else can a VPN do besides helping me access Food Network?
You can safely watch American Netflix with a VPN. Just connect to a US server and go. I recommend ExpressVPN. Watch your shows on Netflix while you're out of the country on your subscription and enjoy!
Safely torrenting your public domain files is a breeze! Connect to a server and your torrent downloader and files come down quickly. Your privacy is protected from malware, hackers, and trackers. My team and I don't condone illegal torrenting. Please check your local laws on downloading copyrighted files before you download without permission.
Premium VPNs like ExpressVPN reliably unblock HBO Max, so if you have a subscription, you can watch your programs and relax while you're away from home. Watch the latest movies in Ultra HD!
A VPN will unblock Amazon Prime Video. Use your membership and watch your movies and shows just like you're at home. Amazon's original content is a few clicks away with a quality VPN.
Can I watch Food Network with a free VPN?
I don't suggest using a free VPN. I can claim this because I tested the popular free VPNs and found most of them to be unreliable at best. Very few free VPNs unblock the streaming services you need to watch Food Network like YouTubeTV, SlingTV, or Hulu.
Free VPNs have a limited number of servers that are overcrowded with other users. You're subjected to buffering and lags. Not only that, there are strict bandwidth restrictions. Forget watching a night's worth of programming. You couldn't even watch a whole episode of Chopped.
Not only that but there is a lack of features protecting your security and privacy. Sometimes they sell users' personal data to governments and advertisers. Your identity could be stolen, and your data viciously used against you.
You're safest with a premium VPN. Even though they don't have a free trial, ExpressVPN has a 30-day money-back guarantee. It's a risk-free way to try it, and if you don't like it you can contact them and get your money back.
Unblock Food Network With ExpressVPN
Start Watching Food Network From Anywhere Today
The recipes and drama on Food Network are top-notch and will bring you back for more. Whether you're traveling or gaming with Guy, or home with Valerie, their mouth-watering morsels make you anticipate what's next. I know I'm watching even when I'm abroad. With a reliable VPN service, you won't miss a single show on Food Network.
If you choose one of the VPNs I've listed, you can keep up with every chef competition and the best restaurants in America. Download ExpressVPN today and savor the dishes Food Network offers. Use it for yourself, risk-free. If it's not for you, you have 30 days to get a full refund. ExpressVPN is also the fastest, most reliable VPN out there that will protect your data and get you watching Food Network without lags or buffering before you can say, "Barefoot Contessa."
Watch Food Network with ExpressVPN
---
Summary — These Are the Best VPNs to Watch Food Network in 2022
Top Choice