How To Get A Free Trial For Norton Secure VPN (Android & iPhone Only)
Last Updated by Mackenzie Pringle on June 22, 2022

With so many VPNs available, it's difficult to know which one is worth your investment. Thankfully, most VPNs will provide a trial period, or money back guarantee to gain your trust.
These offers allow you to test out the services and see just how well they can fit into your life.
Norton Secure VPN is one of many VPNs that has a free trial available.
The best thing about this free trial is that it
allows you to access all of the VPN's features and is valid for 30 days
.
As far as free trials go this is practically unheard of and gives you the freedom needed to explore their service to the full extent.
The only downside about Norton Secure VPN's free trial is that it's only available on mobile devices. Currently, they don't offer free trials for their desktop applications, which we hope they'll change soon enough.
How to activate Norton Secure VPN's free trial:
Go to the Norton Secure VPN site and click the "Free Trial" tab on menu
Download the app on your chosen device.
Follow the in-app instructions to set it up.
You'll automatically be given access to their free 30-day trial, however, make sure you don't forget to cancel the app before the trial expires or you'll be charged for a full year of service.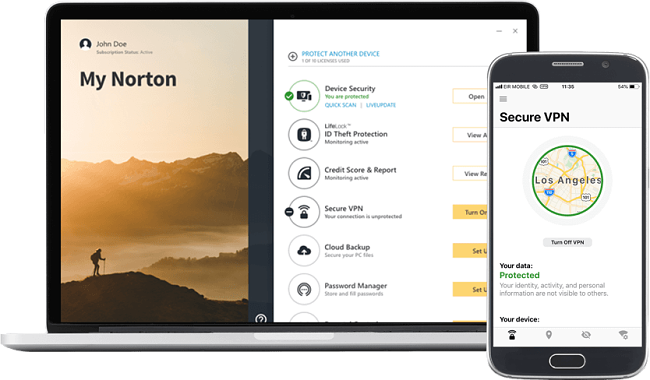 Get a Free Trial of Norton Secure VPN Today
Does It Require A Credit Card?
When you download the app via the Apple or Google Play stores, you'll be prompted to pay for their service via your registered payment method with Apple or Google accounts. So, while Norton Secure VPN doesn't necessarily require credit card details, you will need to provide some form of payment to access the free trial.
While Norton Secure VPN does ask for a payment, they guarantee you will not be charged until the end of your 30-day free trial period. Because of this clause, it's vital that you set a reminder for when your 30-day trial period is up, or you'll be forced to pay for their yearly subscription.
Our tip is to immediately log the end of your trial period in a calendar with automatic reminders set for the days leading up to it. That way you won't accidentally forget to unsubscribe from the service and be charged for the product if you decide it's not for you.
Do They Also Have A Money Back Guarantee?
While Norton Secure VPN doesn't have a free trial for their desktop apps, you can get a 60-day money back guarantee. Like the free trial, you'll be able to test out the service to its full extent. The only difference is you'll have to select a plan and pay for it before you use the service. You can then request a refund before the 60 days are up.
We have to commend Norton on the length of their money-back guarantee as you don't usually see them offered for such a long period. Two months will most certainly give you the time needed to work out if you're happy with the VPN and willing to pay for it.
Does It Work With Unblocking Streaming Site?
Unfortunately, Norton Secure VPN is unable to unblock streaming sites like Netflix, Hulu, Amazon Prime, or BBC iPlayer. However, this isn't unusual, as most VPNs struggle to bypass the strict geo-blocks and firewalls these companies have in place.
The ability to unblock Netflix and other major streaming sites requires a VPN to have unlimited resources and plenty of time on their hands. As streaming sites have teams dedicated to stopping users from accessing content in another country, the only way a VPN can bypass these restrictions is if they have a team of their own.
If you want a VPN to unblock the streaming sites like Netflix, we'd recommend using ExpressVPN instead.
The silver lining is that although Norton Secure VPN isn't dedicated to unblocking Netflix, they are putting all their resources into protecting you and ensuring your privacy while you're online.

Do You Also Need To Have Norton Security?
Norton Security is another feature offered by the Norton group that will defend you from spyware, malware, viruses, phishing, ransomware, software vulnerabilities, and other online threats.
With this product, you'll be able to safeguard your identity and protect any online transactions from the prying eyes of hackers and cybercriminals. Norton Security has been ranked as the number one provider for consumer security software and is highly rated for its overall protection and performance.
While it's not entirely necessary, it will give you an added layer of security that Norton Secure VPN can't provide. Thankfully, Norton has a bundle which includes Norton Secure VPN and Norton Security for a discounted rate.
Norton Secure VPN
Browse content from anywhere
Browse privately and anonymously
Real-time virus protection
Servers available in the United States, United Kingdom, Singapore, Brazil, and more
Norton Secure VPN site is highly regarded when it comes to the privacy and security they provide. They claim to give a "no-log virtual private network that doesn't track or store your activity." The company also states that they don't store your location details, which we have taken to mean that they don't keep any logs of your incoming IP address.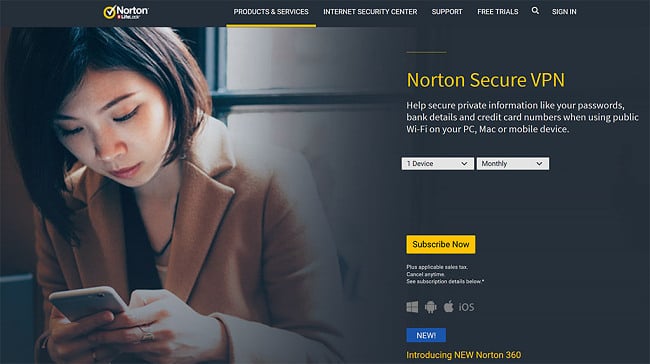 Unfortunately, when we tried to dive deeper into their privacy policies, we couldn't find one specifically for their VPN. Therefore, it became quite difficult to gather more information and clarification on their logging and privacy procedures. We weren't entirely pleased with the lack of transparency Norton provided its users, but we assume its cause is the audience it's marketing to and their disinterest in the finer details.
While Norton Secure VPN is
available on multiple platforms including Windows, Mac, iOS, and Android
, their basic subscription
only allows you to protect one device at a time
. You can upgrade your subscription and connect up to 10 devices simultaneously; however, doing this can be much more expensive.
A great feature provided by Norton Secure VPN is their 24/7 customer support team. The support team was accommodating and responded within minutes when we used their service. However, there is the downside of having to enter your information, like your email address and phone number, to access the live chat. They ask this regardless of whether or not you are an existing customer or potential new user which can be a little unsettling if you're wary about handing out your personal information.
Customer support also claimed it was only a 7-day free trial for iOS and Android devices, yet upon downloading the app, we found it offered a 30-day free trial. Therefore, we wouldn't entirely trust all the information provided by the support team and encourage you to do some research of your own.
Norton Secure VPN has a very intuitive and easy to use interface that's perfect if you're unfamiliar with VPNs, however, if you're slightly more advanced in the field or like customizable settings than you'll be sorely disappointed with what's on offer. While we have no doubt you can trust this service, the lack of service details can be a bit offputting.
Conclusion
One of Norton Secure VPN's most significant appeals is the long free trial they offer on Android and iOS devices. We also must applaud them on the substantial 60-day money back guarantee offered on both Windows and Mac. If you're looking for a service with good security and privacy, Norton Secure VPN may be the right service for you.
However, they are quite basic when it comes to their features and are unable to the bypass geo-restrictions put in place by streaming sites like Netflix.
For some users, these missing aspects will be a major fault and could cause a lot of frustration, so we'd try opting for a more
premium VPN service like ExpressVPN
instead.