3 Best VPNs for Switzerland to Maintain your Privacy in 2022
Last Updated by Brittany Hall on August 01, 2022
Planning a trip to Switzerland? Take advantage of a VPN to bypass geo-restrictions and improve your security at the same time.
Switzerland isn't a part of the European Union, so it doesn't abide by the EU Data Retention Directive. The country answers to its own set of laws and regulations concerning surveillance and data retention.
For example, ISPs are required to store information about their users for six months, which goes to show that even one of the freest internet countries can have restrictions.
This is why it's extremely important to use a VPN in Switzerland.
Not sure which VPN to invest in or where to start when shopping around for one? Don't worry, that's what we're here for! Read on to find out more.
Why You Need To Use a VPN in Switzerland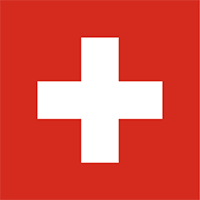 There are several dangers when
using the internet in Switzerland
. These dangers include hackers with invasive data mining tools, ISP collection and possibly selling of information, and threats to net neutrality, to name but a few.
By using a VPN, it can help protect you from many threats and allow you to surf the web with ease. In addition to online protection and privacy, there are several other key benefits to using a VPN.
1
Bypass Regional Restrictions
While not a lot of content is blocked locally in Switzerland, this doesn't necessarily mean you have access to everything on the internet. Some sites, such as Netflix, have geo-blocks in place that prevent you from viewing content in other parts of the world.
This can be extremely frustrating for working parents traveling with children who want to watch their favorite shows or movies. This is where a great VPN comes in by not only taking these frustrations away but keeps your kids quiet and entertained while you do your own thing.
2
Unblock Websites
It's not uncommon for some websites to be blocked or content altered depending on the location of internet users. Sometimes this is done by government agencies, but sometimes it's merely a sales tactic.
No matter what the reason, connecting to the internet through a VPN means that the content you see won't be determined by your location.
3
Keep Your Online Privacy While Traveling
While your data is safer online in Switzerland than in many other countries, there's still the fact that you're facing new regulations and laws after you cross the border.
Traveling is already stressful enough, so don't let it subject you to many different online dangers, such as activity logging by ISPs and hackers. A VPN can protect you from any new and unknown threats to your information.
4
Keep Your Data Safe on Public Wi-Fi
Public Wi-Fi is a popular target for hackers. Software can be deployed to collect personal data from everyone connected to one Wi-Fi network. VPNs help keep your information secure thanks to strong encryption, allowing you to connect to public hotspots safely.
Now that you have learned the reasons behind why you need a VPN, let's introduce you to our top 4 recommended VPNs to use while in Switzerland.
The Best VPNs for Switzerland
Key features:
2,000+ servers in over 94 countries
30-day money-back guarantee
5 simultaneous connections
ExpressVPN is a customer-focused VPN provider, offering a 30-day money-back guarantee. They also provide a user-friendly app and 24/7 customer support. ExpressVPN is also well known for delivering extremely fast speeds.
Their server network covers more than 140 locations with over 2,000 servers across 94 countries, providing clusters in highly populated areas to prevent lag.
ExpressVPN has 256-bit AES encryption to keep data secure, DNS leak protection and a kill switch feature, as well as a no logs policy.
Key features:
Over 700 servers in over 70 locations
24/7 customer support
Up to 5 simultaneous connections
VyprVPN is actually based in Switzerland and provides more than 700 servers across 70 locations.
Users can connect up to five devices at any time, and VyprVPN provides its own proprietary technology.
Privacy is a major focus of VyprVPN. This VPN service offers DNS leak protection, an automatic kill switch, and 256-bit AES encryption. VyprVPN's exclusive protocol known as Chameleon provides an extra layer of encryption to ensure extra safety and security online.
Key features:
Over 2,000 servers in over 140 countries
31-day money-back guarantee
5 simultaneous connections
PureVPN has a server network of over 2,000 servers located in more than 140 countries worldwide. PureVPN provides fast speeds, and a large number of server locations to choose from.
This VPN provider is known for its fast and secure tunneling protocols as well. It is also compatible with a wide range of devices and has a variety of extra features, such as app blocking, DNS-level website filtering, malware shields, and antivirus protection.
PureVPN has a zero logs privacy policy, 256-bit AES encryption, DNS leak protection, and a kill switch feature. With PureVPN you have access to live tech support 24 hours a day, seven days a week.
Privacy Laws in Switzerland
Switzerland introduced its own laws regarding data retention in 2002, giving the government the right to employ spyware for targeting offenses that are deemed as "particularly serious".
Your online information is at risk of being captured as well. The government of Switzerland has strong capabilities in data surveillance and keeps logs.
By using a VPN, you will be able to protect your information from third parties and government surveillance programs. You are also protecting your data from increased logging and record keeping by ISPs.
Whether you are a resident or just visiting, it is important to use one of the 3 VPNs we recommend when in Switzerland. Not only will they allow you to bypass geo-restrictions, but will keep you safe and secure at the same time. Don't just take our word for it, try one out today!