10 Best Free Streaming Sites for Movies and TV Shows in 2022
Last Updated by Rosemary S Siluvai Anthony on November 01, 2022
Though there are many free streaming sites, it's still difficult to find one that has just the right mix of movies and TV shows and is accessible anywhere. Plus, not all streaming sites are safe as some inject malware into devices and many violate copyright laws.
After months of research, 10 streaming sites stood out for watching free movies and TV shows while 3 VPNs proved to be the best at accessing them from anywhere. The VPNs also hide streaming activities from hackers, malware injectors, and other third parties.
ExpressVPN is the best as it has the best privacy features and connection speeds to stream movies and binge-watch series without interruptions. You can test ExpressVPN out for yourself and if you're not satisfied, you have up to 30 days to claim a refund.
Get ExpressVPN for free streaming sites
Warning! Streaming pirated content is illegal and can result in legal action. My team and I don't condone breaking any laws, so please check your local regulations and avoid watching copyright protected shows on the following platforms.
Short on Time? The Best Free Streaming Sites for Movies and TV Shows in 2022
Best for New TV and Movies
1. Peacock TV
Peacock TV is an over-the-top video streaming service owned by NBCUniversal. The service is available in the US, but it's also open to Sky and NOW subscribers in the UK, Ireland, Germany, Austria, Switzerland, and Italy. Peacock TV's free subscription has limited ads with 40,000+ hours of hit movies and TV shows and 50+ channels. The Premium and Plus subscriptions offer limited and ad-free options along with additional shows, live sports, and more.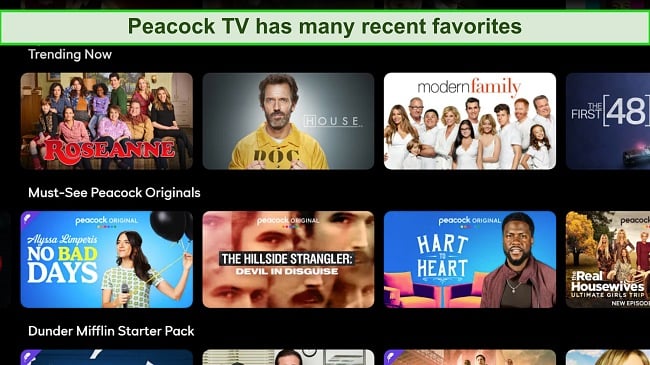 For a free streaming site with some really good shows, Peacock TV's ads are bearable. They played for 30 seconds at the start of an episode of The Office and then again, for 10 seconds mid-way. When hovering over a movie or series, the thumbnail displays a Rotten Tomato rating to help decide if it's worth watching.
Peacock TV can be streamed on all major web browsers, mobile devices, smart TVs, Amazon Fire TV, Chromecast, gaming consoles, Roku, and more. To create an account, you just need an email address that the platform doesn't even verify.
2. Kanopy
Kanopy is free if you have a participating public, university, or college library card in the US. The content varies depending on your library's catalog but it's usually a good mix of genres and includes new releases, educational TV, and documentaries. It doesn't offer live TV but it's a go-to service for indie films like Winter Sleep, Ex Machina, and The Florida Project.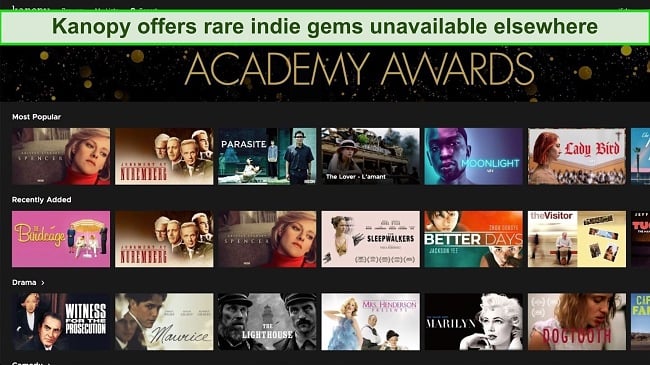 The platform doesn't run any ads but the bad news is that Kanopy limits how much content you can watch. You get 10 Play Credits each month and they can be used to watch the regular Kanopy collection. A few Credit-Free movies can be watched anytime, plus the entire Kanopy Kids collection is free for unlimited viewing.
You can watch Kanopy on the web, mobile platforms, media streaming devices, and smart TVs but it doesn't offer any apps for gaming consoles.
3. FreeVee
FreeVee was formerly known as IMDb TV and it's an ad-supported video channel by Amazon. The content is not as premium as what's on Amazon Prime Video but there are a lot of options including popular movies, TV series, documentaries, British TV, and even live channels like ABC News Live, Divorce Court, Game Show Central, Project Runway, and more.
FreeVee also updates its library regularly so it's best to watch a show right when it's available. To access FreeVee, you'll need an Amazon or IMDb account and be in the US or UK. It works with Amazon Fire TV, Roku, gaming consoles, smart TVs, Android, and iOS devices. It's also possible to watch on Google Chrome and other popular web browsers.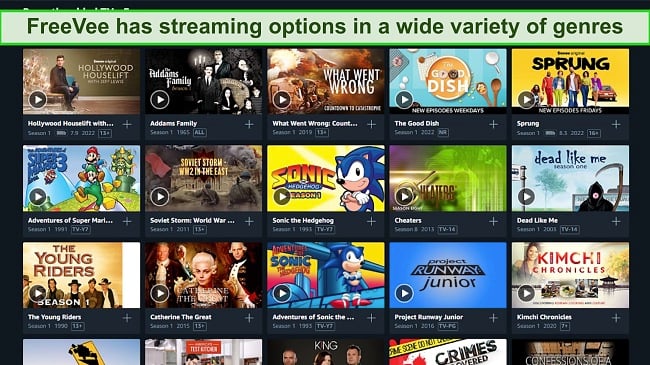 Since FreeVee doesn't have a direct URL, it might take a bit of digging to find the channel. You can watch it through the Prime Video app or a browser, via the Channels section of Prime Video. In terms of ads, the length varied between 10 and 150 seconds, around 5 times in a 40-minute episode of Project Runway.
4. PBS
PBS is an American public broadcaster so it's only available in the US. A VPN can be used to access it outside the US but the content will change depending on the server location. Though the shows on PBS and live TV are free, it's possible to watch movies on-demand from time to time by making a one-off or monthly donation to the service.
Where PBS really shines is educational programming, kid's TV, and free content from the BBC that is hard to come by elsewhere. You can watch the latest episodes of Grantchester and Broadchurch totally free, just make sure to check the schedule so you don't miss them.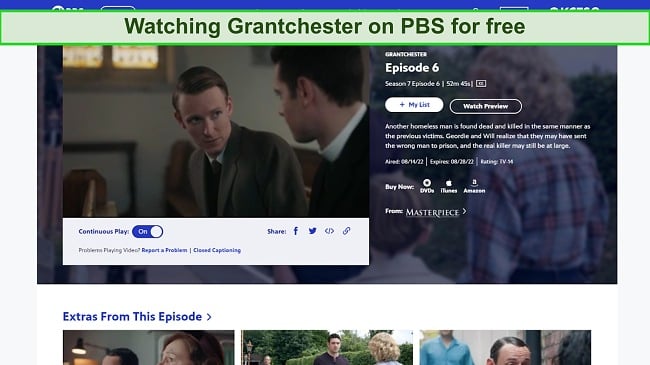 To watch PBS, all you need is a desktop with Chrome, Firefox, Safari, or Microsoft Edge, an iOS or Android device, or a smart TV.
5. The Roku Channel
Roku Channel offers free, ad-supported live TV, documentaries, movies, music videos, and more. You also don't have to create an account or sign up to watch the content. Some of the live TV content that's worthy of mention include Forensic Files, Hallmark Movies & More, Game Show Central, and Comedy Central.
Though The Roku Channel has many of the shows that are available elsewhere, the Roku Originals stand out with original content with stars like Kevin Hart, Liam Hemsworth, Chance the Rapper and Chrissy Teigen. The ads on the Roku Channel are somewhat intrusive, since they appeared 5 times within a 30-minute timeframe.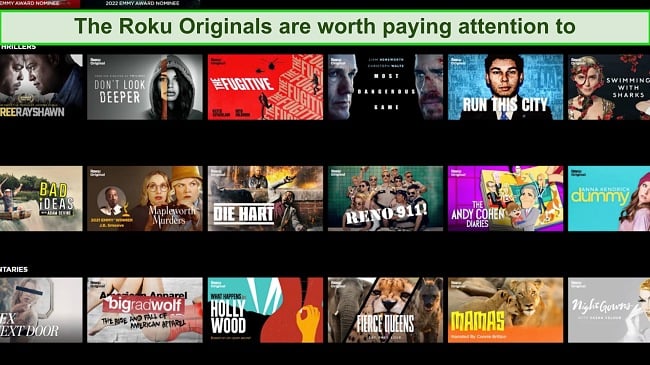 The free content on The Roku Channel is only available on a Roku streaming player or Roku TV in Canada, the UK, and the US. It's also available on the web browser, Roku mobile app, and compatible Samsung TVs and Amazon Fire TV devices in the US.
Get ExpressVPN for safe streaming
Best for Older TV and Movies
1. Sony Crackle
Sony Crackle is the most popular among free ad-supported streaming services for good reasons. It has many familiar old titles such as Alf, 21 Jump Street (1987), The Carol Burnett Show, Here's Lucy, and more. Sony Crackle also has many noteworthy classics such as Anzio (1968), Ben, Dr. Jekyll and Mr. Hyde, and Freedom Road.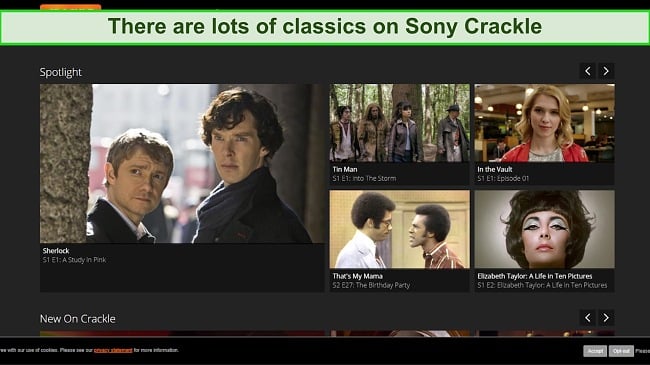 One area that Sony Crackle disappoints in is the video quality. It topped out at 480p for all the movies and TV series tested. However, streaming was smooth and the audio was clear even in old black and white shows from the 1950s. Ads run for 2 minutes and pop up every 10-15 minutes.
In addition to the web app, Sony Crackle is available on Roku, Apple TV, Amazon Fire TV, Android TV, and gaming consoles. It also has an Android and iOS app, both with Chromecast support. But the streaming service is only available in the US.
2. Tubi TV
Tubi TV is a well-designed video streaming service with a large and frequently changing library of movies and shows. It's completely free with no sign-up or subscription fee but you'll have to tolerate regular ad breaks throughout your viewing. Tubi TV is only available in the US, Canada, Mexico, and Australia.
For a free streaming service, Tubi TV has many titles that are well-loved by movie aficionados such as Charlie and the Chocolate Factory, Planet of the Apes, The Green Mile, and The Fifth Element. Some of the genres on Tubi TV include anime, crime TV, docuseries, martial arts, and reality TV. The streaming quality can only be increased up to 720p on Tubi TV, but it doesn't provide any option to download shows.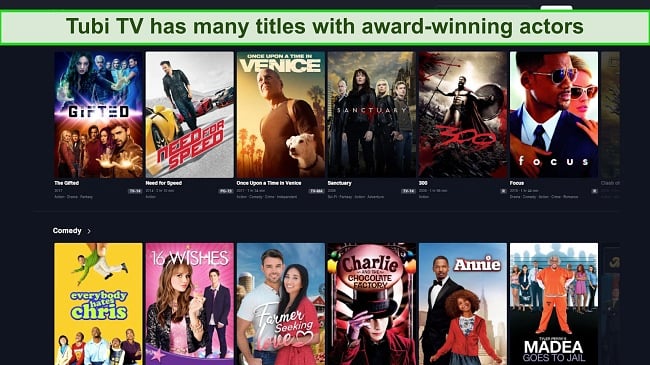 Tubi TV supports an excellent range of devices including Roku and Amazon Fire TV, iOS and Android mobile devices, gaming consoles, as well as smart TVs. You can also stream directly via the Tubi TV website via your browser.
3. Vudu
Vudu lets you stream a wide selection of ad-supported movies and shows for free and rent or purchase blockbuster hits as long as you're in the US. It boasts 200,000+ new releases and catalog movies and TV shows, including the most extensive collection of 4K UHD titles.
The free movies consist of many unfamiliar titles, which may be welcomed by those who prefer to discover hidden gems that aren't wildly successful. Some of the recently added free movies are The Horror Hotel, The Hitch-Hiker, Billy Club, and Unsurety. Some of the series that are available for purchase include The Office, Game of Thrones, The Big Bang Theory, and Yellowstone.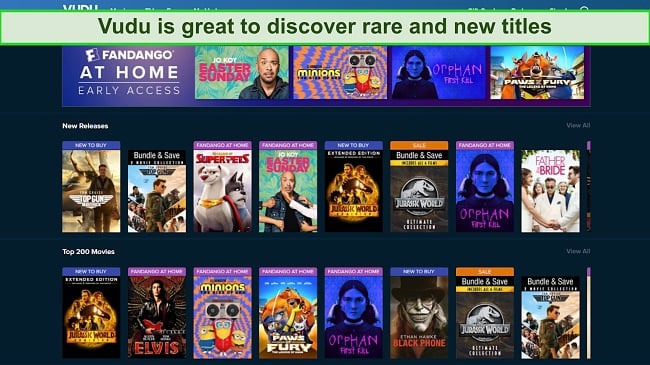 Though it has many rare titles, compared to other video streaming services, Vudu lacks original movies and shows. All of Vudu's content comes from other networks and channels that may be more preferable and cost-effective compared to renting or buying movies and shows a la carte. Vudu is available on web browsers, mobile devices, Blu-ray players, smart TVs, gaming consoles, and streaming devices.
4. Sling TV
Sling TV is more known for its paid subscription than its free service — Sling Free. Account sign in is required with an email address but the platform doesn't verify it so using a throwaway email account is a possibility if you want total privacy. However, since Sling Free is ad-supported, expect to be interrupted though not excessively so.
Compared to other free streaming sites on this list, Sling TV doesn't offer the most exciting titles. The free TV shows are mostly older titles found on other free streaming services like Hell's Kitchen, Forensic Files, Roseanne, 3rd Rock From the Sun, and 21 Jump Street. On the free movies list, there are titles like Blitz, Bernie, Amityville: The Evil Escapes, and Nine Lives.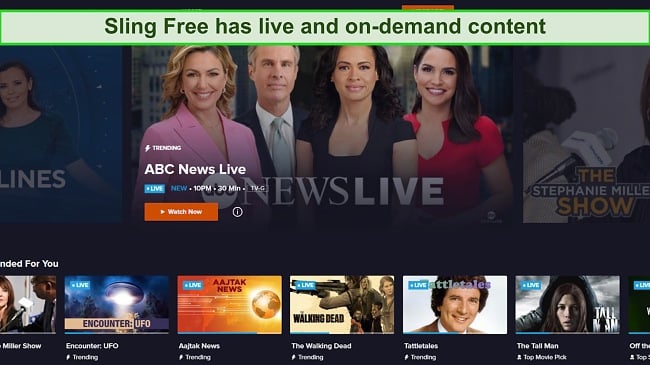 You can access Sling Free only in the US, on a web browser like Chrome, Edge, or Safari, or by downloading the Sling TV app to your streaming device like Amazon Fire TV, Android, LG TV, Roku, Samsung TV, or Xbox. Additionally, CyberGhost has optimized servers to support high-speed streaming on Sling TV.
5. Archive.org
Archive.org is a gigantic vault created to preserve internet and public domain history. It stores billions of deactivated web pages, books and other content like videos and TV news programs. Since the aim is to conserve early creative works, many of the movies are old black and white, silent, or film noir types.
Just like anyone from anywhere can access content on Archive.org, anyone can upload them as well. So there's a possibility for some of the files to be infected with malware. The site is designed to mitigate such risks, but considering the massive volume of data being transferred, it's possible for something to slip through the cracks.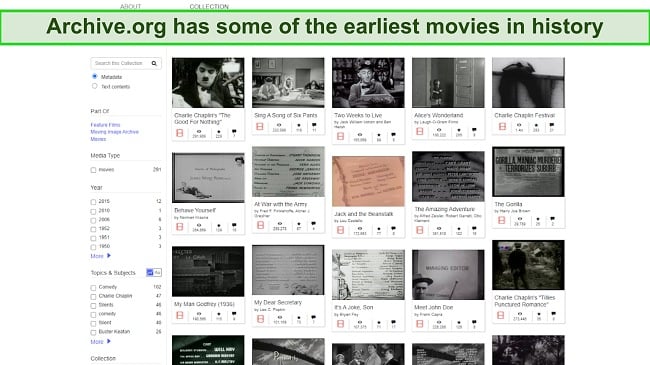 According to the site's privacy policy, it collects various personal details such as IP address, the web page requested, and the time. If you're a registered user accessing restricted collections, Archive.org will also log your name, address, telephone number, email address, and other details. To protect your privacy, it's best to access Archive.org with a good VPN.
Why Use a VPN for Free Streaming Sites
Many of the legal free streaming sites like Peacock TV and Sony Crackle are only available in the US. These geoblocks mean that a series you've been following back home can no longer be streamed when you go on a holiday abroad.
Some streaming sites like Archive.org log personal information which means your data is stored somewhere, vulnerable to accidental leaks, misuse, and hacking.
It's also possible that your internet speed could be throttled when you binge-watch series or stream movies excessively, even though you're within your data limits.
But these issues can be overcome. A VPN server in the US can assign an American IP address to make streaming traffic seem like it's coming from inside the country. It also hides your real IP address so that none of the streaming services can get any of your sensitive details. A good VPN like ExpressVPN offers unlimited bandwidth to make sure you have a steady internet speed when streaming.
Get ExpressVPN to watch free shows
The Best VPNs for Streaming Free TV and Movies
Key Features:
3000+ servers in more than 94 countries including the US and UK
Secure AES 256-bit encryption, Trusted Server technology, a no-log policy, and Network Lock kill switch
Support includes video tutorials, 24/7 live chat, and email assistance
Stream shows on up to 5 devices at the same time
Enjoy a 30-day money-back guarantee on all plans
ExpressVPN is the #1 VPN for free streaming sites because it uses TrustedServer technology to ensure none of your personal data is logged. This is accomplished by using RAM-only servers which are completely wiped each time they're rebooted. TrustedServer technology works with ExpressVPN's no-log policy to make sure no personal identifiers or streaming activities are ever stored on its servers.
During streaming tests, ExpressVPN recorded the highest connection speeds compared to other VPNs. At 103Mbps, The Office episodes loaded in 5 seconds on Peacock TV and several other sites when connected to an ExpressVPN server in Seattle, US. This is impressive considering that it's 10,000 miles away and streaming data requires some time to travel the distance. There were also zero lags once the show started.
Besides the free services listed here, ExpressVPN is also able to unblock other premium streaming services like:
| | | | | | |
| --- | --- | --- | --- | --- | --- |
| Netflix US | Disney+ | Hulu | Amazon Prime Video | BBC iPlayer | HBO Max |
| fuboTV | Philo | Xumo | Pluto TV | Stremio | Popcornflix |
To make sure that you can stream on the go from multiple devices without logging off at home, ExpressVPN allows up to 5 device connections. It's also compatible with all the streaming devices you could possibly own. If your smart TV or gaming console is not supported with a native app, use ExpressVPN's MediaStreamer feature instead. It doesn't provide the encryption of a VPN, but it does allow access to geoblocked content.
Of all the VPNs on this list, ExpressVPN is the most pricey, but it's worth it for the privacy and speed it affords. I found ExpressVPN's 1-year plan at $6.67 per month offers the most value for money. You can test ExpressVPN out completely risk-free as it's backed by a 30-day money-back guarantee — if you don't like it, you can easily get a full refund.
ExpressVPN is compatible with: Windows, Mac, Linux, Android, iOS, Chrome, Firefox, Amazon Fire TV, Amazon Fire Stick, Kindle Fire, Nook HD, and more.
Get ExpressVPN for free streaming sites
Get ExpressVPN's Black Friday Deal! ExpressVPN has dropped prices for a limited time to a crazy $6.67 per month for the 1-year plan (you can save up to 49%) + 3 months free! This is a limited offer so be sure to grab it now before it's gone. See more information on this offer here.
Key Features:
8200+ servers in 91 countries, including optimized servers for Sling TV
Military-grade 256-bit encryption, a kill switch, and a strict no-log policy
Customer support includes 24/7 live chat assistance and online ticket system
Stream movies and TV shows for free on 7 devices simultaneously
45-day money-back guarantee on the 2-year subscription
CyberGhost is a top choice to watch movies and TV shows as it has optimized servers for many streaming services, including Sling TV. Averaging at 95Mbps, they're super-fast though not as fast as ExpressVPN. Still, movies like Easter Sunday loaded in just seconds and provided a smooth streaming experience. Even the regular servers averaged 89Mbps for high-speed streaming on Sony Crackle, Vudu, and The Roku Channel.
For true fans, CyberGhost is a great option to unblock other streaming sites like:
| | | | | |
| --- | --- | --- | --- | --- |
| Netflix US | Disney+ | Hulu | Amazon Prime Video | HBO Max |
| BBC iPlayer | Popcornflix | Xumo | Pluto TV | Stremio |
With CyberGhost's split tunneling feature, streaming traffic can be routed via an encrypted tunnel while traffic to a local navigation app can be routed directly to the internet. This optimizes the speed and data usage when multitasking on a device.
Speaking of devices, CyberGhost allows up to 7 simultaneous connections. It's also compatible with all major operating systems like Windows, iOS, Mac, Android, and more.
If streaming on a computer, CyberGhost Private Browser can help stop online monitoring. All browsing session data and history, cookies, passwords, and other details related to the session are automatically deleted after you close the browser. It also enables ad-free streaming sessions but some sites can detect this and refuse to play shows until the ad-block is disabled.
The only downside to CyberGhost is that it's not cost-effective when purchased as a monthly plan. For the best deal, I recommend the 2-year plan at $2.03 per month. Since it also comes with a 45-day money-back guarantee, you'll have enough time to try CyberGhost with your favorite free streaming sites.
CyberGhost is compatible with: Windows, iOS, Mac, Android, Chrome, Firefox, routers, Amazon Fire TV, consoles, and more.
Get CyberGhost for free streaming sites
Get CyberGhost's Black Friday Deal! You can subscribe to CyberGhost for as low as $2.03 per month + get extra 4 months free with the 2-year plan (save up to 84%)! This is a limited offer so grab it now before it's gone. See more information on this offer here.
Key Features:
35000+ high-speed servers in over 84 countries
Military-grade 256-bit encryption, MACE ad and malware blocker, no-log policy, and a kill switch
Online guides, 24/7 live chat, and email support
Connect up to 10 devices simultaneously
Proven 30-day money-back guarantee
PIA's MACE ad and malware blocker keeps your device safe when browsing for movies and series on free streaming sites. It also prevents suspicious sites from loading altogether, which is a great additional layer of security.
The VPN has the largest network with 35000+servers in over 84 countries. This means PIA can not only unblock content in the US, but also in other countries. It also means that when a PIA server is congested and causing slow speed, there are many others to choose from. During tests, PIA didn't do as well as ExpressVPN but it still averaged 72Mbps which was great for high-speed streaming.
If multiple devices need to be secured at the same time for various internet activities, PIA can connect up to 10. The VPN can also be used to secure all common devices like computers, smartphones, streaming devices, tablets, smart TVs, and more.
Although PIA's large server network should be able to access many streaming sites, it actually doesn't. During tests, PIA couldn't unblock BBC iPlayer and FreeVee despite trying several servers. However, it was able to unblock Netflix US outside the country and several other streaming sites like:
| | | | |
| --- | --- | --- | --- |
| Disney+ | Hulu | Amazon Prime Video | HBO Max |
| Popcornflix | Xumo | Pluto TV | Stremio |
For the best deal, subscribe to PIA's 2-year plan at $2.03 per month. It also comes with a 30-day money-back guarantee so if you're not happy with the service, you can always ask for a refund.
PIA is compatible with: Windows, Android, iOS, Mac, Amazon Fire TV, Amazon Fire Stick, and more.
Get PIA for free streaming sites
How to Choose the Best VPN for Streaming Movies and TV Shows
Fast speeds — All VPNs reduce your connection speeds to some degree. A good one will make sure it's fast and stable enough for watching movies in HD and binge-watching TV series without interruptions.
Global server network — The bigger a VPN's server network, the more content you can access from different parts of the world. More servers in a country or location also means you're less likely to face congestions that affect speed.
Strong security and privacy features — At a minimum, a VPN must have top grade encryption. But, also watch out for no-log policies and RAM based servers to make sure none of your data is logged or shared.
Unblocking capabilities — All the VPNs listed here are able to unlock popular streaming channels like Netflix, Disney+, and Amazon Prime Video on top of the free sites.
Apps for popular devices — A VPN with apps for many devices and operating systems will allow you to stream and watch your favorite shows anywhere.
Quick Guide: How to use a VPN to Stream Movies and TV Shows
Download a VPN. I recommend ExpressVPN as it has top privacy features and the fastest speeds for uninterrupted streaming.
Connect to a server. Choose a server in the US or a country where the content you want to access is available.
That's it! Now you can stream all popular movies and TV shows.
FAQs on VPNs and Streaming Free Movies and TV
Are free movie and TV streaming sites legal?
In general, free streaming sites for movies and TV shows are legal as long as they do not provide access to copyright-protected movies and TV shows. Some restrict streaming to certain locations to comply with the terms of the content licensing, certain countries' legal systems, or other agreements. To maintain the free service, streaming sites run ads and earn an income.
All of the free streaming sites on this list are legal, but many popular ones on the internet aren't. Sites like FlixTor, Noxx, CMovies, and YiFY don't have the rights to distribute content but instead scrape content from the internet to make them publicly available.
If you are found to stream content from these and other sites where appropriate licenses have not been obtained, action can be taken against you and the streaming site owner.
Is it safe to use a free streaming site?
Free streaming sites are safe to use when they operate legally or do not torrent or scrape content from other sites. However, many that operate legally apply geo-restrictions to protect their licensing agreement, which is why a VPN is needed to stream free content.
The VPNs on this list bypass geo-restrictions and don't retain streaming data to protect privacy.
Are there free streaming sites without ads?
Yes, sites like FlixTor, Noxx, and YiFY don't run ads, but they're also illegal so it's possible to get in trouble without one of the best VPNs for streaming to hide the real IP address and geographic location. My team and I don't condone any actions that could be classified as breaking the law or relevant terms of service.
Can a VPN access free premium quality streaming channels?
Yes. Aside from the best free streaming sites for movies and TV shows listed here, a VPN can also help you access your accounts on free premium quality streaming channels like BBC iPlayer in the UK, 10 Play in Australia, and more. All you need to do is connect to a server in the respective country.
What else can I do with a VPN?
A VPN like ExpressVPN is #1 for streaming but it's also useful to:
Make unencrypted public WiFi more secure
Avoid location-based pricing on flights, hotels, and more
Access work or school network safely from anywhere
Prevent DDoS attacks when gaming and other cyber attacks
Sidestep targeted bandwidth throttling by ISPs
Preserve the right to privacy
Can I use a free VPN to stream free movies and TV?
I don't recommend using a free VPN to stream free movies and TV since even the best free VPNs have many restrictions. First, they limit bandwidth to accommodate tons of users at the same time. Second, they don't have enough servers so they become overcrowded and too slow for streaming.
The worst free VPNs contain malware that makes you and your device prone to cyberattacks. Or they secretly sell your data to recoup the expenses, risking your security and privacy.
That's why I recommend using a premium VPN like CyberGhost with its money-back guarantee when streaming. You can use the VPN service for free by asking for a refund within 45 days.
Get CyberGhost to watch free movies
Choose the Best VPN for All Your Movie and TV Streaming Needs
Most free streaming sites that are legal have geo-restrictions to avoid violating copyright laws. Those that are illegal are even worse, as they can potentially inject malware into your devices and at the same time, risk being shut down.
The only way to access legal streaming sites anywhere is with a VPN. Plus, it hides streaming activities from third parties.
After months of research, I've found that ExpressVPN is the best as it has top privacy features and connection speeds for streaming movies and TV series. You can test ExpressVPN out for yourself and if you're not satisfied, you have up to 30 days to claim a refund.
---
Summary: 3 Best VPNs for Streaming Free Movies and TV in 2022
Top Choice