5 Best Free Restoro Alternatives With Similar Features! [TESTED in 2022]
Last Updated by Shauli Zacks on October 01, 2022
Restoro is an excellent tool for optimizing and restoring the computer, but with the free version, I had to remove the troublesome or broken files one at a time manually, which is exhausting. Therefore, I downloaded and tested dozens of free computer cleaner and optimization tools to see if I could find reliable alternatives.
My initial search was limited to 100% free tools, but after seeing the free tools lacked the features I needed, didn't scan all the folders, and didn't remove the files, I expanded my search to free trials. To be included, the free trial needed to give me access to all the features, so I could clean up the system once or twice and improve my performance before the trial ended.
I concluded that CCleaner was the best option at the end of the testing process. It runs a comprehensive scan, updates drivers, checks the overall health of the PC, and has a 1-click app updater. Download it free for 14 days – no credit card needed – to see how it improves your computer's performance.
Quick Guide: The 3 Best Free Restoro Alternatives in 2022
CCleaner: Comprehensive scan of all drives and folders improves the computer's performance and boosts its speed. It runs completely in the background without slowing down the computer's processing speed.
Avira Antivirus: Popular antivirus software includes performance enhancing features to clean your hard drive from wasted space, but it can't repair and replace broken files.
WinOptimizer: Customizable scan to remove broken, duplicated, and partial files from all drives or specific folders, but can't detect or remove malware.
What I Look for in a Free Restoro Alternative
It isn't easy to replace an excellent tool like Restoro. I need a comprehensive tool that improves my computer's performance. I used some of the following criteria to grade each tool.
Easy to Use: The software needs to be self-explanatory. This means all the buttons need to be clearly labeled, and when the scan is over, I can clean the bad files with a click of the button.
Advanced Features: In addition to scanning the computer, I checked the other available features, so I don't need to download multiple apps to improve the computer's performance.
Completing the job: Many of the free programs I tested list the issues and files that need to be deleted and leave it to the user to remove them. I needed a program that not only highlighted the problems but also fixed them.
Free or REAL free trial: Initially, I only downloaded 100% free programs. However, when I saw that I wasn't finding suitable alternatives, I also included REAL free trials, meaning I can use them without giving my credit card details.
Best 5 Free Restoro Alternatives with Similar Features
Tests the overall health of the PC
Automatically updates drivers and programs
Removes ad trackers and cookies
Doesn't affect computer performance during the scan
CCleaner has all the tools needed to free up space on your hard drive, boost your computer's speed, and have it running like new in just a few minutes. The first time I scanned my computer with CCleaner, it cleared more than 1.5 GB of junk files from my computer.
It starts with a comprehensive scan. CCleaner inspects all your drives, folders, and the registry to find what is causing the computer to run poorly. It starts with a complete PC health check by looking for trackers that were installed on your browser, detecting junk files that clog up your operating system, and unnecessary files that automatically start when you boot your computer.
I was able to manage which apps were running and how much of the computer's resources they used. When I saw that a program that I rarely used was consistently draining my computer's resources, I stopped it and saw an instant boost in processing speed.
The scan displays all the data in an easy-to-view interface when the scan is complete. You can see exactly where the troublesome areas are, and then let CCleaner fix the issues, giving your computer a much-needed boost.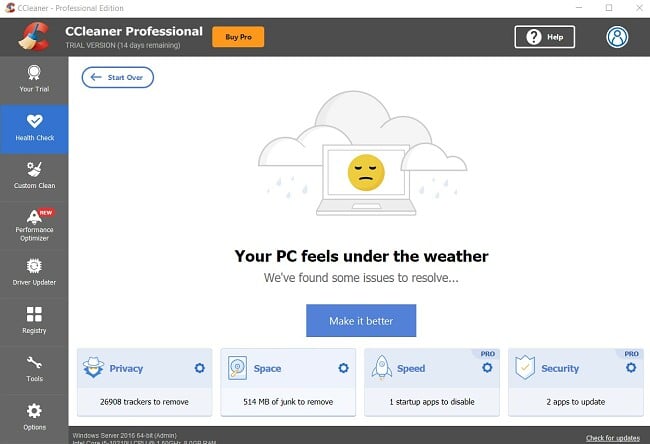 In addition to the Health Check and freeing up space, CCleaner does a great job of improving your online security. It inspects all installed programs and checks for updated versions. This can remove security vulnerabilities or outdated tech and prevent hackers from gaining backdoor entrance to your computer and personal data. It also looks through your computer's privacy setting to ensure that the settings are properly enabled and all drivers are updated to the most recent version.
The free CCleaner is good enough to let me know what changes I need to make. Still, for access to all the premium features, you can download the CCleaner full version for free with the 14-day trial – no credit card required. Scan your computer during the free trial, and let CCleaner's advanced tools correct the issues.
Boosts speed and optimizes performance
Software, app, and driver updater
24/7 real-time virus protection
Avira is more than just antivirus software. It also has comprehensive tools for cleaning and optimizing a computer. The Avira Smart Scan runs an in-depth scan of the computer drives. It starts by searching for known privacy issues. This can be everything from an unprotected webcam to apps that give third-party access to your computer.
The free security tool is lightweight and runs in the background without slowing down the device. The initial scan will find any duplicate files and optimize your hard drive storage to improve performance. It also checks for programs that are running for no reason that drain your battery.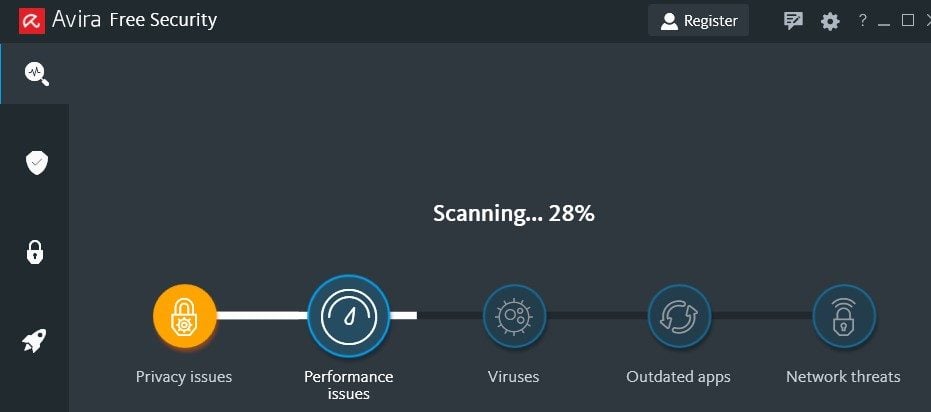 During the smart scan, Avira analyzes the programs that begin running when you start up your computer and recommends which ones to block since they use up valuable RAM resources. The scanner will also scan your computer for system cache, temp files, and unnecessary files that take up space on your hard drive and have a negative effect on your computer's performance. When the scan is complete, you can get rid of all the files with a single click, or go through the list and see if there are any files that you want to save. However, unlike Restoro, Avira can't repair or replace invalid files.
The free version of Avira Free Security will fix some of the problems it finds, but not all of them. However, you can activate a free 30 day trial to unlock all the premium features. While you will need to enter your credit card information, you won't be charged until the free trial is complete.
Removes files that take up space on the hard drive
Updates the privacy and security setting
Improves processing speed
The sleek WinOptimizer interface makes it easy to clean your operating system. There are two ways to set up your scan:
Full System Scan: The single-click full system scan checks all the files and folders on your computer to find ways to boost performance and speed.
Customized Scan: If you know which files or drives are causing you problems, you can customize the scan to only look at specific folders, files, or drives. This is a quick scan, but You can customize the scan to focus on specific folders, drives, and apps if you know where that's where the problem is occurring.
WinOptimizer has the necessary tools to improve the computer's speed. After the scan, you can delete all the unnecessary files, duplicates, or broken files that take up valuable space and processing power on your computer. It also has an Internet Cleaner that removes junk files, temp files, cache, browser history, and more that are installed while using the web and can slow down the browser.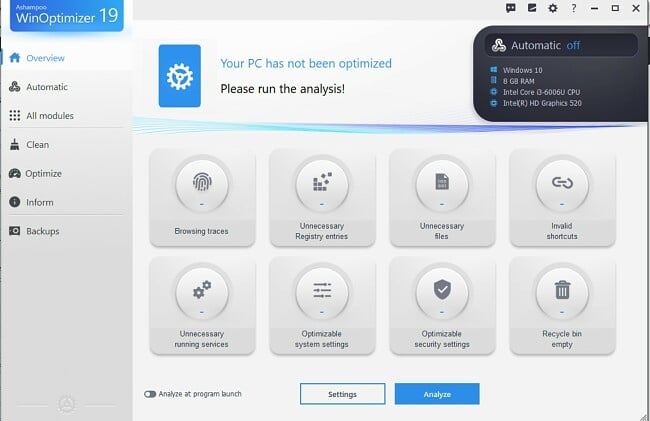 WinOptimizer has tools to improve your online privacy and security. When you delete files or software with sensitive data, you can activate the File Wiper tool. It not only deletes the file, but it encrypts the file so that no one can recover it, even with advanced data recovery tools.
You can use WinOptimizer to ensure that your OS settings are set for advanced privacy protection. It can detect most vulnerabilities, like remote access, connecting with an unsecured Wi-Fi, and apps that provide cybercriminals with access to your computer. WinOptimizer's one weakness is that, unlike Restoro, it can't remove viruses and malware.
You can start using WinOptimizer for free with a 30-day free trial with no credit card needed. It gives you access to all the premium features so you can get rid of the major issues and remove the junk files before the trial ends.
S.M.A.R.T Technology tests health of hard drive, SSDs, and RAID storage
DiskCleaner removes unnecessary files
Reduction in defrag time by up to 40%
O&O Defrag specializes in defragmenting the hard drive to improve your speed and overall performance. It reorganizes the data on your hard drive to free up wasted space.
I like that there is the option to schedule a defrag. This way, I know that I can prevent any issues from building up, and my computer will stay at an optimal performance level without me having to think about it.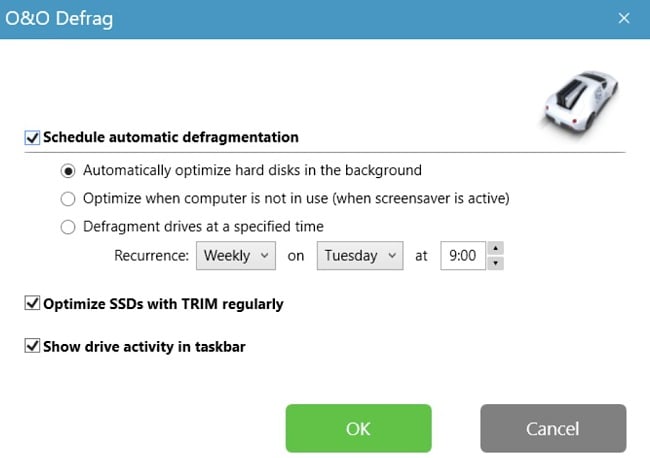 In addition to Defragging, O&O added two valuable features:
DiskCleaner: Run an in-depth scan to find duplicate, unnecessary, and partial files, extra components of deleted software, and extra code that serves no purpose. These items take up valuable processing power and slow down your computer. DiskCleaer will completely and securely remove them from the drive. To protect your privacy, it doesn't maintain copies of old system files, thumbs.db, email drafts, and copies of documents.
S.M.A.R.T: The technology was added to the latest version of O&O Defrag. It tests the device's overall health, along with any connected USB stick, external drive, or RAIDs. When it detects an issue, it will leave an alert message in the Windows Action Section.
While O&O Defrag is an excellent defragger, it lacks some of the advanced security features, like the ability to encrypt and completely destroy files.
The free version of O&O Defrag, has the basic tools needed to optimize your computer and boost your speed.
Combines 11 tools to improve security, cleaning, performance, and privacy
Memory Cleaner simplifies the process of managing device memory
Antivirus engine that scans downloads for malicious files
MacKeeper specializes in cleaning and optimizing Macs. It has 11 tools that work together to improve speed, performance, and security. Each tool can be activated from the intuitive dashboard with a single click.
After scanning the Mac, the dashboard will display an overall health grade and list the issues that need fixing. Some of the issues that MacKeeper can detect are duplicated outdated or unused files. It can also inspect software for privacy and security weaknesses and areas where you can improve general performance.

You can use the Smart Uninstall feature to remove software or files directly from the MacKeeper interface completely. Other features include A Memory Cleaner, Update Tracker, and Login Items which optimizes the startup by blocking unnecessary programs from automatically running when you boot up your Mac.
You can download MacKeeper for free. It gives you unlimited scans but will only get one free fix for each tool. I found that it was a good short-term solution for my Mac since it gave it a one-time boost.
When Restoro isn't for You…
Restoro is a top performing computer optimization software. It cleans out a lot of junk files, including viruses and malware. However, it isn't perfect, and there are some scenarios when you'll be better suited with an alternative.
If you want a tool that will uninstall unnecessary programs, CCleaner is your best option. It completely removes installed programs without leaving any partial files or folders that can slow down your computer. You can try it free for 14 days.
If you want an optimization tool that also prevents viruses, the Avira Antivirus software is a good choice. It scans your device 24/7 for viruses, malware, and other malicious files.
If you want to defragment your computer, download O&O Defrag for free. It's a fast defragger tool that can clean up a lot of memory on the CPU and RAM for better performance.
FAQ
Is CCleaner free?
There is a free version of CCleaner that gives you access to the standard cleaning and privacy protection. If you want access to all the advanced tools, you can get a free 14-day trial. This way, you can restore your computer's performance, boost the speed, and save space for free.
Is CCleaner safe?
CCleaner is 100% safe. I tested it for viruses, malware, spyware, and other malicious files, and there were no flags. However, it is important to download an official version of CCleaner and avoid cracked or pirated versions of the software, as these can be unsafe.
What is better, Restoro or CCleaner?
Both Restoro and CCleaner are excellent choices when it comes to optimizing and boosting your computer. However, they each have unique features that help you decide which is better for you. Restoro tests the stability of your installed programs and improves the start up time. With CCleaner, all your drivers and programs will update, improving your online security.