Ubuntu is one of the most commonly used Linux distributions and it's available for free to everyone, including PC and Mac users. Ubuntu is an open-source desktop OS and the third most popular desktop operating system after Microsoft Windows and Apple macOS used by millions of PCS around the world.
If you're looking for a great Linux experience, you can either replace your existing operating system with Ubuntu Desktop or run Ubuntu virtually from a USB (this allows you to try it without installing it on your machine).
Follow the instructions below and I'll show you how to download the latest version of Ubuntu on your PC for free.
How to Download and Install Ubuntu Latest Version on Your PC for Free
Note: You'll need a laptop or PC with at least 25 GB of storage space and a flash drive (bootable USB) with at least 8 GB of memory. If you are installing Ubuntu on a PC or laptop you have been using previously, it is recommended that you backup your data before installation.
Click on the Download button on the sidebar to go to the official Ubuntu download page.
Click on the "Download Ubuntu" button as shown below to get the desktop application.

On the next page, click on the "Download" button as shown below to download Ubuntu and wait for the download to complete.

Next, you'll need to write your downloaded ISO to a USB stick to create the installation media. This is different from copying the ISO, and requires a unique software like balenaEtcher. Download and install a version that is compatible with your operating system.
Next, select your downloaded ISO (the installation file you download in step 3 above), choose your USB flash drive, and click Flash to install your Ubuntu image. This might take a while to complete.

Once the image has been successfully flashed to the USB, remove and insert the USB flash drive into the computer you want to install Ubuntu on and boot or restart the device. Your system will recognize the installation media automatically. If not, try holding F12 during startup and to select the USB device from the system-specific boot menu.

You should click Try Ubuntu, to run it alongside your current OS without making any changes to your computer.
Since you're only previewing Ubuntu, you can select the minimal installation option, especially if you do not have a large hard disk space. You can as well choose to install it permanently. Also ensure that you're connected to the internet throughout the installation.
In the next steps, you'll see options for drive management, enable encryption, choosing your location, and creating your login details. Take your time to choose the options you prefer to complete the installation.

Once the installation is complete, click Restart Now to restart your machine. You will then be prompted to remove the USB flash drive from your device.
You can use the welcome widget to go through additional setup options, such as activating location services and downloading the applications you need from Ubuntu Software Center.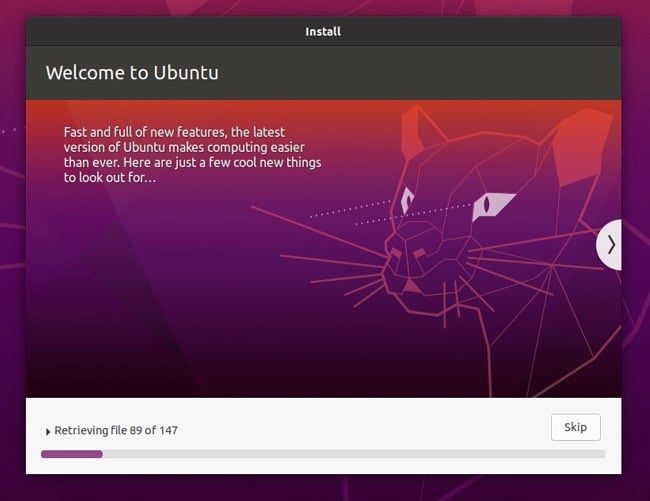 How to Uninstall Ubuntu
You can continue both operating systems (Ubuntu and Windows or macOS) for as long as you want. But if your aim for installing Ubuntu is to use it for a specific task, you can very easily remove it from your computer.
First, you can remove the Linux (Ubuntu) files from your system. You can do this by restarting your system and choosing your Windows OS from the GRUB bootloader screen.
The GRUB bootloader is the screen that shows up whenever you start your system, allowing you to choose whether to run the Ubuntu or Windows OS.
From your Windows start menu, type "Disk Management" and hit Enter. Once it loads, select the partition of your disk where Ubuntu was installed and delete it.

After deleting it, you can reclaim that space back to your hard drive by right-clicking on the partition with your Windows files and selecting "Extend Volume" from the options displayed.

Restart your device and it will revert to the previous OS.
If you'd like to try other operating systems, feel free to check the free alternatives below.
Overview of Ubuntu
Ubuntu is an open-source desktop operating system based on the Debian Linux Distribution. Whether you're an administrator running an organization, a student looking for another desktop interface, a developer in need of an intuitive desktop environment, or you just want a change from what you've always known, Ubuntu comes with virtually everything you need.
All your essential applications, such as office suite, browsers, email and multimedia apps come pre-installed on the Ubuntu, plus you have access to thousands of more games and applications that are available in the Ubuntu Software Center. With its built-in firewall and virus protection software, Ubuntu is one of the most secure operating systems on the market. In addition to that, its long-term support releases (including 22.04 LTS) come with five years of free security patches and updates.
To ensure that accessibility is truly global, Ubuntu is available in more than 50 different languages and includes essential assistive technologies. Even if you don't want to permanently replace your current OS, you can run Ubuntu virtually alongside it until you're comfortable installing it permanently on your computer.
Features of Ubuntu
Ubuntu Flavours: Ubuntu Flavours are the unique ways you can experience Ubuntu, and each has its own choice of default applications and settings. Ubuntu Flavours are owned and developed by members of the global Ubuntu community and include full Ubuntu packages and updates. Current available options are Kubuntu, Lubuntu, Ubuntu Budgie, Ubuntu MATE, Xubuntu, and Ubuntu Studio.
Accessibility: Ubuntu is fully translated into more than 50 different languages for users around the world.
Visually Stunning: With Ubuntu, you can get the most from your screen. It supports high-definition, touchscreen functionality, fractional scaling, and touchpad gestures. The 22.04 LTS release refreshes the signature Yaru theme, and offers you a large selection of community wallpapers to choose from, with a system-wide dark style option.
Backed by Canonical: Canonical is a global software company and trusted Ubuntu services provider. You're guaranteed a 24/7 professional support package from the experts at Canonical.
Ubuntu Software Center: Ubuntu offers you a whole world of apps available for download, most of which are available for free and can be easily installed. This includes games, chat applications, work and business tools, browsers, etc. All of these can be installed from the Ubuntu Software Center.
Email: Aside from the built-in Ubuntu LibreOffice tool, the OS also comes with Thunderbird, Mozilla's widely-used email application to give you fast access to your email from your desktop. Thunderbird is compatible with popular email services you use, such as Microsoft Exchange, Gmail, Hotmail, POP, and IMAP.
Edit and Illustrate: In addition to its graphically alluring interface, Ubuntu comes with photo editing and organizing tools like Gimp and Krita that allow you to edit your photos or create professional illustrations and designs. This is also available in the Ubuntu Software Centre.
Free Alternatives to Ubuntu
Chrome OS Flex: Chrome OS Flex is an operating system designed by Google for Linux, Windows, and Mac computers. It is similar to Chrome OS, but it offers you more. Chrome OS Flex is particularly designed to convert your old devices into Chromebooks, including those you don't use anymore.
Linux Mint: Linux Mint is one of the common and reliable desktop Linux distributions used by millions of people. Linux Mint is designed to offer you a modern, best-in-class, and intuitive operating system that is both powerful and easy to use.
Fedora: Fedora operating system is secure for general purpose use. Both Ubuntu and Fedora are similar to each other in several ways, but Ubuntu takes the lead when on software availability, driver installation, and online support. Fedora is a container-focused operating system that allows software developers to build tailored solutions for their users.
FAQs
Is Ubuntu secure?
Ubuntu is undoubtedly one of the most secure operating systems available today. The current desktop releases (including 22.04 LTS) come with long-term support that offers you up to five years of free security patches and updates. You can
safely download and install Ubuntu on your computer from the official website
. Be sure to avoid unofficial sites, as they may expose your device to spyware and viruses.
Can I dual boot Ubuntu with another OS?
Visit Ubuntu Website