Microsoft Teams is the choice software for business organizations looking for more functionalities in workplace communication and collaboration tools. Unlike Microsoft Classroom and Skype, Microsoft added more features and functionalities in Teams, making it one of the most used videoconferencing and business communication platforms.
Microsoft Teams is perfect for audio calls, video conferencing with screen sharing, instant messaging, sharing of files, app integrations, and several other essential functions and it can take up to a maximum of 250 people in a single meeting.
MS Teams is developed as part of the Microsoft 365 family of products, and you can download it for free on desktop, android, and apple devices.
Follow the instructions below to download and install Microsoft Teams for free.
Download Microsoft Teams for Free!
How to Download and Install Microsoft Teams Latest Version on Your PC for Free
Go directly to the official Microsoft Teams download page.
Wait for the download to complete, then go to your download folder and double-click on the .exe. file to start the installation.
Note that you need to create a sign-in account to use Microsoft Teams (if you don't already have a Microsoft 365 account or an active Microsoft account).

Once you're verified, you can start by adding contacts and chatting with your friends or colleagues at work. To set up a meeting, see details in the how to schedule a meeting in Teams, section below.
How to Uninstall Microsoft Teams
If Microsoft Teams isn't the right tool for your team, you can remove it from your computer in a few easy steps:
Once the uninstallation wizard opens, confirm that you want to remove the software, and it will proceed to uninstall it from your computer.
If you are on the lookout for other business communication tools, feel free to check out the free alternatives below.
Overview of Microsoft Teams
Whether you are a student, business person, or a team of millennials driving for maximum productivity at work, Microsoft Teams allows you to keep all your content, apps, and conversations together in one place.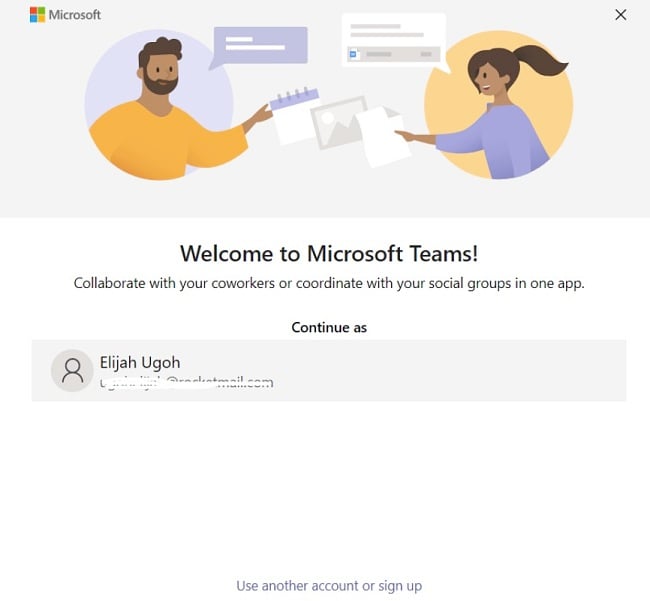 The app is provided by Microsoft free of charge, and it offers you all the essential features you need to stay in touch with your colleagues at work and school without missing a beat. The functionalities integrated into Teams include video conferencing, file sharing, chatting, sharing ideas, assigning tasks, and moving projects off the whiteboard.
How to Schedule a Meeting in Teams
Setting up a meeting in Teams is easy. Your calendar in Teams is already connected to your Exchange calendar, which means it is linked to Outlook. So when you schedule a meeting in Outlook, it automatically shows up in Teams, and similarly the other way round.
Here is one of several ways to schedule a meeting in Teams:
Go to the application and select "schedule a meeting". You'll find the "schedule a meeting" button in a chat, just below the space where you type messages.
Go to the Calendar Meetings button and select New meeting in the top right corner.
Select a suitable range of time in the calendar. The scheduling form will pop open.
Within the scheduling form, proceed to supply specific details about your meeting. This includes the meeting title and other important meeting details. This is where you also invite people to the meeting.
Hit save once you're done with the details. The scheduling form will close and automatically send out an invite to the Outlook inbox of everyone you added. You may use the Scheduling Assistant to fix a meeting time that works for everyone.
Features of Microsoft Teams
Direct access to email, Skype, OneDrive, and SharePoint
Create multiple channels for different projects and teams
Easily integrate third-party applications that you use often while working in Teams
Secure for both private and public use
Collaborate seamlessly with colleagues and vendors in real-time
Fully integrated with Microsoft 365, so you can also share emails to your channels
Hold meetings with up to 250 participants per time
Share files, such as videos, images, etc., with colleagues
Unlimited chats, audio and video calls, 2GB personal storage space for each team member, and 10GB free storage for the whole team.
Chats are displayed as threaded conversations in Teams, so you can keep track of conversions easily.
Download Microsoft Teams for Free
Free Alternatives to Microsoft Teams
Zoom: Businesses looking for a free video-conferencing solution can rely on Zoom for efficient business communication. Zoom allows you to hold meetings with up to 100 participants for free, share your screen, record your meetings, and transfer files. The free version of Zoom allows a maximum of 40-minute long meetings with three or more people per time.
Skype: Skype is one of the oldest free web conferencing platforms available on the market. It was also developed by Microsoft. Skype allows up to 50 participants to join each video conference. As with Zoom, you can record meetings using Skype and share your screen.
Slack: Slack is a work communication tool that features plugins and integrations that make for seamless communication at work. With Slack, small and mid-sized businesses can maintain productive teams and sustain collaboration at work. Like Microsoft Teams and Skype, Slack allows for file sharing and video conferencing with screen sharing.
FAQs
Is Microsoft Teams free?
Yes, Microsoft Teams is free to use. You can download Microsoft Teams for free by following these simple instructions above.
Is Microsoft Teams secure?
Yes, it is safe to download and use Microsoft Teams on your computer, as long as you download the software from the official website. This way, you are certain your PC is not exposed to spyware, viruses, or malware.
How does third-party app integration work in Microsoft Teams?
With Teams, you can integrate existing applications to enhance productivity and share information easily. By adding connectors to channels, you can track bugs, manage projects, and include analytics features.
Visit Microsoft Teams Website