Internet Download Manager is a file-downloading software that allows the user to control how they download files from their browser. This is meant to be a faster and more efficient alternative to the device's default downloading ability.
In addition to faster downloading, Internet Download Manager also allows its users to schedule and pause downloads and recover downloads in cases of external failures such as an unexpected power outage or network issues.
As of writing, Internet Download Manager only has versions compatible with Windows, but if you have a different operating system, keep reading for some alternatives you can try.
How to Download and Install Internet Download Manager for PC for Free
Click on the Download button on the sidebar to open the Internet Download Manager download page.
On the Internet Download Manager webpage, go to the 'Download' tab and click the orange 'Try Internet Manager for free' button to start the installation process

Your PC will take you through the steps to complete the downloading process.
Once the software is downloaded onto your computer you will see a pop-up asking you to enable the software extension for your preferred browser. Click on "turn it on".

Once you enable the browser extension, you're all set! You will be able to download files directly from the software or straight from the website with the browser extension.
How to Uninstall Internet Download Manager
If Internet Download Manager is not what you expected, you can uninstall it in a few easy steps.
Locate the program under Settings (which can be accessed by clicking the Start button).
Right-click the program and select 'uninstall'.

Your computer will ask you to confirm the software that you want to uninstall.
After you confirm that you want to uninstall Internet Download Manager, your computer will guide you through the rest of the uninstallation process.
If Internet Download Manager isn't right for you, check out these free alternatives below.
Internet Download Manager Overview
The interface is pretty simple and easy to navigate. I had no issues learning the functions of the software. The organization of the interface makes it easy for the user to access their desired functions such as the scheduling function or the Start Queue function.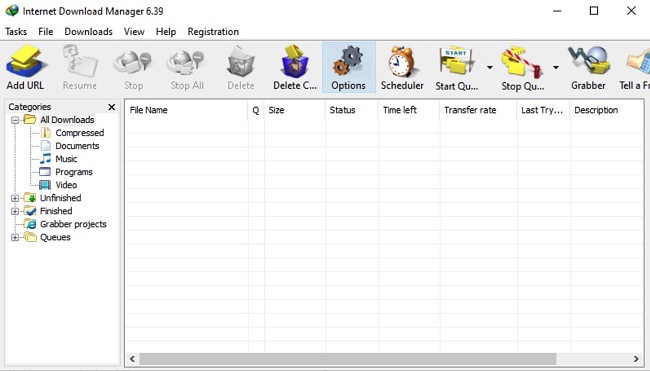 The three main features of the software are the Scheduler, Start/Start Queue, and the ability to download via URL. Though these are three separate functions, you will likely need to use them together in order to complete a download using the actual software.
In order to schedule a file download, you will need to create a queue, and in order to create a queue, you need to add the URL associated with the file download.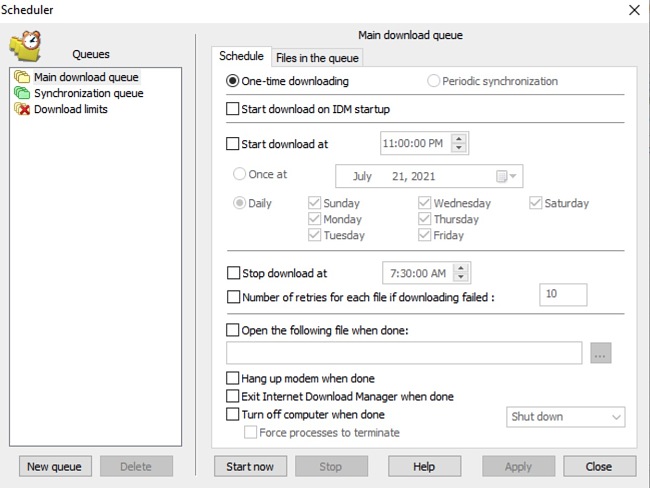 There are two ways that the software will download files for you. It can handle download automatically if you enable the browser extension, or you can paste the download link into the software.
One of the features I found myself most impressed with was the Scheduling feature. Not only could you schedule the download to start and finish on a particular day or time, but users also have the option to control what happens when the download is complete. You can choose to simply close the software or you can even choose to have your entire computer shut down.
All in all, the Internet Download Manager does its job quite well. My test download with the browser extension finished quickly with practically no intervention needed from me. The software ran smoothly and efficiently with no problems.
Free Alternatives to Internet Download Manager
Internet Download Accelerator: This software, developed by WestByte, boasts its ability to boost its user's download speed and its diverse lineup of compatible browsers. Users can also be sure that their downloads will be completed since Internet Download Accelerator also resumes interrupted downloads.
Ninja Download Manager: This software has all the major bells and whistles such as fast download speeds, the ability to schedule your downloads, and speed control, but it is compatible with Windows and MacOS.
FAQs
Is Internet Download Manager free?
While there is no completely free version of Internet Download Manager, if you follow the step-by-step guide above, I'll show you how to get it risk-free for 30 days.
Is Internet Download Manager secure?
As long as you download the software from the official Internet Download Manager site, you won't have any issues with viruses, malware, or spyware. Stay away from "cracked Internet Download Manager" download sites as these are often infected with different types of malware trackers.
Do I need to register to use Internet Download Manager?
I was able to download IDM without any issues for free, so there is no need to register to test out the software for yourself. The free version is only available for you to use for up to 30-days, so you will be asked to register after your trial period.
If you find that Internet Download Manager isn't for you, then you can always try one of the free alternatives to see if one of those would be a better fit for your needs.
Visit Internet Download Manager Website